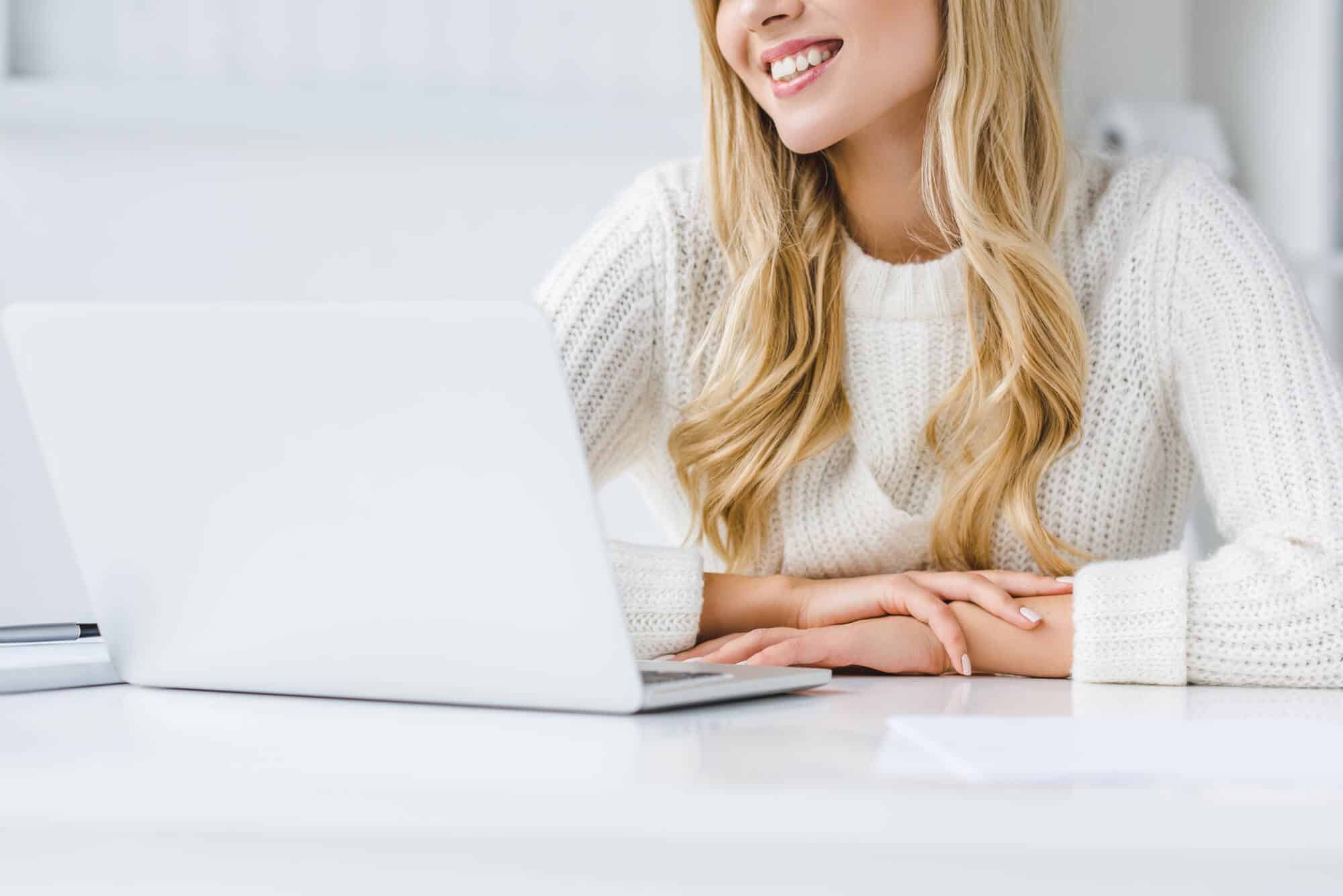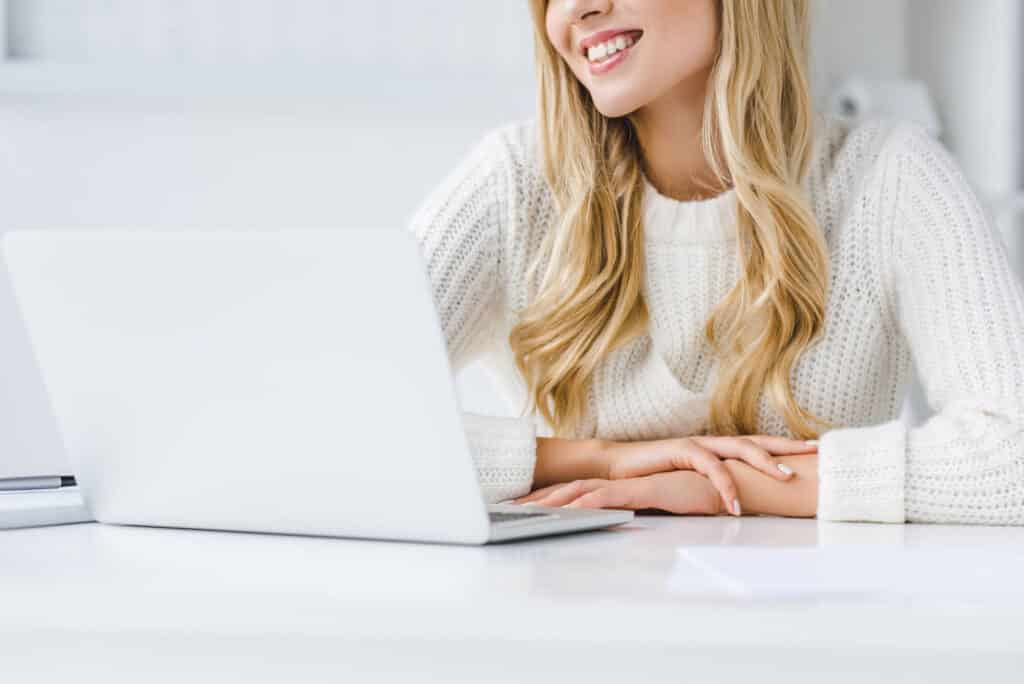 We will receive a commission if you make a purchase through our affiliate link at no extra cost to you. Please read our disclosure policy for more information.
Hello and welcome to my blog income report series!
This income report is going to be a little long because it highlights some of the important blogging lessons, I learned in my 3.5 years of blogging.
In the end, I will also show you how I made $27,689.76 last month, and $78,199.20 in the last 3 months of blogging. I am in a little disbelief (I'm not sure exactly what I'm feeling TBH) as I am typing these numbers because I didn't expect to go this far when I first started my blog.
If you're new to Finsavvy Panda blog, you may be wondering what this blog income is about and why I publish these reports.
I remember feeling trapped hating all of my 9-5 jobs SO much! I thought there had to be something more meaningful and fulfilling than just the jobs I worked.
On top of that, I wanted to live a financially stress-free life, so I started this blog income report series documenting all my blogging lessons and mistakes to keep track of my progress as a new beginner. I was curious and wanted to see if making money online from home is possible.
I know personal finance and money are a struggle for many people, so I shared my struggles and stories here on this personal blog to show how I made extra money on the side of my 9-5 job. This extra income allowed me to save more for vacations, experiences, retirement, and the things I value in life.
I also won't hide the fact that I started a blog because I thought it would be nice to earn extra money doing something that's fun, new, and exciting. I thought it would be a fun hobby to test, experiment, and share what's working and what's not.
All my older blog income reports are a true reflection of the journey and progress of a brand new blogger, me, who started with no experience with earning money online using Pinterest, any social media platform, or blogging – you'll know that I'm not lying or exaggerating when you read through my blogging archive. I'm a very emotional and highly sensitive person so I wrote things that truly reflect how I felt and what I did as a beginner.
From earning extra money in my first year of blogging, this little blog of mine eventually allowed me to quit my job because of the full-time income it generates. I was quite surprised and never imagined this small blog to earn over $10,000 every month in less than 2 years.
After two years, I even started a second blog to diversify my online blogging income stream. I recently started my third website as an extension to this blog, so I can separate my budgeting/personal finance and blogging posts. I am not looking to "grow" my third blog because it's just for informational purposes to answer any blogging questions you may have.
So far, I have been earning over $20,000 per month blogging from home, which I will talk more about below.
One of the greatest things about blogging is it becomes passive over time after putting in the upfront work.
Today, I spend 1 to 2 hours a day maintaining this blog, which allows me to spend more time on things that are more important to me such as focusing on self-care and family – things that I wouldn't have been able to do if I continued working at my 9-5 job!
To save time, I've been looking for ways to automate my Pinterest traffic, reducing the time I spend on the platform manually pinning. You can learn how I use Pinterest to boost my blog traffic in a separate post here. For more details about Pinterest, I highly recommend checking out one of my best-selling Pinterest traffic guides, The Golden Compass to Pinterest Traffic.
Start Your Blog and Make Money Online With No Experience!
When I first started this blog, I had absolutely no experience with blogging or writing a blog post. I initially told myself that starting a blog is so cheap, and it doesn't matter if it didn't work out for me. The important part is at least I knew I tried it without spending a lot of money.
When I learned that you DON'T have to be a good writer and that you actually DON'T have to draft a blog post every single day or week to earn a full-time income, I was sold on the idea and immediately signed up on a whim! I admit that learning and implementing what I learned wasn't easy (there's NO such thing as easy money), but the progress it took me to earn my first $100 from blogging filled my heart with joy and excitement!
I was so surprised with myself and didn't think I'd be able to quit my job and work on my own terms when I started Finsavvy Panda! I'm very happy with my blogging progress and I would love to help beginners like you!
How to start a profitable blog: Many readers e-mailed me and asked me what I did to get the results I get. To help you, I created this FREE 7-day e-mail course that teaches you how to start your blog without having to be an expert at what you blog about. There has been a lot of positive feedback from many readers so I highly encourage you to join my free course if you want to learn how to start a blog and make money.
The Blogging Lessons I Learned in 3.5 Years
It's been a while since I published my last blogger's income report. I have to say that I do get more and more hesitant to publish these things. I was already iffy after publishing one of my older income reports where I was earning over $7,000, and then over $10,000 each month with Finsavvy Panda blog.
I'm a very private and self-conscious person, but at the same time, I get really excited sharing my knowledge and experience so I can help and motivate you to start your blog too. If you are a total beginner, my previous blog income reports will be more relevant and helpful for you. Feel free to use the search bar on this blog to find them in the archives.
On top of that, I am super slow at organizing and writing my blog posts, especially when it comes to writing income reports, so it takes a lot of time for me to prepare them.
But I had readers who were asking me how much money I'm earning with my blog now; along with that, they wanted me to share my progress. I also just had a reader a week ago asking me if I could publish a blog income report because they want to see that it's still earning an income and to list out my blogging lessons or mistakes so they can avoid them.
Due to this request, I list out some of the blogging lessons I feel are important for you to build your blog and grow (my list of lessons learned is in the section below).
I honestly have so much to say, so my apologies if these blog income report posts come off as verbal diarrhea!
One thing I really want to say, and I don't know how to express is that it's easy for me to point out these personal mistakes and lessons learned. But I know for many beginners who just started their blogs, and those that will be starting their blogs soon, you just won't get it or understand these lessons the same way no matter how much someone teaches you or warns you about it. It's just a part of a learning experience and you will realize it once you actually start doing it.
I've worked with many people and clients in the last few years to see this happen ALL the time.
Trust me, it's SO easy to say things based on hindsight (especially when you start to become a little more experienced), and no matter how much you plan, learn, and try to avoid mistakes, please acknowledge that you will still make mistakes. And that's okay! In fact, I still make mistakes too because there is always going to be something new and exciting to learn!
What I also realized by analyzing people's behavior is that learning too much and NOT actually doing will slow you down in your blogging journey by A LOT.
By the time you know it, you'll be months and years behind!
You can only learn and grow from doing and making mistakes. If everything is spoon-fed to you and things are smooth sailing all the time, you won't know how to handle any obstacles that come your way. There are just certain things that cannot be taught without actually experiencing them yourself IRL!
One Important Life and Blog Lesson I Learned
What I'm about to say will not sound like rainbows and unicorns and I hesitate to say these things because nobody openly reveals or shares this part. But I will in this blog income report and post about my blog lessons, because after all, it reflects my blogging progress and I should open up and be honest about it…
I have to admit that I feel exposed when I publish these income reports and I don't like it. What I learned about blogging (and just overall life in general) is that you will have an audience who will follow you and love everything you say, and there will also be some who will disagree with you – you can't satisfy them all. That's okay because everyone is different and unique in their own way.
The most rewarding and greatest feeling you'll get from blogging is the positive impact and influence you have on your supporting fans and followers.
However, similar to real life, there will be some trolls and not everyone online will like you no matter what you do.
The best course of action is to focus on your true fans who want to listen to what you have to say. They are the people who you'll be supporting, and they will support you in return.
On top of the trolls, there will also be people who are copying literally EVERY SINGLE thing you are doing when they know you are making progress with your blog or business.
It's one thing to be inspired, but another to plagiarize or even impersonate another blogger. That is why I stopped my blog income reports at one point, but readers were asking me to bring them back, so I only did this (whenever I have time and feel like it) because I have an audience that wants this and I'm all about motivating and pushing you beyond what you can imagine.
As you can see, blog income reports can be a double-edged sword.
The good: it educates, inspires, and motivates. When you are motivated and inspired by the positive surrounding, it gives you that boost of energy to keep going regardless of what happens. It's a "great" feeling that makes you feel unstoppable.
The bad: it can do the opposite of the good (demotivate bloggers who aren't seeing results), and in a worse case, it can attract people to plagiarize, follow every step you take, copy, and even impersonate you by faking their stories to be exactly like yours!!
Despite the copycats and plagiarism that's going on (and my intuition tells me that I'm not the only person who feels this way), it can motivate and inspire a positive group of people to keep going. Without them, I wouldn't have continued my journey, especially at the beginning when I was seeing no results!
So, yes, blog income reports can help and give people hope regardless of which stage they're in, and I am very thankful for income reports to give me that dose of inspiration.
Having that said, I only mention certain aspects of my blogging journey, unlike my older income reports where I broke down everything with screenshots. I now only share what is necessary to help those who are beginners or those who have been blogging for a while and not seeing results. This is to prevent plagiarizers and copycats from imitating me.
Now, onto something that's more positive which you should know about!
I was able to free my husband from his job!
I've been working on my blog as a one-girl show and it was a totally crazy roller coaster ride.
Although my husband has always been supportive, he actually laughed at this whole blogging idea when I first started. After having so many doubts, he is now FINALLY on board with me!
In 2020, when I was working on a new blog, my husband has been more involved with helping out. Yes, he quit his job because he true heartedly believes in this blogging adventure and wants to see what happens.
Ever since his dad passed away in 2019, he was numb and regretted not spending enough time with his dad due to his stressful and demanding hours at work. To receive a phone call from the hospital to hear that his father is gone really killed him inside.
He realized that life was too short and that death can just happen at any time no matter what age. And before his dad passed away, he will always remember his words:
"Son, remember to never overwork and stress too much. Take care of your body because wealth cannot buy you health."
That hit him hard, so he took a leave from work to reflect on things and decided to quit his job, which robbed his time and freedom.
As he saw my progress with my first blog and saw that it earned over $120,000 in NET income in 2019, and the fact that I didn't have to deal with a 9-5 job, he's been on board with helping on the scaling and business side of things in early 2020 after his personal leave from work.
I have to say that we are two extremely different people.
Unlike me, he's a really, and I mean, a REALLY skeptical guy and does a lot of research before doing anything. WAY too much if you ask me (to the point where he faces decision paralysis and he admits to getting very little to absolutely NOTHING done)…
He definitely wouldn't have started a blog due to his extreme skepticism. But after seeing my blogging results with his own eyes, he's been working on building two of his own blogs on the side (I am actually very surprised that he's been consistent and focused on his blogs for 4 months straight now, haha) – one for purely Pinterest and another one focusing on Google to diversify our traffic and income sources.
As you can see, we are total opposites and we balance each other.
I'm not much of a "researcher" and although I do plan and care about the future, I am NOT an over-planner and I don't plan very far ahead. And although I thought of myself as someone who's "skeptical", I guess I didn't realize there are more people out there like my husband who are even more skeptical to the point where they question a lot of things.
I mostly use my "gut" feelings and jump into things like starting this blog on a whim and just learning a lot of things on the go. It also never crossed my mind about "hiring" anyone to help me with the blog because I didn't really treat it like a business at that time.
As I was progressing with my first blog, I learned from my husband that it's important to leverage other people's skills and that is also why we hired a virtual assistant (VA) to help with the administrative tasks.
On top of that, my husband has different skills from me so it's important to focus on your strengths while delegating things you either don't like or find redundant.
Anyway, my whole point is to say:
Blogging is a lot of work and it's a long-term game. But beginners don't have to worry about trying to perfect everything from Day 1. I see too many beginners get too caught up with too many things that they become paralyzed and then give up.
Just learn one thing at a time as you go, and you'll see progress along with results in each chapter of your journey.
I personally struggled a lot at the beginning and I truly understand the REAL pain as a beginner. That is why I created this valuable resource, The Treasure Map To Blogging Success in 30 Days, to help total beginners get their blogs up and running as soon as possible, so you don't have to go through what I did. You will be able to fast track quicker than the average person who doesn't invest in themselves. I made this as easy as possible for beginners. It's a step-by-step actionable guide and you'll still stay motivated without feeling overwhelmed.
My husband started getting involved after Finsavvy Panda reached over $15,000 in monthly net income. This part is important to point out because I know I wouldn't be able to surpass what my two blogs are making now without my husband getting involved and hiring a VA. I haven't come across a lot of people mentioning this part. I thought I would say it here so you are aware that once you reach a point and want to earn more, you will have to re-invest in your blog and think about hiring someone to help out.
Hiring a person or two will also give you peace because you can buy back time (not applicable to beginners, but to those who are comfortable with the idea and consistently earning over $5,000 per month). However, I never recommend hiring for things you don't understand. Make sure you do your research and ask for trusted recommendations before you decide to hire someone to do something for you.
Important Blog Lessons for Beginner and Intermediate Bloggers
Here is a list of blogging lessons I learned over the 3.5 years of blogging. These things held me back from growing and they also include mistakes I wish I avoided.
Again, it's easy for anyone to say this in hindsight.
No matter how much you read or learn from someone who's more experienced than you, you won't truly understand the pain or see it from that perspective unless you experience it yourself. But I know many beginners ask this, so it's good to be aware and know.
Blog Lesson and Mistake 1: Not building a proper blog foundation sooner
Not building a proper or solid blog foundation is one important blog lesson I'll never forget. And I will always kick myself in the head for not knowing this sooner.
It is the part that I can't stop thinking about and regret SO badly! I didn't know this part until I had to piece it together from different resources I paid for. It's advice I really wish an experienced blogger had told me about when I first started.
Every time I try to warn a brand-new blogger about this pain and struggle, especially in this ebook I have for total beginners here, they would totally ignore this advice because they just care about "making money now and as quick as possible."
So, what happens?
They start a blog, quickly write articles (which I can tell it's not their 100% effort), and immediately try to throw affiliate links onto their posts. They haven't learned the basics of setting up their blog and building a foundation to avoid costly mistakes down the road. They haven't even learned anything about getting traffic yet either!
I see many beginners who try to learn how to sprint before they can even crawl (let alone walk), and yet, they still don't see what they are doing wrong!
Blog Lesson and Mistake 2: Inserting affiliate links too soon
In the early stages of starting my blog, one blogging mistake I made was I inserted too many affiliate links in my blog posts and too soon.
Nobody likes pages with too many affiliate links. Sure, you may make a quick buck or two, but this is a poor long-term strategy and I wish an advanced blogger warned me about this sooner in my early stages. The truth is no one will come up to you and tell you straight up. Why would they?
I have to say, though, most beginners may not understand this concept until later on when they start learning more about affiliate marketing and actually implementing the strategies. This is an important blogging lesson to keep in mind when you start affiliate marketing.
Blog Lesson and Mistake 3: Not creating processes for myself sooner
Did I mention many times that I'm "on the fly" or "on the whim" type of person? I do a lot of things on the go and I have to admit I am quite disorganized when I am passionate or get excited about learning new things.
This led me to not creating processes for myself earlier when it was earning over $5,000 per month.
My husband really encouraged me to start (better late than never), so we've been spending most of last year, including this year, building processes for our blogs that would make life easier and more automated. The result is it saved me so much time and I don't have to do as much work on Finsavvy Panda blog.
This is especially true when it came to making Pinterest pins for my traffic. I remember back then I didn't think much into this when I was making a lot of pins because I actually enjoy doing it during my downtime. But as my blog was growing, I realized I didn't have time to do them for fun anymore.
To solve this problem, I made a load of these click-worthy Pin Savvy Templates here for myself (and you), which takes 10 seconds to make a pin, and I created my own personal process that would buy back hundreds to thousands of hours of my time!
I've actually been getting a lot of great feedback about my pin templates, so I recommend checking them out.
Blog Lesson and Mistake 4: Not delegating things sooner
As mentioned earlier, as my husband became involved with the blog last year, he told me to start hiring a person to help.
I felt the need to keep learning, so I didn't even think about it. I wanted to know how to do something really well before handing it off to someone else.
Another problem was I didn't even have time to learn HOW TO outsource or hire. I admit a part of me was being lazy to learn about outsourcing, and I just didn't have an interest because I was so focused on other parts of building my blogs.
As a result, my husband helped with this part. He also started his own blogs where he will be hiring the tasks as well by re-investing the money made. When it comes to blogging, he is more business-minded and efficient than I am. These are skills that I've been learning from him and I am very thankful he came in to help with this part last year after taking his personal leave and quitting his job.
NOTE to beginners: This is something that you do NOT need to worry about until you start gaining experience and earning a steady income with your blog. Even if you are earning a steady full-time income, you do NOT have to outsource or hire anyone. I know many full-time bloggers who are doing everything themselves and are totally happy with it!
Blog Lesson and Mistake 5: Not being able to put myself out there
I am an extremely quiet and sensitive person. It's even hard for me to say this here in writing.
Along with that, I am very introverted and shy despite being called an "extroverted" introvert.
I am good at connecting, motivating, and lifting up the spirits of my readers, but extremely poor at networking, putting myself out there, and tooting my horn in "the business world" according to all the feedback I've gotten from my previous managers, family, and friends all my life.
If you are naturally good at networking and reaching out to established bloggers and bigger websites, then kudos to you. You will establish relationships with your peers and others in your industry and you'll do very well in the long term especially in the Google space.
This is my biggest weakness and I will have to force myself to change if I want to improve, grow, and develop. It is something I am working on in the long run and I regret not pushing myself to do it earlier. Even after saying and realizing this, I don't know if I'll ACTUALLY start doing it. I really hope I will, so we'll see.
Blog Lesson and Mistake 6: Not treating my blog as a business sooner
I started this blog as a hobby and wanted to see if making money with a blog was possible, which is absolutely fine when you're a total beginner.
As it started to earn a full-time income, even after $10,000 in monthly net income, I STILL didn't treat it like a business 100%.
When I say "not treating my blog as a business sooner" I'm NOT talking about not spending or investing in blogging tools and resources. Of course, you need to invest in yourself and your blog to see results. I spent money and invested in this blog right from the beginning because I strongly believe in the saying "you need to spend money to make money". In fact, if you haven't started your blog yet, or you are still new to blogging, you can read how much it costs to start a blog on a budget for beginners here.
What I mean by not treating my blog as a business sooner is I didn't take my blog seriously and my mindset was still stuck at treating this as a "hobby" that makes money.
The words, "business owner" or "entrepreneur" don't exist in my vocabulary because I just never saw myself as one – it all sounded too fancy and intimidating to me.
By the time this blog was growing and making money, I didn't even realize or notice the progress it was making. I was afraid and didn't know what to expect.
My lack of confidence and putting myself down held me back and made me not treat my blog more seriously than I should have. Hence it delayed me from creating processes and learning how to ask for help.
Again, I am very thankful to have my husband help me shift my mindset into treating my blog as a business now. I just wish I had done this sooner than later instead of using my fear as an excuse!
Blog Lesson and Mistake 7: Not having any confidence in myself
It's hard to bring this point up because from what I see in most successful blogs, they don't talk about this and it's probably not good to show this much vulnerability.
But I can't deny this, and it is a BIG mistake I've made all my life.
This is something that I've improved tremendously over the years since I started my blog. It is something you will learn when you push yourself outside of your limit and make a conscious effort to stop putting yourself down.
I get numerous emails every day from readers who tell me they are not confident and scared to start their blogs because of the fear of failing or what others think of them. I always tell people that it's normal and that no beginner ever feels confident. Trust me when I say you are not alone.
I learned that life is too short to be scared of something so silly like this. If I didn't let go of this fear, I wouldn't have learned as much as what I know now about blogging, and I certainly wouldn't have been here to tell you my blogging lessons learned.
Looking back, my lack of confidence, low self-esteem, and fear of a gazillion things is what held me back and I really regret not working on my self-confidence.
This is something that I'll be working on as I continue to build and work on other blogs and websites.
Wrap Up on My Blog Lessons Learned
Those are some of the blog lessons I learned in my 3.5 years of starting my first blog. They are lessons I hope you take seriously because if I wasn't self-aware of my mistakes or what I was doing wrong, I wouldn't have been able to grow not only my blogs but myself as a person too.
I honestly learned more in my blogging journey in the last few years than I ever did in my total lifetime at BOTH school and the workplace – it's effing crazy!!!
Going forward, my husband and I will be applying what I learned in the last few years of blogging and I will be spending time on product creation and helping him grow his websites too.
Learning how to create products has been super fun and I enjoy it very much. It excites me to see sales notification like these and to hear that people are finding all my products helpful: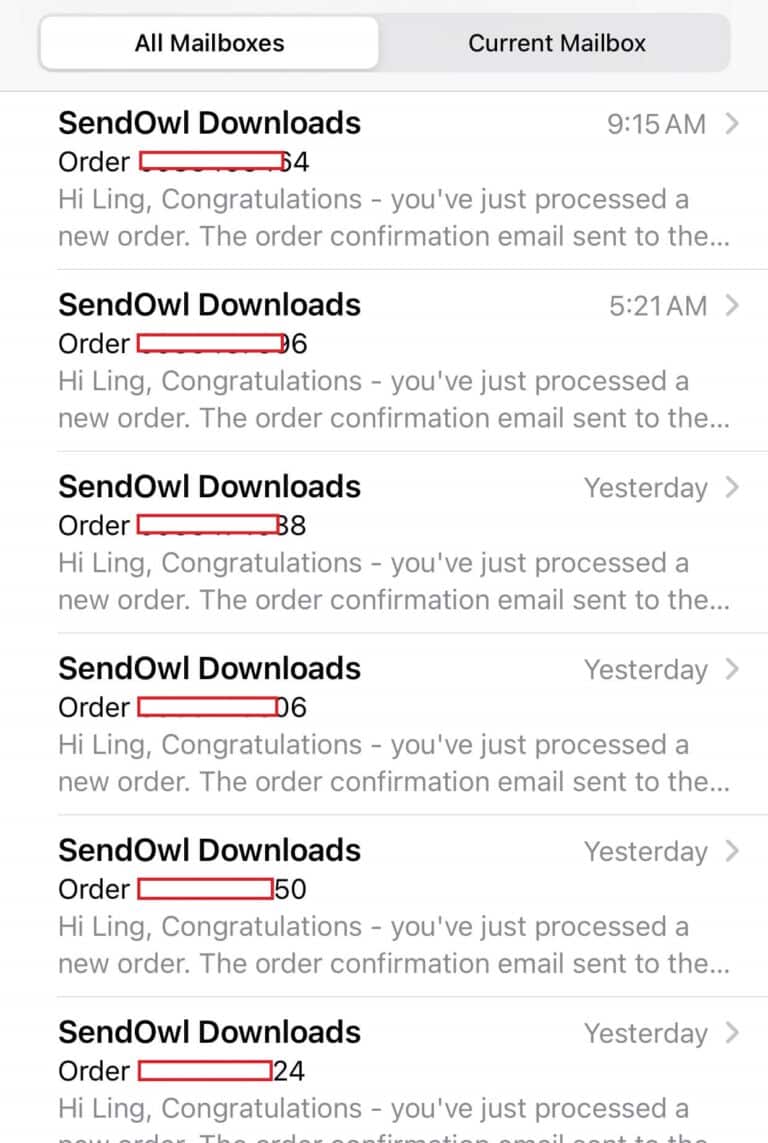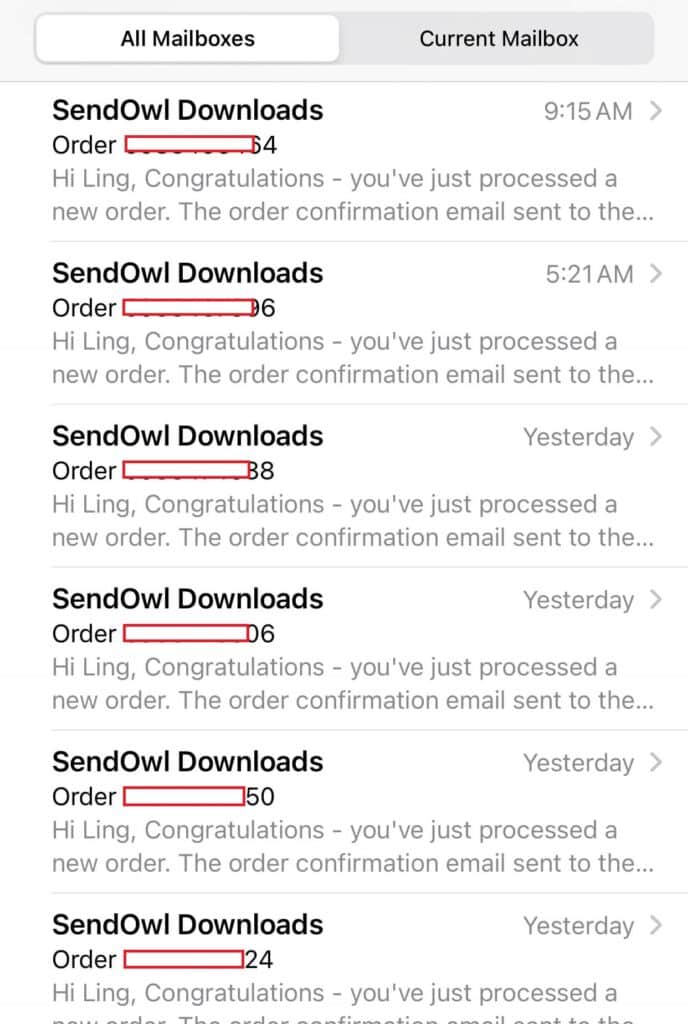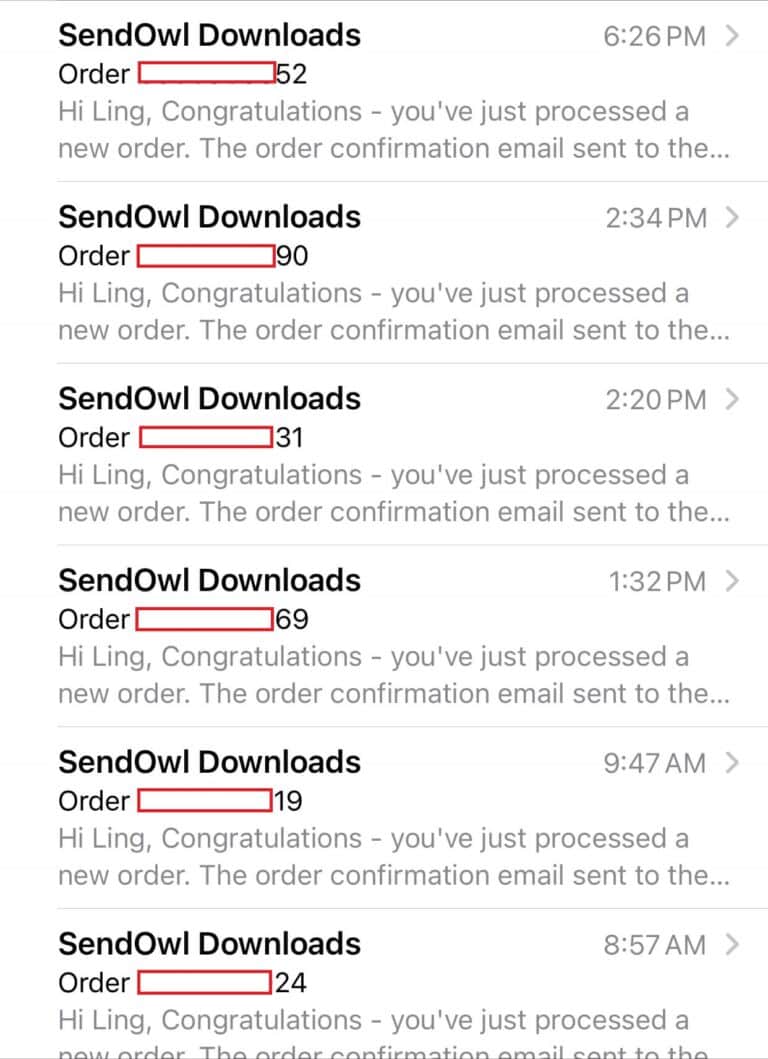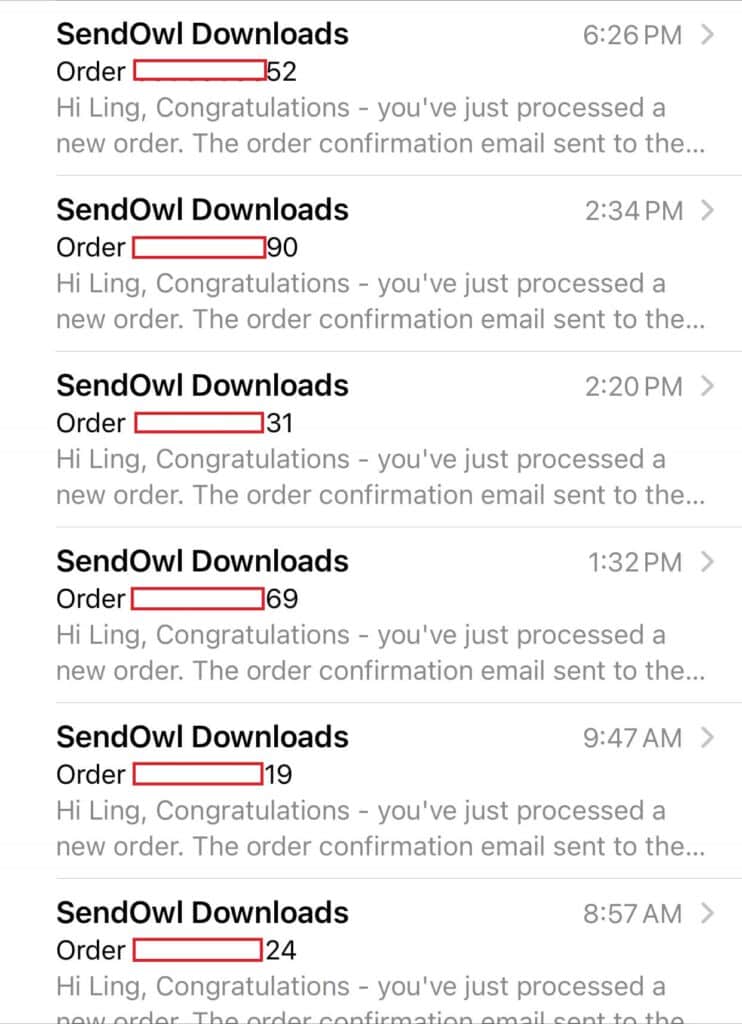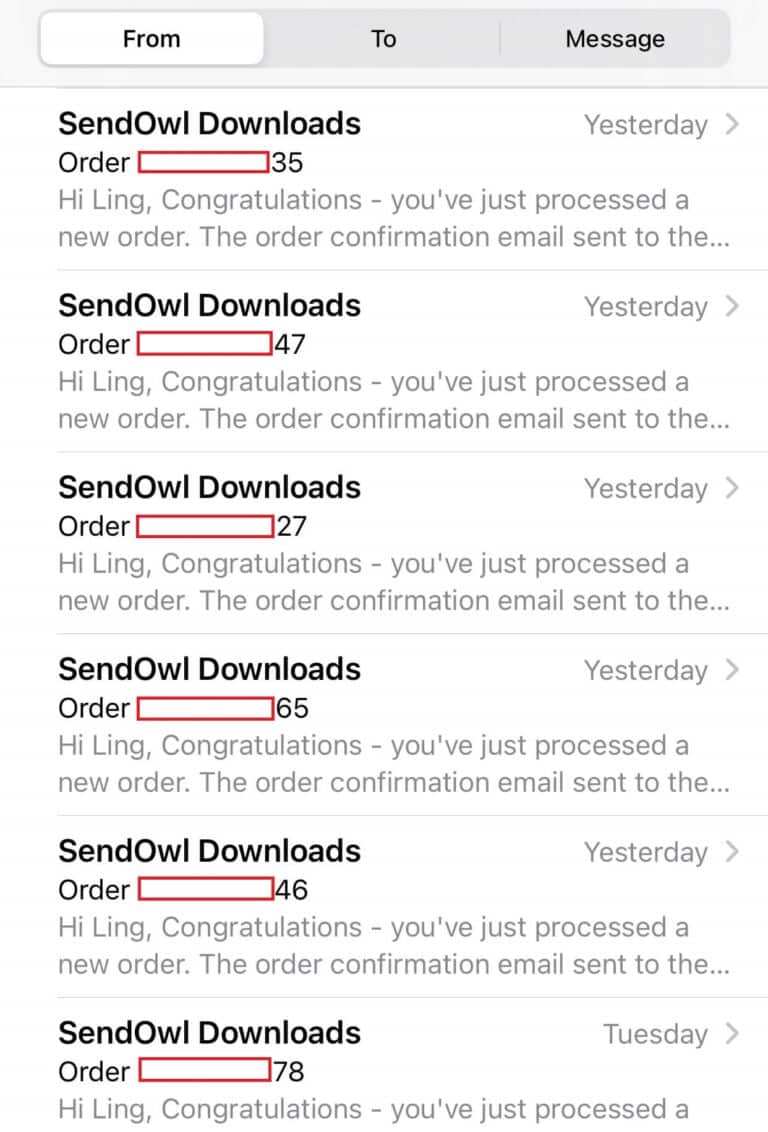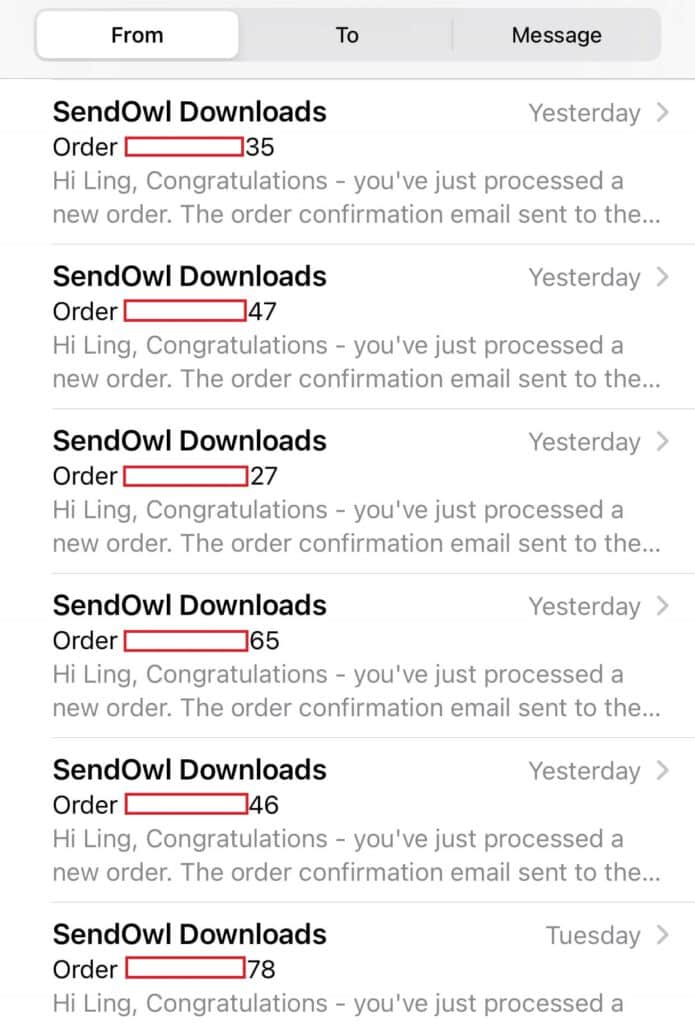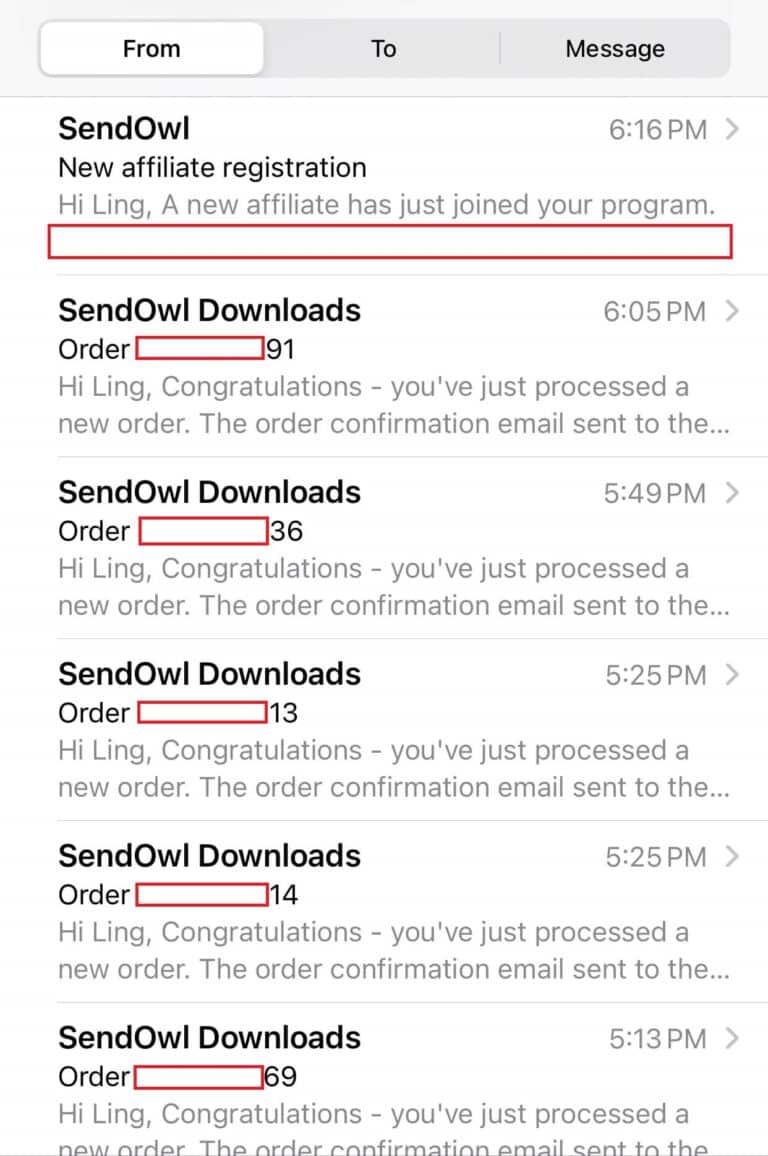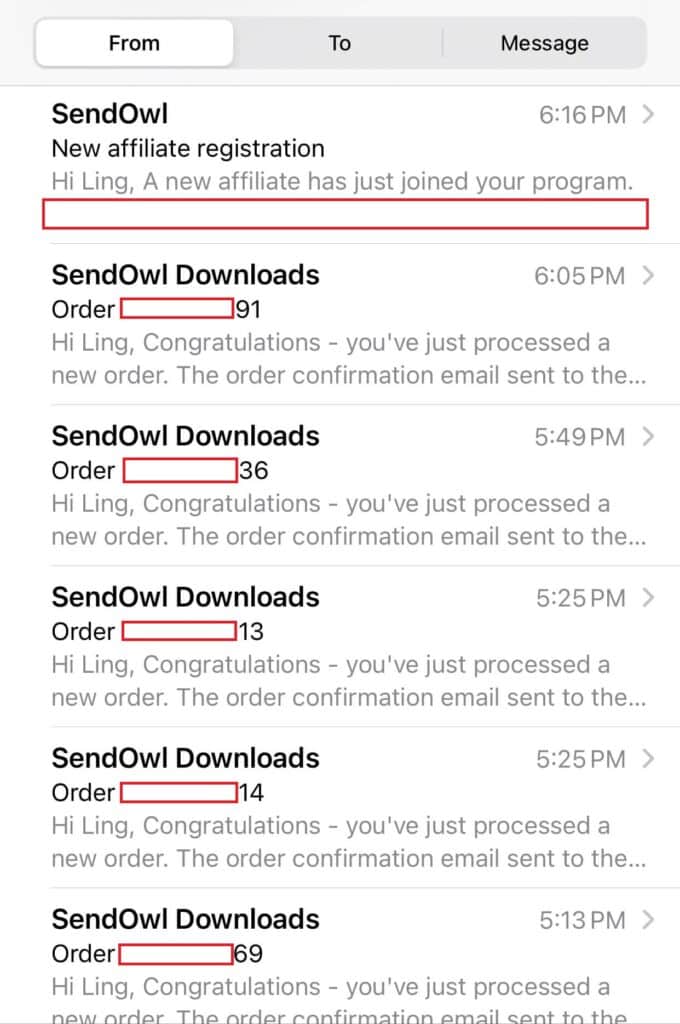 I'm going to continue doing whatever I'm doing and taking things easier now. That includes focusing on my health, exercising more, and practicing self-care. Of course, I will be doing other online and blogging-related things, and continue to learn as much as I can. I feel like I'll be entering a new phase in my blogging journey and it's going to be an exciting and new beginning for me!
I do want to say that it is TOTALLY possible to start your blog all by yourself with NO tech and NO prior experience with the online space. It's what I did when I started Finsavvy Panda blog.
That's all for today, my friends!
Whether you're just a beginner or intermediate blogger, I hope you found these blog lessons helpful.
Here is the moment you've been waiting for… my blog income report and progress with two of my blogs. Regardless of doing this for a few years, income will always fluctuate, and it will always feel like a roller-coaster. Your blog income is never predictable, but the earning potential is unlimited compared to a stable 9-5 job!
Remember, life is like a box of chocolate… You never know what you're gonna get!
Blog Income March: $27,689.76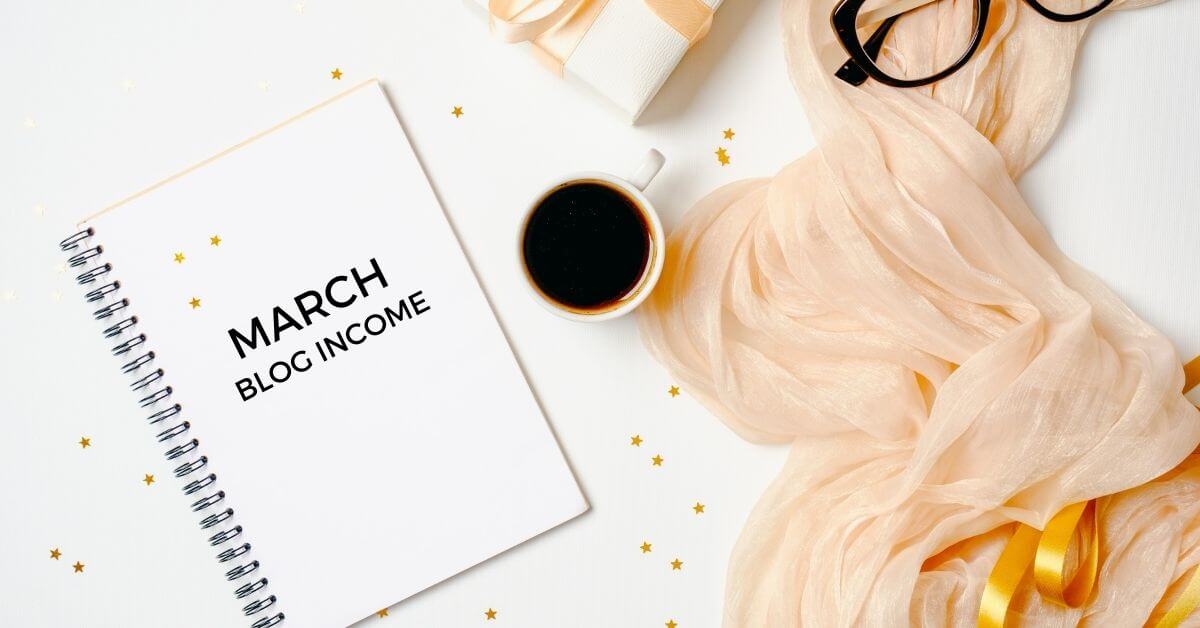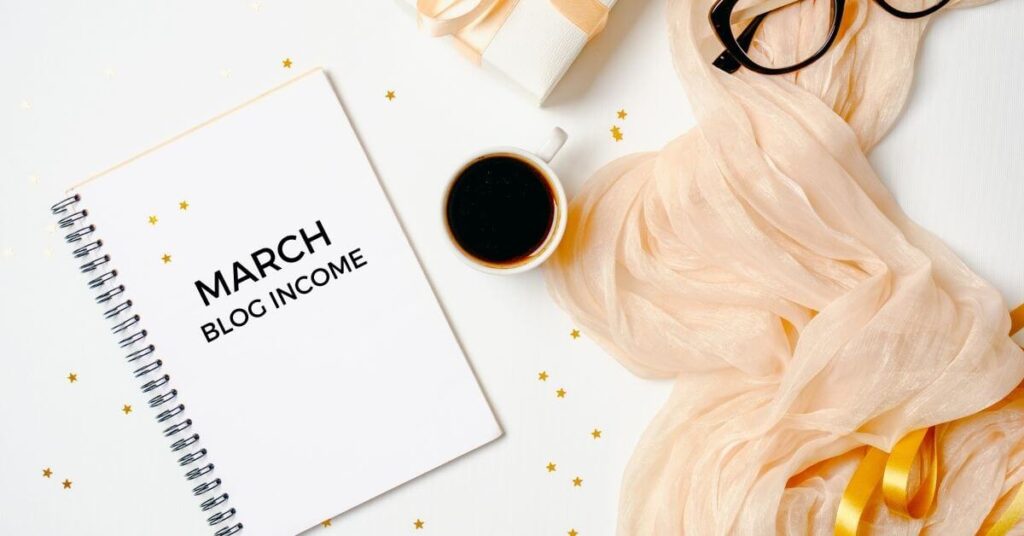 Display Advertising: $3,289.37
Affiliate income: $20,327.19
Saving money and budgeting resources, survey sites, cash back apps, etc.
Amazon Associates
Blogging tools and resources
Work from home job resources
Digital products: $4,073.20
Total Blog Expenses: $2,121.35
Web hosting and paid plugins: $53.20
Blogging education, VA services, Canva Pro, Tailwind, ConvertKit, advertising, digital products subscription, and transaction fees: $2,068.15
March Blog Net Income After Expenses: $25,568.41
Blog Income February: $22,758.86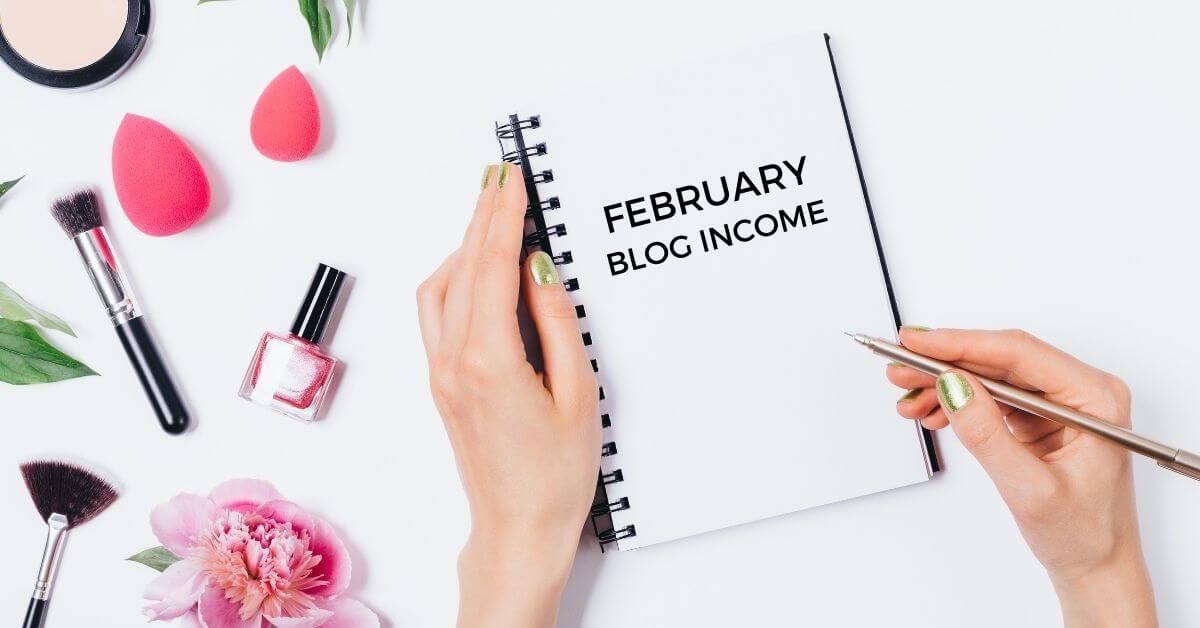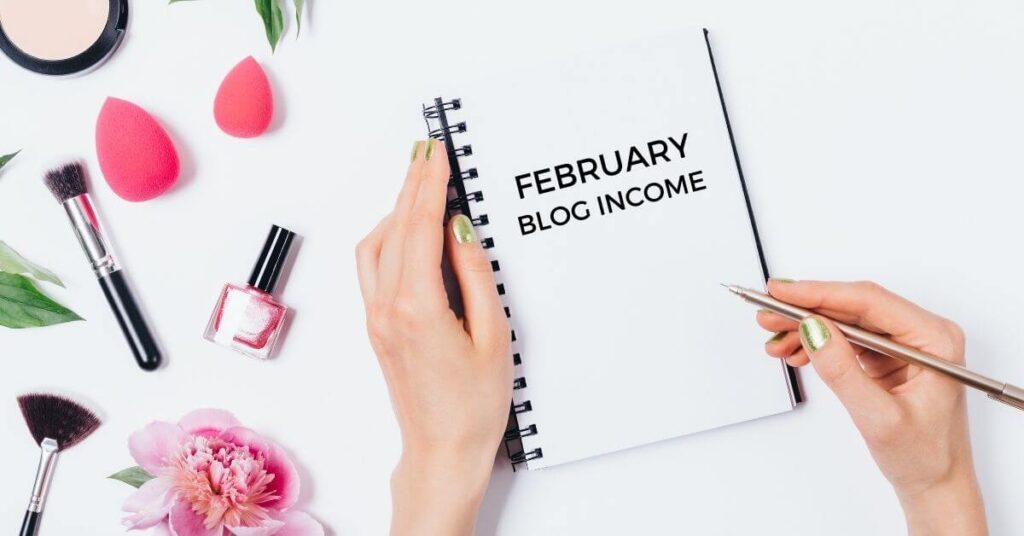 Display Advertising: $3,060.00
Affiliate income: $17,681.64
Saving money and budgeting resources, survey sites, cash back apps, etc.
Amazon Associates
Blogging tools and resources
Work from home job resources
Digital products: $2,017.22
Total Blog Expenses: $1,297.70
Web hosting and paid plugins: $53.20
VA services, Canva Pro, Tailwind, ConvertKit, advertising, digital products subscription, and transaction fees: $1,244.50
February Blog Net Income After Expenses: $21,461.16
Blog Income January: $27,750.58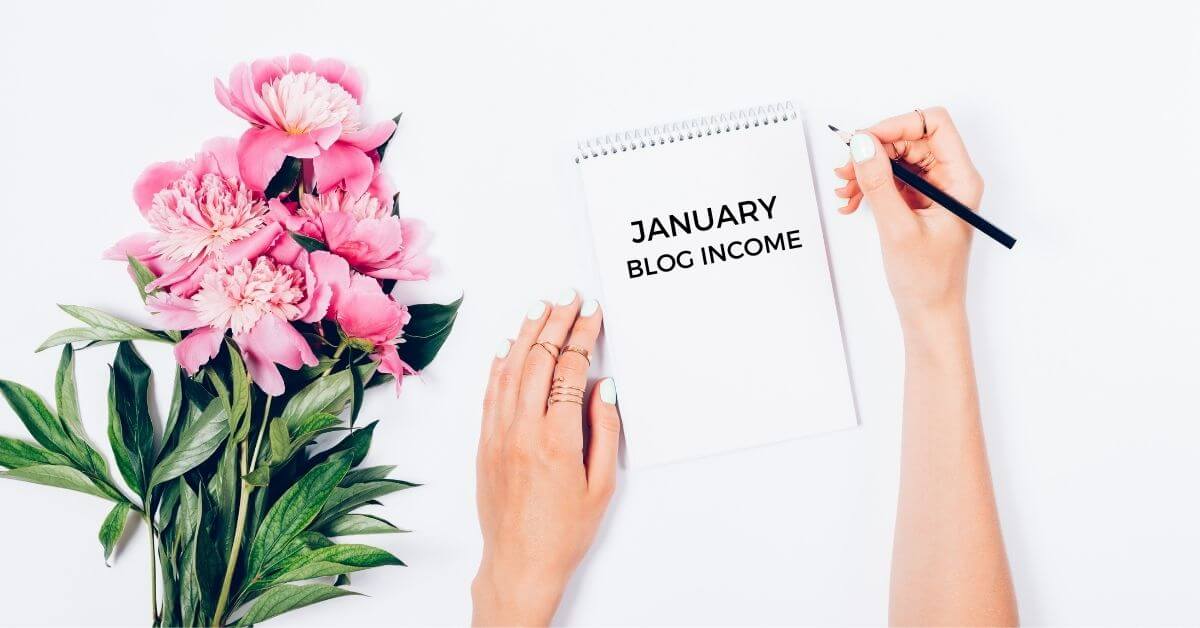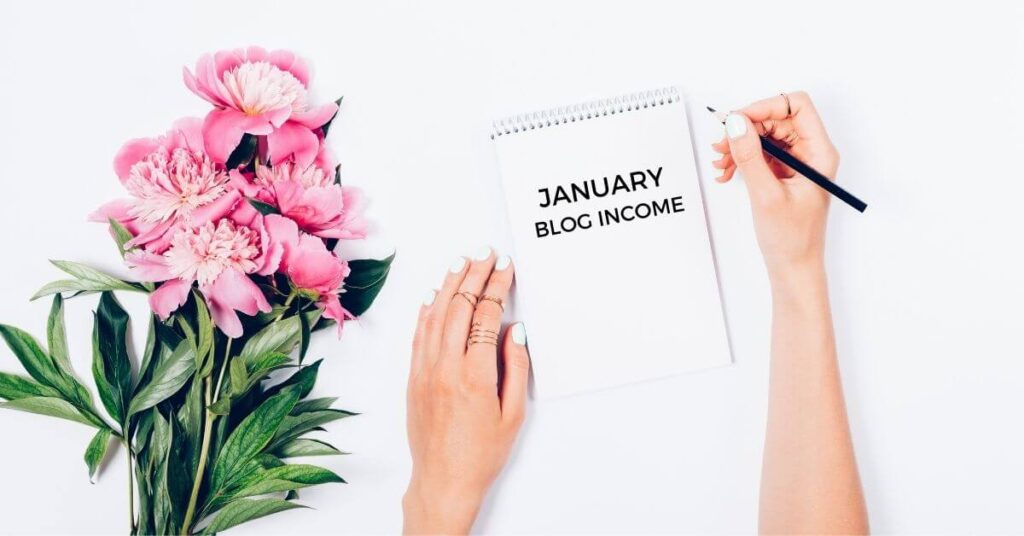 Display Advertising: $2,920.28
Affiliate income: $22,867.09
Saving money and budgeting resources, survey sites, cash back apps, etc.
Amazon Associates
Blogging tools and resources
Work from home job resources
Digital products: $1,963.21
Total Blog Expenses: $1,545.86
Web hosting and paid plugins: $53.20
VA services, Canva Pro, Tailwind, ConvertKit, advertising, digital products subscription, and transaction fees: $1,492.66
January Blog Net Income After Expenses: $26,204.72