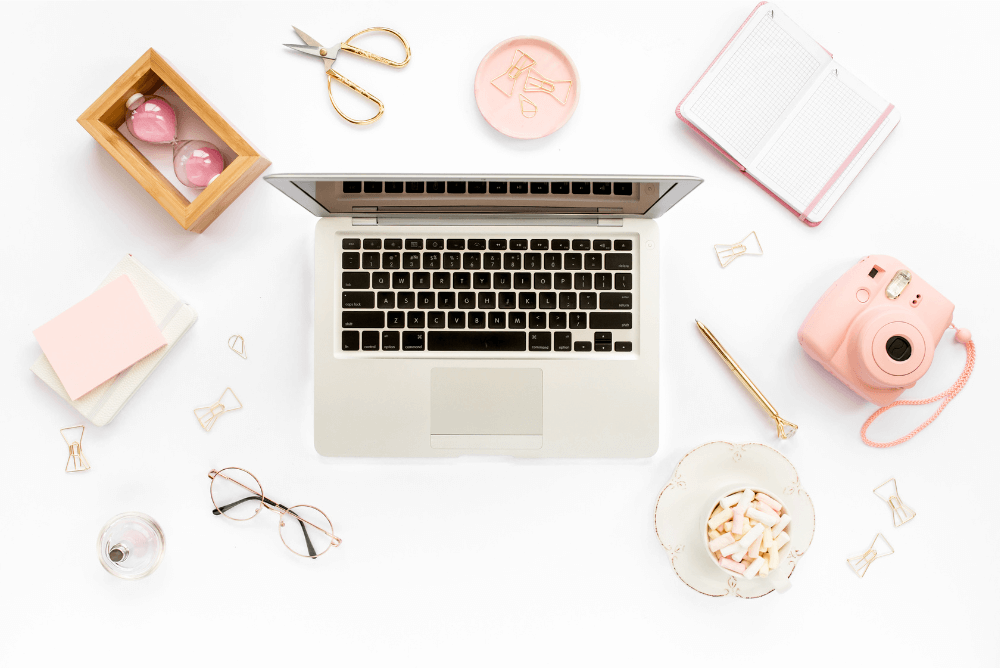 We will receive a commission if you make a purchase through our affiliate link at no extra cost to you. Please read our disclosure policy for more information.
I decided to write this blog post on how to make your first $100 blogging, and even your first $1,000 as a beginner because I am always asked about it.
On top of that, if you're a beginner, I really want to help you kickstart your blogging journey with the right advice so you can avoid making rookie mistakes that I often see bloggers make.
Fair warning that this post is going to be long because I know how much work goes behind the scenes of making money with a blog, so I want to provide as much detail as possible.

Plus, I felt emotional writing this, so a bit of it comes off a little raw revealing some of the darker truths about my blogging journey – so make sure you click this image here and save this to your Pinterest board. That way, you can come back and finish reading this juicy article with details.
It surprises me because I didn't think anyone would care about my first $100 earned through blogging, but that's just human nature.
People love to know how others first started and progressed over the years in the form of blog income reports – like my first income report where I earned my first $703.57 in a month all the way to my lastly published income report of $27,689.76 in a single month.
I honestly cringe reading my older posts because I don't even recognize that person anymore. I was incredibly naive and made so many silly mistakes with my blog! Who knows – I may cringe reading this post 5 years later because I know I'm not perfect.
From My First $100 Blogging To Becoming a Six-Figure Blogger
Looking back at the beginning of my blogging journey, I also realized that I had very low self-esteem and that I had let people online (including affiliates/companies I work with, other bloggers, and readers) take advantage of me because I came across as "too nice" or "too soft" who couldn't say "no" to many things.
I felt bad and thought that would be "mean" or "rude" of me, but the truth is I was just a sensitive person who didn't know any better.
In other words, I was a people-pleaser at the expense of my well-being.
Believe it or not, being vulnerable and appearing "not confident" or "too nice" was what helped my blog succeed early on (unexpectedly) because a lot of people felt comfortable and could relate to me.
Just being vulnerable (without even realizing that I was vulnerable) was how I was able to make my first $100 blogging and many more along the way. All the way to six figures per year as a casual blogger.
But at the same time, what you don't see behind the scenes is that many people would cross the line and eat me alive by feeding me with their life problems with no shame.
They kept asking me for help along with endless questions without being genuine, considerate, or supportive.
Based on every first interaction people make with me, I could immediately tell who was genuine or not.
They did not respect me or my time.
After they got what they wanted, they disappeared… until they needed something from me again.
In other words, most people I dealt with took me for granted and never cared about my blogging goals, my mental well-being, or whether or not I was surviving.
How I accidentally earned my first $100 and became a six-figure blogger
The good thing is I have changed and learned to become more confident and assertive over the years to avoid burnout, wasting time, and being taken advantage of by takers who are self-absorbed – the funny part is that most people don't even realize this because they are not self-aware and they lack the ability to see things from different angles and perspectives.
Despite my past cringe-worthy blog posts that display the pushover and sensitive AF person in my earlier years, I can say that I have grown as a person and blogger by becoming firm and having zero tolerance for ingenuine people who are not worth my time or effort.
Not only do those previous income reports like this share my progress and tips on my journey on how I earned my first $100 blogging, but it brings back happy memories of the hard work and dedication that got me to where I am today.
A big part of my results today has come from learning to value myself and my time more.
I now focus my time on building quality relationships and helping readers, bloggers, and companies who are more genuine, reasonable, respectful, and not short-sighted because they are the ones who keep me alive in my blogging business. If it weren't for these genuine collaborations and support, my blog wouldn't be earning an income and it would have been out of business.
I'm so glad I didn't hit my head against the wall and kept making the same mistake of letting people take advantage of me in my blogging journey.
How To Make Your First $100 (Blogging Mistakes to Avoid as a Beginner)
I want to point out that I actually still make tons of mistakes today and I know I'll always regret something no matter what.
It's important to acknowledge that no one knows it all (not even the "pro bloggers" or "gurus") despite their years of experience due to the unlimited ways to monetize a blog!
Blogging is a constant learning process and you need to be willing to experiment, test things out, and try new strategies in order to succeed.
I've come a long way and my blog has become my livelihood, which is one reason why I stopped publishing my income reports. I felt uncomfortable disclosing that kind of financial information and I no longer needed to feel any pressure.
I am very content with earning over six figures per year over the last several years of blogging and I want to keep my online presence as low-key as possible.
In the last 365 days, I made it a daily habit to pray, meditate, and practice gratitude for having a blog that has allowed me to live my dream life and do what I love to do, which is spending time with my family, trying new recipes, practicing self-care, and traveling the world.
Despite stopping my blog income reports, I still get a lot of emails asking how I made my first $100 or first $1,000 (and sometimes even my first $50 through blogging).
In my very last blog income report, I also list out my blogging mistakes in addition to the lessons I learned during my first 4 years of blogging – the blogging mistakes in that separate post are better suited for intermediate bloggers and not beginners.
But I also want to list out the blogging mistakes here for beginners to avoid before I show you how to make your first $100 blogging.
Again, everyone makes mistakes including myself. However, the key to earning that first $100 is, to be honest with yourself. You have to be self-aware and acknowledge that you are making mistakes even if you don't think you are.
Here are some blogging mistakes that you may be making that you have to avoid if you want to earn that first $100, first $500, and even that first $1,000 with your blog.
1. You don't have a solid blog foundation
When you first start your blog as a beginner, you just want to get your blog up and running so you can immediately share all of your great content. That is what I did.
However! You also need to think about your blog's foundation, which includes choosing the perfect domain name, installing a lightweight pre-made blog theme, and properly formatting your first blog post.
Not considering the foundation of my blog was the biggest mistake I made and if you want to address it, then I suggest investing at least 30 days to learn how to set up your blog's foundation correctly. That includes everything from installing a minimalistic blog theme like Astra or Kadence all the way to finding a profitable niche and writing highly sought-after content for your readers.
PRO TIP: I often get asked about paid blog themes and which one they should invest in.

If you want better blog theme options, you can always upgrade to the pro versions of Astra or Kadence, but in all honesty, the free version will do for new blogs. Other great paid options are GeneratePress and Trellis by Mediavine. I would usually recommend beginners stick with the free version first and upgrade to a paid version once they get the hang of blogging.
Takeaway message #1: Set up your blog correctly before you publish your blog posts.
I also have my FREE 7-day e-mail course that will teach total beginners, like you, how to start a profitable blog and use Pinterest to gain tons of readers and followers. This is the course I wish I had when I started using Pinterest for my blog.
2. You dwell over the aesthetics of your blog theme
Speaking of blog themes, this is one of the biggest mistakes I often see beginners make!
It's understandable that your goal is to create a beautiful blog that stands out from the millions of other blogs out there. But you can't expect your blog to look like a professional website like the established ones you see in the most popular blog lists.
Not all bloggers have a team of designers, developers, and copywriters working on their blogs 24/7. It takes time to build your brand and establish yourself as an expert in your industry. Instead of focusing on aesthetics, focus on creating great content and you'll be surprised how far that will take you.
I am thankful that I focused more on writing and publishing my content instead of focusing on making my blog look pretty.
It was my initial 20 to 30 blog posts that I published once per week that helped me grow. With those posts published, I eventually make my first $100 blogging. It wasn't until I had over 30 articles that earned me my first $1,000 and beyond.
When I started my second blog, I actually wrote one blog post every day for the first 20 days. After that, I consistently published one per week on average. To my surprise, it started picking up traffic from Pinterest, which gave me the opportunity to apply for Mediavine again.
Without content, there would be no traffic, which means no income!
To this date, my blog still doesn't look glamorous but it's still able to earn a net annual income of six figures!
Takeaway message #2: Stop dwelling on the way your blog looks. How you set up your blog behind the scenes in addition to how you write your content is what makes or breaks your blog. Not how aesthetically pleasing it looks on the surface!
3. You don't have enough content
It boggles my mind when I get e-mails from people asking me how they can earn their first income through blogging (without a lot of content on their page).
I'm not even joking.
I've received tons of e-mails and comments from people who left me with a link to their blogs in hopes that I can give them some magical solution and tell them how to make big money with display ads like Google AdSense, Ezoic, or Mediavine.
My response is always the same:
"Honey, your website is pretty and all, but you need more content on your blog! Where is your content? I see only 5 blog posts published and each article is under 1,000 words! It's best if you can get at least 20 blog posts published before you try to monetize your blog. And if you can get more than 20, even better! Aim for 30 or even 50 if you can!"
You see, when you have more content on your page that relates to your niche, you'll start attracting the right kind of visitors who are interested in what you have to offer.
If you want to make money blogging, it's best if the visitors who read your content are on the same page with what you're selling. And you need a lot of content to get the ball rolling.
Takeaway message #3: Aim to have 30 blog posts as a beginner. Once you're past the beginner stage, publish at least once a week.
4. Your blog posts are not keyword-targeted or SEO optimized
This was literally one of the worst mistakes I made with my blog.
When I was a new blogger, I had no idea what the terms "keyword" or "SEO" meant, so I was running wild with my blog posts and publishing all kinds of content on whatever topic I felt like writing about. I did not really know my audience or the keyword to go for.
For example, I wrote a post called "Make Compound Interest Your BFF" which I thought was super clever to give such a tacky title.
The sad part is that no one is searching for "make compound interest your BFF" on Google or Pinterest.
What does that even mean?
Not only that, but the general public doesn't really reference the term, "compound interest" when they are looking for investing tips unless they are searching for what it means or how it works.
And here's another sad thing…
I published it on Pinterest and had some traffic coming in, but I quickly realized that a lot of people who were visiting my blog had no idea what "compound interest" meant – that blog post just wasn't meant for my audience.
Instead, a better keyword or title to target for this type of content would have been something along the lines of:
How To Invest $100,000
How To Invest $100,000 To Make $1 Million
How To Invest With Little Money
As time went on, and after a lot of trial and error, I finally learned how to use keywords in my blog posts.
Shortly after that, I learned what SEO is all about, which is the process of optimizing your content for search engines to be found easier.
Takeaway message #4: Stop writing on a whim without a plan. Learn what SEO is and how you can optimize your blog posts for more traffic.
NOTE: I also heavily emphasize Pinterest SEO and keyword research in my comprehensive guide, The Golden Compass To Pinterest Traffic, to help you with keyword research and publish highly-searched terms so you can write specifically for your audience.

If you want to make money blogging, it's important that your blog posts are keyword-targeted or at least SEO-optimized because it will help you rank higher on Google and Pinterest.

If your content is being discovered by the right kind of audience with the right interests, it'll be that much easier for you to start earning money from your blog.
5. You don't have enough traffic
Yes, you need to focus on writing amazing content that is SEO optimized, but what good is it when you don't have a lot of traffic?
As mentioned, you need to get your blog posts in front of the right people if you want to earn your first $100 or even $1,000 blogging.
Maybe you do have enough content but you're still wondering why you're not getting traffic to your website.
I get a lot of people always asking me why they haven't earned their first $100 yet despite having their blog set up with the content on it.
Well, no traffic equals no money.
The problem is that traffic doesn't come just because you published 30 articles.
In order to attract the right audience to your blog, you need to focus on promoting your posts on a platform like Pinterest or Google to gain readership.
Because of Pinterest, I was able to earn my first $100 blogging from getting pageviews from Pinterest!
For beginners, Pinterest is an excellent platform to use for getting traffic – this is especially true when you're in a Pinterest-friendly niche.
PRO TIP: Pinterest-friendly niche includes food, travel, arts, fashion, beauty, entertainment, lifestyle, and a ton more! This blog is a personal finance blog but it still drives over 50,000 monthly pageviews from Pinterest. I also have a lifestyle blog that generates an average of 100,000+ monthly pageviews from Pinterest because it's more Pinterest-friendly than my financial blog.

I also spill the beans on how I leverage Pinterest to grow my audience in my free Pinterest course, Skyrocket Your Pinterest Traffic in 7 Days.

If you're looking for a super detailed comprehensive guide with all my secrets, then I recommend The Golden Compass To Pinterest Traffic which will teach you how to look for popular blog posts that will help you rank higher on organic searches.
And in case you're wondering why I'm talking about other niches here when this post is about how I made my first $100 blogging as a personal finance blogger – the thing is that I can always customize my blog posts to cater to any niche.
That's why this works for me as a personal finance blogger, but it will also work if you are publishing content on food, travel, fashion, arts, health, lifestyle, or anything else. I do this with my lifestyle blog too.
The key is to be creative and leverage a Pinterest-friendly niche and give it a twist that is relevant to your blog that provides value to your audience.
Takeaway message #5: You won't make money blogging without a lot of traffic if you're a beginner (BTW, I'm not talking to those of you who earn six figures with less than 10,000 monthly pageviews). Aim for 5,000 page views per month as a start. After that, aim for 10,000 and eventually 50,000+ monthly pageviews.
6. You don't have click-worthy pins
There are many factors that will impact your traffic and hence help you earn your first $100 blogging.
The biggest reason why people fail to make money on Pinterest as a blogger is that they don't have click-worthy pins.
When your pin has a good image paired with a good headline, it will get more clicks than an average pin.
You want to entice people to open that pin, enjoy what they're seeing, and take action right away by clicking over to your article.
So, the key here is to create great pins like these that have a catchy image and an interesting description. It also helps if you can craft an irresistible headline for your blog post so that users will be more inclined to read your content.
Once you have quality posts, focus on creating a strategy to promote those pins and start gaining more readership. I also wrote an article on how to increase your Pinterest traffic here. This will help you drive traffic organically to your blog through a platform that's free for anyone to use!
Takeaway message #6: Make nice pins with good headlines to attract more pageviews. The more traffic you can get, the higher your chances of earning your first $100 or $1,000 with display ads and affiliate marketing.
7. Your blog topics are all over the place
This is one of the first mistakes I made and probably the most common one that many beginners make.
I have many interests from personal finance and minimalism to holistic skincare and healthy eating, so it's only natural to want to cover all of these topics on my blog.
While this might seem like a good thing at first, having too many topics can actually be detrimental to your traffic because it means that you won't ever fully focus on any specific topic. It may even confuse search engines especially when you're a new blogger.
Instead, I would suggest choosing one or two niche concepts that you want to focus on and slowly expand over time if you really want to dive off.
READ MORE: I have a separate post here that teaches you how to choose a profitable niche while enjoying what you blog about. Yes, it's possible to make money and love what you do!
So, if you're a travel blogger who wants to share your knowledge with the world, it may be a good idea to start off with topics that are easily monetizable such as booking tips, flight hacks, and destination ideas.
As you grow your audience and gain more followers, feel free to explore the many other areas that are also related like saving money while traveling, local destinations, best restaurants, packing hacks, and travel gear recommendations.
One effective way to figure out what topics you should focus on is by doing keyword research with a tool like Ahrefs or Google Keyword Planner so that you know which keywords people are searching for in your niche. Once you have this information, start crafting blog posts around those keywords and monitor your traffic to see what's working.
By focusing on one specific niche, you will be able to create more valuable content for your readers and make them come back for more.
When you are just starting out, it's best if you focus on creating content and building your reputation as an expert in your industry or what you're passionate about.
Takeaway message #7: Ditch multiple topics for now. Just focus on creating content around one specific area.
8. You have a "lifestyle blog" with no direction
I know what you may be thinking now.
"But, Ling, you have a lifestyle blog. Aren't your topics all over the place? So, how are you making money with your lifestyle website?"
Well, it is all about how you present your content – I like to be personal and write about my opinion on different topics. But I also have a lot of articles that fall under a specific category and target a specific audience. On top of that, I try to see how I can make my articles relate to each other.
Let's just say there is a difference between a lifestyle blog that has no direction versus one that has a clear focus for its audience.
For example:
A college lifestyle blog might focus on topics like dorm hacks, affordable shopping tips for young adults, how to stay healthy in college, and ways to save money at school.
A beauty and fashion lifestyle blog, on the other hand, could focus on makeup tutorials, outfit styling tips for different occasions, fashion advice for petite girls, and beauty product recommendations.
A general lifestyle blog for women over 50 could cover topics like beauty for women over 50, healthy eating and fitness, happiness tips, retirement planning, and financial advice.
As you can see, just because it's labeled as a "lifestyle blog" doesn't mean that you can be all over the place with your topics and focus.
It's no surprise that the audience of a college lifestyle blog vs. beauty and fashion vs. 50 and over women are very different, so it's important to tailor your content around what appeals to them.
Every successful blogger has one thing in common – they know exactly who their audience is and what they want to see from you.
So, if you're just starting out and all over the place, then it's time to narrow your focus and build a reputation for yourself as a content creator who can provide value to your readers on any given topic.
Takeaway message #8: Think about who your audience is for your lifestyle blog. Make content for that specific group of people.
9. You're too focused on short-term gains and making money now with the blog
I'm guilty of this mistake and I'm no better than most.
It's actually a mistake that a lot of people make and they aren't self-aware of it (even though they don't think that's them).
Yes, I admit when I started my blog, I was overly excited about monetizing it that I lost sight of other higher priorities like building a solid blog foundation and publishing more blog posts.
My mind was clouded with thoughts about how I could start earning with my blog, but I didn't have many visitors – I think it was 1,000 to 3,000 monthly visitors.
What was I supposed to do with my first thousand monthly visitors?
I didn't even know what "3,000 visitors" meant when I reviewed my Google Analytics – it was just a number with no income attached to it.
I shrugged and still went ahead to apply for Google Adsense anyways.
After many months, I earned my first $100 blogging and still spinning my wheels.
That's when I just stopped thinking about how I was going to make money.
Instead, I focused on building a quality blog that I could be proud of months and years down the road. That meant focusing on writing content as mentioned earlier, connecting with a few bloggers who had similar goals, and investing in a blogging education in addition to blogging tools that would help my website grow in the long run.
As a result, I started seeing results in terms of organic traffic, social media engagement, and email subscribers. From earning my first $100 blogging and publishing my first blog income report to growing my income to over six-figures per year, I can honestly say that taking the long-term approach has worked much better than chasing short-term gains.
So, if you are too focused on the money from your blog, stop and take a step back. Focus on building a quality foundation for your blog first and then start thinking about monetizing and earning from it. You'll find that the money will come much slower if you're not paying attention to the other things that matter for long-term success in blogging.
Takeaway message #9: Stop being so short-sighted. Think about the bigger picture and long-term prospects of your blog.
How I Made My First $100 Blogging With Google AdSense
Now that you've gone through the list of the most common blogging mistakes that beginners make and how you can earn your first $100 blogging, it's time to talk about exactly how I made my first $100 blogging.
Despite stopping my blog income reports, I still get a lot of emails asking how I made my first $100 (and sometimes even my first $50 through blogging), so today I want to share with you my story.
It's not glamorous because I was a newbie who didn't know what the heck I was doing, but it's a real story of how I was able to turn my blogging hobby into a career.
My first $100 came from display advertising with Google AdSense.
As soon as I had some traffic coming in from Pinterest and a small group of personal finance bloggers I had connected with at the beginning of my journey, I immediately applied for Google Adsense and got approved.
Woo-hoo, I was earning a few cents per day in the beginning, which eventually grew to $3, $5, or even $10 bucks a day depending on whether someone clicked on an ad.
I switched to Mediavine after earning my first $100 to $500 blogging
I look back and think how silly I was to put all my hopes on placing Google ads on my blog, which pays you peanuts compared to Mediavine. I do have to say that my experience with placing Google Ads was a stepping stone for me to finally start earning online.
The truth is, it's not going to work for everybody because Google Adsense pays you a few cents or even a few dollars per day and they require you to have some traffic before approving you.
After my experience with Mediavine and being able to earn an income with affiliate marketing and digital products, I personally would not apply for Google AdSense anymore.
For my newer blogs, I prefer to wait until I have at least 10,000 page views before I start applying for other ad networks like Monumetic. The extra few months of wait is my way of telling myself not to rush into things and focus on growing my blog at the same time.
After ditching Google Adsense, my blog took off once it got accepted to Mediavine. I wasn't earning a full-time income with display ads alone, but with my affiliate earnings combined, I was able to quit my 9-to-5 job to become a full-time blogger.
FAQs About Making Your First $100 Blogging
Here are some commonly asked questions my readers ask me about making their first $100 blogging.
1. How long does it take to make $100 blogging?
How long it takes to earn your first $100 from blogging depends on several factors. These include the age of your blog, how often you publish, whether you're implementing SEO and optimizing your articles, your activity on social media platforms popular with your audience, and, crucially, your consistency in performing these tasks.
Achieving that initial $100 can be a genuine test of perseverance; it's not rare to go through several months, perhaps 6 or even 12, without seeing any income.
2. How to make $1,000 dollars a month blogging?
Making $1,000 a month blogging is not much different from earning your first $100. Once you've secured that initial $100 and continue to focus on what works while discarding what doesn't, you'll typically witness a rise in your earnings during the early stages of your blogging journey, culminating in your first $1,000.
It boils down to maintaining consistency in blogging tasks, such as writing, updating, pinning on Pinterest, or posting on a social media platform of your choice. Equally important is staying resolute and not allowing setbacks to demotivate you. You can check out how I earned my first $703 in a month from blogging to almost $3,000 in the next month.
Conclusion on How To Make Your First $100 Blogging
There are many ways to make your first $100 blogging from display ads, affiliate marketing, digital products, and more.
Whether you are just starting out in your blogging journey or have been blogging for a while, my best advice is to focus on building a strong foundation first and then think about ways that you can monetize and start earning from your blog.
The most obvious thing is you need traffic before you can start earning your first $100 or $1,000 blogging, so don't neglect Google SEO and Pinterest SEO strategies in your journey.
If you are too focused on the money from day 1, you will likely burn yourself out quickly with no real results. Instead, take the time to build an engaged community of readers who trust your expertise and will eventually come back to your blog to give you more page views. If you want people to buy your products or services, then you better start posting more often and educating readers on how you can solve their problems.
With patience, perseverance, and hard work, I am confident that you'll be able to make your first $100 blogging too!
Please drop a comment below and let me know how you're doing so far with your blog!
Enjoyed this post? Don't forget to pin it! Also, don't forget to follow me on Pinterest over here! 🙂