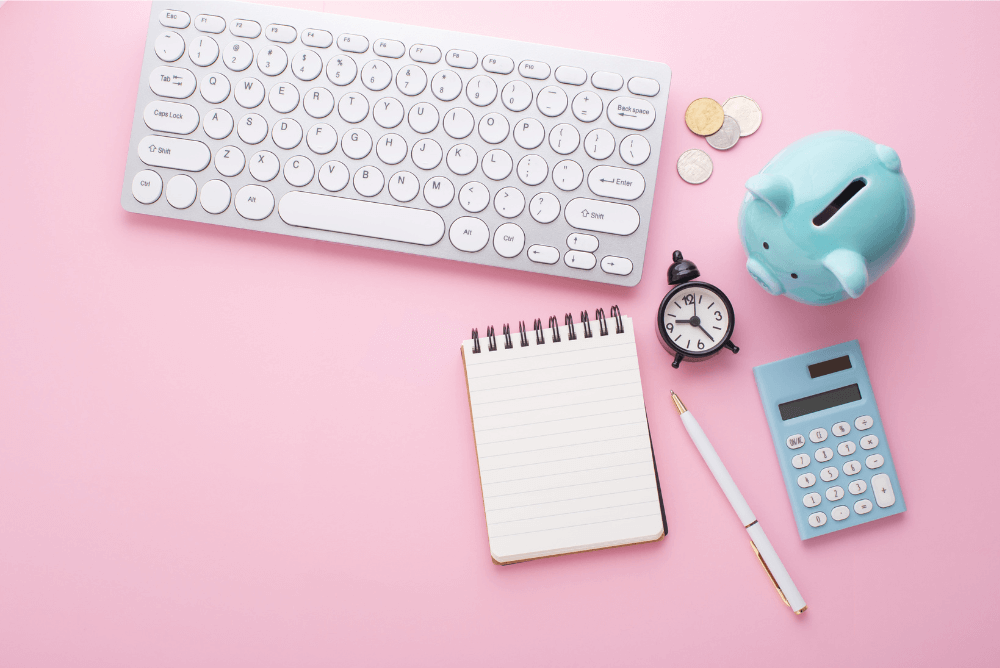 We will receive a commission if you make a purchase through our affiliate link at no extra cost to you. Please read our disclosure policy for more information.
Saving money doesn't come naturally for most of us.
How can we? We live in a society that rewards and encourages spending, not saving.
Everywhere we go, we see advertisements telling us that we need to buy something because it will make us happy, or that it's the latest and greatest gadget. And who can resist? It's so easy to get swept up in the consumer culture and spend money we don't really have.
No wonder why more than 50% of Americans are living paycheck to paycheck.
We all want to be happy, and buy things that make us feel good. This makes it hard to break free from the trap of consumerism and reach our financial goals.
But saving money isn't just about feeling more secure or having more financial freedom. It's also about taking control of our lives and making a conscious effort to live better, healthier, and more consciously.
Saving your first $1,000 a month is not only possible, but it is also easier than you might think.
You may even want to start off by trying to save $10,000 a year, which translates to $833.33 per month.
There are many fast and practical ways to save money without depriving yourself of or sacrificing your quality of life. Strategies like saving money challenges and shopping for deals can make it fun and rewarding. You might also wish to elevate your personal progression and growth, blending in a touch of spirituality, to swiftly cultivate the skill of manifesting money fast.
So if you want to start saving money, don't wait. Whether it's making small changes to your spending habits or testing out new saving strategies, there are countless ways to save money and reach your financial goals. Start today and watch your savings grow!
Here are my favorite tips for saving $1,000 per month. You may also want to take a look at my list of the best ways to save money – these are the things I've done to save my first $100,000 by my mid-20s.
PIN (OR BOOKMARK) THIS PAGE! I'll be updating this post about the best ways to save $1,000 each month, so make sure to click here and save this image to your favorite Pinterest board!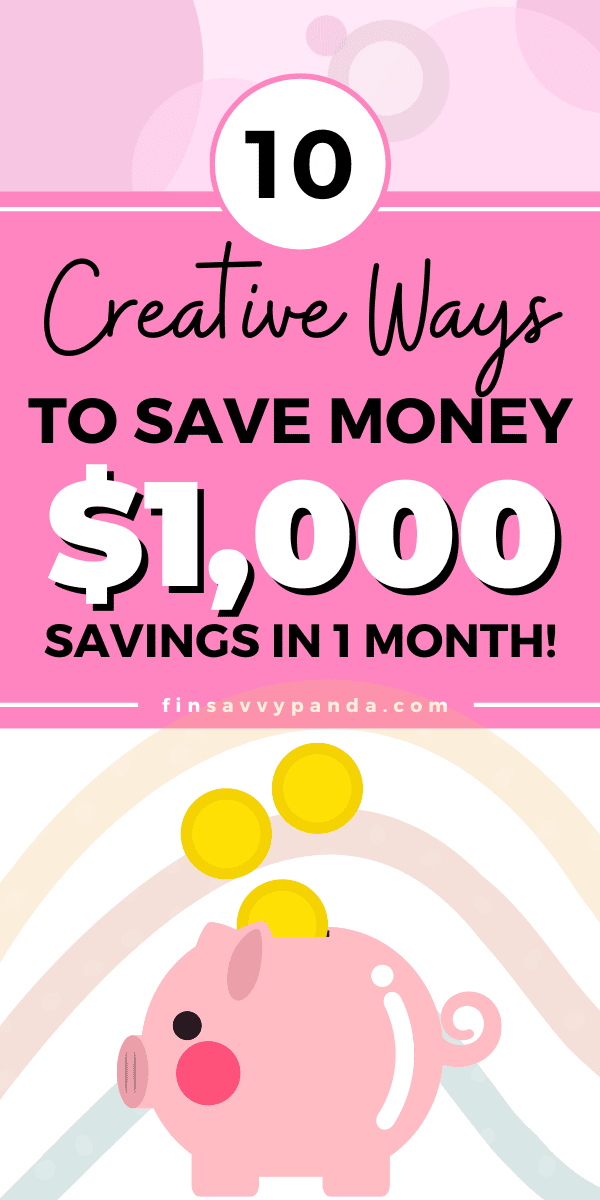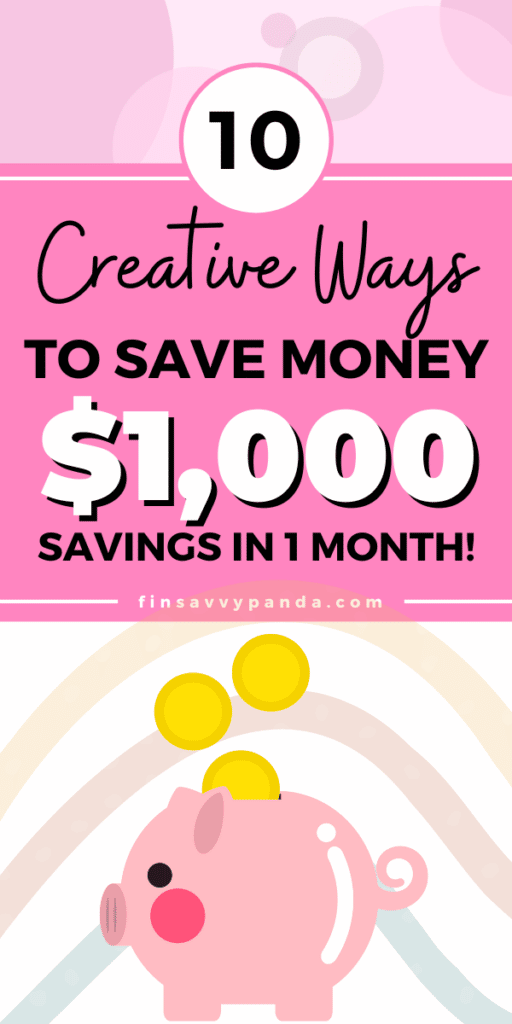 1. Change Your Money Mindset
The mind is more powerful than you think. It influences your spending habits and your savings goals, so it's important to change your mindset around money in order to save more.
One way to do this is never to tell yourself that you "can't" save money. The moment your mind says "no," you've lost the battle and your money will say no too.
To attract money, reprogram your brain and tell yourself that you can and will save money – no matter what. By shifting your mindset and focusing on all of the ways that you can save money, you'll see that you'll come up with creative ways to save money.
For example, you might think it's impossible to lower your insurance rates since everyone else is paying a lot. But by shopping around for insurance quotes and comparing prices, you'll have better information and more power to negotiate for a lower rate. When you bring up the fact that their competitors are offering better deals, you'll be surprised by how willing they are to lower your rates in order to keep your business.
2. Know Your Personal Goals
Even before you start putting money aside, you need to know exactly what are you saving for and why is it important to you. I was able to achieve this step when I asked myself how to stop buying things that didn't really add any value to my life – these are the 12 dumb things I stopped buying to save thousands of dollars!
If you don't know the reasons why you're saving, it will be very difficult to make your financial goals a reality.
Think about the purpose of saving money.
Are you trying to build an emergency fund in case your once-reliable car breaks down and need to pay for repairs? Or maybe you're sick and tired of debt and want to stop living paycheck to paycheck. It's absolutely fine if you want to save up money for a once-in-a-lifetime trip to Asia and travel across Europe.
Just be honest with yourself and set goals that are important to you, not to other people.
Set some personal goals around saving money and make them as specific and measurable as possible. Once you have your personal financial goals, break them down into smaller steps or milestones. This will make them easier to achieve and help you stay motivated as you reach your financial targets.
For instance, instead of "I want to save money to get out of debt," your goal should be "I want to be debt free in 12 months. I will save $1,000 per month to pay off my credit card balance."
Whatever your goals might be, it's important to have them written down and keep them in mind whenever you're tempted to spend when you shouldn't. Having concrete goals will help you stay focused on your saving efforts and give you the motivation you keep going.
3. Save $1,000 in a Month Using a Savings Challenge
I created a little something here that will motivate and help you save $1,000 quickly!
So, before you go through my other easy and practical tips on how to save $1,000 a month, or every month, I want you to save this cute savings tracker to your Pinterest board.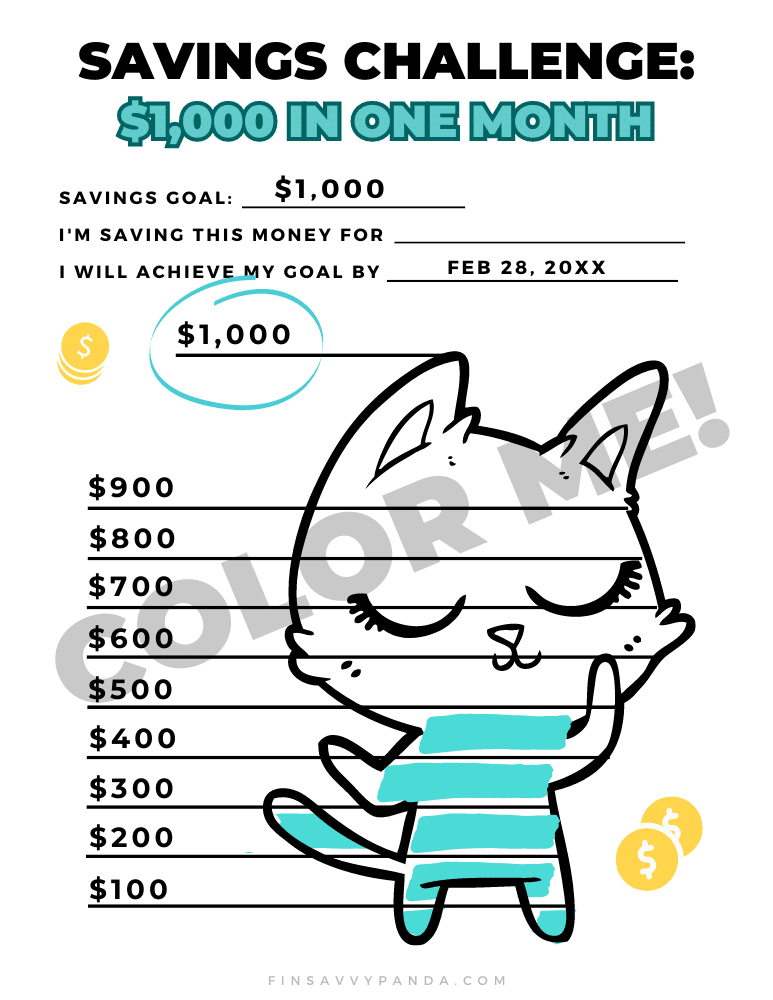 By using this $1,000 a month savings challenge, which I absolutely adore (and I know you will too), you'll be on your way to achieving your savings goal. Simply just save a copy of this onto your computer, print it out, and use colorful markers or pencil crayons to fill in each $100 you've saved thus far into the month.
As you can see, to save $1,000 in a month, you'll need to save $100 every 3 days, which is totally doable if you find ways to earn extra money in addition to following a budgeting plan, which I explain how to do in the points below!
You can download your $1,000 savings challenge printable simply by right-clicking the image below and selecting "save image as…".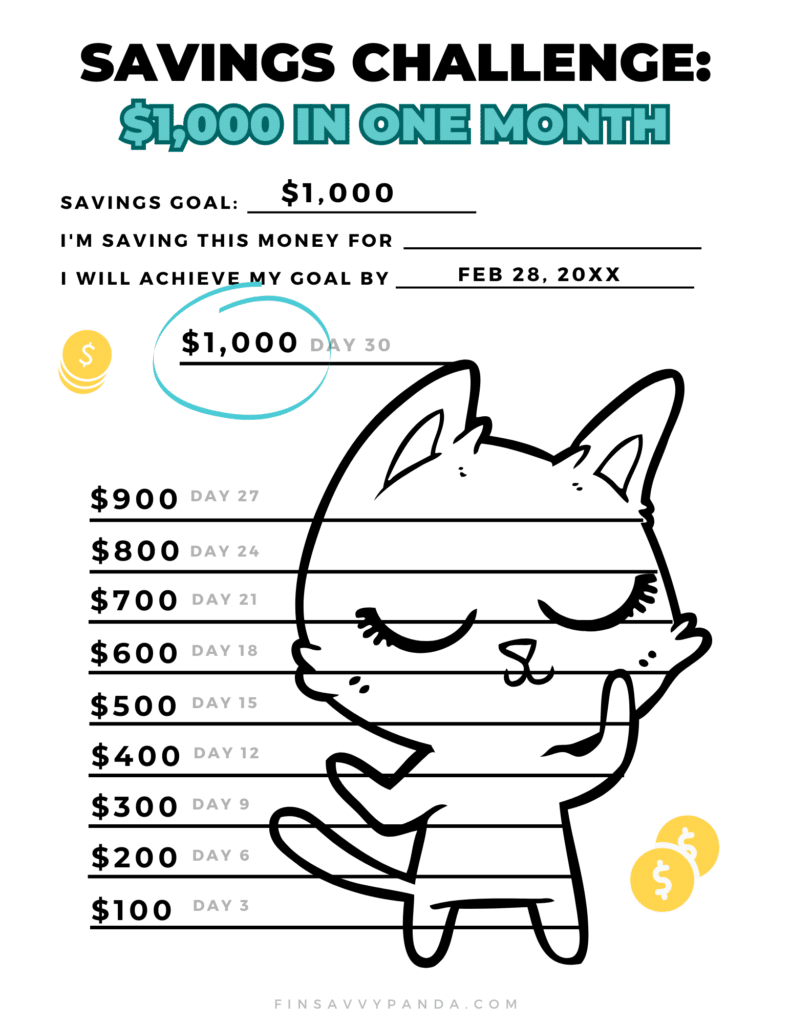 Related post: 26-Week and 56-Week Christmas Saving Challenge: Save $1,000 By Christmas
4. Earn More Money
It goes without saying that saving $1,000 fast is much easier if you can earn more money. It's worth the extra effort to take on temporary side gigs or freelance projects to make some extra cash.
Ask For Extra Hours
You don't always have to find new a second job to make more money.
Talk to your boss and see if you can pick up any extra shifts or hours at work. This might even help you land a raise or promotion if you do a great job.
Start A Side Hustle
What are your skills? What do you enjoy doing in your spare time? Are there any services that you could offer to others, or products that you could sell?
If you're good at writing, there are plenty of freelance writing gigs to make money online. Or maybe you enjoy photography and could offer to take photos at events or weddings.
My side hustle was flipping furniture and taking paid surveys online with these best legitimate online survey sites for extra money.
For the most part, I was able to earn over $500 in just a month by investing my time into buying and selling furniture that I found at thrift stores and garage sales.
Eventually, I started blogging to make money by sharing my favorite saving money tips and ways to make extra money.
Little did I know that fun side hustle would turn into a full-time career and allow me to quit my 9-5 job.
Work Odd Jobs
People in your city often need help with odd jobs where they don't think hiring a professional justifies the cost.
Small jobs like helping a neighbor with yard work, walking dogs for busy pet owners, selling feet pics, or babysitting for someone who is attending an event.
These are often one-time only or one-day-a-week type of jobs, but they can add up to a significant amount of money if you do enough of them.
Related posts on how to make extra money:
5. Choose A Budgeting System
Don't be afraid of budgeting – it's not as scary or restricting as you might think. Being in debt and living a life of constant financial stress is far scarier than being mindful of what you spend.
What if our government told us that they don't have a federal budget and that they don't care how much money they spend, as long as we keep paying taxes? How would you feel about that? You'd probably feel very uneasy and worried about what could happen if the government continues spending without budgeting.
The same applies to your personal finances – you need to create a budget in order to know how much money is coming in, and how much is going out. You need a system that will allow you to see your progress and will make you less likely to overspend or get stuck in the debt cycle.
Finding a budgeting system that fits your lifestyle and personality like similar to trying on new clothes. If a shirt is too tight or loose, you'll immediately know that it's not going to work for you. The same goes with budgeting systems – some might feel restrictive while others will give you too much freedom and flexibility to spend.
One of the most popular budgeting methods is the 50/30/20 rule, which divides your income into three categories:
50% of your income to NEEDS like rent, food, and transportation.
30% for WANTS like dining out, entertainment, and clothes.
20% for SAVINGS.
It's very simple to set up and track your expenses using this method, which makes it appealing to people who find traditional budgeting methods time-consuming or confusing. You can tweak the percentages if you need more money for one category or want to budget less for a different category.
For big spenders, a very effective budgeting method is the "cash envelope" system, where you set aside a certain amount of cash for each spending category. Once the money is spent, you can't buy anything more in that category until the next month when you get more cash. This forces you to be mindful of your spending and helps you cut back on unnecessary spending.
At the end of the day, it's up to you to decide what kind of system works for your lifestyle and personality. It's important to be honest with yourself about how much you can realistically save each month. While it might be tempting to set a goal that's too ambitious, you'll risk falling short and getting discouraged. So choose a realistic budget and stick to it no matter what.
6. Track Your Spending
Keeping tabs on your budget, saving goals, and financial progress is crucial if you want to save money successfully. But it's not always easy to do this when our lives are so busy and we're constantly pulled in a hundred different directions.
One of the best ways to stay on top of your finances is by tracking your spending. This involves recording each purchase you make, from the big ones to the small daily expenses like coffee and snacks.
The point of tracking is not to judge or shame yourself for your spending habits, but rather to give you a clear picture of where your hard-earned cash is going. You can then see areas where you might be spending too much money (e.g. restaurants) and you can make adjustments accordingly.
If you're a visual person and like seeing your numbers in real-time, apps like Mint (free) or YNAB (paid) can be very helpful. These apps allow you to link your bank and credit card accounts, so you can easily see how much you're spending and where you're spending your money.
If you prefer something more abstract and less structured, then maybe a simple spreadsheet would be a better fit. Another option is to use paper budget sheets or a notebook, which can be a great way to stay organized and have a physical record of your spending.
You don't need to track every single purchase – just the ones that you need to take control of. For example, if you're trying to save money on groceries, then a good strategy might be to track your spending on groceries and other household items, but not necessarily your spending on gas or entertainment.
You don't want to wait until the end of the month to track your spending. To get the best results, set aside 15-30 minutes each week or 10 minutes every few days to review how much you've spent and correct any problem areas.
Remember that it's okay to go over budget occasionally. What's important is that you learn from those situations and try to avoid them in the future. With practice, you'll get better at managing your money and saving more of it for the things that matter most to you.
7. Cut Back On Unnecessary Spending
Unnecessary spending for one person might be essential for another, so it's important to think about your own unique situation. For example, if you have a long commute to work each day and buy coffee from a coffee shop every morning before you leave, then this might be an unavoidable expense. However, you could probably find ways to save money in other areas of your budget.
An easy place to start is by reducing unnecessary spending on small expenses like eating out. I didn't realize how much money I was wasting on takeout meals until I started reviewing my credit card statements. And when I started tracking my spending, it became clear that dining out was one of the biggest drains on my wallet.
I was able to slash my restaurant category by more than half in just a few months, simply by changing my habits and bringing lunch to work instead of ordering from the food court. Not only was I saving more money, but the meals I prepared myself were also healthier too.
Secondly, I limited myself to 2-3 restaurant meals per week. This was a difficult goal at first because I enjoy trying new food, but it helped me to be more conscious of where I was spending my money. I could still enjoy dining out, but I didn't feel the need to do it often or have big dinners that left me stuffed.
Impulse spending is another culprit that can blow holes in your budget. If you're someone who feels like making impulsive purchases, try to avoid stores that tend to trigger those feelings. For example, you might want to avoid going to your local Best Buy or other retail stores that are designed specifically to encourage people to buy things. When shopping, make a list of the items you actually need and stick to it.
For people who struggle with overspending, it's critical to tackle these costs head-on and find ways to cut back on unnecessary purchases. This can be tricky, as it often requires making some hard decisions about what you value most in life.
8. Automate Your Savings
Once you've established a budget and found ways to cut back on unnecessary expenses, the next step is to automate your savings.
This will help ensure that money you've set aside for your goals actually makes it into your savings account each month.
I don't like spending time doing administrative tasks so my favorite way is to set up automatic transfers from my checking account to my savings account or investment account. The money in my investment account is for retirement and other long-term goals, so it's automatically invested into low-cost index funds. I don't have to think about it or worry about manually transferring money each month. I just set it up once, and then my savings get taken care of automatically.
You can also set up automatic transfers from your checking account to a retirement account, such as an IRA or 401(k), to ensure that you're saving enough for your future.
One of the best benefits of automating your savings is that you won't be tempted to spend the money you're supposed to save on other things. And, because you're not actually seeing it in your checking account, you might not even miss it. So save more and stress less with these easy tips!
If you're open to new ideas, another option is to set up recurring payments for things like insurance and utilities. Since you have to pay these bills anyway, it makes sense to automate these payments to avoid missed payments. Of course, there are times when you might need to make an irregular one-time payment. But as a general rule, it's helpful to automate your bills whenever possible.
The key is to make it as automatic and hands-off as possible. That way, you don't have to think about it and you can focus on the other important things in your life. After all, saving money should be simple and easy, so take advantage of any strategies or tools that make this possible for you.
9. Use Saving Challenges To Motivate You
Saving your first $1,000 is much harder than you trying to save your first $100,000.
The difference between the two amounts is not the amount of money you have to set aside, but your willingness and motivation to save.
When you're saving for a smaller amount, like $1,000, you may feel like it's too difficult to even get started. But as you form better money-saving habits and make better financial decisions, you'll find it much easier to save $100,000.
A strategy that can help beginners reach their $1,000 goal is using a $1,000 saving challenge along with an adult piggy bank for some extra help. It's kind of like a game.
You can start with a small amount that you know you can achieve, and then incrementally increase your goal as the challenge moves along. This way, you'll gain momentum over time and find it easier to reach larger goals. It will help build your motivation and confidence so that you continue to save more and more money.
For example, you might start with the goal of saving just $5 per week, then move up to saving $10 per week, then saving $15 per week, and so on. A good saving challenge can help you make small and gradual changes that, over time, lead to big improvements in your financial situation.
If you're interested in using a saving challenge to reach your $1,000 goal, there are many resources online that can help. Some challenges involve setting up automatic withdrawals from your bank account each week or month so that you don't have to think about it. And others might offer tips and tricks for cutting back on expenses and setting aside more money.
Again, start small and build on your progress over time. This will help give you a sense of accomplishment as you reach each goal along the way. And before you know it, you'll have saved enough to meet your $1,000 savings goal!
10. Build An Emergency Fund
The sun is out and the skies are clear. It's easy to forget that rainy days often come unexpectedly.
An emergency fund is basically a rainy day fund, and it can help you be prepared for unexpected expenses that may come up. Things like vet bills, car repairs, and job loss can be incredibly costly, and without a savings cushion, you may find yourself struggling to pay for these expenses out of your regular budget without getting deeper into debt.
At a minimum, you should have enough in your emergency fund to cover 3-6 months of living expenses. But if your income fluctuates, or if you want to be more financially secure, you might consider building up a larger savings buffer to cover 1 year's worth of expenses.
Your emergency fund is your defense system to protect yourself from financial shocks. Keep this money in a savings account that you can easily access in case of an emergency, but don't touch it except for those times when you really need it.
Building an emergency fund is not as difficult as you think if you make it a priority. Your first saving challenge should be to set aside a small amount each month, even if it's just $25 or $50 per paycheck. By making this a regular habit and setting specific goals, you can build up your emergency fund relatively quickly.
11. Sell Your Used Things
If your goal is to raise $1,000 quickly, you may have to get a little creative and see what creative things to sell that will make money. And this includes selling the used things that you no longer need to use. Plus, it'll help you declutter and get organized!
Go through your closet and your home, and look for things that you might be able to sell. This can include old furniture, gently worn clothes, books you no longer read, gadgets collecting dust, sporting equipment you don't use, and more.
There are many ways to turn your items into cash. For larger items, consider listing them on sites like Craigslist or eBay. Or you can also use popular reselling apps like Mercari and Poshmark to sell clothes.
If you have lots of smaller items, consider holding a yard sale or organizing a swap party with friends. You might be surprised by how much you can make this way!
My friend collects shoes as a fun hobby and he's running out of space in his room, so I suggested that he consider selling them online to fund his next big trip to Japan.
Not a bad idea, right? If you're looking to raise some extra cash, consider selling your used things as a way to make money quickly. With a bit of hustle, you could be well on your way to raising $1,000 in no time!
Summary
Changing your mindset and making saving a priority is one of the fastest ways to raise $1,000.
Find ways to reduce excess spending and focus on earning more money through a side hustle, or working odd jobs in your community.
After you save and reach your milestone, celebrate your accomplishment!
You might treat yourself to something small, like a new pair of shoes or a nice meal out. But the most important thing is to keep up the good work and continue to save more money. That's the key to reaching your long-term financial goals, like saving $100,000 or even more.
So keep saving, stay motivated, and don't give up! You can do it!
Enjoyed this post? Don't forget to pin it! Also, don't forget to follow me on Pinterest over here! 🙂