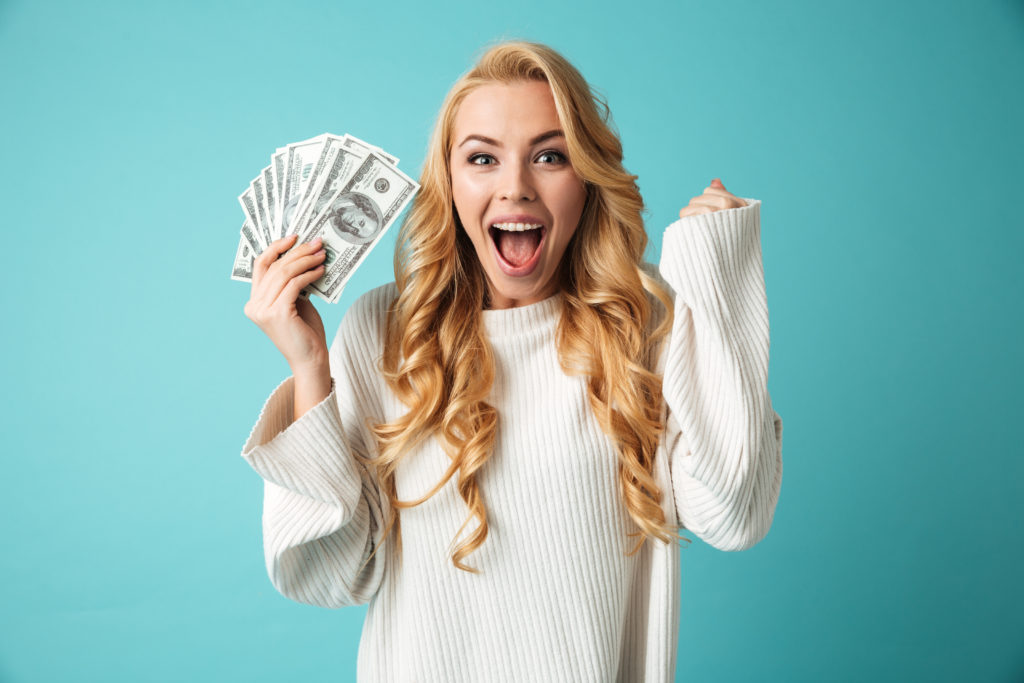 This post may contain affiliate links. Please read our disclosure policy for more information.
I know, I know… it's only June, but today, I'm going to introduce you to a Christmas savings plan that you're going to LOVE!
I'm going to teach you how to save $1,000 by Christmas with my free money savings challenge!
What better time to start saving money for Christmas than now? Not to mention, this Christmas savings plan is a clever way to prepare for Christmas so that you can avoid a holiday debt hangover.
Why did I decide $1,000 savings for Christmas?
Well, according to American Research Group, shoppers said that they planned on spending an average of $983 on gifts last year. With that said, I thought saving $1,000 by Christmas would work perfectly for you. 🙂
Stretch your dollars.
Before we dive into the Christmas savings plan, I want to mention about my favorite cash-back website that will help you save money all year round – especially during the holidays (i.e. Thanksgiving, Christmas and New Years)! I absolutely LOVE this free resource because my fiancé and I get cash back just for making purchases on things that we were going to buy with or without the rewards. Another awesome feature is their referral program where you earn $25 for every friend you bring in. It's 100% free to sign-up and use, so it would be crazy if you didn't take advantage of it! Sign-up for free or read my review here.
If you use this resource along with my free Christmas savings plan, you'll be able to get more bang for your buck during the holiday. In the months to come, I will also be releasing a post on how to score the best deals during Christmas, so stay tuned!
Have a debt-free Christmas this year!
As I mentioned earlier, you'd want to avoid a holiday debt hangover for the months after.
So, YES, you're going to have a debt free Christmas with this printable savings challenge that I made for you! Having that said, start saving money for the holiday NOW, my friend! Before you know it, Christmas will be around the corner, so save yourself the pain from scrambling for money in the last minute. By the way, don't worry if you're reading this after June because you can always play catch-up or spend less than $1,000 for Christmas.
Related posts:
– How We Saved Over $700,000 in 7 Years
– 50+ Insanely Clever Ways To Save Money Every Day
– The Fail-Proof Budget That Helped Us Save Over $700,000
Don't forget to pin this for later!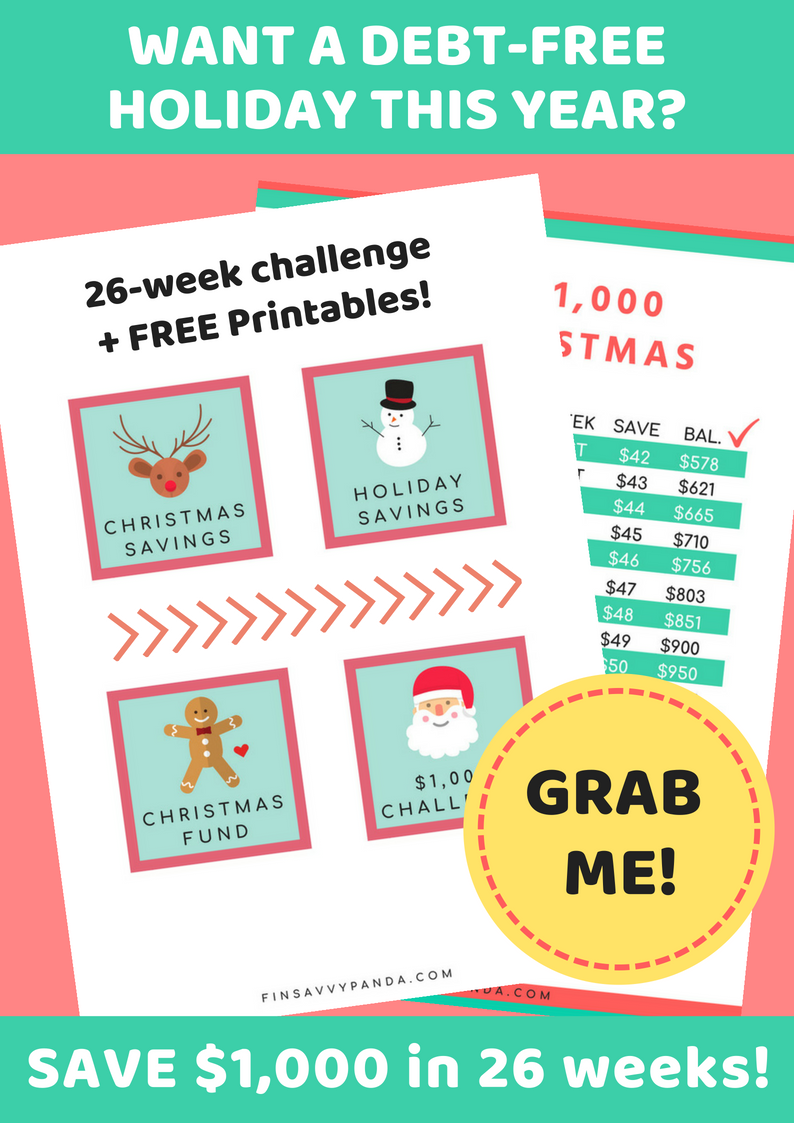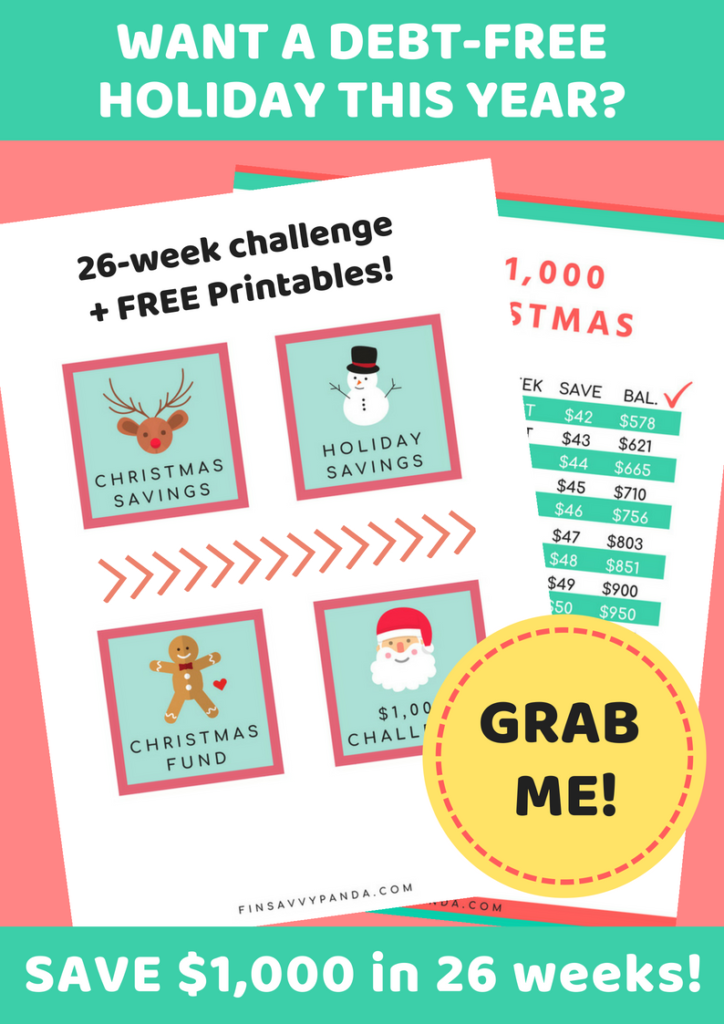 This post may contain affiliate links. Please read our disclosure for more information.
Save $1,000 by Christmas.
The Christmas savings plan that I have for you today is going to be super fun and I promise you'll end up with exactly $1,001 as long as you follow through. Are you with me? Okay, great! Let's get started with the 26-week money savings challenge!
Here's how it works.
You're going to start off by saving $26 in week 1.  For week 2, add an extra $1 to your weekly savings, which will be $27 ($26+$1).  By adding $1 each week, you'll hit $1,001 by mid-December. If you're playing catch-up, consider adding an extra $1 to $3 every week. The best part is you won't feel any pain. By the time you know it, you'll have $1,000 to spend for Christmas! Pretty awesome, huh?
Here's how the Christmas savings plan looks:
| | | | |
| --- | --- | --- | --- |
| Week | Month | Deposit | Balance |
| 1 | Jun |  $  26.00 |  $        26.00 |
| 2 | Jun |  $  27.00 |  $        53.00 |
| 3 | Jun |  $  28.00 |  $        81.00 |
| 4 | Jun |  $  29.00 |  $     110.00 |
| 5 | Jul |  $  30.00 |  $     140.00 |
| 6 | Jul |  $  31.00 |  $     171.00 |
| 7 | Jul |  $  32.00 |  $     203.00 |
| 8 | Jul |  $  33.00 |  $     236.00 |
| 9 | Aug |  $  34.00 |  $     270.00 |
| 10 | Aug |  $  35.00 |  $     305.00 |
| 11 | Aug |  $  36.00 |  $     341.00 |
| 12 | Aug |  $  37.00 |  $     378.00 |
| 13 | Sep |  $  38.00 |  $     416.00 |
| 14 | Sep |  $  39.00 |  $     455.00 |
| 15 | Sep |  $  40.00 |  $     495.00 |
| 16 | Sep |  $  41.00 |  $     536.00 |
| 17 | Oct |  $  42.00 |  $     578.00 |
| 18 | Oct |  $  43.00 |  $     621.00 |
| 19 | Oct |  $  44.00 |  $     665.00 |
| 20 | Oct |  $  45.00 |  $     710.00 |
| 21 | Nov |  $  46.00 |  $     756.00 |
| 22 | Nov |  $  47.00 |  $     803.00 |
| 23 | Nov |  $  48.00 |  $     851.00 |
| 24 | Nov |  $  49.00 |  $     900.00 |
| 25 | Dec |  $  50.00 |  $     950.00 |
| 26 | Dec |  $  51.00 |  $  1,001.00 |
Free Christmas savings plan printable.
To get you started, I made this free 26-week savings challenge printable for you.
Cute, isn't it?
Be sure to print this out and make it visible at home so that you don't lose track!
Oh, I also have another freebie for you! I made these four printable labels for you to stick on your Christmas saving jars. You only need one, but I know you like variety. 🙂
I sincerely hope this Christmas savings challenge will help you with your Christmas spending. If at any time you feel like you're falling short on your savings, see which areas you can cut back on. For example, last year, my fiancé and I saved a few extra hundred dollars by dining out less when it was getting close to December. We knew that we wanted to save extra money for gifts and charity for Christmas.
Make Extra Money for Christmas!
But if you're really tight and just don't have any more room to cut, I highly recommend you to make extra money!
You can visit these survey sites to earn extra money during your free time. They are all FREE to sign up for and use.
– Sign up for Swagbucks and get FREE $5 bonus through my link.
– Sign up for InboxDollars (the US only) and get FREE $5 through my link. If you live in Canada, sign up for DailyRewards (CN only) and get FREE $5 bonus.
Related post: How To Get FREE Gift Cards and CASH Online (Amazon, Walmart, Starbucks, Visa, and more!)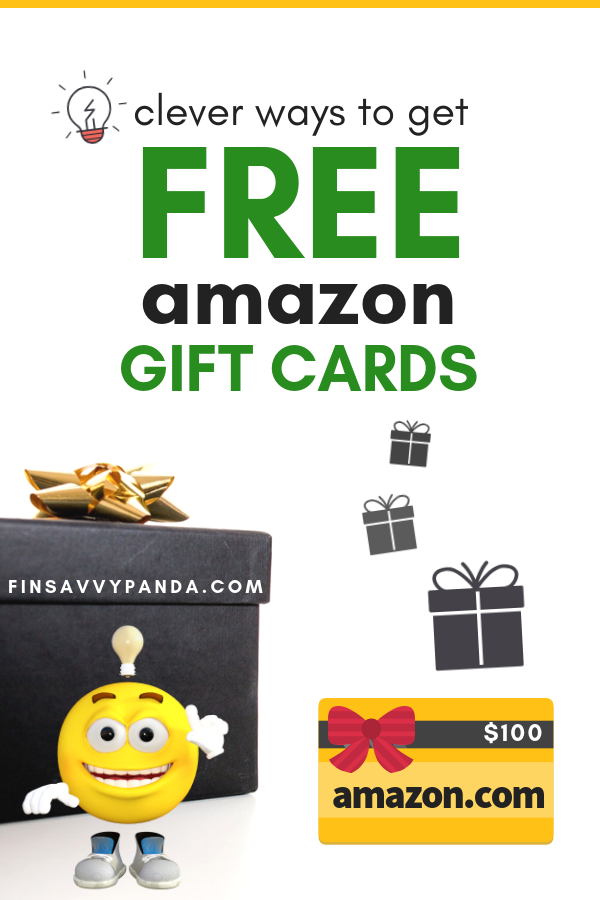 On top of that, read my articles below on how you can earn extra money during your spare time. Again, it's clever to start now and be ahead of everyone else. I promise that you won't regret it at all!
– 10 Things We've Done To Make Extra Money — #8 Pays Up to $22 Per Hour and They're Hiring Now!
– 8 Real Ways To Make Extra Money Online — You May Regret Not Trying #4
Enjoyed this post? Don't forget to pin and share it! 🙂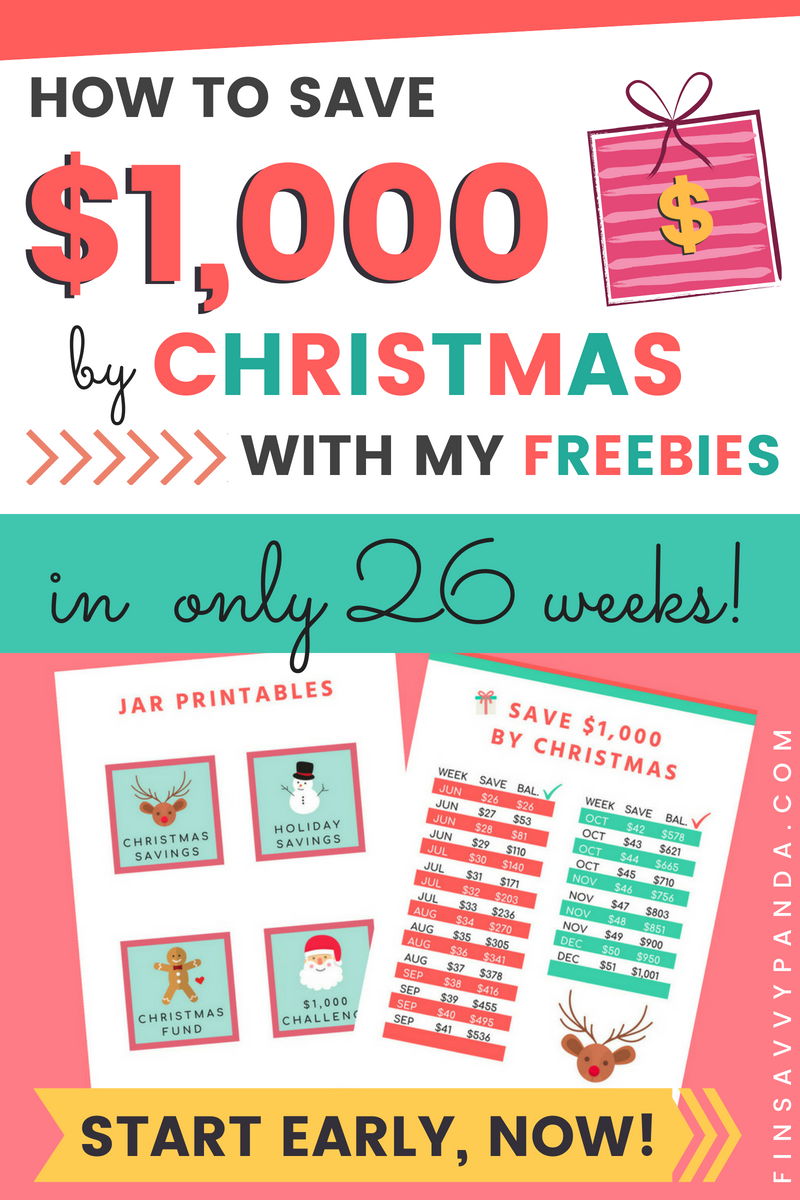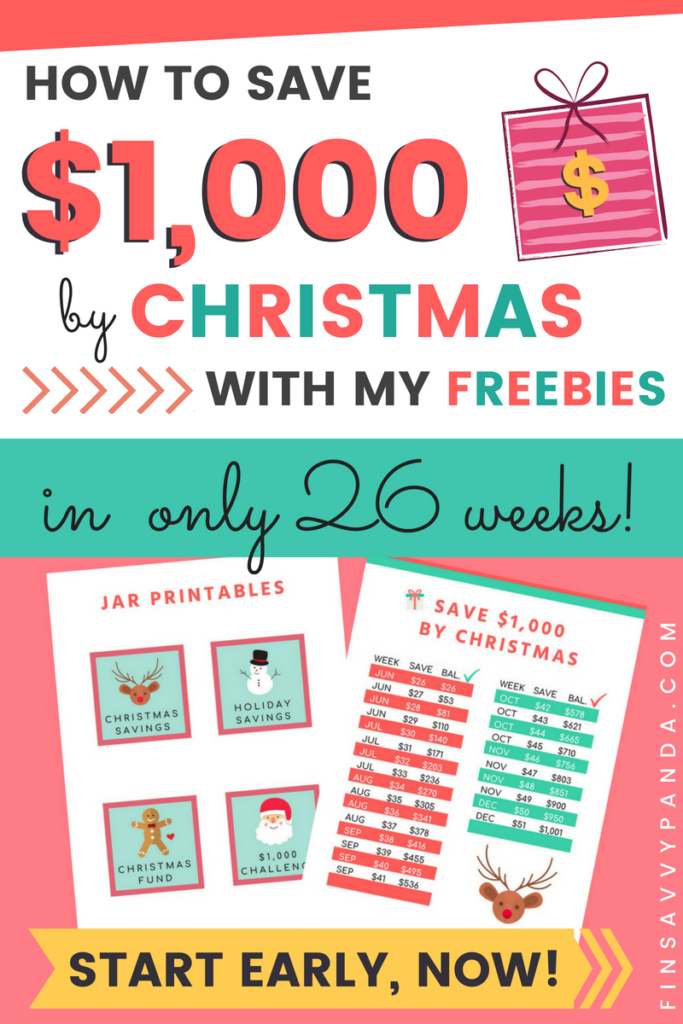 Resources that will help you in your financial journey
Below are my top recommendations for saving money, making money, building wealth, achieving financial independence, and more!
Trim: This cute little robot is your personal finance assistant and his mission is to whip your butt into financial shape. Trim is a FREE app that will help you save money by scanning your accounts and cutting your unnecessary expenses. He will also help you negotiate your cable, Internet, and cell phone bills. Pretty sweet, huh? Overall, Trim has helped their users save over $1,000,000 over the last month with their day-to-day finances.
Credit Sesame: So many people underestimate the power of their credit score. But did you know that you can save thousands of dollars by having an excellent credit score? The higher your score, the less interest you pay. As a start, you can check your credit score for FREE at Credit Sesame. This won't impact your credit score at all and plus, it's crucial to know where you stand! The sooner you start, the sooner you can improve your score and save thousands of dollars! Hint: having an excellent credit score can save you WAY more (over thousands $$) than clipping coupons.
Personal Capital: This is one of the best and FREE resources that will help you track your finances. By putting your accounts together, you can track your savings, investments, cash flows, and your net worth. Personal Capital can also inform you when your bills are due. With that said, this free app allows you to track and view all your finances in one place.
$5 Meal Plan: This is a weekly meal plan service that aims to make your life easy by helping you save time and money. For only $5 a month, you will receive a delicious meal plan that costs less than $2 per meal. On top of that, they offer special meal plans such as the Paleo diet and vegetarian option. Not sure if this is right for you? To make sure you're fully satisfied, they offer a free 14-day trial absolutely risk-free. If you decide that this isn't for you, simply cancel it with no questions asked.
Swagbucks: This 100% free resource allows you to earn FREE gift cards by simply completing surveys, shopping online, watching videos, playing games, and surfing the web. Here are some of the gift cards they offer: Starbucks (my favorite), Amazon, Indigo, Groupon, Bath & Body Works, Cineplex, and many more! My fiance and I have redeemed many $50 to $100 Starbucks gift cards without having to pay for our favorite lattes. Sign up for Swagbucks and receive your $5 welcome bonus here.