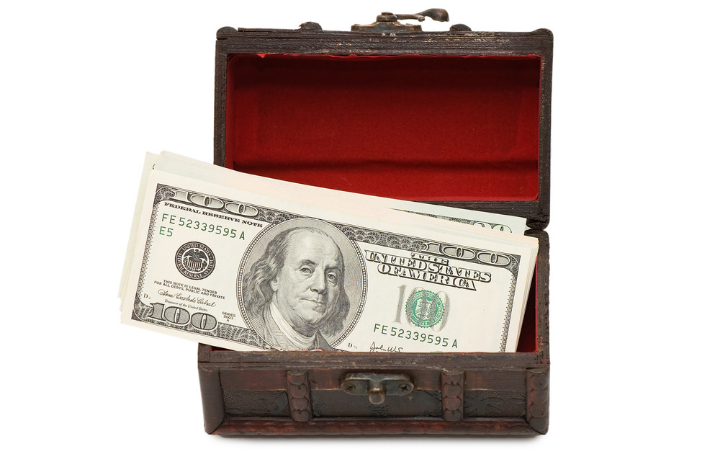 We will receive a commission if you make a purchase through our affiliate link at no extra cost to you. Please read our disclosure policy for more information.
While many adults love to receive money gifts for a special occasion, simply handing over cash in a card can feel impersonal and like an afterthought.
Similar to these money tree gift ideas and crafty money gift boxes full of surprises, if you're looking for a new and different way to give cash or a gift card, consider using a money puzzle box – this will make the perfect money gift idea for kids, teens, and adults!
Money puzzle boxes provide a thoughtful method for gifting cash to the person you love. In some cases, they also serve as a prank for those who love tricks and jokes.
These boxes not only provide a game or brainteaser for the recipient but serve as an interesting and fun conversation piece among party guests and onlookers.
Challenging Money Puzzle Boxes for Adults
Depending on the age and interests of your recipient, there are many different money puzzle boxes for you to choose from. The type of puzzle that can be solved ranges from ball mazes to letter or word combinations to brainteasers.
For recipients who will want to get to their money quickly, you can choose a simple word puzzle with clues. Boxes that are more challenging with multiple steps in order to open them are perfect for problem solving aficionados.
In addition, the boxes can be made from a variety of materials depending on the interests of the receiver. Many of the money puzzle boxes are made from wood, which gives your gift a luxurious and expensive feel for any adult on your list.
Others are made from plastic with attractive features, such as a handheld game, that are exciting and intriguing for recipients who are young at heart.
Regardless of the occasion, a puzzle money box will add fun and flair to your gift of cash, gift cards, or tickets.
Without further ado, here are the 11 best money puzzle boxes to interest and delight your recipient and enhance your monetary gift.
Money Puzzle Box Holder
Whether you're looking for a birthday, graduation, wedding, Christmas, or even a spontaneous "surprise gift", each one of these money maze puzzle boxes is perfect for someone on your list, so be sure to stock up and be prepared for the next celebration that you attend.
1. The Classic Money Maze Puzzle Box
This plastic ball maze money puzzle box is a safe choice for any recipient.
Available in several different colors here, the lucky giftee simply has to maneuver the ball through the maze into a specific spot.
In order to do so, they'll have to move the box around and think about which way the ball needs to go.
This type of money puzzle box is great for kids or anyone who likes a challenge but doesn't want anything too difficult.
Once they complete the maze they will be able to release the top to the circular opening in the center that is hiding their cash. As a bonus, the puzzle box can be used over and over again as a fun toy, or to save or hide money.
2. Money Maze Coin (or Piggy) Banks
Another purpose of the classic money maze box is to use as a coin or piggy bank. How versatile is that, right?
If you're looking for a money puzzle set that comes in various colors, try these money maze piggy banks that are meant for saving or gift-giving. Just like the one above, these banks feature a small ball that the recipient must guide through a maze in order to deposit their coins or dollar bills.
Looking for more creative ways to give cash, money, and Amazon gift cards to adults, teens, and kids?

An alternative to these money maze puzzle gift boxes is stuffing these cool and unique piggy banks with cash and coins. We also have a specific list of piggy banks including:
3. Gift Card Money Puzzle Box
Another smaller puzzle money box option is this plastic ball maze that is specifically designed for gift cards.
Offering a fun and very mildly challenging task, the recipient will appreciate the extra excitement offered by completing the maze to get to their gift without the added challenge presented by many of the other puzzle boxes. This entertaining box is perfect for celebrating a new graduate or a friend's birthday.
Related articles on how to earn free gift cards:
4. Wooden Money Puzzle Box with Heart
The Enigma Heart money puzzle box is ideal for concealing a gift for a romantic partner or someone close to your heart.
Large enough to fit cash, a gift card, or even jewelry, the wooden box looks beautiful and inviting while presenting a challenging puzzle in order to access the contents inside.
Once the recipient gets the box open, their pride and excitement will only add to the joy of the gift you've nestled inside.
5. Wooden Money Puzzle Box For Adults
For the critical thinker on your list, this wooden money puzzle box will delight them as much as the cash within.
Appearing at first to have no real opening, this box requires removing or opening several smaller components in order for the recipient to access the contents inside. Resembling a treasure chest or weathered box holding mysterious contents inside, this box will entice the giftee to attempt to open it immediately.
6. Challenging Wooden Puzzle Box with Money Inside
If you want to introduce a surprise challenge to your recipient, this wooden money puzzle box appears to be a typical gift box at first glance.
As soon as the receiver attempts to use the wooden circle in the center of the lid to remove it, however, they will quickly realize that they will have to work a little harder to get to the cash or gift card inside. This box is perfect for a prank-loving giftee for any occasion.
7. Bilz Box Money Puzzle Brainteaser
If you are looking for a puzzle money box that is small enough to be concealed within a card, this plastic ball maze box is the perfect solution.
In addition to providing an extra challenge to accessing their cash gift, the recipient will be able to use the maze box over and over again for fun or tricking others. The box perfectly fits bills laid flat, but can also be used for gift cards and certificates as well.
8. Puzzle Pod Junior – Gift Card Puzzle Box, Cash and Gift Card Holder, Brain Teaser Money Puzzle
Hunting for a difficult money puzzle box for adults?
For a different type of challenge, this puzzle money box offers a 3 letter code that needs to be determined and inputted in order to open it.
Eager recipients will use personalized clues that you provide to guess at how to spin the dials in an attempt to crack the code. The flat cryptex puzzle box has enough room for several bills or 3 gift cards and can fit into an envelope with your card for an added surprise.
9. Coin Bank Gift Puzzle Box
Here's another awesome challenging money box for adults!
A more complicated cryptex is offered in this tall plastic money puzzle box that also doubles as a coin bank.
Featuring a 5 letter code that you can set yourself, the giftee will follow your clues in order to determine the secret code that will allow them to get to the goods inside.
This makes for a fun gag gift for anyone on your list with a sense of humor and a knack for problem solving.
10. 3 Wheel Combination Secret Lock Puzzle Box
This 3-wheel combination lock puzzle box is not as challenging as the one above that requires a 5-letter code combination, but it is still a great option for those who want something a little more difficult than the classic money maze.
You must align the 3 wheels to a position that will allow the hinged lid to open. The recipient will have to figure out the correct sequence in order to get rewarded for their surprise!
What I personally like about this option is that it's small and unassuming. It doesn't look like a puzzle box at first glance, which makes it perfect for those who want to give their giftee something else that's not either cash or a gift card.
11. The Magical Wooden Puzzle Box
Looks like a simple ordinary box, right?
Don't be fooled by its appearance!
This Magical Wooden Puzzle Box is perfect for those who want to put their recipient's problem-solving skills to the test.
In order to open this box, you must figure out how to move the hidden drawer in the center. The drawer is locked in place by 4 different pins that must be moved in a specific sequence in order to release it.
What I really love about this puzzle box is that it's not only a great teaser for adults but it's also a beautiful piece of woodwork. It would make for a great decoration in your recipient's home, even after they solve the puzzle and empty the box.
Wooden puzzle boxes like this make for great gifts because they're thoughtful, challenging, and can be used over and over again.
12. BILZ Cosmic Pinball Money Maze Box for Cash, Gift Cards, and Tickets
Recipients that have an appreciation and nostalgia for arcade games will love seeing this pinball money puzzle box in their pile of gifts.
Complete with actual flippers and a plunger, this handheld pinball game challenges the recipient to put their skills to the test in order to access the cash nestled inside.
Large enough to fit flat bills or a gift card, this pinball puzzle box will be the hit of any party.
13. Wooden Money Gift Box For Practical Jokes
For a money puzzle box with a prank built in, this funny cash gift box is exactly what you are looking for.
Concealing a plastic spider in addition to the cash or gift card, the recipient will be in for a big surprise when they open the lid and a creepy arachnid touches their hand.
You will want to have your camera ready to capture their reaction to this playful prank, as well as their gratitude when they realize what is hidden inside.
14. Bamboo Money Gift Puzzle Box Holder
An elegant gift option is this money puzzle box made from bamboo and beautifully stained.
At first glance, the recipient will think it is simply a lovely wooden box, but will quickly realize that they will have to solve the puzzle in order to get inside. The box opens once the end piece is removed, and will store bills laid flat, gift cards or certificates, or even tickets to a show.
15. Build Your Own Puzzle Box from Cardboard
I know this may sound absurd and unbelievable, but you can actually make a pretty difficult money puzzle box from cardboard at home!
All you need is some time, a few materials, and a lot of patience.
This video tutorial shows you how to make a simple yet effective cardboard money puzzle box.
If you want to make it more challenging, try coming up with your own unique design or making the box bigger or smaller.
Whether you want to use it as a DIY safe locker or a crafty mystery gift with a little bit of surprise cash inside for a special person, this project is a great way to challenge your brain and have some fun.
Frequently Asked Questions About Money Puzzle Boxes for Adults
We often get asked several questions about money puzzle boxes, so we've compiled a list of the most frequently asked questions below.
How does a money maze puzzle box work?
If you haven't used or gifted one of these, don't worry, we're here to explain.
A money maze puzzle box is a unique way to give cash or gift cards as a present. You could even put jewelry or any type of product as long as the box is spacious enough to hold the objects. The recipient must solve the puzzle in order to get to the prize inside.
This type of gift is perfect for those who love a challenge or are always looking for new ways to test their problem-solving skills.
There are different types of money maze puzzle boxes, from easy to difficult. You can also find ones that are specifically for kids or adults. No matter what type you choose, they are all a lot of fun and make for a great gift.
How do you open a puzzle money maze box?
The way you open a money maze puzzle box will depend on the type of box you have.
There are several different types of these boxes, each with its own unique challenge. But the most common one for gift-giving is the classic money puzzle maze that works out to be a mini coin bank too.
How it works is, there is a ball inside the box that is free to move around.
The goal is to guide the ball through the maze and into the prize area. Once the ball is in the prize area, the lid can be opened and the money can be retrieved.
What are some challenging money puzzle boxes for adults?
This is a quick list of my top recommendation for some challenging money puzzle boxes:
And here are my tips for choosing the perfect money maze puzzle box:
Consider the age and skill level of the recipient. You don't want to make it too easy or too difficult.
Choose a box that is an appropriate size for the amount of money you want to give.
Consider the materials of the box. If it's made of wood, is it a quality piece that will last?
Make sure the box has a lid that can be securely closed. You don't want the money to fall out!
Puzzle boxes are definitely considered unique and useful gifts because they're thoughtful, challenging, and can be used over and over again.
With so many different types to choose from, you're sure to find the perfect one for that special person whether it's your mom, dad, uncle, friend, coworker, or even next-door neighbor!
Wrap Up on the Best Money Maze Puzzle Box Holders
The possibilities are endless when it comes to money puzzle boxes. With a little creativity, you can find the perfect box for anyone on your list. Give the gift of cash and a challenge with one of these unique money puzzle boxes – it's what I love to give out to those who enjoy some brain teasers!
Whichever money maze puzzle box holder you purchase as a gift from this list, we guarantee that your family, friends, and coworkers will love them. We hope this article inspires you to pick up and stock up on these money puzzle boxes for the next special holiday.
For more personal finance and money tips, be sure to follow Finsavvy Panda on Pinterest here and dive into my most popular pages about saving money and ways to make extra money from home.