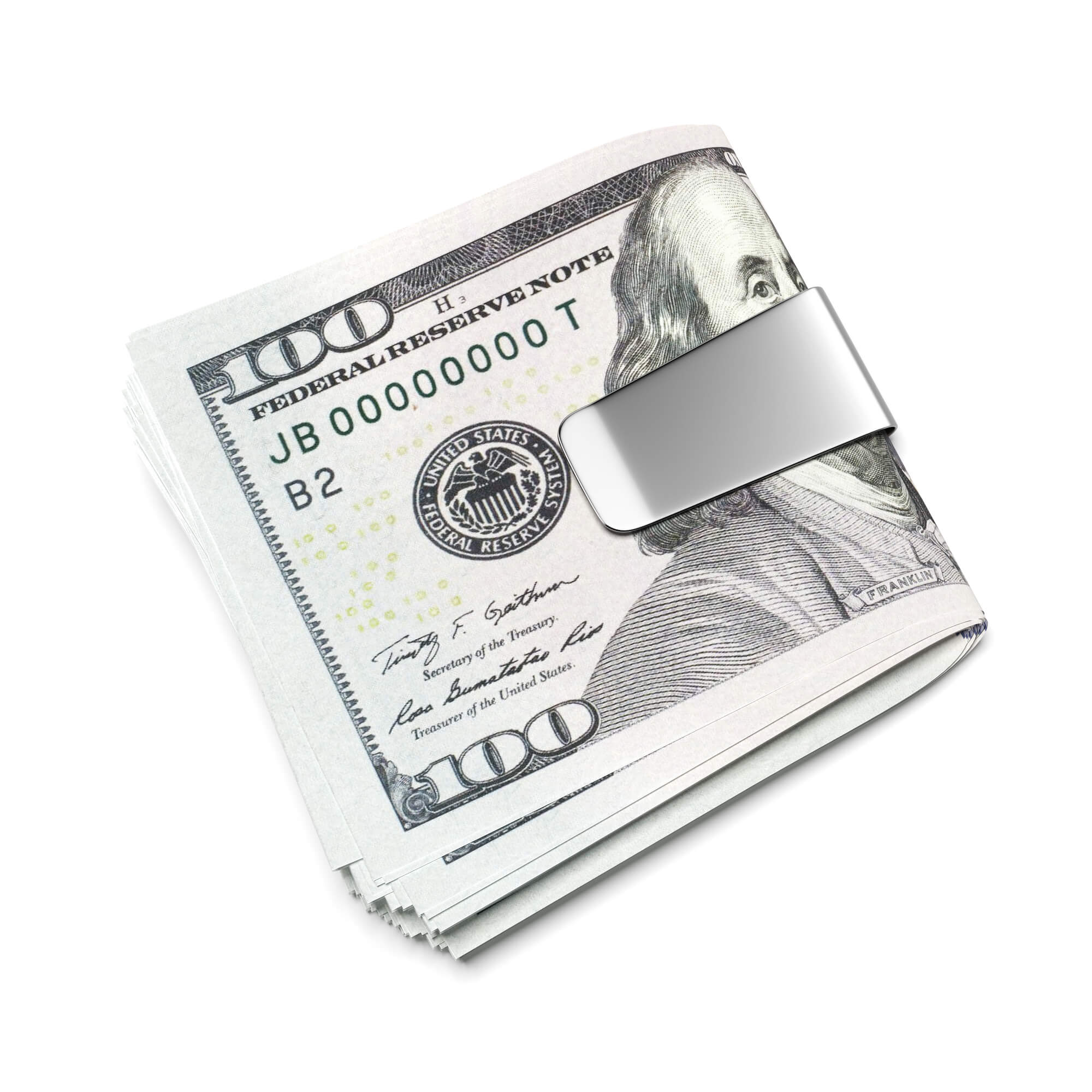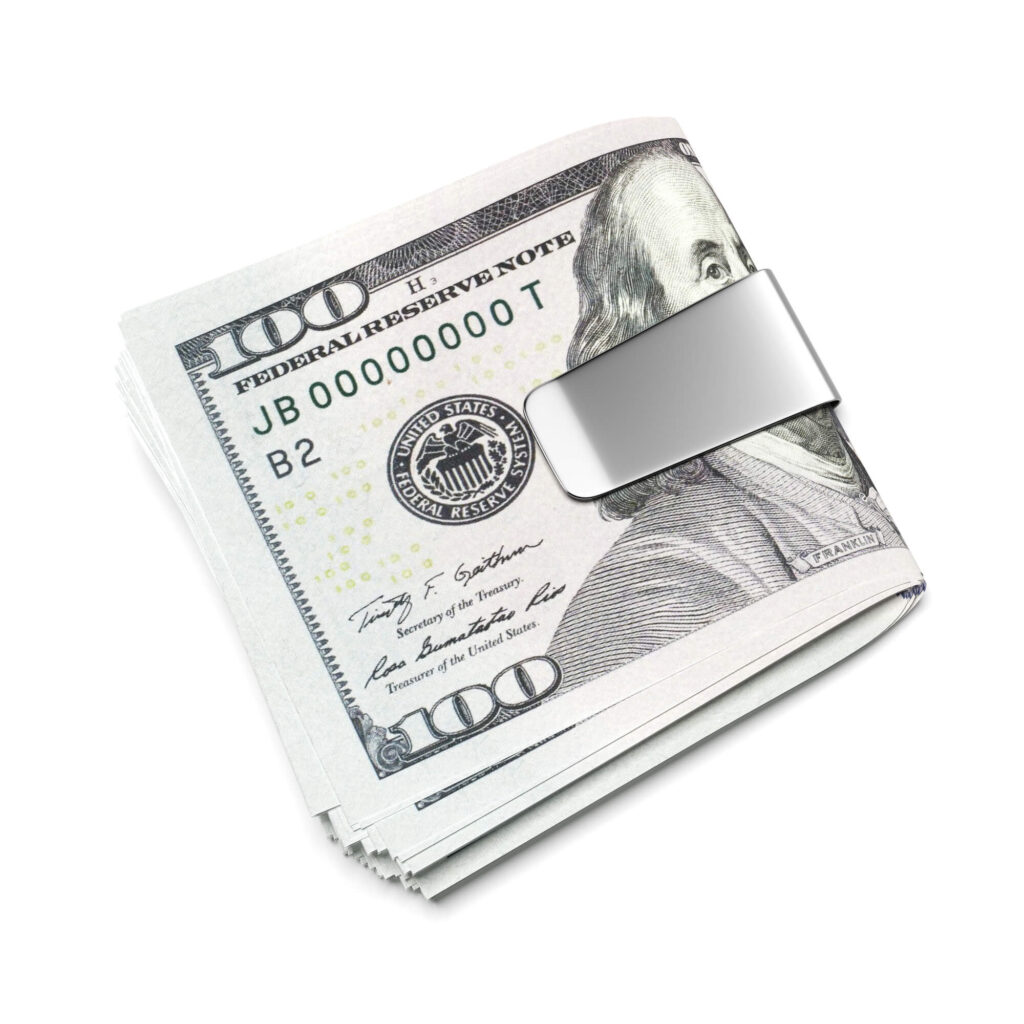 We will receive a commission if you make a purchase through our affiliate link at no extra cost to you. Please read our disclosure policy for more information.
12 Best Money Clip Wallets For Men
Sick of carrying around that back pocket bulge?
Can't sit down without having to rearrange yourself in order to feel comfortable? I'm talking about those tri-fold wallets of course – the archaic, origami fabric nightmares that sequester our credit cards and simultaneously make our cash disappear.
Maybe it used to be a sign of status to have a fat wallet, but now it is simply a hassle and makes it difficult to keep yourself organized.
Enter: the leather or metal money clip wallet.
It has maybe one opening, and one seam at a maximum.
You are approaching the cross street of form and function, and it's been waiting for you.
These wallets are sleek and take up much less pocket space than the ordinary foldable wallets. They are durable and would be a real test of strength to break the steel or carbon clips. You can finally stop leaving a trail of leather shavings from your tattered wallet and pull out some crisp cash instead.
This minimalist type of cardholder can save you the angst of fumbling through your old wallets while having enough room for the essentials, and nothing more. They make perfect presents for any occasion and you could even slip a little cash inside this gift for the recipient, too. Birthdays or graduation, weddings, or just because, give your loved ones (or yourself) the gift of a solid upgrade.
If you're looking for other money gift ideas or creative ways to give cash, don't forget to check out this cool money puzzle box holder along the way.
Everyone carries something with their assets in it, but it doesn't have to be a miniature suitcase any longer. Don't be concerned about finding the best ones, we've already done all that legwork for you so you can get to shopping.
Below, find the 12 best men's money clip wallets that the internet has to offer, and get ready for some welcome change.
1. TRAVANDO Slim Wallet with Money Clip AUSTIN RFID
Classic as a black suit and tie, this TRAVANDO men's wallet with money clip is the perfect accompaniment to anyone's look.
It has a smooth finish and comes in multiple color palettes that are both simple and striking to suit anyone on your list.
The clip on this wallet is stainless steel for maximum durability, and it is protected from any RFID scanners so you can feel secure carrying it anywhere.
You'll look sharp and have everything you need in something the size of your palm – your pockets will thank you later.
2. Fossil Quinn Money Clip Bifold
With its slightly weathered look and textured band detailing, this Fossil money clip wallet has an attitude to match only its rightful owners.
It is available in varying sepia tones and features a clear back to slip in your ID and never have to dig it out at the liquor store again.
For those who prefer to keep their dollars inconspicuous, this leather money clip wallet has the clip tucked away at the seam protecting it from the obvious threats and also maybe your own sights if you like to do some spending. You'll feel respected, prepared, and organized all with the help of this leather wallet.
3. Gucci Signature Money Clip Wallet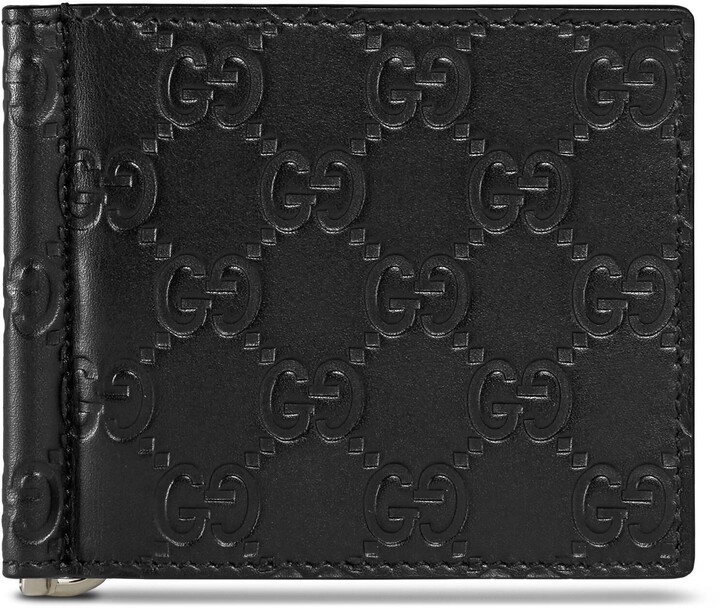 Flash this money clip anywhere and be ready to stand out in a room of your peers with the luxurious Gucci wallet.
It immediately will bring with it a presence all its own with the weight of the brand itself and the excellent craftsmanship only Gucci can bring to the table. Made in Italy and embossed with the logo, this wallet includes a slim clip and six card slots on its interior and exquisite black trim on all sides.
It will hold tight to all your assets and unleash the inner royalty in you all at the same time.
4. Panda Money Clip
If he's totally obsessed with pandas, then you may consider picking up one of these cute panda money clips for him. Don't worry, they have panda money clips that are "less" cute and more masculine made with sterling silver, white gold, or platinum if that's something you're looking for. We also have a list of funny and unique panda gift ideas here with a section that's dedicated to him.
5. Tumi Money Clip Card Case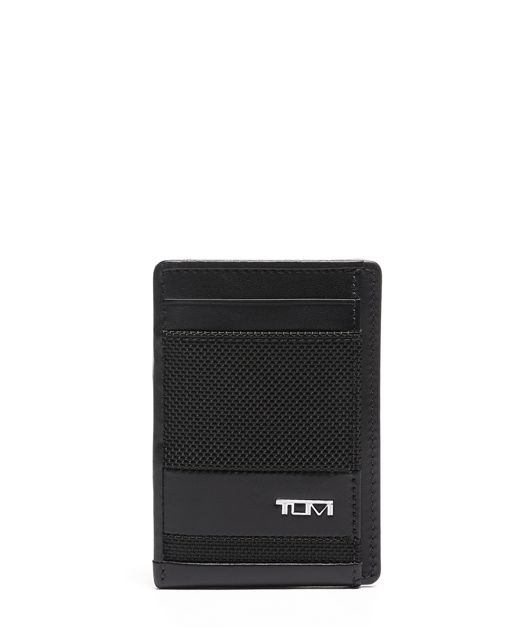 The Tumi Money Clip is an upgrade from a previous collection of theirs and it does not disappoint. Made to be lightweight and clean-cut, it is perfect for any minimalist in your life or anyone who just likes to keep it simple.
This is the perfect wallet for traveling, too, as it has just two card slots and a money clip on the outside for when you lock onto an impulse buy out on the town.
It has just one additional slip pocket and doesn't fold at all so you can slim down to the bare necessities. Finally, you can have a wallet that keeps you organized and at least attempts to cut down on the number of credit lines you carry around regularly.
6. The RIDGE Aluminum (Gunmetal) Money Clip
Tough and rigid, this wallet can go through hell and back without a scratch. The Ridge wallet lives up to its name and is made of gunmetal grey spring steel, making it the strongest of the bunch and the hardest to break.
It also uses a single elastic band as its form of fabric, which allows you enough finger room to get at your cards as easily as a 'normal' wallet. Its money clip faces out in this design, but is wide and sturdy so no cash will ever slip away against the smooth metal.
For the rowdy or adventurous, or those who just don't want to have Dad's old wallet, the Ridge is ready for anything you throw at it.
7. Mitchell Leather Premium Horween CXL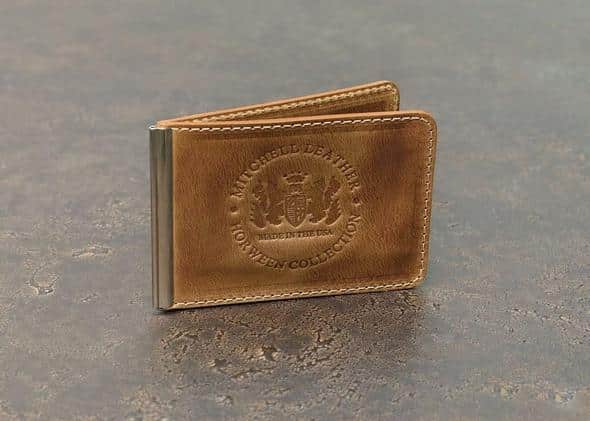 This family-run business has been around for over fifty years so you can rest assured that their craftsmanship and attention to detail is top notch.
The Mitchell Leather wallet is elegant, soft, and fully customizable to match your specific desires. It is an exclusive brand, only available online or in their brick and mortar stores, and designed with medium tempered leather, four card slots, and a thin clip inside.
Not only that, but the wallet ages like fine wine when well taken care of and will develop a rich patina over time. The Horween CXL is, without a doubt, a forever-wallet.
8. Bulliant Slim Minimalist Front Pocket Leather Wallet
The Bulliant brand has thought of all the fine details that elevate a wallet from basic to perfection so you can feel as sophisticated and you'll look.
It has a pulling strap that is accessible from the outside, where you can place any cards you find yourself reaching for regularly.
For the rest of them, the thumb groove makes it so you can quickly flash a business card or anything else you decide to put inside the wallet with ease. It comes in many colors and styles, too, making it ideal for its form and functionality.
9. Alpine Swiss Money Clip Wallet
Unbox this chic little wallet and prepare to be impressed.
It holds a total of eight cards within its compact design so you can have all you need, without sacrificing any of your pocket space.
For added hold, the money clip fastened on the outside is magnetic, and like the rest of the wallet, is made of genuine nappa leather.
It's subtle texture will feel great in your hands and has just enough give to be firm but pliable. This Alpine Swiss wallet also comes RFID protected while still allowing enough energy through it for hotel key cards or work ID's, for example, something that makes this one stand out from the rest.
10. SHERMAN BRANDS Durable and Slim Bifold Genuine Leather with Front Pocket

Solid through and through, the Sherman Brands wallet sets the new standard of what an everyday wallet should be.
There are twelve solid colors to pick from with varying tones for the bright light or the dark and handsome types in your life.
It also features a pull tab to reveal your enclosed cards on one side, while the other side has a slot to push out your favorites at your leisure.
There is a stainless money clip along the spine inside, which allows your cash to flow with the wallet and not become bunched or lost in a pocket. Its RFID blocking technology seals the deal on making this the new golden standard for modern wallets.
11. Stylish Hershel Raven RFID Wallet

We saw their backpacks take the world by storm, but now there is a new favorite entering center stage: the Hershel Raven wallet.
What makes this brand exciting is all in the details: it has a two-toned stitched fabric exterior, emblazoned by the Hershel logo in the front; its pockets are minimal with only three card slots for those who want to keep it tight; the longer inside pocket boasts a little bit of personality with red horizontal stripes against a white background. It has functional RFID protection and a warm gold money clip in the back to bring it into the present day and set it apart from "any old wallet." The more you look at this one, the more you will find.
12. Carbon Fiber Money Clip
Made from 100% carbon fiber, this money clip is ahead of the rest and will transform you into a trendsetter yourself.
Nothing more than a clip, it still has all the functionality a wallet would have, but is only 71 mm on its longest side.
It retains its shape and grip over time so whatever you're carrying with you, this mighty clip will handle it.
Depending on your needs, the clip does come in a few different widths so you can choose which is most practical for you. Be brave and dive head first into this new trend, saying good bye to foldable wallets for good.
13. Louis Vuitton Pince Card Holder with Bill Clip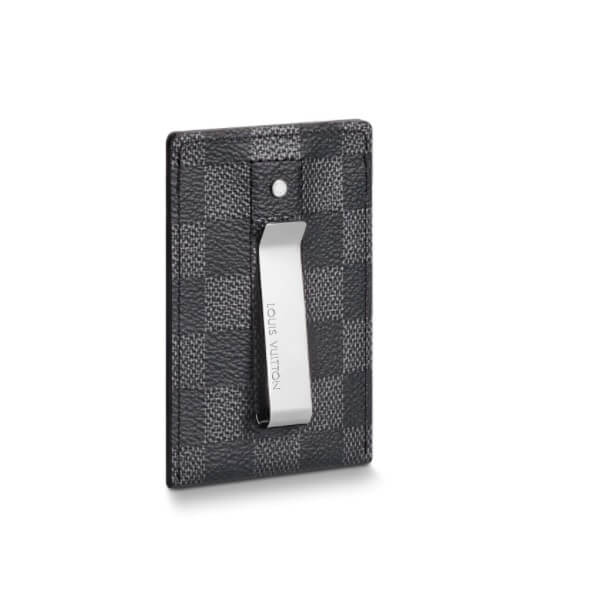 The finest in luxury brands, Louis Vuitton is anything but ordinary and their Pince card holder will make you feel as expensive as their iconic handbags.
The charcoal and graphite checkered pattern is timeless and sophisticated, making it a great investment that'll keep your reputation and money in tact.
The stainless steel money clip in back keeps your cash tidy and eliminates the need for an interior pocket – its additional card slots are nestled on the outside. Treat yourself to this and you'll never need another wallet in your lifetime.