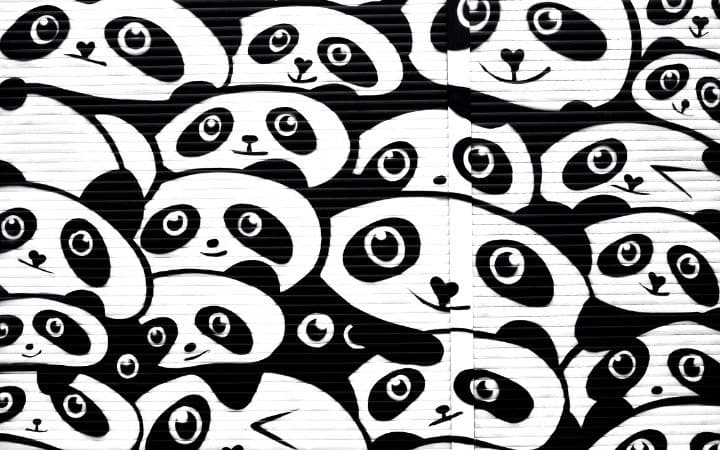 We will receive a commission if you make a purchase through our affiliate link at no extra cost to you. Please read our disclosure policy for more information.
If you have a special person in your life that absolutely loves pandas, then you've come to the right place. With so many options and brands, it can be hard to find the perfect panda themed gifts for your loved ones. Not only are all of these items quite unique, but they are very well-made.
We also made sure that all of the options were under $50, with most of these panda gifts for adults, teenage girls, and kids between $20 to $25, which is perfect for those on a budget who are trying to save some money. It was also important that we added many different options to choose from to give you more flexibility.
To make your it more practical yet creative, you can also pair one of these budget-friendly panda gifts with the most creative and unique money gift ideas here. What better way to make your gift more exciting to the person who loves pandas – you can now gift money without looking lazy or unthoughtful!
For example, you can quickly grab one of these beautiful panda cards and slip in some money inside, or a gift card, for the recipient and surprise them!
Or, if you want to be more creative, you can fill a mason jar with some cute homemade panda cookies, and hide some money inside too. There are so many creative and budget savvy ways to pair your thoughtful panda gift with some cash!
Best Panda Gifts For Panda Lovers (Him and Her)
Not only can you gift these items on special occasions like birthdays or holidays, but you could also give them just because you wanted to see your loved one smile. There are options for pretty much everyone on this list and you'll hit a home run if you decide to get one of these as a gift. You might find that you can't choose just one!
Before jumping in, it's a good idea to know what categories we included. Not only did we include items for both him and her, but we also included options for kids. You'll also see options that are cool/cute, funny, and from the cartoon Kung Fu Panda.
With that being said, keep reading below to see the best gift ideas for panda lovers under $50.
Pin This Panda Gift Guide to Your Pinterest Board!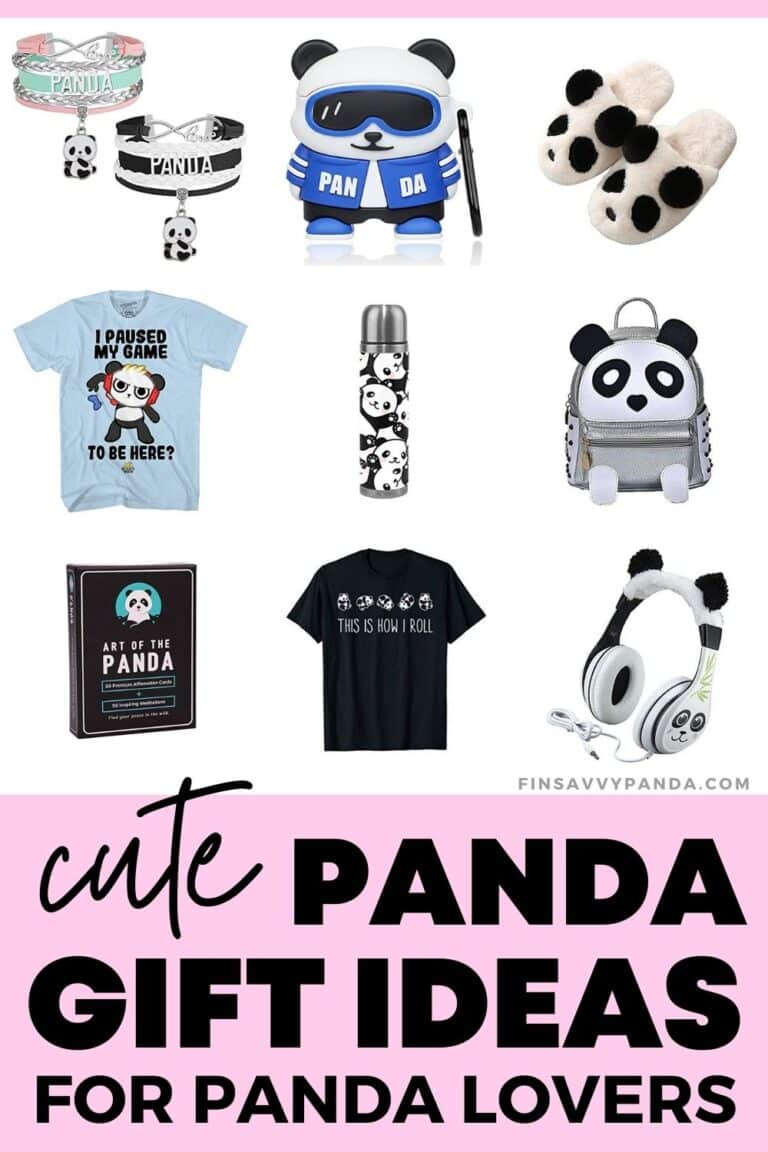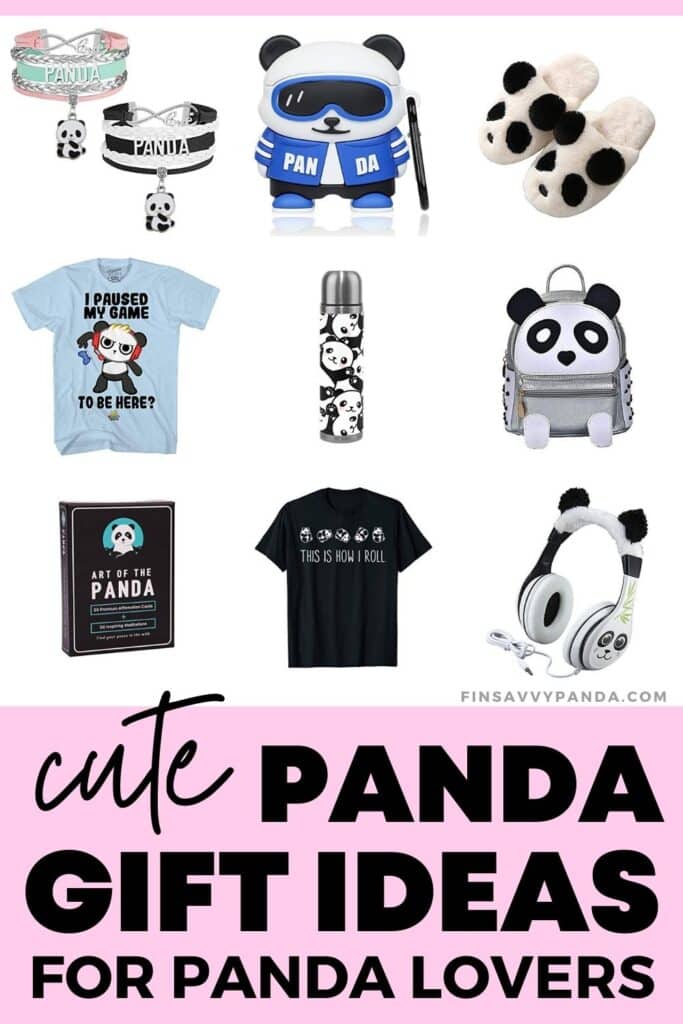 Panda Gifts for Her
Take a look at 10 panda gifts for her, the special panda-loving lady you're buying for!
1. Daily Panda Planner For Her
This purple panda planner is great for the lady in your life that needs to keep track of important dates and appointments. Not only does it have the option to fill in a monthly calendar, but it also has weekly and daily calendars. It's a great quarterly planner that has everything needed to increase productivity and make sure no appointments or important dates are missed!
2. Panda Lucky Money Tree Pot Planter
When you give a plant or money tree as a gift, it usually symbolizes prosperity, health, abundance, growth, healing, and beauty.
This cute little panda lucky pot planter is the perfect gift for anyone who loves and appreciates plants. Whether it's celebrating someone's birthday, job promotion, New Year's, or mother's day, any person can use some a little decoration with a plant to uplift their spirits at home.
3. Cute Panda Hoodie For Her
Make your loved ones feel like this cute and cuddly panda that they love. One of the best things about this hoodie is the cute panda face on the front and the big, fuzzy ears on top. While it's made from a cotton blend, the inside is a fleece-like material, which can help keep the body warmer. It's important to let them know, though, that this should only be hand-washed.
4. Art of the Panda Affirmation Cards For Adults
If you're looking for something to help boost confidence or help get inner peace, then you should take a look at these daily affirmation and meditation cards. It's a great gift for everyone and the cards are super easy to use. In addition to 50 affirmation cards, this gift also has 50 audio meditation guides, which can be found on most audio platforms.
5. Cute Panda Bracelet
Great for all ages, this stainless steel panda bracelet is a perfect gift for any occasion. In addition to the cute panda charm, the bracelet also has a heart, small pearl, and metal disk saying "Just A Girl Who Loves Pandas." The bracelet can be adjusted to fit most wrists and the high-quality materials don't cause any skin discoloration. To make it even more special, you can get a special message engraved on the other side of the metal disk.
6. Cute Sterling Silver Panda Earrings
At less than an inch, these panda earrings are small and dainty. It's made from sterling silver and has a clasp on the back for easy closing. The size and weight make it great for both adults and children, which means you have more flexibility with gifting. While they come in a nice box, you can make the gift more special by upgrading to something you know they'll love.
7. Over-Sized Sherpa Panda Hoodie Blanket
Available in both adult and youth sizes, this oversized sherpa hoodie is perfect for every occasion. The sherpa material helps the body stay warm and the big pockets mean they can carry all of their important items. Regardless of where and how they'll be wearing it, this oversized panda blanket is sure to be a huge hit!
8. Panda Cross-Body Cellphone Purse
This is the perfect gift for those that want a small purse with multiple uses. Not only can it be worn across the body, but it can also be worn on the wrist or as a traditional purse. It's made in the US and only uses faux leather, which makes it a great gift for those that are vegan. It can hold most new phones and a few extra items since it measures 7.5″ high, 5″ wide, and 1″ deep.
9. Panda Necklace For Her
If you're looking for a beautiful piece of panda jewelry that will excite the special lady in your life, then look no further! It's made of sterling silver and has beautiful green zircon. In addition, the pendant is about the size of a quarter, which means it isn't too big or gaudy. The included chain is 18″ and can be adjusted. The gift box is elegant and the included cloth can help keep the pendant clean.
10. Cute Panda Slippers
Give your loved one the gift of comfort with these fuzzy panda slippers. They come in multiple different sizes and fit most feet like a glove. The outside of the slipper is a sherpa-like material and the inside is fuzzy to help keep the warmth in. The bottom has silicone dots to prevent slipping and they can be easily cleaned by hand. Add these to the oversized blanket we mentioned earlier and you'll have an amazing gift.
11. Adorable Panda Pajama Set
Pajama sets are always great gifts and this one is perfect for the incoming warm weather. The shirt is solid white with a cute panda face, while the shorts are light blue with multiple pandas covering them. These are 95% polyester and 5% spandex, which makes them even comfier and inviting. It's important to remember that the sizes can be wonky, so make sure you order at least one size up!
Panda Gifts for Him
Here are 10 panda gift ideas for him, the panda-loving man in your life!
1. Large Panda Gaming Mouse Pad
Not only does the large size of this panda mousepad make it perfect for gamers, but it's also made with high-quality materials that increase its comfort. The picture is a cute panda jamming to some music, with black and blue being the primary colors. It also comes with a small circular mousepad that has the same design. The water-resistant and anti-slip materials make this mousepad last for a long time!
2. Panda Wallet For Men
If he's just one of those dudes who are totally obsessed with pandas, then consider gifting a men's panda wallet for him.
This premium panda bi-fold cash wallet for men made with vegan leather and includes cash compartment with 5 card slots. It's very light-weighted and perfect for the guy who doesn't like bulky wallets. If you're shopping around for a practical wallet or a minimalistic product that'll hold cash for him, then we also recommend checking out the best wallet money clips for men too.
3. Panda Daily Planner For Him
If the man you're buying for has a lot of appointments and dates to keep track of, then you should gift him this awesome gray panda planner. It's a quarterly planner that has calendars for the month, week, and day. It also has a stretchy strap that can help keep the pages closed and secure. The gift recipient will also get access to six e-books that can help productivity.
4. Men's Panda Apron
There's nothing quite as sexy as watching a man throw down in the kitchen, and this panda apron can help make him even cuter! It's covered with cuddly blushing pandas that look like they're reaching for a hug. The back is a standard tie closure and the neck strap is adjustable cotton. One of the best parts is that you can throw it right into the washer for cleaning.
5. Panda Socks For Him
These cool panda socks are great for many occasions, including pairing them with business clothing, giving them as groomsmen gifts, or just wearing them around the house. These blue socks shin-length and are covered with small panda faces. The fact that they are made with 80% combed cotton makes them even more comfortable and soft.
6. Men's Panda T-Shirt
Perfect for the man that loves graphic tees, this panda shirt should fit the bill. Not only is the look on the panda's face comical, but the little party hat makes the shirt even funnier. The paint splatter and black lines give the design a fun and silly vibe. Made with spandex and polyester, the shirt is super soft and comfy. This material also makes it possible to throw the shirt in with your other laundry.
7. Panda Tie Set
Pair this necktie set with the socks we mentioned earlier and you'll have the ultimate panda-lovers gift! Not only does this set come with a necktie, but you'll also get a handkerchief and cufflinks. The panda used on this set has two guns and looks like he's ready to get down to business! It's sent in a beautiful gift box and is only made with high-quality materials.
8. Black Panda Baseball Cap
If the man of your life is always wearing or collecting hats, then this is a great option. The cute sleeping panda is embroidered well and gives the hat a really nice look. The closure on the pack is snap-close, which is great for most people. It's made of cotton, which helps make the hat more comfortable and easier to clean.
9. Panda Framed Canvas
This is a great gift for the men that love the meme of the panda with the guns. There are multiple different canvas sizes to choose from and you should be able to find a nice frame relatively easily. The canvas is 100% cotton-based, which means it'll keep its appearance over time. It's an awesome painting that'll be a new favorite!
10. Panda Airpod Case For All Panda Lovers
While this headphone case is made for Airpods, most other wireless earbuds will fit perfectly. Not only does the closure snap tightly closed, but there's a carabiner that makes it possible to securely clip it into place. The case is made of silicon, which is strong and quite easy to clean. It's a cute gift that should stand up over time.
11. Panda Nintendo Switch Controller
With the popularity of the Nintendo Switch, it's no surprise that a huge amount of people have one. If this is the case for the guy you're buying for, then he'll love this wireless panda controller. You can easily connect the controller to the console and start playing within seconds. It has all of the needed buttons, as well as extra settings to improve your gaming experience. The controller should provide up to 10 hours of continuous play before needing to be recharged, which is quite a bit longer than other controllers.
10 Panda Gift Ideas for Kids and Teenage Girls
Look below to get 10 panda themed gifts for the younger crowds – these gifts will bring a smile to both kids and young teenagers!
1. Adorable Electronic Panda Piggy Bank
What better way than to help your kid learn the importance of saving money with an adorable panda piggy bank like this one here?
This cute money bank is another great option for your panda-loving child. In addition to taking coins, the child can also put actual bills in the bank. It's completely electronic and the child can set their very own four-digit password. Once the child fills the bank with coins and bills, they can put their code in to open the door and access the cash.
Want more of the best and coolest piggy bank gift ideas that'll inspire young ones to save money? We've got them here for you:
2. Panda Stealing Money Bank
While it isn't as big as other coin banks, this cute panda stealing model can hold between 30 and 40 coins. After putting the coin on the plate, the panda will say "Hello" once it pops out and "Thank You" once it steals the coin. After collecting all of the coins, you can remove the cover on the back and let your kiddo count their money!
3. Panda Minecraft Lego Set
If the child you're buying for is a fan of Legos and Minecraft, then this gift is the perfect option. This set has 204 pieces and is great for any child over seven years. The name of the set is Panda Nursery, which means your kiddo can pretend to take care of them. Not only will they be able to build the pandas, but also the environment and other animals.
4. Panda Echo Dot
When you consider how big technology is for most people, it's no surprise that there are electronics for kids as well. This panda Echo Dot is designed specifically for kids. Not only can they have access to brands like Disney and DreamWorks, but the parents can easily set controls to prevent access to certain things. It's a great gift for both learning and entertainment.
5. Cute Panda Clock
Not only is this cute panda a working clock, but it has a built-in nightlight. The alarm and time adjustment buttons have a cover over them, which means there's less chance the kiddo can change it. The nightlight button is on the back and can be pressed to turn the light on or off. One last thing we love is that it's only around 5″ tall, which means it can fit in most spots.
6. Kid's Panda Slippers
It's super cute to see your child walk into the room with fuzzy slippers on and these panda ones don't disappoint. It comes in multiple sizes and is made from both velvet and plush. While you could throw them in with the laundry, they'll have a longer life if you hand wash and air dry. Add in the fact that the bottom is slip-proof and you have the perfect gift.
7. Panda Headphones
If you've been looking for the perfect set of children's headphones for the panda lover in your life, then look no further. The top has the cutest pair of fuzzy ears and the earpieces have cute panda faces and bamboo shoots. The headband can be adjusted to multiple sizes and it has built-in volume control. The best part is that they work with pretty much any device that has a 3.5mm jack.
8. Kid's Panda Backpack
Send the child in your life to school in style with this cute panda backpack. It's a gorgeous light blue and is covered in panda faces. The backpack is made from polyester that's not only high-quality, but it's also resistant to water. In addition to the big zippered pocket, there's also a small one that can hold things like pens or phones!
9. Kid's Waterproof Leather Panda Backpack
If you're looking for a backpack that's not as big as a traditional one, then take a look at this faux leather design. The bookbag itself looks like a cute panda and is both high-quality and waterproof. In addition, there are multiple pockets to make it easier to hold all of your items. One of the best things about this backpack is that the shoulder straps can be adjusted for maximum comfort.
10. Kid's Snuggly Panda Chair
Not only is this panda chair super soft, but it's also very comfortable. It's the perfect size for a little one and it can be easily moved or adjusted. It's made of plush, which makes it even softer and comfier. The inside is filled with PP cotton, which is known for lasting and holding its shape. You can throw it into the machine and wash with cold water before letting it completely air dry.
Cool & Cute Panda Gift Options
Take a look below if you're looking for cool & cute panda gift ideas.
1. Cute Panda Steering Wheel Cover
This panda steering wheel cover is a great gift for any driver, especially if they live in an area where it gets cold. The material is made from plush, with offers both comfort and warmth. It's made to work with most cars and can fit steering wheels that are 14″-14.5." You can easily wipe clean or throw it right in the wash.
2. Cute Panda Plush
Regardless of age or gender, this 8″ plush panda is a great gift. Not only can the recipient use it as decoration, but they can also cuddle up with it for comfort. It offers maximum convenience because the outer cover can be removed and washed. You can rest assured that everything is sewn down and tightly secured, so you won't have to worry about injuries or choking.
3. Wireless Panda Earbuds
We all know that wireless earbuds tend to be quite expensive, but this is a fantastic alternative. For starters, they come with their own panda-shaped case that has multiple uses, including keeping them secure and recharging them. Once charged, it should be relatively easy to pair them with the device. It's a cute gift that can bring joy to pretty much anyone!
4. Stainless Steel Panda Water Bottle
This would make an awesome gift regardless of whether the person you're buying for is into fitness or just likes to have a water bottle handy. It's made from stainless steel that makes it easier to clean and prevents the growth of germs or mold. When closed, the cap is airtight and doesn't cause leaks. In addition, the 20oz bottle has a flip cap and straw to make drinking much easier.
5. Cute Panda Glasses Holder
Not only is this gift super cute, but it's also useful! The panda eyeglass holder is made from polyresin material, which is known for being strong and non-harmful. The small size makes it possible to put most places and many people find that it works great on their bedside table. One of the greatest things about this gift is that it can fit all sizes of glass, including sunglasses!
Kung Fu Panda Gifts
This section has gift ideas for those that love the Kung Fu Panda cartoon. Take a look below.
1. Kung Fu Panda Funko POP!
Not only is this a great gift for anyone that loves Kung Fu Panda, but it's also great for those that collect Funko POP! figures. It shows the main character, Po, and shows him in a fighting stance. The recipient can take it out of the box or leave it in to show off for years to come!
2. Kung Fu Panda Board Game
This is the perfect gift for those that love unique and cool items. It's a Kung Fu Panda board game where Po and the Furious Five need to fight and defeat the enemies. You can choose any of the six Kung Fu masters and there are three modes to choose from. There are also over nine different plotlines, which makes the game have great replay value.
3. Kung Fu Panda Movie Collection
If that special person in your life really loves the Kung Fu Panda franchise, then this is the ultimate gift. It has all three movies and offers both Blu Ray and digital copies. It also includes a bonus disc that has things like animated adventures and an epic music video! The best part is that it's suitable for all ages.
4. Kung Fu Panda Plush
The size of this oversized plush is 12″, which means it's great for cuddling or watching your favorite movies. It's made with safe materials and everything is sewn down to prevent injury or choking. You have multiple options for cleaning, including hand washing and throwing it right into the laundry. Bring a smile to anyone's face with this cute plush!
5. Showdown of Legendary Legends – PlayStation 4 Game
If the recipient of your gift is a big gamer, then you should check out this PS4 game. Kung Fu Panda: Showdown of Legendary Legends gives you the choice of 20 different characters, each of which has its own attacks and specials. You can either play by yourself, with up to four players locally or online with people from all around the world!
5 Funny Panda Themed Gifts
Looking for something that can make your loved one laugh? Take a look below to find some awesome options.
1. Funny Panda Shower Curtain
Imagine walking into a bathroom and seeing this cute panda shower curtain. It'll bring giggles and smiles to your face. This would be a great gift for many occasions, especially the purchase or renting of a new home. It's 72″ by 72″ and can fit most curtain rods. The polyester materials help prevent things like mold and mildew, which is a huge advantage.
2. Amusing Panda Mouse Pad
This mousepad shows a super cute panda eating junk food with the saying "Every Day Is Cheat Day." It can be used for many different things, including gaming and office work. The smooth surface makes it work with different mouse types and makes it feel like the mouse is gliding across. The non-slip bottom keeps it in place and it can be thrown right into the washer for cleaning.
3. Silly Panda Light Switch Sticker
In addition to being well-made, these panda light switch stickers are great for a little pick-me-up. It comes with four different stickers, which means you can put them on multiple different switches. The PVC material makes it durable and long-lasting. It can work on several different surfaces and can be pulled right off when ready to remove or reposition.
4. Panda Shaped Bandages
These panda bandages can be used for actual cuts or scrapes and can also be used as a gag gift. The person will never expect band-aids, let alone panda ones! They have a 1.4″ by 1.5″ gauze, so they can be used for small cuts or scrapes. They come in a tin can and each one has 50 bandages. There's a little picture on the front and that's the actual size of the panda-shaped band-aid!
5. Funny Panda T-Shirt
If you have a special person that loves Ryan's World, then this shirt is a great gift. The picture of the panda is cute and the saying is super funny. It's made with 100% cotton, which means it's comfortable and easy to clean. All of the graphics are well-made with bold colors and the shirt is a nice blue that brings everything together.
Wrap Up on Panda Gift Ideas
Whichever panda gift you choose from this list, we guarantee that the panda lover you're thinking about will find these ideas useful!
And whether you're looking for a birthday, graduation, anniversary, or holiday gift that won't break the bank, we have a list of the best and most practical budget-friendly gift ideas here for you!
I hope this article helps you pick out the best panda bear gifts for that special someone!
We are a personal finance blog helping you to find the most optimal ways to budget, save money, and make extra money. For more personal finance and money tips, be sure to follow Finsavvy Panda here on Pinterest!