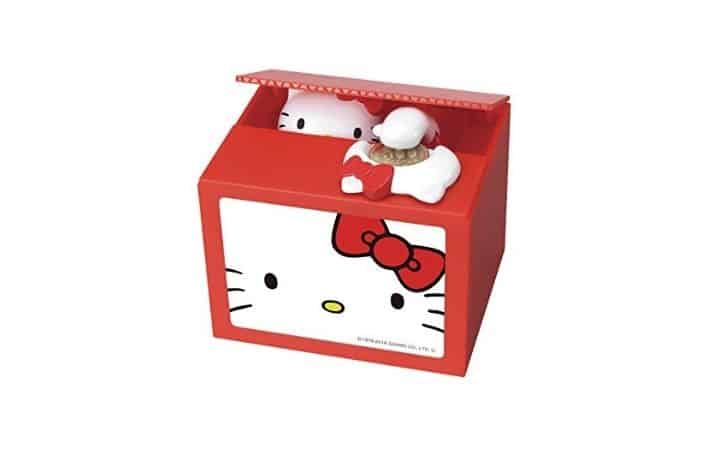 We will receive a commission if you make a purchase through our affiliate link at no extra cost to you. Please read our disclosure policy for more information.
With her little red bow, she's one of the most recognizable cats in the world. You've probably already purchased all kinds of notebooks, pajamas and glitter pens with her face on them!
But did you know that Hello Kitty can be a lot more than just a cute decoration for girls?
With the help of Hello Kitty coin banks — which, by the way, makes one of the best Hello Kitty gifts for kids, adults, and women — this pint-sized feline can be a great way to teach your child financial responsibility. Her cuteness will draw them in, and her well-made merchandise will be the tool that you need to impart lessons about saving, spending and more.
As you're probably aware, child psychologists have long touted the importance of teaching your child about money from a young age.
It's never too early: Some studies have suggested that money handling can be an effective way to learn numbers in the first place. By holding, counting and collecting money with their own two hands, kids can learn about numbers not as an abstract concept but a tangible thing that exists in the real world.
Another benefit of having a piggy bank is that it turns saving money into a fun activity rather than a chore. Your child can set goals, establish routines and plan for future purchases all while improving their math skills.
Last but not least, coin banks make great ideas to give money as a gift – just secretly sneak some cash into the piggy bank and surprise your loved ones!
Whether you're shopping for a birthday or holiday, a Hello Kitty coin bank, or these cute unicorn piggy banks as an alternative, can be an exciting thing for a child to unwrap, and it's the kind of gift that will keep on giving for years to come.
If you're a fan of electronic piggy banks, I also recommend browsing this list of the coolest electronic piggy banks for both adults and kids. These are electric coin banks that will allow you to insert your bills and coins into a slot that comes with a password lock for a boost of security.
And lastly, don't forget to take a look at this adult piggy bank post where you can find the best and unique piggy banks for adults with different money jars to choose from.
Alrighty, let's talk about some of the best Hello Kitty piggy banks out there. Amazon has a great selection, so we'll start there.
1. Hello Kitty Stealing Coin Bank
This makes the perfect little piggy bank for girls.
You've never seen Hello Kitty quite like this "stealing coin box" here! She's become the world's cutest thief with the help of a box-shaped coin bank utilizing automated technology for independent movement.
It's actually quite simple. Whenever you place a coin on the lid, Hello Kitty will "come alive" and sneak a furry paw out of the box to "steal" it. A musical chime will play as the coin is deposited into the bank.
If you're looking for something a little different from your usual piggy banks, become a willing victim of a purr-fect burglary!
2. Hello Kitty Ceramic Coin Bank (DIY Paint Set)
You've always seen her with her trademark red bow, but what if she'd look better with a blue one or a pink one or a polka-dotted one?
This "paint your piggy bank" DIY kit comes from the official Hello Kitty merchandise line, and it'll be a fun, interactive way to get your child excited about saving money. Everything that you need to get started is right in the box, including a paintbrush and six acrylic paints.
As for Hello Kitty herself, she's made with a glossy white ceramic that will easily take on color, and reviewers have said that she's further customizable with markers, stickers and more. The possibilities are endless, so let your child's imagination run free!
3. Hello Kitty Mug For Coins and Loose Change
Did you know that one of the best ways to encourage kids and adults to save money is by throwing their loose change in to a jar or coffee mug like this beautiful Hello Kitty one here?
Although the main purpose of a Hello Kitty piggy bank is to collect cash and coins, but what makes this Hello Kitty cup any different? You can be creative and repurpose this beautiful ceramic coffee mug into a money-collecting jar. They will surely be surprised by how much money they could save at the end of each month or year just by tossing in that pocket change!
Not only does this make a cute and unique Hello Kitty gift idea for her, but this also makes the perfect coffee gift for the coffee lovers out there, too! There you have it, two purposes for this simple yet practical gift for the Hello Kitty and coffee fanatics!
4. Hello Kitty Electronic Piggy Bank With Password
You can get your kids, or even yourself as an adult, to develop good habits of saving money with a Hello Kitty electronic piggy bank which comes with a password like this one found on Pinterest.
These toy banks look just like an ATM and you can slot your cash into the electronic piggy bank. It's a fun way to build a personal savings fund for you and your kids if you're looking for a piggy bank that's different and unique from the traditional ones.
This comes with a 4-digit numerical password code just like any PIN number for you to withdraw the cash. How cool is that to have a personal savings account in the form of an ATM at home?
If you're looking for other cool and unique options like this, then I recommend checking out this list of the best ATM electronic piggy banks.
As a cat or kitty lover, you'll definitely love this adorable kitty electronic piggy bank from Amazon too!
5. Hello Kitty Toy Ceramic Piggy Bank Inside Popcorn
If your little one loves the movies, this piggy bank here will give them a front-row seat to the action.
Like many piggy banks, it's made of ceramic, and it has an open slot for coins and bills as well as a rubber stopper on the bottom that can be removed and reattached at will. Unlike most piggy banks, it's shaped like Hello Kitty, and she's ready to enjoy the latest Hollywood blockbuster! She's crouched in a big, vintage-style popcorn tub with red and white stripes. Her yellow nose perfectly matches the yellow butter.
Consider this piggy bank if you're looking for a super-cute gift for a kid who loves the movie theater experience. Honestly, it would be suitable for adult film buffs, too!
6. Sanrio Hello Kitty Piggy Bank Plastic (Red, White and Blue)
Measuring 6 x 4.75 x 8 inches and weighing almost a pound, this kitty coin bank is on the heftier side, but that just makes it a sturdy vessel for all of your child's allowance money.
Another nice feature is the cool and trendy look of its Hello Kitty. She's changed up her usual outfit for a yellow shirt under blue overalls, so when you throw in the white fur, black whiskers and red bow, she's quite the colorful sight!
Kids will love this piggy bank, and so will collectors who want every possible piece of merchandise for Hello Kitty.
7. Hello Kitty Head Piggy Bank
Simple but stylish, this Hello Kitty Head coin bank will be a cute addition to a table, dresser or nightstand. It depicts the head of Hello Kitty with her trademark expression and look.
Its measurements are 6 x 5 x 3 inches, so it won't take up a lot of room, but it'll still be sturdy enough for some serious saving. You might buy it for a child who's serious about a long-term financial goal and is able to resist the temptation of always peeking inside the jar.
Another option is buying this for a teen or adult collector who simply loves Hello Kitty. People of all ages love her, so this gift might be suitable for a wide range of folks!
8. Hello Kitty Pink Strawberry Piggy Bank with Dress
It's impossible to look at this piggy bank without cooing. Hello Kitty is just too adorable for words. Her strawberry dress has everything from a hood to a lacy hem, and even her bow has been color-coordinated with it.
It isn't just her sense of fashion that makes this piggy bank a great one, however. It's also jumbo-sized, making it perfect for young or differently-abled kids without a lot of fine motor control. You could also use it as a decorative item in a playroom or bedroom since it's simply made to be shown off.
Long story short, there's a lot to love about this Hello Kitty coin bank, and the strawberry design is only the start.
9. Baseball Hello Kitty Coin Bank
Take me out to a ball game…
If your little one lives for baseball, this piggy bank will be a home run. It depicts Hello Kitty in a top-to-bottom baseball uniform that includes a hat, jersey, pants and a baseball bat. You can even choose her colors based on two different Major League Baseball teams: the Boston Red Sox and the Los Angeles Dodgers.
Did we mention that it's a fully licensed crossover product between both Hello Kitty and the MLB? It's a legitimate piece of merch for collectors everywhere!
10. Hello Kitty Metal Lunch Box (Used as a Piggy or Coin Bank)
While not technically a piggy bank, this Hello Kitty lunchbox can be a great multipurpose item for moms and dads with a little creativity.
You can send it to school, for example, filled with sandwiches and veggie dips. You can use it for saving money. You can store your child's collectibles in it; the tin material will be more than strong enough for coins, stamps, rocks, beads, nail polishes and key chains.
Last but not least, it's decorated with a picture of Hello Kitty and a birthday cake. You couldn't ask for a more fitting birthday present!
11. Pink Hello Kitty Metal Lunch Box (Used as a Coin or Piggy Bank)
Perfect for the princess in your life, this girly-girl lunchbox depicts Hello Kitty at maximum cuteness. She's driving a pink car, riding under a rainbow and passing through a shower of confetti clouds. She's even wearing a neck scarf for extra style points!
Despite its appearance, however, it's also as strong as steel. Its tin material was even tested and approved for food storage.
Take a peek through the window of this lunch box to look at food, money and any other collectible that your heart desires.
12. Hello Kitty Cupcake Shape Tin Purse For Coins and Bills
"Never lose your sparkle!"
This is the message of the Hello Kitty cupcake tin, and it'll be equal amounts amazing and empowering for your little girl, especially if she decides to use it as a piggy bank. You can teach her all about financial independence as she saves and grows her money.
She can even use the tin as a purse! It comes with a beaded handle for carrying, which adds real-world convenience to the purchase even as it enhances the razzle-dazzle of the design.
If you're looking for a great Hello Kitty piggy bank for your daughter, get sugary sweet with this cupcake tin!
Wrap Up on the Cutest Hello Kitty Coin Banks
Whichever Hello Kitty coin bank you choose to kickstart your brand new savings fund, we guarantee that you'll fall in love with budgeting and saving money because it will never feel like a chore for you or your kids with these one-of-a-kind adorable piggy banks.
Well, I hope this article inspires you to pick up your lucky Hello Kitty piggy bank today!
For more personal finance and money tips, be sure to follow Finsavvy Panda on Pinterest here and dive into my most popular pages about saving money and making extra money.