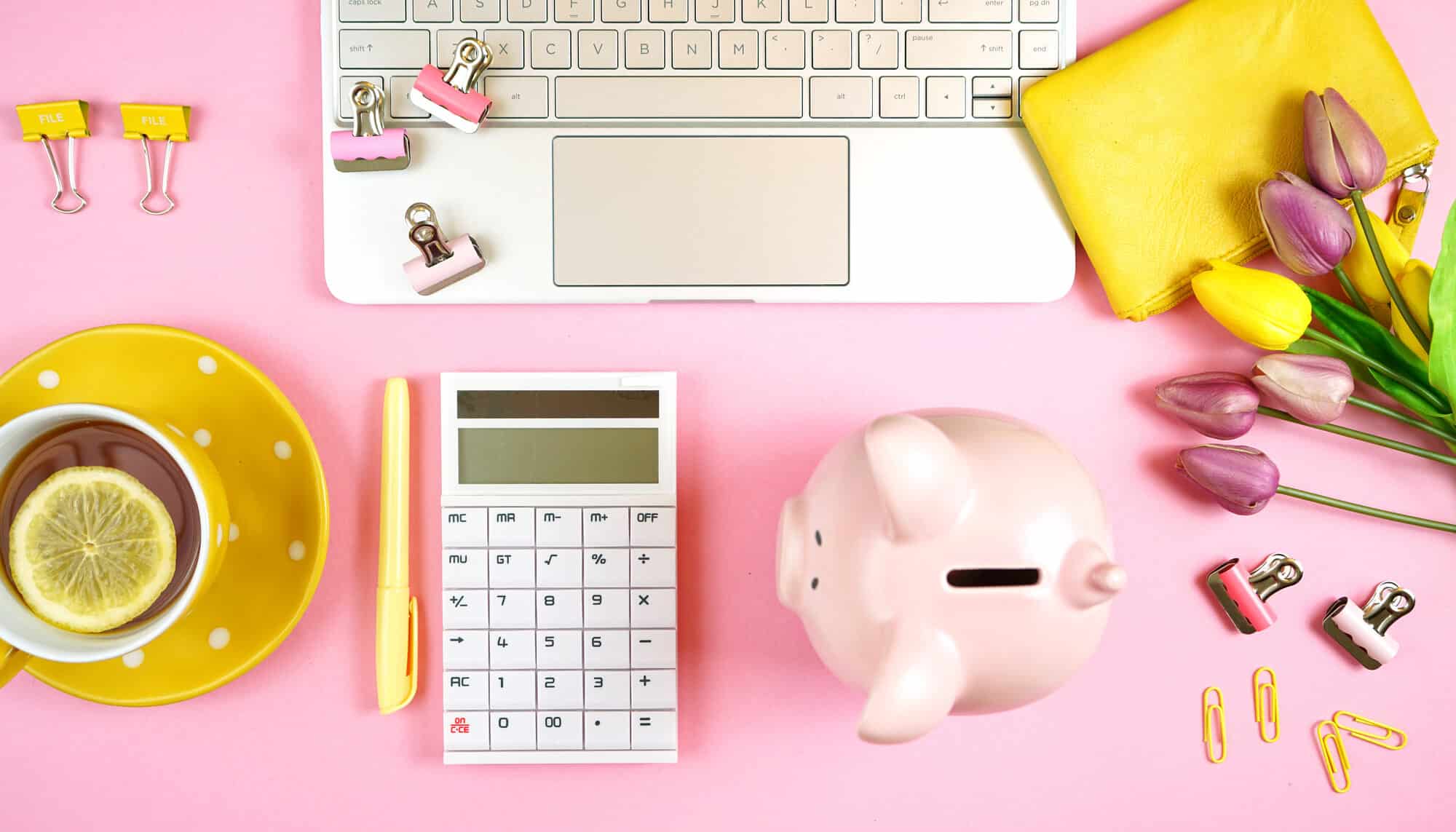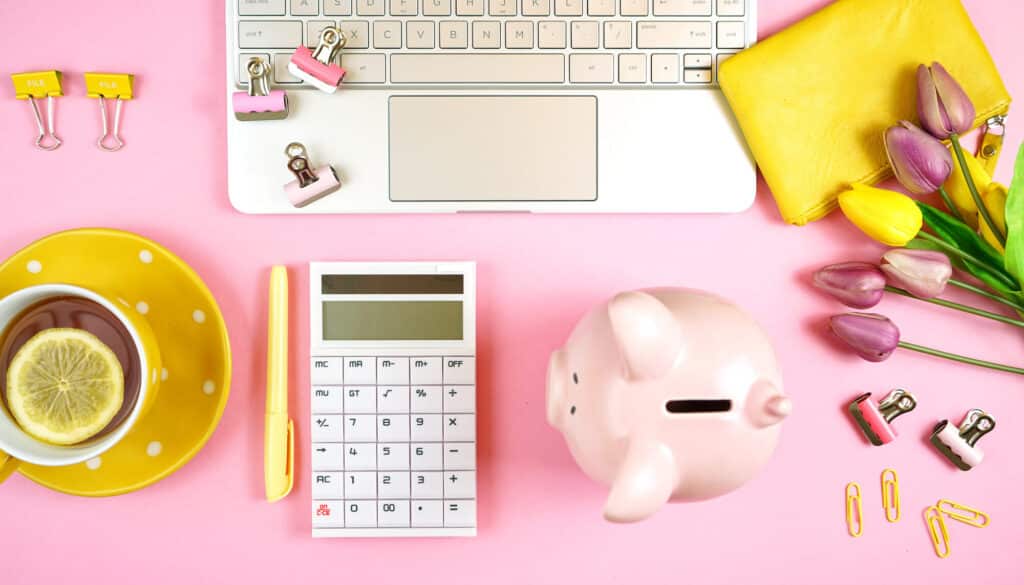 We will receive a commission if you make a purchase through our affiliate link at no extra cost to you. Please read our disclosure policy for more information.
Whether you're using the cash envelope system, the 50/30/20 budget rule, or the reverse budgeting method, the ultimate goal is to make sure you stay within your monthly budget, as often as you can, by saving more cash and not spending more than you earn.
This sounds easy but putting it into practice can be quite challenging.
When you can pay for your purchases with debit or credit cards – tap and go – it's easy to lose track of how much you've spent through the week.
By the time your statements arrive, it might be too late to realize that you exceeded your monthly budget and blew it out of the water!
This raises the question; which payment type can help you stick to a budget?
Unfortunately, the answer is "it depends on your situation."
Everyone responds to various forms of money differently. Some people are absolutely terrible with cash, whereas others don't know when to stop tapping their cards.
It really comes down to your spending behavior and how you deal with money.
Once you understand how you react to money, you can minimize the urge to stop spending money on unnecessary things and finally stick to your budget.
So, let's go over the benefits and drawbacks of each payment option and you can decide which one fits your specific needs.
For beginners, we also have an article that will explain the different budgeting methods and how you can budget your money each month.
I also offer tools and resources, such as my free budget printables, templates, and worksheets.
If you want to learn more about how I saved my first $100,000 in my 20s and how it helped me build a net worth of $1,000,000 by my 30s, feel free to explore my premium budget binder — The Power Up Budget Binder.
Is Cash the Best Payment Type to Stick to a Budget?
If you find yourself exceeding your budget every month and unable to save money, then cash payment could be the solution to your spending problem.
The idea behind cash-based payment is to get you back in touch with your money. It's all about bringing awareness to how much money you have and how much you can actually spend.
Benefits of Paying with Cash
Unlike debit cards, you won't be able to spend more than what you have in your wallet.
Imagine yourself grocery shopping at your local supermarket and your cart is full of food that you will need for the week. If you only have $100 in cash with you, you will make sure that the total value of your cart doesn't exceed $100 before you checkout. Otherwise, you won't be able to leave the store unless you take some items out of your cart!
Now, if you were paying with your debit or credit card, you can easily spend more than $100 and break your budget. That's why the cash envelope budgeting system is very effective at preventing unnecessary spending.
Another benefit of using cash instead of plastic cards is the fact that you can visually see and physically feel your hard-earned cash leave your fingertips. It's not just a digital number that appears on your phone or monitor.
This may seem minor, but there's a powerful psychological effect from transacting with cash.
The act of paying real cash to other people generates an unpleasant experience inside of us. It can feel like we're "losing" money. No one wants to feel that way.
When pain is associated with spending, we're less likely to spend money because we want to avoid the negative sensation of draining our cash pile.
This negative emotion is called "pain of paying" and it makes spending less enjoyable.
The more pain you feel when paying, the more cautious you'll be at spending money. It's that simple.
Disadvantages of Using Cash
The obvious downfall to cash is that you have to carry bills and change around in your wallet and if you're not careful, you could potentially lose your cash!
Also, tracking your daily expenses requires more work because you'll need to keep your receipts or jot down what you bought and how much it cost.
It's not as easy as logging into your bank account to view your weekly transactions.
Is Debit Card the Best Form of Payment?
In today's age, practically everyone has a debit card inside their wallets.
According to the 2020 study of Diary of Consumer Payment Choice conducted by the Federal Reserve, the most popular form of payment is debit cards (30% of all payment types).
Having your debit card with you is like carrying a personal ATM inside your pockets. Each time you want to pay for a product or service, you don't need to pull out cash, you simply tap or insert your card to complete the transaction. Once the transaction is approved, your bank debits (deducts) your checking account and credits the merchant's account. No cash is exchanged.
Benefits of Paying with Debit Cards
Aside from not having to keep cash with you, using debit cards limit your ability to spend more than you have in your checking account. This exact feature will prevent you from getting into debt when you have a history of overspending.
If you know that you only have $200 left in your bank account to spend for the week, chances are, you will be more careful on where you spend the remaining funds.
It's the thought process of prioritizing and deciding where to spend your limited resources that will help alter the way you spend.
Another plus of debit card payment is that you can integrate it with your favorite budgeting apps. All your daily transactions can be automatically pulled into your apps so you can easily monitor how you're well you're doing with your monthly budget.
Disadvantages of Debit Cards
The main drawback of paying with a debit card is those pesky overdraft fees.
We've all encountered situations where we accidentally dip into the red without realizing that we didn't have enough funds in the account to pay for some purchases.
Banks are more than happy to cover the shortfall for us, but this service comes with a hefty fee.
As you may know, the average overdraft fee charged by banks is $35. *Ouch!*
These fees definitely don't help with your budgeting efforts.
Are Credit Cards Budget-friendly?
No, it's a bad idea to use credit cards if you want to stay within your monthly budget.
When you buy things with your credit cards, you're essentially borrowing money from credit card companies to finance your purchases. And every time you swipe your credit cards, your loan gets bigger and bigger!
If you can't pay off your credit card balance in full, you'll have to pay interest on the amounts you owe. Note: interest charges still apply even if you pay the minimum payment amount on your statements.
So, should credit cards be used at all?
You might also be asking yourself: Should I pay off debt or save money first?
Benefits of Paying with Credit Cards
You should only use credit cards if you're financially responsible and disciplined with your spending. When used correctly, you can build your credit score to get better rates on loans to purchase big-ticket items, like a car or your first home.
A couple of percentage points difference could save you thousands of dollars every year when you're borrowing a large sum from financial institutions.
Nowadays, there are many credit cards that offer cash back on your purchases and allow you to collect points or cash to redeem for products or flight tickets. That's one of the best and most legitimate ways to get "free money" today – just by making purchases on things that you were going to buy anyway. However, keep in mind that you can only reap these benefits if you can manage to pay off your entire credit card balance.
Disadvantages of Credit Cards
The cost of borrowing on credit cards is high, very high. Forbes said the average credit card interest rate in May 2023 was 24.76%.
It's these expensive interest rates that make it difficult for people to pay off their debt and get out of the vicious cycle of living paycheck to paycheck. The best way to avoid credit card debt is to buy things with money you have, not other people's money.
Not only that, when you use credit cards, you lose touch with your money. It's hard to truly understand how much money you've really spent by starring at a number on your screen as opposed to paying for it in cash.
How many times did your credit card statements give you heart-attacks and you had to double-check the transactions to make sure that you weren't billed twice by a store?
While using credit cards can certainly help you build a solid credit score, the reverse can happen if you're not in control of your shopping behavior. Having a poor credit history can jeopardize your ability to secure loans from lenders in the future.
What is the Best Form of Payment?
If you're having trouble sticking to your budget, stay away from credit cards and go with cash payments.
Credit cards are not your friend when it comes to budgeting.
Using cash only forces you to be mindful of your spending and learn how to budget because you can't spend more than how much you bring out with you.
After your overspending is under control and you've formed better money habits, then you can start using debit cards.
What is the best way to stick to a budget?
The best way to stick to a budget may vary for everyone, so it's essential to choose a budgeting method that suits you, especially if you're a beginner.
No matter the method you select, I'll outline some of the strategies I use to stay within my budget (even when it sometimes feels like I'm not strictly budgeting).
Initially, I set realistic financial goals, factoring in my current income and expenses. When I began, I wasn't strictly adhering to a budgeting method. Still, after being astounded by the needless items I was impulsively purchasing, I started tracking and categorizing my spending. Using apps or spreadsheets might be beneficial in this regard.
Regardless of the situation, I consistently prioritized essentials over luxuries. However, I did occasionally indulge in non-essentials, because it is healthy to have fun and your budget doesn't always have to be perfect. This budgeting journey allows for flexibility and adjustments, particularly when unforeseen expenses arise.
To further adhere to my budget, I curbed impulse buying by setting a waiting period for non-essential purchases.
Moreover, I routinely reviewed and adjusted my budget to reflect life's changes. I also gradually built an emergency fund for unexpected expenses like home repairs or income loss. Such unpredictable events have hit me several times, and they won't wait for a convenient moment.
You can use The Power Budget Binder here to help you stick to your budget. It's the sole budgeting resource I relied on to save my first $100,000, which ultimately led me to achieve a net worth of $1,000,000 in my 30s.
If you liked this post, please share it, and don't forget to follow Finsavvy Panda on Pinterest here.