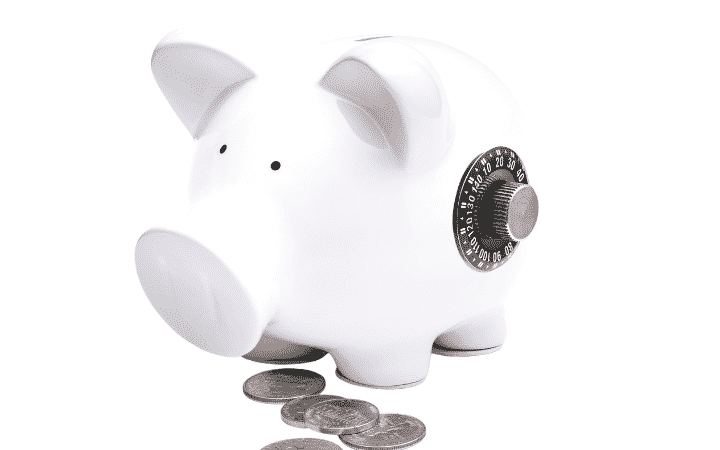 We will receive a commission if you make a purchase through our affiliate link at no extra cost to you. Please read our disclosure policy for more information.
I am super excited for you and I can't wait to see you invest in one of these electronic piggy banks so you, including your kids, can have fun and get started with your savings plan.
Whether you're saving up for a vacation, home, or an emergency fund, you know that saving money is important.
As David Chilton, the author of The Wealthy Barber from 1989 would say: "A dollar saved is two dollars earned."
The value of a dollar and saving those dollars are one of the most important lessons you can teach yourself and your kids.
This includes learning how to save for their future and for things that bring lasting happiness, and not overspend money or buy unnecessary things that don't add any real value. Learning about money also helps them understand why their parents can't simply buy everything they want.
Kids who learn about money and the importance of managing it well are more likely to grow up with responsible attitudes about their finances. When they have to navigate things like their bills, bank balances, and credit ratings, early lessons about spending and saving can help them make better choices.
Saving money also teaches things like self-reliance and delayed gratification.
Kids who know they can't always have whatever they want without working hard for it will be better equipped to handle life's delays and disappointments. It can also help them learn how to avoid getting into debt by excessively using their credit cards.
Kids who are taught to save money will also learn the satisfaction of setting financial goals, like saving a certain amount of money for a purchase, and achieving it when they've saved enough to buy the item they want. These aren't just good financial lessons. They're valuable life lessons, too.
Electronic Piggy Banks For Kids and Adults
These electronic piggy banks can help make saving money fun for kids and make great and creative money gift ideas for giving cash on special occasions like birthdays, graduation, or Christmas.
Cute and playful banks that reflect a child's interests, often with lights or music, can help encourage children to stash their money away for a rainy day and make saving money even more fun.
Many banks can even be used to hide away treasures like keys, baseball cards, jewelry, and other small collectibles.
Amazon makes shopping safe and easy with secure payment options for debit and credit cards, checks, or Amazon gift cards.
Speaking of Amazon gift cards, I also talk about these free gift card hacks along with some easy ways to earn free money to help you save more money on your online purchases. My blog is everything about personal finance and saving money, so don't forget to use some of those money-saving hacks when you're shopping for a piggy bank or any product you buy online.
Overall, Amazon offers a wide variety of different bank styles to choose from for boys and girls of any age as you can see from the list below that I carefully hand-picked for you.
How do I unlock my electronic piggy bank if I forgot my password?
Once you purchase one of these electric coin banks, you may be asking yourself "how do I unlock my electronic piggy bank if I forget my password?"
The good thing is this answer will apply to all the piggy banks listed below.
Piggy banks for kids that are password or passcode protected will come with instructions about how to set your own password to open the bank. They come with a default password number already set, often something like 0000. Each bank is slightly different, so be sure to refer to the instructions for the default password and how to set your own.
If you set your chosen code and later forget it, don't worry. You don't have to break into the bank! Each bank will include instructions about what to do if you forget your password. Typically, you can remove the batteries for a few seconds. When you replace them, the bank will be reset to the default password. Follow the same steps you did before to set a new one.
Having said that, let's dive into the list of the best electronic piggy banks you can invest in to start saving some serious cash. Regardless if it's for you as an adult, or as a gift for your child, anyone at any age can benefit from one of these toy banks! 🙂
By the way, if you're looking for more saving ideas, we have a separate post here on the best cool and unique piggy bank for adults, which includes jumbo sizes, coin jars, money boxes, and so many other options to choose from.
1. Panda Electronic Piggy Bank with Music
This black and white panda bank with music makes the perfect panda gift idea for kids, teens, or even adults who love pandas. Shaped like a small safe, the bank will play ten different songs as your child feeds it money. It comes with an auto-scrolling slot for bills and a coin slot at the top. Boys and girls alike will love this bank that comes with cute kitten stickers your child can use to decorate the bank or add to their sticker collection.
2. Classic Pink Electronic Piggy Bank For Girls
This pink electronic piggy bank for bills and coins will make it more fun for kids to save their pennies! The white and pink design will appeal to girls who might want something more sophisticated than many small children's bank designs. It makes a great gift for older girls who might have outgrown toys with cartoon characters on them but will still enjoy the novelty of a password-protected way to save money.
We've also got a list of more cute girls money bank ideas for you to browse through – they will make the perfect little piggy bank for any young girl!
3. Electronic Unicorn Piggy Bank For Girls
This cartoon piggy bank for girls features a light blue background with a sweet unicorn design.
The unique soda-can shape, lights, and seven different songs make it fun for your child to add money to this bank. It even has a carry handle that will let her take her treasures wherever she goes. The bank is also available in a pink design with a cartoon pony and green featuring two cute giraffes.
For unicorn lovers, you'll also want to check out this list of the best unicorn piggy banks to buy including a couple of DIY ones too.
4. Cute Kitty Electronic Bank for Girls
Girls who like cats, anime, or both will love this pink and white money safe with its happy cat design.
It plays ten different songs as both bills and coins are fed into it. The cute cat drawing on the front says "Hi" to encourage your child to add to their savings. They can open the bank and store collectibles, cards, and other small things inside, too
5. Hello Kitty Piggy Coin Bank
Speaking of cats, for you Sanrio and Hello Kitty lovers out there, you'll love to add this adorable Hello Kitty piggy bank for your office desk or nightstand. They also have this electronic Hello Kitty piggy bank here via Pinterest.
For more options, I also have a list of the cutest Hello Kitty lucky cat coin banks that you can buy from Amazon here.
6. Pink Electronic Money Coin Code Bank with LED Night Light
This adorable house-shaped piggy bank features several shades of pink, hearts, and a unicorn, making it perfect for any little girl.
The front door of the house opens to reveal the button panel. The bank plays 10 different songs as bills and coins are pulled inside. It makes an especially great gift for girls because it doubles as a nightlight, with a band of light under the "roof" that slowly changes colors as the minutes pass.
7. Electronic Piggy Bank For Boys
A bank shaped like an armored car makes a great gift for little boys. It doubles as a toy vehicle that rolls like any other toy car and comes complete with working headlights and red and blue police flashers on top. It even has a gun turret to help protect the treasures inside from criminals! It can be played with like a car, used as a piggy bank, or both, making it a great double-duty gift.
8. Army Electronic Piggy Bank For Kids or Adults
Kids who might feel too old for novelty shapes or cartoons will love this safe-shaped bank for its simple but cool green Army camouflage design that's perfect for boys. Bills auto-scroll into the bank, and coins drop in easily through a slot on top. It also comes in simple two-toned designs like blue and white, pink and white, or red and black, and it's available in the same Army camouflage design in shades of blue.
9. ATM Electronic Piggy Bank for Kids or Adults
Older kids will love having their very own ATM when they get this electronic piggy bank for bills and coins as a gift.
Like with a real ATM, they insert a card and enter their code to open the bank and get at their saved cash, or they can check their savings balance.
An LCD screen keeps track of deposits so they always know how much money they've saved. This bank is great for older kids who are starting to learn real financial responsibility.
10. Electronic Panda Stealing Coin Bank
A cardboard box design like this that contains a polite little panda makes a great stealing coin bank for kids. When your child places a coin on the white circle, the box opens to reveal a curious panda peeking out who says, "Hello." As it drags the coin into the box with its paw, it says "Thank you." Your child will have hours of fun stashing their coins away with this cute panda.
11. Cat Stealing Coin Bank
This "stealing coin" money bank features a curious little kitty inside a cardboard box. When your child places money on the coin circle, the cat peeks out, says "Hello," and drags the coin inside with its paw as it politely says, "Thank you." Getting to see the cat steal coin after coin encourages kids to keep saving money. A twist plug in the bottom of the bank offers easy access to saved cash.
12. Pokemon Electronic Piggy Bank Limited Edition (Pickachu Coin Bank)
If your child loves Pokémon-Go, this "money stealing coin" bank will make a fantastic birthday or Christmas gift, or a wonderful surprise on any ordinary day.
Every Pokémon fan will recognize the red, yellow, black, and white designs. And kids will delight every time they press a coin onto the yellow coin tab to hear Pikachu chatter and talk to them. They'll feed it coin after coin just to see Pikachu pop up and grab their money with a giggle.
13. Godzilla Electronic Coin Money Piggy Bank
This Godzilla "money coin stealing" bank is great for boys, but girls who love monster movies and any Godzilla fan who's into movie-themed collectibles and novelties will enjoy it, too! The top looks like the ocean, complete with a battleship at sail. When you press a coin into the designated spot, Godzilla rises from the depths with its familiar roar and theme music from the movies as it claws the money inside to keep it safe.
Wrap Up on Electronic Piggy Banks
Whichever kid or adult electronic coin bank you choose from this Amazon list, we guarantee that you'll fall in love with learning how to budget and save money with your family. By saving diligently and being intentional with what you buy, you'll be on your way to building wealth and a better future with your loved ones – it's time to save money and live better!
With these cool one-of-a-kind coin banks for adults, starting a savings plan won't feel like a chore for you (or your kiddos)!
After going through this list of I hope this article inspires you to pick up your lucky piggy bank today!
For more personal finance and money tips, be sure to follow Finsavvy Panda on Pinterest here and dive into my most popular pages about saving money and making extra money.