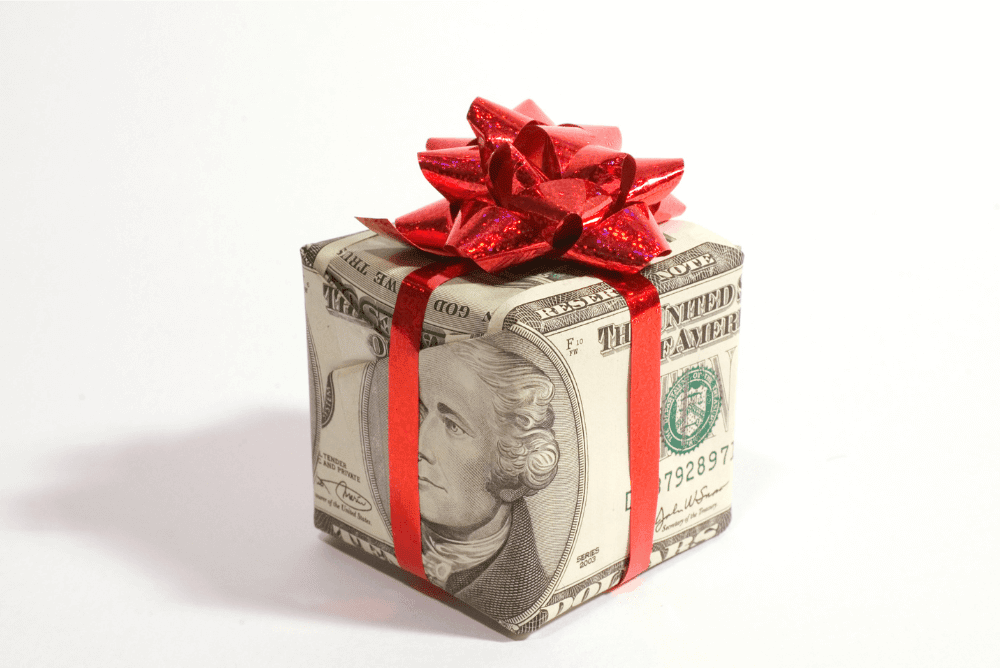 This post may contain affiliate links. Please read our disclosure policy for more information.
Wow, graduation is a time of mixed emotions.
You're happy to see your loved one move on to the next chapter in their life, but you also feel a little sad that things will never be the same.
But don't worry, because we've got some great DIY graduation money gift ideas to help you celebrate this milestone
One way to make the graduation transition a little easier – and help your graduate get started on their new journey – is by giving them something that's practical and useful. Um, like money. But don't just hand over any old billfold full of cash!
Instead, give them one of these fun and creative DIY graduation money gift ideas.
From delightful graduation gifts like DIY money trees, money gift boxes, and bouquets to more funky ideas like a challenging money puzzle box, there's something for everyone!
20+ Creative Money Gift Ideas for Graduation
My personal favorite creative ways to give money for graduation are usually in the form of piggy banks for young adults flooded with emergency cash. Another great option is crafting a unique personalized DIY gift with an attached gift card.
I mean, who doesn't like free gift cards from the most practical places like Starbucks or Amazon?
You can also learn how I earn free gift cards from Starbucks and Amazon – this is clever because you can take the money you save from Starbucks and Amazon and put it towards a graduation gift for that special someone.
Whether you're looking for something fun and unique, or something more traditional, we've got you covered. So read on for some great cash ideas that will help you show your graduate how proud you are!
We've also got the best money gift ideas for all occasions in this separate post – from birthdays and weddings to more general occasions including graduations, we've got them all listed out for you.
PIN THIS: I'll be updating this post often, so make sure to click this image here and save it to your "Graduation Ideas" Pinterest board.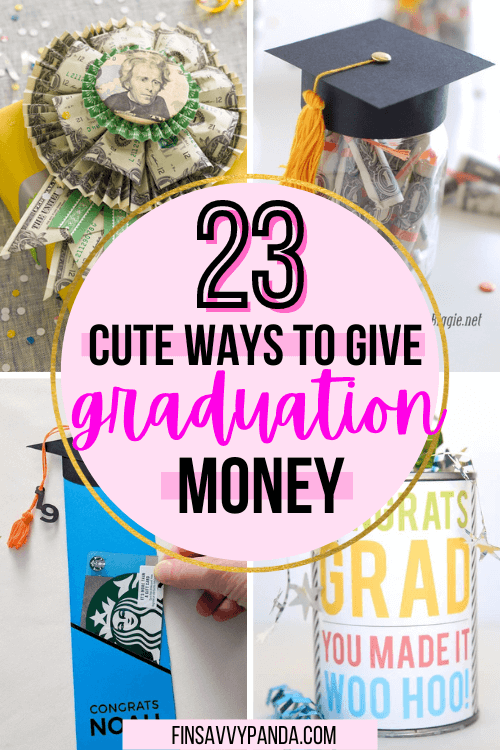 1. DIY Money Tree For Graduation
Money trees symbolize growth and abundance, so what better way to celebrate their big day than with a DIY money tree gift?
You can make your own money tree using a Mason jar and some fake succulents or real flowers. Simply fill the jar halfway with soil and then nestle the succulents inside.
Next, cover the soil with a collection of paper bills and coins, or any other fun items you think your graduate will enjoy, like candy or other small gifts. Finally, top the whole thing off with a fake bird – this is optional, but really adds to the "aww" factor of your gift!
MORE MONEY TREE GIFT IDEAS: Money trees are quite the popular gift for graduation because they are said to attract good feng shui and manifest money.

You can browse through these best money tree gift ideas. From real plants to crafty money bouquets, you're sure to find a money tree idea that will fit your graduate's personality.
2. Graduation Piggy Bank Gift Idea
Did I mention that this was one of my favorite money gift ideas for graduation?
Well, I guess it's safe to say that I have a thing for piggies and coin banks. There's just something so adorable and humorous about a little piggy bank, especially when it's filled with money.
MORE PIGGY BANK GIFT IDEAS: If you're excited to fill up a piggy bank for that special person on graduation day, then check out these cool adult piggy banks that will help them save for a brighter future.
3. Money Clip Holder for the Graduating Man
A money clip holder is a sleek, convenient way for men to store their cash, so it's sure to be appreciated. You can add some flair by attaching a fun note or card that complements the gift.
Shop for a high-quality money clip holder and attach some graduation money inside for him.
There are tons of options when it comes to money clip holders like these special ones here, from minimalist designs to more flashy styles in all sorts of colors, so you're sure to find one that fits your recipient's personality.
4. Hello Kitty Graduation Card With Money Inside
Hello Kitty or Cat Lover anyone?
I know I am and I would have loved this simple graduation money gift idea!
If you're looking for a Hello Kitty gift for the female adult, then there's no other perfect way to say "Congratulations" without having to go all out than with this cute and adorable Hello Kitty graduation card.
We can say it's the most practical and easiest way to gift cash on Graduation Day!
5. Graduation Pizza Money Gift Card Holder
From the transition into adulthood to the start of a new job, life can get expensive for graduates.
But a little help from Papa John's and gift cards (and some pizza cash) from your favorite local pizza spot is a simple way to help ease the transition by offering them something they might enjoy on those long days and nights of studying.
This gift is perfect for graduates with a good sense of humor since you can customize it to fit their personalities and interests.
6. Graduation Gift Card Holder With Hat
Maybe pizza isn't their thing, but your graduate would still appreciate a little help with their expenses.
If that's the case, you can easily make your own DIY graduation money gift card holder present with a gift card and cash. See how easily you can slip in that Starbucks gift card?
This gift card holder is flexible and can be customized to suit his or her desire, whether they love Starbucks, Amazon, or even Harry Potter.
7. Starbucks Graduation Cups
Looking for the perfect graduation gift for the Starbucks-obsessed freak?
These customizable Starbucks cups from Etsy are great for the Starbucks addict in your life.
If they're obsessed with Starbucks just as much as me, then they'll love these cute graduation-themed cups that can be personalized with their name and date of graduation.
From the sweet saying, "Congrats grad" to the festive color schemes, these DIY cups are sure to bring a smile to your graduate's face on their special day.
Just be sure to slip in a Starbucks gift card along with a reasonable amount of cash inside.
8. DIY Money Jar With Graduation Cap
Very similar to a piggy bank, this DIY graduation money jar is perfect for those who love crafts and DIY projects.
You'll need to fill the mason jar with a mountain of bills and coins, then attach a graduation cap with tape.
Not only is this a cute way to give money as a gift, but it's also a great way to discourage extremely bad money habits and encourage good savings habits for your graduate.
9. DIY Graduation Money Cake
Who wants to count calories when you can count money?
This DIY graduation cash cake is the perfect humorous way to say "congratulations" to your graduate. Simply roll your dollar bills in a circular shape and build a money cake topped with a graduation hat and note.
10. Your Future Is Looking Bright Jar
If you're looking for witty and bright graduation gift ideas with money, then look no further.
The bright future jar is a great way to motivate and inspire your graduate while also encouraging them to save and invest their money for retirement. And no, it's never too early to start retirement planning.
11. Hidden Surprise Cash Inside M&M Mason Jar
Does your graduate love M&Ms as much as I do?
Then this hidden cash M&M jar is perfect for them! Flood the jar with the person's favorite candy and hide some money in the center of the mason jar.
Lastly, add a note that says "Surprise! You deserve a sweet treat!"
12. Easy DIY Graduation Jar With Cash
Project by: Craft Box Girls
You can never get bored with the whole "cash in a jar" or "pot of gold in a jar" gift ideas, and this one is just as funny, cute, and easy to make as the rest.
The purpose is to fill the jar with their favorite candy or snacks, then add some bills inside and top it off with a graduation cap. But be sure to let them know that their future is truly looking bright!
13. Emergency Cash Inside Picture Frame For Graduation Gift Idea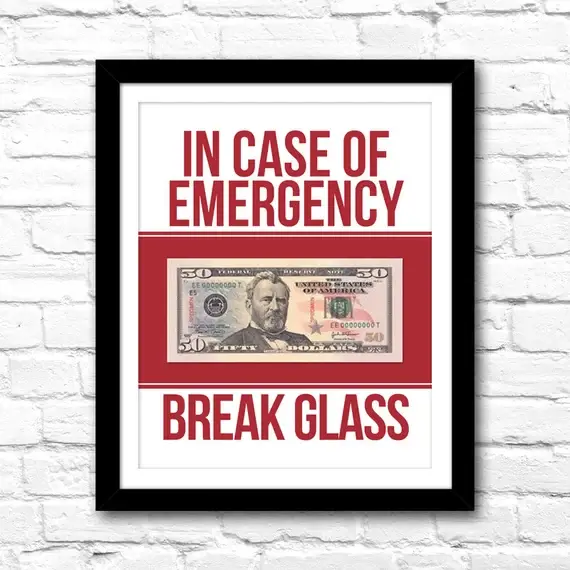 Image by: Etsy
Break in case of emergency!
Okay, not a gag gift at all, but this picture frame is a great way to add more meaning to your graduation cash gifts. Carefully place the fresh crisp bill inside and attach it with some double-sided tape or Velcro for easy access.
Then, include a thoughtful note that says something along the lines of "if you ever need help, know that I'll be there for you."
14. Play-Doh Cash Gift For Graduation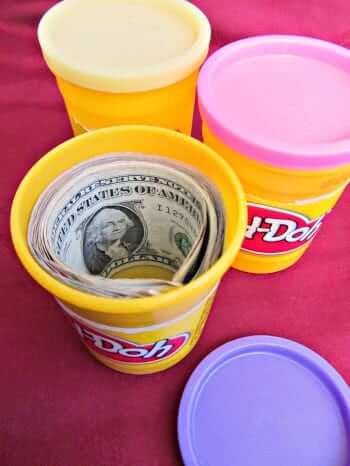 Everyone is desperate for more dough, including your grad!
If you're looking for an easy and affordable DIY graduation gift with money, then this PlayDoh cash is a great option.
It's quick and easy. All you need to do is roll a stack of bills inside an empty PlayDoh container and wrap it up with a funny or witty note. Maybe something along the lines of "need some Doh?" or "work hard, play hard". Your graduate will appreciate the humor, as well as your thoughtfulness.
15. DIY Surprise Money Confetti Poppers
Looking for a fun and festive way to give money as a graduation gift? Try these DIY surprise money confetti poppers! Simply fill the plastic popper with some cash and confetti, then top it off with a cute card or note. Your graduate will love this unique and creative way to celebrate their big achievement!
Oh, what a perfect and cute way to gift cash for birthdays and graduations!
16. Money Inside A Chocolate Box
Again, we don't want to add up sugar or calories, so we're going to give a box of chocolate with some money inside, so they can add up some cash!
This is a great way to gift cash for graduations, birthdays, and other special occasions. Replace some of the chocolates in the box with coins and cute origami cash. Most importantly, don't forget to keep his or her favorite type of chocolate in place. Your graduate will be sure to appreciate the thoughtful gesture and indulgent treat.
17. Money Rosette
Looking for a unique and creative way to give money as a graduation gift? Look no further than this money rosette!
Whether this is for the high school or college graduate, this easy-to-make DIY project is perfect for any graduate who loves to have a little bit of fun. So get creative and add your own personal touch to this one-of-a-kind gift.
18. McDonald's Money French Fries Gift Idea
Did Ronald McDonald ever tell you to keep the change? Here's your chance! This McDonald's Money in a French Fries Box is humorous.
Go ahead and empty the French fry carton with some bills and top it off with a note that says something like "keep the change!" Your graduate will appreciate the quirky and fun gift, as well as your sense of humor!
19. DIY Cash In a Tin Can Gift
What a perfect gift for the frugal or DIY grad!
This cash in a tin can gift is practical, economical, and minimal.
If you're feeling a little generous, then jam-pack the empty tin can with a stack of bills and top it off with a note or card that says something like "congrats on the next chapter!" The recipient will love the thoughtful and practical gift, as well as your ability to find creative ways to give money without spending on something absurd.
20. DIY Money Bouquet
Looking for a challenge? Try making your own DIY money bouquet!
This unique and creative gift is perfect for the graduate who loves to get crafty. Simply gather up some bills, flowers, and other embellishments, then create a beautiful and festive money bouquet for your special graduate. Not only will they love the thoughtfulness behind this one-of-a-kind gift, but they'll also appreciate the time you spent creating it. Cheers to you, grad!
21. Graduation Money Lei
Graduation money leis and wreaths are a huge hit these days. Whether you're looking for a unique and creative way to give money as a graduation gift or just want to add a little fun flair, these leis are the perfect choice!
Every new grad wants to wear something special on their big day, and this graduation money lei is sure to make your graduate feel extra special.
22. College Survival Kit
During high school and college years, many students have a difficult time managing the class load, extracurricular activities, and other responsibilities that come with being a student.
If you're looking for a thoughtful way to help your favorite graduate get through this challenging time, look no further than this college survival kit!
This kit is packed full of all the essentials they'll need to make it through college, including snacks, supplies, and yes, money! So go ahead and give them the support they deserve with this thoughtful gift.
23. Origami Money Graduation Hat With Tassels
I love origami and so I thought why not make money origami graduation hats? And it doesn't hurt that they make really cute accessories too!
This cute graduation gift is perfect for any graduate who needs money (but again, what new grad doesn't need money?).
Find some bills lying around at home and create an origami graduation hat complete with tassels, just like the real thing. Not only will your graduate love the creative and thoughtful gift, but they'll also appreciate all the time you spent making it just for them. Here's to new beginnings!
24. Shirt Gift Idea
It's exciting for new college grads to enter the working world, but it can be daunting too.
Make this awesome white shirt gift for the man who's entering their new office for the first time. Incorporating money into this gift will help them feel confident about their financial future, and remind them that they'll be fine no matter where they go. So go ahead and give your favorite new grad the ultimate graduation gift – a shirt full of confidence!
FAQs About Money Gift Ideas For Graduation
Giving money may be a little sensitive to some, but don't worry – there are plenty of ways to make sure your gift is thoughtful, unique, and above all, thoughtful. Here are some common questions about money gifts for graduation answered:
1. How much money do you give for a graduation gift?
There is no one-size-fits-all answer to this question, as it will depend on your relationship with the graduate and what you're comfortable giving. You can typically give anywhere from $10-$100 per person, though some may be willing to go even higher for grads that are especially close to them.
I personally give $100 to $300 along with a $50 gift card and some practical goodies to those that I have a close relationship with.
If I'm not close to them, I typically give $20-$50, along with some practical goodies like a gift card or gift certificate.
2. What is a good amount of money to give a high school graduate?
Again, there is no one-size-fits-all answer to this question, as it will depend on what you're comfortable giving and the relationship that you have with the graduate. Some people may feel comfortable giving $100 or more to a high school grad, while others may stick closer to the lower end of the spectrum at $20-$50.
That said, if you're not close to the graduate, it's generally recommended to stick with a smaller amount or even just give them something practical like a gift card or certificate that can be used for anything they need. After all, who doesn't like receiving a free gift card?
At this stage in their lives, high school grads are often busy focusing on college applications and starting their new lives, so a more practical gift may be appreciated.
3. What is a creative way to give money as a gift?
Graduation gift ideas with money can be creative in a number of different ways, so let your imagination run wild! One easy option is to get creative with how you wrap the money, such as making origami money hats or wrapping it up in a stylish envelope.
There are many creative ways to give money as a gift, including through origami or artful designs. You can also pair your gift with something practical like a gift card, or create a care package that includes other small gifts along with the money.
No matter what you choose to do, just make sure that your creativity is matched by the thoughtfulness of your gift! After all, the best gifts are those that show you care.
Enjoyed this post? Don't forget to pin it! Also, don't forget to follow me on Pinterest over here! 🙂