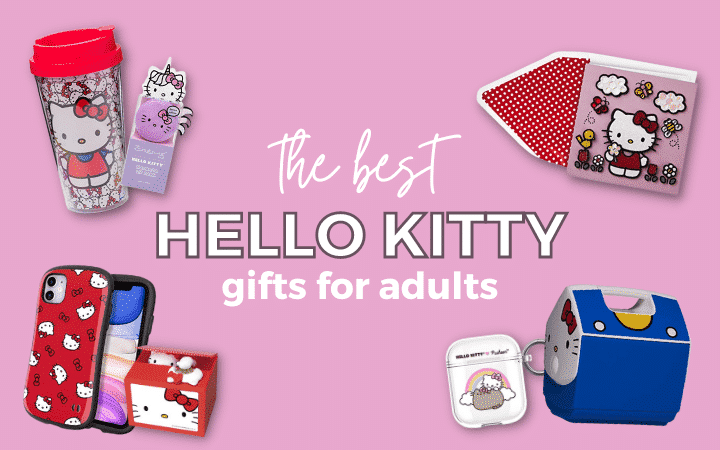 We will receive a commission if you make a purchase through our affiliate link at no extra cost to you. Please read our disclosure policy for more information.
As a die-hard Hello Kitty fan, I'm super excited to go through a list of the best Hello Kitty gifts for adults that are both cool and unique — yet practical for the Hello Kitty lover!
Growing up as a child, I received a lot of Sanrio and Hello Kitty gifts on my birthday and Christmas. Even on my graduation.
Everyone knew I loved it.
Hello Kitty stuffies (gosh, even some young adults can't live without them), notebooks, backpacks, and journals, you name it.
In my teenage and young adult years, I owned Hello Kitty piggy banks, kitchen appliances, tee shirts, and a whole lot of other Sanrio products like My Melody, Badtz-Maru, Keroppi, Pochacco, and the entire crew.
Unique Hello Kitty Gifts
Now that I'm a full-grown adult, I still hold onto my Hello Kitty collection of products including one of my favorites – this special and unique gift, the 30th-Anniversary Hello Kitty coin set, from the official Japan Mint, which you can find at your local vintage coin shop or even eBay: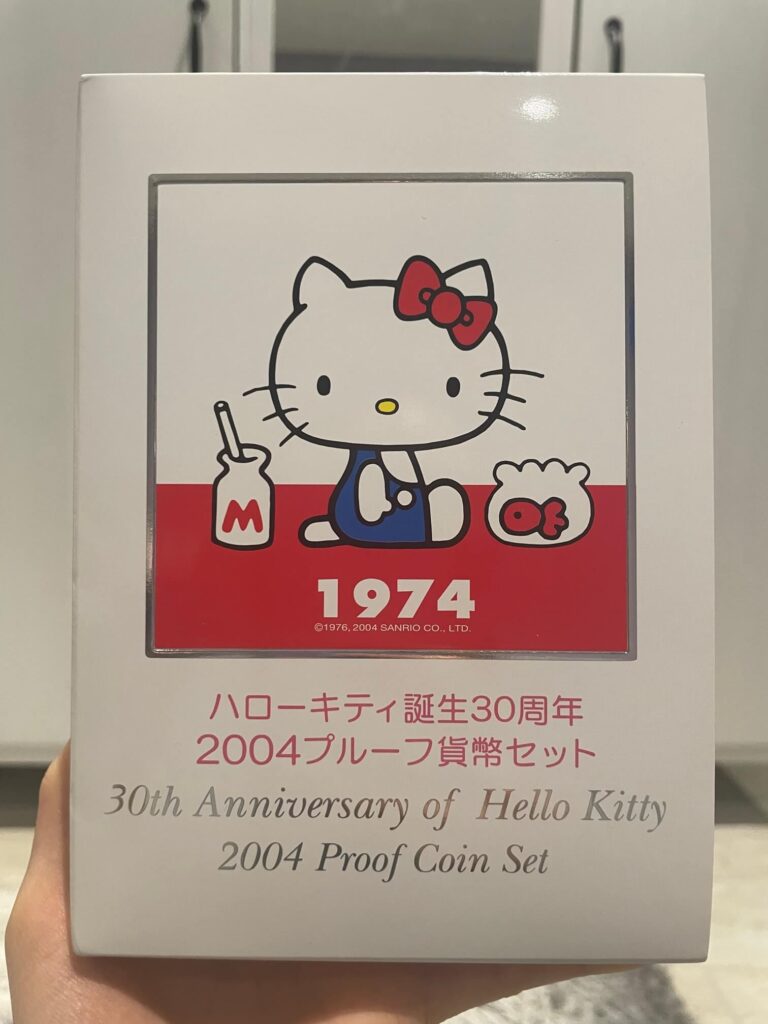 I think individual Hello Kitty coins or gift sets are a unique and special gift for a girlfriend, mom, aunt, niece, cousin, or whomever that special person is in your life.
Just look at how beautiful and cute these coins are…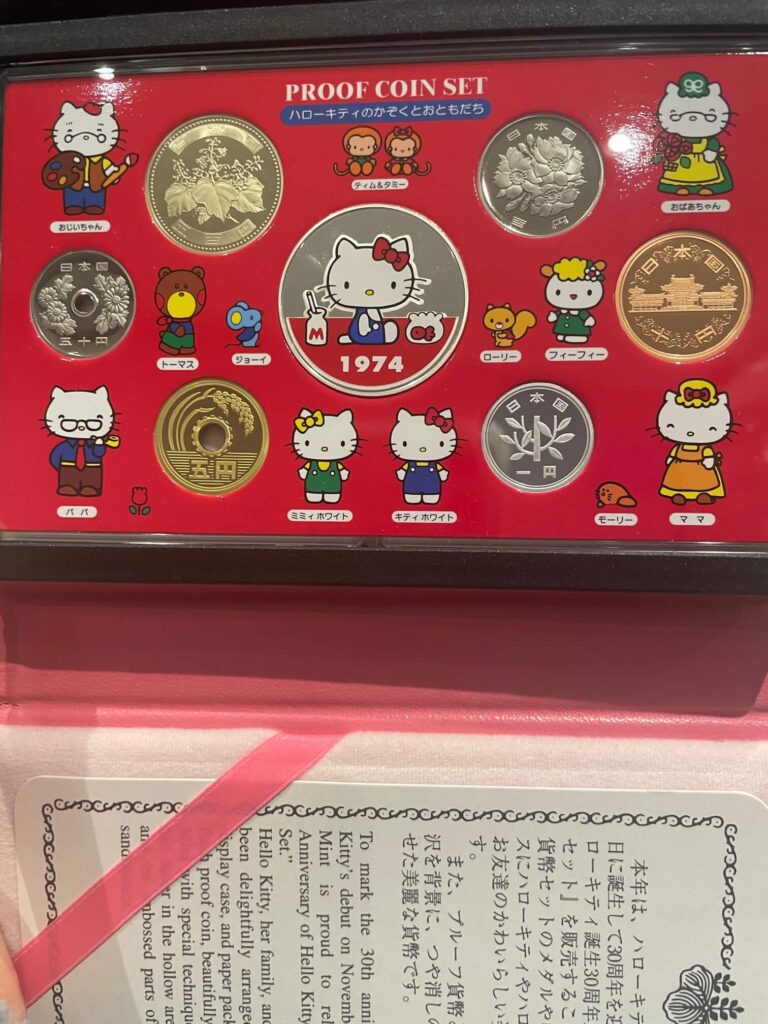 As a Hello Kitty addict and coin collector, this was one of the best Hello Kitty gift sets I received from my aunt for my birthday.
Fun fact: It was actually the perfect gift because Hello Kitty's birthday is November 1st, and my birthday just happens to fall on that day too!
Plus, since my aunt knows that I have a passion for personal finance and anything that has to do with "saving money" or "investing", she thought this would make a great birthday present. She definitely tried to be thoughtful about this gift before spending a couple of hundred dollars on it for me.
So, if you have a little bit of money to splurge, I wholeheartedly recommend a product like this for those of you who are shopping for Hello Kitty stuff for adults.
Best Hello Kitty Gifts For Women and Grown Ups
From frugal DIY Hello Kitty crafts that you can make from home to retailers' products that you can purchase from Amazon, there's always something cool and useful to give!
I still recommend a coin set because they're truly special, and they can hold their value over time – making them a great investment too.
As you may know, Hello Kitty by Sanrio is one of Japan's largest product lines.
Millions of fans of Hello Kitty spend billions on products featuring this main character and her family and friends. There are literally thousands of Hello Kitty gifts and items that you can craft, or even buy from Amazon, including toasters, toothbrushes, and personal massagers.
Finding a product that will excite and delight a Hello Kitty fan could not be easier, and you don't have to break the bank doing it.
A lot of the items featured in this gift guide cost $35 or less, with most being less than $20, so you don't have to worry about breaking the bank.
Whether you just need a quick gift for a birthday, Graduation, or Valentine's day for her, or you have to buy Secret Santa presents for Hello Kitty lovers, you can find something here that will definitely work.
When money is tight, you can still find the perfect budget-friendly gift that the Hello Kitty fan will love. The product grouping here is just a very small sample of what you will find, but the items represent how vast and varied the market is for Hello Kitty products.
Sanrio knows how to market to its Hello Kitty fans.
There are few companies in this world that understand marketing for inexpensive gifts quite like Sanrio and its Hello Kitty line of products. Best of all, there's no possible way a Hello Kitty lover has everything Sanrio has licensed to create and sell under the Hello Kitty theme of products.
If you know someone, particularly an adult, who loves Hello Kitty and Hello Kitty products, here are some of the top fun and unique items you can buy as gifts from Amazon.
I'll always be updating this Hello Kitty gift guide, so be sure to click here and save this image to your favorite Pinterest board – you can conveniently come back to this page for the newest budget-friendly and frugal Hello Kitty gifts for adults!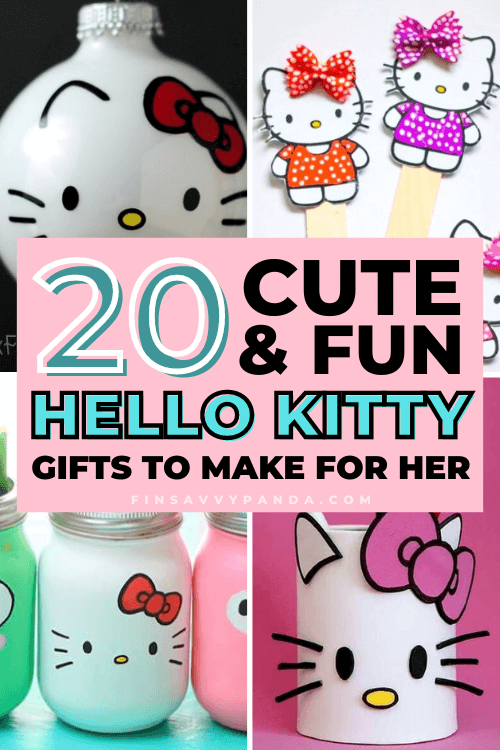 1. Hello Kitty Generic Card for Any Occasion
What could possibly be cuter for a Hello Kitty fan than this glittery, three-dimensional cut-out Hello Kitty card?
You can use it for birthdays, Graduations, Mother's Day, Valentine's Day, Sweetest Day, Easter, and more. Because it's blank on the inside, you are free to create your own message and write whatever you want to the recipient.
Best of all, this is a fun way to gift cash, money, or gift cards by hiding it inside the card. We guarantee that the recipient will love the surprise money!
It's a beautiful card that presents the Hello Kitty fan with a collectible item and a neat way to give something else inside. If you think that the recipient would want to collect this and save it, write a separate message on stationery to keep the interior of the card clean. The card comes with a very cute envelope to help contain whatever little gift you put inside.
2. Hello Kitty Saving Money Coin/Piggy Bank
This cute and clever bank has Hello Kitty playing peek-a-boo every time you put a coin on the top of the box.
When you rest the coin there, it triggers Hello Kitty to lift the lid, peek at you, and reach up with a paw to steal the coin from sight!
Hello Kitty fans will love saving their loose change and watch Hello Kitty grab the coins from the top of the box. For a truly impressive and inexpensive gift, buy this bank and then load it with quarters. Put as many dollars' worth of quarters in the bank as you want. Then present it as a "cash inside" gift that is so much more fun than a card with money in it! Your gift recipient can remove the plate at the bottom of the bank to retrieve as much of the coins as he or she wants from inside.
We even have a list of the best and cutest Hello Kitty coin and piggy banks for you to choose from Amazon if you're looking to gift the perfect Hello Kitty bank for her! What better way than to encourage the Hello Kitty lover to save money with a bank she'll love!
3. Hello Kitty Tumbler for Coffee Lovers
This 16oz double-walled Sanrio Hello Kitty tumbler with closable sipping lid is ideal for the Hello Kitty fan on the go.
If he or she loves taking coffee on the run, this tumbler will keep the coffee hot while providing him/her with a bit of Hello Kitty fun. The tumbler also holds cold drinks, in case your gift recipient prefers iced coffee or just likes cold drinks better.
The tumbler is dishwasher safe, but it cannot be placed in the microwave. To preserve the cute pattern and integrity of the tumbler, handwashing is preferred and recommended. The flip top lid should be handwashed after every use and allowed to drip-dry. At a budget-friendly price, you can get two of these tumblers for the Hello Kitty fan on your list. That way, he/she has a backup tumbler when needed and has a matching pair!
These tumblers and mugs also make the perfect gift for the coffee lovers, or even the Starbucks lovers out there – the best part is they're all under $20!
4. DIY Hello Kitty Mason Jar Craft Gift
What we love about mason jars is that they're versatile. As a Hello Kitty money-saving coin bank, pencil holder, or vase, they can be used for just about anything. So it only makes sense that you could also use them as a gift container for all those things.
This Hello Kitty mason jar craft is perfect for holding snacks, candy, or even makeup brushes. It's a simple and easy gift to make that any Hello Kitty fan will love.
On the plus side, they are frugal gifts that don't cost a lot to make – just see if you've got some lying at home. Or simply pick up a few of these glass jars from your local dollar store.
Yeah, we're huge fans of DIY dollar store crafts like these Christmas-themed ideas here because you can't imagine how many beautiful things you can make with just a few bucks!
5. Hello Kitty Crafty Pencil Holder
We just love looking for Hello Kitty crafts because they're just fun, frugal, and more personable when it comes to gift giving!
Perfect gift for the studious Hello Kitty fan, this crafty DIY Hello Kitty pencil holder is filled with all the work office supplies one could need. Whether it's school, work, or home, this crafty project makes the perfect gift for the ultimate organization freak! Add a few of Hello Kitty's favorite things like candy and stickers to make it extra special.
6. Hello Kitty Crochet Pattern Mug Sleeve
Another DIY Hello Kitty craft? You bet!
Warm those hands of yours with a little bit of Hello Kitty love. This cute and easy crochet pattern mug sleeve is the perfect way to show some love for our favorite feline while keeping your hands toasty. It also makes a great gift for any coffee lover who happens to also be a fan of Hello Kitty.
7. Big Hello Kitty Crochet Gift for Her
Too old for Hello Kitty stuffed animals? No way! This big and cuddly Hello Kitty crochet is the perfect gift for any age. Made with love, this huggable kitty is sure to bring a smile to any face. That Hello Kitty friend of yours will also be wow-ed by your effort and the workmanship that went into this thoughtful gift.
8. Hello Kitty Tote Bag
This kawaii tote bag in different variations and colors here is not only stylish, but it's also practical. The perfect size for carrying around books, Hello Kitty notebooks, and other supplies, this tote makes a great gift for any fan of the cute feline. Did we forget to say this bag fits a laptop and tablet too? 😉
9. DIY Hello Kitty Christmas Ornament with Surprise Money Inside
Is Christmas time your favorite time of year?
Well then, when the holiday arrives, your recipient is going to love this DIY Hello Kitty crafty ornament. Just make sure to stuff some cash into this little toy because everyone loves a little surprise.
The perfect addition to any tree, this ornament is sure to please any fan of Hello Kitty. Not only that, but it makes a fun way to gift money for Christmas and any occasion too!
10. Hello Kitty Gift Box Craft
Get a little crafty and cutesy with this homemade Hello Kitty gift box. Filled with candies, Hello Kitty stationery, or other small gifts, this is a great way to show your love for the iconic cat lover. What would we personally put inside this box? Well, probably some cash and gift cards if you ask us because we're all about practicality when it comes to gifts.
Want more gift boxing ideas? Come and check out these coolest money gift box ideas that everyone wants – we've even included a different DIY Hello Kitty gift box tutorial in there to give you some more options!
11. Hello Kitty Pocky Sticks
The good old-fashioned classic, Pocky sticks from Japan is always a hit. They're simply delicious and fun to snack on. But what makes these Pocky sticks even better is the fact that they're Hello Kitty-themed. The perfect snack for any Hello Kitty fan, these make a great and practical stocking stuffer or small gift under $10.
So, go ahead and pick up several boxes from your local supermarket and show your love for Hello Kitty while also giving your friend or loved one a tasty strawberry treat.
12. Hello Kitty Adult Coloring Book
Is your friend undergoing stress? Then this Hello Kitty adult coloring book is the perfect gift to help her feel at ease. Filled with intricate designs and patterns, this coloring book will provide hours of relaxation. It's also a great way to show your love for Hello Kitty while also giving your friend or loved one a chance to de-stress.
13. Hello Kitty Bookmark Craft Using Bowtie Pasta
Did we say give her a Hello Kitty adult coloring book? Well, we didn't mean for her to lose her place while she's coloring. So, make sure to include this Hello Kitty bookmark craft as well.
It's a super simple and easy project that only requires some bowtie pasta, a Hello kitty printout, some colorful markers, and a little bit of imagination. In addition to the Hello Kitty pocky we mentioned earlier, this too makes a great stocking stuffer or a small gift!
14. Hello Kitty Unicorn Lip Balm for Women
Possibly one of the best Hello Kitty gifts for her, this lip balm is rainbow sherbet-flavored and shaped like a macaron cookie. The twist off top reveals a smooth crème lip balm inside that you can apply to your lips with a fingertip. Hello Kitty's sweet face is imprinted on the lid of the lip balm container.
This product is a limited edition item, meaning that it is highly collectible and unlikely to be reproduced after the limited number of items are sold out. The unicorn-themed gift box is perfect for anyone who loves both Hello Kitty and unicorns. A true Hello Kitty fan will really appreciate this as one of the unique Hello Kitty gifts for adults.
The affordable price makes it the perfect gift for gift exchanges, Secret Santa, and it works as a stocking stuffer too. Even though it's made to be quite feminine, men who like Hello Kitty might find it very appealing as well.
And if you have a friend or family member who also loves unicorns as much as they love cats or kittens, we also have a list of the best and unique unicorn gifts for adults for you to consider.
15. Hello Kitty Unicorn Bath Bomb with a Gift Inside
Since you're still excited about cats and unicorns, then consider pairing the Hello Kitty Unicorn Lip Balm (from above) with this cute Hello Kitty "It's Bomb" Bath Bomb for the recipient to relax after a stressful day from work. These two Hello Kitty unicorn-themed items will make this mini beauty gift set complete.
What makes the bath bomb so unique and different from other bath bombs is it actually comes with a small surprise inside! What better gift idea than to find another surprise gift within the gift itself?
Taking it to the next level, these surprise bath bombs even come with real money inside! So, if you're looking for a fun way to give joy and excitement to the recipient, then consider picking up a few of these aromatic bath bombs with treasure tucked inside.
16. Hello Kitty Face Masks
Since the advent of the Covid pandemic, people have been seeking out cute face masks to wear while they bear up under the burden of having to cover the lower halves of their faces. The wonderful thing about this set of Hello Kitty masks is that they are completely reusable, washable, and colorful enough to go with anything a Hello Kitty lover would wear. The set of three is very affordable as a gift, proving that you don't have to spend a lot to get fun and functional Hello Kitty gifts for grown ups.
Each of these masks features the lovable Hello Kitty and contains a bendable plastic nose clip to make the masks fit any face properly. The ear loops are also adjustable. The masks are waterproof, perfect for preventing water droplets from sneezing getting through the masks. If your Hello Kitty-loving adult doesn't have any Hello Kitty masks in his or her collection, consider gifting this set of masks to him/her.
17. Hello Kitty Igloo Playmate Lunch Cooler

As far as gifts for Hello Kitty lovers go, this limited edition Hello Kitty cooler is one of the most useful and functional items. It can hold up to one six-pack of drinks and some ice, keeping them cold for hours. If the gift recipient wants to use it for transporting his or her lunch to and from work, the cooler will keep everything cold for up to six hours outside of a fridge.
If the gift recipient wants to keep foods hot, this Hello Kitty cooler can do that too. Soups and other hot dishes maintain a safe temperature inside the cooler for a few hours. It looks and acts just like any other Igloo Playmate cooler, except with the cute additions of Hello Kitty décor on the slide back lid.
18. Hello Kitty Air Pods Holder
Hello Kitty meets Pusheen, another adorable cat character, to create this cute and durable Air Pod case.
When it comes to Hello Kitty gifts for women, this is one of the best. It has a clip-on key ring to put the pod case close to the user (e.g., like on a purse or belt loop) and is fully capable of wirelessly charging the Air Pods inside! A lightning cable slot in the bottom of each case also gives the user the option of plugging the case and Air Pods into a charging source.
Choose from three really cute designs, or buy two or more and save with the Amazon coupon attached. The case can hold first and second generation Air Pods only. Air pods are not included.
19. Hello Kitty Smartphone Case

Who doesn't have a smartphone these days?
Chances are, what your Hello Kitty loving friend doesn't have is a smartphone case featuring one of several Hello Kitty designs like these adorable ones here.
Cases are available for iPhones from model 7 all the way to model 12. This particular case is meant for someone who totes iPhone 11.
The case is shockproof and drop-proof. It's hard shell and tough bumper protects the screen and the phone from accidental drops and otherwise potentially damaging accidents. It has been repeatedly tested to ensure that any phone will be protected. Choose from four different Hello Kitty designs, all currently on sale at a discount and worth every penny to the Hello Kitty fan.
20. Hello Kitty Schick Shaver

Schick partners with Sanrio to create this smooth shaving experience with built-in moisturizer head and Hello Kitty on the handle – just take a look at these Hello Kitty razers by Schick here. All the recipient needs is water to make this razor do its job.
Hello Kitty rides a dolphin on the handle of the razor, providing smiles with every stroke of the blade. A second version of the same razor features Hello Kitty listening to music on her headphones on the handle. An additional shaving head is included in each kit.
Whenever the Hello Kitty fan needs more shaving head refills, he or she only has to buy the moisturizing heads sold for similar razors in local stores. The handle is reusable.
21. Hello Kitty Plush Spa Headband
What's more fun than collecting a lot of Hello Kitty items?
Looking like Hello Kitty while you do it, of course!
This plush spa headband is very soft and comfy, has plush "ears" and Hello Kitty's trademark pink plush bow over one ear. It will keep hair off of one's face while makeup is removed or facial skin is washed or shaved.
The wearer can just wear it for fun around the house too, proving that you don't need an excuse to wear this headband. The price makes it easy and affordable to give a simple gift to Hello Kitty lovers. You can even combine it with a couple other Hello Kitty-themed personal grooming gifts for a Hello Kitty gift basket (see above).
Wrap Up on the Best and Unique Hello Kitty Gifts for Adults on Amazon
Whichever Hello Kitty gifts you choose to give to that Hello Kitty lover in your life, we guarantee that the recipient you're thinking about will find these gift ideas useful!
And whether you're looking for a birthday, graduation, Valentine's, anniversary, or holiday gift that won't break the bank, we have a list of the best and most practical budget-friendly gift ideas here for you!
We hope this article helps you pick out the best Hello Kitty gifts for that special someone!
We are a personal finance blog helping you to find the most optimal ways to budget, spend less, save money, and make extra money. For more personal finance and money tips, be sure to follow Finsavvy Panda here on Pinterest!
Enjoyed this post? Don't forget to pin it! Also, don't forget to follow me on Pinterest over here! 🙂