We will receive a commission if you make a purchase through our affiliate link at no extra cost to you. Please read our disclosure policy for more information.
Cute Stocking Stuffer Ideas For $10 or Less
Are you looking for the perfect stocking stuffers for the young lady who loves everything pretty, cutesy, and fun (and within an affordable budget too)? Well, you've come to the right place to search for things that she'll actually want!
I personally LOVE stocking stuffers because they're fun, cute, adorable, and filled with a lot of sweet surprises! Again, these are sock-worthy gifts for the girl or lady who is all giddily about the cute and pretty stuff! When I created this post, I tried to come up with budget-friendly items that she'll actually use and enjoy — I really hope she does! 🙂
Don't forget to pin this holiday gift guide for later!
You can get FREE 2-Day Shipping!
Most of the items I mention below can be purchased from Amazon, which you can qualify for FREE 2-day shipping if you're an Amazon Prime member. In other words, you can get FAST and FREE delivery on over 100 million items from Amazon.
⭐️ FREE TRIAL: Right now, you can get a FREE 30-day trial of Amazon Prime here. If you don't think it's right for you, cancel it anytime with no questions asked. There are no penalties either, so it is absolutely risk-free to try and test out! What better time than the holiday season? 🙂
I always recommend Amazon Prime to my readers because you can actually SAVE A LOT OF MONEY in the long run especially when you buy regularly from Amazon. Aside from their FREE 2-day shipping, you also benefit from the following:
– Unlimited streaming where you can watch movies, TV, live events and more (this is a great alternative to cable).
– Exclusive FREE access to over thousands of top Kindle books, magazines, children's books and more at no extra charge!
– There are more exclusive offers to Amazon Prime members.
Anyway, I wanted to mention the Prime membership in case you weren't aware of it. Now that you know, let's get to the list of stocking stuffers that you can get for the girl or lady who loves all things cute and pretty — all for $10 or under!
If you live in Canada, that likely means $15 CAD or under.
1. Cute and Stylish Unicorn Cosmetic Makeup Bags
This cute 3-piece makeup bag set is perfect for the unicorn lover who loves pretty and cute things!
I love how these are multi-functional with LOTS of space. You can also use them as pencil cases for your school or work. Believe it or not, sometimes young adults (including moms) still have that inner kid inside of them, hehe. 😀 On top of using it as a makeup bag or pencil case, you can use this as a travel pouch or organizer too — wherever your imagination takes you!
I can't keep my eyes off them — they're just too adorable!
With that said, I really think she'll be happy to find these pretty unicorns in her stocking this year. 🙂
Click the image below to learn more about this cute 3-piece unicorn pouch set.
2. Clear Rose Gold iPhone Shock Absorption Bumper Cover
This pretty and sleek looking iPhone shock absorption bumper cover has an anti-scratch back along with 4 corners that absorb shocks when you drop your phone. This would make a great gift (or stocking stuffer) for those who use their phones a lot! That probably means most of us, right? Haha!
Both my fiancé and I have this product in the 100% clear transparent design and it's the product that helped protect our iPhones. In case you're wondering, this brand also carries cases for other iPhone models as well as Samsung models. They also come with a lifetime warranty card! This is a brand I've used for many years and it's one I highly recommend when you're looking for value and quality.
On top of that, I also use this durable pink case — don't ask why, but I just like switching things around.
Check to see if the clear Rose Gold color is on sale by clicking the image below. It comes in other colors as well if you're interested in one yourself.
Click the image below to learn more about this shock absorption case.
3. Cactus Pink Bullet Journal Notebook
This pretty pink bullet journal with dotted grids comes in 132 pages. It definitely makes a perfect Christmas gift for those who love to organize with pretty things!
Not to mention, the New Year is just around the corner, so who wouldn't love to start off their year with setting goals, organizing their daily activities, creating a shopping list, taking notes, sketching and more.
The value and things she could do with this bullet journal will sure beat the price of the item! I really encourage you to check it out!
Click the image below to learn more about this cute bullet journal.
4. Pretty 2019 Weekly and Monthly Planner
If she's not into bullet journaling and just wants something more simple and practical, you can buy her this lovely 2020 Weekly and Monthly Planner made by Pretty Simple Planners. This also makes an affordable and cheap stocking stuffer! Again, perfect for the New Year that's coming up. 🙂
Can you believe that it's almost 2020? I'm here, scratching my head, wondering what happened to 2019?
5. Cozy Slipper Socks
Fluffy "slipper" socks for your sock stuffers!
Ok, before you read on, I want you to know that they are not slippers. They're just called "slipper" socks — they're thicker than regular thick socks, but they are not slippers.
These cute cozy socks will keep her feet warm during the winter season when she's lounging around the home — they feel very soft and fluffy! I know, I said fluffy already but I'll say it again… they are FLUFFY!
These Dosoni socks come in a lot of different styles (e.g. Christmas, holiday, cute animals, practical, daily, etc.) for your girlfriend, wife, mom, daughter, niece, or female coworker! I bought a pair for my mom in the red Christmas design and she loves how they feel!
If you live in Canada, try to see if this link works.
Overall, cozy socks like these make a great and practical gift idea for the holidays. You can't go wrong with these budget-friendly sock-worthy gifts!
Click the image below to learn more about these warm fluffy socks.
6. Pretty Compact Mirror
Pretty mirror for the pretty lady who loves pretty things. 🙂
This sleek-looking pocket-size mirror will make a simple and easy present for her!
Aside from its nice design, this is a great mirror to have in her purse especially when she needs to touch up her makeup during the day. Speaking of which, it will make a great Christmas gift for someone who likes to travel too.
When you open it, one side has a regular mirror. On the other side, it comes with 5x the magnification — again, women love that when it comes to perfecting their makeup. 🙂
You can learn more about this mirror on Amazon here. It's definitely an affordable gift to put in her stocking!
Click the image below to learn more about this pretty compact mirror.
7. Thick Bookmark in Pretty Pink
Does she love to read? Does she love the color pink?
This cute and adorable bookmark is made from thick material and has a funny slogan "Keep calm and have a cupcake".
Click the image below to learn more about this pretty pink bookmark.
8. ILNP Gold Shimmer Nail Polish
This beautiful gold shimmer nail polish by ILNP will make a very pretty and affordable stocking stuffer for her. This type of color works perfectly for the holiday season! I bet she'll want to add a bit of fun and glitter flair to her New Year's Eve outfit. 😉
If you live in Canada, this is a very nice color from Essie!
Absolutely gorgeous color!!! Sorry, I just had to say that because I get really excited when I see pretty things myself. Haha!
Click the image below to learn more about this pretty gold shimmer nail polish.
9. Pretty Sterling Silver Ring
I just love how this silver ring looks — it's really pretty!
You can click here to take a look!
This is a piece that's cute and fun to have. Not to mention, it definitely beats spending over a few hundred dollars for a sterling silver ring at Tiffany! 😉
Click the image below to learn more about this gorgeous sterling silver ring.
10. Adorable Bunny Ring Holder
This popular and adorable bunny ring holder by Umbra makes a great decor piece for her rings.
It's perfect for any space and it keeps all of her rings in one place which can help her organize and reduce clutter. In case you're wondering, she can stack her rings on both the bunny ears. It also comes in your choice of a reindeer, elephant, or kitty.
This pretty ring holder is very affordable which makes it a perfect gift for any season (including a stocking stuffer) without breaking the bank.
Click the image below to learn more about this cute bunny ring holder.
11. Cute Pom Pom Keychain
This is probably one of my favorites on this list — ha!
I absolutely LOVE these irresistibly cute pom pom keychains because they can add a bit of flair to any handbag. I know she'll love this for her bag!
They're definitely fun, cute, and affordable for your stocking stuffers!
Click the image below to see this cute keychain in various different colors.
🇨🇦 NOTE: If you live in Canada, you'll need to use this link here to see this pom pom keychain in your country!
Here's a quick picture of my Kate Spade bag with the cute pom pom keychain… 🙂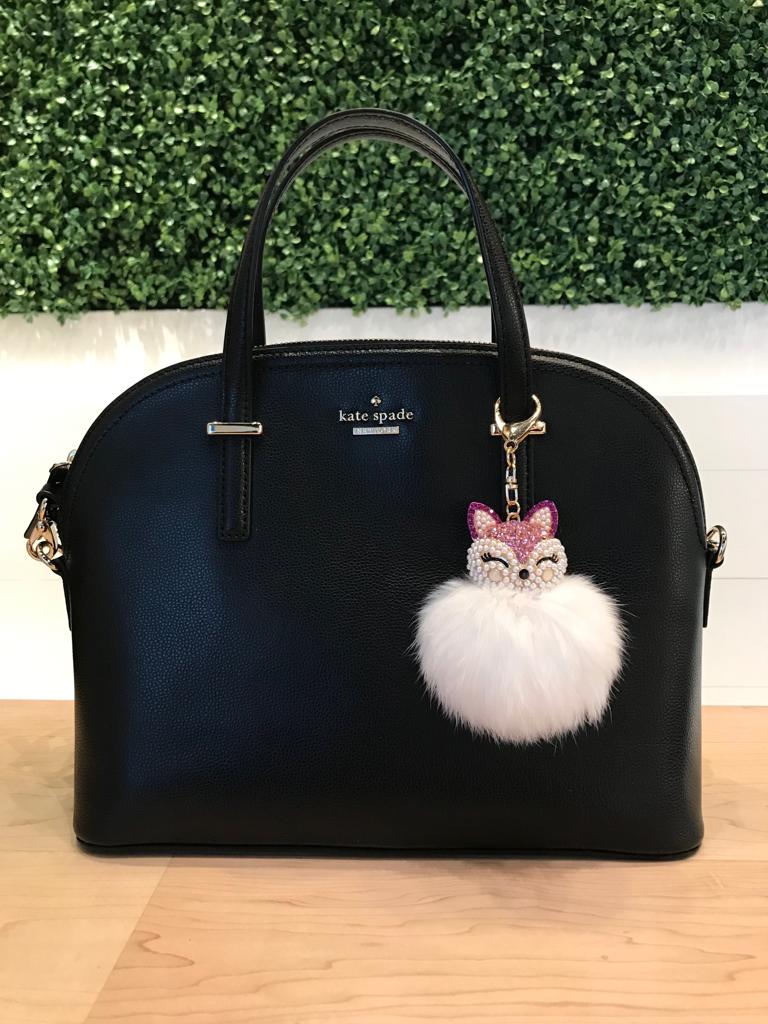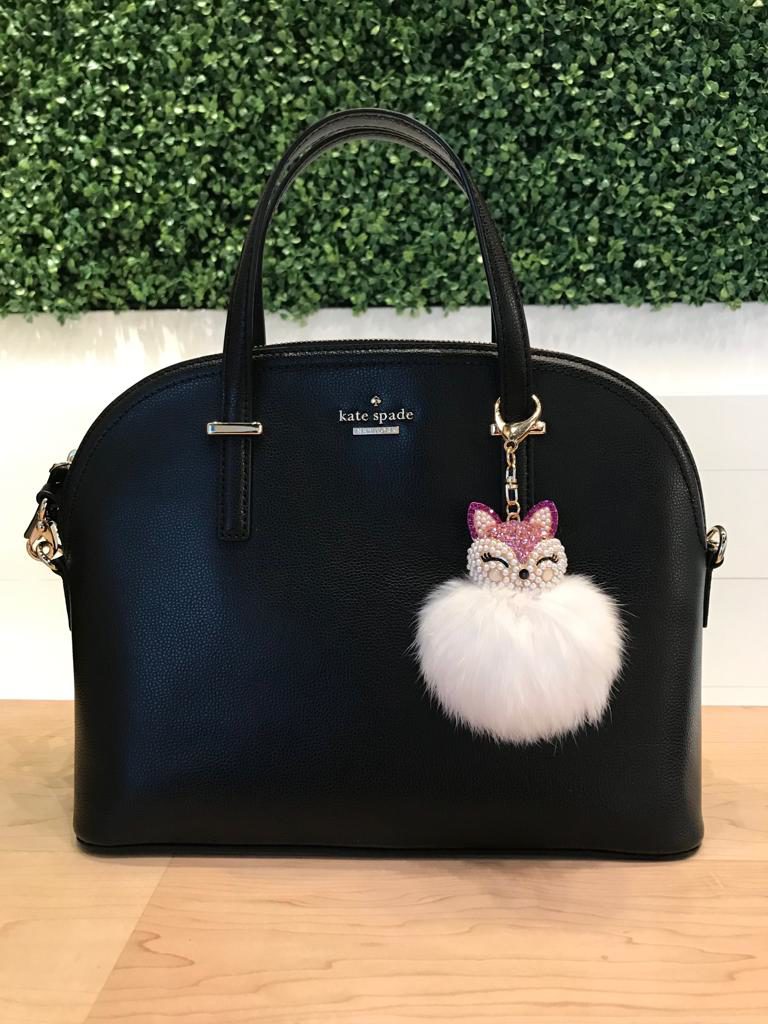 12. Punchy Pink Wet Brush Pro
You can't go wrong with a practical and useful gift like this Paddle Wet Brush Pro by Wet Brush. On top of that, it's a pretty durable brush too!
I actually have this brush in the exact same color and I like it a lot! It makes me confident that she'll enjoy it in this pretty color too. 🙂
Click the image below to learn more about what this brush has to offer.
13. EOS in Pink Grapefruit
These EOS lip balms are one of the easiest and cheapest stocking stuffer ideas! I buy them as stocking stuffer add-ons all the time. I also buy them for myself in a pack that looks like this. I just love these little babies!
You can choose from many colors and designs — whatever suits her taste! I personally love this in pink grapefruit.
If you live in Canada, you can buy them from Costco or your nearest drugstore at a more reasonable price!
Click the image below to see different variations of this lip balm.
14. Space-Saving Makeup Organizer
If she's into the pretty and cutesy type of things, then she's gotta love the makeup organizers!
This compact and pretty palette organizer is very affordable and would make the perfect gift for those who would love something to help them organize their makeup.
This mini organizer has 5 storage compartments where she can store (and easily reach for) her makeup palettes such as eyeshadow, contour, blush, lip, eyebrow, etc. This would make a great stocking stuffer for the lady who loves organizing her makeup space. I encourage you to check it out here!
Click the image below to learn more about this storage organizer.
15. Cute coin purses in pink
This 4-piece coin purse will fit her loose change, gift cards, bobby pins, keys, and any small item she carries around.
It comes in other different patterns but I think this one would make a perfect stocking stuffer for the girl who loves all pretty things!
Click the image below to learn more about these mini coin purses.
16. Sephora Under $10
One thing that I cannot forget to mention about is Sephora's stocking stuffers for under $10 which you can find here. They have products such as lip gloss, lip balm, eyeshadow, makeup remover, oil blotting sheets, and more. I always go for the lip balms and lip glosses because you can't go wrong with those! If you live in Canada, that section can be found in the "Gifts for under $15 CAD" category on their website. I know, Canadians don't have access to many choices nor the incredible deals that Americans do… but hey, it is what it is! 🙂
💡 💡 PRO TIP: Did you know that you can get FREE cash just for shopping at over 2,000 of your favorite stores when you join Rakuten (formerly called Ebates)? This includes Sephora, Target, Macy's and more! And YES, membership is 100% FREE! I really LOVE Ebates because it helps me save over a few hundred dollars per year just for shopping for the things I normally buy. To learn more, read my full review and tutorial on how to use Rakuten here. You won't be disappointed with Rakuten!
🌟 Right now, you can sign up here and get your FREE $10 bonus from Rakuten after making your first $25 purchase.

If you live in Canada, you must use this link to sign up for your $5 bonus.
That's my gift guide for you today!
I hope you find something that she'll love! Again, this guide is meant for the girl who loves the cutesy and pretty things (all for $10 or under). If she falls in that category, then I'm sure there's something here that she'll use and enjoy.
FREE valuable resources to help you save money this

C

h

r

i

s

t

m

a

s

!
If you're new here, my blog talks about many ways you could save money without sacrificing the quality of your life. I also love writing about ways you could make extra money outside of a traditional 9-5 job. With that said, I always LOVE to find creative ways to save money (or earn money) to help make my Christmas spending a little more affordable. Below are some of my favorite sites and resources that may help you! The best part is that they're all FREE to use!
❄️ Hint: you could use these FREE resources to help you save $50+ per month which can go towards your Christmas gifts and spending. That's exactly what I do! 😉
Swagbucks allows you to earn cash and FREE gift cards (my favorite ones are Amazon and Starbucks) just by surfing the web, watching some funny cat videos, shopping, playing games, completing simple surveys, and doing other online activities. My fiance and I have redeemed many $50 to $100 Starbucks gift cards which helped us save money by making our spending a little more affordable! Swagbucks has helped their members save $299,447,296 to date!
🌟 Sign up to receive your FREE $5 bonus from Swagbucks here and start putting cash back into your wallet!
Survey Junkie: I personally use this free resource to earn extra cash by answering simple surveys online. This may help you save money or pay for some of your groceries for the month because you can redeem cash or FREE gift cards (your choice). They are rated 8.7/10 which is one of the highest on TrustPilot reviews.
🌟 You can sign up for Survey Junkie for free here.
Other holiday-related posts for you to enjoy:
– 13 Christmas DIY Dollar Store Hacks You Must Know About
– 9 Unknown Ways To Save $1,000+ For Christmas — I Bet You Haven't Heard of #3
– 17 Creative Ways To Make Extra Money For Christmas — #9 is Insanely Creative!
– 11 New Year's Resolutions That Will Bring Your Finances into Sexy Shape for 2019
– 10 Ways To Develop a Rich Mindset For 2019 — #10 Will Seriously BLOW YOUR MIND Away!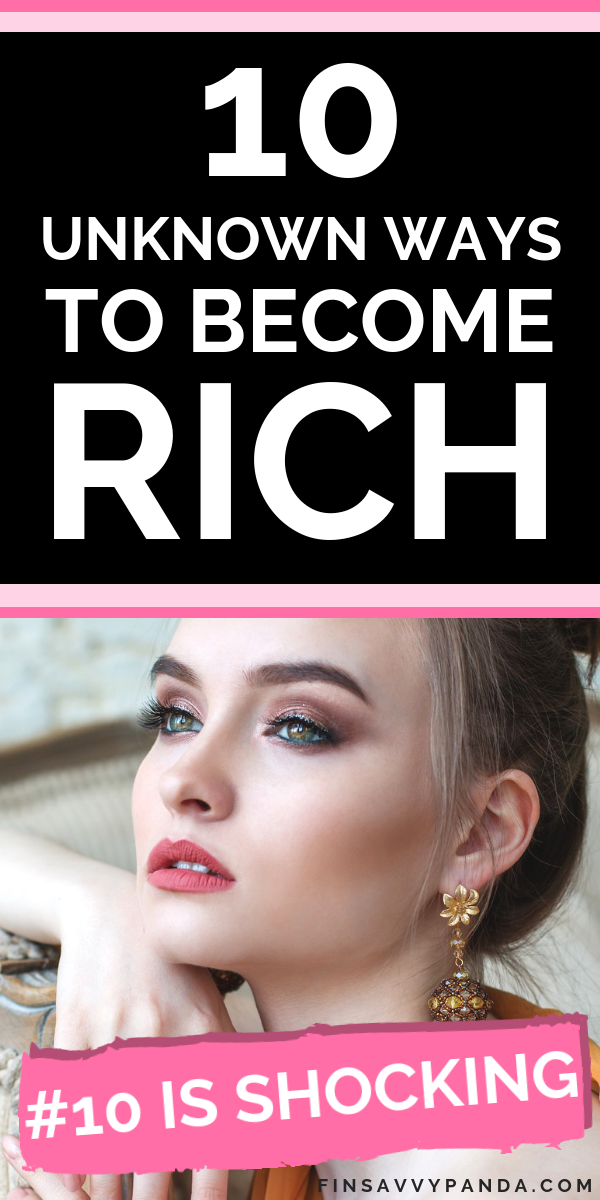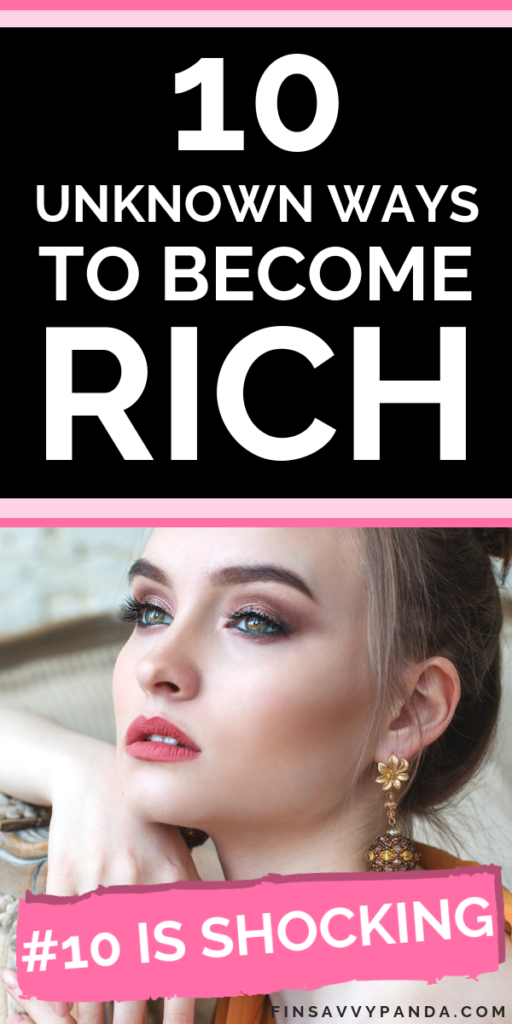 Did you enjoy this holiday gift guide? Don't forget to bookmark it and share it on Pinterest!