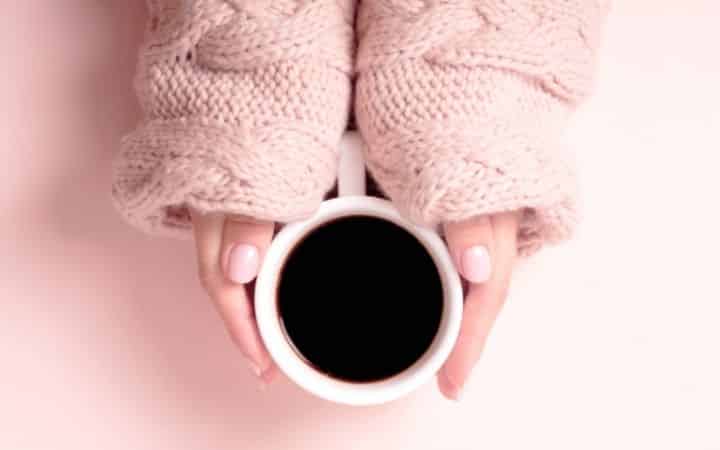 We will receive a commission if you make a purchase through our affiliate link at no extra cost to you. Please read our disclosure policy for more information.
It is said that receiving gifts is a love language for some. Yes, some personality types will not believe you love them if you never buy them gifts as that is about the only language they understand. Perhaps you resonate with this and have struggled to communicate your feelings because of limited resources but did you know that gifts don't have to be expensive?
Steering away from the love language, I do not know one person who does not love receiving gifts no matter the size, during an occasion, or just randomly. Think about it – how did you feel the last time someone surprised you? You were probably ecstatic and wondered what you had done to deserve it. Now imagine doing the same for someone — being a source of utter joy.
These coffee gifts can be anything random, from items with intricate detail or more practical gifts that the recipient can put to everyday use. Whether you opt to go pricey and classy or choose to select inexpensive, thoughtful gifts, the bottom line is, it's the thought that counts.
Gifting someone is a gentle way of communicating that you were thinking of them and that you care for and appreciate them. Let having limited resources not hold you back from expressing your appreciation for those you care about. After all, in these challenging times following the pandemic where everyone is trying to cut down on expenses, it makes more sense to watch your spending and operate on a budget.
Best Coffee Gifts For Coffee Lovers Under $20
Because we're all about helping you budget and save money while getting the best value for every dollar you spend, we've put a lot of thought into researching and hand-picking these great gifts for coffee lovers.
This article highlights some of the best coffee gifts that are thoughtful and practical yet cost under $20, for the most part, that you can present to your friends and family who just love their morning coffee.
Whether it's for the holiday season, a birthday, anniversary, or any special occasion that makes you want to give something special, we'll help you get those creative juices up and running.
Taking creativity to the next level, we've even compiled a list of the best and most unique ways to gift cash without making you look lazy or unthoughtful. You can actually use those creative cash ideas and pair them with one of these special coffee gifts for your coffee-loving friend!
Take a look at those ideas too, so you can make your gift extra special and stand out from the crowd. After all, every recipient will be filled with joy seeing some surprise money, or even a free Starbucks gift card, with their coffee gifts!
Here's our list of the greatest coffee gifts for coffee lovers where you can find on Amazon!
Oh yeah, and if you have a friend, family member, or coworker who is a Starbucks coffee or latte fanatic, then we also recommend checking out these best Starbucks gifts for Starbucks lovers. They are also the perfect gift ideas for coffee-obsessed fans!
Be sure to pin this Coffee Gift Guide on Pinterest!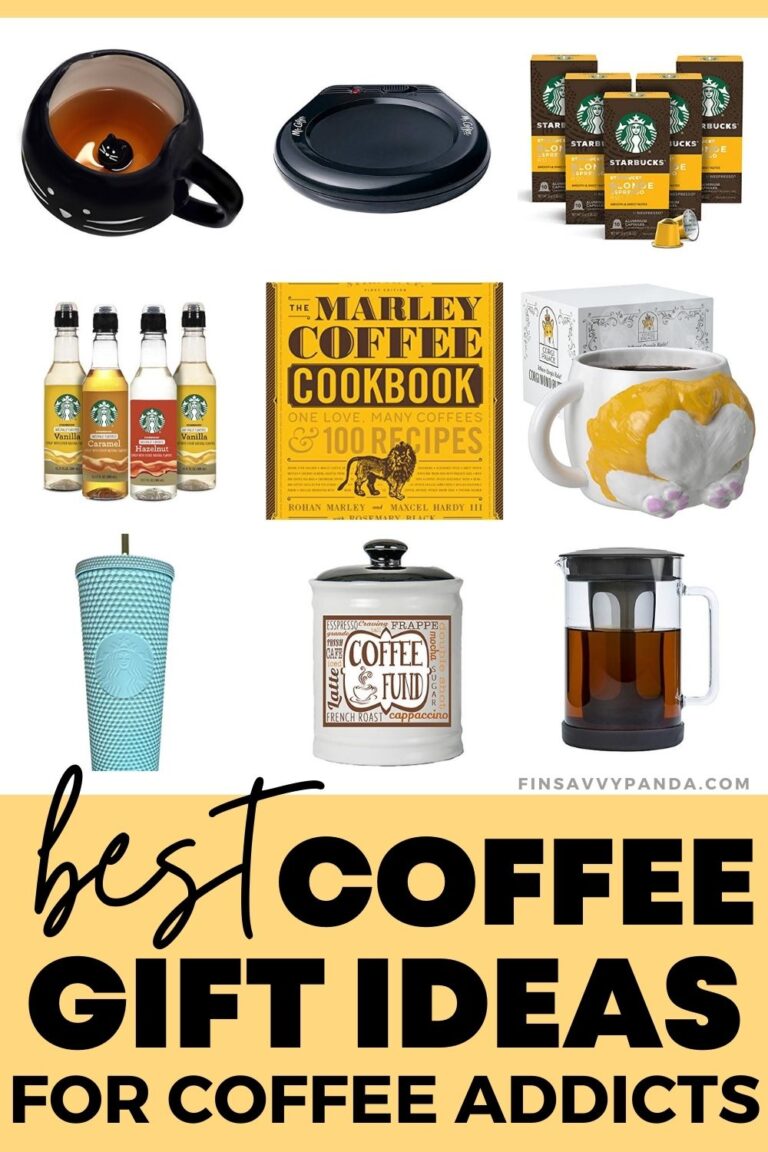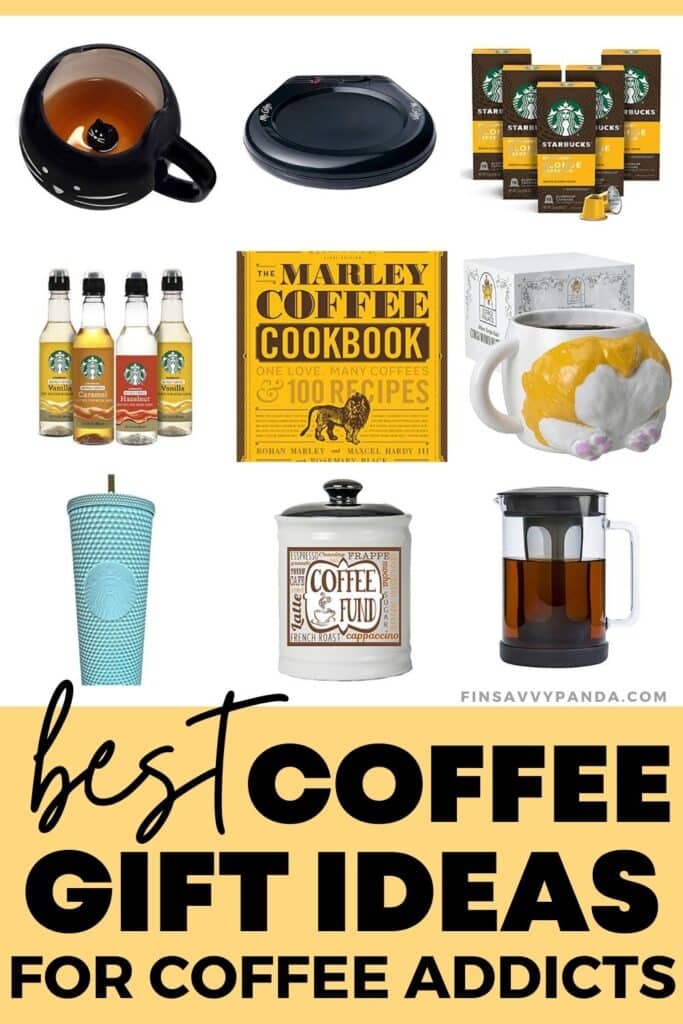 1. Hunu Leakproof Pocket Cup
Source: Amazon
Any coffee lover will have you know that every moment is coffee time, whether they are indoors or outdoors. Now imagine making it possible for the coffee lovers in your life to enjoy their favorite beverage even when out cycling, camping, or hiking.
The Hunu Pocket Cup is not only leakproof, but it's also collapsible, making it conveniently portable. It's made of silicone and comes in sage green. The cup has a holding capacity of 9 oz and has the ability to fold down to 0.75 inches (2 centimeters).
The built-in drinking lid makes it easy to use. What makes it a perfect gift is that it isn't just limited to use with coffee. You can use it for almost any other beverage, including wine or tea. The cups are devoid of pollutants, BPAs, and other potentially harmful compounds. They exceed the strictest international food safety requirements, and unlike inferior plastic cups, they won't leach anything into your beverages. The silicone it's made of is durable and of food-grade, allowing it to withstand the freezer, dishwasher, and even microwave.
That special person will love you and this piece is at an affordable budget — now isn't that quite a bargain without breaking the wallet?
2. Primula Burke Cold Brew Coffee Maker
Source: Amazon
Most coffee lovers appreciate making their own coffee, even if not all the time.
With this deluxe cold brew iced coffee-making machine from Primula Burke, there's no stopping that homebrew from happening. This brewer is dishwasher safe, has a removable mesh filter, and has a comfortable grip handle. It's made of borosilicate glass, enhancing its durability. It only weighs 1.75 pounds and can hold six cups of liquid.
The budget-friendly yet practical item makes it a thoughtful gift for coffee novices or enthusiasts alike, allowing them to make a smooth, rich, cold brew in this iced coffee maker in the comfort of their home.
The extraction process is unique and produces full-bodied, flavorful tea or coffee. This coffee maker fits on most shelves and refrigerator doors. The manufacturer has been in the industry for over thirty years, resulting in the creation of award-winning products.
Primula ensures that their products are thoroughly tested, and the online reviews tell of their high standards. It's a durable gift and will last for years on end, something the recipient will genuinely appreciate.
3. Starbucks Variety Syrup Pack
Source: Amazon
Coffee lovers will appreciate this very thoughtful gift of a Starbucks Variety Syrup Pack that they will use to elevate their morning coffee and start the day on a flavorful note. The pack contains one bottle of Caramel, one bottle of Hazelnut, and two bottles of Vanilla flavored coffee syrup.
Adding a tablespoon of any of these flavorful syrups to your coffee cup (preferably 12-oz) will give your coffee a hint of extra tastiness. This is the kind of gift that tells the recipient you appreciate them, and it'll have them thinking of you each time they enjoy their favorite cup of coffee.
For a luxurious item at an affordable price tag, each syrup option offers a varying experience. For a nutty, rich flavor, the Hazelnut syrup is a perfect choice. For a rich, sweet taste, Vanilla syrup will be the better option, and for a buttery, smooth flavor, the addition of Caramel syrup works best. Coffee lovers will love this gift as it is practical and can be used every day. The packaging is ideal for carrying around, so taking it to the office is simple and convenient. Plus, the price is pocket-friendly.
If the person loves coffee and Starbucks (including yourself), then you'll love the idea of earning free Starbucks drinks or even gift cards using these creative money-saving gift card hacks.
4. Cute Panda Coffee Travel Mug
Source: Amazon
Perhaps the recipient who's obsessed with coffee is just as obsessed with panda bears! If that's the case, then you're in luck because we also have a list of the best panda gift ideas for panda lovers for you to consider too.
We've included this splash-proof and shatter-proof panda coffee mug in your list of coffee gifts for your friend, family member, or loved one. It's made of stainless steel and is BPA-free, which is durable with double-wall vacuum insulation, and safe to use for anyone.
This cute panada mug is the perfect gift for women, or even men, who tend to travel a lot and are frequently refilling their mugs throughout the day.
5. Coffee Fund Piggy Bank or Piggy Tumbler
Source: Amazon
Is your friend — who loves sipping on coffee all day long — spending too much money at Starbucks almost every day?
Then, we've got a great coffee gift idea that will help you HELP THEM!
This coffee fund, or even this unique piggy bank coffee tumbler here, is ideal for those who want to save money cutting back on those daily Starbucks expenses.
They can easily make this turn into two useful and practical purposes. It'll remind them to brew their coffee on most days, helping them cut back on their coffee and lattee spending. Alternatively, they can use it as an actual piggy bank to help them save money.
If it's the winter holiday, this would make it an even better gift idea since New Year's is just right around the corner. What other perfect New Year's Resolution is there than to start saving money?
Because our blog is all about helping you budget and save money, we've compiled a list of the best and most unique piggy banks for adults here. These piggy banks also make the best gift idea for the holidays like Christmas and special occasions like Graduations!
Overall, this piggy bank tumbler or mug is fun, practical, and ideal for anyone who wants to enjoy their warm sip of coffee!
Whether you choose to go with the coffee fund piggy bank, or the piggy bank tumbler, we guarantee your "obsessed-about-coffee" friend will love and appreciate your choice of gift. Not only will they think about you each time they sip on their coffee or toss a coin into the coffee fund, but they will think about you and the impact you've made. And that's helping them save money for their rainy days.
6. Hello Kitty Coffee Mug for Coffee Lovers
Do you have a cat or Hello Kitty lover in your life? Perhaps they love coffee, tea and lattes too!
This high-quality, classic, and timeless Sanrio Hello Kitty Face coffee mug will bring warmth and joy each time they sip on their hot brewed coffee at home.
It's a budget-friendly gift that's perfect for kitty fan at any age — friend, girlfriend, wife, coworker, and even your mom!
Not only does this make a cute and unique gift for Hello Kitty lovers, but it will sure satisfy the coffee-obsessed fanatics too!
7. Corgi Palace Corgi Momo Butt Mug
Source: Amazon
This item is arguably one of the funniest corgi coffee mugs ever and will likely be loved by most coffee lovers. The packaging is excellent for a gift, and the beautiful box included allows you to simply add on a bow and forget about gift wraps or any other costs.
This corgi coffee mug won't make you go broke for the month, so it's good value for money as it's high quality. Corgi lovers will absolutely fall in love with this mug, making that cup of coffee even more irresistible.
The mug is made of durable ceramic and is microwave and dishwasher safe. It has a capacity of 13 oz of coffee or any of your other favorite beverages. It's an excellent gift for those who have a sense of humor as it lights up one's morning with its colorful display.
Additionally, it makes a good decoration piece on any mantle or table, another reason for the gift receiver to keep you in mind and close to heart.
8. Koolkatkoo Cute Cat Coffee Mug
Source: Amazon
Coffee lovers know there's one thing they can't possibly do without — a mug.
The more interesting the piece, the more enticing it is to enjoy that fantastic cuppa. This gift item is ideal as it has a cell phone holder on its lid, making it perfect for those who love to stay near their phones.
It permits you to watch videos or listen to your podcast as you enjoy your beverage with the comfort of having your hands free. The mug has a capacity of 12 ounces.
The packaging is attractive, and the product is safe for use in a microwave and a dishwasher, a great compliment to any busy lifestyle. Its lightweight of 0.48 kilograms makes it easily portable. Cat lovers will appreciate this gift item as it constantly reminds them of the two things that touch their hearts — cats and coffee.
Its ceramic material ensures it is durable and sturdy. It's available in black and white. The Koolkatkoo Cute Cat Coffee Mug would make a perfect gift for your wife, sister, mother, or other females who love to take their coffee in style. After purchasing this gift for the coffee lover, you won't even feel the pocket damage.
9. Mr. Coffee Mug Warmer
Source: Amazon
Enough of animal-inspired cups; how about you acquire a mug warmer that's perfect for use either at home or in the office?
This lightweight gift item weighs only 0.6 pounds and has a capacity of 8 ounces. It's absolutely convenient as its long power cord provides increased mobility, and the surface wipes clean easily. You can carry it anywhere you go and use this 17-watt mug warmer to heat any beverage, including soups, hot chocolate, tea, and of course, coffee!
The on/off switch has an indicator light that alerts you once the beverage is hot. It takes two minutes or less to heat that favorite hot drink. Your coffee lover friends and family will love you for this perfect gift item that's ideal for any occasion — whether it's a birthday, anniversary, or a random way to let someone know you're thinking of them. The price is pocket-friendly and comes in several options ranging from basic to more functionality depending on your budget, though the average is still considered an affordable option.
10. Keurig Coffee Lovers' Collection Sampler Pack
Source: Amazon
Now here's an exciting gift item that will tantalize the taste buds of almost any coffee lover. There are plenty of coffee brands in the market, and most coffee lovers have their most preferred brand. From time to time, you'll find that coffee lovers steer away from their favorite brand just to experience coffee in a different style and tease their palates.
The Keurig Coffee Lovers' Collection Sampler Pack is a variety of single-serve K-cup pods that displays twenty different leading coffee brands.
There are two of each brand inside the pack. These include Kahlua, Green Mountain Coffee Roasters, Newman's Own Organics Coffee, Gloria Jean's Coffee, Caribou Coffee, and Laughing Man Coffee Company, to name but a few.
The recyclable K-cup pod has a paper filter that allows hot water to saturate freshly ground beans, making that tasty cup of coffee. Moderate pressure extracts each ounce of richly flavorful coffee.
This gift pack includes authentic Keurig K-Cup pods, which have been manufactured for assured compatibility and quality with all Keurig K-Cup coffee machines. The collection provides a blend of dark roast, medium, and light coffee, as well as organic and Fair Trade varieties.
For what the price is, this is excellent value for money and a thoughtful gift.
11. Handheld Frother
Source: Amazon
The PowerLix milk frother is a hand-held gadget that's battery operated though it has an electric whisk beater and foam maker.
It's ideal for coffee, hot chocolate, a cappuccino, or a latte. It comes with a stainless steel stand and a durable mini drink mixer. Any coffee lover will love you for this as it is an ideal gift and is easily portable. Whether it's the office or a picnic, carrying it around is no stress at all, ensuring the coffee is perfectly creamy and frothy and extra tasty.
Not only is this gift item available in a variety of colors ranging from black, pink, grey, blue, and white, among other options, but it is lightweight, and the touch handle is soft and ergonomically designed.
Additionally, its motor is low noise making it usable in any environment. Its versatility is a lovely addition — it works well with either cold, or hot liquids so can be used to make milkshakes, cocktails, and even beat eggs, in addition to its original purpose of making coffee a creamier and frothier delight.
12. The Marley Coffee Cookbook
Source: Amazon
This lovely, priceless hardcover coffee cookbook is a thoughtful edition in any coffee lover's kitchen. Authors Rohan Marley, Rosemary Black, and Maxcel Hardy came together to put this collection together.
The Marley Coffee Cookbook offers its recipient 100 incredible recipes that combine coffee as an ingredient to create something justly unique. As the son of the legendary Bob Marley, Rohan Marley ensures each chapter of this amazing recipe book begins with tales of what growing up as the iconic artists' son was like — a musician who is to date still loved by music fans around the world, both young and old.
Not only is this gift item budget-friendly, but it is also one of the most thoughtful gifts you can give to someone who loves that ultimate coffee taste. Each meal has a strong coffee connection, whether it rocks an espresso taste or it's imbued with a mocha theme.
13. Organo Gold Gourmet Ganoderma Coffee
Source: Amazon
Organo Gold's Ganoderma coffee is more than just coffee. This gourmet product has numerous health benefits. Not only does it balance the consumers' pH levels, but it also supports blood circulation, improves the quality of sleep, boosts energy levels, supports the immune system, supports the body's natural detoxification process, provides more vigor, and helps oxygenate the body.
This product also contains less caffeine than regular coffee. It's the perfect gift for anyone who is recuperating or someone keen on enhancing their general well-being while still enjoying that precious cup of coffee. Its price is pocket-friendly at only $20.99. Each box has thirty sachets. With the great health benefits, that's a true bargain!
Wrap Up on Coffee Gift Ideas
Whichever coffee gift you choose from this list, we guarantee that the coffee lover you're thinking about will find these ideas useful. We also have a list of the best gifts for people who love Starbucks!
And whether you're looking for a birthday, graduation, anniversary, or holiday gift that won't break the bank, we have a list of the best and most practical budget-friendly gift ideas here for you!
I hope this article helps you pick out the best coffee gifts for that special someone!
We are a personal finance blog helping you to find the most optimal ways to budget, save money, and make extra money. For more personal finance and money tips, be sure to follow Finsavvy Panda here on Pinterest!