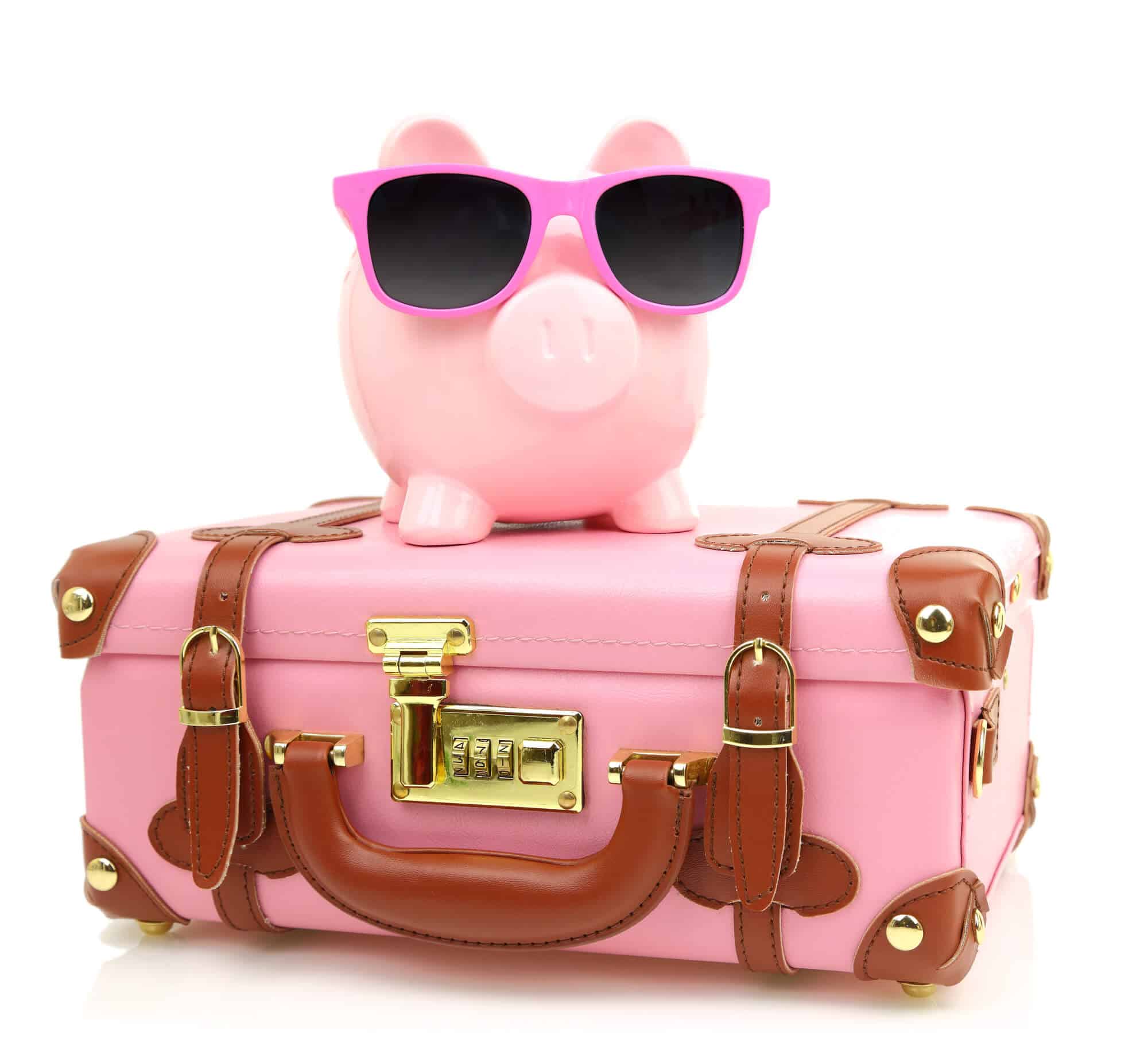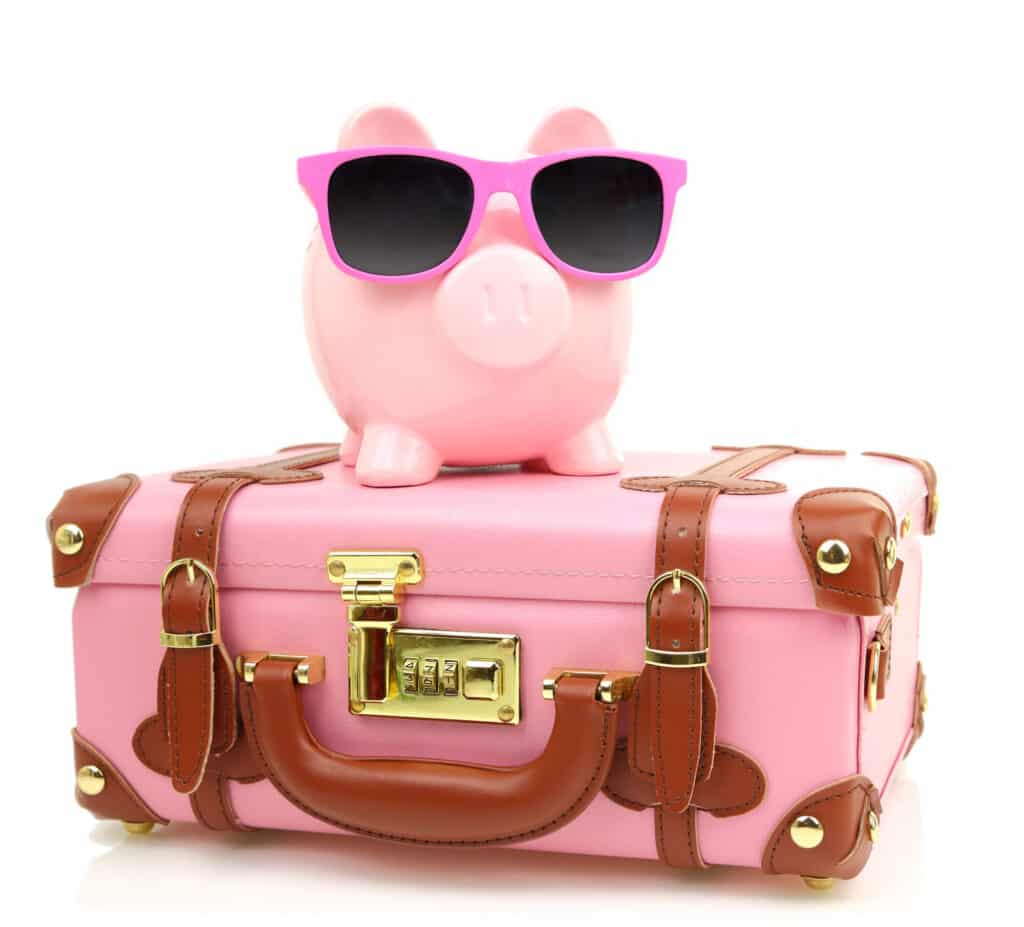 We will receive a commission if you make a purchase through our affiliate link at no extra cost to you. Please read our disclosure policy for more information.
"Do not save what is left after spending, but spend what is left after saving."—Warren Buffett
"All days are not the same. Save for a rainy day. When you don't work, savings will work for you."—Anonymous
"The quickest way to double your money is to fold it in half and put it in your back pocket." —Will Rogers
The Best Piggy Bank Ideas For Adults
Aside from hearing these wise quotes about saving money from the famous money experts, we have all heard these same words from our parents and other adults. And they are right.
So, go ahead. Pick up one of these cool piggy banks for adults and start a savings fund today!
I get it though.
The problem is saving money can be hard, especially with the plethora of online stores and subscription boxes out there. But as an adult, financial freedom is crucial. Being financially prepared for unexpected emergencies is one of the main reasons people start saving.
The sooner you start budgeting and saving money, the sooner you can ditch those bad money habits and become financially independent.
Whether you want to retire early or go on a luxurious vacation, saving money now will help you reach your goals a lot faster.
Some people may find it boring to save money for rainy days. They imagine all the exciting things they could be doing with that money instead of socking it away in the bank. Understandably because you work hard for your money, and you want to spend it on anything you want.
Making the act of saving fun and seeing the money add up can help motivate you to keep going. To make the saving process fun, you should invest in an adult piggy bank.
Piggy banks are just as much for adults as they are for children. As an adult, you're making more money and have more of it compared to your broke student days, so the more reasons to save it with these unique piggy banks from Amazon.
Regardless of your age, there are plenty of piggy banks for grown-ups that can help you.
While you're looking through this list of the best piggy bank ideas for adults, we know you'll also be interested in these other cool piggy banks for kids and adults:
ONE SAVING MONEY HACK I LOVE & USE: Speaking of saving money with piggy banks, did you know you can use this free app called Swagbucks to save money and get cash back from most of your online purchases? You could also use this app to answer short and simple survey questions, which allows you to earn points that convert to your choice of PayPal cash or gift cards to your top go-to retailers. I've been using Swagbucks for over 10 years to save hundreds of dollars each year! It's absolutely free to use and you'll even get a FREE $5 welcome bonus here just for signing up today!

I also have a full review and tutorial on how to use Swagbucks to help you earn, redeem free gift cards, and save extra money immediately.
Cool and Unique Piggy Bank For Adults
If you're looking for a cool piggy bank for adults, then this list will help you find the perfect one to help you kickstart your savings plan. We also expanded this to an ultimate list of coin banks by adding more trending piggy bank ideas for everyone here – not only are they great saving tools, but they also make the perfect gift for anyone including yourself!
Whether you're looking for an electronic piggy bank, a car coin bank, or a unique one that comes in different shapes and sizes (e.g. jumbo, large, small, etc.), you'll find the best piggy bank for adults (and kids too).
Not to mention, these piggy banks can also make the perfect and most practical money gift idea for both kids and adults. It's such an easy and creative way to give money as a gift for a loved one's birthday or graduation present.
A cool or unique-looking piggy bank could also make the perfect cash gift for Christmas or New Years', which encourages and motivates the receiver to save money as a resolution. Just buy one of these piggy banks and load it with some cash and coins, and you're ready to go!
There is no thinking required and it's basically one of the most practical and thoughtful gifts to give someone who will actually find it useful!
Alrighty, aside from buying one of these as a money gift idea, let's find the right piggy bank that will help you save more and make you happy by the end of this article!
1. Lego Piggy Coin Bank
When you were a kid, you probably loved to build and put things together. So, what better way than to build a savings fund with this Lego piggy bank here?
This cool and unique piggy bank is totally perfect for the adult who loves reminiscing about Lego and their childhood.
The pieces are super easy to put together and the red coin bank will make a great decoration piece in your bedroom or living room.
Though getting your money out will be a little challenging, it is indeed a good thing. It will make you think about whether you want to go through the trouble of taking apart the pig or continue to save your money for a wealthy future.
2. Handcrafted Wooden Money Savings Piggy Bank
If you're a person who loves your decor with a bit of charm and character, then this one-of-a-kind wooden piggy bank here was specially made just for you!
This handcrafted piggy bank is from forest wood and will go with any rustic home decor. Whether you want to save your coins or cash, you won't have any trouble getting your money out with this piggy wiggy.
3. Electronic Piggy Bank For Adults with a Lock
Are you looking for something that's simple with a passcode lock?
These ATM electronic piggy banks for kids and adults will keep your money safe, and it comes in various colors and styles when you browse through the selections. Not only is this safe perfect for adults, but kids can use it to start saving their money too. The coin bank is password protected with a four-digit pin.
Owning one of these electronic piggy banks will teach both adults and kids the importance of saving and keeping their money safe.
4. Star Wars Piggy Bank for Adults
Use the force to save your money. This head of a Storm Trooper can house both coins and cash. It's a fun way for adults to save money and it's not hard to see why.
All the crazy Star Wars fans are buying one of these Storm Trooper heads and placing it on their desks! If you are a Star Wars fan, then you're going to want one of these! We guarantee that you won't regret purchasing this piggy bank here!
5. Super Mario Coin Bank
For lovers of all things retro and Super Mario, this one-of-a-kind special piggy bank will make you smile every time you look at it.
Super Mario Bros was a very popular game and for good reason. Every person who grew up with this video game loves the nostalgia that comes with this piggy bank. Just like in the game, the question block helped Mario get bonuses to level up. It's your turn, as an adult, to collect more coins and level up your savings too.
6. Globe Piggy Bank
It's never too early to start saving up for your dream vacation with special globes like these ones here!
If you want to save your money to go on that special cruise or getaway, then this globe piggy bank will help you reach your travel goals. This bank has two access points and can hold both cash and coins. Every time you put money in the bank or want to take money out, you can look at the country or island you want to go to and use it as motivation to get to your destination.
7. Electronic Safe Money Box with Lock
Keeping your money in a sturdy safe like this one here is an excellent idea.
It can safeguard you from spending too much money or perhaps someone who is trying to "steal" your hard-earned cash. Made with heavy-duty, this safe is strong and secure. There is a keypad that is easy to program with your security combination. It's easy to install, and you can mount it on the wall or hide it in a place where no one can ever find.
8. Plastic Digital Piggy Bank With Counter
This money-counting plastic piggy bank for adults from Amazon is super adorable!
It's also a great way to keep track of the money you are saving. It is translucent, so you can take a peek at the money you saved inside. Not only that, but it also comes with a digital coin counter, so this unique piggy bank will keep track of all the coins you've collected. Just being able to see how much money you have saved so far will inspire and motivate you to keep going until you reach your savings goals.
9. Create Fun With These Fund Jars
Need money for a specific category?
A dedicated fund jar like this one may be ideal for you.
Check out all the categories over here for the endless possibility of ways to save more cash!
You can find fund jars on Amazon for vacations, honeymoons, date nights, and more.
Having an individual piggy bank for a specific reason will encourage and motivate you to save your money for that special event. Every time you put money in the jar or take some out, the label on the front will remind you of why you are saving money. Just that little reminder will help you stay focused on why you're doing it. Plus, it's a fun way to stay focused on something you're working hard to save up for.
10. Personalized Piggy Bank for Adults
What person doesn't want their very own heroic Spiderman piggy bank?
A personalized piggy bank like this adorable spider pig is a cute and fun way to save money!
With your name attached to it, you'll be reminded to always pay yourself first before anything else. It serves as a reminder of why you're doing it too – for yourself!
Plus, the idea of having your name on a piggy bank is pretty cool, huh?
So, go ahead and grab a personalized piggy bank and start saving money today. For DC Comic fans, they've got other options like this cute Batman one here for you.
Large Piggy Banks For Adults
11. Jumbo Coca-Cola Coin Bank Jar
If you've got BIG plans and need to save a lot of money, then grab this large Coca-Cola piggy bank.
A large piggy bank can help you save a lot of money over a longer period and it would be fun watching those coins and cash stash up.
For the Coke fans out there, this classic bottle piggy bank will make the perfect savings jar for you. It can be placed in your closet, or out in the opening. When you clean out your pockets for the night, you can drop some of your loose change into the bottle.
What a cool and refreshing way for adults to save some extra money!
12. Jumbo Digital Coin Counter Bank (2.9 Liters)
A jumbo piggy bank like this special digital jar is a great way to save money for adults.
Similar to the piggy bank with a digital counter mentioned earlier, this jumbo jar with a coin counter allows you to see the money you are saving as it piles up. It takes all US coins, and the coin counter displays how much money you have saved.
It also takes cash, and you can adjust the counter to accommodate it. Being able to see your savings progress as it accumulates over the months and years will keep you motivated and excited to fill up that bad boy!
13. Classic Jumbo Piggy Bank With Polka Dots
If you want a large classic piggy bank in pink or blue, this cute little piggy with polka dots will put a smile on your face.
Just like most of the other coin banks in this list, it's an adorable and cute way for grown-ups to save money. It also makes a great gift for kids and other adults if you're planning to give money or cash as a gift.
Not to mention, it will look cute, classy, and modern in any home setting. So, go ahead and place this jumbo piggy bank on your nightstand or office desk.
14. Large Lucky Cat Piggy Bank Loaded with Prosperity
Do you love cats and need a little luck?
The Maneki-Neko is a Japanese figurine of a special cat that will bring you luck and good fortune – lots of it!
It will also bring tons of good feng shui to your home, so it's best to invest in one of these high-quality coin banks if you believe in luck! When it comes to saving money, adults can use a lot of luck!
This ceramic piggy bank is hand-painted and absolutely gorgeous to look at. It would look perfect on your desk or bookcase. The best is to place this lucky cat on any furniture and making sure its head is staring in the direction of your front door – this will welcome loads of happiness, wealth, and prosperity into your home.
Not only will this be perfect for you, but this beautiful lucky cat bank would make a great gift for any family member or close friend. You can buy this lucky cat coin bank on Amazon here.
15. Large Acrylic Saving Money Jar for Coin Cash Bills
If you want a simple vessel to drop your money in, then this acrylic coin bank will be the right fit for you.
The design of this money jar is simple yet sleek and modern for your home. If you love that minimalistic and clean look, then we recommend adding one of these to your online shopping cart from Amazon here.
The acrylic saving money jar can hold cash and up to high as three thousand coins! Just like any translucent piggy bank, this coin bank will allow you to see how much money you've accumulated.
Cute Piggy Banks For Adults
16. Cute Star Wars Darth Vader Piggy Bank
If you're a Star Wars fan and have a knack for cute things, then you're going to love this Darth Vader plastic coin bank.
Drop your money into Darth Vader's head and leave it there, or he'll send a Storm Trooper after you. This adorable little Darth Vader will become your best friend and help you save more even during times of darkness. And unlike the traditional ceramic piggy banks, this one won't shatter into pieces.
17. Unicorn Piggy Bank
Who doesn't love unicorns, sunshine, and rainbows?
No matter how old you are, you deserve to own a large unicorn piggy bank.
They are fun, whimsical, and magical!
A unicorn piggy bank is a cute and fun way for adults like you to save money. This hand-painted bank has transparent sides so you can see your money pile up as you toss your coins in her. This beautiful figure makes a great gift too and can be used as home decor in any bedroom or office space.
When you've reached your savings goal and you want to take the money out, just remove the frame by unscrewing the edges.
18. Hello Kitty Piggy Bank
This cute Hello Kitty Pop Corn bank will inspire both kids and adults to save more! Who can resist such a cute and adorable piggy bank?
If you're a big Sanrio or Hello Kitty fan, you can find and buy the Hello Kitty coin banks here (including the cute Hello Kitty inside the popcorn bag) – this is another type of "lucky cat" piggy bank that brings good luck and fortune in your life. 🙂
19. Hamm the Piggy Bank from Toy Story
Hamm, the piggy bank, is perfect for adults who love Toy Story.
Hamm is is a super durable plastic and can also be used as a toy for kids. Speaking of kids, you can also use it as a decoration for birthday parties especially when you want to imagine all the Toy Story characters come to life.
Now, you can bring him to real life! He'll be your best savings buddy and help you bank more of your money instead of spending it.
20. Adventure Travel Fund Piggy Bank
Are you excited to save up to go on an adventure? Perhaps you want to save up for a solo trip.
This "Adventure Fund" suitcase will make a great piggy bank for you. It will remind you of all the places you could go if you save your money. Put your money inside now so you can go on an adventure later.
Car Piggy Banks For Adults and Boys
21. White Brinks Home Security
Having a Brinks armored car piggy bank means you can take money out of the car when you need it and not have to go to jail. The armored car coin bank is a fun and interactive way to save money for both kids and adults. What a perfect piggy bank gift idea for boys! Cash can be placed in the front slot of the car, and it will automatically roll into the machine.
22. Police Car Piggy Bank
Bring out your inner child with this car bank.
Though you can purchase and use this piggy bank as an adult (why not?), it's another perfect piggy bank gift idea for the boys!
With the large trunk at the back of the vehicle, you can save all your cash and coins. A building block set comes with this bank, so you can play it while saving your money at the same time. A cool feature is this interactive car piggy bank requires a password and fingerprint to get your money out. Once you go through the security protocols, a voice will come on and tell you how to retrieve your money. Pretty neat, huh?
23. Silver Piggy Bank for Adults
Here's a cute little piggy bank! The silver theme is sure to inspire kids to save. Young ones will love storing their nickels and pennies inside.
24. 3D Minecraft Piggy Bank
Love pink as much as I do?
This pink piggy is perfect for gamers of any age! It's based on the hit game Minecraft. Why not use it to save up for a new video game?
25. Cute DIY Felt Piggy Bank Money Jar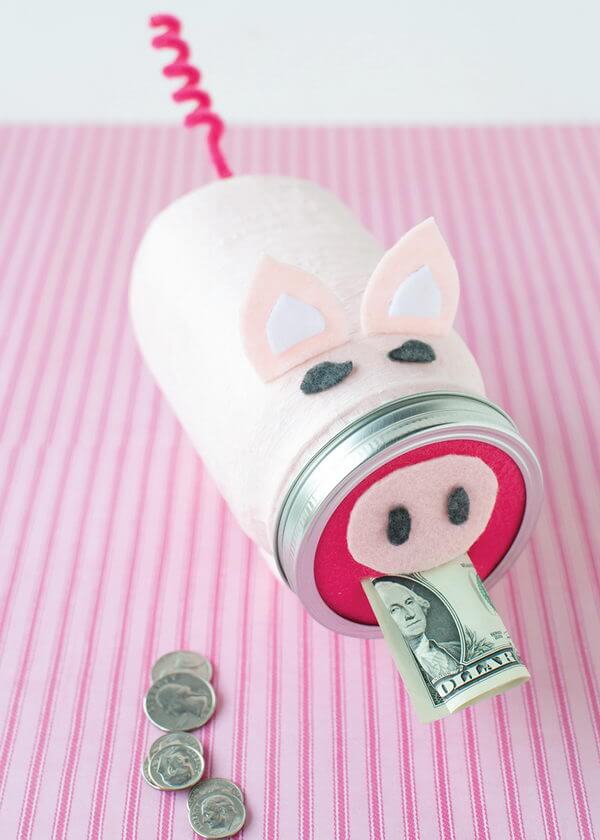 Those of you who are crafty may opt to make your own money bank! This design uses felt and a jar to create the classic pig theme. It can even hold bills in its mouth for you!
26. Harry Potter Money Coin Box
Saving money always feels like magic, but that's especially true with this Harry Potter coin box.
Whether you're a fan of the books or the movies or both, Harry will keep your change safe.
27. Tiffany and Co. Piggy Bank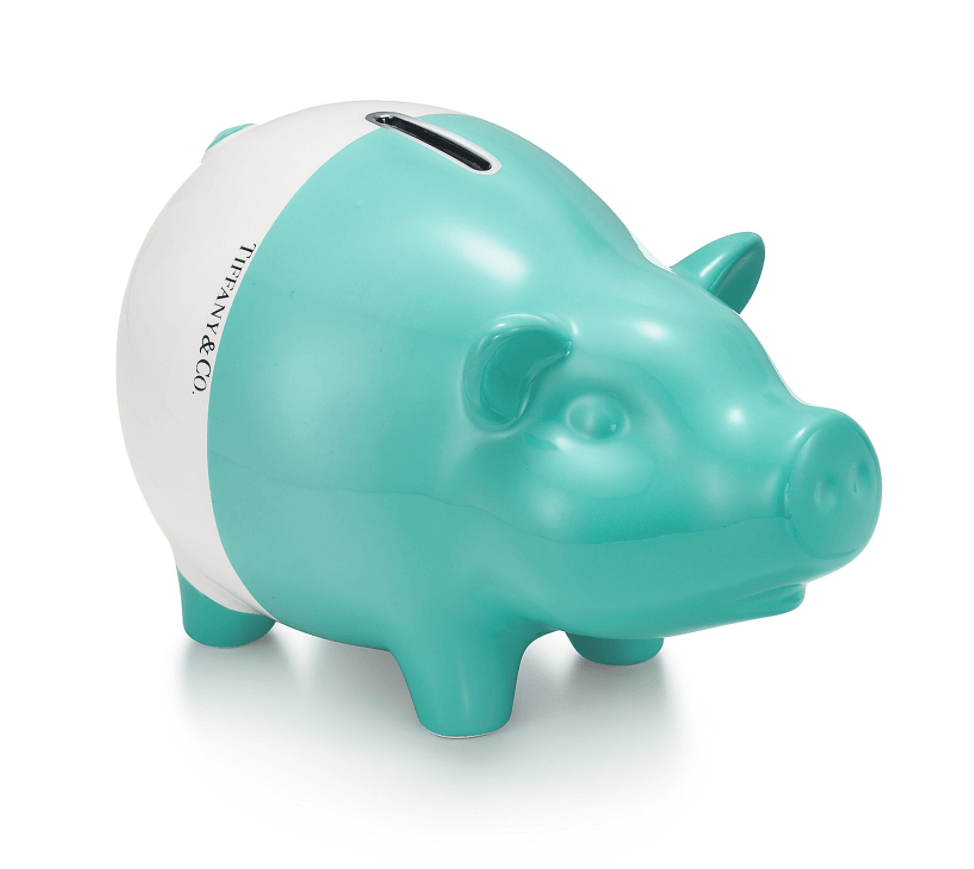 Tired of pink? Maybe it just doesn't fit in with the rest of your decor. This Tiffany & Co. money savings jar is still shaped like a pig, but it's a mix of turquoise and white.
28. Disney Stitch Money Bank
Disney fans will be delighted with this super cute Stitch coin bank. Saving money is more fun when you have a charming, blue alien to help!
29. Disney Winnie the Pooh Piggy Bank
Here is another option for Disney fans. You haven't seen something quite like this before!
This one features Winnie the Pooh with his hands in the honey jar. Maybe if he was better at saving, he could afford to buy more honey!
30. Clear Jumbo Glass Coca Cola Piggy Bank
What if you want to have an idea of how much money you've managed to save? This one-of-a-kind clear Coke bottle will allow you to see your savings pile up in real time.
31. DC Comics Batman Bank
Comic readers, here is a Batman money box for you – you won't regret this little guy! It features a chibi version of the wealthy superhero looking sullen. Perhaps he would cheer up with more change.
32. Stealing Coin Panda Bear Bank
What if you just find regular old change banks to be really boring? This one sneaky has a panda that will "steal" any coins placed within its reach.
33. DIY Unicorn Panda Money Jar Craft
Adults can have fun with mason savings jars too!
If you are crazy for pandas, but prefer to go the do-it-yourself route, why not make these cute jars? You can customize their designs in whatever way you like. Cute designs like this can really encourage kids to save money.
34. Crochet Tissue Box Bank
Remember the upcycling trend? If you still are into that, take a look around and see if you have an empty tissue box. Then crochet a soft, cute pig to guard your hard-earned savings.
35. Silver Airplane Piggy Bank for Kids
Saving for a trip? Why not use this airplane bank? Keep adding your change to it every day. Then, who knows where it will take you someday?
36. Unbreakable Football Piggy Bank for Boys and Men
Maybe you want to teach your kids how to save, but they are too rough and rowdy to be trusted with a fragile glass jar. No worries! This football change bank is designed to be unbreakable.
37. Lucky Owl Money Bank
Did you know that owls are associated with luck, wisdom and wealth in many cultures? This beautiful owl will watch over your savings with its wide eyes.
38. Spongebob Coin Saving Bank
Bring back your childhood memories with this classic yellow sponge!
Spongebob Squarepants has delighted children for two decades now, so it's no surprise the character can be a great motivator for kids to start saving money while they're still young.
39. Good Luck Gold Money Piggy Bank
Here's another animal associated with wealth: the humble wealthy pig! Yes, in some cultures pigs are thought to bring good fortune. This one is also gold. It's a good choice for superstitious savers!
40. Sonic Piggy Bank
This Sonic the Hedgehog bank is another great choice for gamers. This character is known for collecting rings, but who's to say he can't collect quarters as well?
41. Soft Plush Unbreakable Shark Coin Bank
Sharks aren't usually considered cuddly creatures, but this shark plush bank is perfect for young kids or even adults who love stuffed animals. Let them feed their spare change to this great white!
42. Black Polar Bear Piggy Bank for College Students
Last on the list is a black polar bear piggy bank aimed at college students. Can spare change fund university classes? Maybe not, but it's a start. You know what they say, the journey of a hundred miles starts with a single step!
Can adults use piggy banks?
You might be going through this list of piggy banks and wondering to yourself whether adults can or should use piggy banks.
After all, some may think that piggy banks are just for kids. However, that is not true at all. I know many adults from ages 20s to even 60s who count on their piggy banks to help them save more.
In fact, I highly encourage using a piggy bank if you feel that it's going to help you reach your savings goals. A survey by Ally Bank also shows that there is a direct correlation between savings and happiness in adults over 25. So, if investing in a piggy bank is all you need to get pumped up and back on track with your savings to become happier, then it is worth buying one.
In short, the answer is yes. Of course, adults like you can buy and use a piggy bank to help you increase your savings. You make more money now than you did when you were a kid, teen, or student, and you have more reasons to save it. As an adult, using a piggy bank brings a sense of nostalgia from when you were a kid, and it allows you to save your money in a fun and more happy way.
What are the best piggy banks for adults?
The best piggy bank is the one that makes you happy and works for you. It all depends on what you like.
If you like cute piggy banks, then go ahead and get a "cute" one. If you like superheroes or movie characters, get a piggy bank that represents your favorite character. If you want a large piggy bank that is simple and holds a lot of coins like this one, then get one.
No one's judging you. The best piggy bank is the one that appeals to you and I'm sure there is at least one coin bank from the list above that gets you excited about saving more money!
What else is the piggy bank called?
A piggy bank is also called a penny bank, or money box. A piggy bank is different from a savings bank which is in the form of a building. Piggy banks are made out of plastic or ceramic and may have a rubber slot for inserting coins, also called coin slots.
What is the meaning of a piggy bank?
A piggy bank is a container for storing money. It is typically made of ceramic or plastic and is shaped like a pig, with a slot in the side where money can be inserted and stored.
A piggy bank is often used by young children as a way to teach them about saving money and spending wisely.
Older children and adults may also use piggy banks to store their money, either for everyday use or as a retirement savings account.
As the popularity of piggy banks has grown over the years, there have been a number of different designs and styles developed.
Some piggy banks are made to resemble animals that children like, such as dogs, cats, or cows.
In Asian culture, the lucky cat, or Maneki Neko, is a popular choice for piggy banks.
Other styles of piggy banks are more elaborate, featuring intricate designs and bright colors. Some even have electronic features that allow the money inside to be dispensed automatically when a sensor is triggered by inserting cash in the slot on top.
Is it better to save money in a bank or piggy bank?
There is no right or wrong answer to this question, as the best way to save will depend on a variety of factors, including your personal preferences and saving goals.
Some people may prefer traditional piggy banks made from ceramic or plastic, while others may find digital options such as online savings accounts or saving apps a better choice. The best part is that you can use both!
I personally set up an automated system where most of my savings go directly into my savings account at the end of each month from my paycheck. On top of that, I use these best cash back apps to help me bank a few extra hundred dollars a month. Lastly, I also like using my big lucky cat piggy bank to toss in my spare change, which adds up to hundreds and even thousands over the years.
What is the fastest way to fill a piggy bank?
The best way to fill a piggy bank is to think hard about your short-term and long-term financial goals so you can start saving your money as soon as possible with the right strategy. It also helps when you learn about these creative ways to look for free money!
Not only that but finding ways to earn an extra $500 a month or even as high as $500 a day (yes, it is possible) can help you go a long way to save more!
Along with making extra money, you can create a smart budget plan that aligns with your financial goals and think about how to spend your money more intentionally going forward. Don't forget to check out this list of things to stop buying that will help you speed up your budgeting and savings plan.
When you start with zero savings, or even a negative amount because of your debt and loans, saving money and filling up your piggy bank can seem like a daunting task.
However, the best way to save money and fill up a piggy bank is to start small.
Take five to ten dollars out of your paycheck and put that towards your savings. Reduce the amount of money you spend on daily fast food and coffee drinks by using these free Starbucks coffee hacks.
As you're getting started, buy one of the smaller-sized piggy banks on this list and see how much you can save in a month or two. Challenge yourself to fill up the small piggy bank first before filling up a bigger one. Once you get into the habit of saving, it will only get easier.
Wrap Up on Adult Piggy Bank Ideas
Whichever adult piggy bank you choose from this list, we guarantee that you'll fall in love with budgeting and saving money. With these cool one-of-a-kind coin banks for adults, starting a savings plan won't feel like a chore for you (or your kids)!
Well, I hope this article inspires you to pick up your lucky piggy bank today!
For more personal finance and money tips, be sure to follow Finsavvy Panda on Pinterest here and dive into my most popular pages about saving money and making extra money.