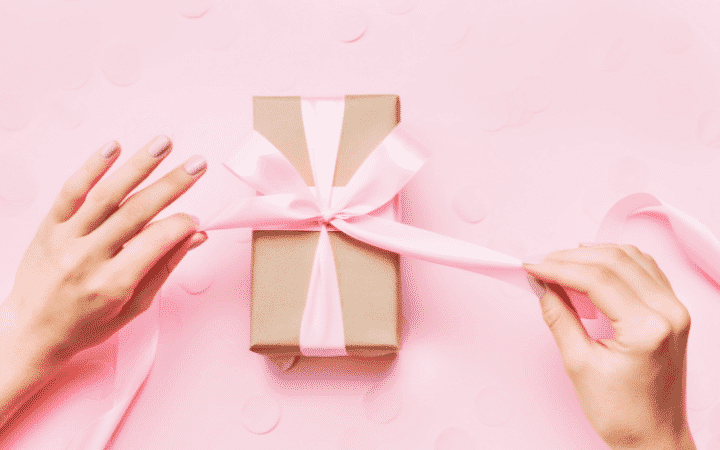 This post may contain affiliate links. Please read our disclosure policy for more information.
We're always asked by our readers about the most creative ways to give money as gift, whether it be for Birthdays, Graduations, Christmas or Valentine's Day, and that's why we also have a separate listicle of money gift ideas for you.
It's no doubt that money is a great gift that you can give to anyone, and giving green is a great way to save money and especially your time. Just think of all the money you will save by not shopping for hours on end.
You spend money on gifts on top of spending money to get to the store or ship a package. Furthermore, all the time you spend shopping is less time with your loved ones. That's the point of those special occasions anyway.
Holidays and other special occasions are a time for giving. The problem is always in knowing what to give. There's nothing worse than watching an unenthusiastic unboxing. (Well, besides knowing you wasted money buying a gift that someone never wanted.)
The Money Gift Box Idea
The answer is simple: give the gift of money. Gifting money is fun, exciting, and gives you a chance to express your creativity. Let's face it: money is a practical gift. And there's nothing wrong with practicality.
Everyone wants money. Everyone can use it. And everyone will find some way to spend it. Whether you're thinking about gifts for Christmas, Valentine's Day, birthdays, or graduations, granting someone the freedom to buy the gift they want is the greatest gift you can give.
Let's dive into these fun money box gift ideas so you can creatively give cash as a present.
1. Money Puzzle Maze Gift Box
If you like puzzles, this money puzzle gift box could spark some joy for you as the gift giver. This three-inch cube is slightly bigger than a Rubik's cube, though it's unlikely to take as long to solve.
We also have a list of more fascinating money puzzle box ideas for perfect for adults and even teens.
The spatially aware may have the easiest time getting to the gift, but everyone loves a good puzzle. You tilt the cube and move a ball through the maze to solve it.
You can store a gift card or a few bills (if folded correctly) in this money puzzle. It also comes in a cute cardboard box.
It takes patience to get to the gift at the center, so there's the bonus of feeling accomplished. (Talk about working for your money!) The recipient could play around with this cube all year, hiding any small paper item in its vault.
2. Brain Teaser Money Box Gift
Another maze for the masses, this brain teaser money box gift is fun for children and adults. Since the maze is clear, you can keep your eyes on the prize the whole time.
A second-dimensional puzzle, you tilt it back and forth to move the ball through the maze. Once you trigger the flap, the gift is yours.
Gift preparation is simple: you insert the paper gift into the envelope-shaped puzzle. You can put checks, gift cards, or cash in this portable brain teaser. You can fit any flat paper gifts behind the brain teaser, like a ticket to a special event.
It's possible to solve this fun brain teaser in one sitting, but it's sure to frustrate some. This puzzle is the perfect vessel for your money gift if you want to see someone's eyes light up when they finally get to the prize.
3. Adult Money Coin Box or Piggy Bank Gift
This six-and-a-half-inch tall wooden money box is a piggy bank intended for adults. Its simple design and durability really make it fit for just about anyone who's saving money.
To give you more selection, these cute and unique piggy bank ideas, including a couple of box-shaped coin banks, will impress any recipient when it comes to gift giving.
The wooden shadow box holds bills and coins and is easy to open. You can remove the cash without 'breaking the bank.' You just twist the easy-twist tabs on the back of the bank.
This Plexiglas-fronted bank features the words 'Make Your Dreams Happen.' You can set one of five pictures as the background, or you can personalize it with a picture of your own.
Since it's clear, you can see how much you have saved at all times. Likewise, the receiver can see how much money you gave them for that something special they've been saving up for.
Saving money is easier when you have a place to put it. It's easier still when someone starts saving it for you.
4. Pizza Box Money Gift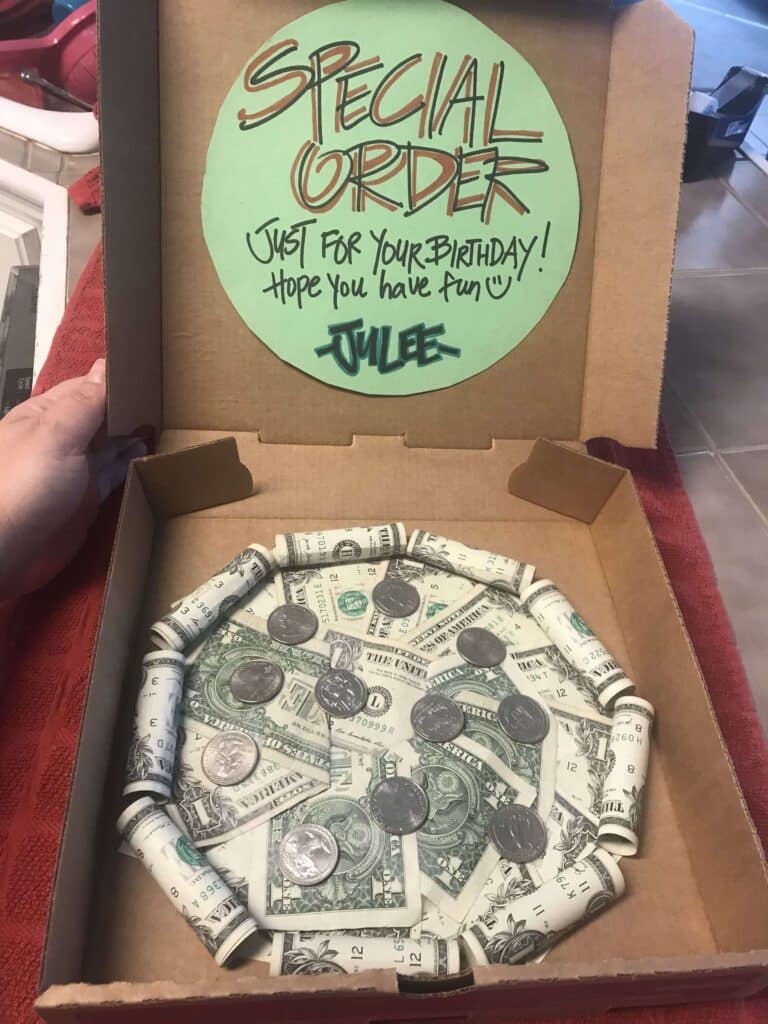 Ideal for holidays and birthdays, building a pizza made of money is a creative and freeing experience. You can decorate the inside of the box however you like. And you can use the money you have to build your creation.
Dollar bills make up the 'dough,' and coins are the 'toppings.' You tape it all together with regular or double-sided tape.
There are a few different ways to design the pizza. One way is to lay all the bills flat in a circle. A layered-money pizza gives it a fuller look and will have eyeballs popping. You could even roll the ends of some of the bills to make the crust.
Finally, you could top the center of the pizza with a bow. You decorate the inside of the box with colorful paper and a happy note. Suddenly, you have a pizza box money gift, ready for any special occasion.
5. Pull Out Money Tissue Box Gift
You can give a money tissue box gift at any time and to anyone. You can gift however much you like (i.e., however much you can afford).
You start by opening the side of the tissue box and removing the tissues. Then, you tape the box back up and decorate the outside.
The guts of the gift are the bills. You tape them together along with pieces of bill-width paper. The paper is decorated with downward-pointing arrows. The arrows keep the recipient pulling at the strand of bills until the end.
The tab at the top of the money roll contains an encouraging message. You roll it up and stuff it in the box. Lastly, you conceal the gift with tissue paper you stuff around the tab.
6. Pull Out Birthday Cake Surprise Money Box
Perfect for any occasion involving a cake, this money gift box helps you hide the money in the cake. This 4x2x2 inch gift box holds rolled-up dollar bills in clear plastic within the cake and fits all sizes of cakes.
You put the money you want to gift into the plastic pockets. Then you roll it into the money box, add the lid and topper, and stuff it into the cake.
The birthday money gift box comes with fifty connected sheets. Each can hold one bill. You can also put notes or personalized coupons in the protective pockets.
You can select from three different toppers: one for birthdays, one for graduations, and one for cards. The card topper can hold a card or a photograph. You don't have to use all fifty pockets either. You simply cut the plastic where you want the money roll to end.
7. DIY Hello Kitty Gift Box For Money, Gift Cards, and Anything
If your recipient happens to be a Hello Kitty or cat lover, you can easily pair any Hello Kitty gift ideas, or even a Hello Kitty piggy bank, along with some lucky money or a gift card to their favorite retailer.
We love the idea of this DIY Hello Kitty gift box because you can easily slip in some surprise cash.
You make this DIY money gift box from paper and glue. Start with two square pieces of paper, one slightly larger than the other.
You fold both pieces in half both ways and diagonally both ways, opening it after every fold. You then fold the four corners into the center, creating a smaller square.
From here, you fold the top and bottom inward to make rectangles. You open, turn, and repeat the folding pattern. You pull in the corners of the smaller square and unfold them.
Use the creases to create a hexagon with two long sides. The box and lid are completed by bringing the points to the center.
You draw on two eyes, a nose, and whiskers. You cut out a rectangle, half-circle, two small circles, an oval, and a bow and glue them into the proper places. Once it dries, it's ready to hold any small gift.
8. DIY Money Chocolate Box
What's better than a money box gift? Answer: a money-chocolate box gift. This DIY money gift box contains rolled-up bills and (preferably) high-end chocolates.
This money box gift requires a wide square box. You can make the box or buy one. After all, the fun part is arranging the money and the candies.
The number of bills you use depends on the space you have to fill. You roll up the bills and make them look like very short straws. You then tape them to themselves. You should use small amounts of tape, just enough to keep them from coming undone.
The rolled-up bills go on one side of the box, and chocolates go on the other. A shallow box will help the chocolates and bills stay in place. Candy lovers will love that you remembered they have a sweet tooth.
9. Starbucks Cup with Gift Card Money Box Holder
Perfect gift for the Starbucks lovers, or any coffee lover, the Starbucks gift card or cup holder will not fail to impress.
This Starbucks-themed DIY money gift box by Scrapdiva29 does not look like a box. It actually looks like a cup carrier, which makes it more unique than just giving a box.
You start by making a cardstock or cardboard cup carrier. You cut out an oval hole for carrying and make a fitted holder for the base of the cup. (You can perfect this creation with dies and hole punchers, but you don't need these things if you want to make it happen.)
Next, you decorate. You glue two strips of decorative paper, one around the base and one below the handle. You slide the gift card or cash behind this upper strip of paper, and it gets hidden behind a tiny, decorated cup.
You top off the gift with a decorative straw, a flashy gift tag, and a bit of twine. This money gift idea is truly unique. It's likely to turn a few heads and catch a few people off-guard.
10. DIY Unicorn Money Box Gift
Looking for the perfect and cute unicorn gifts for that special woman or girl in your life?
There's nothing more magical than free money. Well, besides a unicorn. This DIY money gift box features a unicorn with three-dimensional parts.
You start with a piece of craft foam and a jewelry gift box. You cut out a tall triangle from the craft foam to form the horn. You use tacky glue to attach the horn to the top of the cover.
You then glue pom-poms around the horn to form the hair. You use a black marker to draw on closed eyelids, eyelashes, and pointed ears. At the bottom center of the cover, you make a half-circle to form the nose and use two black dots for the nostrils.
Once the unicorn's sleepy face is complete, you can decorate the box further. Finally, you place your money gift inside the box and give it away.
Another creative way to give money is to pair it with one of these cute unicorn piggy banks. Instead of using a box, you can hide cash inside the unicorn-themed coin bank.
FAQs about the money box gift idea:
1. What is a fun way to gift money?
Even though giving money is practical, the way you gift money can be fun and even impractical. Money gift box ideas are plentiful and fitting for any special occasion. It can also be loads of fun for you and the recipient.
You can decorate boxes to match the personality of the receiver. This is a little more personal.
You could put money inside a puzzle and turn earning gifted money into a mental workout. There are dozens of money puzzle gift boxes, and most are large enough for a few bills or a gift card.
You could put the money in a place where no one would expect to find it. For example, you wouldn't expect money to come in a box that advertises something else.
There are loads of fun ways to cram money into unexpected places. One method is the money pull box.
2. How do you make a money pull box?
Some money box gift ideas require streaming together dollar bills. You can buy or make money pull boxes.
You can save money by finding the building materials around the house. Just about any box will do so long as there's a hole in the top.
You use tape to connect bills and other pieces of bill-width paper. Then you put a tab with a note on the top end. Once everything is connected, you roll the money streamer from the bottom to the top. Then you put it in the box.
You can use small bills and large bills, and you can make a strand of money with no filler paper if you desire. A box of tissues can become a box of bills. A bow can become a pull tab. The possibilities depend on your imagination.
Wrap Up on Money Gift Box Ideas
Gifting cash, money or gift cards inside a pretty gift box is considered a practical present. It also makes gift giving fun for any special occasion such as a birthdays, job promotions, Weddings, Valentine's day, and Christmas. Regardless of the occasion or holiday, you can surprise any special person at anytime in your life with a load of cash or coins inside any of these gift box ideas!
Whether you choose to make it yourself, or buy it from a retailer like Amazon, we guarantee that the recipient you're thinking about will find these gift ideas both practical and useful!
Want more gift ideas?
If you're looking for a birthday, graduation, Valentine's, anniversary, or holiday gift that won't break the bank, we have a list of the best and most practical budget-friendly gift guides here for you!
We hope this article helps you pick out, or create, the best money gift box for that special someone!
We are a personal finance blog helping you to find the most optimal ways to budget, spend less, save money, and make extra money. For more personal finance and money tips, be sure to follow Finsavvy Panda here on Pinterest!