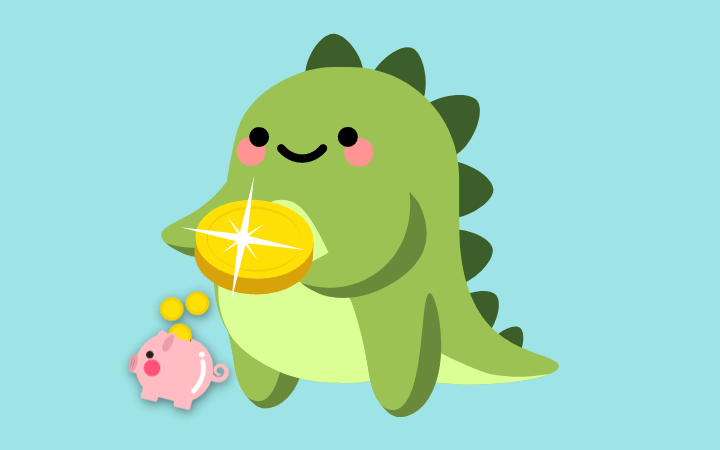 We will receive a commission if you make a purchase through our affiliate link at no extra cost to you. Please read our disclosure policy for more information.
Did you know that dinosaurs roamed the earth for 165 million years?
That means if a gentle giant like the brontosaurus had put a penny in his piggy bank every day for the time period dinosaurs existed, he would have saved $602,662,500. Imagine all the private dinosaur jets and dinosaur mansions that kind of dinosaur money could buy.
Of course, we're just having silly fun with math here, but the fact is, saving money for the future is important.
Whether you're age eleven or seventy-seven, a piggy bank is a fun and effective way to help build solid financial habits – and your savings – over time.
In our fast-paced world of debit cards and digital payment platforms, physical coins are still money. And as you may or may not know, a penny saved is a penny earned, so why not invest in a fun dinosaur piggy bank and learn the importance of saving money and budgeting for beginners.
It also doesn't hurt looking for creative and fun ways to earn extra money with a hobby, so you can watch your savings grow even faster!
Best Vintage Dinosaur Piggy Banks That'll Inspire You To Save Money
This list of twenty dinosaur piggy banks should inspire you to get excited about saving money while having fun doing it.
Whether you're looking for your own dinosaur bank or searching for a unique money or cash gift for someone special, you'll find great ideas here for all ages.
If you're looking for more piggy bank ideas for kids, teens, and even adults (yes, ADULTS too), we've got them here for you. These money coin banks will sure help you kickstart your savings plan:
1. Wooden Dinosaur Piggy Bank
What's more fun than being able to see your savings build up? This clever wooden dinosaur bank features a glass front so you can keep an eye on your treasure.
2. Large Electronic Dinosaur Piggy Bank for Kids
Kids will love this magical green box dinosaur coin bank with its very own password touchpad and pretend fingerprint sensor. The deposit slot is large enough to accept coins or bills!
We also have more electronic piggy bank ideas here that come with a password lock code.
3. Cute Plastic Green Dinosaur Piggy Bank
This smiling dinosaur friend makes a great companion for kids learning to save or adults wanting a conversation piece on the dresser. Drop your coins in the slot and fill your friend with happy savings for a rainy day.
4. Personalized Dinosaur (Tyrannosaurus Rex) Piggy Bank with Your Name
A personalized Tyrannosaurus Rex bank is a great gift idea. This fun bank can be customized with any name or word and has a large glass front for you to watch your savings grow!
5. Ceramic Triceratops Dinosaur Piggy Bank for Boys
This baby boy blue Triceratops bank evokes the feeling of a classic piggy bank with its shiny ceramic finish. It's perfect for a boy's nursery or for anyone who likes an adorable, vintage look.
6. Toy Story Rex Dinosaur Coin Bank

Saving has never been more fun than with this large sized bank inspired by Rex from Toy Story. Drop your coins and bills right into Rex's mouth. Watch out for those teeth as he gobbles up your fortune for safe keeping!
7. Make Your Own T Rex Money Coin Chomper Piggy Bank
A great way to save money and have fun is to make things with your own hands. This fun T-Rex bank project is easy and you'll love dropping your spare change into this cute fellow's mouth.
8. DIY Wooden Dinosaur Money Bank
Is your Grandpa spending a lot of time in his woodshop lately?
He might just be making you one of these lovable DIY dino-banks. After all, Grandpa knows how important it is to save for a rainy day.
9. Blue Dinosaur Big Belly Piggy Bank from Etsy
Tall dinosaurs have giant bellies to keep them well fed and happy. This 20" blue giant is no exception. Watch your savings grow in his happy round belly. Your name can be added on his side for extra fun!
10. Yellow Plastic Dinosaur Piggy Bank
This cute plastic resin dinosaur looks like a hungry baby waiting for you to drop some "money food" into his tummy. This is a great gift for kids you are teaching about money and finances.
11. Handmade Dinosaur Piggy Bank from Etsy
This handmade, colorful dinosaur coin saver has an artsy design that is ideal for savers of any age. Choose your favorite color or get several for different rooms around the house.
12. Blue Godzilla Dinosaur Stealing Coin Bank for Boys
This moving, musical Godzilla coin box is so entertaining, you'll be searching through your couch cushions for extra coins to drop into it. Stand back as Godzilla emerges from the ocean and steals your coin!
13. Pink Dinosaur Piggy Bank for Girls
Kids of all ages will love entering a PIN and making cash deposits into this delightfully decorated electronic savings bank. A variety of musical selections play each time you insert a bill, and it takes coins, too. We've got more cute piggy banks for little girls, which we know they will love!
14. Kawaii Dinosaur Money Bank with Paper, Glue and Recycled Material
Want to teach your child how to save money and recycle at the same time? Try this fun project and make a fun dinosaur money bank with cardboard and newspaper.
15. DIY Dino Fund Dinosaur Coin Bank
Do you know someone who collects everything and anything dinosaur related? Make this nifty "Dino Fund" coin box as a gift they can use to save money specifically for their dinosaur obsession.
16. DIY Dinosaur Coin Savings Bank
This make-it-yourself dinosaur coin collector is inexpensive and simple. All you need is some cardboard and a jar! Watch your coins travel from his mouth into his belly and learn how to be creative and frugal at the same time.
17. Large Porcelain Dinosaur T-Rex for Kids
Teach your kids about the importance of saving by making it fun with this friendly ceramic dinosaur savings bank. With its large inside cavity, your kids can collect some serious cash!
18. Cute and Funny Dinosaur Coin Saving Piggy Bank
This jolly giant of a dinosaur has an extra large compartment and can collect hundreds and hundreds of coins. He's cute, he's hungry, and he's shatterproof! Fun isn't just for kids, you know!
19. Orange Red Dino Toy Piggy Bank
A red dinosaur with a white belly and purple stripes is just what everyone who loves off-the-wall decor needs. But this fellow isn't just handsome. He's helpful. He can help you start saving today!
20. Vintage Dinosaur Piggy Bank 4 Set Coin Bank for Kids
What young future millionaire wouldn't love a set of four vintage baby dinosaur banks? Put your quarters in baby brachiosaurus. Drop your dimes in little stegosaurus. And so on!
Wrap Up on The Best Dinosaur Piggy Banks (Personalized, Wooden, Vintage, Plastic, Ceramic, etc.)
We hope you enjoyed this list of the best dinosaur piggy banks for kids, teens, and adults. Again, no matter what age you, it's never too late to invest in a piggy bank to start saving money!
You can even gift them as a unique present for that special someone in your life! Regardless of which one you buy for that special person, each one of these dinosaur money coin banks will make the perfect gift encouraging and motivating kids, teens, or young adults to save money.
Before you leave this blog, make sure to share this page with your friends – they will adore these ideas! 🙂
Looking for more money related gift ideas, or general budget-friendly gifts?
If you're looking for a birthday, graduation, Valentine's, anniversary, or holiday gift that won't break the bank, we have a list of the best and most practical budget-friendly gift guides here for you!
We are a personal finance blog helping you to find the most optimal ways to budget, spend less, save money, and make extra money. For more personal finance and money tips, be sure to follow Finsavvy Panda here on Pinterest!