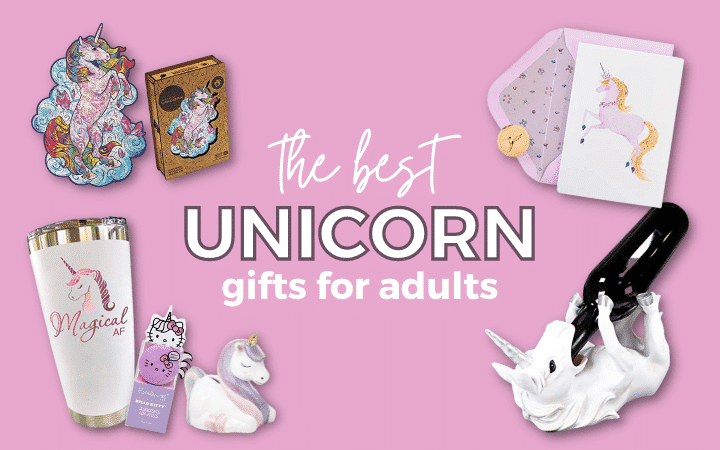 We will receive a commission if you make a purchase through our affiliate link at no extra cost to you. Please read our disclosure policy for more information.
Looking for the best and unique unicorn themed gifts for the adult — or any unicorn lover — in your life can become a full-time obsession.
The beauty of this niche market is that there are plenty of other unicorn lovers out there who have made amazing, artistic pieces, both practical and whimsical, to satiate the desires of whatever field your particular unicorn lover might be into. Decorative tabletop trinkets are popular with many collectors, as well as things like salt and pepper shakers, snow globes, or tea light holders.
The Best Unique Unicorn Gifts For Adults and Unicorn Lovers
We're going to go deeper than the surface with this curated list, however. This list of the best unicorn gifts for adults is going to look into the more practical side of a unicorn lover's life. Some of these gifts can be great desktop decorations, for sure, but they all have a secondary purpose that make them indispensable to anyone.
Keeping in mind that we're all working on a budget these days and unicorn gift bucks cost the same as every other buck we spend, all the gifts on this list will also be under $35. You will be proud of your choice of gift and be proud of yourself for sticking to that gift-giving budget you laid out before you started shopping online.
Because it's so easy to spend, saving some money while getting some gifts for unicorn lovers may not be easy, but we'll help you out while saving you some time too. After all, we are a blog about personal finance and saving money, so lucky you, we'll be handholding you to choose an affordable gift, without breaking the bank, that your unicorn friend will love and appreciate.
So, whether you're shopping for birthdays, holidays, or just for fun, you'll find both great value and fascinating finds coming up. Without further ado, let's get into the best unicorn gifts for adults – particularly for women.
Be sure to pin this Magical Unicorn Gift Guide for Grown Ups on Pinterest!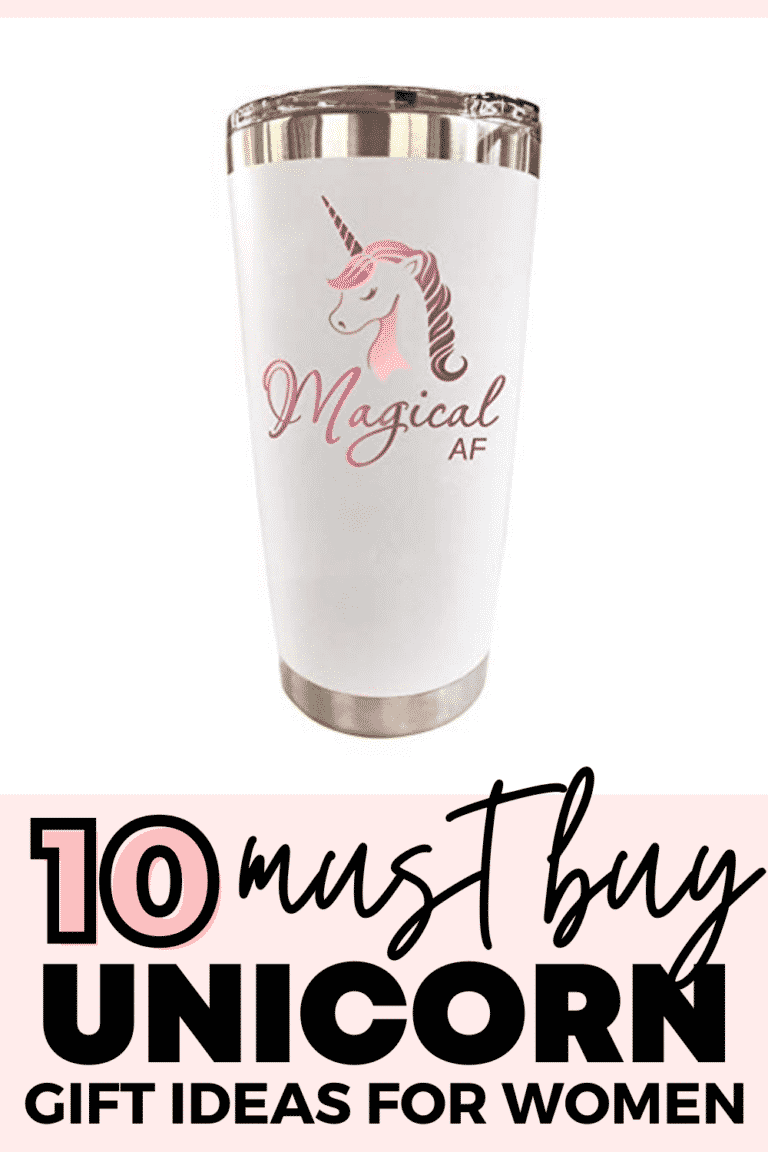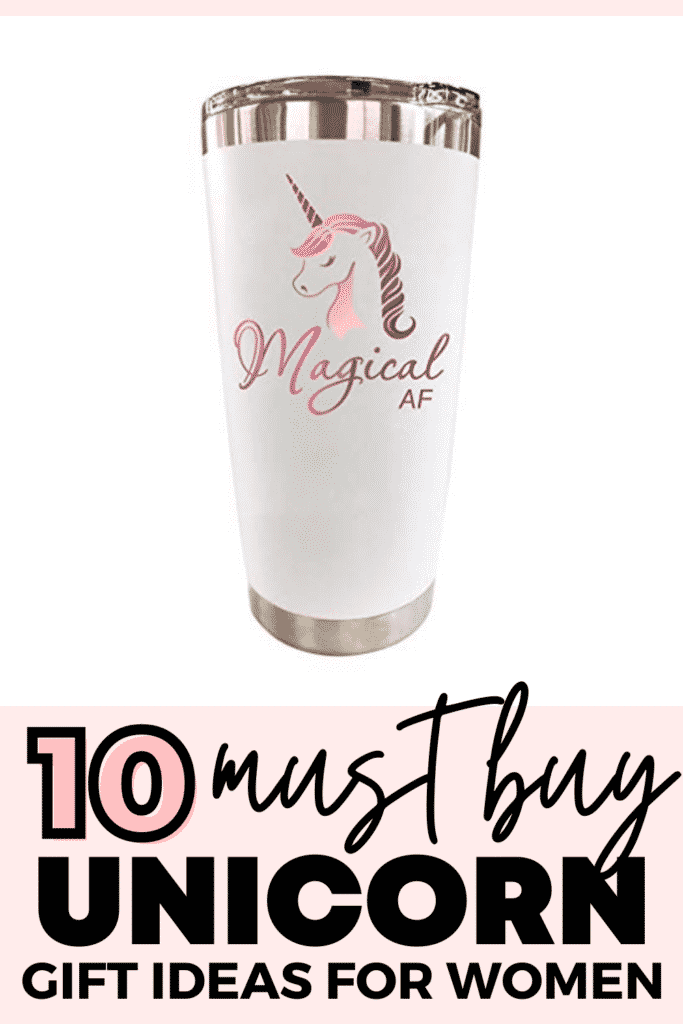 1. A Unicorn Card for Any Occasion
These cute, multipurpose cards from Papyrus top our list of unicorn-themed gifts because they're perfect for those who are looking for thoughtful, unique and creative ways to gift cash, money or gift cards.
They're blank on the inside, allowing you to make any impression you want to make with your words. They also come with metallic gold stickers to seal the coordinated envelopes. The entire package of ten cards, envelopes, and stickers comes in a decorative box.
This would be a perfect gift for a writer, a teacher, or anybody you know who collects pretty stationery. If you choose to keep them for your own office collection, we promise not to tell anybody. For unicorn lovers, the beautiful artwork will draw attention while providing a themed card in your very favorite theme.
As mentioned, this practical gift is also a great choice for those who are last minute shoppers who want to insert money or a gift card inside, which will help you stick to your desired budget too. With the combined value of beauty and price, this is one of our favorite picks in the best unicorn gifts for adult's category.
2. Unicorn Piggy Bank
Alright, so maybe this one fits into the decorative trinket category, but it's just so darn cute that we couldn't resist. In our defense, it's also a large unique piggy bank for adults, which makes saving money that much easier, and we really like that too. With a classic ceramic finish and that too-cute Kawai-style face painted in gold, this is one unicorn trinket that we don't think can be overlooked.
This could be a great unicorn gift for her, and it would make a wonderful addition to any collection for unicorn lovers in general. We also have a list of the best unicorn piggy banks for more selections from Amazon.
This unique unicorn piggy bank is made of glazed ceramic, so it shouldn't be used as a toy or a centerpiece where kids can reach it.
The price is pretty cute too, which is just one more reason why this piggy bank by Precious Little Lambs made our list. Every unicorn themed gift list is required to have at least one of these cute little trinkets. It's in the rulebook; trust us.
3. Unicorn Tumbler for Coffee Lovers
Add in a unicorn themed decoration and you have a perfect unicorn gift for women!
This double-walled, vacuum-insulated cup has a 20-ounce capacity and a stainless steel interior. Like all unicorns and unicorn lovers, it's truly "Magical AF."
Coffee tumblers, mugs, and thermoses make sure-fire gifts for any coffee lover, or even the Starbucks obsessed coffee or tea person, on your gift list.
When you're a coffee lover AND a unicorn lover, gifts like this are gold. Busy professionals and stay-at-home moms alike can use this practical gift, and you could make it even more practical by adding a small coffee sample or some tea bags inside the box. It comes with two metal straws and a spill-proof lid, so it's made for busy lifestyles.
The price is budget-friendly too and it's made by KLUBI, makers of all kinds of creative gifts. For a well-made, entertaining, and pretty unicorn themed gift, you can't do much better than this pick.
4. Hello Kitty Unicorn Lip Balm
One of the most popular fandoms in all of reality is Sanrio's Hello Kitty.
This Japanese juggernaut could only do one thing to make it even more popular. And then, they did it. Unicorn Rainbow Sherbert is the flavor of this lip balm, making it both a wonderful unicorn themed gift and a Hello Kitty fan favorite.
Everyone who suffers from dry skin, particularly chapped lips, will appreciate this gift. There is a sweet appeal to the Hello Kitty packaging, and when combined with the unicorn theme, these would make great unicorn gifts for her and him alike. The Crème Shop makes all kinds of makeup and lip dressings, so you know that this is a formula you'll enjoy giving or keeping.
This cute little gift is price-friendly, making it a very affordable gift for the unicorn lover in your life. The unicorn Hello Kitty packaging might make it worth even more to those who appreciate good art.
If you know someone on your gift list who's a Hello Kitty or cat lover, then be sure to check out our top irresistibly cute Hello Kitty gifts for adults.
5. Unicorn Flannel Fleece Bed Blanket
Only one thing goes better with unicorns than sparkles, and that's fleece blankets. Well, here you go. The combination of glittery rainbows, fleecy comfort, and one great big purple unicorn makes this blanket from BLUBLU a definite soon-to-be-favorite gift.
In colder months (or colder climates), this big fleece throw will certainly be welcome. But, even if your unicorn lover isn't anywhere cold, having a cuddly, comfortable blanket to snuggle with is something almost all of us enjoy. It comes in two sizes, 50"x60" or 50"x40", and both are the same machine-washable 100% polyester fabric.
Not to mention, these are incredibly affordable additions to any unicorn collection. As a gift, you can't do much better than to offer comfort, warmth, and sparkles, all for a budget-friendly price. This is definitely one of the best unicorn gifts for adults.
6. Unicorn Farts Table Candle
There's very little to say about candle lovers other than that they like to mask scents with other scents. What if you could help them find the perfect scent to mask anything, and it was unicorn themed to boot? Well, look no further than the Unicorn Farts Candle by S&M Web Widgets.
In the realm of gifts for unicorn lovers, the practical gift is a unicorn itself. So, there's some pride involved in finding a gift that is both useful and wonderfully unicorn inspired. The actual scent is fruity, like a cereal we all know and love. There are three sizes to choose from, based on what size of scent your unicorn lover is looking to cover.
The price varies dependent on the size. Any of these would make great unicorn gifts for women or men. They're sure to love the humorous tone, and you're sure to love the great price.
7. Inspiring Unicorn Wooden Puzzle
This selection comes in at the higher end of prices on our list (still very affordable), but it is also incredibly high on the "wow factor" scale.
UNIDRAGON has made a wooden puzzle of a rearing unicorn that is both inspiring and fun to complete. On top of the cool shape of the puzzle, each of the puzzle pieces is made into individual shapes of various animals and objects.
Puzzles are a perennial favorite gift for those people who love tabletop games and artwork. If those people on your list also happen to be unicorn lovers, then this is the perfect gift for them. Everybody loves a puzzle, really, and when it comes in such a pretty package with such a cool theme, this is sure to be a winning choice.
If you like this one, they have several other fantasy designs that are sure to please everybody you have to buy for.
8. Unicorn Coloring Book
A fairly recent trend in self-care is coloring for adults. This is just one of many examples of coloring books made for adults available on Amazon.com. We chose this specific one for the beautiful imagery on the cover, which makes it a beautiful gift for packaging and wowing the unicorn-obsessed recipient. It's available in paperback or hardcover.
Coloring combines repetitive motion and color theory to allow your brain to unplug and focus on something relaxing instead of the daily grind. When that exercise also includes unicorns, there's no way to go wrong. Unicorn fans will revel in the beautiful pictures that they themselves can imagine into whatever they want.
The paperback version is cheaper, but and the hardcover version is extremely budget-friendly too, so we recommend the hardcover! For those prices, you can afford to get a couple of them or perhaps a pastel kit to let the unicorn lover in your life explore their artistic tendencies. Whatever medium they choose to use, these high-quality images will provide a template for wonderful pictures to be created at their leisure.
9. MONOPOLY Unicorns vs. Llamas Board Game
MONOPOLY has been a beloved and enjoyable board game for decades. In this colorful version, you don't buy properties. Instead, you buy titles for your chosen animal friend, then you compete to see which one comes out as the most popular, Unicorns or Llamas. It's a bright, fun game, played just like the MONOPOLY you know and love, but with a decidedly cuddly twist.
Unicorn lovers the world over will always choose team unicorn, of course. This game gives them a fighting chance to prove, once and for all, that their mascot of choice is better than a llama. And then they can fight to prove it all over again. Fans of board games, and especially MONOPOLY, will love this gift.
The MONOPOLY Unicorns vs. Llamas game comes in at a wallet-friendly price, making it a very affordable gift for unicorn lovers. This is a very unique and fun twist on a long-time favorite game.
10. Unicorn Wine Holder
Considering all of the practical and impractical items on this list of best gifts for adult unicorn lovers, it's about time we covered the most important aspect of being an adult unicorn lover: wine.
The Ebros Wine of Sacred Purity Unicorn Wine Holder is a spectacular crossover of whimsical and very serious kitchen décor. This simple device holds one standard bottle of wine and looks fabulous doing it.
If you have any wine connoisseurs on your gift list, they will enjoy this wonderful and practical decoration. For unicorn lovers who also love wine, this is an indispensable piece of artwork.
At an affordable price, you can keep your budget and still wow your unicorn lover with style. Make sure to get this cute and entertaining kitchen counter decoration for a wine drinker you know. Then, if you got one for yourself, you and your wine-holding unicorn could sit back and enjoy the fruits of your frugality.
Wrap Up on the Best and Unique Unicorn Gifts for Adults and Unicorn Lovers
Unicorns are magical and mysterious, making them one of the best gifts for any girl, lady, or woman on your list.
No matter which magical unicorn gifts you choose to give to that obsessed-unicorn-lover in your life, we guarantee that the recipient you're thinking about will find these gift ideas both practical and useful!
And whether you're looking for a birthday, graduation, Valentine's, anniversary, or holiday gift that won't break the bank, we have a list of the best and most practical budget-friendly gift guides here for you!
We hope this article helps you pick out the best unicorn gifts for that special someone!
We are a personal finance blog helping you to find the most optimal ways to budget, spend less, save money, and make extra money. For more personal finance and money tips, be sure to follow Finsavvy Panda here on Pinterest!