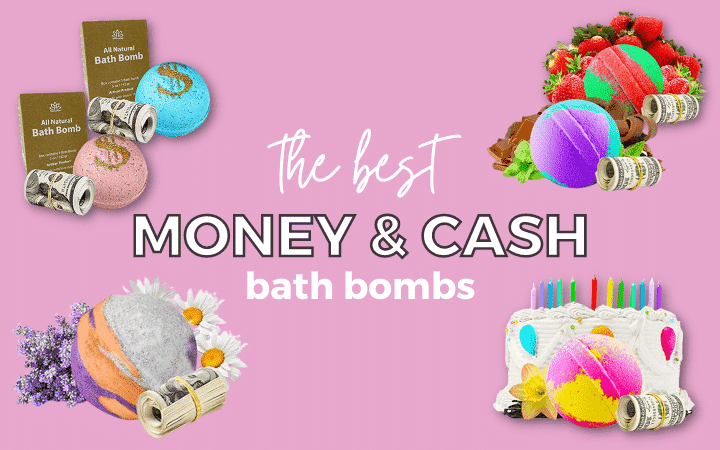 We will receive a commission if you make a purchase through our affiliate link at no extra cost to you. Please read our disclosure policy for more information.
The perfect way to end a stressful day is to spend some alone time with yourself in the bath, and there's no better treat than a bath bomb!
What could make this experience even better?
How about finding cash hidden inside the bomb itself – what they call the money bath bomb!
When the bath bomb explodes and releases its beautiful fragrance, the lucky person bathing will also find themselves with some extra money to help them relax even further. It's like getting two presents in one!
These colorful spheres will fizz as they dissolve into your favorite fragrant scent. Plus, you can find them everywhere including Amazon, from small hand-sized versions that fit neatly within one palm all spans of fun shapes like hearts or diamonds. Hence, every personality has a personalized experience when taking care of themselves after work.
Not only can you pamper and treat yourself to a nice bath bomb, but cash bath bombs are great for anyone who loves to relax and enjoy a little me-time.
Money Bath Bombs
Women love these gifts because they feel pampered and special, and the bath bombs with cash inside adds an extra touch of luxury. The good thing is that they don't cost much more than regular cash bath bombs, so this is a great way to give a unique gift without spending too much.
Good money management skills are important and we are a personal finance blog dedicated to giving you the best ways to budget and save money – along with making extra money – without having to break the bank when it comes to spending on yourself and choosing the perfect budget-friendly gift ideas.
So, what better idea than the fun bath bomb with money inside?
These surprise money bath bombs make the perfect money gifts with some hidden cash inside for birthdays, graduations, Mother's Day, Christmas, or other special occasions. They show that you took the time to find something special that the recipient will love.
Not to mention, they also work perfectly for the last-minute hunt for stocking stuffers. You'll be glad you did!
So why not take a break from the holiday rush and pick up a few of these unique bath bombs for those on your gift list?
Before we go through a list of the best money bath bombs you can buy on Amazon, we're going to answer the most commonly asked questions you have about them.
What are bath bombs with surprise money?
As the name suggests, these special type of bath bombs available on Amazon are bath bombs contain cash inside them.
They are a fun way to surprise someone with some extra money or treat yourself to a relaxing bath bomb experience while also gaining a bit of extra cash. It's the thrill you get from buying a lottery ticket!
The cash inside these money bath bombs are clean and placed in a small pouch sealed shut. This pouch is then embedded within the center of the bath bomb itself. The money is usually wrapped in a waterproof bag or closed in an airtight container to keep it from dissolving. As the bath bomb dissolves in the water, the cash inside will slowly fall out and float around the tub.
You can find these types of bath bombs with a hidden gift like coins, paper bills, or even jewelry pieces inside. Other variations of surprise bath bombs even come with toys inside of them!
Companies advertise their product as entirely natural and made from baking soda and citric acid (which makes sense considering how those two ingredients are used for making regular bath bombs).
You can use them as a tool to surprise your significant other or as a way to get rid of your stress. No matter what the reason is, these bath bombs are perfect for anyone.
Are cash bath bombs real?
You might be wondering if there is such a thing as bath bombs with money inside – and the answer is yes! These are real, and they can be a fun way to enjoy your next bath. However, there are many things you should know before investing in these bath bombs.
The first thing to note is that not all cash bombs are created equal. Some cost a lot more than others, but there isn't much difference between them. For example, there are the ones you can make yourself with baking soda, citric acid, and some other ingredients are just as good as the more expensive ones you can buy in stores.
Another thing to consider is that, while they're called "money bath bombs," not all of them will contain the grand prize, which is up to $2,500, but rest assure that you will receive at the very least, the special and rare $2. So, if you're looking for a bomb-like experience, be sure to read the reviews before you buy.
Cash money bath bomb reviews
The "money bath bomb" is the latest craze in the bath bomb industry. They are designed to enhance your bathing experience by making bubbles, providing fragrance, or even heating the water.
You'll see some of the reviews online stating that they didn't win the biggest grand prize, which is up to $2,500, but that shouldn't be the main reason to buy these bath bombs. In other words, don't be too focused on winning just the big money when you are deciding to buy a set of these. Just treat it as something fun where "surprise money" inside is just along the way.
One of these particular bath bombs promises to make your bills float up to the top of your bathwater. If you've ever felt frustrated by the piles of unread mail on your desk, this might be a fun little novelty product for you. This money bomb has an average rating of 4 out of 5 stars and comes with free shipping. It's made in Japan but sold by a reputable company based in the US.
Another product by the same brand is a money bomb designed to make your bathwater look like it's overflowing with cash bills! It has an average rating of 4 out of 5 stars and is affordable. It is made in Japan and sold by a company based in California.
If you're looking for a more subtle way to enjoy your next bath, there are also bath bombs that turn your water green. This one has an average rating of 4.5 out of 5 stars on Amazon and is made in the USA. It's affordable, comes with free shipping, and turns your water into a cool shade of green. It also comes with a bubble bath included so that you can use it in conjunction with your existing products for an even more luxurious experience.
Reviews of bath bombs can come in handy when buying them for yourself or as gifts. You can find many great products online, but your job is to carefully consider the reviews. Here, we included a list of the best money bath bombs you can find on Amazon.
1. Beneath the Stars Money Bath Bombs from Amazon
"Beneath the Stars" is one of the most popular brands for bath bombs with a nice blend of grape, peach, plum, sparkling citrus, rose, and musk.
If you're looking for the perfect bath bomb gift for your women friends, then this product should be there on the top of your list.
There are many reasons we love this cash bath bomb. Not only does it contain the best quality material and manufacturing process, but also includes a unique and aromatic blend of your favourite fruits. It is inspired by the night sky and comes with beautiful packaging.
But that's not it. This bath bomb looks not only pleasing but also smells great that will leave you feeling relaxed in just minutes. They are therapeutic, which makes them perfect for your bath. These luxurious bath bombs not only release soothing aromas and fizzing fun, but they also contain a real prize of $100 bills when you win the grand prize!
You must also know that they are made in the USA with all-natural ingredients. What's even better is you'll get free shipping, so consider giving them a try.
2. Calming Lavender Bath Bomb with Money Inside
This lavender fragrance bath bomb for women from Amazon is another great product for those who love purple and lavender scent. They are available in one size, and there are many reasons to love this product.
First, they look incredible with a splash or purple and a golden dollar sign. Not only does the packaging look luxurious, but the product itself has a calming effect that will leave you satisfied. It's sure to be your new favorite bath time treat! No doubt it will add such a relaxed feel to the whole experience.
Again, you can win up $100, so the product does come with real money – you're guaranteed to receive at least the $1 USD bill.
3. Cash Bath Bombs in Relaxing Lavender and Chamomile
This money bath bomb with a beautiful lavender and chamomile scent is a product you will love – especially when you find that chamomile tea helps you to relax on a stressful day.
Just like the other bath bombs, it comes with beautiful packaging, which is especially important if you are considering gifting this as a gift.
Again, it contains real money. The product itself is made of natural ingredients, and you will love its effect on your skin when you're taking a bath.
Lavender and chamomile are two of the most popular fragrances where it combines the best of both worlds. The lavender scent tells the brain to calm down, while the chamomile extract helps your muscles relax. It also grants you color therapy, which one of the best ways to relax. Your baths become more manageable with this product, and you will feel refreshed after using it.
4. Pineapple Hawaiian Tiki Cash Bath Bomb
This is available in three different sizes, and not only does this tropical Hawaiian pineapple money bath bomb scent smell incredible, but the fruity smell will make you want to indulge in the sweet fruit itself.
The real thing that makes this product shine is the combination with some coconut. It is one of the best fragrances out there, making it perfect for relaxation especially for those who are big fans of summery tropical fruits with a hint of coconut.
This Pineapple and coconut money bath bomb will sure bring some fun to your next bathing party during the summer months (it can work for winter too)! You won't even know what's inside until the moment it starts to fizz. You'll hear everyone gasp when they open up their towel and find cash in their very own hands! Just like buying that next lottery ticket, you'll experience excitement to see how much money you win inside. It's something you don't want to miss out on.
Again, it also makes a perfect gift for someone who just can't get enough of the surprises – which is money! Who knows, if they win, they will probably book some airplane tickets to their favourite tropical resort!
5. Peppermint Patty Money Bath Bomb
This Peppermint Patty cash both bomb is an aroma therapeutic product that you will love – particularly if you're a green minty lover. Again, the lowest prize is $2 and you could win up to $2,500 in grand prize!
The peppermint patty scent gives you a nice hint of a Christmas feel and it is one of our favorites too during the holiday seasons. Anyone love peppermint hot chocolate? This makes a perfect gift idea or stocking stuff during the winter holidays.
6. Strawberry Money Bath Bomb
This beautiful red and green bath bomb is the perfect product or gift for the die-hard-fans of strawberries. We're talking about strawberry milk shakes, strawberry cheesecakes, and the strawberry fruit itself. Just, for anyone who is crazy about the taste and scent of strawberries!
The scent also has some contents of green apple and raw cane sugar, which adds to the sweetness of this bath bomb. Perfect for those who love their sweet fragrances! Any lover of strawberries won't deny their love for sweets. So, grab a few of these for your girlfriend or wife and surprise them with some hidden cash inside!
7. Birthday Cake Bath Bombs
What other better birthday gift is there?
This pink and yellow cakey money bath bomb will make the perfect birthday gift, along with some hidden birthday cash! Who knows, the person you're gifting this to may even win the $2,500 grand prize! Wouldn't that just make it their best birthday ever? 🙂
Most birthday cakes are vanilla, so it's no surprise that the scent has a delicious fragrance of vanilla and a hint of almond.
If it's your birthday, you can treat yourself to a few of these relaxing bath bombs too. It's one of the best gifts to indulge in and celebrate your birthday!
FAQs About Cash Bath Bombs
I decided to answer your most frequently asked questions about cash or money bath bombs.
1. Can I make bath bombs and sell them?
Yes, it's definitely possible to make bath bombs and sell them for extra money as a fun side hustle. If you start off as a small hobby, you'll never know where it might lead!
One of the great things about bath bombs is that they offer a fun surprise element – you can add things like flower petals, surprise cash inside (just like the money bath bombs we talk about in this article), or even small toys. This can really help your products stand out from the rest, and customers will be excited to see what they get with each purchase.
Just make sure to put effort into creating high-quality, unique bath bombs for your target audience, and you'll be well on your way to success. Not only that, but you'll also need to do research and test out the best recipes and look for suppliers of packaging and ingredients.
If you're ready to start making some extra cash by selling bath bombs or even turning that into a real legitimate business, then you can get started by watching Jerika's video about starting a bath bomb business:
2. Are bath bombs easy to sell?
Anything is easy to sell if you're an expert in that one thing. And let's also not forget, you need to be good at marketing it.
If you're not an expert in bath bombs or any type of fizzy bomb, then it might be more difficult for you to sell them. But if you become an expert by reading books, taking classes, or researching online, then you'll have a much better chance at selling your bath bombs.
There are many different places you can sell bath bombs. You can start by selling them at local craft fairs, farmer's markets, or online through sites like Etsy. You can also approach local boutiques or spas about selling your products there. Or, you could even open up your own brick-and-mortar store!
Just like any at-home DIY recipe, the quality of your bath bombs will largely depend on the ingredients, where the raw materials are sourced, and the time you put into making them.
A bath bomb can typically be made for as little as a few cents and sold for a few dollars. But, in order to make a real business out of selling bath bombs, you'll need to sell them for around $5-$10 to make a decent profit.
The good news is that there are plenty of ways to set your bath bombs apart from the rest and charge a higher price. For example, you can make clean and natural products, use high-quality ingredients, and even insert a small surprise (like cash) into each bath bomb. If your products are truly special and good for their health, then customers will be happy to pay a bit more.
Wrap Up on Money Bath Bombs with $2 to $2,500 Surprise Cash Inside
Cash bath bombs are a real thing, and they do actually come with surprise money inside.
Similar to how the lottery works, it's not guaranteed that you'll win $2,500 right off the bat, but these beautiful aromatic bath bombs come in a variety of scents that will help you relax during a stressful day. The nice part is you are guaranteed the rare $2 USD bill inside, which makes a nice little collectible. Plus, who doesn't get all giddily and excited to find out what surprise they may find in their bath bomb?
Not only can you treat yourself to one of these bath bombs, but they also make a great money or cash gift idea for that special someone on any special occasion.
Whether you're looking for a birthday, graduation, Valentine's, anniversary, or holiday gift that won't break the bank, we have a list of the best and most practical budget-friendly gift ideas here for you!
We hope this article helps you pick out a few money bath bombs for yourself and the special people around you!
We are a personal finance blog helping you to find the most optimal ways to budget, spend less, save money, and make extra money. For more personal finance and money tips, be sure to follow Finsavvy Panda here on Pinterest!