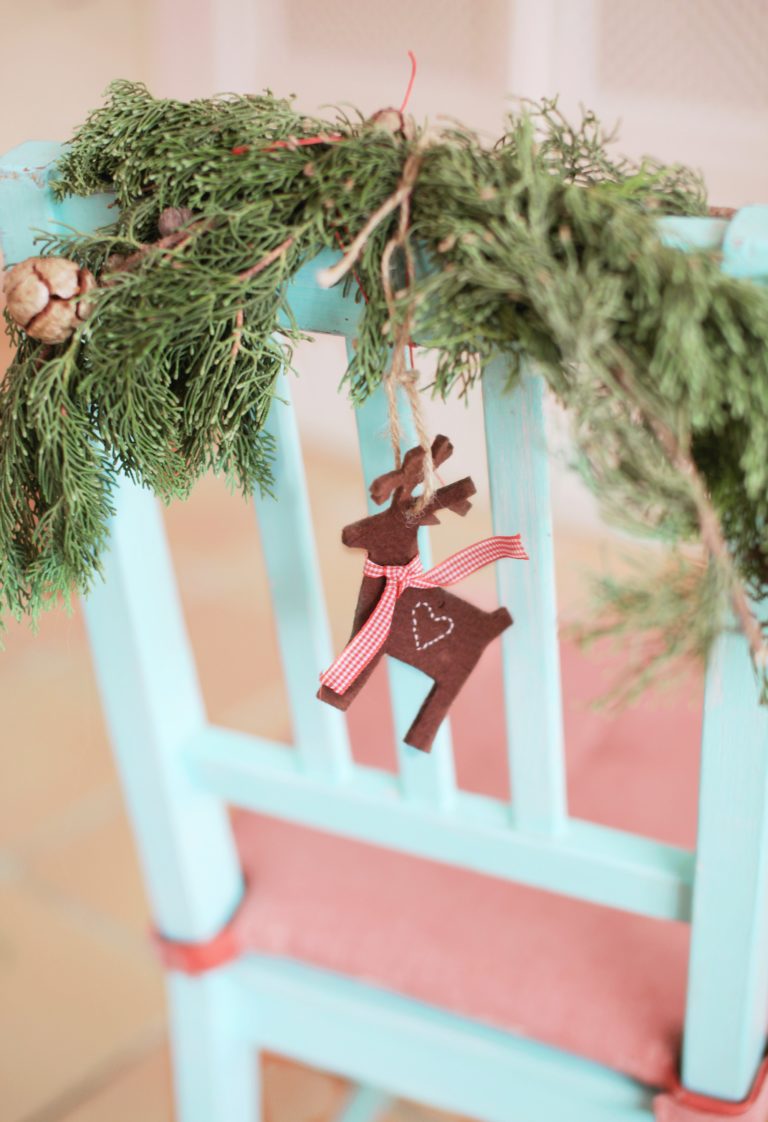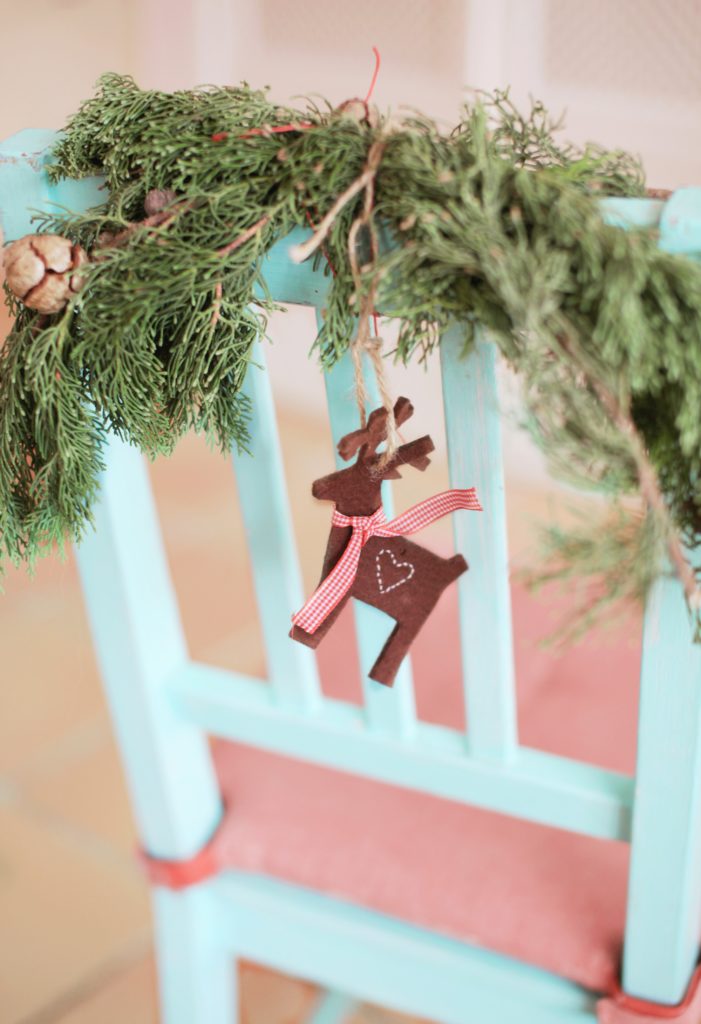 We will receive a commission if you make a purchase through our affiliate link at no extra cost to you. Please read our disclosure policy for more information.
DIY Dollar Store Christmas Crafts and Decorations
The Christmas season can become expensive — especially after the Thanksgiving holiday along with Black Friday!
But you don't need to spend a lot during Christmas especially when you have a list of DIY Christmas dollar store crafts and decor ideas to try this season.
If you're on a budget and looking for inexpensive DIY decorations, crafts, or even frugal gift ideas for Christmas, then I highly recommend visiting your local dollar store!
Aside from Michaels Store, the dollar store has always been one of my top go-to places when I'm looking for crafts to make during the special holidays. Not only is it super cheap and fun, but they have a variety of supplies that I could just easily pick up at a one-stop shop.
Be Creative with DIY Dollar Store Hacks!
There are a lot of hidden gems at the dollar store that most people overlook. Some would see the most basic-looking item on the shelf and think "meh" but little do they know that with a bit of creativity, they could turn those items into gorgeous Christmas decorations! And no, the after results don't look cheap either!
I mean, as much as I love the expensive stuff like this absolutely stunning piece from Swarovski, there's no way I could afford something like that! 😛
Having that said, today's post is a round-up of dollar store DIY Christmas crafts and decorations that you can make for cheap without it looking cheap!
Because Christmas is just around the corner, I've been OBSESSED with searching for dollar store craft ideas on Pinterest this holiday. After going through many pages, I stumbled upon bloggers who are extremely creative when it comes to making DIY dollar store crafts — I can't wait to show you their work!
The best part is that most of these projects cost between $2 to $15 and shouldn't take very long to make. But before we get there, let me show you a hack on how you can get your supplies from the dollar store for free!
Get FREE money so you can spend it at the dollar store!
Before presenting you with the best DIY dollar store crafts, I'm very excited to share one of my secret weapons to earning free money during the holiday season.
Here's how you can save money at your local dollar store so you can reduce your spending or fund your material for almost free.
Be sure to take advantage of this money-saving resource called Swagbucks. I personally use this resource to earn an extra $20 to $50 per month for FREE by answering easy online survey questions for PayPal cash using my smartphone.
Because I enjoy using Swagbucks to get a free Christmas shopping spree, I wrote an honest Swagbucks review here along with a tutorial on how you can get free stuff by collecting points.
🌟 You can join Swagbucks for FREE here and earn free cash plus gift cards. You instantly get a free $5 bonus today, which you can use towards your holiday spending at the dollar store!
It's 2023 going onto 2024, so I really encourage you to take advantage of these free money-saving tips, especially during times when inflation is causing the prices of everything to skyrocket!
Anyway, here are the best store DIY Christmas dollar store crafts and decorations that you must try this year!
PIN IT: I'll be updating this holiday post every season, so be sure to click here and save this image to your "Holiday" Pinterest board – yon can always conveniently come back for these best dollar store Christmas crafts!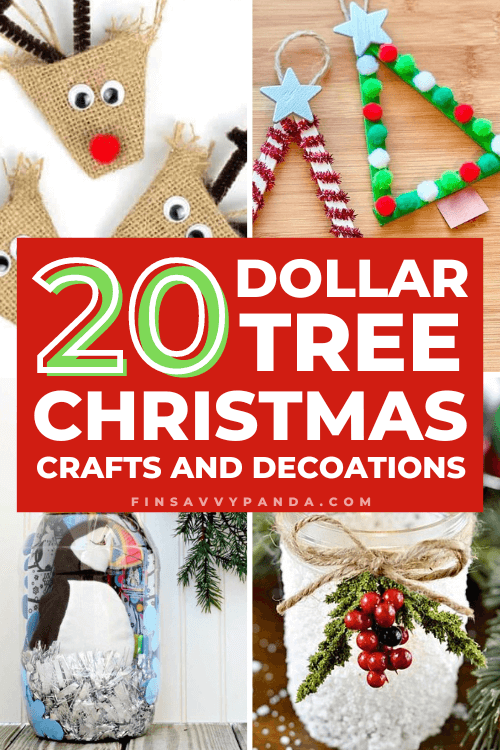 Related posts for the holidays:
1. DIY Dollar Tree Craft Money Gift Idea
Thinking of gifting socks again for Christmas? Why not up the ante with cash instead? Everyone appreciates a little (or a lot) of green, especially when they can spend it as they please.
With these crafty dollar store projects, you can whip up a money gift box that's more entertaining than pulling a rabbit out of a hat—they can pull cash out instead!
Now that's a money gift idea everyone will surely appreciate
Related post: 40 Unique Ways To Give Money That'll Make You the Most Memorable Giver EVER!
2. DIY Starbucks Cup Christmas Ornament
Did you just score a free Starbucks coffee recently?
Celebrate that win by transforming the cup into a chic Christmas ornament! Using just white craft paint from the dollar store and some spare cardboard, recreate the iconic 'frappuccino effect'. A festive reminder of your caffeine score!
Related post: How To Get Free Starbucks Drinks (All Year Round)
3. DIY Easy Gem Icicle Ornaments
Channel your inner Elsa without the chilly touch! Dive into these DIY with gem icicle ornaments, adding a 'Frozen' flair to your tree. No magic required, just gems and a dash of creativity. Elsa might just want these sparklers for her next castle decor. Ice palace, who?
4. Reindeer Mason Jar Dollar Store Craft
What I love so much about this DIY Reindeer Mason Jar is that it's not only a super cute Christmas decoration but it's also a great way to upcycle those old mason jars that you have lying around the house. You can even pick up a few from the Dollar store!
This craft is perfect for kids and adults alike and can be done in under 30 minutes! All you need is some paint, pom poms, googly eyes, and some pipe cleaners. Once you're done, simply fill the jar with treats or candy and watch the smiles appear on everyone's faces. If the recipient doesn't like candy, fill them up with cash, gift cards, and coins for a unique and thoughtful way to give money for Christmas.
5. Dollar Store Mason Jar with Money
Speaking of unique and crafty ways to gift money for Christmas, what better idea than this quick and simple solution?
Trust us when we say people love to receive money and free gift cards to their favorite shops for Christmas. Why?
Well, because they'll get to buy exactly what they want for the holidays.
Just go the extra mile and make this gift of money more special by pairing it with these other amazing DIY dollar store crafts. Or simply, throw in a handwritten and meaningful note inside each gift to give it your personal touch.
Many of our readers on this blog love looking for the best ways to give money for special occassions including Christmas – you can find them all in this unique money gift idea post here. They're just as budget-friendly as these Dollar Store craft ideas!
6. DIY Dollar Store Reindeer Gift Bags
We can't get enough of reindeer this Christmas season! So, we decided to make these adorable DIY Dollar Store Rudolph The Red-Nosed Reindeer Gift Bags. Since I enjoy crafting for fun, this is what I give out to coworkers for Christmas since.
They are perfect for holding small gifts, candy, money, and more. All you need is some brown paper lunch bags, googly eyes, red pom poms, and black Sharpie markers. These make great party favors, teacher gifts, and more.
7. DIY Dollar Store Christmas Tree Wreath
This creative DIY Christmas Tree Wreath will look great on any door this holiday season. It's so easy to make and only requires a few materials that you can find at the Dollar Store including some patterned cloth and a bunch of golden ornaments. Jingle bells would also make a great addition to this pretty wreath.
8. DIY Dollar Store Snow Globes
Let it snow, let it snow, let it snow! With these DIY Dollar Store Snow Globes, you can bring the beauty of a winter wonderland right into your home. They make for beautiful decorations and also make great gifts.
Yes, many of you may think snowglobes are knick-knacks, but they bring back childhood memories for many of us.
These ones are also super easy and fun to make! All you need are supplies from your local dollar store, which include a snowglobe (or even a mason jar), some white glitter, small wooden or plastic figurines, and a hot glue gun.
9. Dollar Store Grinch Gnome Ornament
Oh no, the Grinch is coming to town! But don't worry, he's not here to steal Christmas, he's just here to add a little bit of Grinchy fun to your Christmas tree.
This Dollar Store Grinch Gnome Ornament is so easy and quick to make and only requires a few materials from Dollar Tree.
Just look for some fake fur and a hot glue gun and you'll be all set. You can also add a little bit of green and red ribbon to really bring out the Grinchy spirit.
10. Dollar Store Fuzzy Socks Gnome Craft
Aw, there's nothing better than a pair of cozy socks on a cold winter day. But why not make them even better by turning them into these super cute and festive Fuzzy Socks Gnomes over a mason jar?
After all, gnomes are all the rage this Christmas season and there's no reason to not include them in your holiday decor.
This craft is perfect for kids and adults alike and can be done really quickly.
11. DIY Dollar Store Popsicle Sticks
Oh, Christmas Tree! Oh, Christmas Tree! How lovely are your branches!
But what if your Christmas Tree was made out of popsicle sticks? That would be even better, right?
This is such a fun and easy craft to make with toddlers and kids. It's perfect for those popsicle sticks that you have laying around the house since that last popsicle you ate in the summer.
12. Dollar Tree Jenga Christmas Ornaments
Jenga is such a fun game to play, but did you know that you can also use it to make these super cute and festive Jenga Christmas Ornaments?
That's right, all you need are some Jenga blocks and some paint to make these ornaments. You can even add a little bit of ribbon behind to really make them pop.
13. Dollar Tree DIY Starbucks Mini Cup Craft
Whether it's for yourself or a friend, no one will ever get tired of the giant green mermaid brand, Starbucks.
This holiday, you can get creative and make as many of these cute lil' Dollar Tree Starbucks mini cups as you can. Stalk up and hand them out as special gifts to those Starbucks lover friends of yours!
Lastly, don't forget to pair them with a free Starbucks gift card.
Here's a YouTube Video that you can follow along.
14. Dollar Tree Salt & Pepper Shakes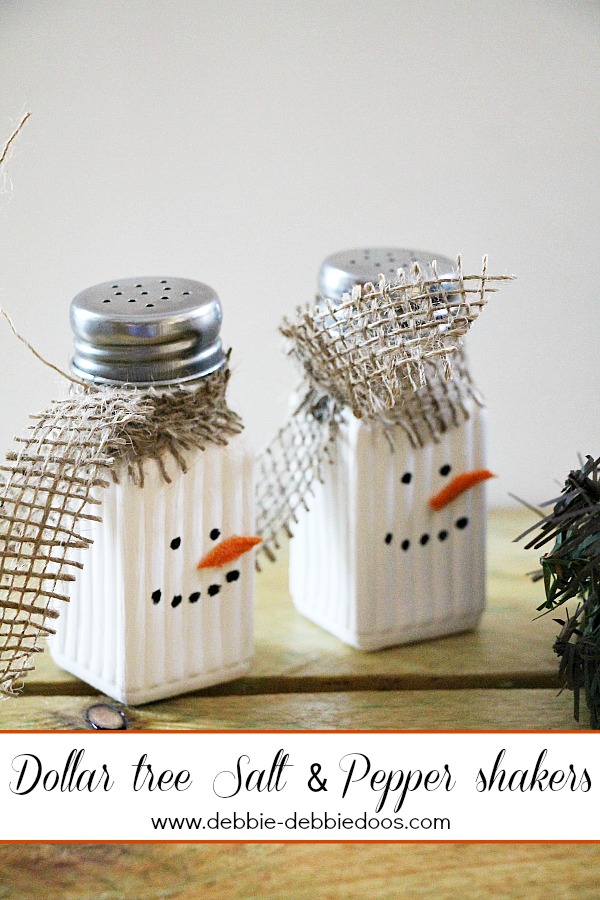 Source: Dollar Tree Salt & Pepper Shakes from Debbie Debbiedoos.
15. DIY Dollar Store Giant Ornament Gift
Source: DIY Dollar Store Christmas Ornament from Squirrels Of A Feather
16. Adorable Reindeer Ornaments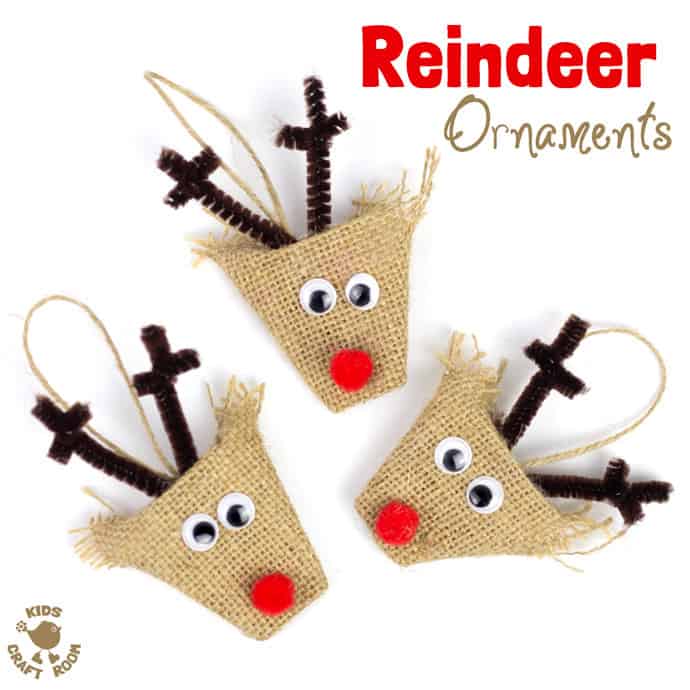 Source: Adorable Burlap Reindeer Ornaments from Kids Craft Room.
17. DIY Snowy Mason Jar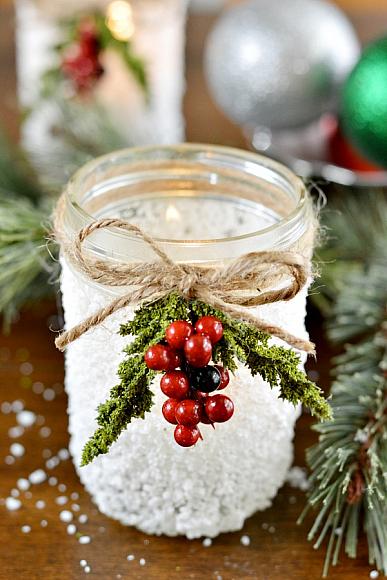 Source: Snowy Mason Jar from DecorArt Blog
18. Gorgeous Dollar Store DIY Winter Vases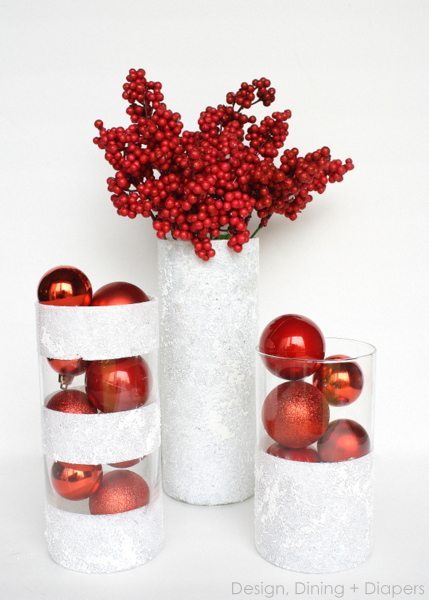 Source: Winter Vases With DIY Snow Texture from Taryn Whiteaker
19. Beautiful Snowflake Door Hanger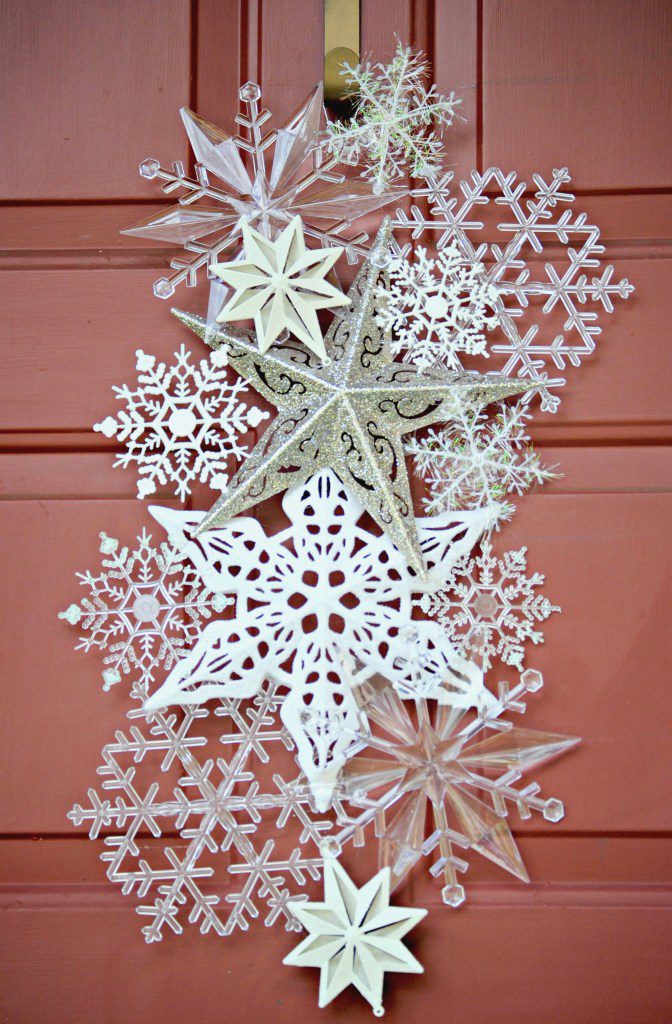 Source: Dollar Store Snowflake Door Hanger from Rae of Sparkles
20. DIY Ornament Wreath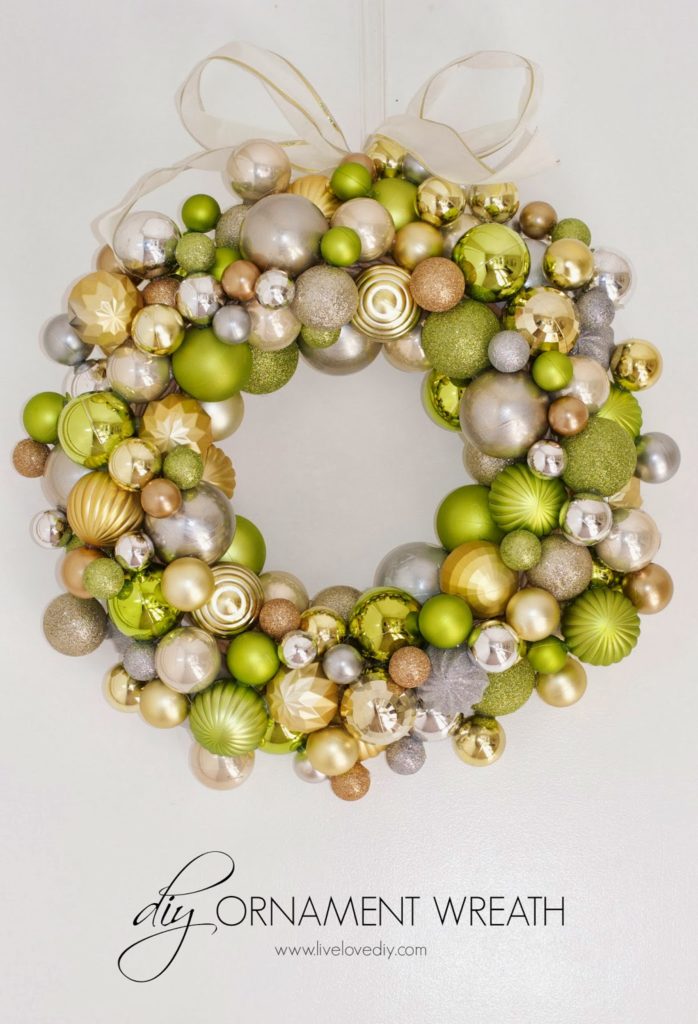 Source: Pretty Christmas Ornament Wreath from LiveLoveDIY
21. Framed Reindeer Silhouettes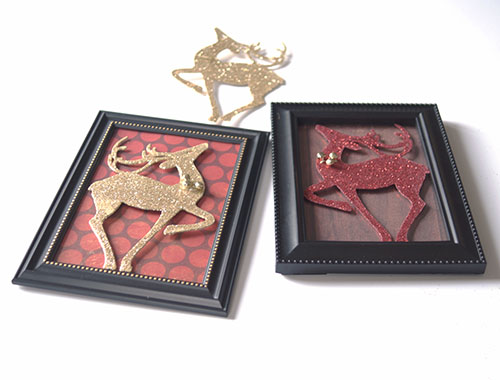 Source: Dollar Store Framed Reindeer Silhouettes from Saved By Love Creations
22. From Dollar Store Gift Bags To Christmas Wall Art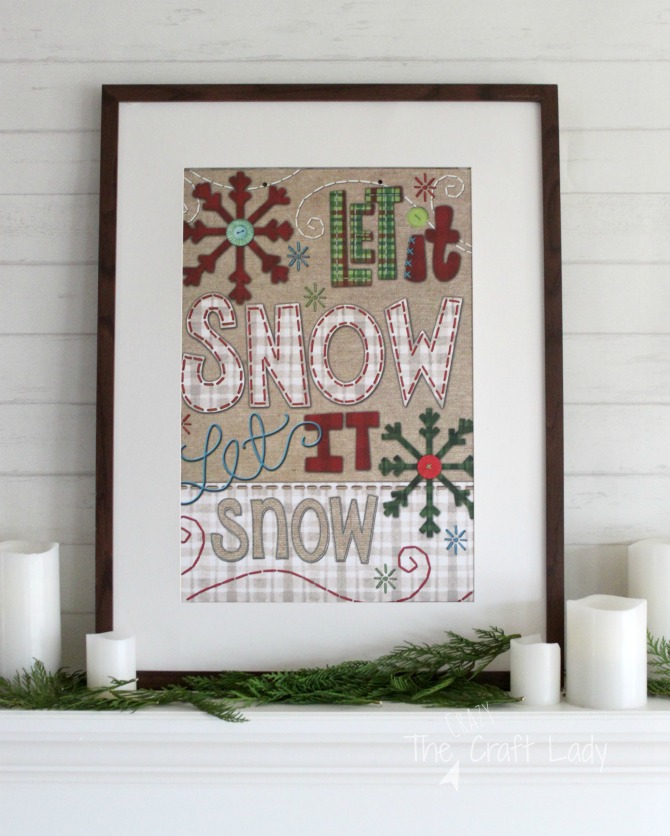 Source: DIY Dollar Store Gift Bag Wall Art from The Crazy Craft Lady
23. DIY Dollar Tree JOY Plates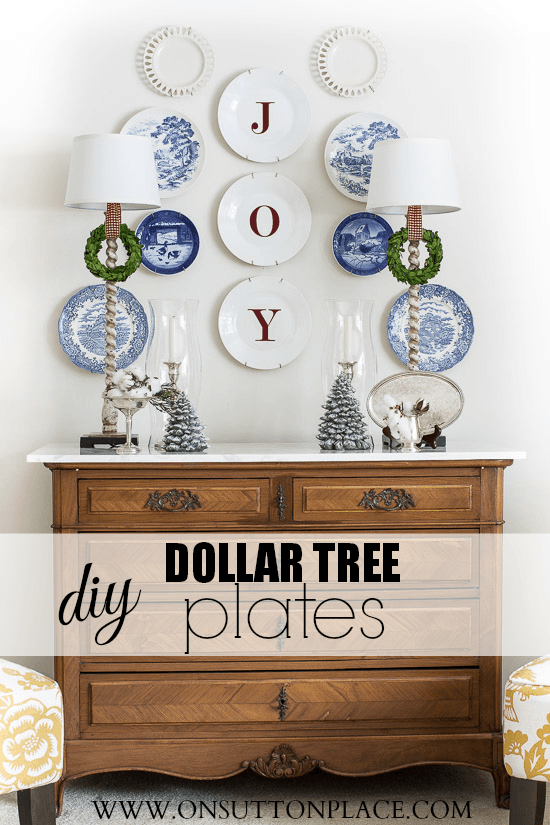 Source: DIY Dollar Tree Plates from On Sutton Place
24. Mini Stocking Table Sets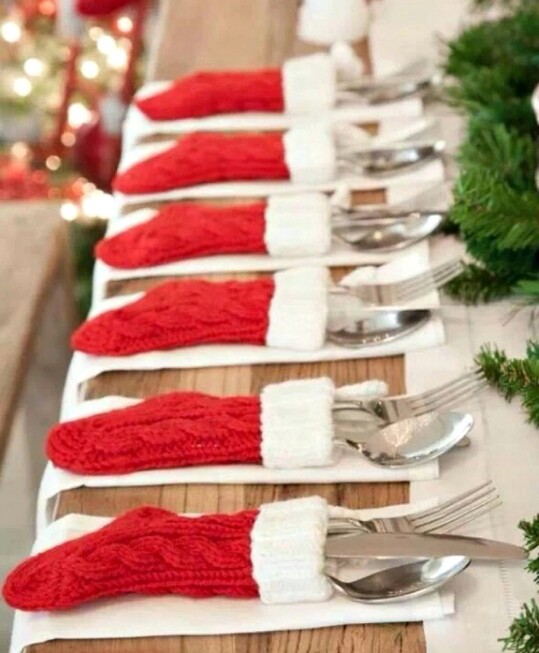 Source: Mini Stocking Table Setting from Princess Pinky Girl
25. Cute Snowman Mason Lotion Jar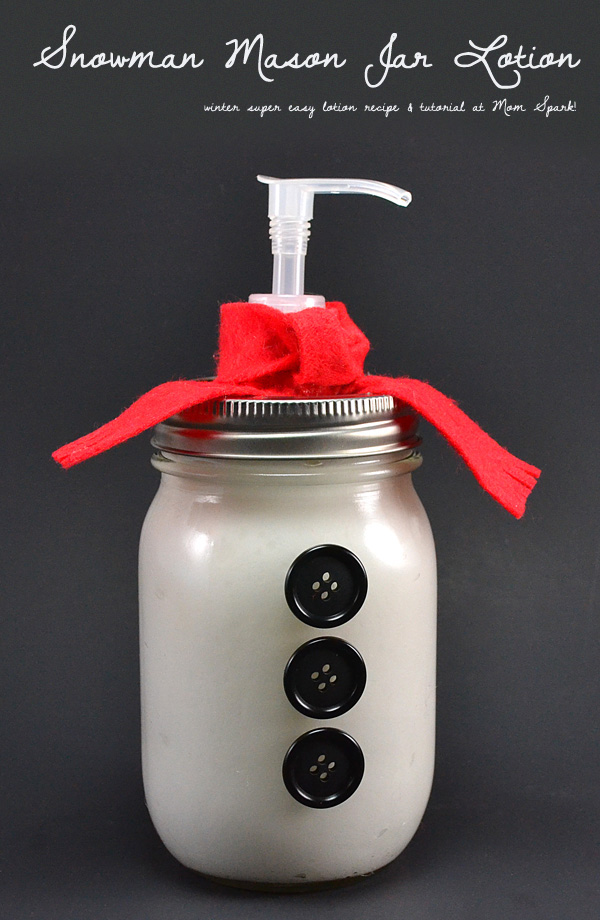 Source: Snowman Mason Jar Lotion from Mom Spark
26. Fun Giant Paper Plate Lollipops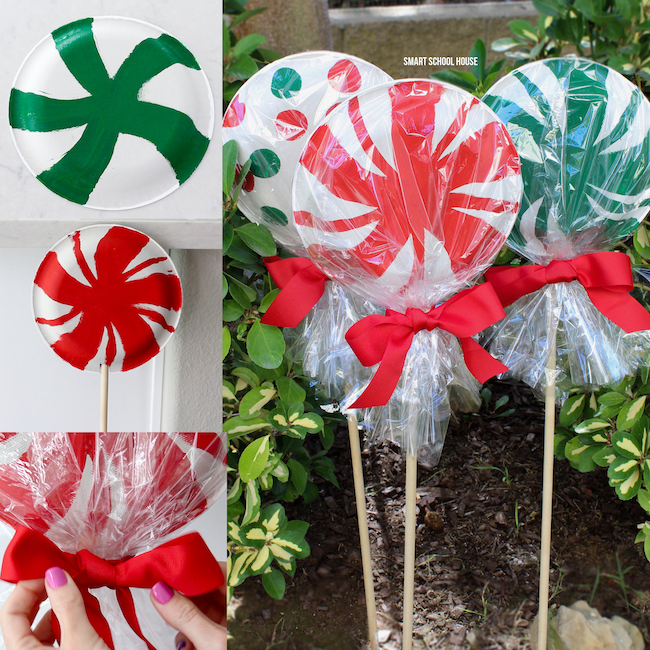 Source: Giant Paper Plate Lollipops from Smart School House
Get FREE cash this

C

h

r

i

s

t

m

a

s

!
If you follow my blog, you will know that I'm all about saving money and making money.
I always LOVE to find creative ways to save money to help make my Christmas spending a little more affordable. Below are some of my favorite free money hacks and resources that may help you! The best part is that they're all FREE to use!
❄️ Hint: you could even use these FREE resources to help you save $50+ per month which can go towards your DIY dollar store craft materials. 😉
Swagbucks allows you to earn cash and FREE gift cards (my favorite ones are Amazon and Starbucks) just by surfing the web, watching some funny cat videos, shopping, playing games, completing simple surveys, and doing other online activities. My fiance and I have redeemed many $50 to $100 Starbucks gift cards which helped us save money by making our spending a little more affordable! Swagbucks has helped their members save $299,447,296 to date!
👉 Sign up to receive your FREE $5 bonus from Swagbucks here and start putting cash back into your wallet!

⭐️ Important: To claim your FREE $5 bonus, don't forget to verify the email from Swagbucks in your inbox!
Rakuten (formerly called Ebates): You get FREE cash just for shopping at over 2,000 of your favorite stores. This includes Walmart, Macy's, Apple, Kohl's, Target, eBay, and so many more! I use Ebates to save over a few hundred dollars per year just for shopping for the things I normally buy. To learn more, read my full review and tutorial on how to use Rakuten here. You won't be disappointed with Rakuten!
🌟 Sign up here for your $10 welcome bonus after making your first $25 purchase through Rakuten.

If you live in Canada, use this link to sign up for your $5 bonus.
Survey Junkie: I personally use this free resource to earn extra cash by answering simple surveys online. This may help you save money or pay for some of your groceries for the month because you can redeem cash or FREE gift cards (your choice). They are rated 8.7/10 which is one of the highest on TrustPilot reviews.
🌟 You can sign up for Survey Junkie for FREE here.
Don't miss out on this post: How To Get Free Gift Cards With These Hacks This Holiday Season
Readers, did you enjoy this roundup post of dollar store DIY Christmas ideas? Are you ready to visit your local dollar store to tackle these DIY projects? 🙂
Other holiday-related posts for you to enjoy:
Enjoyed this post? Don't forget to pin and share this on Pinterest 🙂