This post may contain affiliate links. Please read our disclosure policy for more information.
Now that the pumpkin carving is done, Thanksgiving is only a couple of days away for the US folks, along with Black Friday.
What's next? Christmas! Yay (and that means more spending).
After reading a few posts about preparing for Christmas, I thought maybe I'll start writing about the holidays as well. After all, Christmas is about a month away, so why not? On top of that, we all know that Christmas can get really expensive with gifts, travel, food, and decor.
According to American Research Group, shoppers say they plan to spend an average of $983 for gifts this year. That's up by $54 compared to $929 last year, and that's just gifts alone. With other expenses added, you'll want to plan ahead. Not only will this help reduce your spending, it will also save you from a credit card hangover for the months to come.
Here's what you can do to financially prepare for your holidays.
This post may contain affiliate links. Please read our disclosure for more information.
1. Avoid budgeting in your head.
I hate that B word, and I couldn't stand making it my headline haha. But we can't avoid it. So yes, preparing a budget on paper will help.
I can totally see myself overspending without realizing because it's the festive season! Generally speaking, we're all feeling extra generous during the Christmas holiday, right?
While being generous is great, we still want to avoid financial burnout after the holidays.
My recommended approach is to make a list of all the people you will buy for. Along with your close family and friends, don't forget to include your co-workers, teachers, neighbors, acquaintances, and even your dog! Yes, I know a few people who buy gifts for their pets. Heh, after all, they're still your bestie.
Lastly, don't forget to include your gift donations as well!
Next, you'll want to write down a realistic budget and allocate an amount to each person. The best approach is to give yourself a good cushion. In other words, avoid setting a budget that is too low because you'll likely go nuts and overspend. More often than not, that might lead you to give up on your budget. As a result, you'll end up spending blindly. Not good.
2. Don't fall victim to retailers' "sales" and "promos"
It's the holiday season and retailers have the highest traffic and sales during this time of the year. With that said, it's the best time for them to crank up Brenda Lee's "Rockin' Around the Christmas Tree" 🎵 and flaunt their so-called "once-in-a-lifetime" deals – just to get you to spend.
"Buy one get one free!" – free?? who doesn't like free? (although that's really just 50% off each item, so no… nothin' was for free, guys!)
"Original price at $100. Now save 60% off!" – Oh, it's only $40 now? Sweet!!!!
It's not surprising that most of us fall for this anchoring effect.
For those who don't know, behavioraleconomics.com explains that "anchoring is a particular form of priming effect whereby initial exposure to a number serves as a reference point and influences subsequent judgments about value. The process usually occurs without our awareness (Tversky & Kahneman, 1974)."
For example, when the "original price" is marked up to $300, and then crossed out to be "on sale" for $190, our mind is using $300 as the anchor (i.e. benchmark) price. In this case, $190 might have been the retailer's true original price, but because they want you to think you scored a deal, they mark it up to $300.
In this article post "Bagged a bargain or been anchored?" Joseph Devlin says:
"Every time you buy an item "on sale", you experience anchoring. The original price influences your expectations so the percent discount feels like a real bargain… And despite the fact that I have been teaching psychology for nearly 20 years, you've already heard how I fell for it."
Despite how smart you are, you might just fall for it without realizing!
3. Watch out for this color.
Aside from the marketers' anchoring strategy, did I mention which color is associated with spending more? No?
Well, it's red!!!
It's the festive holiday and you can't avoid this color! It's no wonder why those huge sale signs are fired up in red. That being said, be cautious of this color while you're shopping for gifts. According to psychology professor, Kit Yarrow:
"Red means stop when you're driving but in the retail world, it means "go." It means "spend."
So the next time you're at the mall, keep that in mind.
That's why I mentioned earlier that writing down a list with a realistic budget will help you focus only on the things you need to buy. Doing this will help you stay financially healthy for the holiday season.
4. Get paid to shop.
If you're going to shop for the things you regularly shop for, then you may as well get rewarded for it!
For the most part, my BF and I would purchase everything on our rewards credit card to stack up a few hundred dollars by the end of the year.
On top of that, I would also combine it with Ebates to accumulate more. You can sign up for Ebates here for FREE and receive a welcome bonus of $10 (Walmart gift card or $10 in cash)! Seriously, Ebates is one of the BEST programs because it PAYS YOU to shop for things that you were already going to buy anyway. The best part is it's 100% FREE to sign up for and use!!! Canada, sign up here for your $5 bonus.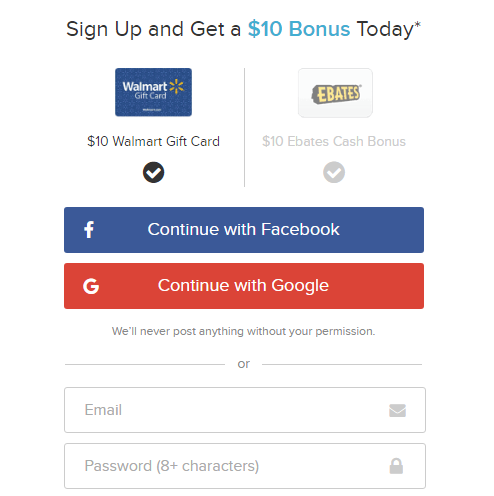 But of course, I'm not encouraging you to spend more just to accumulate more "spavings" – a term I discovered on J. Money's "My New 'Spavings' Fund!" post. Despite the results of Google search, I've never heard of this term until I read this post. Check it out – he definitely made it fun to read!
According to urban dictionary, it basically means spending to save, hence "spavings" haha! Or coined differently, J. Money called it fake savings. But needless to say, if you're mindful of your spending, this is a great hack to save for the festive holiday without feeling burned out of cash.
5. Don't let that music in the store lift your spirits up tooooo much.
"Rockin' around the Christmas tree… at the Christmas party hop… Mistletoe hung where you can see………………" 🎵🎶
Ah, okay… I'll stop singing and dancing now!
Anyway, Christmas is around the corner and we're all in that jolly festive mood that prompts us to spend (and maybe even splurge) more.
These songs remind us that it's the time to laugh, give, and share, which is all fantastic! But sometimes we buy too much and go overboard.
According to this article by Nick Collins, he says Christmas music prompts consumers to spend more. In this article, he cites what Dr. Alan Bradshaw of Royal Holloway, University of London says:
"Festive jingles are force-fed to Christmas shoppers in a bid to change their mood, influence their sense of time and what sort of products they buy. In other words, this is an attempt to manipulate your shopping habits in a way that you might barely be aware of."
Again, to avoid spending more, or even splurging, focus and refer back to your original list from point #1! You don't want to see your net worth dwindle after the holidays!
6. Ask your buddy, Trim, to help you save money!
Now that the New Year is approaching, it's never too late to use this free savings tool to help you get started with your financial goals.
Trim is a clever and cute robot that can help you save money by negotiating your bills, canceling your unused subscriptions, and more!
Trim has helped their users saved over $1,000,000 in the last month, so take advantage of him now!
Click here to sign up for Trim for free! 
7. Look for Christmas stuff at home.
Before you head out to shop, see if you have any leftover wrapping paper, gift boxes, and bags from last year. This saves you both money and the hassle.
Or alternatively, what I like to do is buy wrapping paper, gift boxes, and bags after Christmas is over. Generally, you can score 80% to 90% off during January which you can use for next Christmas.
One of my favorite stores to shop at is Michaels because they always have coupons and discounts on seasonal items. And nooooooooooooo, I'm not falling victim to points #2 and #3 – or am I? Hah, you get what I mean!
Overall, you will save money when you buy for next year! Just don't go overboard.
8. Earn more for the holidays.
Earning more during the Christmas holiday will provide you with more wiggle room to work with. Despite my lower salary, I am a big believer in increasing your earnings! Again, I always have to mention this point: you can only save so much, but the sky is the limit with earnings.
Related read: 17 Creative Ways To Make Extra Money For Christmas — #9 and #10 are not very common
In addition to that, one of my favorite female bloggers, Eden from Mint Notion, wrote an amazing post about this – "20 Ways to Make Extra Money For Christmas."
I highly recommend you to check out her post and her blog. She provides a lot of awesome tips on traveling, personal finance, budgeting, and blogging.
9. Sell your stuff.
If you have a lot of "junk" at home, consider selling it for some cash back during the holiday season. Your trash is essentially another man's treasure!
Here are a few platforms where you can start listing your things:
– Letgo
– Kijiji (Canada only)
– Decluttr
– Gazelle (sell all your old electronics here)
I did this last November and got back $370 for the month. To give you some ideas, I sold several lightly-used items last year:
| | |
| --- | --- |
| Coach leather gloves |  $    50.00 |
| Michael Kors handbag |  $    70.00 |
| 5 thick hoodies |  $    50.00 |
| Running shoes |  $    40.00 |
| Perfume |  $  100.00 |
| Peacoat |  $    60.00 |
I received some of those as gifts more than three years ago, which I never used. Instead of having it collect dust, I just sold them because I figured that someone would appreciate them more than me.
Need more ideas? Here are some things you can consider selling that will give you some extra cash to spend during the holiday!
– Old but working appliances (some people buy these for their rental properties)
– Used furniture (if you want a higher return, consider refurbishing it to add value)
– Luxury handbags or watches that you don't use
– Gently used clothing, bags, belts, and shoes
– Toys and baby accessories that your kids have outgrown
– Electronics (your old iPhones, iPads, game consoles, stereo system, speakers, etc.)
– Gift cards that you don't use
– Home décor (lamps, canvases, picture frames, old curtains, jewelry box, or any decorative pieces)
– Tableware such as ceramic bowls, dishes, or cups
– Car Tires
– Scraped car parts
– CDs, DVDs, and books
10. Donate your time and skills.
Who says the holiday is just about spending on gifts?
Alternatively, you can gift your time and skills.
For example, if you're a handy person, you can offer your services to a family or friend instead of buying a gift for the sake of spending (TBH, they might not even use what you buy them). Instead, why not give them something that adds value to their life?
On top of that, if you're crafty, you can consider gifting your hand-made products. This idea crossed my mind because I wanted to refurbish a piece of furniture for a family member or friend, but it doesn't look like anyone needs anything at the moment. I don't know anyone who just settled in a new place haha.
Consider giving and helping out if your profession involves cooking, baking, home staging, renovating, tutoring, massage and facial services, and many more!
Not only are you saving money (from not buying a gift), you're also helping out the person from the other end.
Sit back, relax, and have fun!
Although it's important to prepare financially for the holiday, don't forget to have fun at the same time! I know it can get financially stressful with Christmas shopping, travel plans, festive activities, and many more. As long as you follow through with your plan along with the tips mentioned here, you'll feel a lot less financially burned for 2019!
Over to you now – how do you think you'll do financially this Christmas? What methods will you use this holiday to stay on track with your financial goals?
Enjoyed this post? Don't forget to share it and follow me on Pinterest! 🙂