This post may contain affiliate links. Please read our disclosure policy for more information.
New Year's Resolutions 2021
Today is November 29th and we still have about a month until the new year hits. You're probably wondering why on earth I'm writing about new year's resolutions — we're all procrastinators, aren't we? 😉
Well, I'm here to tell you that it's never too early nor too late to start planning for your new year's resolution!
In fact, I started mine in mid-October of last year and I've been tracking my progress since. There's still a lot that I need to learn, so it will be an ongoing progress despite the time, year, and month. So, why don't we just call it life resolutions? haha…
I know the festive holidays are coming, but I encourage all of you to start now!
Top 10 New Year's Resolutions
New Year's is just one of the most exciting times of the year because that's when we start planning for our new goals so that we can become a better version of ourselves. With that said, I created a top 10 new year's resolutions list for you to follow.
BTW, if you're new here, my blog mainly focuses on money and personal finance where I LOVE to share my very best tips with you. I created a round-up of my best blog posts below to help you conquer your finances for 2021!
Here are some of my most popular posts that helped my readers reach their financial goals:
– How To Put An Extra $500 to $1,000 Into Your Bank Account This Month (This Stuff Really Works)!
– 50+ Insanely Genius Ways To Save Money This Year — #1 is Very Powerful
– 30+ Best Places To Get FREE STUFF on Your Birthday (Over $150 Value)
– 11 Things I Stopped Buying To Save Over $10,000 — #4 Blew My Readers' Minds Away!
– 11 Easy Side Hustles That Make Money Immediately (You Need To Try #1 This Year)!
– 15 Creative Things I Do To Make An Extra $100 Every Day
– Easy Step-by-Step Tutorial: How To Start a Profitable Blog (No Experience Nor Degree Required)!
– 15+ Things I Did to Achieve Financial Independence (How We Accumulated Over $500,000 in Savings)
Before we dive into this post, I want to mention one of my favorite ways to get FREE cash and gift cards. This program is called Swagbucks and it helps me save money each year (it's free to join and use). I can redeem FREE gift cards from Amazon and Starbucks just by surfing the web, playing games, doing surveys, shopping online, and watching videos. They also offer many other FREE gift cards — check them out over here!
👉 Right now, you can get a FREE $5 bonus from Swagbucks here. It's absolutely FREE to use and takes less than 5 seconds to sign up.

⭐️ Important: To claim your FREE $5 bonus, don't forget to verify the email from Swagbucks in your inbox! 🙂
That is just one of the many money saving tips that I like to mention. If you're interested in more resources to help you save money for the New Year, I recommend visiting my post, 15+ FREE Resources That Will Literally Help You Save Thousands of Dollars.
New Year's Resolution List 2021
Anyway, to help you prepare for the upcoming New Year, I compiled a new year's resolutions list (*ahem* life resolutions) that will surprisingly improve your finances for 2021 — or forever. This stuff really helped me over the years!
Let's take a look at our top 10 new year's resolutions, shall we?
1) Learn and read more about finance
After all, this is a personal finance blog so it's not a surprise to see me mention a few of my favorite personal finance books!
You can consider learning more about this topic if you really want to improve your finances.
Are you a total newbie at this? No sweat — I was too! I started with the baby steps…
Start off by reading blogs to get comfortable around the topic. Once you get the hang of it, you can make it a goal to start reading a personal finance book each month. This is what I did over a year ago, and it improved my finances substantially. It's what made the difference between living paycheck to paycheck and amassing over six-figures in wealth and savings!
Here are the books I recommend for those who are new to this topic:
– The Wealthy Barber
by David Chilton
– The Millionaire Next Door
by Thomas J. Stanley
– I Will Teach You To Be Rich
by Ramit Sethi (seriously, this is one of the most epic personal finance books I've read!)
Click on the book to conquer your finances this year. Cheers to the better version of you! 🥂🍾
I'm not even close to being an expert, but I am learning a little bit each day. As each day passes, I'm building a foundation that provides me with the prerequisite to learning something else. As Warren Buffett says, "that's how knowledge works, it compounds like interest."
2) Learn how to monetize a new skill or hobby
Are you looking for some fun new year's resolutions that could potentially earn you some money?
Some hobbies cost money, but some can be monetized. With that said, you can consider picking up a skill or hobby that can help you pay for your bills or save for a vacation.
For example, I started a fun furniture flipping side hustle to earn extra money about a year ago. I may not be skilled at it, but I enjoy the learning process — not to mention, the extra cash as well.
Another example is my fiancé and I learned how to become landlords since we bought our first property. Initially, we were nervous as f*#k and terrified of the stories we hear such as missed payments, property damages, sour relationships, etc. But we stopped letting fear get in our way and just took the chance. Things turned out much better than expected! 🙂
You may not be interested in flipping furniture or becoming a landlord, but there are many other creative ways to earn $100 every day (#3 is one of my favorites because the earning potential is unlimited).
Overall, learning a new skill or hobby can help you improve your finances — you can either save on the cost or earn extra income; sometimes even both.
So, if something piques your interest, don't be afraid to try it out!
⭐️ UPDATE: Blogging is another one of my favorite hobbies today. If you asked me a few years ago, I had NO CLUE that blogs could make money! I am really surprised that I made $22,343.23 from my small blog last month.

You too can start a blog today with my easy step-by-step tutorial here. You can start a blog at a discounted price for only $2.95 a month (over 60% off), plus get a FREE domain name when you sign up through my tutorial.

This low price is exclusive to Finsavvy Panda readers. If you're interested and would like to learn more, feel free to visit my tutorial here.
Creative new year's resolutions:
Related post: How To Start a Money-Making Blog in 2021 (Make it Your New Year's Resolution for 2021).
3) Get in shape
Every time I hear people talk about new year's resolutions and their goal to build those sexy abs, the first image that comes to mind is Jessica Alba's "Into the Blue" photo shoots. An old film, but who can forget how fabulous she looked in that light-blue bikini??
But aside from looking and feeling great about your body, studies show that there are hidden financial benefits of being fit.
According to this article by Lacie Glover, an author at NerdWallet, she writes:
"A study published in the Journal of Labor Research found that men who work out regularly can expect to make 6% more than their sedentary counterparts, on average. For women, the pay boost is higher: Fitness-savvy females make 10% more, on average."
Glover's article also mentions that those who exercise regularly take less sick days. Based on research from the Journal of Occupational and Environmental Medicine, these sick days become a lost source of income and/or a missed opportunity for promotions.
On top of that, those who exercise regularly have a lower chance of becoming sick. I read here that according to the World Health Organization source, people who are more fit can save roughly $500 per year on health care expenses.
There are many other hidden financial benefits of being fit, but isn't this enough to motivate you to burn those calories off?
And for the men out there, are you ready to reap some of those financial benefits by getting ripped?
4) Become more productive
This point also ties in with the benefits of being fit.
In addition to the sources above, I found another article by Julie Boehlke at LIVESTRONG where she talks about the relationship between exercise and productivity.
Based on this post, exercise can improve your work productivity because being alert, energized, and positive can help you get your work done quicker.
Personally, I can attest to this. Generally, I would do cardio five times a week along with some ab workout. But on the days when I flop, I would feel like $hit and perform like a snail at my desk – like……. literally!
Going back to the article, Boehlke mentions that these factors (i.e. being alert, energize) make you more eligible for promotions and other job opportunities. However, if you don't exercise regularly, Boehlke adds that "you could be putting your health, and your job, at risk."
Want to improve your productivity? You can read this Inc. post by John Rampton. I am totally on board with him when he recommends us to quit multitasking!
5) Adopt a healthy diet
At this point, you're probably thinking: "Okay… it seems like becoming an overall health nut is financially beneficial."
You're probably right on that one haha!
Overall, consuming the right foods can lower your healthcare costs as well according to this article.
This includes:
– drinking plenty of water
– cutting carbonated drinks and alcohol (my next point)
– reducing sodium, sugar, and processed foods
– adding fresh cut fruits and veggies
– eating lean meats
– adding fish oil to your diet
– eating dark chocolate (OH. EM. GEE. I love dark chocolate and THIS ONE is my all-time favorite!)
On top of reducing healthcare costs, and in some cases insurance premiums, preparing healthy meals at home is wallet-friendly compared to dining out.
Think about how much you spend on breakfast, lunch, and/or dinner. While it's perfectly fine to eat out with friends and family (I get it, it's a social thing and I do it once to twice a week), it's a good idea to keep track of your expenses. Not to mention, it's also a good idea to track the type of calories you're consuming. I can tell you that most of the food you consume from any type of restaurant is packed with bad calories that contain high sodium, cholesterol, and saturated fats.
As a new year's resolution (or even now), do yourself a favor by reducing the bad foods and cooking more healthy meals at home. Your finances will improve along with your health as a result!
6) Reduce the alcohol
I know you probably don't want to hear this now, especially when Christmas and New Year's Eve is around the corner! But we all know how expensive drinks can get (I hope you do).
Though it's fine to drink in moderation, this can really add up over the years. Think of the times you joined your coworkers for drinks after a long stressful day at work. Or maybe the time when you were in Vegas and bought a round for your friends.
How much did you spend on average? Do you know?
Here, use this alcohol spending calculator to find out – don't forget to include taxes and tips!
If you're quite the drinker, these results will shock you. My fiance knows how this feels because he attends these events from time to time with his work buddies.
And I hate to say this, but this isn't going to improve your finances for 2021, or ever!
So, if your calculation came out to be in the thousands, you may want to cut back.
Alternatively, you can consider arranging drink events with your friends at someone's place to save money. My friends and I opt for this option and it's definitely budget friendly! I'm sure that's what most of you are doing for Christmas and New Year's Eve. 😉
7) Quit smoking
I was never a smoker, but growing up with a father and grandpa who used to smoke A LOT, I can understand how it can be tough to quit.
But thinking about their kids' health, and the monetary costs (the cigarettes, medical, insurance, etc.), both my daddy and grandpa worked extremely hard to break their habits.
An article by Christina Couch mentioned that it takes about two months or so to break a bad habit according to a study by researchers at University College London in the UK.
If this doesn't convince you to stop, consider reading this post about the million-dollar habit of smoking. It mentions that according to a study from WalletHub, the average smoker for 51 years will spend more than $1 million on both cigarettes and health care for tobacco-related illnesses.
With that said, consider making an effort to quit this habit to improve your health. And let's not forget that you're trying to improve your financial situation, right?
8) Save more money for…
Ah, okay… you're probably thinking "NO $HIT, Captain Obvious!"
But let me tell you a story.
For the longest time, a lot of my friends and coworkers get all hyped up and tell me they want to start saving. However, when I ask them how, for what, and why, their response would go something like this:
"I'm not sure why or how, but it's a new year and I wanna start fresh. Maybe I'll stop buying coffee and lunch every day. It would be nice to have more money."
Related post: How I Get FREE Coffee and Lattes From Starbucks (One of My Favorite Hacks)
As a result, 100% of them got bored with the idea (in less than one month) and went back to their old habits — spending, splurging, and not knowing what happened to their money.
With no idea how, why, or what you're saving for, you may lose motivation, so it's important to identify why and what you're saving for. Are you saving to/for:
– buy a home
– a vacation to Hawaii
– retirement
These are all legitimate questions you should ask yourself.
Related post: 9 Sure-fire Ways To Get Out of Debt This Year!
For example, when I started my financial journey last October, I knew that I was saving for financial freedom. I didn't want to get stuck in the corporate world for the rest of my life.
Because I was determined to get the f*#k out, I did all that I could to increase my savings and net worth — started a side gig, educated myself about finance, decluttered and sold most of the stuff I didn't need, and much more!
Related posts:
– How To Build Wealth This Year: The Things We Did To Save Over $700,000 in 7 Years
– How We Went From Being Poor (With a Low Income) To Building Wealth
– How To Save Money When You're Living on a Low Income (or One Income)
9) Get organized
Not only do you earn money from selling your stuff, but studies show that a clutter-free environment can improve your overall health and productivity. Again, your health and productivity have a direct impact on your finances.
10) Follow at least one person that you admire and inspires you
There's a quote that goes:
"Surround yourself with those who only lift you higher." – Oprah Winfrey.
There's also another quote that goes:
"You are the average of the five people you spend the most time with." – Jim Rohn
Although I'm not surrounded by many positive influencers, I truly believe in these two quotes. And I really believe that this advice will improve your finances and your life!
I'm not saying that my friends and family aren't admirable, but most of them don't believe in financial independence nor my view about living a fulfilling life.
Like the majority, they believe in working a nine-to-five and living paycheck-to-paycheck (and maybe just saving a little bit). Now, I'm not here to say who's right or wrong — this is a personal choice. At the end of the day, I still admire and love all of them!
But with no one who I could turn to, I basically stuffed my brain with facts about multi-billionaire, Warren Buffett — I started following my inspirational idol.
You can watch this amazing documentary Becoming Warren Buffett here. I absolutely love everything about this documentary — the way he built his wealth over time is very humbling and inspiring. The documentary also taps into his personal life and story which allows viewers to see the human side of him!
⭐️ If you are interested, you can sign up for the Amazon HBO 7-day FREE trial and watch Becoming Warren Buffet. If you don't want to continue the HBO subscription, cancel it within 7 days with no questions asked! Absolutely risk-free trial!
Related post: 5 Amazing Money Tips from a Billionaire That Will Make You Rich This Year!
Overall, I learned more about him by reading his biography, books, and watching his documentary. This may sound crazy, but I wake up each morning browsing for his quotes on my phone. It's what gets me going throughout the day.
Aside from following Warren Buffett, I also started to follow the blogging community. Over a year ago, I started to read a bunch of books and blogs that talk about personal finance, DIY, investing, and self-help. To my surprise, all of this improved my financial situation!
In addition to that, I improved as an overall person. I started to realize what I'm passionate about — finance and DIY decor. And this was one of the reasons why I started this blog. This blogging journey will be an uphill battle for me, but I want to start following and surrounding myself with all the wonderful bloggers out there who have similar mindsets.
So, here's my point:
Start surrounding yourself with the right people (even if it's all online or following your role models). It will do wonders for both your finances and self-development.
11) Change your mindset
The most important of all, change your mindset. Don't underestimate this. Without it, all the points I mentioned in this post would not be helpful.
Related post: 10 Ways to Develop a Rich Mindset — #10 is really mind-blowing!
Not too long ago, I was a very pessimistic person — they would call me a Negative Nancy or Debbie Downer.
To escape this hole, I had to change my mindset. Now, it doesn't happen overnight and this is something I'm still working on.
As mentioned above, I started feeding information and facts about Warren Buffett into my head. I started reading posts written by personal finance bloggers and listening to their webinars. On top of that, I saved a collection of my favorite inspirational quotes onto my phone. Overall, I kept feeding positive, motivational, and inspirational ideas into my head. As a result, I can attest that this significantly improved my finances for the year.
At the end of the day, only you can control your mindset. So start now.
Readers, what are you waiting for? Make this list your financial life resolutions forever. Change your mindset, and your finances will follow! As a New Year's Resolution start, don't forget to check out the best places to get FREE cash below! What a great way to add extra money to your bank account! 🙂
Get FREE cash over here!
If you follow my blog, you will know that I'm all about saving money and making money. Below are some of my favorite sites and resources that may help you! The best part is that they're all FREE to join!
Swagbucks allows you to earn cash and FREE gift cards just by surfing the web (like how you search for things on Google), watching videos, playing games, and completing easy surveys. Check out the gift cards they offer here. My fiance and I have redeemed many $50 to $100 Amazon and Starbucks gift cards which helped us save money and reduce our spending!
🌟 Grab your FREE $5 bonus from Swagbucks when you sign up through my link.
Ebates: You get FREE cash just for shopping at over 2,000 of your favorite stores. This includes Walmart, Macy's, Apple, Kohl's, Target, eBay, and so many more! I use Ebates to save over a few hundred dollars per year just for shopping for the things I normally buy.
🌟 Sign up here for your FREE $10 bonus after making your first $25 purchase through Ebates.

If you live in Canada, you must use this link to sign up for your FREE $5 bonus.
Related post: To learn more, read my full review and tutorial on how to use Ebates here. You won't be disappointed with Ebates!
Survey Junkie: I personally use this free resource to earn extra cash by answering simple surveys online. This may help you save money or pay for some of your monthly bills because you can redeem cash or FREE gift cards (your choice). They are rated 8.7/10 which is one of the highest on TrustPilot reviews.
🌟 You can sign up for Survey Junkie for FREE here and start earning FREE cash or gift cards each month!
Read also: The Best Places To Get FREE Gift Cards (Save $500 to $3,000 Each Year)!
Oh, and did you know you can get all the awesome FREE STUFF here on your birthday? What a great way to save money on your special day! Be sure to prepare as early as possible to avoid missing out on those freebies valued at over $150! Read the post to find out more 🙂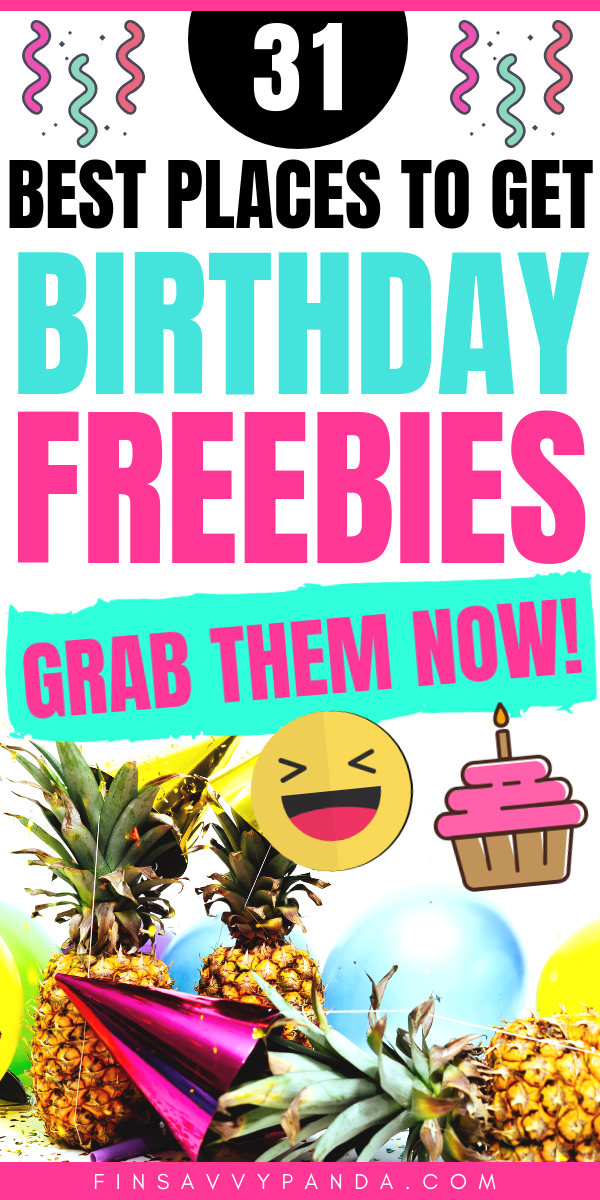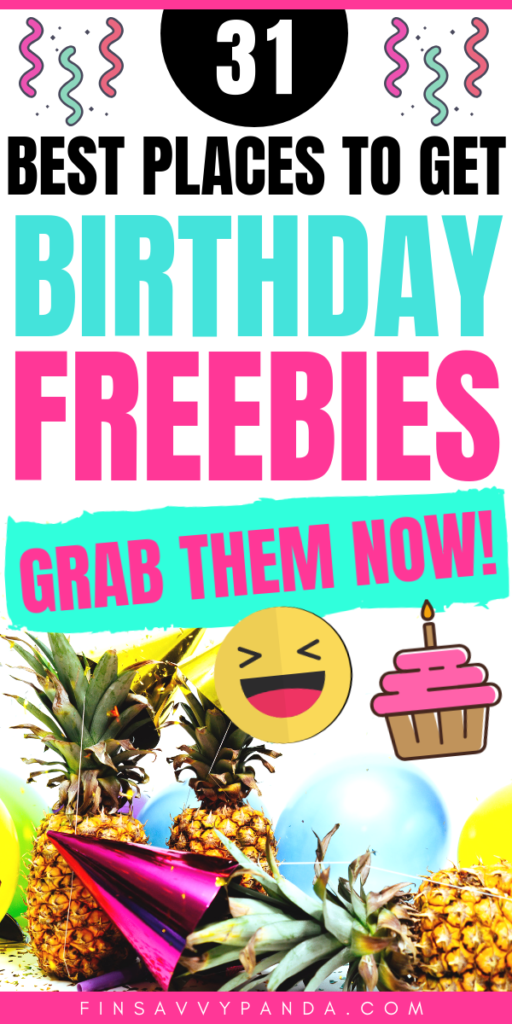 My most popular posts that helped my readers reach their financial goals:
– How To Make An Extra $6,000 to $12,000 This Year (Without a Real Job)!
– 50+ Insanely Genius Ways To Save Money This Year — #1 is Very Powerful
– 30+ Best Places To Get FREE STUFF on Your Birthday (Over $150 Value)
– 9 Reasons Why You Are Living Paycheck To Paycheck — I Know #1 is Driving You Nuts!
– 11 Things I Stopped Buying To Save Over $10,000 — #4 Blew My Readers' Minds Away!
– 11 Easy Side Hustles That Make Money Immediately (You Need To Try #1)!
– 15 Creative Things I Do To Make $100 Every Day (#7 Is No Doubt Creative)! 😉
– Easy Step-by-Step Tutorial: How To Start a Money Making Blog For The New Year
– 15+ Things I Did to Achieve Financial Independence (How We Accumulated Over $500,000 in Savings)
Did you enjoy this post? If so, don't forget to spread the love and follow me on Pinterest! 🙂