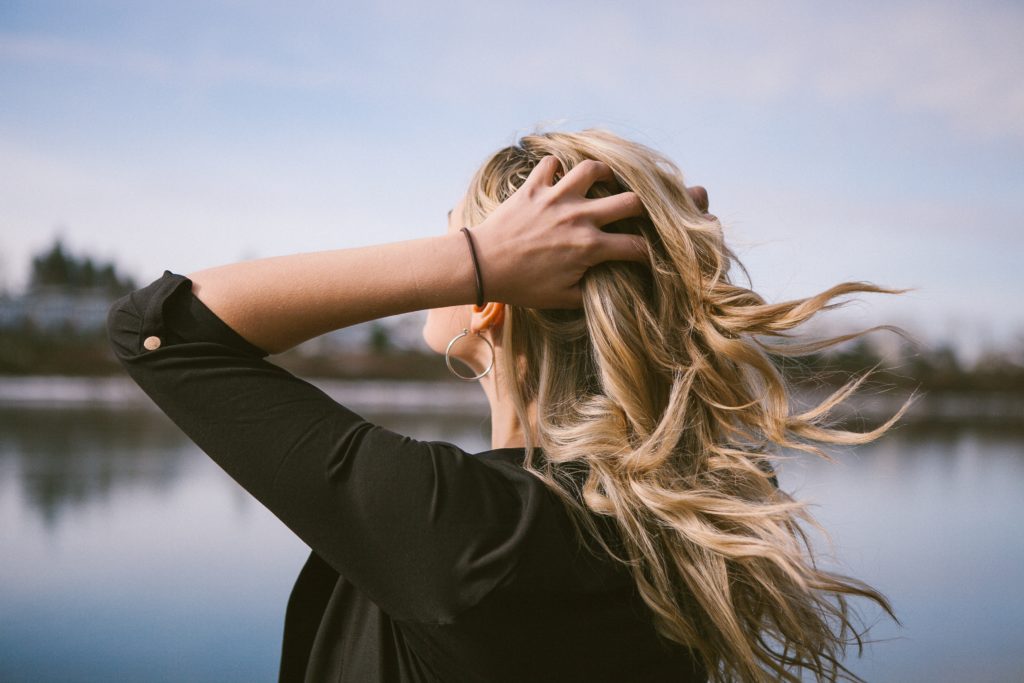 We will receive a commission if you make a purchase through our affiliate link at no extra cost to you. Please read our disclosure policy for more information.
How To Get Out of Debt Fast!
Being in debt isn't sexy. We all know that.
According to this article, 80% of Americans are in debt. That means for every 10 people you see on the street, 8 of them are in debt.
From time to time, you may hear about "good" debts vs. "bad" debts. Many people believe student loans to be a good debt because it's an investment that will help you advance in your career, which increases your earning potential.
On the other hand, credit card debt is considered a bad debt because you're essentially paying a crap load of interest just to consume things you cannot truly afford. Sorry, there's no way of sugar-coating this but the first step to getting out of debt is acknowledging that fact.
Anyway, at the end of the day, debt is debt and no one likes owing money despite it being good or bad.
Overall, debt prevents you from living a life of freedom. Instead of saving and investing your money — or splurging on a $6 Starbucks — you're worried about paying your next bill and wondering when is this cycle going to end.
Don't worry, my friend. IT WILL END!
Here are 9 steps you need to take to get out of debt fast.
Related reads:
– How To Stop Living Paycheck To Paycheck Immediately — #5 Is For Those Who Can't Stop Spending!
– 11 Ways To Make Extra Money (This Can Help You Get Out Of Debt Fast)!
– 50+ Insanely Genius Ways To Save Money So That You Can Stop Living Paycheck To Paycheck
– 30+ Best Places To Get FREE STUFF on Your Birthday (Over $150 Value)
Pin this for later!
This post may contain affiliate links. Please read our disclosure for more information.
1. Acknowledge that you're in debt and need help.
The first and most important thing is admitting that you're in debt. And that's okay as long as you're making the effort to fix it.
The fact that you're reading this means you're already ahead of the 26% who have no plans to pay off their debts.
The sad part is that most people don't want to know the truth so they avoid fixing the problem. They rather bury their heads in the sand and blindly pay the minimum payment for as long as they can. Surprisingly, a lot of them don't know that by paying the minimum payment, they are only digging themselves into a bigger hole.
But we know you're not that person. You are different. You are facing your fears so that you can escape the vicious cycle of debt and living paycheck to paycheck.
Related read: 7 Reasons Why You Are Living Paycheck To Paycheck (And How To Fix It ASAP Here!)
Imagine the financial freedom you achieve after paying off your debts.
You'll have the ability to build your savings and invest your money without having to worry about paying your next bill on time.
And just imagine the freedom of going out with your friends and splurging on things you enjoy without having to rely on that nasty credit card.
Wherever your imagination takes you, know that it's not a dream. IT IS POSSIBLE and here's what you need to do in order to make it come true.
2. Make a list of all your debts.
Make a list of all your debts under the "DEBT NAME" column (e.g. credit card #1, credit card #2, car loans, student loans, etc.) with this worksheet I made for you.
Download your debt summary worksheet here.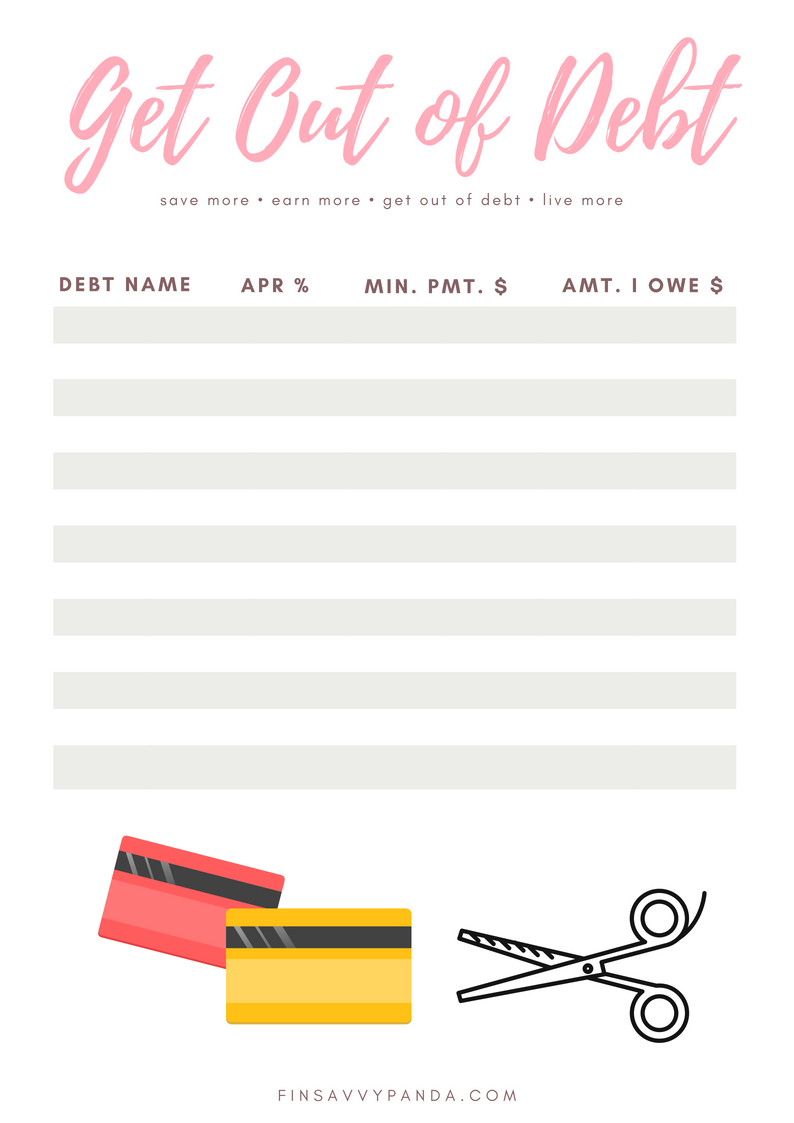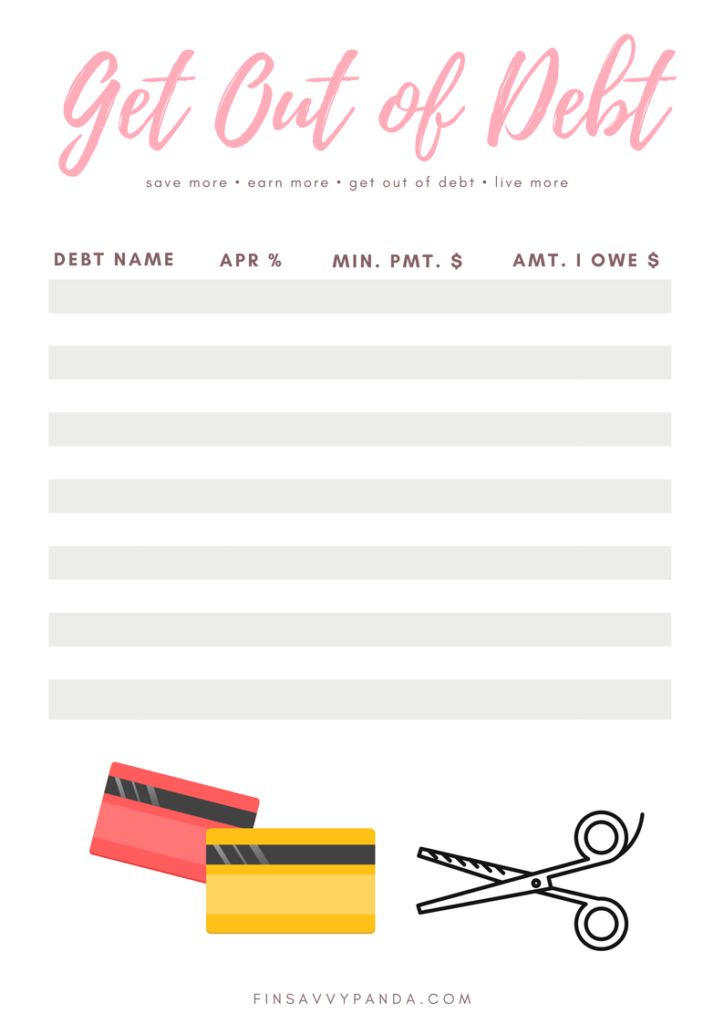 Next, write down the APR, the minimum payment, and the total outstanding balance.
By organizing this information into one sheet, you will have a clear picture of what and how much you owe. Even if the debt amount looks massive, DON'T PANIC! With a bit of effort, time and persistence, you WILL get out of debt in no time!
Starting from today, your debt amount can only go in one direction — and that's DOWN, my friend! 🙂
Need help with saving money so that you can get out of debt?
Download our FAIL-PROOF budget kit that can help you save money like a pro so that you can get out of debt faster!
My fiance and I were inspired by Gail Vaz-Oxlade's money makeover shows and that's how we learned about her clever budget strategy. Having that said, we followed her savings strategy and that's how we went from almost $100,000 debt to now over $800,000 savings within 7 years!
To help you master your savings, we created our version of her fail-proof budget plan just for you! Yes, it's 100% FREE!
In this budget kit, we included a monthly budget tool that keeps track of all your income sources plus expenses. We also made these pretty weekly printables that will keep your budget and savings on track. These free printables were made to give you instant results to boost your confidence in your financial journey (whether you're getting out of debt, saving money, or building wealth).
This budget kit is only exclusive to my subscribers, so grab your FREE copy here!
❤️ 💔 Til Debt Do Us Part TV series:
Speaking of Gail Vaz-Oxlade, I used to love watching her TV series, Til Debt Do Us Part, which you can watch for FREE with Amazon Prime. It's a series about couples who are drowning in debt every month and they can't seem to figure out why. Most couples are in serious trouble with their personal finances, but with Gail in the scene, she's there to offer her best tips and strategies to help those couples get out of debt so that they can live the life they want. I always recommend my readers to learn from Gail — not only does she offer top-notch solutions, but she's also quite the entertainer too! She can seriously WHIP your butt into financial shape!
FREE TRIAL: You can get a free 30-day trial of Amazon Prime here. If you don't think it's right for you, cancel it anytime with no questions asked!
In addition to watching her shows, you can also get additional tips on how to manage your money with one of her best selling books, Debt-Free Forever: Take Control Of Your Money And Your Life
. Don't let money control your life. Start making changes today by taking control of your financial future!
3. Negotiate your interest rates.
Did you know that you can save hundreds or even thousands of dollars just by lowering your APR?
There should be a contact number on the back of your credit card, so call them and negotiate a lower rate. According to this article from CNBC, asking credit card companies to lower APR rates works 80% of the time!
Negotiate like a pro with this script here! But before you call your credit card company, make sure to do your homework.
Check your credit score for FREE!
It's also smart to check your credit score before calling in because you can use that as a leverage when you negotiate. In fact, you can check your credit score for FREE with Credit Sesame. This will NOT impact your credit at all!
If you're Canadian and want to improve your financial well-being, be sure to check your credit score for free with Borrowell here.
By the way, even if it doesn't work with the first call, don't give up. Call again and give it another shot! Be persistent because that phone call could save you hundreds or even thousands of dollars!
Refinance your student loans to save thousands!
Now, if still have student loans, consider refinancing and/or consolidating them with LendKey at a lower interest rate. Click here to view LendKey's current special offers. Again, paying a lower rate will help you save a ton of money! That amount of money you save could be put towards the principal, which speeds up your payment and gets you out of debt quicker.
4. Freeze your credit cards.
Now that you've negotiated with your credit card company, it's time for you to freeze them.
Literally.
Freeze your credit with ice so that it becomes hard for you to access. This will make you second think whether melting that huge block of cube (which will take hours) is worth purchasing whatever you were going to purchase with that bloody card.
Another option is to cut them.
Do whatever it takes to stay far away from those credit cards.
5. Figure out how to pay off your debt.
Now that you've done all of the steps above, it's time to figure out a debt payoff plan.
Generally speaking, there are two types – the Avalanche vs. Snowball plan. I personally prefer the Avalanche method because it's rational, economically efficient, and saves the most money. However, numerous studies show that the snowball plan works well for the majority.
Let's take a look at both, shall we?
The Debt Avalanche Method:
As mentioned, this method is rational and saves you the most money. How it works is you pay off your highest interest rate debt first. In other words, you tackle it in the order from highest to lowest until all of your debts are paid off. By tackling the highest interest rate loans, you're essentially saving more money by paying less interest. However, humans, in general, are not always rational and they need small wins to stay motivated, which we will talk about next with the snowball method plan.
The Debt Snowball Method:
This method is very popular and was emphasized by Dave Ramsey. Here's how it works.
– Pay the minimum balance on all of your debts.
– Whatever money you have, put that towards the debt that has the smallest outstanding balance.
– Once the debt with the smallest outstanding balance is paid off, you move on to paying off your new smallest outstanding debt.
– Repeat this progress until your highest outstanding amount of debt is paid off.
What this essentially does is it gives you motivation and momentum through small wins.
As Dave Ramsey says:
"The math seems to lean more toward paying the highest interest debts first, but what I have learned is that personal finance is 20% head knowledge and 80% behavior. You need some quick wins in order to stay pumped enough to get out of debt completely."
You can learn more about the debt snowball in this Ramsey's article here.
Which debt payoff plan should I choose?
Whichever method you choose is up to you. If you're a beginner and the type of person who feels accomplished through small victories, I highly recommend going with the debt snowball plan! Even if you don't save the most money with this plan, you're still A LOT better off compared to not paying off any debts due to a lack of motivation.
6. Increase your debt payments.
Now, before you ask "how" and say "that's impossible," I want you to know that you CAN do it! It's not impossible!
Here's how you can increase your debt payments so that you can get out of debt fast!
1. Save more money.
2. Earn extra money.
Both saving and earning are surefire ways to pay off your debts quick! Let me go through each of these in steps 7 and 8 below.
7. Find ways to trim your expenses without depriving yourself.
Instead of cutting on small things you enjoy such as that $2 coffee, find other bigger expenses to shave that will help you get out of debt quicker. You may not need to cut them out completely as long as they're adding value to your life, but as I mentioned in step 3, you can always negotiate your bills with your service providers. The more you save, the faster you can pay off your debt with those savings!
Below are some expenses you can cut and/or negotiate:
– car insurance.
– home insurance.
– monthly subscriptions (e.g. cable, magazines, Internet, LinkedIn, etc.)
– ATM and bank fees.
– overdraft and late fees.
Get to know your savior, Trim:
Here, this cute little robot can help cut and negotiate your bills for you! By the way, his name is Trim.
Trim is a personal finance assistant that can help you get out of debt by trimming your unnecessary expenses! Trim is clever because he can negotiate your monthly bills (e.g. cell phone, Internet, cable, and more)! He will even cancel the ones you don't need! Trim has saved their users over $1,000,000 in the last month.
Sign up for Trim here for FREE!
8. Find ways to earn extra money to pay off your debt.
As you know, there's a limit to how much you can save, but there's no limit to how much you can earn!
With that said, you need to find ways to boost your income and there's no excuse!
Some people will complain and say:
– "How? I work a full-time job and I don't have time."
– "I don't have the required skills to make extra money."
– "There's no way because I have a family and kids to take care of so there's no time for another job. I have a real life here!"
But, I know you're not that person who makes those phony excuses. You and I both know that you are determined and YOU WILL do whatever it takes to get out of debt fast!
Are you ready to earn extra money so that you can start living the life you want?
I bet you are!
Here's how to earn more so that you can pay off your debt sooner!
How To Earn Extra Money Through Side Hustles:
Here are surefire ways to boost your income NOW!
– The 15 Best Survey Sites That Actually Pay Cash (Earn Up To $50 Per Survey)
– 11 Things We've Done To Make an Extra $1,000+ Per Month — #8 is Hiring Now!
– 8 Legit Ways To Make Money Online For Beginners
– 13 Epic Passive Income Ideas That Make Money While You Sleep (Literally)
– 9+Ways To Earn FREE Gift Cards and CASH Online (Amazon, Walmart, Starbucks, Visa, and more!)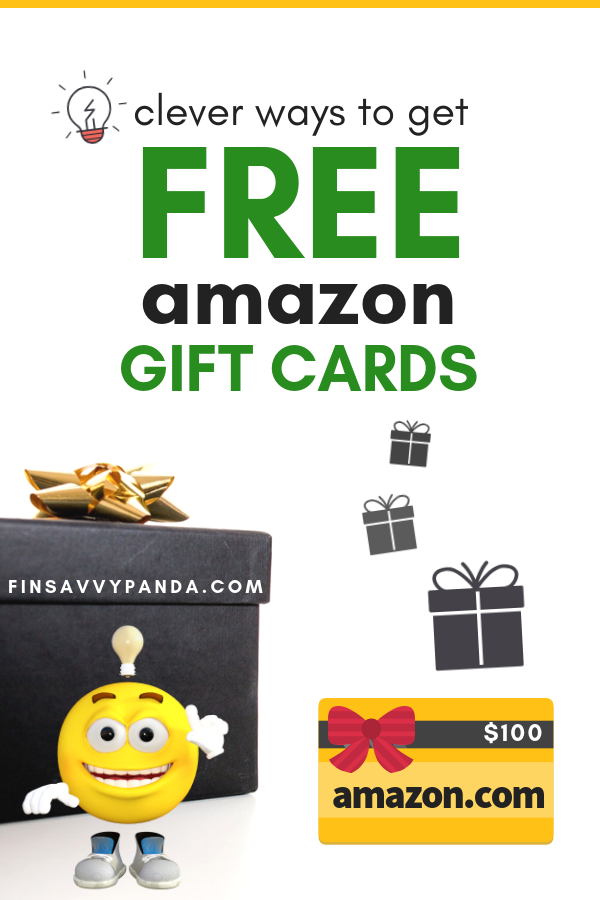 One of my favorite sites to earn a bit of extra money (or redeem FREE gift cards) is Swagbucks. You can get FREE gift cards or cash (your choice) by watching fun videos, surfing the web, taking surveys, and more! I love using this site to redeem my free $25 to $100 Starbucks gift cards!
Swagbucks is 100% legitimate and has paid out their members over $265,716,867 to date. You can sign up here and get your FREE $5 bonus. 
Survey Junkie is also one of my favorite survey sites because there are more survey opportunities and they pay extremely fast! You can sign up for Survey Junkie here.
⭐️ ⭐️ ⭐️ ⭐️ Make money with these other survey sites – Other survey companies I recommend as a way to make extra money include Swagbucks, American Consumer Opinion, MyPoints, and Pinecone Research.

Again, membership is 100% free. By signing up for many survey sites, you'll get to take more surveys for more extra money.
Related post: These 15 Companies Will Pay Up To $500 Per Month For Your Opinion
How To Increase Your Current Salary:
Another way to earn more is to increase your salary. It's possible to increase it by hundreds or even thousands of dollars just by having a quick chat with your boss. What a fantastic way of paying off your debts sooner!
One of my favorite FREE resources is Ramit's Ultimate Guide To Asking For a Raise and Negotiating Your Salary. His free e-book is extremely helpful and will give you (almost) instant results! You need to check this out if you want to boost your salary, stop living paycheck to paycheck, and improve your lifestyle!
9. Celebrate your small wins.
During your debt-free journey, remember to stay positive and celebrate your small wins. It's not easy to get out of debt, but by following ALL of the steps above AND STAYING FOCUSED, you WILL get out of debt in no time!
To help you stay motivated and determined, here are a few success debt stories for you to read:
– How I Ditched Debt: Well Kept Wallet
– How to Get Out of Debt: 7 People Who Did It
– Success Story: How One Woman Paid Off $89,000 in Two Years
Don't miss out on FREE money over here…
If you follow my blog, you will know that I'm all about saving money and making money. Below are some of my favorite sites and resources that may help you! The best part is that they're all FREE to join!
Swagbucks allows you to earn cash and FREE gift cards just by surfing the web (like how you search for things on Google), watching videos, playing games, and completing easy surveys. Check out the gift cards they offer here. My fiance and I have redeemed many $50 to $100 Starbucks gift cards which helped us save money and reduce our spending!
Ebates: You get FREE cash just for shopping at over 2,000 of your favorite stores. This includes Walmart, Macy's, Apple, Kohl's, Target, eBay, and so many more! I use Ebates to save over a few hundred dollars just for shopping for the things I normally buy.
🌟 Sign up here for your $10 welcome bonus after making your first $25 purchase through Ebates.

If you live in Canada, you must use this link to sign up for your $5 bonus. 
Related post: To learn more, read my full review and tutorial on how to use Ebates here. You'll seriously LOVE Ebates!
Trim is an awesome free personal finance assistant bot. He can help you save money by negotiating most of your monthly bills for you (e.g. cable, Internet, cell phone, etc.). He will even help you cut the ones you don't need. Overall, Trim has helped their users save over $1,000,000 last month.
🌟 Sign up here for Trim here for FREE and start saving money each month!
Paribus: Ever heard of price-adjustments? This free app helps get your money back when an item you purchased goes on sale (there's no effort on your end). When Paribus finds a price drop in your e-mail inbox, and you're eligible for a price adjustment, it will notify you and the retailer. Yes, Paribus will do all the work for you and you keep 100% of the savings! Paribus has helped users saved over $24,000,000 to date!
🌟 You can sign up for Paribus here for FREE and start putting cash back into your pocket!
Survey Junkie: I personally use this free resource to earn extra cash by answering simple surveys online. This could help you save money or pay for some of your monthly bills because you'll earn cash or FREE gift cards (your choice). They are rated 8.7/10 which is one of the highest on TrustPilot reviews.
🌟 You can sign up for Survey Junkie for FREE here and start earning immediately!
MyPoints: You can earn FREE gift cards to your favorite stores or cash (your choice) just by watching videos, taking surveys, reading e-mails and more. MyPoints has paid out their members $236,000,000!
🌟 Sign up for MyPoints here for FREE and get a $5 bonus immediately when you complete 5 surveys! 💵
Check out this post: The Best Places To Get FREE Gift Cards and Cash Today
I sincerely hope that this article keeps you motivated in your debt-free journey. Just remember, you got this!
Enjoyed this post? Don't forget to share it and follow me on Pinterest! 🙂