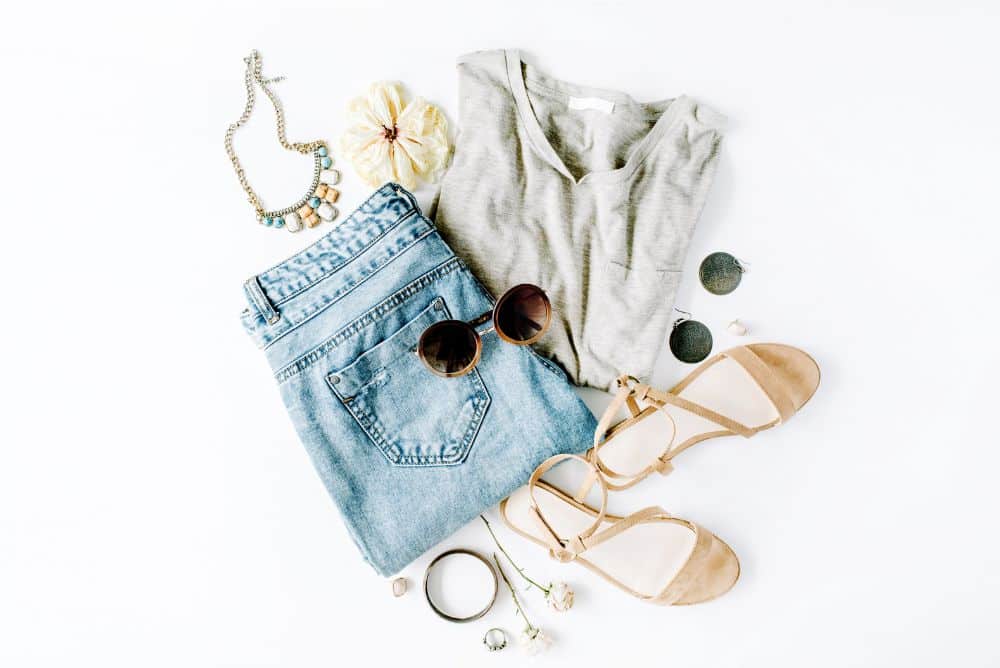 We will receive a commission if you make a purchase through our affiliate link at no extra cost to you. Please read our disclosure policy for more information.
The Best Apps To Sell Clothes Online
So your clothing is giving off some serious aughts energy. A glance through its contents is a visual trip through the yesteryears of the 00's. Long duster cardigans are out and cropped chunky ones are in.
On top of that, quite literally, you have loads of in-style clothing that you're just not wearing. And your kids' dresser drawers are jammed full of outgrown apparel.
Time to declutter. You may be tempted to schlep everything off to the Goodwill or to list everything for a quarter at your neighbor's garage sale. But there are some great apps you can use to sell clothes online – and it's one of the funner side hustles to earn money online. And it's a side hustle that teens can do too.
If you've explored selling clothes online before, you know it can be time-consuming to take pics, list the item, and haggle with buyers. And that's before the app takes its cut or you prep the garment, print the prepaid shipping label, and mail it off.
But it doesn't have to be complicated. Often the biggest chore is to find the right buyer. Put your goods in front of the right eyeballs, and you've won like 90% of the battle.
Here's a quick rundown on the best apps to sell clothes for extra cash. We'll also share some tips on how to make the clothes resale process simple and pain-free.
You could make anywhere from $100, $200, $300, or even as high as thousands of dollars!
Aside from the best clothing apps to sell your old clothes, we also cover some of the most popular money-making apps you can use to make extra money online including getting pinning on Pinterest, answering easy surveys for cash, and getting cash back with Rakuten or Swagbucks.
There are a lot of ways to earn money by using your favorite apps but let's get right into the best apps you could use to sell your clothes for extra cash!
The Best Apps to Sell High Fashion Clothes
If you've got couture or designer brands, you need the right audience in order to make the most money. Place Chanel quilted shoes on a more pedestrian resale app, you could be waiting months before sadly being haggled down to $24.25.
Or you can connect shoppers who appreciate the value of high-end designer clothing and are willing to pay a premium resale price – even for used clothes if they're still in good condition.
TheRealReal: Luxury consignment for all. Buy or consign luxury labels: women's clothing and handbags, men's clothing, and children's clothing.
Vestiaire: An online, luxury resale marketplace. Similar to TheRealReal, you can buy and sell items through Vestiaire. But Vestiaire puts your items in contact with an international audience. You can buy and sell items for up to $16,500 in value. If you've got a vintage couture Louis Vuitton gown to sell, Vestiaire is your best friend.
The Best Apps to Sell Name Brands
If you've got name-brand clothing, like Anthropologie, Nike, or lululemon, you can get top dollar on clothing apps that feature a lot of popular name-brand labels.
Poshmark: Is a huge online marketplace where thousands of popular budget brands and designer items are sold every day. The seller fees are high: Poshmark gets a 20% commission for all sales over $15. (For sales under, Poshmark has a flat commission fee of $2.95.) It's easy to set sales or promos on your clothes. The buyer always pays for shipping and you get a free, prepaid shipping label.
Depop: This app is similar to Poshmark but it comes with a social twist. Depop is the social media version of resale apps: Shop your friends' old clothes and see what they are buying and selling. You can also follow influencers and icons in the fashion world to see what they're loving. And of course, you can shop from their collection too.
The Best Apps to Sell Handmade and Vintage Items
If you have more unique wares, that can be a more niche audience. Luckily, there are apps that specialize in vintage clothing and handmade goods.
Heroine: The Heroine marketplace mainly features vintage finds like 1990's Fendi dresses or 1920's antique wedding dresses. But you can also find a curated selection of more current lust-worthy brands.
Etsy: Etsy is one of my favorite sites to find gorgeous, homemade clothing for my kiddos and a wide selection of vintage clothes and Grandma's attic-style treasures. Etsy does have some used designer clothing, but it's not my go-to. I have found amazing 1930's vintage dresses and loose fitting aviator (Amelia Earhart) style pants. Beware: always ask for garment measurements. Marilyn Monroe was famously a size 12, but she's a 2 or 4 in today's sizing. In vintage sizing, I myself can run anywhere from 4 to 8 sizes bigger.
The Best Apps to List Clothing at Lightning Speed
Listing secondhand clothing in selling apps can be time-consuming, but it doesn't have to be. Here are some quick options for the DIY route or for turning to a professional seller.
Mercari: Mercari is a go-to app that I use for selling online because I can list an item in around 30-60 seconds. I take a couple of pics on my phone, tap through a couple of drop-downs, and then write a quick sentence or two. On some apps, you're prompted to provide a lot of data (that buyers don't typically need to pull the trigger). Mercari will recommend pricing and you can use their algorithm to adjust the price for you (lowering it incrementally) until you score a sale. (You can set a floor for how low you'll take.) There's even an option for free in-home pickup for local sales.
thredUP: Convenience is the byword for thredUP. Professional sellers at thredUP do it all for you. They send you a signature clean-out kit (don't worry; it's a free shipping kit). Send in your unwanted clothes. ThredUP will sort your items and then sell them for you. They'll take and upload photos, determine the quality and resale value, and then create listings. Everything is on consignment. When clothing items sell, you'll get a cut. Make money while you're binge-watching Netflix with your friends. Use your thredUP moolah to fund your Netflix subscription and your restaurant tab.
The Best Apps for Selling Locally
Sometimes you just want to sell locally. While it's a smaller audience, this means you can skip dealing with shipping altogether. The buyer pays for the item with cash on the spot (or by Venmo or PayPal). Often, you can just set the item out on the front stoop – no contact required.
Buy Sell Trade / BST Groups on Facebook: BST groups are Facebook groups themed around buying and selling specific items like home decor, designer handbags, or popular clothing brands like lululemon. There are national and local groups. Join local groups in your area to list your items. You can even have purge-style sales where you can sell hundreds of items within 1 listing.
Facebook Marketplace: This means you're listing an item on the classified pages of Facebook. You can list anything here, including clothes. I've had good luck selling lots of clothing here (all one size) but not necessarily secondhand designer goods. Facebook Marketplace is more for bottom-dollar deal seekers than people who want to save 50% on luxury handbags.
The Best Apps to Sell Kid's Clothing
The baby and kids' used clothing marketing is booming – especially for designer, couture, and niche (boutique style) brands. Buying and selling secondhand is trendy. And for parents of growing kids, it makes economic sense.
While any baby or children's clothing (in re-wearable condition) sells well, certain items will sell more quickly and at top dollar.
Gender-neutral clothing items for babies and toddlers
Popular high-end brands like Boden, Hanna Andersson, Jamie Kay, or Mini Rodini
Sizes 6M to 5T. There's a smaller market for buying preemie baby clothing and sizes NB to 3M. First-time parents are less willing to put their brand new baby in used clothing. On the flip side, older kids generally have their own ideas about clothes and want to pick out their wardrobe.
The best apps to sell children's clothing are:
Kidizen: This is hands down the best app to sell children's clothing. It has the largest selection of children's brands I've found for any resale app. Featured brands include couture labels down to SHEIN Kids or Cat and Jack. In most metro areas, there's also the option for you to get a style scout to sell for you. This is another Kidizen app user. They'll sell your clothes on consignment and do all the work for you from photos creating listings and shipping the garment. When an item sells, you get 60% of the proceeds.
Facebook BST groups: If you are in love with a particular brand, Facebook BST groups are your friend. Find groups centered around buying and selling particular brands.
The Best Apps to Sell Men's Clothing
While most apps are to sell women's or children's clothing, there are dapper dudes too who also want to cash in on their closet. Here are the best apps to sell clothes for men.
Buffalo Exchange: This isn't just a brick-and-mortar thrift store. Buffalo Exchange has a sell-by-mail program, too. You can request a prepaid shipping bag to fit up to 40 items of clothing. Brands that sell well: Zara, J. Crew, and any label Nordstrom carries.
Grailed: Think of Grailed as a combination of TheRealReal or Poshmark, but with a hyper-focus on men's clothing. Create listings and set your own price. You can sell clothes online under three different categories: Grailed (i.e. Paul Smith or Yves Saint Laurent), Hype (i.e. Psychotic Bunny or Yeezy Season), or Basics for more mainstream items like J. Crew or Madewell.
Tips to Make Selling Clothes Online Profitable and Hassle Free
Make sure you have a decent printer. You'll need it for prepaid shipping labels.
Stock up on polymailers in a couple of different sizes.
Get a small kitchen scale that you can use to weigh packages (polymailers) up to 10 pounds.
Take at least 2 pictures of every item. One pic of the full garment in the frame and one that's a closeup of details (i.e. print, colors, or embellishments).
Disclose any/all flaws, no matter how minor you think they are. (Someone else will think it's a huge, cancel-Christmas sort of deal.) Take close-up pics and include them in the listing.
Use Pirate Ship if you're paying for shipping. You can calculate shipping to anywhere for anything. It will give you the cheapest rates for US Postal, FedEx, or UPS. You can pick the cheapest or easiest deal, pay for shipping, and then print the label. Pirate Ship is the cheapest option for shipping.
Create listings as quickly as possible. While you want to anticipate questions a buyer will have (like how does sizing run, is it machine washable), don't waste too much time giving too much detail. (I've seen sales listings that were paragraphs long, talking about the provenance of the garment's fabric, the type of detergent used, and every possible measurement. For a Target dress size 4.)
Make it a family affair. You can ask your kids to take the pic? Create the listing? Research the price? Maybe it's a chore for your kids to earn money. Or if you have kids asking for new clothes, you can tell them they need to earn the cash by selling their outgrown or unworn items.
"Can you measure this for me?" This question can be a time suck. You have to remember to do it, dig out the garment, and find the tape measure… 9 times out of 10 when I do this, the buyer loses interest by the time I get back to them with the info. And yet you don't want to appear unresponsive or unreasonable by refusing.
"Can you message me again at X pm to remind me?" That's my standard response to measurement requests. First, it means I won't forget. It's less onerous since I'm at home a couple of rooms away from the garment. Secondly, it means this is a motivated potential buyer less likely to flake out.
Set up a PayPal account and a Venmo account. Some buyers only have one of the apps and that's the app they'll want to use. When you're the buyer, PayPal offers you more protection. But if you're the seller, using Venmo is at the buyer's risk and not yours.
FAQs About Best Clothing Resale App
Here are the most common questions about clothing resale apps.
What is the best app to sell your used clothes on?
Selecting the best app to sell used clothes isn't a one-size-fits-all answer.
If you're into a social vibe and like mingling with fellow fashionistas, Poshmark might be your jam.
For the cool, vintage-loving younger crowd, Depop's where it's at.
But if you're someone who just wants to clear out their closet without the fuss, ThredUP acts like your online consignment buddy.
You might also consider that where you are in the world can also play a part in the app that'll work best for you. Just keep an eye out for any fees and think about who you're hoping to reach.
What is the best selling platform for clothing?
Poshmark, Tradesy, Mercari, Thredup, Vinted, and Depop are among the most popular platforms.
Identifying the best platform for selling clothing hinges on various considerations. eBay, with its vast user base, provides a versatile environment for a variety of garments.
Grailed is a haven for high-end menswear enthusiasts.
Vinted emphasizes sustainable fashion, attracting a conscientious audience.
The RealReal zeroes in on luxury brands and offers authentication to ensure buyers get genuine items.
For those looking to sidestep shipping or target local buyers, Facebook Marketplace can be an ideal choice. Determining the perfect platform requires evaluating one's inventory, desired selling experience, and target audience.
With each platform offering distinct advantages, a personalized approach is often the most effective.