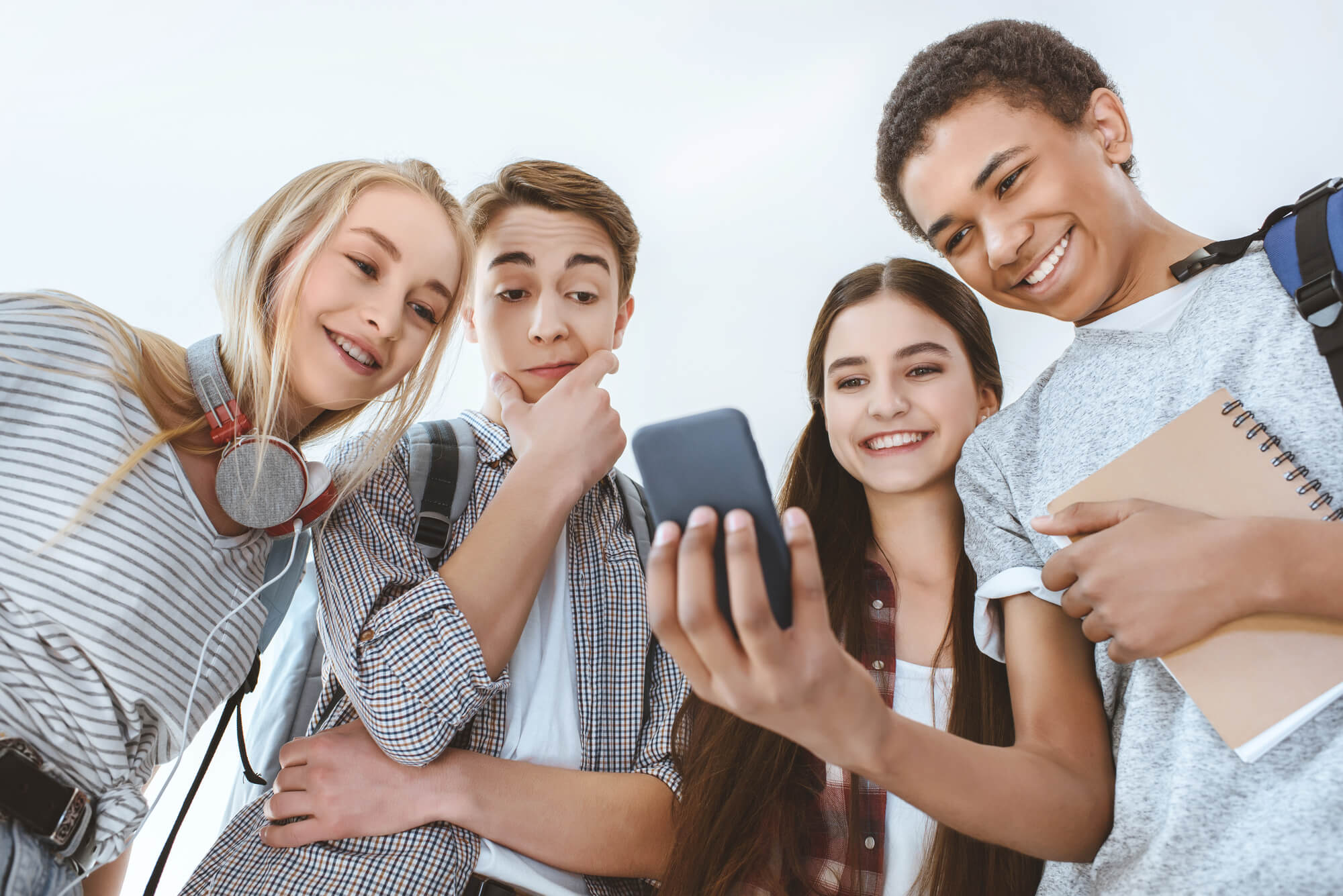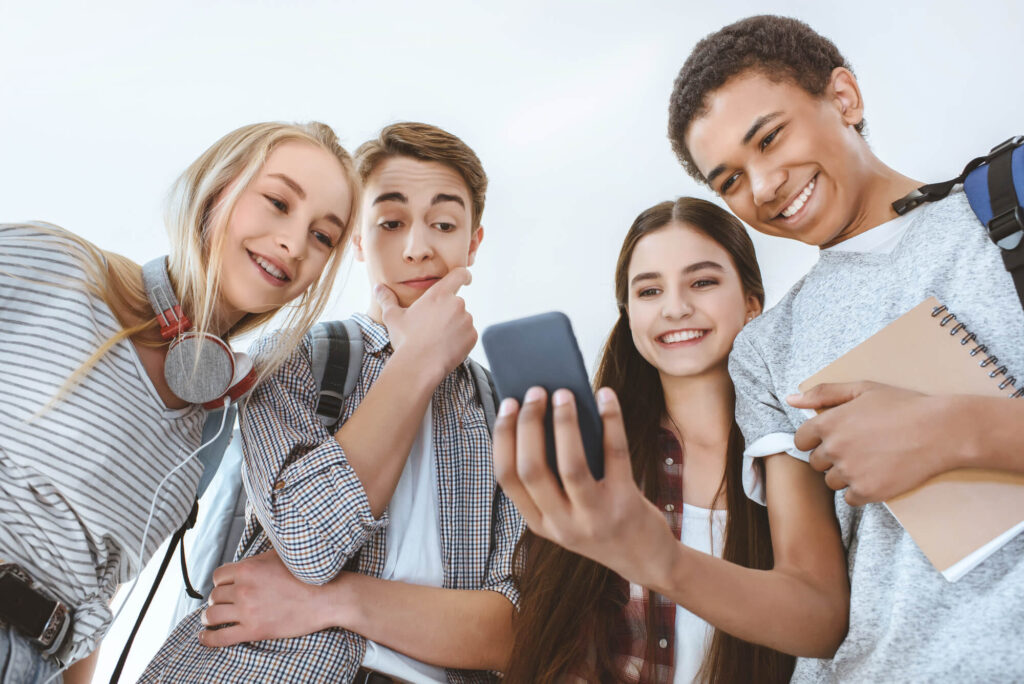 We will receive a commission if you make a purchase through our affiliate link at no extra cost to you. Please read our disclosure policy for more information.
Are you tired of being a broke teen?
Do you want to start making money so you don't have to ask your parents for cash to buy things you really want? The new shiny iPhone comes to mind or how about finally getting some new clothes and shoes?
Luckily for teenagers, the Internet is full of online jobs for teens and students who are serious about earning their own money.
You have an advantage over older folks when it comes to the virtual world because using technology is second nature to you.
This may sound crazy to you, but school used to have typing classes to teach older generations how to type. Go ahead – laugh all you want.
Making extra money these days is much different than a decade ago.
Aside from having more financial freedom, learning how to earn money online as a teen will give you time to sharpen your entrepreneurial skills and gain valuable life experiences.
Whether you're looking for a job where you can work alone (because you're a true introvert), or an early-morning job (just because you're an early bird), there are plenty of options for you to choose from!
Without further ado, here are the best online jobs for teenagers from ages 13 to 18 that pay.
If you are an older teen, aged 17, 18, or even 19, these options are also perfect as they are suitable online jobs for 18-year-olds with no experience.
⭐ Hey, are you interested in earning money with this online job?

Here's something I want to share with you.

I started doing online surveys that pay you for just saying what you think, and they're a total breeze. I've been on this for years, and it's been a pretty interesting way to snag some extra cash right from my phone!

One survey site I highly recommend is Branded Surveys, which is 100% free to join! The minimum age requirement to participate is 16 years and older.

You'll also receive a 100-point welcome bonus, equivalent to a $1 value, when you sign up for Branded Surveys through this special page. 👈

To secure your extra bonus points, be sure to confirm your e-mail from Branded Surveys in your inbox when they send you a confirmation after sign-up!

Join the 3 million people around the world who are already making money with this survey site. Hurry, this chance won't be around forever. I really don't want you to miss out—so sign up now!
Top Online Jobs for Teens
Oh, and I forgot to mention this to you…
The fact that you're scoping out some killer ways to bank some cash as a teen is super cool! You're not like the rest of the crowd, just cruising and mooching money off their parents. So, major props to you!
You're on the fast track, and with this kind of hustle, you're setting up your master plan on how to get rich in your 20s. Fast forward a few years when you've hit that level, the same friends you've got now as a teen are gonna be seriously wowed. They'll be tossing mad respect your way!
So, let me help you get a headstart on your financial journey!
PIN (OR BOOKMARK) THIS PAGE: I'll be updating this post so make sure to pin this image HERE and save it to your Pinterest board. That way you'll be able to come back to this page and learn the top online jobs for teens that are high paying!
1. Get Paid for Everyday Activities
Wouldn't it be nice if you could earn money online by doing things you're already doing every day like watching funny videos and getting paid for searching the web?
Well, I have good news for you.
You can actually do those things and make extra cash during your spare time with Swagbucks!
Swagbucks has 4.3/5 stars rating on Trustpilot so this is a safe and legit site that pays teens for doing quick and easy online activities like:
Watching funny videos
Playing games
Searching the web
Answering surveys
Shopping online
So far, Swagbucks has paid out over $378 million in cash and free gift cards to its members. I personally used it A LOT when I was still in school as a broke student, which helped me earn not only free money via PayPal but also an unlimited amount of Starbucks free drinks!
Now, tell me which teenager doesn't like lounging around at Starbucks with their friends?
Apart from earning Starbucks gift cards, you can also take a look at this screenshot where I literally just earned $50! The best part is that this amount is ready to be instantly sent to my PayPal account.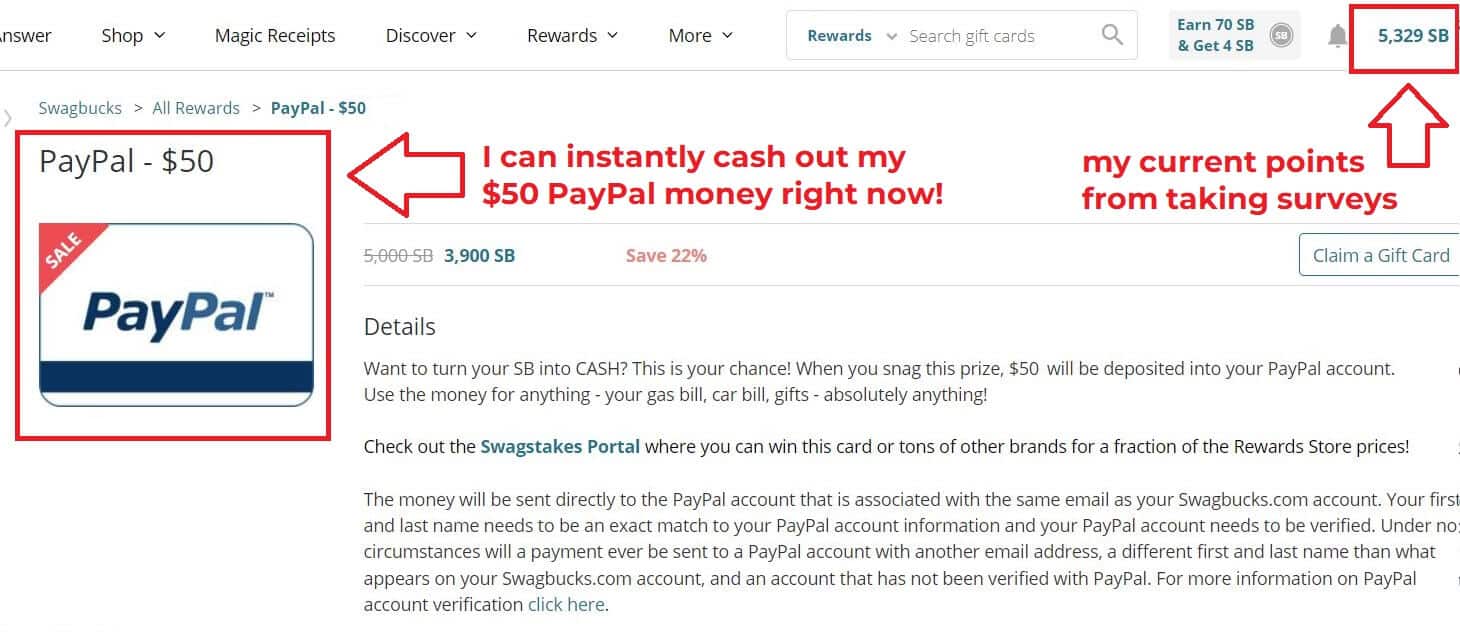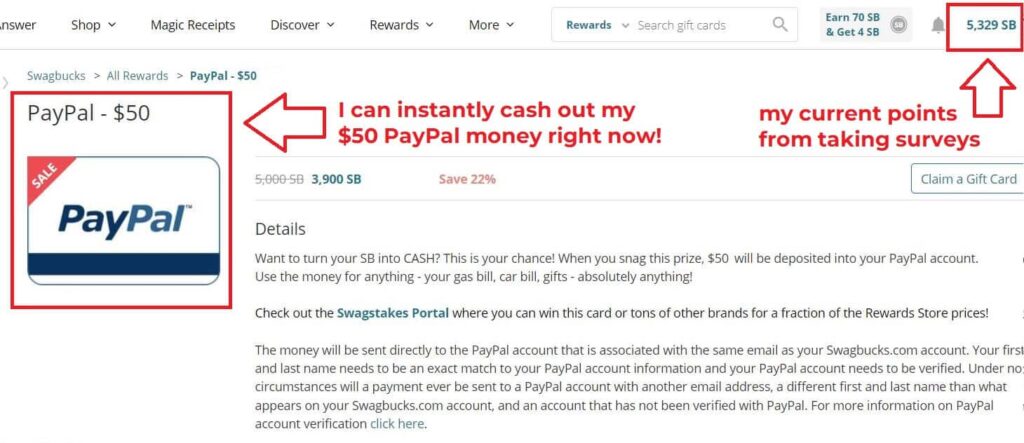 It's 100% free to join Swagbucks and takes less than 30 seconds. You'll even get a FREE $5 bonus here for signing up today (simply verify your email).
You won't get rich with Swagbucks, but it's one of the best ways to make money as a teenager online and earn some extra cash for spending.
Are you wondering is Swagbucks legit? You can learn more about Swagbucks and how to use it through my honest review.
You can get a FREE $5 bonus from Swagbucks here just by signing up today. Grab your FREE $5 before the offer ends!

Important: Make sure to verify the email from Swagbucks in your inbox so you can start earning free gift cards immediately!
2. Earn Money for Sharing Your Opinion
One of the most popular jobs online for teens today includes sharing your opinion online for cash.
Large companies spend A TON of money every year on market research to understand what their customers (aka YOU) like and don't like about their products. This way, they'll know where they're killing it and areas they need to step up their game.
There are millions of teenagers in the United States (41.8 million to be specific) so you bet that companies are willing to pay big bucks to get opinions from teens.
Who knows teens better than you?
You can get paid to share your opinions with Survey Junkie on topics like:
Beverages– What's your favorite pop/soda brand?
Cosmetics – Where are some places you buy your makeup from?
Restaurants – Where are your favorite places to eat?
Video games – Do you watch video game streams?
As long as you're 13 years old and older, you can start earning some quick cash on the side to help pay for your new iPhone or that pair of those popular Air Force Ones.
You can sign up for Survey Junkie for FREE here. It is rated 4.5/5, which is one of the highest on Trustpilot reviews.
3. Participate in the Highest Paying Online Surveys
If you're a teen and want to score some extra cash without leaving your room, then you can try a side hustle like taking paid surveys online.
Yes, you can take surveys that pay real money through PayPal (this page applies to you if you reside in the US).
On the other hand, if you reside in Canada, here are the best paid survey sites in Canada for you to participate in.
Now, it's not gonna make you a billionaire, but it's some easy money just for sharing your opinion. Plus, you get paid through PayPal (or you can receive free gift cards online), so it's safe and hassle-free.
But here's the real deal: you're not just earning cash, you're also getting a sneak peek into the world of market research and consumer trends. That's some legit knowledge that could come in handy someday. It's like making money while learning on the down low.
And now you might be wondering why's this market research stuff important. Well, learning about consumer trends and market research isn't just cool knowledge to have – it's a super useful skill set for the real world.
Whether you dream of starting your own business one day, becoming a hot-shot marketer, or simply being a savvy consumer, understanding what people want and how businesses figure that out is gold. It's about making smart decisions, being ahead of the game, and understanding the why behind the buy.
So, while you're cashing in on surveys, you're also picking up some boss-level insights for the future. Now that's a win-win if you ask me.
My personal favorite is Swagbucks because they're the most legitimate, but below are some of the other best survey sites that pay teenagers to answer short questions. You can sign up for all these highest paid survey sites for free.
So after you've tried it and decide it's not for you, you can just stop doing them. Pretty simple, right?
👉 American Consumer Opinion (for 14 years old and older) – Surveys are in multiple choices format so it's easy to do. They paid out more than $30,000,000 to millions of users!
👉 My Points (for 13 years old and older)–Teens can get paid to answer quick and simple surveys, watch videos, searching the web, shop online, etc. You can get $5 for free as a sign-up bonus.
👉 Inbox Dollars (for 18 years old and older) – Teenagers can make money doing everyday online activities like playing games, reading emails, online shopping and more. You can get a free $5 bonus for signing up.
4. Online Food Delivery
One of the easiest ways for teens to earn money, both online and offline, is through food delivery apps. In fact, these are considered excellent job options for those aged 18 and older.
DoorDash, a highly renowned food delivery service, provides an innovative and modern approach to online jobs that can be ideal for teens looking to earn an income.
Although not traditionally considered an 'online' job due to its physical aspects, it falls into this category as the entire process, from receiving orders to navigation and payment, is facilitated through the online platform.
Teenagers who meet the company's age requirement (which is typically 18 years and older), possess a valid driver's license, or have access to a scooter or bicycle, can utilize this opportunity to make money on their own schedule. It offers flexibility, autonomy, and a way to learn valuable skills such as customer service and time management. Thus, DoorDash represents an exciting bridge between the digital and physical worlds, making it a worthwhile option in the realm of online jobs for teenagers.
You're probably curious about how much money one can actually make with DoorDash, aren't you?
Well, luck would have it, I'm actually working this very gig on the side, so I can shed some light on what your daily earnings could look like as a teenager. Let me share a screenshot from one of my previous work days.
This screenshot represents my earnings from just my third day on the job – $150.55 a day doing a 5 to 6-hour shift (separated into 2.5 in the morning and evening). That's about $25 to $30 per hour.
Bear in mind, I was entirely new to this, having no prior experience with food delivery, and still managed to earn this extra cash right from the start. So you can imagine yourself earning more if you become more familiar with this gig. It's certainly a venture you could consider for yourself too!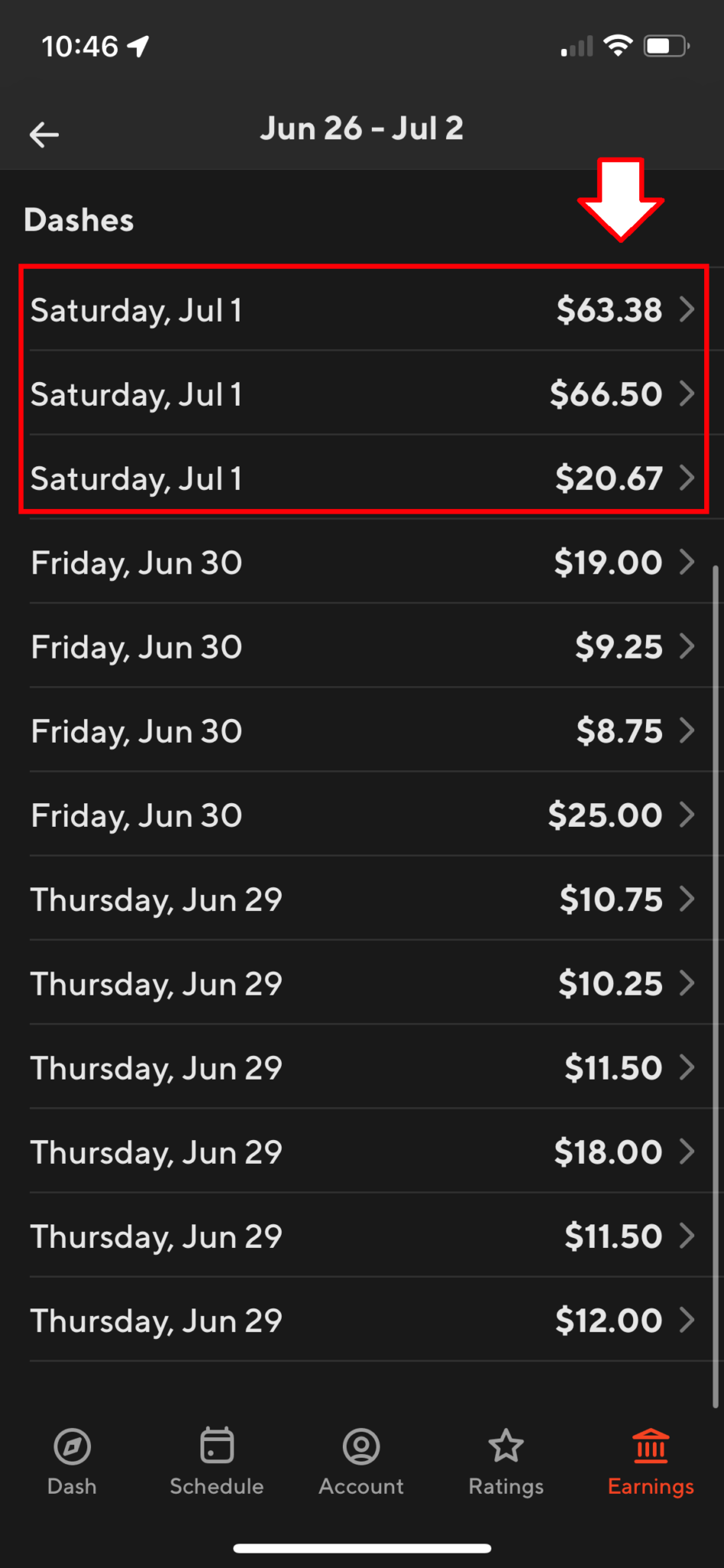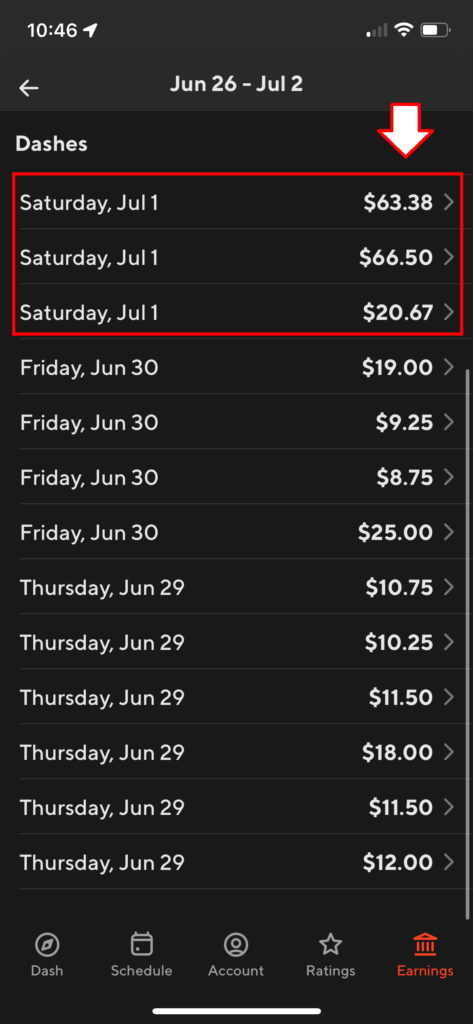 The most exciting part? You can hit the ground running and earning cash immediately today as soon as you sign up to become a Dasher via this link. There's no lengthy interview process – they simply inquire about your preferred delivery mode: car, bike, or scooter. I was able to start making money on the same day I signed up!
Here's my quick tip. Opting for a bike or scooter can save you a pretty penny on gas. If a vehicle is your go-to, I'd suggest considering a hybrid or electric one for the sake of fuel efficiency.
5. Make Money Blogging
Do you love trendy fashion, delicious food, or fancy gadgets and you just can't stop talking about it with your friends at school?
You could turn your interests into a full-time job by starting a blog and writing about trending topics that people want to read. Whether you're an introvert or extrovert, this form of online work is an excellent choice – especially if you're looking for one that is potentially high paying.
And that's what I did – I started a money-making blog! The only thing I regret is not starting as a teenager.
Aside from trending topics, there are bloggers that write online to help bring awareness to mental health issues young people face, while others blog about their fitness journeys in hopes to inspire out of shape teens to join them.
Lifestyle bloggers earn an income by sharing their lifestyle and everyday fashion tips with their followers.
Blogging is perfect for you if you have something to share with the world and prefer to write instead of being in front of a camera. It's one of the top and legit work from home jobs for teens.
If you're excited about learning how to start a blog so you can start making money online, sign up for my FREE 7-day e-mail course.
I will teach you step-by-step exactly what I did to drive traffic to my small blog so I could earn $10,000+ per month as a full-time blogger.
6. Get Paid To Watch Netflix
Hey, teen Netflix addicts!
Consider getting paid just to binge your favorite shows on Netflix. Sounds like a dream, right?
Some companies will actually pay you to watch and review shows and movies.
It's not gonna make you super rich (maybe unless you start a profitable blog about it), but hey, it's money for doing something you love! Plus, you'll develop mad review skills and a critical eye for details, which could totally boost your game in a future media or entertainment gig. Make your Netflix hours pay off!
7. Start a YouTube Channel
You may have heard of Ryan Toys Review, but did you know that Ryan is the highest-paid YouTuber in 2018? He made $22 million!
If this crapload of money didn't surprise you, then maybe his age will. He's only a 7-year-old!
How did Ryan get there?
It all started when he asked his mom: "How come I'm not on YouTube when all the other kids are?"
That one question changed their family's lives forever.
You watch YouTube videos every day, but have you ever thought about starting your very own YouTube Channel and making money with it? Worth a shot if you consider yourself an extroverted teen who loves attention. 🙂
8. Become a Twitch Streamer
Who would've thought gaming is considered one of the most popular online jobs for teens?
Is gaming your thing where you can play video games ALL day?
The only break time you need is to use the washroom and eat to refuel before you get back to kicking your opponents' butts.
Now you can play video games and earn a living out of it by streaming your gameplay on Twitch! It helps if you're pro at Fortnite, but subscribers follow streamers because they're funny and entertaining to watch.
That's right, you can tell your mom that playing games is NOT useless and people are lining up to watch you play.
Twitch streamers make money by receiving donations and Bits (tips) from their subscribers, generating ad revenue, partnering up with brands, and selling merchandise.
If Twitch isn't your thing, there are still many other ways to make money by playing video games online.
9. Google Adsense
Are you wondering if Google online jobs exist for teenagers like you?
You're also probably wondering how you could receive a paycheck from Google online?
Working from home and making money off the giant $350+ billion company does exist!
One way is to become a publisher with Google Adsense and make money with display advertising online. Aside from Google Adsense, there are many different ways to make money online with Google for free.
If you're interested in discovering the possibilities, be sure to dive into the article on how you can earn money from Google at home as a teen.
10. Manage Social Media for Money
Many small businesses are hiring people to manage their social media accounts to help improve their online presence and reach new customers.
However, businesses won't just hand you a job because you know how to use Pinterest, Instagram, Facebook, YouTube, etc. They're looking for someone that has relevant experience, like building a following on these social media platforms.
So if you have experience building a following on Instagram, Pinterest, or Facebook, you can use this to your advantage to land a job managing social media accounts.
11. Online Tutoring Jobs for Teens
There are some of the best online tutoring jobs that pay up to $60 per hour.
You might get a death stare from your teacher if you're a chatterbox and can't stop talking to your friends in class.
But not with SameSpeak! Instead of getting in trouble for talking, you get rewarded to chat with people!
SameSpeak is hiring teen native English speakers to help their students learn English by allowing the students to practice their English in normal conversation settings. You'll earn $10 for every half-hour session you complete.
They are one of the most popular online jobs for 16 year olds. To sign-up with SameSpeak, you'll need to have access to high-speed Internet, a working headset, and a Skype account.
This is a great teaching experience if you plan on traveling aboard to teach English in the future.
Similar to SameSpeak, SkimaTalk allows you to make money by teaching English learners how to speak English via Skype sessions. However, you need to be at least 18 years old to enroll as a teacher to tutor.
Each lesson lasts for only 25 minutes so you don't need to complete a full hour to receive the credit. The earning for new teachers typically starts at $8 per session. After several sessions, you can set your own price for your sessions.
12. Sell Your Old Clothes and Shoes Online
Hey, maybe you've got some old clothes chilling in your closet or a pair of trendy shoes you've outgrown. When I was a teenager, I remember collecting a lot of clothes over the years.
So, I thought to myself, "Why, I should turn this old wardrobe into cash!"
Yup, you can consider this as a type of online work if you're running it through the best apps to sell your clothes online. Reselling your lightly-worn clothes or flipping sneakers online can be a super fun and lucrative side hustle.
Not only do you declutter your space, but you also make some serious cash and learn about the resale market. It's like running your own mini thrift shop or sneaker store.
Reflecting back, I recall transforming my unused clothes and accessories into a goldmine. Through savvy decluttering, I was able to earn extra thousands of dollars, turning my fashion surplus into a surprisingly profitable venture.
13. Sell Things Online That Make Money
So, you're killing it selling vintage clothes and kicks online, but guess what? There's more loot out there! There's a whole world of cool stuff you can sell (or flip) for some good cash. You can explore the world of the top things to sell online that are high paying.
Tech gadgets like used phones or gaming consoles, collectible toys, or even rare vinyl records can fetch a high price depending on many factors. Heck, selling handmade art or crafts could hit the jackpot too especially if you consider yourself a crafty teen! I recommend finding unique stuff, making it shine, and asking for a fair price!
14. Sell Your Crafts Online
Etsy offers many online jobs for teenagers who are creative and crafty. You can make extra money online by selling your handmade creations on Etsy.
Whether you're talented in drawing art, designing unique jewelry or knitting accessories, you can make some serious cash by creating your own Etsy shop.
You could even look into flipping furniture and selling your handcrafted designs on Etsy for extra money.
Since it's your Etsy shop, you can set the prices for things you want to sell. Once the item is delivered to the buyer, you'll get paid through PayPal.
Many interested buyers are searching online for unique art pieces to express their individuality. Why store your personal collection of art in a dark closet when you can sell your work to someone who will appreciate your masterpiece? And trust me; there will be someone who appreciates your work. 🙂
15. Sell Your Creativity
Fiverr is a digital marketplace that offers a variety of jobs and services for freelancers. They are popularly known for its $5 per task or gig, but later updated the rules to allow sellers to price their jobs above $5.
People on the Internet are buying all kinds of gigs from teens. Fiverr is where teens can find fun jobs for 13 year olds that pay.
Is your hidden talent impersonating Donkey from Shriek? Yep – there are folks looking to hire someone to read a passage with Donkey's voice.
Do you have fun doing voice-overs? Perhaps you can pick up a job to help animators put the finishing touches on their projects with a teen voice-over.
Keep in mind it depends on how much work is required to complete the task so you can price your services accordingly. The longer it takes you to finish the job, the higher you should charge for your gigs.
Teens making money online are taking advantage of funny and odd jobs from buyers so don't wait too long to get started.
16. Be a Freelancer Online
In today's global economy, it pays to be fluent in more than one language. Businesses are demanding more multilingual workers than ever to serve their customers in a variety of languages.
Various companies turn to Upwork to hire freelancers to translate their documents from English to German, subtitle videos with different languages and write Spanish content on their websites.
If you're bilingual, you can bring in a decent income with these kinds of gigs.
There is a wide range of jobs available on Upwork for you to choose from. They include designing logos, writing articles for websites, coding for apps, editing and proofreading papers and many more.
17. Work for U-Haul online
The life of a teen is not easy.
You have projects and assignments to finish, tests to study for and extracurricular activities to attend.
You live a hectic life so you need part-time opportunities that have flexible hours and work at home programs to fit your busy schedule, right? Got it.
U-Haul has an online job for teens and they are hiring energetic teenagers with positive attitudes for their customer service representative roles.
As a customer service representative, you will answer customers' general questions regarding U-Haul's products and services. Customers may call in to ask about U-Haul's storage fees or book a truck to move their stuff. Nothing complicated.
To be hired, you have to be a high school student, be at least 16-year-old and have your own equipment (computer and headset) to access the Internet.
Online customer service representative positions are one of the best online jobs for teenagers that pay.
You get the option to work on evenings, weekends and in the comfort of your home.
18. Get Compensated to Catch Errors
When you read and hear bad grammar, do you let it slide and pretend nothing happened or do you correct the source and bring English justice to this broken world
Okay, Captain English, there's a job for you.
You can make money AND bring grammar peace to this planet by becoming a proofreader on TextMaster.
With TextMaster, you can take on jobs at your leisure so you choose how much you want to work. No one is your boss – you set your own schedule.
A word of advice, it's not wise to attempt to fake your ability to proofread and edit documents because TextMaster will test and verify your skills via their application process.
Be confident with your proofreading skills and experience. You've got years of proofreading training under your belt while attending school and edited countless of your friends' English essays.
19. Make Money Reviewing Calls
Every time you call customer service, you'll hear this line before they connect you to a representative – "this call may be recorded for training and quality purposes."
Believe it or not, there are companies that actually review these calls.
Humanatic pays reviewers for listening to recorded phone calls and answering simple questions regarding the calls.
Questions such as did the agent answer the customer's questions thoroughly?
This information is used to generate reports and statistics for their clients to help companies improve on their businesses.
It's free to sign up with Humanatic. You can review calls at home whenever you want and, as much or little as you want. Payments are made via PayPal so you'll need to have a PayPal account.
20. Sell Your Photos
Everyone owns a smartphone, but not everyone can take amazing pictures.
If you're blessed with the skills to capture breath-taking sceneries, the perfect smile on people's faces or make food look 100x tastier, you can monetize your photography skills with Shutterstock.
There are many people online buying quality photos to use for their blogs, websites, presentations, and products.
If you're successful in building a brand for yourself, you may be able to turn your hobby into a career.
21. Get Extra Cash from Parents
Care.com is an online platform where they connect you with local folks in the community that need help with their daily lives.
Parents love their kids to death, but there are times where they'll need to take a break from baby Emma. To enjoy a night out by themselves, parents will need to hire a babysitter for little Emma.
You've got years of experience babysitting your younger siblings so why don't you offer to babysit for busy parents and earn some extra money? It's free to create an account on Care.com.
Depending on your experience, you can earn between $15-$20 per hour.
If you're great with pets or help around the house with chores, you can get hired for pet sitting and housekeeping.
Sittercity is another company that is similar to Care.com.
22. Earn Money Typing
GoTranscript is a site that hires people to transcribe audio files for their clients. The audio files can range from being phone calls, interviews, meetings or podcasts.
As a transcriptionist, you'll listen to the audio files and type out what you hear. It sounds easy, but typing skills are critical in these types of jobs, so if you can type fast and accurately, you're ready to make some money.
You can earn up to $36 per hour of audio transcribed with GoTranscript. The company reports that the highest earner makes $1,215 per month and the average earning is $150 per month.
Unlike other online companies, you can choose to be paid via PayPal or Payoneer.
Online transcription jobs can be great online jobs for students that have time to kill and want to work from home.
23. Trade Your Old Things for Cash
Garage sales were really popular back then because people were able to sell their used goods for quick cash.
Shoppers would walk away with a great deal on items they like and sellers get a nice stack of bills for things they no longer use. It's a win-win situation for everyone!
Nowadays, you don't need to hold a garage sale to sell your pre-loved goods – who has time to sit around and wait all day for buyers? You can achieve the same result with eBay to earn hundreds of dollars.
Did you get a new iPhone as a gift and don't need your old phone anymore? Sell it on eBay and pocket $150.
Do you really need to have 8 pairs of shoes? Keep the ones you absolutely need and sell the rest!
Let's not forget about the different styles of clothes sitting in your closet. When are you ever going to wear them again – probably never! List it on eBay and pocket the cash.
Selling on eBay is easy, you can choose to set your own prices or you can auction off your items.
Browse around eBay to see how much other sellers charge for similar products. You can charge higher prices if your items are in better condition compared to other sellers. Also, be sure to factor in the shipping costs and other fees eBay charge in your prices.
24. Get Paid to Review Music
Why do you have the urge to dance to Pharrell William's song – "Happy"?
Does it remind you of summer or perhaps this song brings you back to a time that you were happy.
Artists die to get honest feedback on their music from their teen audience so they can make better music for everyone. You can help unsigned artists and collect cash at the same time on Slicethepie.
Once you sign up for a free account with Slicethepie, you can start reviewing music right away.
After listening to a track for at least 90 seconds, you can write down what you liked or disliked about the track.
Could you feel the artist's emotions through their vocals? Was the rhythm too slow for a happy song? These comments are gold to artists because it allows them to reflect on their work and make necessary changes.
A review can earn you 5 cents to 15 cents, depending on the quality of your feedback and your star rating.
You won't make 100's of dollars a month with this, but it's not a terrible idea if you enjoy listening to new music and helping new musicians out.
25. Earn Money from home with Online Data Entry Jobs
You're probably wondering do data entry jobs still exist today? They do and are quite popular actually!
This is because online data entry jobs allow people to work from home or virtually anywhere.
Clickworker is paying teens to various easy online jobs. Here are some examples of some data entry online jobs:
Text Creation – write product descriptions for clothes, online shops, and travel offers.
Categorization –differentiate image files from audio files by adding tags to them.
Research – searching the web for business and restaurant addresses.
App Testing – help app creators find bugs on their new apps.
There are a variety of jobs available on Clickworker so create a profile and check it out what interests you.
Survival Tips for Teens Looking for Online Jobs
Have a PayPal Account Ready
Most online companies will pay you via PayPal so you'll need to have a PayPal account set up to get paid.
Problem: PayPal no longer offers student accounts.
According to PayPal's user agreement policy, you must be at least 18 years old to open an account.
Solution: Ask your parents to open a PayPal account to receive payment and withdraw the funds for you.
Beware of Scams
As you can see, there are numerous companies offering legitimate work from home jobs for teenagers. However, you have to be careful of Internet scams where you are asked to pay them to train you.
Real companies that offer online jobs will train you for free – you don't need to pay a single penny to work for them. Runaway from anyone that tries to get you to fork out cash.
Keep in mind that online jobs that require no experience will pay you less compared to gigs that need you to have a few years of experience.
When you're young, gaining relevant skills is far more important than getting paid more. Focus on roles that will give you the opportunity to build essential skills like communication, leadership and problem-solving skills.
These skills will make you more marketable when you're searching for jobs online for teens or college students.
FAQs about Jobs For Teens That Pay Well
Here is a list of questions that I often get asked by teenagers, on average 16-year-olds, about online jobs and making extra money. Whether you're 14, 17, or even 18 and 19 years old, this still applies to your situation.
So, I decided to include this section to make answering your questions easier and more efficient.
1. What are some online jobs for 14-year-olds?
I have to say that at age 14, online job options are limited due to labor laws, but there are still opportunities for you to make money online as a teenager.
Some good options include taking online surveys and signing up for GPT (Get Paid To) sites that pay for completing small tasks. Be cautious as many sites require users to be 18, but some allow younger teenagers with parental permission.
Teens can also consider starting a YouTube channel or blog, which can generate income through ads, sponsorships, and merchandise, though this generally takes time to build up. You may also need supervision from your parents if you are under the age of 18.
Selling handmade crafts or vintage items on platforms like Etsy or eBay is another option.
Freelancing skills like graphic design or writing can also be a source of income, but finding clients may be more challenging for young teenagers due to their limited experience.
2. How can I make money online at home at 16?
I totally get it, you're 16 and ready to make some money from the comfort of your room because you want to become more independent and not have to rely on your parents.
For starters, I recommend trying online surveys, they pay for your opinion.
If you love Netflix, get some gigs that pay you to watch and review. Or, if you have a little bit of money to invest in a profitable hobby, then I will highly recommend starting a money-making blog and writing reviews of your favorite Netflix. By doing that, you can potentially earn a great income through display ads. But remember to talk this through with your parents if you're under 18 years old.
Got cool stuff lying around? Sell it online! Old clothes, shoes, games – they can all be worth something. And if you're crafty, consider selling your creations. Basically, the internet is your money-making playground, so get creative with it!
Did we miss any popular part-time jobs for teens on our list? Please share your best teen online jobs with other teenagers in the comments.