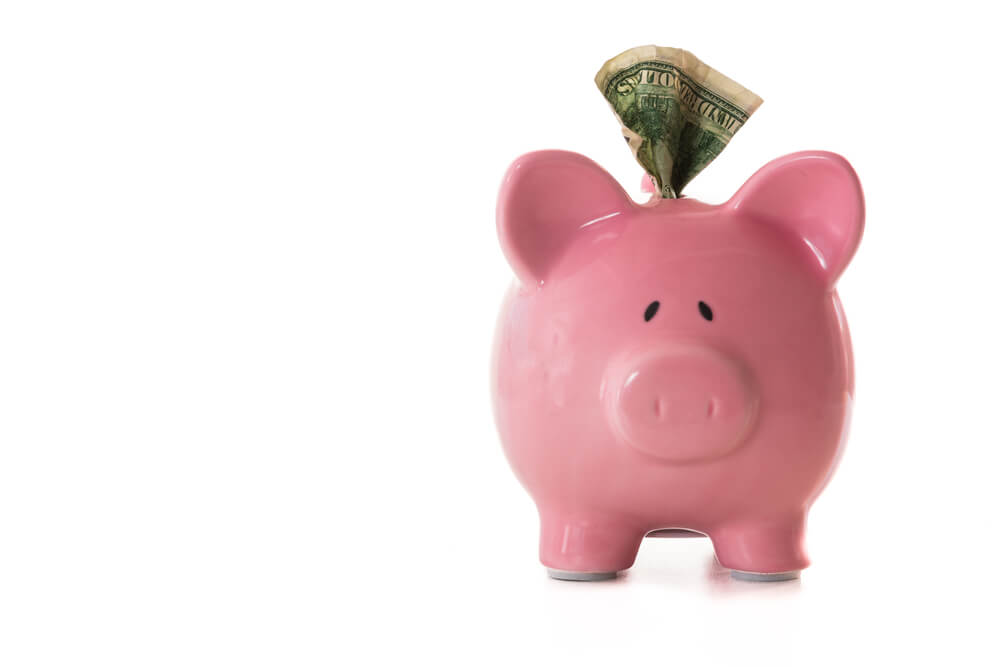 We will receive a commission if you make a purchase through our affiliate link at no extra cost to you. Please read our disclosure policy for more information.
We download new apps on our phone all the time, but instead of installing yet another game app onto your phone, why not download apps that will put money back in your wallets?
Regardless of what you're buying online or in-store – clothes, groceries or morning coffees – there are plenty of money-saving apps that you can download for free to earn cashback and rewards to help you find the best ways to save money on your everyday shopping. Another way to keep more of what you earn is to learn how to avoid these bad money habits that you aren't even aware of!
The great thing about cashback money-saving apps is that you can use your coupons to get a discount and still be eligible for cashback rewards. CHA-CHING!
But wait, that's not the best part…
The best cashback apps allow you to double-dip on your cashback rewards by earning cashback from these free apps AND get money back from your credit cards at the same time!
What is a cashback app?
A cashback app is a mobile application that offers users a percentage of their purchase price back when they buy products or services through the app.
For example, if a user buys a $100 item through the app, they might receive $5 back. By linking to retailers, it provides incentives to shop, returning a part of the spending to the user's account as cash or rewards.
Popular free cash back apps, like this Swagbucks survey app, will even give you a $5 sign-up bonus just for creating a free account! It's not a lot of money, but it's a free $5 that you can use towards your next Amazon purchase.
One of my favorite ways to save money each year is by earning free Starbucks gift cards. They allow me to enjoy free Starbucks drinks, adding a delightful perk to my daily routine.
If you're already using all the cashback apps on this post to help make your daily spending more affordable, then you're probably a smart shopper and are ahead of the curve when it comes to finding creative ways to save money.
However, if you haven't tried all of these free apps yet, it's not too late for you to take advantage of earning free money and get into the practice of saving money.
With the best money-back apps, you could save anywhere from $300 to $1,000 a year without making any changes to your spending habits!
The Best Cash Back and Rewards Apps
Again, all the cashback apps on this list are absolutely free to download. Try them today and you'll be surprised how much you could actually save (or missed out on) every month!
1. Rakuten – Get a Free $10 Cash Back or Gift Card Bonus!
This is one the best money-back app out there for anyone that loves shopping online. I always use Rakuten to get cashback on my online purchases – and you should too! It's like getting free money!
I've earned over $1,000 (screenshot below) since I've started using Rakuten and I highly recommend this to all my friends and readers. Sharing is caring.
There are no fees to sign-up and it's free to use. Also, you don't ever have to submit those pesky rebate forms to receive cashback.
It's very simple to use and earn money with Rakuten.
Find the store you want to shop at on Rakuten and click on the "Shop Now" button.
Shop as you normally would and earn cashback on your purchases.
Get paid via PayPal or by check!
Once your account reaches $5, you have the option to cash out and get paid through PayPal or request a big fat check. Not a terrible way to make money online with PayPal.
With Rakuten, you can receive up to 40% cashback at over 2,500 retailers when you shop online, including popular stores like Amazon, eBay, Macy's, Sephora, Expedia, and many others. It feels almost like I'm getting paid to shop for things that I would have normally bought anyway, transforming everyday spending into a form of passive income since I don't have to think much about it.
I don't blame you for thinking that it's too good to be true because I too thought the same! How can a company survive by giving out free money to users?
However, after reading numerous glowing reviews about this app and learning how Rakuten's business model works, I tried it myself–it's free to try so why not!?
So here's how Rakuten makes money and can afford to give its users cashback.
When you shop through Rakuten, the company receives a big fat commission from retailers for referring you to their stores. Rather than keeping 100% of the commissions to themselves, Rakuten splits the pie with you by giving cashback to you. It's that simple.
You can create a free Rakuten account and start earning cashback right away.
You can learn more about this app by reading my Rakuten tutorial and review.
If you shop online frequently then you have to use Rakuten (formerly Ebates) to get cashback rewards on your online purchases. It's one of the easiest and best ways to get cashback effortlessly.
Getting money back doesn't get easier than this!
Sign-up for free and get a $10 sign-up bonus HERE today!
2. Swagbucks – Get A $5 Sign-up Bonus Today
Swagbucks is a very popular cash back app with a rewards program that gives you money back on your online purchases when you shop with one of their partnered retailers. You can earn 1% to 12% cashback rewards from your favorite stores like Macy's, Walmart and Amazon.
Swagbucks is a legitimate cashback app with a TrustScore of 4.3/5 on Trustpilot. The company started in 2008 and has already paid out over $410,400,366 to its 10 million members (including me) over the years.
Just like Rakuten, retailers pay Swagbucks for directing customers to their online shops. The company pockets some of the profits for themselves and shares the rest with you in the form of cashback.
Stores typically offer better deals and additional cashback to shoppers during holidays. I highly recommend you to time your shopping around long weekends whenever you can to get the most cashback.
Not only do you get rewarded to shop at your favorite stores, but you can also earn real cash or free $50 gift cards for doing everyday activities like searching the web with their search engine (powered by Yahoo), watching videos online, and playing video games.
For those of you that have a few minutes to spare during the day, you can learn how to make extra money and get paid to give your opinions on products and services. Swagbucks is widely known for being one of the best survey sites for money that provide its users the option to take paid surveys that are quick and easy to complete. Perfect for killing time when you're waiting for someone.
You can learn more about this cashback app from this detailed Swagbucks review.
Swagbucks is currently giving away FREE $5 sign-up bonus for new members just for creating a FREE account. Grab your FREE $5 bonus HERE and use it towards your next online purchase!

Important: Remember to verify your email with Swagbucks so you don't lose out on your FREE $5. Start getting cash back today!
3. Dosh
Get ready to explore Dosh, an outstanding cashback app that's leading the pack! Offering automatic cash back for shopping, dining, or hotel bookings, Dosh simplifies the reward-earning process. Just link your debit or credit card, and watch the rewards roll in without the need to upload receipts or activate offers.
Visa cardholders get special "Tap to Activate" opportunities, adding to the excitement. Once you hit $15, choose between transferring to your bank, PayPal, Venmo, or even donating to charity. Many retailers offer 5% or more, making this free app (4.7 iOS rating, 4.5 Android rating) a thrilling yet easy way to save, though a $4.99 maintenance fee applies for inactivity over 12 months.
4. Inbox Dollars
Dive into InboxDollars, an engaging get-paid-to (GPT) site offering more than just surveys and games. Discover their thrilling cashback program that rewards shopping at favorite retailers. With over $1.8 million paid in cashback rewards since 2000 and a generous $5 credit for signing up, excitement awaits.
Navigate through partner retailers on the InboxDollars website, shop as usual, and relish the cashback credited to your account. Ready to cash out? Opt for PayPal or a gift card. Explore the world of savings with InboxDollars – your gateway to earning while spending!
5. Survey Junkie
Survey Junkie is more than a survey site to earn money; it offers a cashback program called Pulse. By installing a free browser extension, you can earn passive cashback while browsing, shopping, or playing games online.
Survey Junkie ensures that your personal information is protected with encryption software. It's an effortless way to participate in marketing research and earn U.S. dollars, which you can withdraw through PayPal, Amazon gift cards, or other methods. Survey Junkie adds a unique twist to the conventional cashback app experience, making it a noteworthy mention in the world of cashback opportunities.
6. Checkout 51
This is a cashback app that every grocery shopper needs to have on his or her smartphone. If you're not using this app, then you're literally leaving free money on the table.
Checkout 51 is one of the best cashback apps that allows you to find the best ways to save money on groceries without coupons. They have a bunch of cashback offers (refreshes every Thursday) on the app for you to claim and get cash rebates on your grocery trips. Offers include a wide range of products so it's very likely that you'll see some items from your grocery list on the app.
You can get cashback on popular items like:
Fruits – g. Apples, bananas, and strawberries.
Dairy –g. Milk, eggs, and cheese.
Frozen Food –g. Yogurt, ice-cream, and frozen dinners.
Pantry –g. Cereal, soup, and pasta.
Personal Care – E.g. Shampoo, soap, and deodorant.
Snacks – g. Cookies, chocolate, and candy.
Vegetables – E.g. Lettuce, broccoli, and tomatoes.
You don't need to be a big spender to take advantage of this rewards app and lower the cost of your grocery bills. This app works for everyone, including people that live a minimalistic lifestyle.
For example, Kellogg's cereal is part of this week's offer on Checkout 51. If you bought Vector for breakfast, you can get $1.00 back. Fo'cereal!
Getting your cashback is easy.
All you have to do is take a quick picture of your receipt with the app (as proof of purchase) and wait for it to get processed (24-48 hours).
Unlike other apps, you don't necessarily need to have a smartphone and download the Checkout 51 app to get money back on your shopping. With Checkout 51, you can create a free account on their website and submit your receipts online hassle-free.
Checkout 51 is continuously adding new features to the app and offers users new ways of earning cashback. They've recently added gas to the offers so you can now get money back when you fill up your car at the gas station! This makes paying at the pumps less painful.
7. Ibotta – Get a $20 Welcome Bonus!
Having paid out over $600 million in cash backs to over 35 million users, Ibotta is another top cashback app that I have to share with you.
Ibotta is a free cashback app and rewards program that allows you to earn cashback on your shopping. You could be buying groceries for the week, shopping for new clothes or even grabbing some drinks for a party and get money back on your purchases.
You're essentially getting paid to shop for things you were going to buy anyway!
As with other popular cash back apps, the way Ibotta makes money and how they can manage to give back money to shoppers is fairly simple.
Nationwide retailers like Walmart, Target, and Best Buy, pay Ibotta a commission when you buy items offered on the app. This commission is paid to Ibotta for being the middle person for connecting you to the retailers. In return, Ibotta shares the commission with you for using the app.
This is not a bad way to get money back on your shopping if you were going to buy apples, with or without the app. You can even score FREE products – after you claim your cashback with Ibotta – when brands are testing new products, like a mystery flavor Oreo.
It's very easy to accumulate savings from your weekly grocery trips with Ibotta – cash is credited to your account after you take a quick photo of the receipt with the app as proof of purchase.
8. MyPoints – You Get $10 for Trying This App!
Whether you're shopping online for yourself or buying a present for someone's birthday, you should always use cash apps to receive cashback on your online orders.
With cashback apps, you can easily collect enough points worth hundreds of dollars over the course of the year – of course, the more you spend, the more you'll get back. And no, this is not an excuse to order more things from Amazon!
Many cashback apps are absolutely free to join and they often offer new members sign-up bonuses just for trying the apps. If you don't like the apps after testing them out, you can delete the apps off your phone. No harm is done.
With MyPoints, you can earn up to 40% cashback on your online purchases at over 2,000 stores, including popular retailers such as Amazon, Best Buy, Macy's and Expedia.
In addition to receiving money back for shopping online, you can earn points by completing simple activities like watching short videos, taking paid surveys, playing games, and reading e-mails.
When your account reaches $10, you can redeem your points for PayPal cash or gift cards. If you're a frequent online shopper, you'll be able to hit that threshold quickly and cash out.
You can create a FREE account with MyPoints here and get a $10 BONUS after taking 5 easy surveys.

Remember to verify your e-mail from MyPoints to redeem your $10 bonus for your next online purchase!
9. Drop – Grab Your Free $5 Bonus!
Do you want to earn cashback passively without having to scan your receipts or shop through a shopping site like Rakuten? Then you have to check out Drop – a popular app that you can download and use for free.
The Drop app is a mobile cashback app that gives you money back whenever you shop online or in-store at two of your favorite stores. With this app, I get to earn points passively and redeem gift cards to Starbucks.
The way you can earn points passively is to link your debit or credit card with the app. So every time you tap with your card, you'll get rewarded and get money in return.
Is Drop safe? Don't worry – Drop uses bank-level 256-bit encryption to protect your data and they never store your account credentials on their servers. They also don't have access to your account balance or your personal information. You can learn more about how Drop's security feature from my detailed Drop review.
Another way you can earn money with Drop is by trying new services. For example, if you're looking to join Costco, you can get $25 back when you sign-up as a new Costco member through Drop.
After you try the app and you like using it, then you can refer your friends and get $5 for each friend you invite to Drop.
In contrast to some apps that don't allow you to use coupons, you can double up on your rewards with Drop. Go ahead and stack up your savings!
Current Offer: Get your FREE $5 bonus here immediately after linking your first card! No purchase necessary!
10. Honey – Get Cash Back the Easy Way
When you shop online, do you scramble to search for online coupons at RetailMeNot so you can apply the coupon codes to get a deal on your order? Often times, you'll be disappointed to find out that the coupons you found had already expired or aren't valid.
That sucks, right?
But it's okay – this is where Honey comes in to help you save cash and time.
Honey is a popular cashback app that is designed to automatically look for the best deals and promo codes available online and auto-apply it to your shopping cart to save you money. That way, you don't have to waste your time looking for coupon codes at different websites and testing them yourself, one by one.
Another neat feature of Honey is that it keeps a price history of Amazon products, comparable to the price tracker website camelcamelcamel, where you can view the price trends of items you're interested in buying. If you see a pattern of price drops every month on the price chart, you can hold off on your online purchase and wait for the next sale to get a deal.
You can further save money by using their "Droplist" feature to monitor prices. Honey will notify you when there is a price drop on the item you're eyeing.
Similar to Rakuten, you can earn cashback rewards when you shop with their retail partners. The way it works is that Honey receives a commission from retailers – like Best Buy, Amazon and Macy's – for referring customers to their stores. They can keep the full commissions themselves, but instead, Honey passes the savings back to you through cash backs.
This makes saving money with Honey sweet and simple.
Honey is free to download and is compatible with all the major browsers – Chrome, Safari, Internet Explorer, Firefox, and Opera!
11. TopCashback – Get the Most Cash Back
When companies make money from their businesses, it naturally attracts competitors to the industry. This is no different for Rakuten, the most popular cashback site for shoppers.
TopCashback entered the cashback market following Rakuten's business model by offering daily online shoppers the opportunity to earn some money back on their online purchases.
To distinguish themselves from Rakuten, TopCashback doesn't split the commission they receive from retailers for referring you to their websites, they pass 100% of the commission they get back to you as a cash back rebate! You can get cashback from over 4,400 stores including Best Buy, Amazon, Macy's, and eBay.
I know, this sounds too good to be true because how can the company make money and grow?
Well, TopCashback still charges retailers a fee for listing their products on the website and whenever TopCashback hits a certain sales target, they get a bonus payment from the retailers. This is how the company can afford to give 100% of the referral fee back to its members.
Another plus for TopCashback is that you can request your cashback credits whenever you want (no minimum thresholds) and get paid through PayPal, ACH or gift cards. So unlike other rewards sites, you don't need to wait until your account reaches $10 or $20 to cash out.
Since TopCashback and Rakuten are both legitimate companies that give you real cash back, it makes sense to check both sites and choose the one that gives you the highest cashback offers on your purchases.
You can download the TopCashback app and create an account for free!
12. Shopkick – Fun Way to Earn Cash
Shopkick is a free rewards app that allows you to earn rewards on things you do every day in a fun and easy manner. You'll get rewarded with kicks (their point system) for doing various fun activities (and yes – this includes shopping).
Here are ways you can make money with the app.
Walking into stores – earn points by stepping into the entrance of a store. You don't need to make any purchases to get the points.
Scanning product barcodes – search for products listed on the app and scan the bar code with the app. It feels like a scavenger hunt.
Submitting receipts – get cashback when you purchase select items offered on the app and upload a picture of the receipt.
Shopping with a linked card – you'll earn money back when you shop at certain stores with a linked credit card.
Shopping online – receive cash rebates when you shop through their shopping portal.
Watching videos – get paid to watch videos. You're basically getting paid to watch advertisements and promotions.
The company reports that many Shopkick users are able to collect enough points in a week to exchange for gift cards or get paid with cash via PayPal.
Download and try Shopkick for free today!
13. Fetch Rewards – Join for Free and Get $2
Doesn't it suck when you see items on grocery cashback apps that you are about to buy but soon realize that you have to buy it at specific retailers to earn points?
With the Fetch Rewards app (free to download and use), you can save money on groceries by uploading your grocery receipts from ANY retailers.
This means that you can buy soap from your local drug store or convenience store and get rewarded for it. You won't need to make a trip to Walmart just to buy soap and claim the points. Save yourself the time (and gas).
The way Fetch Rewards work is straightforward.
They have a bunch of brands listed on the app where you'll earn points when you purchase ANY products under that brand. So with Dove, you can choose to buy Dove shampoo or Dove deodorant from the brand and earn rewards. You're not limited to buying Dove soap to qualify for points.
They also have the traditional special offers on the app that works the same way as Ibotta, Checkout 51 and other popular cashback apps. You can get bonus cashback whenever you shop for products on the special offer list.
Finally, this rewards app has a referral program that allows you to earn cash by referring friends to Fetch Rewards. You and your friend will each get 2,000 bonus points (equivalent to $2.00) after they upload their first receipt.
Now, I highly recommend you to shop based on your own grocery list and THEN check the app to see if you bought any items on from special offers. This way, you're not wasting money on unnecessary purchases just to qualify for the cashback rewards.
Download the app for free and try it today!
Related articles to ways to save and make money with cash apps
Do cash back apps really work?
Yes, cash-back apps really do work. I've been using them for over a decade to save money on all my purchases. They might not cover all your favorite stores, but they largely help you save money at the retailers featured within the apps. For instance, they typically don't include places like Costco or Whole Foods, but they do list other grocers like Walmart.
Besides the food category, these apps also offer cash back for clothing, household items, outdoor products, and more.
Final Thoughts on the Best Cash Apps
Saving money just got simpler with new money-saving apps popping up every day on the app stores. Remember, all of the best cash apps on this list are absolutely free to download and use!
You won't make a whole lot of money using cashback apps, but it's definitely possible to save hundreds of dollars (or even $1,000) without you making any changes to your spending behavior.
When it comes to improving your money situation, every positive change you make (no matter how big or small) will get you closer to your financial goals. Take the first step and try these cashback apps today and you'll quickly see what you've been missing out on all these years.
What are some of your favorite cashback apps that you use to help save money? Share your tips with us in the comments below.