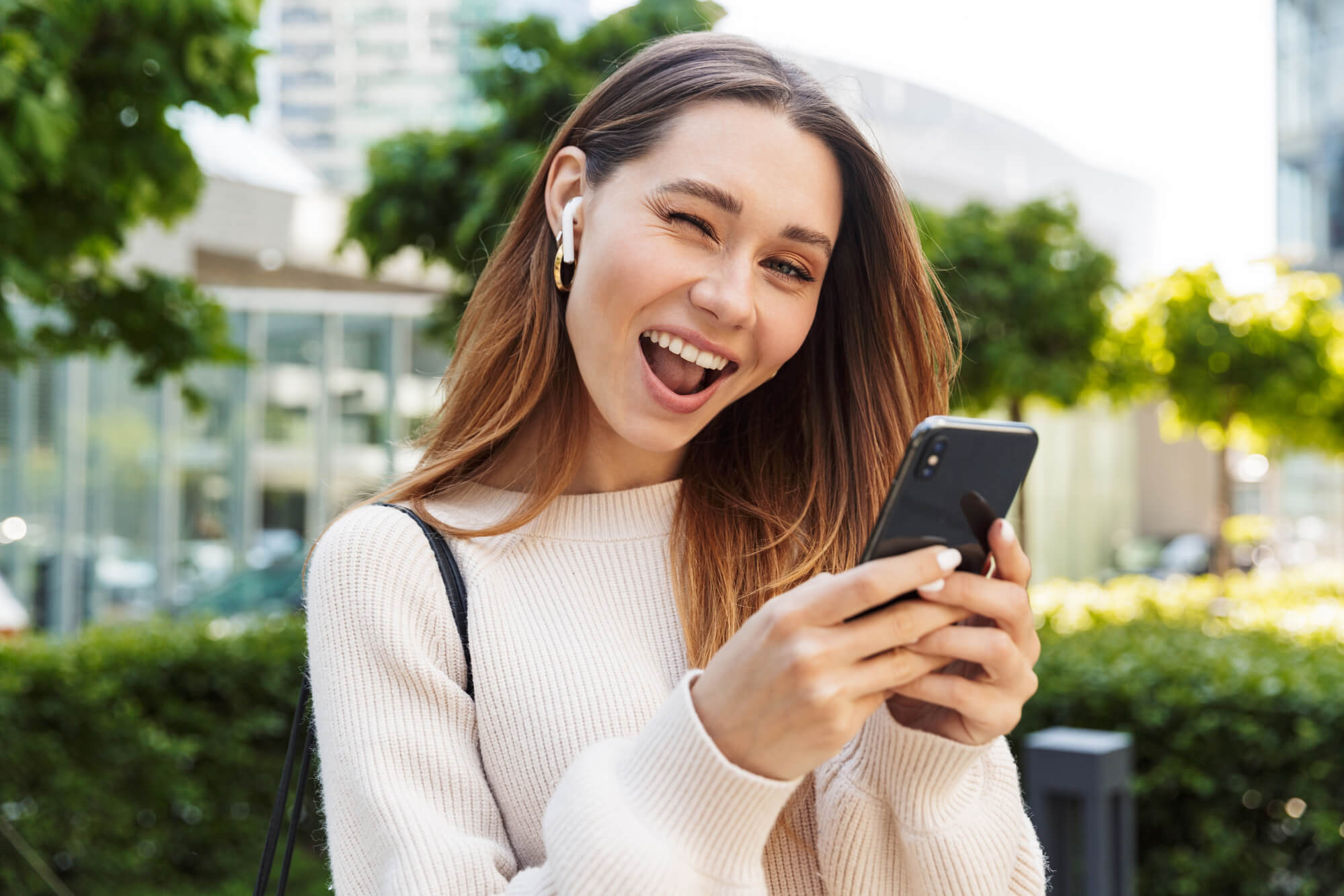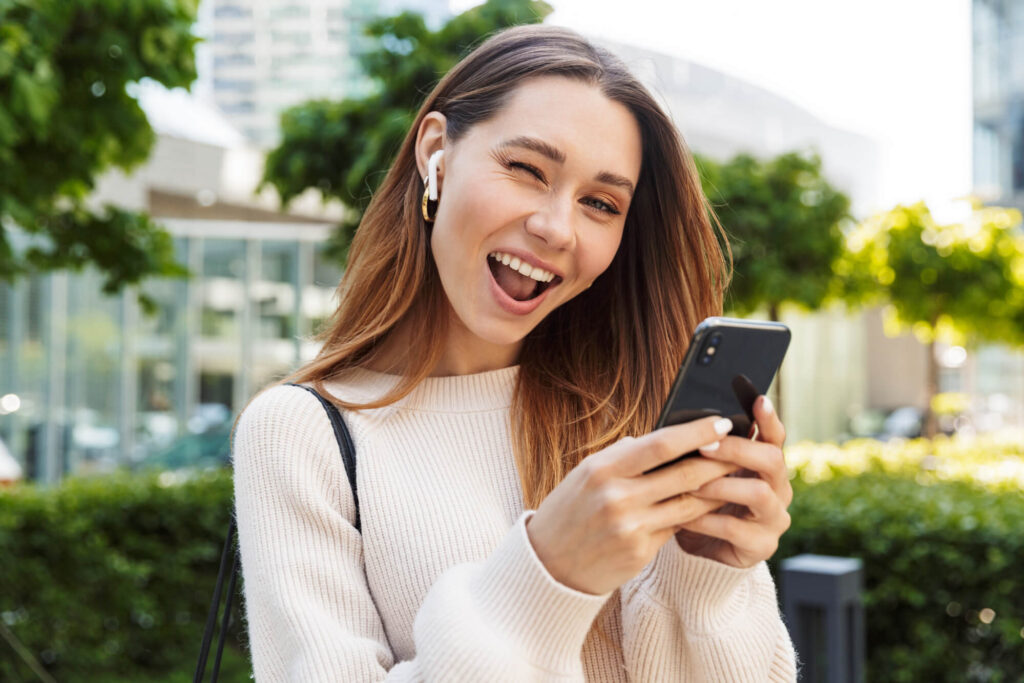 We will receive a commission if you make a purchase through our affiliate link at no extra cost to you. Please read our disclosure policy for more information.
Not too long ago, people used to laugh at the idea of making money online and call you crazy for thinking that it's a real way to earn a living.
Fast-forward to today, and you can see that these crazy ideas have turned into a reality where people all over the world are making money online and are getting paid real cash through PayPal.
In today's digital age, getting PayPal money is practically the same as (or better than) receiving physical cash. According to Logica Research, Americans have more than twice the amount of cash in their PayPal accounts than their wallets ($485 vs. $196)!
Yes – there are online scams out there, but if you exercise the same caution as you would in person, you can avoid being scammed.
Spoiler: no one will simply give you free money for doing absolutely nothing, that's just too good to be true. However, there are plenty of legitimate ways where you can make money online with PayPal as long as you're prepared to take a moment of your time to get that cash.
Whether your goal is to make $100 a day, $300 a day, or even 500 dollars in a day, there are companies that are willing to pay you with PayPal money for completing short and easy tasks, such as signing up for free services, giving your opinion on products or even trying free money-saving resources.
While other companies allow you to make money online from home using PayPal by doing freelance work and get paid with PayPal money.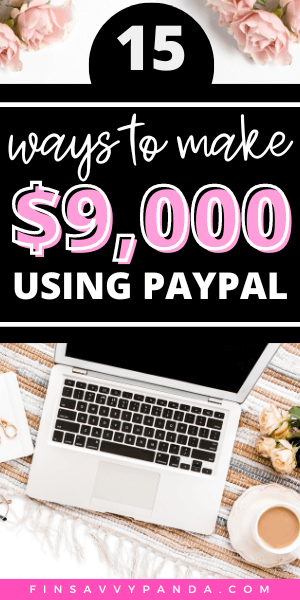 Best Ways to Make Money Online with PayPal
We'll share with you the relatively easier and faster ways to get free PayPal money first (we call this "earning free money") and then work our way to ideas that require more work but you'll earn much more cash.
That's enough talking.
Let's jump right into the best ways for you to make money using PayPal quickly and put some cash in your pockets!
More Ways To Earn Money Using PayPal:
1. Earn PayPal Cash with Paid Surveys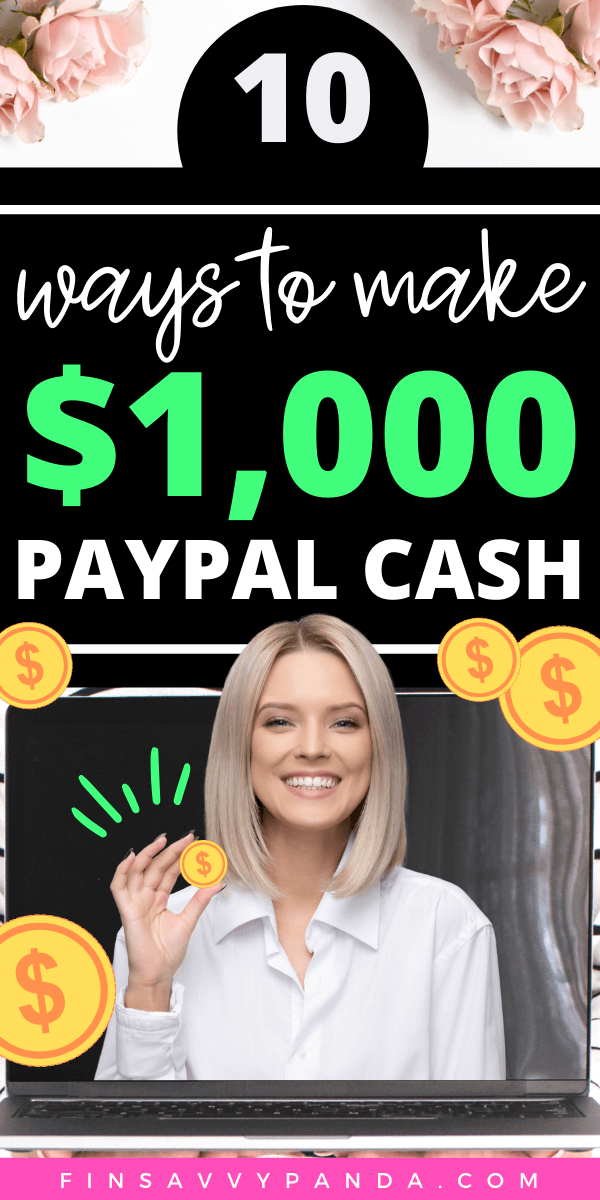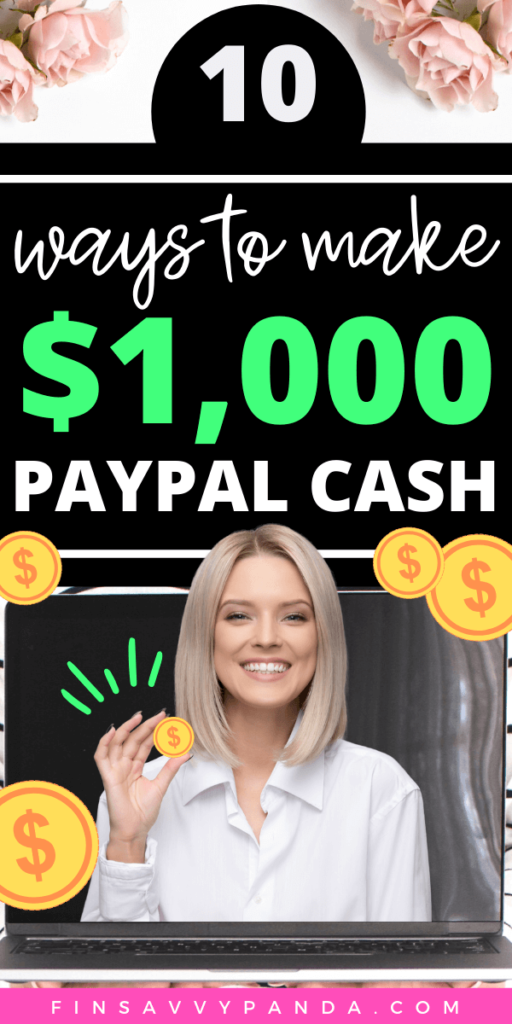 Taking paid surveys is one of the most popular and easiest ways for you to earn money online with PayPal in your spare time.
You're probably questioning why would legitimate companies pay you to take surveys, right?
Here's how paid surveys work.
Established companies like Apple and Nike spend billions of dollars every year from their research and development budgets to hire market research companies to understand what their consumers like or dislike about their products so they can improve and create better products for you.
With this kind of money at their disposal, market research companies are eager and more than happy to pay you PayPal money for giving your opinion and feedback on their clients' products and services. You can even tell them how dissatisfied you are with their poor customer service!
Surveys are specifically designed to be short and easy to answer so you can do them whenever it's convenient for you – perfect to kill time when you're waiting for your food to be delivered or your friends to show up.
Most surveys only take 3-10 minutes to complete and you get to pick how you'll be paid for your participation. You can choose to get paid through PayPal or get free gift cards to retailers like Amazon, Walmart, and Starbucks. This is an example of how you can get free PayPal money legally.
We don't recommend you to do surveys all day because it won't make you rich. However, taking paid surveys is an easy and fast way to earn extra money on the side to help with your monthly spending.
In the interest of time, we'll share the top survey sites where you can earn easy PayPal money fast.
Swagbucks is a popular survey company and is one of our favorite survey sites – we've been using it since 2009! In addition to earning cash by taking paid surveys, you can earn PayPal money by watching videos, searching the web, shopping online, and playing games.
🌟 Swagbucks is giving new members a FREE $5 BONUS here for signing up today.

IMPORTANT: Don't forget to verify your email with Swagbucks so don't miss out on your FREE $5 PayPal cash!
Survey Junkie is another popular online survey site amongst survey takers because they have one of the highest payouts for their surveys.
🌟 You can earn up to $45 per survey with Survey Junkie! Try them today to earn PayPal money instantly!
InboxDollars pays you cash to answer simple survey questions, like "Do you recall seeing any McDonald's ads posted on billboards within the last 30 days?" Another way to earn with InboxDollars is by reading emails!
🌟 InboxDollars is currently offering new members a $5 BONUS here for creating a free account!

REMINDER: Once you've signed up, verify your e-mail from InboxDollars and get your $5 before this offer expires!
Just by joining these survey sites that pay you, you can earn $10 in PayPal cash right away. It's not a lot of money, but taking advantage of all the free sign-up bonuses is the fastest way to get free PayPal money legally from companies.
You can find the best survey sites for money that pay the most for your time in our other post.
2. Download Apps That Pay You PayPal Money
Our smartphones are full of apps!
According to recent stats, there are approximately 5.5 million apps available on Google Play and Apple's App Store for you to choose from and download. From messaging apps that keep you connected with your family and friends, to apps that give you directions to places, and even apps for sharing Snaps with your friends.
But did you know that you could download the best money making apps for free? They pay you cash and could help you earn extra money from the palm of your hand.
Top-rated apps like cashback apps will pay you through PayPal for scanning your receipts and shopping online at Amazon! Some apps allow you to earn PayPal money by giving you free PayPal cash codes to redeem after completing simple tasks.
Below are some of the popular apps that you need to try today. All of these money making apps are FREE to download and use. After you try them, you'll wish someone had told you about them earlier!
Checkout 51 – A popular cashback and coupon app that lets you save money on your regular grocery shopping at your local stores. This app has coupons that you can scan at the checkout to save money instantly. You can also take a picture of your shopping receipts to get cashback on groceries, everyday items, and gas! I've been using this app since 2014 to save money on groceries and everyday essentials. So far, I've earned over $1,000 with it!
🌟 Download the app, upload your first reciept and get your FREE $5 BONUS here just for trying it today.
Ibotta – This free app is similar to Checkout 51, but you can earn cashback on your online shopping as well, not just in-store purchases. Whether you're shopping for groceries, pet food, clothing, or electronics, you'll get paid for buying things you were going to buy anyway! Ibotta gives you the option to deposit your earnings to your PayPal account and get paid through PayPal instantly. Their program has already paid out over $600 million in real cash to its 35 million users.
🌟 Ibotta is currently offering new members a $10 BONUS here just for trying it out! Get your bonus before the offer ends!
Shopkick – If you like scavenger hunts, then this app is for you. You earn points or "kicks" by hunting products shown in the app and scanning the product barcodes with the app. When you have enough kicks, you can exchange your points for PayPal money or free gift cards. Other ways you can earn points are to walk into stores, uploading receipts and watching videos.
3. Earn Free PayPal Money using Branded Surveys
Aside from these other survey sites that pay through PayPal, I've been using Branded Surveys to earn extra money for fun.
If you don't know what it is, Branded Surveys offer a streamlined way for individuals to earn money online.
Once you sign up for an account with Branded Surveys (it's absolutely free to sign up), you're given access to a wide range of surveys tailored to various industries and interests. Each completed survey earns you points, which can be accumulated and redeemed for cash.
What's particularly appealing about Branded Surveys is their efficient payout system. Instead of waiting for checks or dealing with complex redemption processes, users can easily transfer their earnings directly to their PayPal accounts. This ensures a quick, secure, and hassle-free method of receiving the fruits of your efforts.
If you're searching for a straightforward online earning opportunity, Branded Surveys is a prime choice for those who prioritize convenience and reliability.
Start earning PayPal money immediately and get a 100-point sign-up bonus when you join Branded Surveys for free here!
4. Make Money at Home with a Blog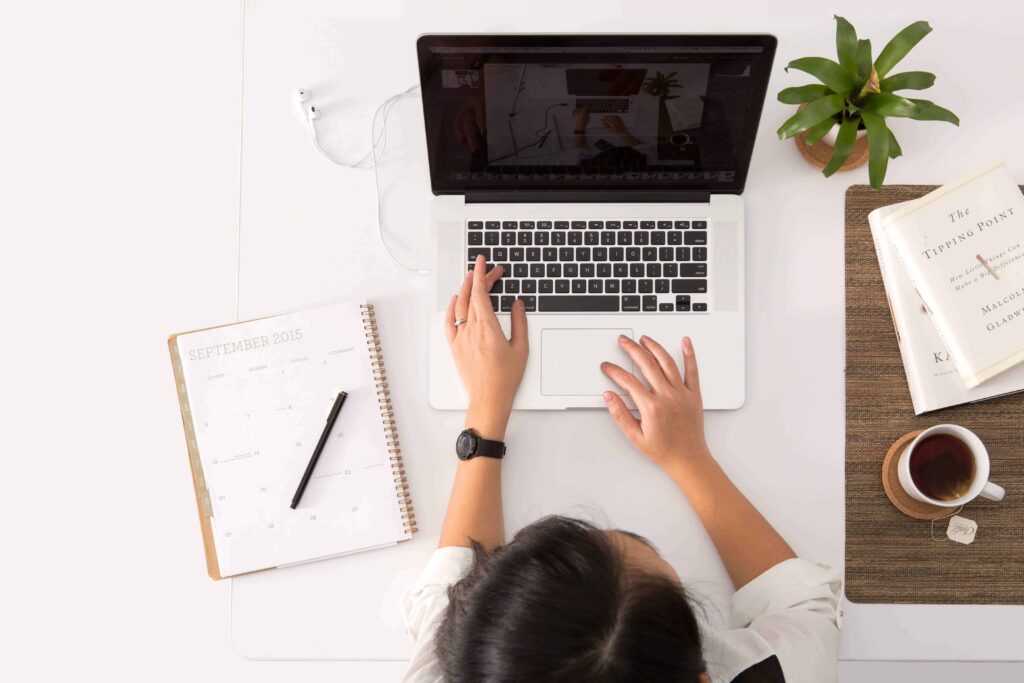 You know that people blog for fun as a hobby, but did you know that people are actually earning a full-time salary blogging online from home?
I don't blame you because I also didn't know that it was possible until I stumbled upon this crazy idea and experimented with it myself just a couple of years ago.
Today, I'm a full-time blogger earning over $10,000 per month at the comfort of my home and at Starbucks (my 2nd home). I only mention this because I want you to know that it's still feasible to make money online and earn a full-time income doing it.
Every time the topic of making extra money from home, starting an online business or finding a side hustle comes up, my top recommendation is to start a blog since this idea completely changed my life for the better and it could do the same for you.
Launching a blog is worth sharing because it allowed me to quit my full-time job and live the life that I always wanted – earn money from home and have the flexibility to set my own schedule so I could spend more time with my family. If you follow my past blog income reports, you know that I truly mean it when I say that if I can do it, then it's totally possible for anyone to do it too.
In hindsight, I'm very happy that I took the leap of faith and started a blog on a whim.
If it weren't for the blog, I would still be commuting every day to my office job… I sure don't miss the long commutes and toxic workplace politics!
I told myself that if I can afford $3 to $8 a month, then it won't hurt to try starting a blog to earn extra money from home. If it doesn't work out, that's okay; at least I've tried it and won't regret thinking about what could've happened.
🌟 Starting a blog is one of the cheapest ways to launch a profitable online business without a huge following. Unlike other business ideas, you don't need a lot of money to start a blog. In fact, it cost less than a cup of latte a month ($2.95) to launch a blog.

👉 I recommend visiting my easy step-by-step tutorial where I teach you how to start a blog and make money here.
Your blog can be about must-visit places, delicious food to try, parenting tips and tricks, beauty tips, fashion ideas, money tips or how to prepare healthy meals. These are just some quick topics; the list goes on and on.
Once you have a blog, you can earn money in various ways. You may be familiar with a few of these methods.
Monetize with ads – Advertisers want a piece of your online space and will pay you money to place their ads on your blog. One of the most passive ways to earn extra money every month.
Sponsored posts – Similar to ads, you can earn money writing sponsored posts to help companies promote their products.
Sell your own products – You can set up a blog to sell physical (t-shirt) or digital (e-book) products to your readers.
Affiliate marketing – If you don't want to sell your own products, you can earn commissions by recommending products and services that add value to your audience. Many affiliate programs give you the option to get paid via PayPal.
As long as you're willing to put in the time to learn how to make money blogging, it's definitely possible to earn a full-time income blogging online.
Enroll in my free blog course!
Are you're a beginner and want to learn more about making extra money online from home?
Join my FREE 7-day course below where I will teach you how to start your blog and earn your first income!
You DON'T need to be a professional writer nor an expert in what you blog about!
5. Create Online Digital Products
It's been a while since I initially wrote this post and my experience about earning money from home with my blog. I realized that I do receive a lot of PayPal payments from consumers and the affiliates I work with, so I figured including my experience and knowledge about digital products would fit perfectly here!
You may know that the notion of earning money at home without traditional employment is becoming increasingly popular, especially with the opportunity to create and market digital goods online.
I'm telling you now that it's possible for you to earn your very first $20, $50, $100, $300, or even $500 each day, all from the comfort of your own home through PayPal!
For instance, here's a snapshot showing how I generated $362.50 in a single day, solely from peddling digital items on my blog.


And in another instance, I managed to make over $1,000 within 24 hours! The sight of $1,936 from a day's earnings by simply trading digital goods from home is absolutely astounding!


When I first started my blog, I didn't know what I was doing. I got excited when my initial income was sourced through display advertising and affiliate marketing. I, however, sought to broaden my online income channels.
So, what was my strategy?
I started crafting digital solutions for my readers, aimed at helping them achieve their financial goals. Some were seeking ways to build wealth through savings and investing, and the other 30% were interested in boosting their blogging income.
Through active engagement with my audience, I realized they were craving products that could help them accumulate wealth or launch a blog. That's when I decided to create one of my first products, The Power Up Budget Binder, which is designed to help struggling people save their first $100,000.
Similarly, I launched The Treasure Map To Blogging Success in 30 Days. This product has the goal of helping beginners interested in earning money online by kickstarting a profitable blog and increasing their income outside of a regular 9-5 job.
As my experience in blogging and online money-making grew, my readers asked me to create products that could exponentially increase their Pinterest traffic. Thus, The Golden Compass to Pinterest Traffic and my Pin Savvy Pinterest Templates were created!
It's evident that marketing digital products on your blog are considered an excellent opportunity to leverage your knowledge and connect with a global audience.
And hey, when I'm talking about digital products, the sky's the limit!
It's not just about stuff related to money, finance, or blogging, you know?
Think about fitness guides, or even meal plans and cool recipes – those are hot sellers! And who doesn't love a good hair care program?
Then there's the artsy stuff, like graphic design templates and printables to get your life organized.
Now, if you're a social media whiz, you could even whip up an eBook on marketing tricks. Oh, and let's not forget about the calming meditation soundtracks – those are digital products too!
It's all about what your readers want from you, what you love to do, and what you're good at.
6. Sell Your Used Electronics for Cash
Another easy way for you to earn money online with PayPal fast is by selling your used tech on places like OfferUp or Decluttr.
Apple, Samsung, and Google are always coming out with new phones every year. It's great if you can resist the urge and not upgrade your phone when new models are released! But if you can't fight it and end up buying a new phone, then why not sell your used phone and use the cash towards the cost of the new phone? New phones aren't cheap these days!
You can easily make $150 to $250 back on your old iPhones and save yourself some money.
With these platforms, you can sell your old smartphones, tablets, DVDs, video games and books online to get PayPal money quickly. You'll get an instant quote on the items you want to sell and if you are happy with the price, you can ship your products in a box for free. A few days after your items are shipped, you'll get paid through PayPal, direct deposit or check! Quick and painless.
Other online sites that you can sell your used products to earn money are eBay, Craigslist, and Facebook Marketplace.
Rather than keeping all that old stuff in your storage and drawers, which you'll never touch again, you can sell it online and get PayPal money instantly.
7. Sell Your Used Clothes Through Apps
Selling used clothes online is an effective way to declutter your wardrobe and earn some money at the same time.
Various online platforms like Depop, Poshmark, eBay, and ThredUP allow you to set up virtual storefronts to sell pre-owned clothing items.
Drawing from personal experience, I've actually done this myself! Turned a pretty penny, too—ranging from a few bucks to several grand in extra cash. At first, it seemed intimidating and a little strange since I consider myself a shy person, but it turned out to be a breeze!
I'd just schedule meet-ups with folks during my lunch breaks or downtime at my day job. Most of our chats happened online through the selling platform, and some people even shot the money over to my PayPal ahead of time, asking me to set their picks aside. The crazy part is I had a few people who wired me money via PayPal but they never showed up even though I tried contacting them many times! I felt terrible but it looks like some people don't care about putting in $20 to $30 deposits. *Shrugs*
Talk about being able to earn paypal money instantly without doing anything.
All in all, it was a solid side gig that fit neatly around my 9-to-5. Not too shabby, right?
To start, you can check out these best apps to sell clothes online using PayPal.
Make sure to post clear pictures of your items along with a detailed description, and set a reasonable price.
Once a purchase is made, the platforms facilitate secure payment transactions and often offer shipping solutions as well. Typically, these platforms allow you to connect your account to a PayPal account, which is a popular and widely accepted digital wallet.
Funds from your sales can be transferred directly to your PayPal account, allowing you to conveniently manage and access your earnings.
8. Make Money as a Freelancer
A misconception about freelance jobs is that they're underpaid, underemployed and it's for workers that can't find steady jobs. This is absolute nonsense!
Freelancers are in high demand in today's job market as employers compete for skilled labor, which is short in supply. To remain competitive, businesses hire freelancers to help build a flexible workforce so they can adapt quickly to changing environments.
Forbes reports that 57 million Americans, nearly 35% of the U.S. workforce, do freelancing work on the side. Based on projections, that number will grow to 86.5 million by 2027.
There are many legit online jobs that pay through PayPal. Here is some popular freelance work in the marketplace:
Marketing – Help companies promote content on social media and websites.
Graphic design – Creating and editing visual pieces with software.
Writing and editing – Writing articles for websites and copywriting for marketing materials. You can also make money writing resumes and cover letters for job seekers.
Web design – Creating and designing a website layout for businesses.
Transcribing –Converting audio files (e.g. podcast, meetings, interviews) to written form.
IT –Numerous opportunities available.
If you want to give freelancing a shot, you can test the water with online platforms, like Fiverr, to connect with businesses that are looking for digital services.
Upwork is another very popular online site that freelancers turn to find clients for their work.
When you're looking for freelance work, remember that having experience definitely helps, but it's not the only criteria to get hired. Similar to full-time jobs, your skills and attitude towards the work matter a lot to hiring managers.
In terms of payments, getting paid is easy as both Fiverr and Upwork have the option for you to transfer your earnings to your bank account or PayPal account instantly.
9. Earn Money Tutoring Online
For those of you that have some teaching experience under your belt, you can earn extra money tutoring students online to supplement your income.
The best thing about online tutoring is that you get to work from home and set your own schedule so you can choose to work whenever you want.
To get started, you can check out trusted online platforms like Chegg. They're a reputable online learning company that offers online tutoring services, digital and physical textbook rentals to students.
When you sign up to become an online tutor with Chegg, the company will find students with tutor needs and match them with you. Students looking for help could be attending middle school, high school, college or even working.
Chegg tutors' pay starts at $20 per hour and your earning is prorated based on how many minutes you spend with students. This means you won't need to tutor for the full hour to earn $20 – you can teach for 15 minutes and pocket $5. You'll get paid weekly through PayPal payments on Thursdays. What's better than getting paid right before the weekends?
To become a Chegg tutor, you have to be enrolled or graduated from a 4-year university and pass proficiency tests on the subjects you want to tutor.
If you enjoy tutoring people and want to earn higher pay, you can tutor students in person. Students are willing to pay a premium to meet up with tutors at a physical location. You can advertise and post your tutoring service on Craigslist, message boards at your local schools, libraries and coffee shops to get students to sign-up.
10. Become a Proofreader
Do you catch typos and grammatical errors easily when you read articles online or in print? You've tried to ignore them, but they seem to jump out at you!
This could be your calling to become a proofreader.
With more businesses operating in the online space, they need to hire proofreaders to help review and edit their content before it gets published to their customers and readers.
As a proofreader, you'll have the flexibility to work from home and structure your working time however you like, as long as the job gets done before the deadline. This is a great way to earn extra money on the side after work and for people that need to stay home with the family but still want to bring home some income.
If you don't have any experience in this area, you can expect to earn $15.39 per hour as an entry-level proofreader. With training and some experience under your belt, you can expect to earn $43,669 annually (as per PayScale).
Beginners can find many proofreading jobs and freelance work online at Upwork, Fiverr or Freelancer.
11. Make Money as a Social Media Manager
Do you have a habit of constantly checking your phone and going through your social media feeds on Facebook, Instagram, Twitter and Snapchat even though you just checked it a few minutes ago? Some people would call this a bad habit (and it is), but what if you could turn this bad habit into a moneymaking opportunity.
Commercials, billboard ads, and newspapers may have worked well in the past to increase product exposure for businesses, but they don't cut it anymore. In today's age, where everything is online, companies need to promote their businesses on social media to gain online presence or they'll be left behind.
If you're skilled and knowledgeable in using various social media platforms, you can get hired as a social media manager. As a social media manager, you'll be in charge of boosting businesses' online presence and building their brand by engaging with followers and creating content for popular social media platforms like Facebook, Instagram and Pinterest.
It's a huge asset if you know how to use ads to promote products on these platforms and increase traffic to businesses' websites and products.
When you start out as a newbie with less than 1 year of experience, you can expect to get paid $39,100 a year. After gaining a few years of experience, your salary could easily rise to $48,007 annually. PayScale reports that the national average salary that social media managers make is $50,400.
If you're adamant about making money online with PayPal, you can negotiate with small businesses to pay you through PayPal.
Not a terrible gig to make money with a bad habit.
12. Create and Sell eBooks
Do you get praised for amazing writing skills and are often told that you should write your own book? The idea of writing a book crossed your mind because you've always wanted to share your stories with the world and earn a living doing what you truly enjoy, but the mere thought of pitching your book to publishers scares the living daylight out of you.
If this is the case, perhaps you should consider self-publishing your book with Amazon's Kindle Direct Publishing (KDP). Independent authors are turning to KDP instead of traditional publishing channels to get their first book to readers.
With self-publishing, you have full control of your rights as an author and you can set your own prices. When you work with publishers to sell your book, you'll get paid 5% to 15% on the retail price of the books. Whereas with KDP, authors can earn up to 70% of the sales generated on their books.
The drawback to self-publishing eBooks is that anyone can do it so there's more competition and you'll need to put in more effort to get your book in front of readers. You can view the low barrier to entry as a con or a pro – it's up to you to decide.
Although KDP doesn't have the option for you to transfer your earnings to your PayPal account, this doesn't mean you can't set up your own online shop on your website or blog to sell your eBook to readers. You can add a PayPal payment option where readers can buy your books using their PayPal account. This way, you can keep 100% of the sales proceeds and get paid through PayPal at the same time.
13. Sell Your Crafts for Cash
Do you have a strong interest in crafts and spend most of your free time creating unique pieces? Then you've probably visited Etsy to look for inspirations or even purchase supplies for your hobby.
But have you thought of being a seller on Etsy? You can earn extra income by setting up your own Etsy store for free and sell your handmade artwork. Whether you're gifted in drawing life-like art, creating pretty necklaces or crafting accessories, there is an online buyer ready to buy your unique creations.
By being the owner of an Etsy shop, you get to list and choose how much to price your products. When pricing your items, make sure you factor in all the material costs (plus shipping) and a sizeable markup to account for your time. Your time is valuable and you need to be compensated fairly for it.
You can earn a full-time income selling on Etsy or you can earn close to nothing. How much you earn will depend on how much work you put into your shop, the uniqueness of your work and how good you are at promoting your products.
How can you get more exposure to your Etsy store? Take advantage platforms that focus on visuals like Instagram and Pinterest. Many users on these platforms are in the buying mindset and are searching for distinct artwork that resonates with their character.
There are plenty of online buyers purchasing creative handcrafted products to support individual artists instead of buying cookie-cutter products that are mass-produced by large corporations. You'd be surprised how much people are willing to pay you for handmade items.
14. Monetize Your Photography Skills Online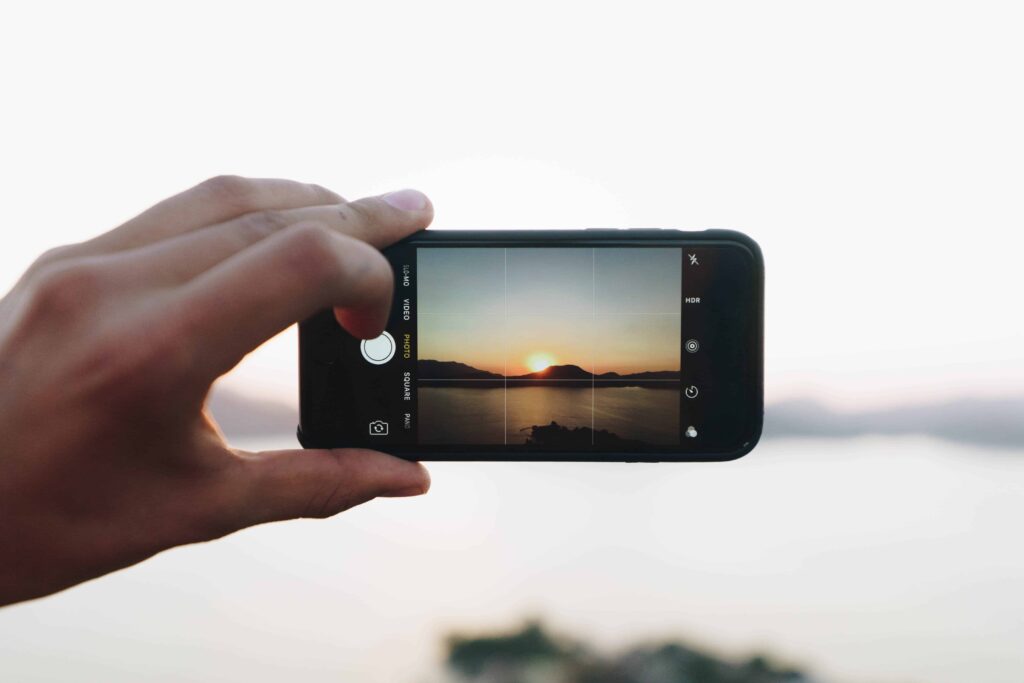 Every smartphone comes with a camera, but unfortunately, not everyone is equipped with the necessary photography skills to take great photos.
No matter how hard some people try, their photo albums are filled with ruined pictures taken in poor lighting environments with terrible angles.
Taking amazing pictures is no easy task! But if photography is your forte and you get constant compliments on your great looking photos, then perhaps you can monetize this skill and sell your photos online to make extra cash.
You can make money with your photos using apps or sell them on photography websites.
With the Foap app, you can take pictures and videos on your phone and upload your work to your online Foap portfolio. When someone – it can be an agency, brand or blogger – buys a photo or video from you, Foap shares 50% of the earnings with you. Most photos are priced at $5 so you can expect to earn $2.50 for every photo sold to buyers.
You can also participate in their mission to earn more money. You can think of missions as photo contests where brands and companies provide specific requirements to be included in a photo. If your photo is selected as the winner of the mission, you could make $100 to $500!
Similar to other popular money making apps, Foap pays its photographers using PayPal so you can quickly withdraw your earnings from your Foap account and transfer the money to your PayPal account.
Now, if you're more pro and invested in a quality DSLR camera, you can take high-resolution pictures and sell them online at places like Shutterstock, 500px or iStockphoto. Plenty of businesses want to differentiate themselves from their competitors and are willing to buy high-quality photos to use for their websites, magazines and advertising campaigns.
Making money with photography is a fun and creative side gig to pursue in your free time. If you're really good at it, you can even turn your photography side hustle into a full-blown career.
FAQs About How to Earn Money Using PayPal
Due to the many questions, I receive from my readers about how to make money online through PayPal, I decided to include this FAQs section:
1. How do I get $10 free money on PayPal?
To earn your first free $10 on PayPal, you can sign up for money-making apps like Swagbucks or InboxDollars.
In fact, Swagbucks is handing out a $5 free signup bonus when you sign up through my Swagbucks tutorial here.
To accumulate the remaining $5 to make it $10, you can take surveys or earn cash back by shopping online.
2. How to get $20 dollars on PayPal free?
If you want to earn $20 on PayPal for free, sign up for other survey sites in the US similar to Swagbucks (And if you're from Canada, be sure to check out the best Canadian survey sites that pay you through PayPal).
Another way to earn $20 is to get cash back on your purchases by using Rakuten. I've been using Rakuten since 2010 and it's literally the best shopping cash-back app I've used. It's the only one I recommend!
You can see how I was able to earn $76.06 just last month on my Rakuten account – simply just by making purchases on things that I was already going to buy anyway.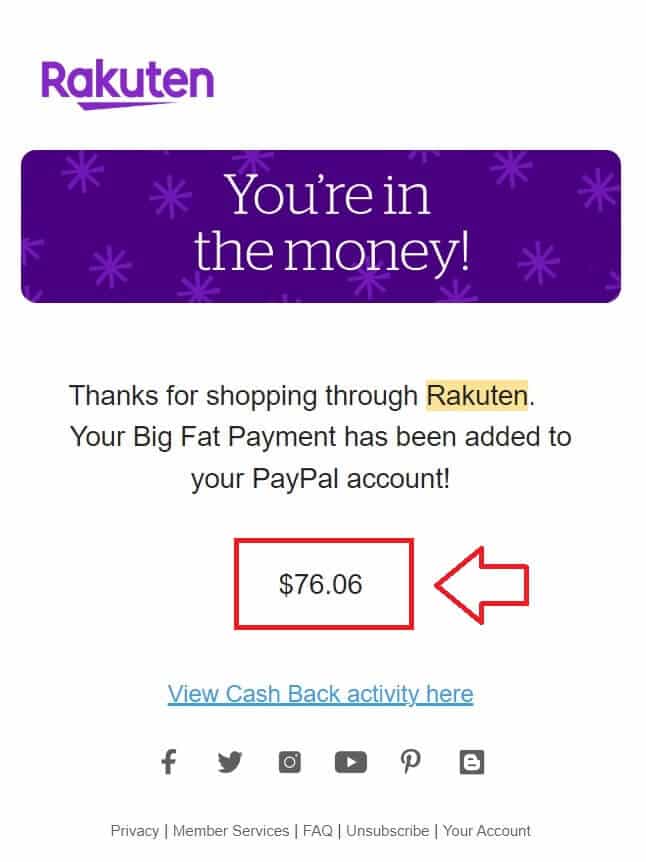 3. What is the easiest way to get paid on PayPal?
Hey, you know what's a pretty easy way to make some cash on PayPal?
Freelancing.
I'm talking about stuff like writing blog articles, designing themes, or even doing some coaching work – whatever you're good at.
You've got these platforms like Upwork, Fiverr, Freelancer, and a whole bunch more where you can find people who are looking for the skills you have.
The whole process is pretty sweet and easy. You do the work, and then boom! Money right into your PayPal account.
Using myself as an example, I've actually been on the other side of things, hiring freelancers for my other blogs.
Just recently, I paid a freelancer $300 through PayPal as you can see in the screenshot below. It was quick and instant despite living in a different country. So yeah, there's definitely real money to be made online!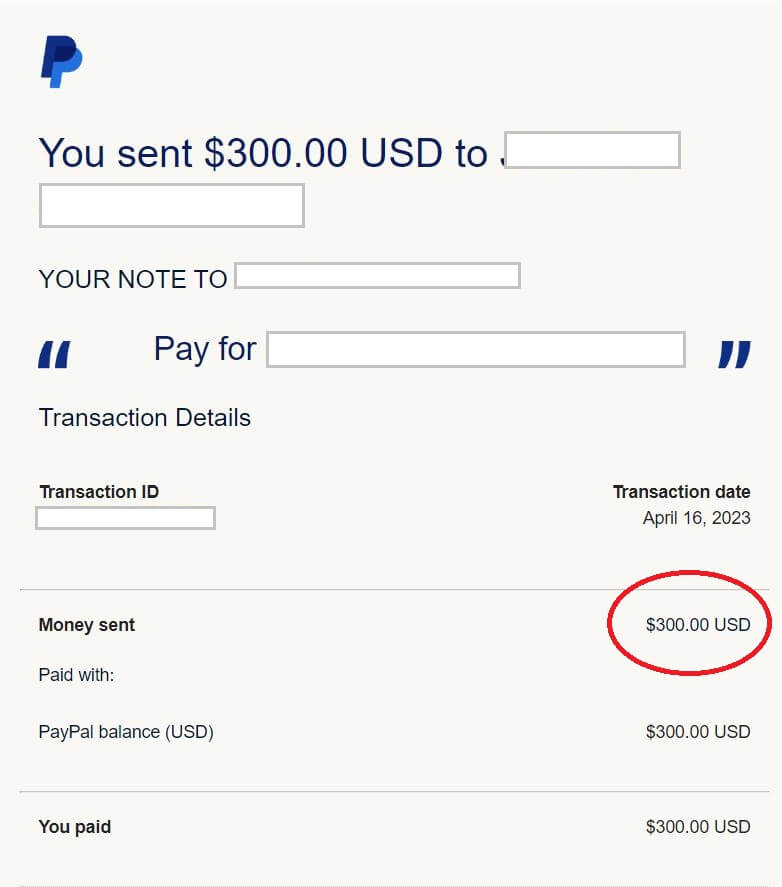 4. What websites pay through PayPal?
There are many websites that pay through PayPal including these best survey sites that allow you to earn extra money. Some of these websites include Swagbucks, Survey Junkie, Inbox Dollars, MyPoints, and more.
Here is a list of other websites that pay through PayPal when you perform a job or task for them.
Upwork: This is a freelancing platform where you can get paid for a wide range of services like writing, designing, programming, and more.
Fiverr: Another freelancing website where you can offer services in various niches.
Etsy: If you're an artist or craftsperson, you can sell your creations here.
eBay: A large online marketplace where you can sell just about anything.
Amazon Mechanical Turk: This platform offers a variety of micro-tasks that you can complete for payment.
UserTesting: You get paid to test and review websites.
Freelancer: Similar to Upwork and Fiverr, you can get paid for a variety of freelance work.
Teespring: Design and sell custom apparel.
The availability of PayPal as a payment method can vary by country and may change over time. You should always check the payment details on each site before you start working or selling.
Related articles on how to make money online:
Final Thoughts on Best Ways to Make Money with PayPal
As you can see, there are numerous ways to make money online with PayPal. What we have here are popular ways for you to earn PayPal money legitimately and it's just the tip of the online jobs iceberg. Regardless of what your skills are – you can be crafty, great at writing or addicted to social media – there's a way for you to monetize your skills.
Again, when you search for online jobs that pay you with PayPal money, be on the lookout for online scams and trust your gut feeling – if they ask you to buy something or send them money, it's likely a scam.
What are your favorite ways to make money online and get paid with PayPal money? Share your best tips with us in the comments below.