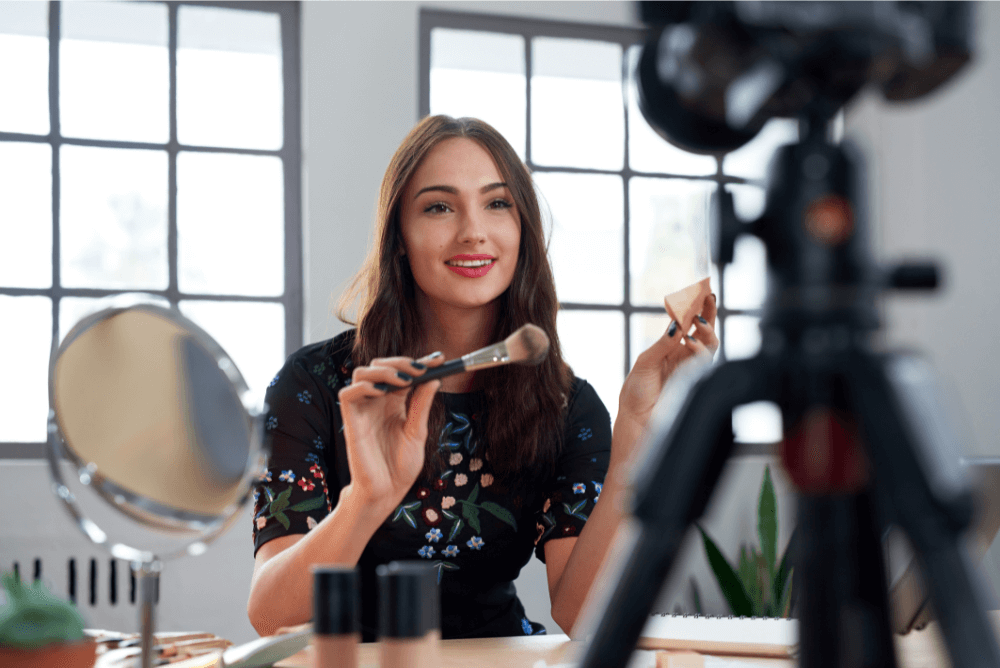 We will receive a commission if you make a purchase through our affiliate link at no extra cost to you. Please read our disclosure policy for more information.
Becoming an astronaut or a professional athlete are both pretty awesome professions to dream about and these jobs used to top the list of career aspirations for kids.
These days, kids have a new profession to aspire to – YouTube star.
According to CNBC, they found that kids are 3 times more likely to want to become a YouTuber than an astronaut!
Can parents blame kids abandoning traditional career paths of medicine, engineering, and law for the opportunity to become content creators on YouTube. It's hard to ignore all of the success stories and allure of YouTube stars making it big by doing what they love without spending a fortune on higher education.
Most YouTube channels are born through cheap hobbies that later turn into full-fledged online businesses. Creating videos has become a real and reliable source of income due to its massive reach and potential for brand collaborations. Making money on YouTube, or other platforms such as Twitch is all about creating content that people want to watch and working with brands to monetize your channel.
PIN THIS: I'll be updating this post so make sure to pin this image here and save it to your Pinterest board. That way you'll be able to come back to this page and learn the ways to make money with a YouTube channel.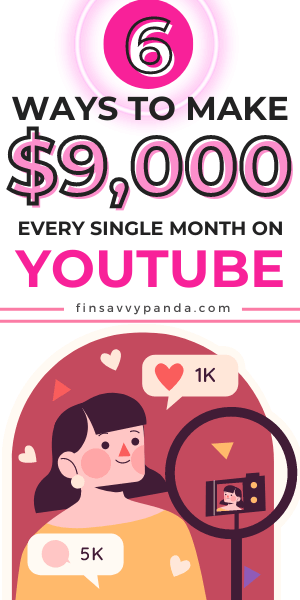 Honestly, you can create content on almost any topic or niche.
Have a passion for teaching others about side hustles? You can teach viewers your best tips about how to make extra money online.
Maybe you're a fitness enthusiast, or even an artist or mechanic. You can create videos and tutorials to showcase your skills and gain an audience.
How about that favorite sports team you can't stop talking about? You can create a channel dedicated to that team only.
As you can see, almost anything can be talked about on YouTube – from the most general topic to the most niche subjects.
Regardless of the type of material you create, the key is to position yourself as an authority in your area. Once you have built an audience and a good reputation, the rest will follow.
However, choosing your niche is the easiest part of your YouTube journey. Growing the channel and knowing how to monetize it is when challenges arise.
This article is made to overcome those roadblocks and help move you closer to your dream. By the time you're done reading this article, you will have a better idea of how you can make money on YouTube and what type of videos you should be posting for faster growth.
So if you're ready to earn money as a YouTuber, let's get right to the article!
6 Ways To Make Money On YouTube
While running ads is the number one choice to generate income on YouTube, it's not the only option at your disposal. There are various techniques you can use to monetize your channel depending on your content and the direction of your channel. Before you shoot down an idea, it's important to explore all of the options available and try each one out to maximize your earning potential.
1. Join The YouTube Partner Program
Given that display ads is the most popular type of monetization in the online world, there's a good chance you'll make your first money there.
For you to be eligible to make money with ads, you'd have to be part of the YouTube Partner Program (YPP). The program allows you to have access to YouTube resources like their Creator Support team and it also opens your channel for monetization features.
If you're wondering if can anyone join the YPP – the answer is yes but you need to meet the minimum standards to join the program.
You can set your channel to notify you when you're eligible to join the YPP or you can look at the eligibility thresholds below:
Get 1,000 subscribers with 4,000 valid public watch hours in the 12 months
or
Get 1,000 subscribers with 10 million valid public Short views in the last 90 days.
Other factors to consider would be:
Have one Adsense account
No active strikes on your channel
Be in a country where YPP is available
A 2-step verification for your Google account
If you're struggling to hit the 1,000 subscriber mark, make sure to continue reading – I've listed different types of videos to grow your channel.
2. Affiliate Marketing
One of the finest strategies to monetize your influence is through affiliate marketing. Even your favorite YouTubers regularly engage in it because of how popular it has become.
Almost in every video clip, a YouTuber will show you a product that they use and talk about what they love about it. After explaining the product and its uses, they'll direct you to use the link in the description if you're interested in buying the product. This is affiliate marketing in action.
For those who aren't familiar with the whole process, it looks like this:
Join an affiliate program – You can search for a company, like Nordstrom, and apply to be an affiliate program via Rakuten Advertising. Sometimes, it's the other way around where companies approach you and ask if you'd like to be their affiliate. You can also check out my personal and honest Rakuten review here.
You get a unique affiliate link – Once you're in the affiliate program, you'll get a unique link that you can use for your content.
You earn commissions – When someone purchases from your unique affiliate link (at no additional cost to the buyer), you get a percentage from that sale. To make the deal even sweeter, companies often add a discount promo attached to that link to give your viewers that extra push to purchase using your affiliate link.
Affiliate marketing is a way for creators to be paid for the value they're creating. And from the viewers' end, they can support their favorite channels by purchasing using the link.
The next time you find a product you like and you think your community would love it as well, check if the company has an affiliate program – it's a great way to earn passively.
Whatever your niche is, there's always an affiliate program that you can join. Here are some examples:
Computer and Technology – Join the affiliate programs like HP, Acer, or Dell for the tech products you review.
Fitness and Sports – You can be affiliated with companies that sell fitness and sports products. Look at TRX, Reebok, or Titan Fitness.
Education – If your viewers want to learn more, redirect them to your affiliate links with Udemy, Teachable, or Coursera.
If you'd like to know more about this style of monetization, read my affiliate marketing guide for beginners. I've used affiliate marketing with my blogs and it has proven to be quite effective. I've personally earned over $100,000 from affiliate commissions alone in my second year of starting this blog!
3. Sponsored Videos
Which company wouldn't want to promote its goods and services to potential consumers? A channel with plenty of viewers, subscribers, and high-quality videos is a gold mine for businesses.
How do you think YouTubers can get their hands on latest phone, gadget, or fashion items when it's sold out everywhere? Majority of products are sent for free in exchange for an honest review.
When you think of sponsored YouTubers, big names like PewDiePie, MrBeast, and Logan Paul can easily generate millions of views in just a couple of minutes after releasing a new video.
So does this mean your channel has to do the same to get sponsors? No. If your content and audience fit the target market of a business, companies will want to work with you.
Because smaller influencers typically have more engaged audiences and may offer a more customized experience than bigger influencers, some firms choose to work with nano influencers (1K–10K followers) as opposed to mega influencers (1M+ followers).
Now, when it comes to charging for a sponsored video, there's no single rule on how much one should cost. Some smaller channels will charge a few hundred dollars for ad placement on their video, while bigger channels charge around the thousand-dollar range.
You have full control over how much you'll charge, especially if the brand was the one who approached you.
Once a deal has been reached and a contract has been signed, you will need to think of original ways to market the items. You may either make a full video only for the product or just naturally incorporate it into your content.
Almost any channel in any niche can have this opportunity:
A fishing channel could be approached by a fishing rod manufacturer to market their new rods.
A tech review channel could be contacted by a computer peripheral company to try out their new gaming mouse.
A cryptocurrency channel could be emailed by a new play-to-earn project to do a review on their game.
4. Sell Your Own Merch
As a YouTube creator, what you're doing is creating an online presence (also known as a "brand") for yourself and your channel.
And what do brands do? They get people to buy their products!
Once you've established a tight-knit community online, your subscribers won't hesitate to show you some love by purchasing your merch.
Don't wait to reach 1,000 subscribers to create your own merchandise because you want to test what works and what your audience responds to. If you don't exactly know what to sell, you can start with this list:
T-shirts
Bags
Caps
Hoodies
Socks
Beanies
Stickers
Pillows
YouTubers like Markiplier and Ethan Nestor-Darling earned $38 million in 2021 through ads and merch. That just shows how it helps boost your earnings as a creator on YouTube.
It may be challenging to sell your products as a new YouTuber so you might need to entice your audience to buy your merchandise by giving out freebies along with their purchases.
For example, for every $50 hoodie they buy, they'll have a shoutout in one of your videos or if you're in the coaching niche, you could give 10-minute free coaching.
However, this strategy only works if you're still on your way to growing your channel because once you've reached the million mark, you'll have so many purchases that giving bonuses might require too much of a commitment.
The good thing when your channel becomes that big is that you won't have to incentivize your viewers anymore since they'll buy it out of their own will.
5. Offer Paid Membership
Remember those websites that have a paywall for you to view their content? Well, that strategy has trickled down to the YouTube ecosystem.
It might be annoying for some viewers but your loyal fans won't mind paying a small price to see more of what you produce.
Patreon is the most popular platform for creators and it's a membership platform that enables content providers to offer a subscription service for their exclusive content.
A paid membership could go like this:
Let's say you run a podcast on your YouTube channel. Some of your videos can be free on YouTube but there is exclusive content that only the people on your Patreon can have access to. These contents could be behind-the-scenes and exclusive podcast interviews.
Unlike selling merch, It's best to offer paid membership when you've proven your value to viewers. If you do this right from the start, no one will sign-up because they don't know whether your content is worth paying for.
But if you've been consistently publishing high-quality videos that are entertaining and have developed a solid viewership, then that's the time to have a Patreon.
A word of caution: You should expect some backlash from other members of your community, but as previously stated, your true followers will understand that you, too, have bills to pay and that this is one method for you to continue creating excellent material for them.
6. Be A Brand Ambassador
It goes without saying that to become a brand ambassador, you need to be influential in your niche. The audience you've built and their loyalty to you is what makes it appealing for brands to take you under their wing.
Working as a brand ambassador means you'll be one of the faces of the business, which is quite a commitment. The relationship between you and the company is now far deeper than simply being an affiliate or having a sponsored video.
This is a long-term commitment to the company – you'll be representing their name in whatever you do.
An example of a YouTuber that turned into a brand ambassador is Emma Chamberlain. She started in 2017 and grew her channel to 12 million subscribers. And just last year, Cartier announced that Emma is one of their newest brand ambassadors.
Getting paid to be an ambassador is merely one of the many benefits of having this type of deal with a brand. Other perks includes receiving free products, having customized affiliate deals, being sponsored, and getting invited to exclusive events.
Collaboration with a well-known brand also boosts your own brand since more people will hear and see your name.
5 Popular Types Of Content On YouTube For Growth
A frequently asked question on YouTube is around the topic of how to quickly grow your channel.
It's a valid question because you want to gain subscribers and monetize your content as soon as possible.
There are several strategies to increase your exposure on YouTube, but nothing beats being deliberate about the sort of video you publishing. To help you with this, I've listed the popular types of videos on YouTube.
Educational Videos
YouTube might be seen as an entertainment platform but many people use it for educational purposes. Knowing this, instructors on YouTube are using increasingly creative techniques to keep viewers' interest.
Gone are the days of teaching with a whiteboard when fast animations and witty video scripts are what keep viewers entertained while learning.
Below are different channels that focus on creating educational content for their followers:
Historia Civilis – The channel covers historical events during ancient Rome like The Battle of Philippi, Caesar's funeral, and the fall of Pompey.
WoodWorkWeb – This is a woodworking channel that teaches its viewers some tips and tricks when it comes to their woodworking projects.
The Financial Diet – TFD educates its viewers on all things finance. They talk about investing, budgeting, and making money.
Crash Course – They teach their viewers new and interesting things in one video.
Veritasium – It's a science channel that talks about very interesting facts about the world we live in.
Ask Me Anything
Another type of video to add to your channel would be AMAs or Ask Me Anything. A lot of creators have started doing this to rack up views and subscribers.
Some of them leverage their past experience that viewers see as interesting. For example, creators would say "I worked in Google for 5 years – ask me anything." This usually hooks viewers because most of them want to know what it's like being a Google employee.
However, you don't need to have an "interesting" background to do an AMA. If you've developed a community and your videos are mostly on-brand, you can throw them a curve ball and announce that you'll be making an AMA video.
Tell your subscribers to email their questions so you can come up with great responses or you could hold a live session and answer the questions on the spot.
Product Reviews
When you want to buy a new laptop for school or work, you probably want to research which brands and models are the best, find out what the pros and cons are, and what experts say about it before you actually go out and buy it.
Before making a purchase, 95% of shoppers read and watch product reviews. This is the reason why product reviews are among the most popular YouTube videos. In-depth product review videos are not only beneficial to customers, but they also present a fantastic opportunity to earn money as an affiliate by promoting high-quality goods that you have personally tried and tested.
These are also what get you sponsored video deals with brands that are willing to pay good money to get their product in front of thousands to millions of potential buyers.
To make a product review video, talk about the product details, benefits, and drawbacks of the item. Make sure to get up-close shots covering various angles because this will give viewers a better understanding of what the product looks like.
Bear in mind that when creating these videos, you want to cover and show everything to the viewers. Make it feel like they are there with you.
For example, let's say you're doing a review on a mechanical keyboard. You can mention the dimensions, how heavy it is, and what's the texture like. Go even further by recording the sounds of the keyboard when you're typing. Are there any shortfalls that would break the deal for you?
Recording these small things will be greatly appreciated by people who are on the fence about buying the product. Your goal is to make your content so detailed that the next time viewers are looking for a product review, they'll go back to your channel.
Always remember to be honest and unbiased so you can gain your viewers' trust.
YouTube Shorts
YouTube launched YouTube shorts, which are vertical films that may run up to 60 seconds, to take on TikTok.
It's perfect for the current marketing landscape since a lot of platforms support short-form content. Facebook has stories, Instagram has reels, Tiktok has their videos, and now YouTube created shorts.
Creators that want to take part in this wave are forced to be creative and entertaining in under a minute.
The great thing is you can use this feature no matter what niche you're in. You can cut your long-form videos or record smaller clips until you produce one-minute content that's fascinating for your audience.
Here are some shorts you can look at:
Watch how this YouTuber showed how to cook Bolognese in under a minute.
This fitness YouTuber used shorts to quickly share a beginner full-body workout for her viewers.
Are you into business origin stories? Watch how this channel explains to you in 60 seconds how million-dollar business ideas are created.
What I like about YouTube shorts is they can be distributed on other popular platforms without doing any extra work. The shorts you make on YouTube can be posted on Instagram and Tiktok – increasing your audience reach.
Vlogs
Vlogs are video blogs that talk about almost anything under the sun. It can be a video of you going to the office, traveling to new places, or just your everyday life.
The videos under this category are usually unscripted and capture authentic moments and reactions. It's probably the rawest type of YouTube video out there.
Celebrities have even started their own vlogging channel on YouTube. It's one way for their fans to show who they are behind the big screen. Actors like Dwayne Johnson, Jack Black, and Jason Momoa have even joined the vlogging bandwagon.
But you'd be surprised that the most popular vloggers in the US are not actors. It's actually YouTubers who have established their brand on the platform for years.
If this is the style of video you want but you need more vlogging ideas, get inspiration from the points below:
Travel vlogs – Take your audience along on your travels like summer getaways or city tours.
Lifestyle vlogs – Show your viewers what it's like to spend a day with you.
Motivational vlogs – It's not always sunshine and rainbows, be the person to motivate your viewers.
Work vlogs – You won't believe how many of your viewers would love to see what you do for work. It may be boring for you but it's something new for your viewers.
Cooking vlogs – Invite your subscribers to be with you as you cook food for yourself or the family.
FAQs
Before we end, let's quickly answer some frequently asked questions when it comes to making money on YouTube.
How To Grow A YouTube Channel?
Aside from doing the types of videos above, you can grow a channel by:
Writing intriguing titles – Make sure it sparks curiosity when viewers read the title.
Finding out what your viewers like – Analyze the data of your videos and see what content gets the most views.
Engaging in the comment section – React or drop a simple thank you to every viewer who comments on your video. It's one method to express appreciation.
Making thumbnails click-worthy – Thumbnails are what capture the attention of your viewers. You can show a picture of the most interesting part of the video.
Cross-promoting your videos – Don't just publish and leave it on YouTube. Make an effort to share it on other social media platforms.
Is It Still Worth It To Join YouTube?
We've seen this get asked countless times year after year. Those who doubt the platform end up kicking themselves as they see new creators rise to the top or go viral.
The answer to this is a BIG YES! YouTube is still a great platform to create your brand online. It has a whopping 2.56 billion monthly active users worldwide and it approximately gets 122 million users everyday– that's how relevant YouTube still is.
Even though there are video-first platforms like TikTok getting some attention from the masses, nothing beats the quality and entertainment that YouTube has.
Enjoyed this post? Don't forget to pin the image below! Also, don't forget to follow me on Pinterest over here! 🙂