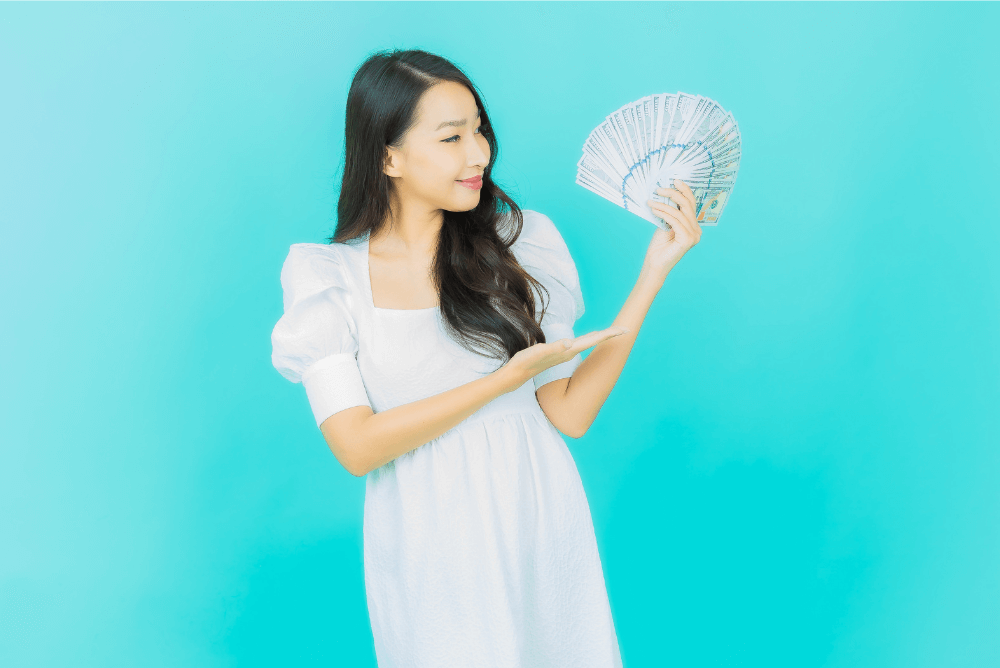 We will receive a commission if you make a purchase through our affiliate link at no extra cost to you. Please read our disclosure policy for more information.
The Federal Reserve released a report showing how many Americans can afford to pay for a hypothetical $400 expense. The results were a bit shocking because they showed that 32% of Americans can't afford an emergency bill of that amount. That means, if their car broke down or they have a medical bill to pay, they'd need to borrow or sell things to raise money.
Mind you, most emergency expenses far exceed that figure and one out of nine Americans is already struggling to pay for them.
If you have no intention of being part of that statistic, there's hope.
⭐ Want to know how I make money online? Follow my Pinterest-driven journey, where I earn $500 daily online! While you won't immediately earn $400 fast with this specific idea today like how you would by selling your old stuff, you can still discover how I earn a full-time income online:

👉 From Pins to Profits: How I Make Over $500 a Day on Pinterest! 👈 My readers voted this post as their top pick. Find out why it's their favorite! 🤩
How To Make $400 Fast
I've listed different ways to make 400 dollars fast so you can shore up your emergency fund for real emergencies or save up your dream vacation. For beginners that are new to side hustles and thinking outside the box, I highly recommend you to start by making $100 a day and slowly work your way up to $200 to finally surpass the $500 mark.
We're not meant to live paycheck to paycheck, slaving our lives away just to survive. That's why here at Finsavvy Panda, I share the best tips on how to make money with creative approaches, save more money, and live a better life.
If you're ready to make $400 quickly, then let's get right on my list!
PIN THIS: I'll be updating this post so make sure to pin this image and save it to your Pinterest board. That way you'll be able to come back to this page and learn the best ways to make $400 fast in a day, week, or month.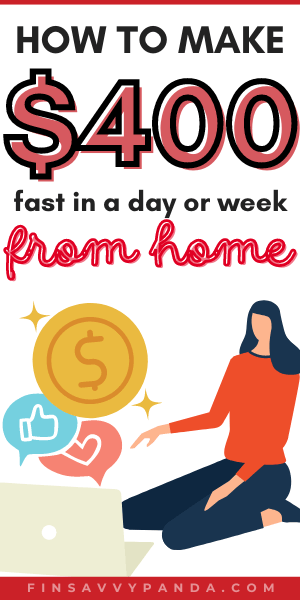 1. Social Media Manager
On the surface, social media apps are primarily used to connect with friends or kill time, but if you look through the lens of a marketer, it's an untapped gold mine that can help supplement your income on top of your 9-5 job.
Facebook has its own marketplace to sell your items, Instagram is a place for influencers to market their product, and Pinterest can help you earn money by bringing traffic to your website.
There are two options available to you when using these apps. You can get paid with it or you can scroll through your feed mindlessly.
If you want to turn your love for social media apps into a career, you'd have to be more observant of what's actually happening on your screens. Understand what makes a post go viral or take note of why people engage in the comment section.
These are some of the basic requirements of being a social media manager. It's not an easy job, but many people find it extremely fun and challenging for several reasons:
The role requires you to think critically and analytically. For you to create successful marketing campaigns and posts that your audience will like, you need to study their viewing behaviors and figure out the content they like to engage with.
You get to be part of popular trends and topics and leverage them for the business. This is where you release your creative and witty side to capture people's attention. Did you see McDonald's collaborating with BTS with their "BTS Meal?" This is a unique chance for McDonald's to tap into BTS' loyal fan base.
And lastly, working with multiple clients simultaneously as a freelance social media manager gives you the opportunity to make a lot of money since you're not tied down to a single employer.
Social media managers can make $400 a week from home or even higher managing social accounts for small businesses. ZipRecruiter reported that the average weekly salary of social media managers is around $1,000.
Pros: You can take on more clients as you become better at handling and growing social media accounts.
Cons: Every social media platform has its own intricacies that you need to learn.
2. Start A Profitable Blog
To start a blog means to leave a mark in this online world. Your blog is your "home" and whatever you publish will be immortalized on the internet.
Given that it's like your home online, you have full control of what you want to talk about. You can create a blog on your interests, hobbies, or something that you're learning in your spare time.
The best thing about starting a blog is you get to attract others who can relate to what you're saying and build long-lasting relationships with loyal followers who will support you in your journey.
If you have no idea what type of blog to start or what niche should you go into, I have some ideas for you below:
Personal blog – You're not limited to a single niche when it comes to this type of blog. You can talk about your personal stories, your everyday life, personal development, and others.
Food blog – Here you can write everything about food. From restaurant reviews to tips on how to cook certain cuisines.
DIY blog – Are you crafty and love creating things by hand? For this type of blog, you can share your DIY plans, your home decor designs, and other DIY projects with your readers.
Parenting blog – Tell your followers about your parenting experiences because many first-time parents can learn from your real-life experience.
Now if you're wondering how to generate income with blogs, my favorite strategies are affiliate marketing and selling digital products. These are the monetization strategies that I use to make $400 a day with my blog.
Affiliate marketing is promoting an item to your audience and if they purchase through your affiliate link, you'll receive a commission.
Any type of blog can benefit from affiliate marketing. A parenting website could be an affiliate for a baby clothes company while a DIY blog can be affiliated with Home Depot to promote supplies used in your projects.
Digital products, on the other hand, are intangible products that are delivered online. These are your:
Artwork
Courses
Graphics
Swipe files
Budget templates
eBooks of healthy recipe meals
I can honestly say that blogging is a great way to earn money passively. In my first blog income report I shared that I was able to make $700 in a month and eventually grew that to $27,000!
If you'd like to do the same and make money by writing, you can join my 7-day start a blog course and learn all the strategies I used to make $100,000+ from my website!
Pros: Blogging is a low-cost investment that can be very profitable in the long run.
Cons: It will take time to find your voice and build an audience.
3. Become A Freelance Writer
In the digital world, no business can survive without having a skilled writer on their team.
Are writers really that important? Absolutely.
Marketing posts are drafted by writers. Blogs are created by writers. Emails and newsletters are written by writers. Even the scripts on videos are produced by writers.
To put it simply, there's an abundance of jobs when you're a writer and you can enter any industry you want.
For instance, if you have a background in psychology, you can join a mental health clinic and write content to educate patients about various mental health disorders and how to manage them. If you love fashion and you're constantly on top of the latest trends, become a writer for a fashion magazine or a lifestyle blog.
Apart from the wide range of industries you can work in, there are various paths you can take as a writer. Here are some examples:
Scriptwriting – You'll be writing scripts for online videos to help businesses sell or market their products.
Resume writing – You'll draft killer resumes for individuals who want to stand out in the job market.
Ghostwriting – A client will hire you to write on their behalf because they don't have the capacity to write themselves.
Copywriting – This is sometimes called persuasive writing. You'll be enticing an audience with your copy to take action. An action can be visiting a website, buying a product, or signing up for a service.
Technical writing – You'll be creating manuals, how-to guides, and other important documentation for a company.
If you're still unsure of whether you can earn a full-time income in this field, I present the story of Levi. He writes product descriptions for a living and has earned more than $1.2 million in his professional career. If this doesn't inspire you to be a freelance writer, I don't know what will!
Pros: You can work remotely and the work schedule is flexible. You're in control of where to work and what time you start writing.
Cons: Some would say that this job isn't for extroverts because of the lack of social interactions.
4. Deliver On Uber Eats
Uber Eats has one of the most flexible schedules amongst the list of best delivery apps out there because the company doesn't have a strict rule on what time you should go to work or on what days.
Being an Uber Eats driver is perfect if you're planning to work at different times of the week. The company allows you to work during night time, on the weekends, or just during peak hours – it's totally up to you.
The amazing thing about Uber Eats is that you don't need a car to deliver for them. You can apply to become an Uber Eats driver even if you just have a bicycle or a scooter.
Since you're only paid per successful food delivered, you should plan your shifts around high-volume periods to make the most out of your shift. The best hours to work would be peak meal times like 11:30 AM to 2:00 PM for lunch and 5:00 to 9:00 PM for dinner.
You could also monitor the app for several days to see when the busy times are in your area so you know exactly when people go online to order food.
Indeed shared that Uber Eats drivers earn an average of $22.00 per hour so working 4 hours a day will allow you to earn $88 per shift. This means you only need to work 5 days to quickly reach that goal of $400 a week.
Pros: A lot of orders go through the app, especially when you're living in the core of downtown. More orders mean more cha-chings.
Cons: You can be stuck in rush hour traffic if you use a car for delivery.
5. Flip Furniture
Flipping furniture can be a lucrative way to make quick cash, especially if you have an eye for potential and a knack for creativity.
I personally experienced this when I took on the project of two small nightstands. I sourced them at a low cost (or even got them up for free online), saw their potential, and invested time in refurbishing and giving them a fresh, modern look.
You can also check out how I make money flipping furniture in my separate post for more details.
Not only was the process enjoyable, but it also proved profitable. Once I completed their transformation and listed them for sale, I was pleasantly surprised to earn a swift $400 from that single flip.
This underscores that with a bit of effort and vision, everyday items can transform into valuable assets for those seeking unique pieces, allowing you to earn extra money quickly when in need.
Related post: Best Places To Sell Used and Flipped Furniture Near You
6. Work As A Virtual Assistant
Working as a virtual assistant (VA) allows you to build your worldwide network and work with clients from all over the world.
With this position, you'll be providing administrative assistance to entrepreneurs who are building their businesses online. You'll be helping them with time-consuming routine tasks so they can focus on the more important aspects of the company.
Don't worry, you're not late to the VA game. There will be more jobs in the years to come as more people are starting their own online businesses instead of working a lifetime for corporations.
If you're unfamiliar with the roles of VAs, here are the most common tasks:
Managing database
Email management
Client appointments
Conducting research
Publishing marketing content
To set yourself up for success, we can't overlook the array of tools they use on a daily basis. When aspiring VAs get hired without having prior experience, they often have a hard time adapting to new applications and software.
So to prepare you for this, it's best to watch online tutorials on YouTube to get a better understanding of what type of work is done and what a normal day would look like.
Software and applications aren't invented to complicate your life, they're here to make your work a thousand times easier – you just need to get through the learning phase.
Some of the most common tools in the VA world are:
Asana – A project management tool that helps you see the progress of all the projects in the company.
Hootsuite – Your best friend in social media management. It's a tool to schedule posts on popular social media apps.
Google Drive – This is where you'll find spreadsheets and documents. It's a one-stop shop for creating and managing important files.
Pros: You can take on more clients after you've streamlined your processes and become more confident in providing your VA services.
Cons: It can be a little bit overwhelming when you're new due to the number of applications that you will need to master.
7. Start A YouTube Channel
Some say that the era of becoming a YouTuber has gone by and creators should start looking at other platforms. But I beg to differ, YouTube is still one of the most popular websites today.
In fact, we continue to witness YouTubers getting paid by the hundreds of thousands to millions simply for publishing YouTube videos. Every year, we see new creators rise up to the top and become famous. So to say that YouTube's popularity has gone down is nothing but fake news.
If you've been planning to start a YouTube channel, stop thinking and just do it!
Practice putting yourself out there and don't be afraid to make mistakes – I've made plenty of errors and I still do! Over time, the quality of your videos will improve, you'll gain more confidence talking in front of a camera and more importantly, you'll make new friends.
Don't get discouraged by negative comments and criticism because we all get them and it's what makes us stronger. Whenever you encounter such comments, just brush them off and focus on the positives.
There are many choices when it comes to choosing the specialty for your channel. Below are some of the biggest ones on the platform right now:
Gaming
Cooking
Fashion
Lifestyle
Traveling
Technology
Personal Finance
Educational Content
But if you've already launched your channel and have a small following, the next step is to monetize your platform, which is the fun part. This can be done in a variety of manners:
Ads – To generate ad revenue, you need to be eligible to join the YouTube Partner Program.
Merchandise – Sell your own products to your audience. These can be hoodies, caps, mugs, or bags.
Subscription – Include a premium service for your exclusive content.
Sponsorships – Get paid by businesses to advertise their products in your videos.
As you embark on your creator journey, you must understand that making money on YouTube will take time. Nothing worthwhile will be given to you so readily in life. However, the potential for earning money is limitless if your channel has gained a solid following of subscribers.
Pros: Your channel and videos can make a real impact on viewers' lives.
Cons: It's going to take months or years to be where you want your channel to be.
8. Offer Pet Services
Running a pet service side hustle is one of the fastest ways to make $400. Even teenagers could do this job after school and earn $400 at the end of the month because it's so simple.
Mind you, there are owners that want their pets to be under the supervision of adults. For this reason, pet owners would pay more for an experienced person to look after their furry pets.
If you think that there's no money to be made in pet services, you haven't met rich pet owners yet. Some of them spend hundreds on grooming and thousands on brand-name clothes.
An owner's love for their pets is an opportunity for you to pitch your service. They will pay you to walk their dogs, feed their birds, or have their cats stay at your house for a week while they're away on vacation.
Don't be afraid to charge more than the average rates if you offer better pet services compared to others. Just remember that there are people who are making $100,000 a year just by walking dogs.
Unsure of what kind of pet services to offer? Here are some ideas for you:
Pet sitting – This is the most common pet service out there and it has the lowest start-up cost. You'll be giving medications to the pet, playing with them for a number of hours, and making sure they're comfortable and well-fed.
Dog walking – When providing this service, wear comfortable shoes and be ready to walk under the sun or when it's snowing.
Pet grooming – Before you can start, you'd have to invest in learning the skills needed to pamper a pet by taking a pet grooming course.
Dog training – Again, you'd have to learn the skills of training a dog. Certifications will surely help in getting your first few clients.
Pet photography – Every pet owner wants their lovely pets to look their best.
The pet business is a lucrative market – especially when you have deep-pocket clients. Try marketing your pet services in an upscale neighborhood to earn a bigger paycheck.
If you want to test it out and try it out as a profitable hobby, Rover is a great platform to find your first client.
Pros: Starting a pet service has low start-up costs compared to other businesses. You just need to take certifications and training before being open for service.
Cons: You need to be available on weekends and holidays. This is the time when your clients need you the most since they'll be out of town or on vacation.
9. Make $400 with Instacart
People with hectic lifestyles will often say, "I've been trapped in meetings all day and I haven't had time to eat. Where do I have time to buy groceries?!"
True, some individuals are too lazy to leave the house, but the fact is that many people don't have the luxury of browsing the aisles for their favorite morning coffee beans. To reduce the time limitation, they use shopping apps like Instacart.
Instacart is a grocery delivery service app that allows users to purchase a variety of things from the convenience of their own homes, avoiding the need to go out and wait in line, since it has its own personal shoppers that do these jobs.
Being a personal grocery shopper isn't all about picking items from shelves, you should be physically fit to carry heavy bags of groceries from the stores to your car and then to the house of the customer. Food delivery drivers may carry a tray of drinks but personal grocery shoppers might need to carry a full case of water.
Most shoppers for Instacart see the job as a very low-stress way to get paid to shop in their spare time because of the flexible schedule and you can work at your own pace regardless of the volume of orders.
In terms of pay, a lot of Instacart shoppers can make around $200 a day when they put in at least eight hours per shift so you'll easily hit that $400 goal in just two days!
Pros: Instacart pays on time and makes it easy for its shoppers to get access to cash. This is an advantage if you have something to pay for immediately.
Cons: There's no career growth in being a personal shopper. It's just a gig job.
10. Sell Used Clothing
Bills might be piling up and you're thinking "I need $400 now!". If you're in this situation, selling used clothes or items should be your top priority since this can help you make $400 a day online.
The clothes that you haven't worn in ages are worth money. A well-maintained leather jacket can fetch you $200 a piece and a quality pair of jeans can be sold for $50 a pop. Don't write off your old clothes until you've tried listing them on Facebook Marketplace.
If you find selling clothes thrilling, you need to try flipping clothes! This process, also known as "t-shirt arbitrage," involves purchasing clothes from retailers and reselling them at a higher price on online marketplaces.
Take a look at Yasmin – a student that has made around $6,000 just by selling second-hand clothes from brands like Gucci and Chanel. Her first flip was a 2003 Chanel sunglasses which she found for $1 and resold for $200 – an instant $199 profit!
You could try your luck in finding these underpriced items on clearance sales, thrift stores, or garage sales. You can even ask your friends or relatives who are moving out if they have clothes they don't want anymore.
Used items and clothing can be sold on these popular clothing apps:
eBay
Mercari
Poshmark
Facebook Marketplace
Pros: There is no ceiling on how much money you can make. You could hit $1,000 in a month from flipping items.
Cons: It's a challenge to find hidden gems. Sometimes, you'd have to spend hours online to search for an underpriced shirt.
11. Get A Weekend Job
Want to make your weekends more productive? Rather than watching your life away with Netflix or other shows, you can make money by doing these weekend jobs below:
Server at restaurants – You get discounts on the restaurants you work at and you pocket 100% of the tips given to you.
Tutoring – This one's an underrated weekend job. You teach students a subject you're good at.
House cleaning – A lot of people don't have the time to keep their homes clean and tidy. This is an opportunity for you to put your organizational skills to work.
Yard work – Want a relaxed working environment on the weekends? Do some yard work jobs in your neighborhood.
Photography – Showcase your photography talent to people that you know (family, friends, and coworkers), and your weekend will surely be booked.
Weekend jobs are a great way to earn additional income on top of your monthly salary while you get to practice your hidden abilities that aren't being appreciated at your day job.
Pros: Often therapeutic and some of the jobs like tutoring can be conveniently performed from home.
Cons: You'll have less time to rest which may take a toll on your body.
12. Become A Transcriptionist
The job of a transcriptionist is to convert audio and video materials into written words. The range of files that you can transcribe can vary from live proceedings, Zoom meetings, interviews, and market research, to podcasts.
For night owls, transcribing files is one of the best overnight remote jobs online that allows you to work in the middle of the night without any distractions.
There are two broad categories to choose from in the world of transcription:
A general transcriptionist works with content that doesn't require any skill or knowledge like online video courses or marketing materials and is paid around $19 an hour.
Advanced transcriptionists are those that have a working knowledge of the industry to fully understand the jargon used by the speakers. This is usually the case for medical and legal transcriptions. The pay is higher – around $25 to $30 per hour.
If you don't want to transcribe legal works and medical discussions, you can transcribe podcasts and business zoom meetings instead. It's much more entertaining to listen to and you'll learn a lot about the topics.
To be a transcriptionist, you need two essential skills: excellent listening ability and fast typing speed.
Good listening skills are needed to be quick in transcribing the material and being fast and accurate in typing reduces your turnover time to your clients.
Pros: Many transcriptionists work part-time or on a freelance basis allowing them to work from home and take care of the kids.
Cons: Long hours of transcribing can be physically tiring.
13. Rent Out Your Home
We're all guilty of buying and hoarding unnecessary things because there was a great sale. However, we all know that this stuff ends up in your garage and spills into your bedrooms, taking up valuable space inside your house.
You're better off cleaning up your extra space at home and making it livable to earn $400 every week in passive income. The national vacancy is low in many cities, meaning rental prices are high and a chance for you to cash in.
After you've cleaned the place thoroughly, stage the space and take some great photos to make it enticing for renters to check out your listing.
Once you're past the preparation stage and have signed your first tenant, you can start to enjoy receiving recurring monthly payments. You'd soon realize why investing in real estate is part of any wealth-building activities.
Life isn't all sunshine and rainbows when you're a landlord. You don't get to sit on a beach all day and collect money from renters. First-time landlords have a learning curve to go through and they are in charge of handling maintenance, repairs, late payments, property management, and legal compliance.
As a landlord, your top priority will be handling tenant complaints, which can be a real headache. However, when you stumble upon a tenant who is courteous, follows your house rules, and rarely causes any trouble, hold on to them like they're a pot of gold at the end of a rainbow! These tenants are a rare breed and can make your life as a landlord a lot easier. So, go the extra mile to make sure they're comfortable and happy living there.
If you don't have time to deal with tenant issues, you have the option to hire a property manager to manage that for you. However, this added cost will lower your profit.
What if you don't have an extra room in your house? No problem. There's still a way for you to earn passive income.
If you have a car that sits on your driveway most of the week, you can also rent that out. Turo and Hyrecar are excellent websites that will connect you with people looking for short-term car rentals.
Practically, anything can be rented out, such as gowns, cameras, bicycles, and sports equipment.
Pros: A passive rental income is a great addition to your monthly salary.
Cons: You'd have to maintain the place and answer the complaints of tenants.
FAQs
How Can I Make $400 Dollars Fast Without A Job?
To avoid the lengthy hiring process, you can earn $400 passively by renting out your assets (eg. a spare room or your car).
A spacious room in a convenient location can easily net you $400 a month. Or, if you have a car that you're not using every day, you can lend it out for around $320 per week. Of course, the actual amount you can earn may vary depending on the make and model of your vehicle
The best part about renting is it is a recurring income that you can earn passively. There's not a lot to do when the initial work has been made.
How To Make 400 Dollars By Tomorrow
You should steer clear of payday loans when possible. If you're asking how to make $400 in a day, your best choice is to sell items that you don't need anymore. There's a good chance that you own something that's at least $400 or more.
When pricing your used products, you should list them a bit lower than the average market price if you want them to get sold quickly.
Let's say you have a backup iPhone in your drawers and the market value for it is currently $500. Instead of just listing it for the same price as everyone else, try setting a lower price of $400. By doing this, you'll get more clicks from potential buyers and increase your chances of a quick sale – especially if your iPhone is in top-notch condition without any defects.
Enjoyed this post? Don't forget to pin the image below! Also, don't forget to follow me on Pinterest over here! 🙂