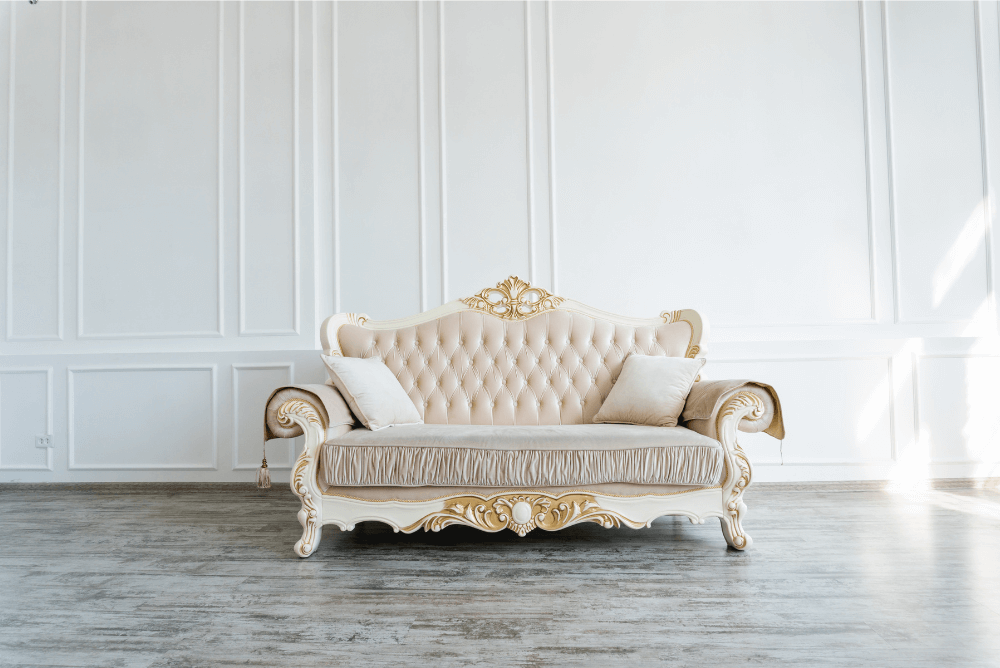 We will receive a commission if you make a purchase through our affiliate link at no extra cost to you. Please read our disclosure policy for more information.
Do you want to get rid of some unused furniture in your home because it's taking up all the storage space? Plus, it's an eyesore everytime you see the stacks get bigger and bigger.
Rather than giving them away for free, have you tried selling your sofa and bookcases?
There's money to be made in decluttering furniture in your house and it's a great way to earn $200 to $1,000 while freeing up valuable space.
When I entered this side hustle, I was kind of hesitant too because I thought, why would anyone buy used furniture? Wouldn't they just go to IKEA?
It turns out, the second-hand market has been thriving as consumers are eager to look for quality products and good deals in the used market.
Selling shoes, old clothes, and reselling luxury labels aren't simply successful money-making hobbies to supplement your income; they're becoming full-time jobs in their own right.
And the market isn't showing any signs of fatigue as ThredUp sees this industry growing by 127% in 2026 and can potentially be a global phenomenon.
Back when I was trying to make money on the side, I entered the flipping culture by selling some of my used furniture.
I made $300 as a beginner and then it increased to $500 per month. I peaked at $1,000 before moving on to more profitable projects (i.e. starting a blog) that allowed me to quit my job.
Selling used coffee tables wasn't easy because it requires many hours of labor work but it did help me make more money outside of work. I've come across many popular online platforms and used the best websites to sell my furniture online. Below I will share the ones to help you make a sale immediately!
PIN THIS: I'll be updating this post so make sure to pin this image here and save it to your Pinterest board. That way you'll be able to come back to this page and learn the best places to sell used furniture online or near you!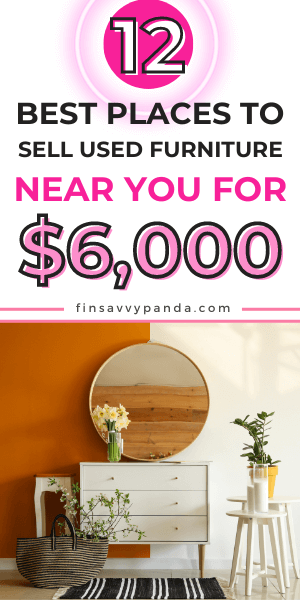 Best Places To Sell Furniture Near You
So, you want to know the best best place to sell furniture, huh?
The very first place to sell your home furniture is to people and places that are close to you.
All you have to do is to set up a meet-up place and give them their item. When you sell in person, you eliminate the costly shipping fees, which means you'll earn a higher profit.
1. Facebook Marketplace
If you think that no one uses Facebook Marketplace to sell things or services, then you haven't been exploring the platform enough. Just last year, Facebook Marketplace sales were around $28 billion!
For it to reach that figure indicates that sellers and buyers frequently transacting with each other.
I personally used this platform to earn $500 a month selling refurbished tables. Those were fun times because it showed me that making money is possible outside of a regular 9 to 5 job.
Sometimes, I still browse this section of the app because I'm curious about what other people are selling. The best thing feature of the Marketplace is that it allows me to filter for listings that are around my neighborhood or cities near me.
Getting your listing shown to people in your area is a big advantage to have especially when selling bulky items like desks and patio sets.
To get started, you need to create your own listing. The whole process is simple and easy to follow – this will only take a minute or two.
Mind you, Facebook levies a selling fee for people selling on the platform. For every item you list, the fee starts at $0.40 per item to 5% of the sale amount.
The fee covers taxes, payment processing costs, and app improvements.
Although this fee exists, sellers are willing to look past it because listing products has zero costs. Other major marketplaces will charge you fee for creating a listing and you don't get reimbursed when your items are unsold.
I highly recommend you try Facebook Marketplace since people are constantly moving and need to furnish their places.
2. Craigslist
Craigslist has been active since 1995 and is consistently used for job listings, apartments for rent, personal ads, garage sales, used cars, and many more.
It's a go-to place for people looking to buy home decor items and appliances, which makes it a perfect platform for your wooden cribs.
Furniture sold here shouldn't be top of the line because there are better websites for those items like Chairish and 1stDibs – we'll talk more about them later.
Low to mid-end types of furniture sell best on Craigslist because buyers aren't looking for classy and expensive furniture brands.
When you check the website, you'll notice that there is a sea of listings on pieces of furniture. But with that much competition, how do you stand out from the crowd? Here are some quick tips to get your buyers to take notice.
Clean your furniture: Use hand vacuums to really clean the dirt and debris off your couch and use small brushes to clean the hard to reach regions. A clean and spotless couch will sell for more than one with peanut crumbs and hair strands on the seats.
Take quality pictures: Don't settle for blurred images. Hold your camera steady with both hands and take multiple shots. Make sure that when a prospect sees it, it feels like they're seeing the item in person.
An important note is to be wary of scams on the platform. There are a lot of scammers on Craigslist looking for the perfect opportunity.
Always check your account to see if their payment was legitimate. Scammers would go the extra mile of falsifying email confirmations and screenshots of wire transfers.
3. Nextdoor
Nextdoor is an app that connects you with people that you see on your streets and where you can get local neighborhood tips on home repair recommendations, while at the same buy and sell used items. They're present in 11 countries with more than 300,000 users.
With Nextdoor, proximity wouldn't be an issue. The app is designed to automatically connect you to users that are nearby – ideal for selling large sofa sets.
Your priority buyers should be the ones near you since you get to save money on shipping and delivery fees. Shipping heavy pieces of furniture can be very costly and will eat into your profits so if you can avoid shipping at all cost.
Additionally, it's far easier to deliver large dining tables when someone lives nearby. Renting out a truck or fitting it in your van is the fastest and cheapest way of doing so.
To help you get started, here are some tips on how to sell on Nextdoor:
Fully describe your item: Provide details like size, color, dimension, and condition. For heavy items, include the approximate weight so buyers know whether they can life the items.
Discounted items get a boost in Nextdoor's feed: Your ads will be highlighted on the app, making it pop and catch more attention.
4. Local Consignment Stores
With the rise of resale businesses, consignment stores have been the first option for some furniture sellers. Consumers now realize they can shop on a budget and still buy something great!
The same thing applies when buying furniture. This is why I suggest going towards the route of selling your living room furniture to a consignment store. You basically just give your furniture to the shop and let them do all the work. They do all the heavy lifting by selling and marketing the items to their customers.
If you aren't familiar with the whole process of consignment, this is how it works:
Consignment is an arrangement where the seller (you) get paid when the item gets sold by the store. The store then takes a certain percentage of that sale since you've used their shop and staff to fulfill the order.
To further convince you to try out consignment stores, here are a few additional benefits for you as a seller:
It's convenient: As I've said, you only need to bring the item to the store and let the shop do its magic. You won't have to deal with people that aren't serious buyers or lowballers.
Prospects get to see the item in person: Potential buyers can physically touch the furniture and measure it to make sure it fits their space.
Instant space in your home. When you sell online, you'll need to wait for the item to get sold before you can finally free up space.
5. Garage Sales
Garage sales are still popular even though it's been around for decades.
Not only will your grandpa and grandma agree on that, but even the younger generation is benefiting from this tried-and-true method of selling. It's evident that flippers are still making four to five figures by buying items at garage sales and selling them online.
Despite the advancements of the internet, people still hold garage sales in the spring and summer to quickly clear up space in their homes while earning money.
Let your neighborhood know that you're having a garage sale by messaging them or posting it on the WhatsApp group chat – if you have any. You could even go door-to-door just to let them know.
Garage sales are great places for items like chairs, coffee tables, and console tables because prospects can hold and personally check their condition. They wouldn't have to worry about shipping since you just live down the block.
As always, make your furniture and other items look presentable. Hence, before you put them up for sale, you should wipe off the cobwebs and get them squeaky clean!
A word of caution, you need to be prepared for a lot of haggling since everyone wants to get a good deal so it's best to have a minimum figure on how low you're willing to let go a particular item for.
Best Places To Sell Furniture Online
We live in modern times with technology at our fingertips. It's only natural that we use technology to our advantage to reach a wider audience. By selling furniture online, we're expanding our reach from local neighbors to thousands of interested buyers across the country.
With the number of online marketplaces today, it can be a hassle to know which ones are great. To rid you of any additional research, below are the best places to sell furniture online.
6. OfferUp
OfferUp will allow you to list just about anything.
You can sell your old camera gear, vintage games, and bar carts. The company has made online selling easier and faster. Just by downloading their app, you can instantly create a selling account.
Just a quick heads up, negotiations often happen in OfferUp because they allow potential buyers to do a counteroffer for your listed item.
The platform also takes care of its sellers by allowing them to look at the profile of the prospect. You're able to check their rating and transaction history. It's one way to safeguard sellers from online scams.
Aside from fraudulent acts, the company takes safety seriously. They created a Community MeetUp Spot page where they encourage sellers and buyers to meet when transaction in-person.
This is what I like about OfferUp. They know how meetups can be dangerous. But thanks to their meetup spot program, meeting the buyer/seller would be less sketchy and dangerous. OfferUp has also partnered up with local businesses and police stations to make meetups safer.
If you're having trouble selling on the platform, you have the option to promote your listing. This will make your item appear at the top of the buyer's feed – exposing it to the millions of users that OfferUp has.
7. eBay
eBay is an amazing website where people can buy and sell pretty much anything you want online. It's like a virtual garage sale that never ends! In fact, eBay is one of the biggest e-commerce websites in the world, and people from all over use it to make money on the side.
What's really cool about eBay is that you can sell almost anything there. From clothes and jewelry to electronics and even cars! And it's not just new stuff either – vintage and antique items are especially popular.
In fact, some people have even made a lot of money flipping LEGOs on eBay! I know it might sound strange, but it's true. One person made over $2,000 just selling LEGO sets he bought and resold on the site.
So if LEGO can be sold, why not home decor and furniture?
Now when it comes to furniture, it's much more ideal to sell smaller pieces. There are only a few instances in that a buyer is looking for a 45-inch mahogany wood dining table set. What most people are looking for are individual smaller items that can be easily shipped.
To give you an idea, these are some furniture you can start off with:
Chairs
Shelves
TV stands
Bookcases
Coffee tables
If you've decided what to sell, the next question to think about is how much you should price it for.
eBay suggests that you look for a similar item on the platform, however, you don't have to follow what other people are doing. If you have a set price in your mind, choose the fixed-price listing option.
To avoid any disputes or complaints with the buyers, be as specific as possible when listing your item. As with selling any piece of furniture, always take the time to write a detailed description and include clear photos from various angles.
8. Chairish
One of the best apps to sell furniture, especially higher-end pieces, is Chairish. It's a website where you can sell your high-value furniture to shoppers with a big budget.
The best thing when selling on Chairish is that everything listed there is furniture. This means that every visitor on the website has the intention of buying or is interested in looking for furniture.
Their team is very hands-on with the onboarding process. Once you've created your account and determined your price and shopping logistics, Chairish's team will review your listing.
The Chairish production team will also assist in editing your lead image and ensuring your listing is optimized for SEO. Optimizing for SEO means that your listing may appear in Chairish's search results when a user searches for an item similar to what you're selling.
Determining the appropriate price for your furniture is made easy with Chairish's Pink Book, which is your go-to resource for pricing on the platform.
You can use the Pink Book to review recently sold items or browse categories to find furniture types similar to yours.
Note that Chairish receives a 30% commission on the sold price if you're subscribed to the Regular plan. This percentage can be reduced to 20% or lower if you're part of the Professional or Elite plan.
9. Apt Deco
Apt Deco is an easy-to-use website for selling furniture. It's a marketplace where buyers can browse top brands and high-quality pieces, while sellers can list their pre-loved furniture and earn some cash.
Apt Deco is available across different states, and if a buyer and seller are within the same standard service zone, the buyer won't have to pay for delivery-related fees. Apt Deco's delivery team will handle all pick-up and delivery.
Listing your item on Apt Deco is free, and the overall process should take less than 10 minutes. Once your item is listed, similar to Chairish, Apt Deco will help enhance the visuals and details of your product.
As previously mentioned, Apt Deco handles the fulfillment of orders and takes 42% of your revenue once you get paid.
You'll receive payment as soon as the buyer receives the item. You can expect the money to be in your account within 2 to 5 days after the delivery.
10. 1stDibs
For vintage and unique furniture designs, 1stDibs is a website you can't ignore. It's an excellent platform to find one-of-a-kind items that can stand out in your home.
If you have high-end furniture or it's made by someone influential, 1stDibs is the perfect platform for you.
Keep in mind that 1stDibs isn't exclusively a furniture website. It also sells art, jewelry, and collectibles, and these items don't come cheap.
Shoppers on 1stDibs are sophisticated and looking for attention-grabbing pieces with extraordinary designs. It's clear that those browsing on this platform appreciate the value of investing in standout pieces for their homes.
You might be wondering if 1stDibs is a high-end website and whether there are a lot of users on this platform.
The answer is yes. 1stDibs has around 4.3 million users and generated $447 million in sales last year.
If you're hoping to sell your unique furniture designs on 1stDibs, you'll need to prove that you're a legitimate and reputable seller through their vetting process.
11. Sotheby's
Undoubtedly, Sotheby's is among the largest brokers of decorative art, jewelry, and collectibles.
It's the place where Kim Kardashian bought jewelry worn by Princess Diana. It's also the only place where you can see an NBA jersey bidding for $5 million.
If they have fine art and exquisite jewelry, you can expect to find a wide range of elegant-looking furniture on their platform.
Not only do they auction pieces dating back from the 17th to the late 19th century, but they also gladly accept modern furniture. So don't worry if you don't have any vintage items to sell.
Now, how can you contact Sotheby's for an item you want to sell?
First, you'll need to choose the category of your item. They have many choices that are beyond furniture.
After selecting your category, they'll ask you to tell more about the item – where is it originated from, who is the artist, what's the material, and many more.
Then they'll ask you for photos. Be suer to follow the their photo tips to give the best pictures you can.
The last two processes involve logistical concerns.
These steps are critical to ensure your item is ready for review by the Sotheby's team of experts.
12. Etsy
Etsy is a well-known platform to sell handcrafted items and vintage products. Shoppers mainly use Etsy to purchase special and one-of-a-kind items that mass-produced products can't match. If you create handmade pieces of furniture, Etsy is made for you.
By setting up an Etsy shop, you'll be able to share your hand-carved wooden spoons and custom-built pantry organizers with a wide audience of potential buyers who are specifically interested in these items.
Etsy is much more than a marketplace to sell things at home, you can use it to monetize a hobby.
Hannah traded in her evening screentime to make and sell bracelets on her Etsy store. This allowed her to earn more than $6,000 in extra income!
Opening your own Etsy shop is actually simple and quick. They will ask for your preferred language, the country you operate in, and your preferred currency. Just give them your shop name and you'll be on your way.
Once you have a good understanding of the website as a seller, Etsy allows you to upgrade to Etsy Plus.
Sellers who are subscribed to this have access to advanced shop customization. It's where you can have multiple banner options and new layout choices – allowing you to have a more welcoming shop than your competitors.
As Etsy notes, having a solid marketing strategy is key to your success on the platform. One simple tactic is to optimize your shop by including your location, which will increase your visibility in local buyers' searches.
You can also dive deeper into advertising on Etsy. They'll help you get your listing to appear on top of the searches. On top of that, the platform can help in providing you with offsite ads as well.
3 Tips To Sell Your Used Furniture
1. Cleaning Is A Must
You must do everything you can to make your furniture presentable and look as brand new as possible.
Wipe the handles and applicable surfaces. Make it look shiny. Use baking soda and white vinegar to remove any stains.
For cushion-made materials, use a vacuum to take out specks of dust. Brush off any hairs and crumbs. You don't want it to only look good in pictures, you want it to be clean when the buyer receives the items.
2. Take Good Photos
It's important that you go out of your way to stand out since you're not the only seller in this world.
To achieve this, your photo should be compelling enough. A great picture can make a shopper stop scrolling to check out your listing.
Yes, believe it or not, it's your photo that shoppers see first. Descriptions and other details come second. So before worrying about anything else, make sure that your images are crisp and bright.
To make your item photo stand out, play with lighting.
You could use artificial or natural light. Light stands will surely make your photo clear and less grainy. But a natural light will give a more aesthetic effect to your listing.
Be mindful of the background in the photo as well. Should you go for a plain backdrop color or a natural living room background?
Deciding which one works best will help in making you achieve that attention-grabbing photo.
3. Create DetailedAll Users Descriptions
When it comes to selling a product, a great photo can capture a shopper's attention, but it's your product description that will ultimately persuade them to make a purchase.
The common mistake here is going the minimalistic route. You shouldn't shy away from a long description. Add all the details that you can to convince the buyer that it's the right product for them.
At the very least, your product description should cover the following:
Condition – Is it still in good condition or is it worn out? How long did you have that in your possession? Does it have stain marks? List all of these to paint a picture in the shopper's mind.
Material – Some shoppers are particular about the material of the furniture. Is it real solid wood, plywood, or particle board? If it's not real wood, be honest about it.
Dimensions – Use a measuring tape and record the product dimensions to their finest detail. This is important especially if you have a big item for sale. It helps buyers see if they have enough space for that piece.
History – If you know the background of the furniture you're selling (if it has any), don't be afraid to share it in the description area. It adds life and appeals to the product you're selling.
Lastly, a strategy you can use in description writing is leveraging sensory or emotional words.
Let's say you're selling a couch on the platform:
"A light couch that feels like you're sitting on the clouds with how soft the cushion is…"
FAQs
How can I sell my furniture fast?
If you're in a rush to sell your furniture, you'll have to do two things: provide good photos and sell at a discount.
For a buyer to look at your listing, your images should be sharp and clear. Post every angle of the item and provide zoomed-in and out photos. This makes it easier for the buyer to picture your item in their home.
Selling at a discount will make your item more appealing. I don't always recommend this but if you want to get a faster sale, this certainly helps.
Is selling furniture a good side hustle?
It is but it's just that – a side hustle. Unless you're really passionate about selling furniture, then it can turn into a fully operating business.
However, if you just want to make quick money, there are a lot of other options to do with less effort from your end. There are blogging and tutoring jobs that can pay you four to five figures per month.
I've sold pieces of furniture before and it made me good money for one year. But I moved on because I made a lot more money from blogging compared to flipping and selling furniture.
Don't get me wrong, selling used furniture is fun, however refurbishing it was more hands-on and active compared to starting a profitable blog.
If you are interested in starting a blog, you can learn how I make over 6 figures per year as a full-time blogger.
The great thing is you can also start a blog about flipping and reselling furniture. I was actually going to start a blog about that, but I decided to start a personal finance blog since I have more experience with that topic.
Enjoyed this post? Don't forget to pin the image below! Also, don't forget to follow me on Pinterest over here! 🙂