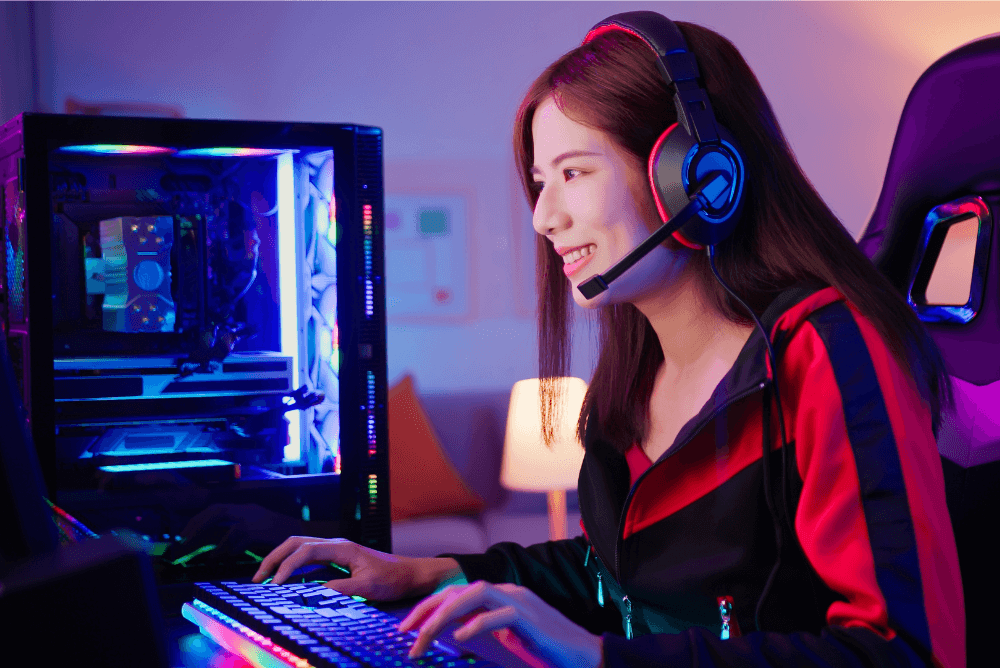 We will receive a commission if you make a purchase through our affiliate link at no extra cost to you. Please read our disclosure policy for more information.
Your parents will be the first ones to lecture you at the dinner table about how "streaming on Twitch isn't a real job." You'll never hear the end of them telling you that you're better off getting a degree and finding a high-paying job. "You can't make money selling video games to people on the internet," they said.
Now, if you think about it, watching someone else play video games is no different than millions of people glued to their TVs watching basketball or football teams competing against each other to win a championship.
A couple of decades ago, this might have sounded ridiculous. But in today's age, getting paid to play video games online is not just a hobby — it's a viable career. And come 2025, the market for it is forecasted to escalate to $3.5 billion.
How To Make Money on Twitch
We're not here to discredit your parents, but they didn't even have YouTube back in the day.
However, your parents are right to a degree because you don't just play your favorite game in your room and people will come to watch you. It takes a lot more than that. Earning money on Twitch is just like any other profession. It requires skills, strategy, and entertaining content to build an audience. The only difference really is that with Twitch, you can make money with a hobby.
It takes dedication, hard work, and patience to make money on Twitch, but the rewards can be downright rewarding. And Twitch isn't only for gaming. There are different categories on the platform like IRL (In Real Life), Esports (competitive gaming), and Music.
If you're considering streaming until you get paid on Twitch, this is the perfect article for you. We'll be talking about the various ways you can build an audience and how you can monetize your channel so you can start earning as fast as possible!
PIN THIS: I'll be updating this post so make sure to pin this image here and save it to your Pinterest board. That way you'll be able to come back to this page and learn different ways to earn money on Twitch.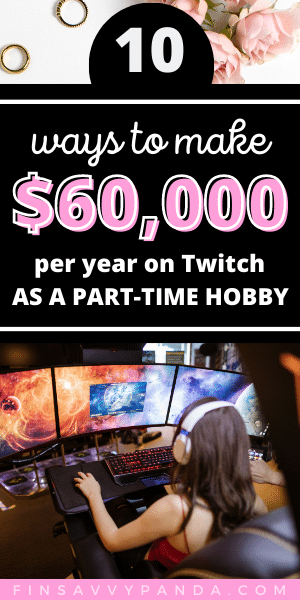 What Is Twitch?
Before making an account on the platform and starting earning money, it's best if we learn more about what Twitch is and why it's the go-to platform in video game streaming.
Twitch is a live-streaming website that is primarily focused on video games. To some, the appeal of watching someone play games doesn't interest them but the daily 15 million unique visitors that it gets think otherwise.
Twitch has gotten so popular that even non-gamer personalities have used the platform.
Drake once played Fortnite with the huge Twitch streamer Ninja. Alexandria Ocasio-Cortez (AOC) played the viral game, Among Us, on stream to connect with different audiences. NBA players, music producers, and other celebrities have made waves just by being on the platform.
There are also streamers that use their following to help out charities and other people. Just recently, Twitch streamer "SONNYMOVEMENT" used his platform to raise over 10,000 Australian dollars for cancer patients.
As you can see, Twitch has been used for many purposes than pure gaming. It's a fantastic platform to build relationships, have fun, and even help out a cause. At the end of the day, how you use Twitch is completely up to you.
What's On Twitch?
Twitch organizes its platform through categories. Let's discuss the most well-known ones:
Games
The most dominant category on the website is gaming, and millions of users are watching gaming content on a daily basis.
There are hundreds of games under this category. No matter how small the niche is, whether that's chess, The Sims, or Animal Crossing, there's a good chance that there's a player streaming it!
With how big Twitch is, these streamers have amassed millions of fans just by broadcasting their gameplays. This is how some streamers attained celebrity-like status. Game streamers like Ninja, Ludwig, Valkyrae, and Pokimane have guested on movies and music videos due to their streaming success.
If you like playing games, streaming under this category on Twitch is an excellent start to your career. To give you some gaming content ideas, check out these points:
Gameplay commentary – All you need is a mic, a camera, and your unique analysis. You'll provide comments on how someone or a team is performing, just like sports analysts giving their analysis and insights on basketball plays.
Stream with friends – It's always a party when you have the whole squad in a game. It makes it more fun and enjoyable for your viewers.
Gameplay challenges – Sometimes, viewers want to see you play with a handicap. For example, you play blindfolded as your friend guides you on what to do in the game.
The goal is to develop original and engaging gaming content! Collaborate with other gamers to come up with new ideas for your stream. Make it fun and interactive for yourself and your viewers!
Just Chatting
A category that's catching fire is Just Chatting. It seems like users like it when their favorite streamers are "just chatting" with their audience.
Here, chatter takes precedence over any game material for streamers. Any topic under the sun can be discussed. You can talk about gaming opinions, life, getting to know the community, and others.
Viewers genuinely care about what you think and what your thoughts are on various topics so don't be afraid to be yourself. People are tuning in just to hear what you have to say and engage in the conversation.
Just Chatting streamers can even collaborate with other streamers to do a podcast-like experience or a Q&A session.
If you're a people person, can hold a conversation for hours, and talk just about anything, this is the category for you.
Travel & Outdoors
This is one of the best categories on Twitch because you can bring your streaming audience as you go around the city or when you travel to another country.
It's a creative approach to bond virtually with your viewers and show them other places. You get to experience other cultures and document your adventures on stream.
You can share which restaurants you go to get the best food in the city, tourist traps to avoid, and the best areas to stay in.
This is much like what famous vloggers do but with Twitch, it's unedited and raw. No cuts and retakes. Your viewers get to see the genuine version of yourself as you go outdoors.
Music
Performing for an audience at home on Twitch is much better than playing at a club or a venue. You can play whatever you want, take breaks when you need to, and won't have to worry about getting fired for making mistakes!
There are tons of options to entertain viewers. You can ask them to request a song or ask for a set list from your viewers and perform a number of them. It's a good idea to start with some covers and gradually move on to original music after you gain some followers.
It's a great way to share your talent with the world while getting paid to sing your heart out. Even if you don't sing, you can still entertain people by playing acoustic.
There are viewers out there who use music streams as background music when they're studying, working, or doing chores. While there are those that just want to see some talent and maybe learn a few things from them.
10 Ways To Make Money On Twitch
Now that you know how big of a platform Twitch is and the number of categories it has, it's time we dig deeper into how you can get paid to be on it. You'll now learn how to make money on Twitch playing games.
1. Be A Twitch Affiliate
The Twitch affiliate program helps streamers monetize their channel. However, you need to be aware of its eligibility to see if you qualify:
Minimum 500 total minutes broadcast in the last 30 days
At least 7 unique broadcast days in the last 30 days
An average of 3 viewers or more over the last 30 days
Must have at least 50 followers
Essentially, these requirements are designed to ensure that streamers are serious about establishing a loyal viewership and dedicated to actively streaming on the platform. This is to weed out people who just want to make money quickly off their streams but never actually stream or don't take it seriously.
As a Twitch affiliate, you can earn as long as you stream on a frequent basis. Your viewers can send support to your channel through subscriptions and bits, which we'll discuss more in-depth below.
Being an affiliate means you can get 14 days of video-on-demand (VOD) storage. This allows your viewers to watch your streams anytime they want if they missed your broadcast.
Take note that your Twitch affiliate status can be taken away. This is a result of account inactivity and terms of service violations, among other things.
2. Be A Twitch Partner
Twitch Partners are seen as the best streamers Twitch has to offer. These accounts have a large viewership, an active community, and amazing content. All of these streamers stand out from the category they're in.
But before we discuss this further, let's address that question you have – what's the difference between a Twitch Affiliate and a Twitch Partner?
Both programs differ in terms of requirements and benefits. Although it is not required to be an affiliate first before being a partner, Twitch highly encourages streamers to do so.
To be a Partner, your stream should have a minimum time of 25 hours, be streamed on 12 different days, and have an average of 75 viewers.
Take note that meeting those requirements doesn't automatically make you a Partner. Twitch will still manually review your application.
As for Twitch Partner benefits, streamers here will have priority customer support, ad sharing, and enjoy custom emotes that can lead to more subscriptions. They'll have exclusive features like a subscriber-only chat room and exclusive videos.
You must achieve Twitch Partner status if you want to make a steady income on the platform.
3. Affiliate Marketing
This particular way of monetizing your channel is different from the Twitch Affiliate program. When someone purchases something via your affiliate link, you earn money through affiliate marketing. While there is no additional charge to the audience, you will be paid a commission by businesses for recommending their products.
For example, you can promote a gaming mouse from Logitech using your affiliate link. When your viewers click on that link to purchase that mouse, you'll get a certain percentage from that sale.
Affiliate marketing is my favorite strategy for monetization because it's the most passive approach to making money on Twitch. You don't need to promote the product or service you are affiliated with actively. If I wanted to monetize my Twitch account, I'd definitely do this one first.
Keep in mind that you shouldn't just randomly promote products to make a quick buck. Make sure to be transparent about your affiliations and only recommend things that you personally use or would use yourself.
The income of an affiliate marketer can vary. You can make $10 per successful purchase or even $300 depending on the value of the product. The higher the price of the product, the bigger the commission you'll get. You should also look for products that suit your audience in order to maximize the chance of having a successful sale.
When I started taking affiliate marketing seriously through blogging, I was able to make over $40,000 in affiliate earnings during my first year!
Amazon, which owns Twitch, has one of the biggest affiliate programs out there. You can literally promote almost anything that is available on Amazon and earn a commission from it.
Twitch even made it easy for streamers to earn money from affiliate marketing by having chat commands to show what products they're using with an affiliate link included.
4. Bits
On Twitch, viewers may buy bits, a virtual currency. With the use of this virtual currency, people may give cheers to their favorite streamers by using the Bits.
Bits can be used for animated emotes in the chat, voting in polls, getting badges, climbing leaderboards, and acknowledgment from streamers. You can say that giving out Bits makes the stream fun and engaging for the community.
You can think of Bits as donations but there's actually more incentive to viewers when they give out Bits to streamers. They can use emoticons, have badges, and have exclusive emotes to use on the streamer's chat.
Twitch pays affiliates and partners $0.01 for every bit they receive. So if you receive 10,000 Bits, that equates to $100 in extra money in your pockets!
5. Brand Partnerships
At the end of 2022, Twitch reported that there were 7 million active streamers using its platform. The fact that so many individuals stream on a regular basis indicates the success and profitability of the streaming business.
Brands and businesses gravitate towards a space where there is attention, especially if their target audience is there. These businesses will approach you with potential product placement and endorsements if they think you're a good fit for their products and services.
It's difficult to imagine that no sponsor will approach you if you have gathered millions of followers and receive thousands of viewers each time you broadcast. Today's businesses will look for a method to turn a streamer into a powerful spokesperson for their goods.
Take G Fuel for example. It's an energy drink company that made a multimillion-dollar deal with streamer Ninja. He would drink their product in his streams and even organize giveaways for viewers, who had a chance to win G Fuel products and game consoles.
But do you need millions of followers to land a brand partnership? Of course not. Some brands would invest in up-and-coming streamers because it's more cost-effective to work with smaller influencers. Plus some businesses want to be part of the growth of a streamer.
6. Merchandise
Having merch as a streamer can be a very lucrative avenue for you to make money on the side. You'd be surprised at how many of your viewers will buy your merchandise as a sign of appreciation!
Don't wait to get that Twitch affiliate or partner status to start selling merch. As long as you have a devoted fan base and are active in the community, you can set up your own merch store.
TerrestrialPlays, a Twitch streamer, didn't bother to wait to hit 1,000 subscribers before selling her merch. She only had over 450 subscribers and averaged around 60 to 70 viewers per stream.
But regardless of the statistics, she still began her merch-selling journey. She shared that currently, her merch makes up a substantial percentage of her monthly income. It goes to show that selling early in your streaming career has its benefits and advantages.
Selling merchandise is a great side hustle to do as you focus on work and streaming. And the biggest advantage of selling online is your store can be open 24/7. There's also no need to hire staff since almost all the processes are now automated.
To start building a store, you can use Shopify and integrate it with print-on-demand businesses like Printful.
7. Subscriptions
Subscriptions are one of the major methods to monetize on Twitch. But you must first be a Twitch Affiliate in order to receive a subscription button. If you're committed to streaming, aiming to qualify for the program shouldn't be too difficult.
Subscribing to your channel is another way for viewers to show that they're rooting for you. It means that they love what you're doing and would like to see more of your content.
And as a streamer, you have control over the different benefits and perks when a viewer subscribes to a certain tier.
Subscription tiers start at $4.99, go up to $9.99, and end at $24.99 per month. The revenue is split 50/50 between you and Twitch.
The perks are usually special emotes, exclusive content, private chat rooms, ad-free viewing, badges, and many more. Some would even include merchandise discounts.
Working hard to earn that subscription button will greatly boost your monthly income. The earning ceiling with subscriptions is unlimited especially if you're constantly growing your audience monthly.
8. Playing Other Games
There's nothing wrong with sticking to one game for the majority of your streaming. In fact, you should be a go-to channel for that specific game. However, you will eventually become weary of playing League of Legends indefinitely.
Most streamers will spend some time playing another game like Call of Duty. They get a "mental vacation" from it, and spectators get something fresh to see. This is usually when you get burned out from the game or your viewership has plateaued.
By playing different games, you get to show off other skills and give your viewers something to look forward to. For example, you can play trending games to attract different viewers to your channel. It's a good technique to increase the exposure of your brand.
You don't have to switch games every stream, but it's a good idea to mix it up every once in a while.
9. Video Ads
To keep your streams running and growing, you'll need to have some form of income. If you don't want to depend mainly on donations or subscriptions, you can get paid to play ads during your streams. These are usually brief and unskippable ads, but they can be quite valuable.
To get started, click on the Ads Incentive in your Creative Dashboard. There, you will be presented with personalized offers.
An example of these offers could be:
$100 incentive: Run 2 mins of ads per hour and stream 40 hours this month.
$300 incentive: Run 3 mins of ads per hour and stream 40 hours this month.
$500 incentive: Run 4 mins of ads per hour and stream 40 hours this month.
We can all attest that running ads can be annoying to viewers and interrupts the viewing experience. However, this is a method for content creators to make a return for their work.
To make the whole process bearable, Twitch shared different strategies on how you can run ads on your channel.
Give your community a heads-up that you're taking a break. Simply tell them that you're going to grab a quick drink and will run an ad break. Displaying how frequently and how long an ad break might last on your page is another approach to informing your followers.
Run multiple but short ad breaks. 1 to 2-minute ad breaks are a good length to not make your viewers wait for too long.
Use automation for your ad breaks. It's a hassle to manually run ad breaks while focusing on your stream. To make things easier, use tools like Moobot or Nightbot to run ads on your behalf.
10. Selling Games And In-Game Items
In 2017, Twitch made news about its move on video game selling. They started selling games and in-game items from big and small publishers through their streamers' channels.
It's a practice for the platform to make additional revenue but it benefits streamers as well. To incentivize viewers to buy on Twitch, the company added a "Twitch Crate" for every purchase.
The virtual crates are loot boxes that come with emotes, badges, and Bits which again can be given to the streamer to show support!
5 Tips On How To Build An Audience On Twitch
1. Talk To Your Viewers
You play games for an audience rather than just yourself. Without communication, the streamer and its audience become so disconnected that there's no relationship being built and created.
If a streamer doesn't interact with their audience often, users won't bother subscribing to the channel. They have no motivation to type in the chat and interact with other users either.
So it's important that you talk to your viewers. It makes their time worthwhile. Ask viewers how they're doing, hold a discussion, and chat like you're talking to a friend.
Talking while streaming might look easy on paper but it's actually difficult to achieve unless you're in the Just Chatting category. Successful gamers are able to focus on the game while monitoring their chat in order to make the entire streaming experience engaging and fun.
Visitors are more likely to consider subscribing to you after they discover that your stream is entertaining, which is typically the first step in turning a visitor into a fan of your content.
The stronger the interaction between you and your viewers, the more subscribers you'll gain.
2. Be Unique
There are over 7 million streamers on Twitch, and a large portion of them are presenting the same thing to users. If you want growth, you'd have to think of tactics to be unique and stand out from your niche.
You need to start thinking creatively at this point. It's a fantastic idea to start challenges on your channel to engage people.
For example, the total deaths in the game you incur in the whole stream session will equate to the number of push-ups you'll do on stream. If you're doing a travel stream, you'll strike up a conversation with a stranger for every tier 1 subscription you get.
Challenges like this don't just help you build an audience but show your creative and spontaneous personality. Sometimes, a viewer may subscribe to your channel just because you're funny!
When the mechanics of a challenge are done correctly, you can also profit through Bits and subscriptions.
3. Leverage Other Social Platforms
Leveraging other platforms to grow your brand is the key to personal branding. I did that with my blog and used Pinterest to gain thousands of website traffic.
The same thing can be applied when growing on Twitch. You don't have to focus on one single platform. Being active on other social websites can increase the presence and exposure of your brand.
Use video-first platforms like YouTube and TikTok to your advantage. Take attention-grabbing clips from your stream and repurpose them as marketing content.
Make a buzz around your video and give your audience the impression that they would be missing out if they didn't view it.
After each clip or even while it plays, insert your Twitch channel on the screen to bring those viewers to your Twitch streams.
Another tip is to be active on social media and engage with users. Don't just use it as a marketing distribution channel. Add some life to your profile by being funny and replying to comments or tweets.
4. Stream Consistently
The majority of streamers adhere to a schedule so that viewers know when to anticipate a stream. Rather than broadcasting at sporadic times, this is the best method to establish a community.
Twitch found that the majority of the content watched on the platform is on a consistent basis. It's the same as people turning in to watch their favorite TV show at the same time every week.
Find a time that you're comfortable with and try to stick to it. This way, it will be ingrained in the viewers' heads that you'll be live around 6:00 PM PST. Post this schedule on your channel page so your viewers can see it.
Again, leverage off your other social handles and share when you're going live. It's a good reminder for your fans that you'll be live in a couple of minutes or on certain days of the week.
5. Have Fun
It's easy to get caught up with metrics in streaming. This could cause unnecessary stress on your end. The worst case is it will lead you to abandon this passion of yours.
When streaming, don't forget to have fun!
Streaming was created for you to have fun while playing in front of people. The big streamers you see have been doing this for years. They didn't reach the top overnight. They, too, grinded for hours but what kept them going was the "fun."
FAQs
How much do Twitch streamers make?
Twitch streamers' earnings vary depending on their level of popularity. The more prominent a streamer is, the higher their potential income. For example, in 2022, PewDiePie reportedly earned approximately $40 million in revenue, while Ninja earned around $25 million.
These streamers get to earn such amounts because they're at the upper echelon of the streamer rankings, which they have built up over many years on the platform.
For new streamers, you can expect to earn $50 to $1,500 a month as long as you're consistent in streaming, building a fan base, and creating unique content.
How many followers do you need on Twitch to make money?
Most people think that to earn money on Twitch, you need to be a big sponsored deal or have thousands of viewers or subs, but that's usually not the case.
You can set up your own merch as you start your streaming career. That way, as you grow your audience on Twitch, viewers get to see the products you're selling. If it's to their liking, they might just buy it.
Donations are also a way to make money on Twitch. And no, you don't have to wait to be a Twitch affiliate to enjoy this feature.
Can you make $1,000 a month on Twitch?
Earning $1,000 a month on Twitch is definitely possible, but it varies greatly from streamer to streamer, especially since there are many factors at play. Someone's earning potential on Twitch can vary depending on the size and engagement of their audience, their content quality, and how consistent they are at streaming. Having a horde of followers doesn't always translate to big bucks. Sometimes, it's more about the looks… I mean, views!
If you plan to make money from Twitch, don't expect too much in the beginning. Although you can get a thousand dollars a month, that can fluctuate from month to month. And even before reaching that much, you still have to keep working at building an audience and keeping a consistent streaming schedule — which aren't easy tasks, by the way!
Don't camp in one spot! Diversify. The streaming world drops coins from supporter donations, ad loot boxes, and the hidden treasures of affiliate marketing.
If you want to reach $1,000 a month, don't camp in one spot! It's best to diversify where you get your earnings. The streaming world drops coins from supporter donations, ad loot boxes, and the hidden treasures of affiliate marketing.
So, while making $1,000 a month is feasible, there are a lot of things you have to consider!
How many views do you need to get paid on Twitch?
You must average at least 3 simultaneous views over the last month to start getting paid on Twitch. Although views serve as an important metric, but forming genuine connections, being there for your community, and showing up consistently are just as crucial. Of course, not to mention that you need to have at least 50 followers before your views even start to matter.
Twitch isn't just about who's watching. Gifts from viewers, loyal subscribers, those ad moments, and even your own merch play their parts in the earning game. You might even find a Twitch big shot sending some love (and cash) your way.
Enjoyed this post? Don't forget to pin the image below! Also, don't forget to follow me on Pinterest over here! 🙂