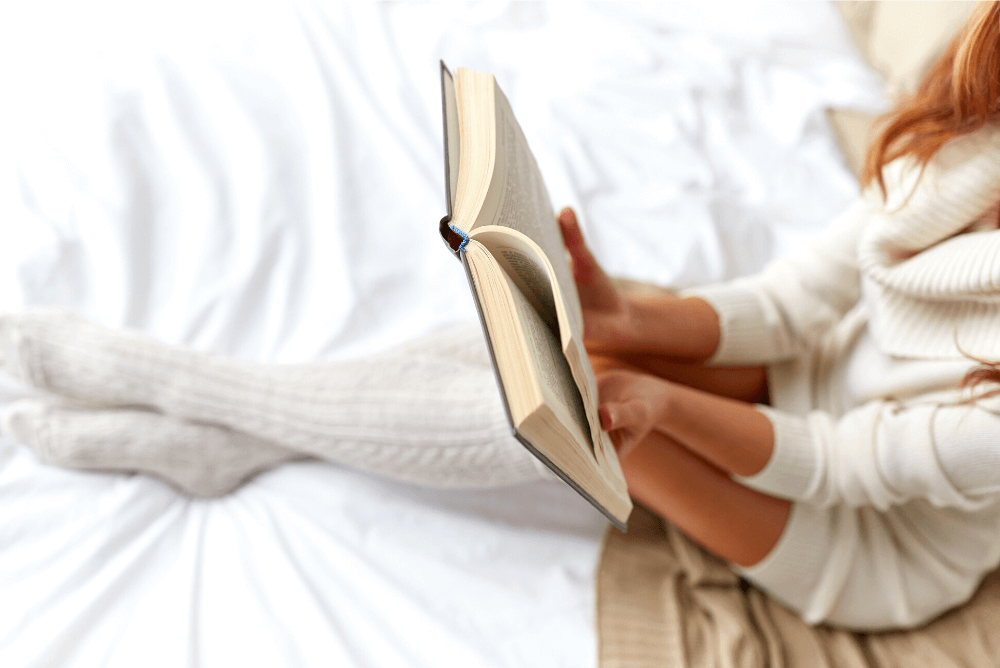 We will receive a commission if you make a purchase through our affiliate link at no extra cost to you. Please read our disclosure policy for more information.
Being completely absorbed in a book's world is the best sensation there is. We've all read books where the authors use their words to transport us to a different world.
Yet, do you know what's better? Getting paid to read books!
Why would anyone pay someone to read? I know it sounds too good to be true.
When I researched more about this industry, it turns out that there are several ways to make money as a bookworm!
All you have to do is use your imagination and your abilities. There are many opportunities in this area, from having a book review blog and translating books from one language to another to becoming a proofreader.
Thousands of books are created and published every day. Whether that's fiction or nonfiction, you could make money to read different genres.
Since most reading-related duties don't require an office setting, you can work from home while still maintaining your day job or juggling it with your studies.
PIN THIS: I'll be updating this post so make sure to pin this image here and save it to your Pinterest board. That way you'll be able to come back to this page and learn you can get paid to read books!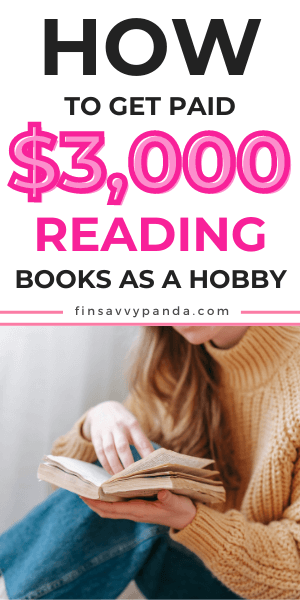 Can You Get Paid For Reading?
The short answer is Yes!
The long-winded explanation is there are a lot of websites, companies, and people that will pay you to read books aloud online, record your voice, and share your thoughts.
Book lovers have been doing this on the side while others do this full-time.
You have to put in the effort and work to earn money reading, just like any other employment. There's no free lunch. You can earn as low as $1 for tips to $100 per book summary. Naturally, the ceiling to earn more will be raised as you get more experience.
You can narrate, provide a written summary, take notes of certain aspects of a book, and many more. Depending on what the company is requesting, it will vary.
What Company Pays People To Read Books?
Bear in mind that when a company or website pays you to read, just know that the job requires something more than reading.
Reedsy for example will make you read new books for free in exchange for a detailed review from your end. ACX, on the other hand, can pay you to narrate audiobooks.
Platforms like Upwork are full of freelance writing gigs like ghostwriting a book for a client. You can earn $1,000 and more just by writing and proofreading books for content publishers.
1. Make money on BookTok
Unless you've been living under a rock, you've undoubtedly heard about making money on TikTok.
TikTok's literary community, dubbed "BookTok", offers voracious readers a platform to monetize their passion.
By sharing book reviews or fun reading moments, you can catch attention and start to earn. Publishers might send you free books to talk about. You can also earn money when people buy books through your links, especially with places like Amazon. And when you get a lot of followers, writers and book companies might pay you to promote their stuff.
But remember, the most important thing on BookTok is to be real. If you're honest and show your true love for books, you could make money from it.
2. Become A Book Proofreader
Making money as a proofreader is like mining for gold. You have to be willing to dig deep and work hard to uncover the hidden gems, but when you find them, you will be rewarded with a great financial payoff.
Just like prospectors of old, you need to focus on finding the errors that others have overlooked. It takes patience, attention to detail, and a sharp eye to find the gold, but when you do, you can reap the rewards of a successful proofreading career.
The process of proofreading is a vital step before a book is published. A proofreader's job is to read the entire book and ensure that it's the closest form to being perfect before printing or publishing it to the public.
No matter how talented they are, authors will always engage proofreaders to provide a second set of eyes for their work.
Due to the constant flow of books that need to be reviewed for accuracy before publication, proofreading jobs are always hiring capable people for the task.
And you know what's the icing on the cake? Proofreading can be done in the comfort of your home! It can be a work-from-home job that can be completed with just a laptop, an internet connection, and your favorite beverage.
If you're looking for a rewarding job that pays well and offers flexibility, consider becoming a proofreader and enjoy an average salary of $55,900 per year!
However, how can you excel in this type of work? What skills are required? I've examined plenty of materials on proofreading, and every professional agreed with the following:
Be detailed and diligent. It's your main duty to find errors in the book. You need to be 100% focused when reading from start to end.
Offer suggestions and improvements. It would be best if you shared your opinion on how the author can better explain the ideas in certain book sections.
Quick but efficient proofreading. You won't be reading the book only once. You would have to reread it multiple times to make sure you've spotted every possible error. On top of that, you'd have to meet deadlines.
You can start your proofreading pursuit on these platforms:
Fiverr
Upwork
Flexjobs
Scribendi
3. Become An Audiobook Narrator
Audiobooks are quickly becoming one of the most popular ways to experience a story. Whether they are listening while commuting or just want to enjoy a book while multitasking, audiobooks make it easy for everyone to experience stories in an entertaining and convenient way.
It's much like voice-over acting but you need to read word for word of that book without having to be in front of a live audience.
However, the job is not just plainly reading the texts. You have to put energy and emotions into it!
You should be able to switch tones, pace, and emotions effortlessly. So if a scene involves a crying character, you should be able to cry your heart out without any hint of awkwardness.
I personally thought narrating was light work where you get into the studio, record, and go home. But it seems like that's far from the truth.
Professional narrators always prepare themselves for hours of speaking out loud. Hope Newhouse, a seasoned audiobook narrator, shared that it usually takes six hours of work to create an hour of audio. You could only imagine the amount of effort placed into narrating a full-length book!
This job is clearly not for the faint of heart. It requires skills and passion to do this day in and day out.
Audible, the leading provider of premium audio storytelling listed four skills to become an audiobook narrator:
Background in acting – Narration is telling a story. You're acting as a character while telling different stories.
Personalized Voices – Listeners can only hear voices so being able to convincingly portray people from various backgrounds will set you apart from other narrators.
Stamina – You have to be physically ready for the role. You'll be talking aloud for a number of hours.
Research skills – Research in this field happens when you're not familiar with a word, an accent, or a foreign term.
Backstage shared that you may expect to make $10 to $100 per finished hour (PFH) as a new narrator, and as you develop credibility and expertise, you can demand higher rates of $100 to $350 PFH.
When you're new in this field, it could be hard for you to get these types of jobs. One way to stand out is to create a demo audio of yourself narrating some books you have read before, so potential employers can hear your voice and your ability to bring a character to life.
4. Read Books For Amazon
Amazon isn't just an online marketplace for you to buy your kitchen items, electronics, and other necessities.
You can also get paid to read books for Amazon through Audiobook Creation Exchange (ACX). ACX is part of Audible and Audible is a subsidiary of Amazon. For book owners, ACX helps with distribution by connecting your audiobook to Amazon, iTunes, and Audible.
ACX is a marketplace where it acts as a middleman to connect authors and publishers with narrators and producers. Anyone who is just starting out as an audiobook narrator should use it because most authors on the website are primarily there for one thing – to convert their books into audio form.
The platform also helps you display your talent and get hired by potential clients who are in need of experienced narrators. Say, you have a great French accent, don't just write that you have one, you can upload a sample recording of it. If you can do a lot more accents, keep uploading them to your profile. The website doesn't limit you on how many recordings you can upload.
You can get paid in two ways in the world of audiobook narration in ACX:
Earn a per finished hour rate and receive payment once the project is completed. Beginner rate ranges from $50 to $100 PFH while experienced narrators can make $400 to $1,000 PFH.
You'll get 20% – 40% royalties from sales with the book rights holder.
5. Start A Book Review Blog
Unleash your inner book reviewer and make your voice heard with a book review blog. Create a platform to share your honest reviews, engage in lively book discussions, and connect with the book-loving community.
Your choice of review blog will be entirely up to you. There are several options available to you:
Your website can strictly review books from one genre you like. Choose from fantasies, mysteries, sports, graphic novels, and others. This can establish your website an authority in that sub-niche.
Another idea would be creating a website for recommendations. If your reader is looking for something adventurous and has a touch of thriller to it, you can recommend certain books.
Or, your website could cater to independent author only, which is a way of helping the "little guys" in the industry gain more exposure for their hard work.
Never forget to get ready for the battle. Sometimes it feels like you're writing to the void – no readers, just constant posting of blog posts.
It's a task worth rising to, though. That's how I started with this blog but I was persistent in providing valuable blog posts. Slowly but surely, I started getting readers.
Your efforts are worth it in the end. Be consistent in writing and make sure your blog posts contain something of value to your readers. Focus on the quality of your posts instead of the quantity. Build meaningful relationships with other bloggers in your genre so that you can help each other out.
Becoming a full-time blogger has changed the course of my life. It's what allowed me to quit the corporate world and do what I love for a living.
You could make money with your blogs through ads, but the most profitable way in this book review niche is through affiliate marketing and sponsorship deals.
Affiliate links can be directed to big stores like Amazon. By being part of Amazon's affiliate program, they will give you your own affiliate link which you can use in your reviews. If someone buys through your link, Amazon will pay you a certain amount.
As for sponsorship deals, this can only happen when you've amassed thousands of readers per blog post. When you've built authority in your industry, authors will pay you to do a review on their book if you offer this service.
The very first thing to do is to learn how to create a blog.
Then get traffic from social media like Pinterest to put your name out there.
6. Translate Books Into Other Languages
The translation of books into a language you are quite familiar with is one of the most fascinating occupations here.
In this job, you'll be compensated for reading books and other materials from many cultures and translating them into another language.
The act of translating is considered a work of art for many because a good translation isn't literal or word-per-word. The intangibles like emotions and tone should also be carried over to the translated language.
Manga translators are a fantastic illustration of this. Because of their work, readers can enjoy manga without learning Japanese. Non-Japanese readers still feel the same excitement and emotions that were present in the original texts.
As you can see, you need a thorough understanding of a language in order to excel in translating text. Understanding the context and selecting the appropriate words to express the same emotions are the only ways to accurately translate the tone and emotion portrayed in the original story.
To start off your translating career, here are some platforms you can explore today:
Upwork – It is free to create an account on the website. And currently, it has 3,600+ translation jobs.
Babelcube – Here you can find multiple books that its authors want to be translated. You can set your own rates while you include the destination language and estimated time of completion.
Fiverr – You can offer your service by stating what language you can translate while posting your rates.
There are many employers hiring translators to help reach a larger audience that is spread around the globe. In terms of money, translators make an average of $60,700 each year!
7. Get Paid To Write Books
If you already love reading novels, there's a possibility that you'll also enjoy writing them.
Every experience is new if you haven't done it before. You are well aware of the writing style and genre you love thanks to all the novels you've consumed.
This is a cheap hobby that has the potential to be profitable for you. You can do it from home or when you have some free time.
The topic of your book will be completely up to you. It can be something you're passionate about, like magical elves, mystery, thriller, young adult fiction or a life principle you want your audience to learn. Some authors write themselves because they're curious, want to entertain or educate readers.
There are some, though, who draw ideas from their blog posts and transform them into #1 New York Times bestseller books. The Subtle Art of Not Giving a F*ck by Mark Manson is a classic example of what took place.
When it comes to publishing you can do it the traditional way or just create an eBook. The former choice will require you to put in some initial investment, while the digital route is cheap and can be sold online.
Focus and persistence are needed to finish a book. It takes months to years for an author to finish one so don't get discouraged if you can't pump on out in a month.
8. Get A Job At A Publishing House
Working at a publishing house gives you the chance to gain exposure to different authors and genres of literature, as well getting a personal look at how books are published.
Mind you, jobs at publishing firms doesn't necessarily require you to read full manuscripts throughout the day. You can be given tasks like editing, research, writing reviews, and helping out with marketing and sales.
A job in this sector can range from positions such as:
Editorial assistant (average annual salary: $42K) – You support the senior editorial staff by giving assistance to proofread and edit documents or books. Additional tasks would be managing calendars, filing documents, and recording necessary transactions.
Marketing manager (average annual salary: $114K) – You'd need to read the entirety of the book you're marketing. This way, you'll know the campaigns and strategies you can use to get people to buy the book.
Illustrator (average annual salary: $63K) – You create artworks that complement the texts in a book. Working closely with the author is required to get the art style they're looking for.
Other positions include being a literary agent, publicist, sales representative, and publisher.
To find job vacancies in this industry, websites like Reedsy and Publisher's Weekly are great places to start.
9. Tutor Students In Literature
Get paid to read and teach by being a tutor in literature!
This subject has the most reading hours needed since it's such a wide and deep topic. It has poetry, drama, history, classical literature, reading fiction, and many more.
If you enjoy reading those kind of books, teaching literature will be the right career for you. You get to share your enthusiasm for a subject by teaching it.
Tutors teach students how to interpret and analyze literary works like poetry, novels, and plays.
Since intimate group discussions are the norm, it's an engaging approach to teach pupils. Students are given the opportunity to hear how others read certain lines and metaphors and gain insight from those interpretations.
Students can also practice defending their own interpretation when challenged by the tutor or peers.
It's a wonderful deal to make $49,000 a year teaching a topic you love. These top tutoring websites can help you find plenty of tutoring jobs:
10. Work As A Librarian
Reading, managing, and organizing books are all advantages that come with becoming a librarian. You get to suggest books to your visitors and guide them to the information they seek. It's not only restricted to books; you could also be requested to assist with author readings and conferences, organize archives, and obtain things from the internet.
This is an ideal job for introverts that want to work in a low-stress environment and get paid to read at work!
It's the perfect scenario for a student looking for part-time employment. It also benefits people looking for a slow-paced job. But aside from reading books and greeting people entering the library, what else does a librarian do?
Order books and journals
Keeping track of library materials
Advising students on additional resources
Observing people follow rules
Managing budget and planning
A librarian's salary is around $61,000 per year on average, which increases with experience. You can get hired to work in public libraries, schools, and government libraries.
11. Become A Book Cover Designer
The saying "never judge a book by its cover," is true, but it doesn't mean that its cover isn't important. A book's cover is the first thing potential readers see and can determine whether or not they'll be interested in reading it.
If you're an artist and you love to read, you can combine those two passions by becoming a book cover designer. Think of the impact your artwork could have when it's the first thing people see, and you have the freedom to create an artwork that truly reflects the story.
It's essential for the designer to read the book to know its theme, art, and "feel."
Reading the book act as an inspiration for the designer. It can generate many more ideas on what the design should look like.
The role of a book designer isn't a one-way street. It most often entails collaborating with the author and the publisher.
So how do you start as a book cover designer?
Build a portfolio. If you've never professionally created a book cover before, you can create one for your favorite books. Create an alternative design or a new one then add it to your portfolio. It gives a perspective on the type of art and design that you do.
Create an online personal brand. A personal brand is your presence on the internet. Build a following and display your artwork on multiple platforms. That is one way to be noticed by small and big authors.
Depending on the author's budget, a designer might bill $300 to $500 for each book cover design. On websites like Reedsy, UpWork, and Fiverr, you can discover a decent amount of freelance job listings for creating book covers.
Being a book cover designer is difficult at beginning, but if you persevere, it can be very rewarding and satisfying.
Enjoyed this post? Don't forget to pin the image below! Also, don't forget to follow me on Pinterest over here! 🙂