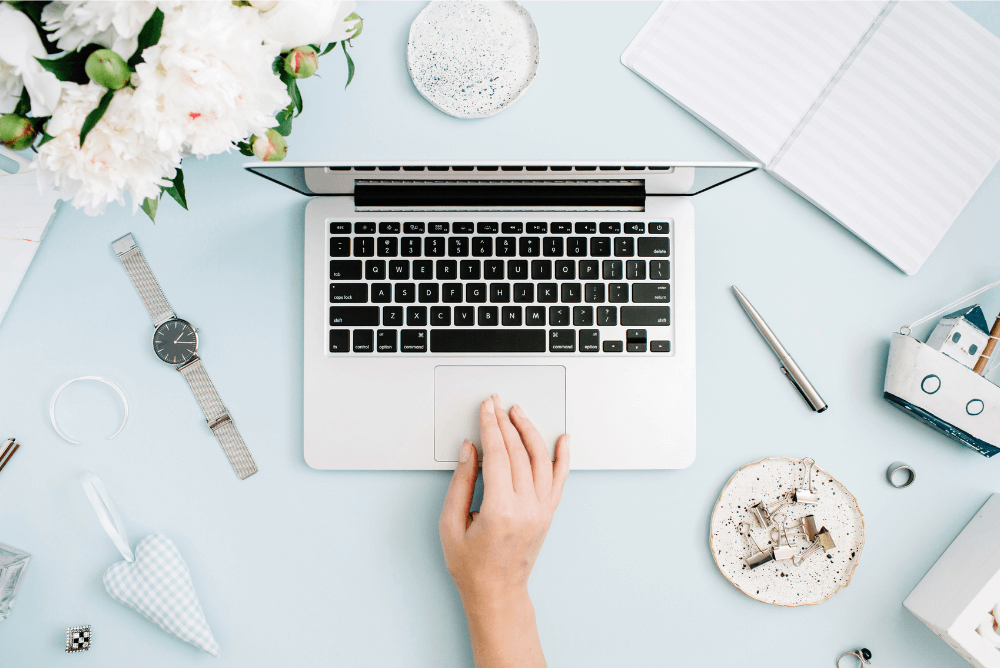 We will receive a commission if you make a purchase through our affiliate link at no extra cost to you. Please read our disclosure policy for more information.
Certain jobs can do more harm than good for your body.
Fast-paced working environments can give you unwanted illnesses, body aches, and stress.
At some point, you have to ask yourself: "Is the money I'm getting worth sacrificing my body?"
If your answer is a resounding "No!", then this article is perfect for you.
I've listed the best slow-paced jobs that you will have fun with! These are mid to high-paying jobs that you can do in a much more relaxed environment.
20 Best Slow-Paced Jobs
Some of the work here is excellent for introverts. While the others are great for people who want to finish work tasks by themselves.
If you just want to earn and work in peace, then I suggest you continue reading below.
There's no need to compete in a fast-paced environment – sacrificing your body isn't worth it. Below are low-stress jobs that allow you to work independently, provide a positive work experience, and most importantly, focus on family and self-care.
PIN THIS: I'll be updating this post so make sure to pin this image and save it to your Pinterest board. That way you'll be able to come back to this page for reference.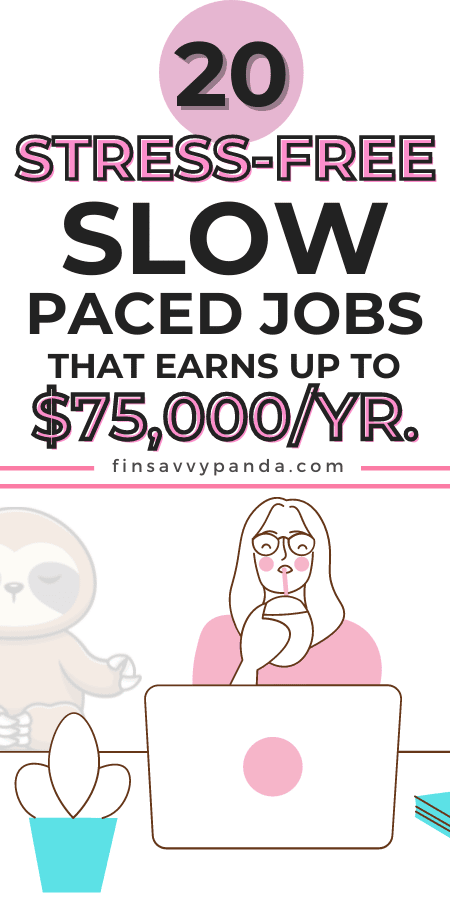 1. Freelance Writer
Average Salary: $58,300 per year
If you have a passion for writing and you can structure your thoughts in an organized way, you should definitely try out freelance writing.
It's what many introverts prefer when looking for a job because it's rewarding work that can be accomplished by themselves. They can do all the research, write the article, edit it, and publish the whole content.
But can anyone be a freelance writer?
Technically, yes. But being able to create content that's engaging and valuable is much easier than it sounds.
Writers usually have to watch courses and read more about the craft. And if it's your first time in this field, I suggest you do the same as well.
Once you get the overall flow and learn the skills – you'll be fine!
Freelance writing is a slow-paced job because you can work from home or any remote setting.
All you need is an internet connection and a laptop or computer to do your tasks. It's a must-try for people looking for low-stress work!
Pros: Great for introverts who have a lot to say. They can transfer all their thoughts to writing. All that's needed to be done is to organize the structure in an engaging way.
Cons: It will be challenging at first. But as soon as you get the gist of the job, you'll be flying through your daily tasks.
2. Graphic Designer
Average Salary: $59,300 per year
Being a graphic designer requires technical skills from your end. Not everyone knows how to use the software that designers use to create stunning images and graphics.
But once you learn how to use the technical skills of being a graphic designer, you'll be ready to go!
Before you apply for job positions, you're going to need a portfolio of your work. This is typically asked in any graphic design position. Companies want to see your work first so they can gauge your skill. They also want to get a sense of whether or not you're a good fit for their open position.
There are two routes you can take here:
First, create designs and graphics on your own. Get inspiration from your favorite graphic designers and look at their work. After getting ideas from them, it's time to apply what you've learned and create your own design.
The second route to take is to do free work. Ask local businesses or online stores if they need some help with their graphic design. You do the work for free in return for a testimonial. The testimonial can come in handy when you apply for paid work.
Graphic design is a job that you can do on your own and just let your creativity run wild!
Pros: You can cancel out the world and your environment to focus on your work – no more room for anxiety and stress! You can usually wear headphones and listen to music or your favorite podcasts when creating your designs.
Cons: Deep knowledge of design software is needed. If you want to get hired fast, don't focus on a single software, expand your knowledge on the other ones.
3. Medical Lab Technician
Average Salary: $62,000 per year
If you want to try being a medical lab technician, you usually need a bachelor's degree for this position.
The education you learn in the university will be greatly used in this field and your technical skills will be put to good use.
Medical lab technicians may not be doctors but they play a significant role in the whole health and medical industry.
If you're not familiar with what they do, here are some of their daily tasks:
Prepare solutions
Storing specimens
Examine bodily fluids
Combine reagents and samples
Maintain a clean and safe work environment
Collect blood, tissue, and other samples from patients
Conduct tests that doctors will use to find illness and disease
Medical Lab Technicians usually work at hospitals whether that's state, private, or local. While there are those that are in diagnostic labs, offices of physicians, and universities.
It's a slow-paced work environment because taking samples and analyzing them can't be rushed.
Plus when everything is done, medical lab technicians are just in the lab and doing other work. No need for competition or trying to reach a quota. It's a great job when you have the skills for this field.
Pros: Great salary and you're able to help others. It's a great job for those wanting to help out patients on a daily basis.
Cons: Not everyone can be a medical lab technician. As mentioned earlier, people who can enter the field usually have a medical background or have finished something similar at the university.
4. Massage Therapist
Average Salary: $46,900 per year
Just thinking about being a massage therapist takes me back to a relaxing room with a scent that's perfect for de-stressing your mind and body.
If you want to be a massage therapist, watch courses or join live seminars.
A certificate is enough to land a job in this field. So if you're serious about moving to a low-stress job, this is a highly recommended position for you to try!
Your workplace can be a fitness center, a spa, a hotel, or a private home.
What's great about being a massage therapist is you can get extra pay even after your regular work hours.
If you've established your skill and built a rapport with your customers, they might invite you to their homes and do massages there. In that situation, you can set your own hourly rates!
Additionally, the more clients you satisfy, the bigger your network can be. Word of mouth is one of the best forms of marketing. So don't take any client lightly, do your best to relax their body.
Pros: It's a great job for those who want to build relationships with their clients. Plus those private home massages can be a great way to earn extra income.
Cons: It can be hard on your body. Constantly applying pressure on your hands may lead to soreness and body aches.
5. Transcriptionist
Average Salary: $44,900 per year
If you want a job that requires you to just listen and type, being a transcriptionist might be your calling.
Because that's exactly what a transcriptionist does – they transcribe an audio or video file.
It's a peaceful environment and you can work at any time you want – especially when the client isn't demanding. When the client tells you that they just need these files to be transcribed with no deadlines, then you just got yourself into a no-hassle job position.
One thing to take note of would be working in a quiet environment.
It's hard to transcribe when there are loud noises in your surroundings. You won't hear the audio clearly and it will cause you unnecessary rewinds. This will delay your work and hinder your productivity.
So prior to taking on this job, find a quiet and relaxing workplace, invest in good headphones, find a good chair, and use a table that doesn't numb your arms.
Get all of these things ready and you're set to become a transcriptionist.
Pros: You set the pace of how much work you would do and how long you will work.
Cons: Finding jobs won't be that consistent. You're lucky if you can find a client that has a ton of resources that need to be transcribed.
6. Gardener
Average Salary: $55,400 per year
Being a gardener is one of the most relaxing jobs on this list.
No need for coworkers. It's just you and the garden you're working on. What a perfect job for introverts who like to work alone!
You don't need any degree in this field either. You just need passion and a bit of technical knowledge of plants and fertilizers.
What exactly does a gardener do?
They do a lot of things. But in general, they're responsible for keeping a garden healthy, safe, and beautiful!
Gardeners will cut grass, bushes, and plants. They would plant if needed as well. Knowledge and experience in using fertilizers, machines, and other motor vehicles might be needed.
Most gardeners who are serious in this field take up horticulture training courses. The program teaches them different training on greenhouses, landscaping, orchard production, and many more.
So if you're into nature and making it more beautiful or maintaining its fresh state, try out gardening!
Pros: Gardening makes you work at peace. You're with yourself and nature. It's a stress-free job without having to worry about demands and deadlines.
Cons: This might require you to work under the sun and may demand more physical effort than a desk job.
7. Data Entry Clerk
Average Salary: $41,600 per year
Data entry is a job that makes you focused on tasks that can be done on a computer or laptop.
No need for any degree or technical skills. Just some basic knowledge of most of these applications and platforms will do.
The responsibilities of a data entry clerk include:
Booking calls
Transferring files
Storing documents
Organize documents
Creating data backups
Creating accurate spreadsheets
Managing the schedule of the client
Entering data into another database
As you've just read, the job involves a lot of organizing and transferring data from one place to another.
It's important to note that you need to be accurate with the data you enter. The database you'll be creating will sometimes be used as a basis for important processes in the company.
A high level of focus is needed in this work. This is perfect for those who want to cut outside noise and just focus on their job to be as productive as possible!
Pros: You can do this at home with little to no investment needed.
Cons: The tasks can be repetitive and monotonous. Not the type of job for those who like to be creative and adventurous.
8. Uber Driver
Average Salary: $30,700 per year
There's a reason why being an Uber driver is a side hustle that's taken up by many. In fact, Uber encourages people looking for full-time or part-time work to try their company out. It's one of those jobs that are always hiring.
Not only do they have control of their time but it's a job that pays well for a side hustle.
You only need to drive people around to certain destinations and you're paid! Plus, if there's surge pricing, you can earn more than the regular rate.
You could try being an Uber driver and only work when you want to.
The company won't charge you if you won't go on duty. This means if you have extra hours in your day and you want to convert it to cash, you can go on the road and start picking up people. It can be done before and after your day job.
It's a relaxing environment since you just need to drive people – only if you enjoy driving and having that occasional chat with the passengers. There's no quota needed to be reached and zero deadlines needed to be met. You're just focused on driving safely.
Pros: Flexible working hours and it's a good side hustle for extra money.
Cons: The wear and tear on your car can lead to repairs, which is costly for the owner. The rating system is also subjective.
9. Blogger
Average Salary: $46,400 per year
Some might say that the time of bloggers has passed. It's no longer relevant and is very saturated.
My take? I don't believe every single one of those statements. I created this blog with the intention of helping people with their finances and along the way, I've made money from blogging!
Blogging is a job that I highly recommend.
You might say I'm biased (I am!) but starting a blog is one of those activities that help you earn money while working at your own pace.
Having your own blog means you're the boss. You call the shots on when to create and post an article.
You decide on where to distribute and how to promote it – I personally love promoting on Pinterest and I have an article here on how I've made money on Pinterest as a blogger.
Do you need technical skills here?
A little but it can all be learned quickly.
I am not tech-savvy and yet I was able to build this website from scratch. It was a grind to take the blog where it is today but it was all worth it when I started earning $20,000 per month blogging at home.
And let me tell you one thing, if I can do it, I'm sure you can too.
Pros: It's a fun job when you love writing. You can monetize your blog too when it has reached a certain point.
Cons: It will be a grind to build a loyal set of readers. But even though it's hard work, you will have fun along the way.
10. Fitness Coach
Average Salary: $61,400 per year
Being a fitness coach is an underrated relaxing job. It's often overlooked but it's actually one of those chill works that can give you a high income.
There are a lot of routes you can take as a fitness coach. Let's discuss each one:
The traditional route is finding a client and helping them in the gym. You help them with what exercises to do and you fix their form for optimal efficiency. Your job also goes beyond the gym, you need to help them with their food intake, supplements, and sleep.
Another route to take would be online. You could now be a fitness coach even if you're not physically with your clients. You just need to create a program for them and list down the food they can eat. This setting is much more complicated but it's a great way to expand your client list.
Lastly, you can create courses, programs, and videos that you can sell. It's another income stream that you can take advantage of when having an online presence.
Pros: You only focus on how to make your clients healthier. It's a great job that can boost your confidence and monthly income.
Cons: You would have to adjust to the schedule of your clients. Some of them have day jobs and want to work either early in the morning or late evening.
11. Proofreader
Average Salary: $58,900 per year
Do you have a keen eye for mistakes and grammatical errors?
These are entry-level skills to be a proofreader.
Proofreaders check a bunch of texts before it is posted or published. They're the ones in charge of ensuring everything is grammatically correct, the tone is consistent, and the overall output is on par with the company's standards.
In this job, you're working with the content team which means you're not working alone.
There will be back-and-forth suggestions and ideas between you and the writer.
If you want to omit a sentence or a paragraph and the writer sees it as relevant, you two would need to discuss and meet in the middle.
So if you're uneasy with correcting mistakes and suggesting other ways to people, this might not be for you. However, that's a skill you can develop in this line of work. It's part of the job and in a positive work setting, everyone is respectful to one another – nothing is taken personally.
Pros: It's a job that you can do anywhere. Proofreading doesn't need to be in the office, you could be at a coffee shop or at a beach and you can still find and correct errors in content.
Cons: Having a great knowledge of grammar isn't enough. You must be aware of the tone and the structure that your company wants.
12. Dietician
Average Salary: $65,600 per year
The responsibility of a dietician centers around food and their clients.
Their primary role is to help patients lose weight or provide them with a diet to help with their illnesses or conditions.
It's one of those jobs that require deep knowledge of nutrition and health. The patients here usually have diabetes, high cholesterol, and obesity.
This is a job that helps people change their lives for the better.
It's not high-stress work because you're only providing food and nutrition for your clients. And you just check their medical background and determine if they have any allergies to certain foods. After which, you can provide a list of what they can eat.
It's an in-demand job because most people get easily confused about popular diet trends and nutritional advice.
There's a ton of misinformation in today's time, especially on the internet. This is why informed people would always choose to go to a dietician than believe some random person online.
Pros: Your job has a high satisfaction level. You're helping clients be healthier and extending their lifespan.
Cons: Education and training are needed. You're working with the diets of people which can lead to them being healthier or the other path.
13. Travel Agent
Average Salary: $43,800 per year
Organizing and making travel arrangements is an activity that's loved by certain people. If you're one of them, it's a great job to apply for!
Travel agents help their clients by making arrangements for their travels. These travels are usually vacations that their clients don't want to make for themselves.
Booking hotels, making itineraries, and finding places to go to are sometimes done by the agents already. So the client only needs to pay and show up.
But there are discussions needed to take place prior to bookings. The travel agents must know the budget of the client, what are the travel dates, what's their preferred transportation, etc.
All of these tasks will help the agents craft an itinerary that's in line with the client's expectations.
The best travel agents are the ones that have fun creating arrangements. They also need to have a friendly personality and are eager to find the best ways for their clients to enjoy their trip.
Pros: You get to meet other people and no special training is required.
Cons: Everything needs to go smoothly so the clients will be satisfied. The bookings and hotel stay should be as clear as possible to avoid any conflicts.
14. Physical Therapist
Average Salary: $74,700 per year
Being a physical therapist is one of the most fulfilling jobs on this list.
It's hard to see another fellow human who can't walk, run, or do other physical activities due to some injuries or disorders.
This is why physical therapy will always be needed.
Now in terms of the work environment, it's far from the corporate fast-paced world. Physical therapists usually work in offices, clinics, hospitals, and nursing homes. It's a relaxed setting wherein the therapists take time in helping out their clients.
They help them out with exercise, stretches, the use of equipment, and other techniques.
This job requires a degree and some certifications. It's great for people who have the desire to do physical therapy to help others who are in physical pain.
There are also instances wherein clients call you to do a session in their homes. It serves as another source of income on top of your monthly earnings.
Pros: Outstanding work-life balance. You're also able to help others with their pain and body challenges.
Cons: Lots of educational requirements are needed to start practicing in this field.
15. Freelance Photographer
Average Salary: $19,300 per year
The joy of taking pictures can now be monetized.
Although photography has been around for years or even decades, it's still an in-demand job.
There's nothing stressful about taking photos at an event especially if it's your passion. On top of that, you're always part of the program and you get to eat free food!
The only deadline in this field is the date you promised your clients.
In most cases, photographers don't send raw photos. They still edit those images to make them sharp, crisp, and smooth before submitting them to the client.
In photography, there are some technical skills to be learned. You have to understand the different lenses to be used, how to play around lights, understanding what angle looks best here, and others.
It's also a field where creativity is rewarded!
And if you can satisfy multiple clients, recommendations will just come naturally your way. It's what's great about photography – the clients come to you.
Pros: No pressure. You just do what you love for a living. You capture beautiful moments in a photo.
Cons: Being a photographer isn't cheap. The pieces of equipment such as cameras, lenses, and lights are expensive.
16. Yoga Instructor
Average Salary: $66,300 per year
If you do yoga in your spare time, then have you considered being an instructor?
There's a good chance that you're doing yoga to relieve yourself from stress and practice mindfulness. Why not do it full-time? Be a full-time yogi!
It's a job that has little to no stress and you're in command of your time and class.
There would also be private sessions if you've established a good relationship with your clients. So make sure to have a conversation with them either before or after yoga classes.
Anyone who has a passion for the art of yoga can be an instructor. They just need certifications and a bit of training in this field and they're good to go.
This is a great way to be connected with like-minded individuals wherein you can help each other with different techniques and forms. But being an instructor, most of them would come to you for help.
Pros: As you teach yoga, you get better at it. You get to do the more complicated yoga poses.
Cons: To make this worthwhile, you just can't teach once a day. It will require you to do multiple classes to make the income worth it.
17. Mystery Shopper
Average Salary: $50,300 per year
Doing mystery shopping is probably one of the most fun things to do on this list!
Not only are you paid to shop but it feels like you're undercover when going to the store.
So how do you become one?
There are websites and applications that instantly make you a mystery shopper. You just need to sign up and have their app on your phone. Browse the different stores they've partnered with and read what you need to do.
But there are companies that hire mystery shoppers directly. You just need to search or ask if they need one.
As a mystery shopper, you'll need to do some easy tasks. These are things that need to be done so you can make extra money on this activity. Tasks here usually include:
Keeping your receipts
Asking questions to the staff
Purchasing a specific product
Checking the quality of the products
Taking notes of the in-store experience
Interacting with staff over the phone and in person
All of these are done to help companies improve their overall services and products.
Pros: You get paid to go to certain establishments and interact with people.
Cons: The income you make here is irregular so it's only good as a side hustle and not a full-time job.
18. Pet Sitter
Average Salary: $48,400 per year
Staying home with pets is a great job to do as a side hustle. Not only can you relax, read a book or watch Netflix, but you have a fur companion at your side.
The only major responsibility you need to do here would be feeding the pet, filling their water bottles, and providing medication if needed. And that's basically it!
Pet sitters are usually called when fur parents are out. They can ask for your service when they go on vacation, have a date night, or be out on the weekends.
The setting can also vary. You could stay at the place of your client or the pet could stay at your place. It depends on your agreement with the client.
A good thing about pet sitting is it could branch out to dog walking.
That can be another source of income for you right there. You could charge extra if the owners want you to walk their pets. By adding this service, you might have found an excellent side hustle to do!
Pros: You have a cute pet as a companion at work.
Cons: It will be hard to find a job if you live in a neighborhood with little to no pets.
19. Video Editor
Average Salary: $52,100 per year
There's a massive demand for video editors right now!
With social media platforms creating features that highlight video content, it's the perfect opportunity for video editors to pitch their services to businesses and personal brands.
With Instagram stories, Youtube shorts, and Facebook My Day, these businesses would be looking to find someone that can edit their videos and chop them into multiple short clips.
As a video editor, you don't have to stick to one client. You could test your limit to see how many clients you can take on while still delivering a quality output.
Not only is video content on the rise but there are more and more people that want to start their own personal brands.
The movement of consumers to creators has started to influence a ton of people online. And with this massive movement, they'll need video editors to repurpose their content.
Pros: It's a job that lets you focus on your own world (video editing). The only time you converse with others is when you let other team members watch your output and ask for feedback.
Cons: It will no longer be a relaxing job when you've taken on a lot of clients. You will have little time to reach the deadline that your clients have set.
20. Recruiters
Average Salary: $52,000 per year
Gone are the days of being anxious about big interviews. It's time to flip the script and be the one asking questions!
A recruiter is in charge of the talent acquisition side of businesses. They need to have an eye on great applicants that can fit the job position well. You should be great at assessing prospects through the resumes they submit and the interview questions you ask them.
It's a fun job especially if you find satisfaction in hiring people that turn out to be excellent employees after a few months or years.
If you're an independent recruiter and you've built a name for yourself in the industry, companies will pay good money for your service. They're willing to invest high amounts of money because recruiting the wrong person can do more harm to them financially.
So they'd rather ask for the service of an expert to make the hiring process worth the time and money.
Pros: You get commission benefits when you fill up a job position. This is additional income on top of your salary.
Cons: It's going to be a grind. You'll never be satisfied because once you fill up a position, you're on to the next one – chasing the commission.
Enjoyed this post? Don't forget to pin it! Also, don't forget to follow me on Pinterest over here! 🙂