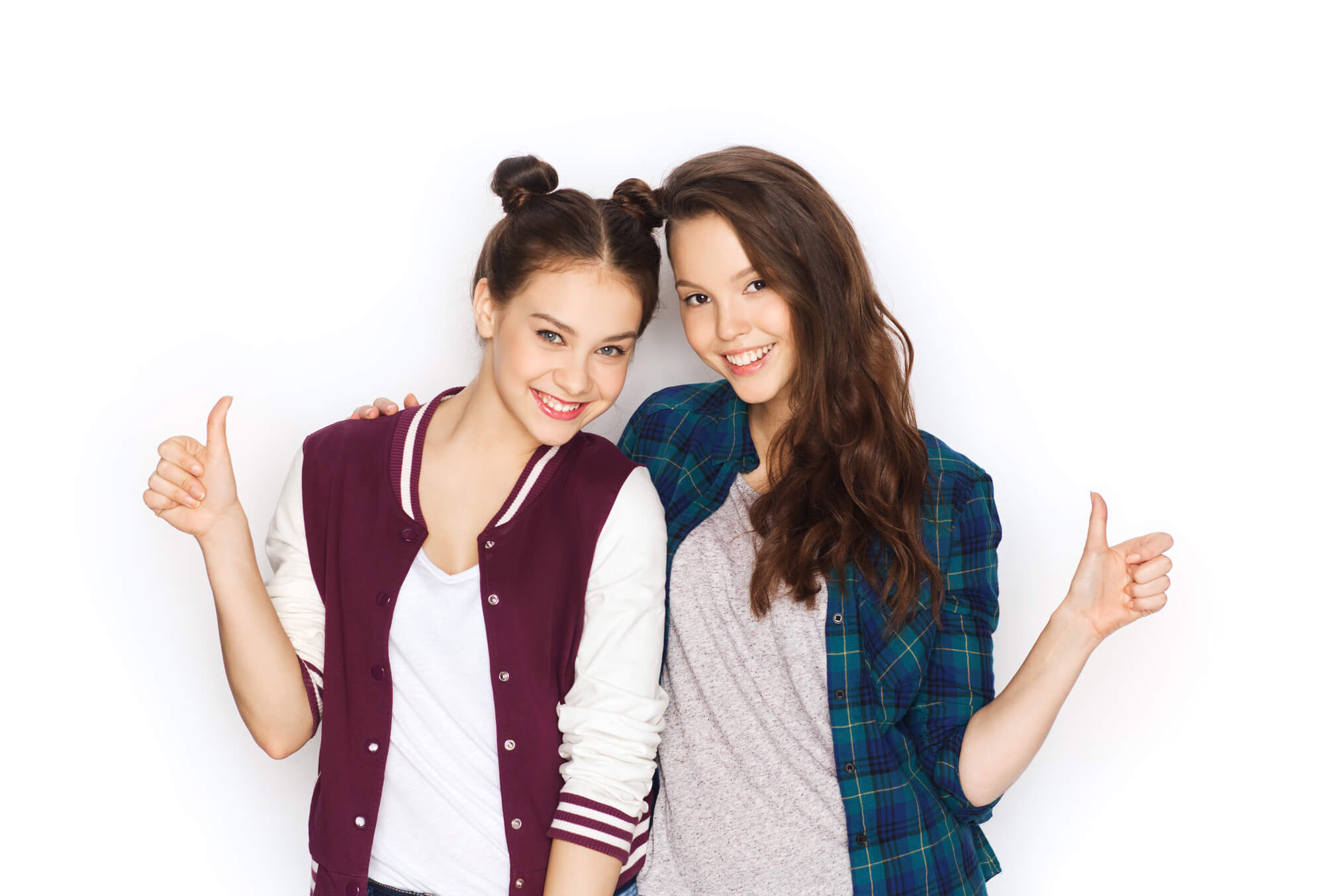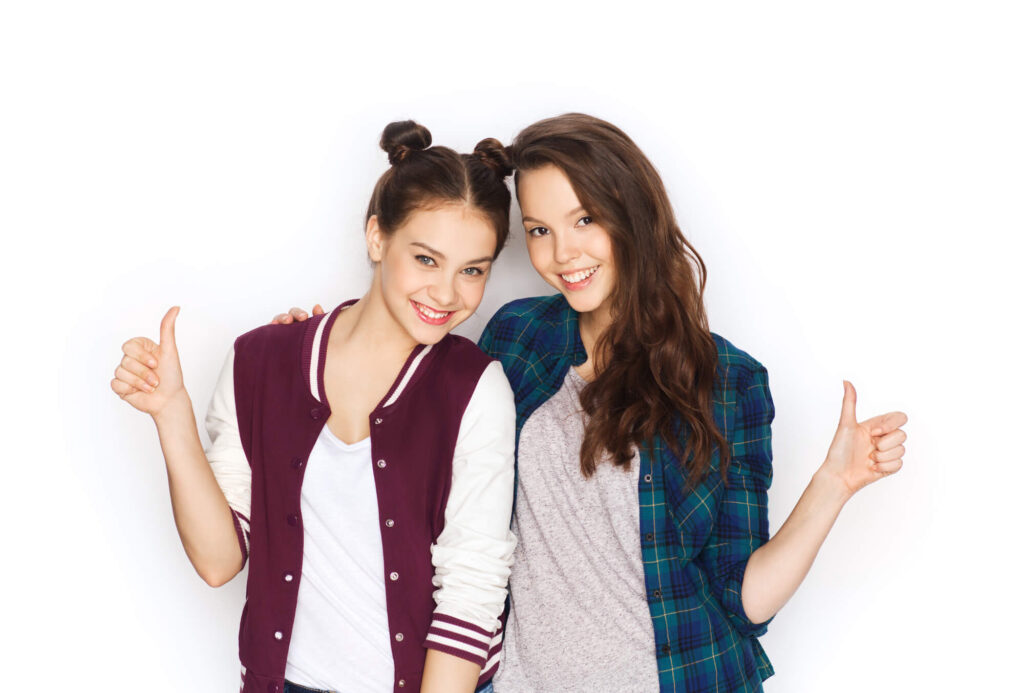 We will receive a commission if you make a purchase through our affiliate link at no extra cost to you. Please read our disclosure policy for more information.
Are you and your friends always brainstorming ways for teens to make money because you guys are short on cash but there are so many things you guys are dying to buy?
Just because you're a teen doesn't mean you don't have any money problems, right?
Don't worry, thanks to the internet, there are many legitimate online jobs for teens for determined 13 to 18-year-olds to earn cash on the side. As long as you're willing to put in some effort on your end, you can easily make extra money to help with your spending needs.
Whether you're planning to use the money to purchase the latest iPhone, buy some new clothes and shoes, or hang out with your friends, learning how to make money as a teenager will allow you to do that without asking your parents for cash!
The purpose of this article is to present different options for you to think about. If an idea doesn't interest you, move on to the next one.
It's a long list so you'll surely find something that will work for you.
PIN (OR BOOKMARK) THIS PAGE: I'll be updating this post so make sure to pin this image and save it to your Pinterest board. That way you'll be able to come back to this page and learn the best ways to make money as a teenager!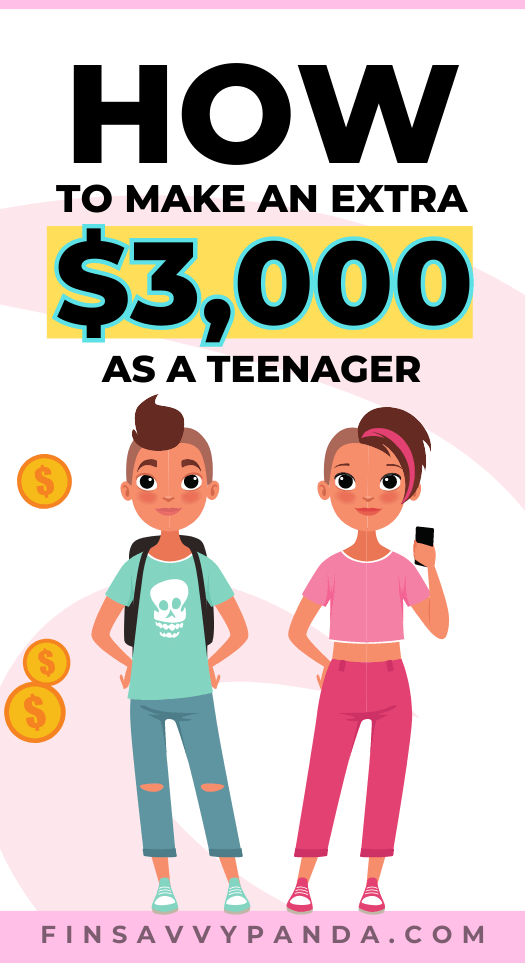 Best Ways for Teens to Make Money Online
Making money online is the most popular way to earn extra income for anyone – including teens.
But you have to be careful of online scams that claim you can make thousands of dollars in a week. If these claims were true, everyone in this world would be rich!
There's no such thing as free lunches. Everything in life requires some effort.
We'll begin with the easy ways to make money online as a teenager to get you some quick cash and then introduce ideas that require a bit of work, but you'll get more money for your time.
⭐ Hey, my friend – do you want to make extra money right now from home?

When my husband and I were students, we started taking online surveys that paid for our opinions. We've been participating in online surveys for over a decade, and it has helped us earn some extra cash!

One survey site I highly recommend is Branded Surveys, which is 100% free to join!

In fact, you'll receive a 100-point welcome bonus, equivalent to a $1 bonus, when you sign up for Branded Surveys through this special page. 👈

To secure your extra bonus points, be sure to verify your email address when they send you a confirmation email after sign-up!

Join the 3 million people around the world who are already making money with this survey site. Hurry, this chance won't be around forever. I really don't want you to miss out—so sign up now!
1. Get Paid for Your Everyday Activities
Did you know teens could earn money online from activities you do every day, like searching the web, watching funny videos and playing video games?
No jokes.
Swagbucks pays teens cash for doing simple and quick activities like:
Playing and trying new online games
Searching the web with Swagbucks' search engine
Watch entertaining and funny videos
Answering daily polls and paid online surveys
Shopping online and earn cashback
Swagbucks is a legit website and has a 4.3/5 star rating on Trustpilot. They paid out over $394 million in free gift cards and cash to their everyday users.
Since you get paid to do simple tasks, you won't make a lot of money with Swagbucks. But it's one of the easy ways to make money as a teenager and earn extra cash effortlessly.
If you are at least 13 years old, you can create a FREE account and start earning now.
Swagbucks has a promotion where you'll get a $5 bonus HERE for signing up today and when you simply verify your email. You don't want to miss out on getting free money, do you?
You can become a member for FREE and quickly claim your $5 welcome bonus here.
To learn more about Swagbucks, check out our in-depth and honest Swagbucks review here.
2. Earn Money by Sharing Your Opinions
Multi-billion dollar companies, such as Apple and Nike, want to get into the minds of their customers to understand what motivates them to purchase products and services.
For example, companies spent $81 billion in 2022 hiring market research firms to find out whether their latest marketing campaigns were successful or duds.
They're particularly interested in the teen market because today's young teens will quickly turn into adults and become their future loyal customers. This is why companies are eager to pay teenagers for their views on brands and shopping preferences.
Teens can earn easy money with Survey Junkie by sharing your personal opinion on topics like:
Fashion – What is the brand of the pair of shoes you last purchased?
Food – Is putting pineapple on pizza pure genius or a sin?
Restaurants – Which restaurant is your go-to place to celebrate birthdays?
Technology – Is your current smartphone operating on iOS or Android?
As you can see, the questions are very straightforward and easy to answer (in multiple-choice format), unlike the last test you took at school.
Teens as young as 13 years old can start making extra cash now and save up to buy a new iPhone or a nice pair of Nike.
You can sign up for Survey Junkie for FREE here. It is one of the most legit and best survey sites that pay cash and is rated 4.5/5 on Trustpilot, making it one of the highest scores on the review site.
3. Food Delivery
Yes, this method still qualifies as a way to earn money online because you rely on an app to deliver food to customers.
One platform facilitating this is DoorDash – which I personally use too!
I really like this because it's flexible and you can choose when you want to work. There's no boss dictating your tasks (apart from the app itself), and this type of relaxed job doesn't require customer service skills, as you're mainly dropping off food at people's doors.
After downloading the app and setting up an account, teenagers (age 18+) can accept delivery requests from local restaurants and food establishments, then pick up and deliver the orders to customers within a specified radius.
Payment is determined based on distance, time, and order size, often with additional tips. This flexible job not only works around your schedule, but also helps to enhance essential time management skills, valuable for future employment.
Now, you're probably wondering how much money you can make in a day on DoorDash.
Luckily, I actually do this gig for fun, so I can show you how much you can make from my own experience. Look at the screenshot below. I made $150.55 in one day. That's from working 5 to 6 hours (broken into 2 separate times – morning and evening 2.5 hours each), so I was earning about $25 per hour. And that is from my first few days on the job with zero experience delivering food!
Not too shabby, right?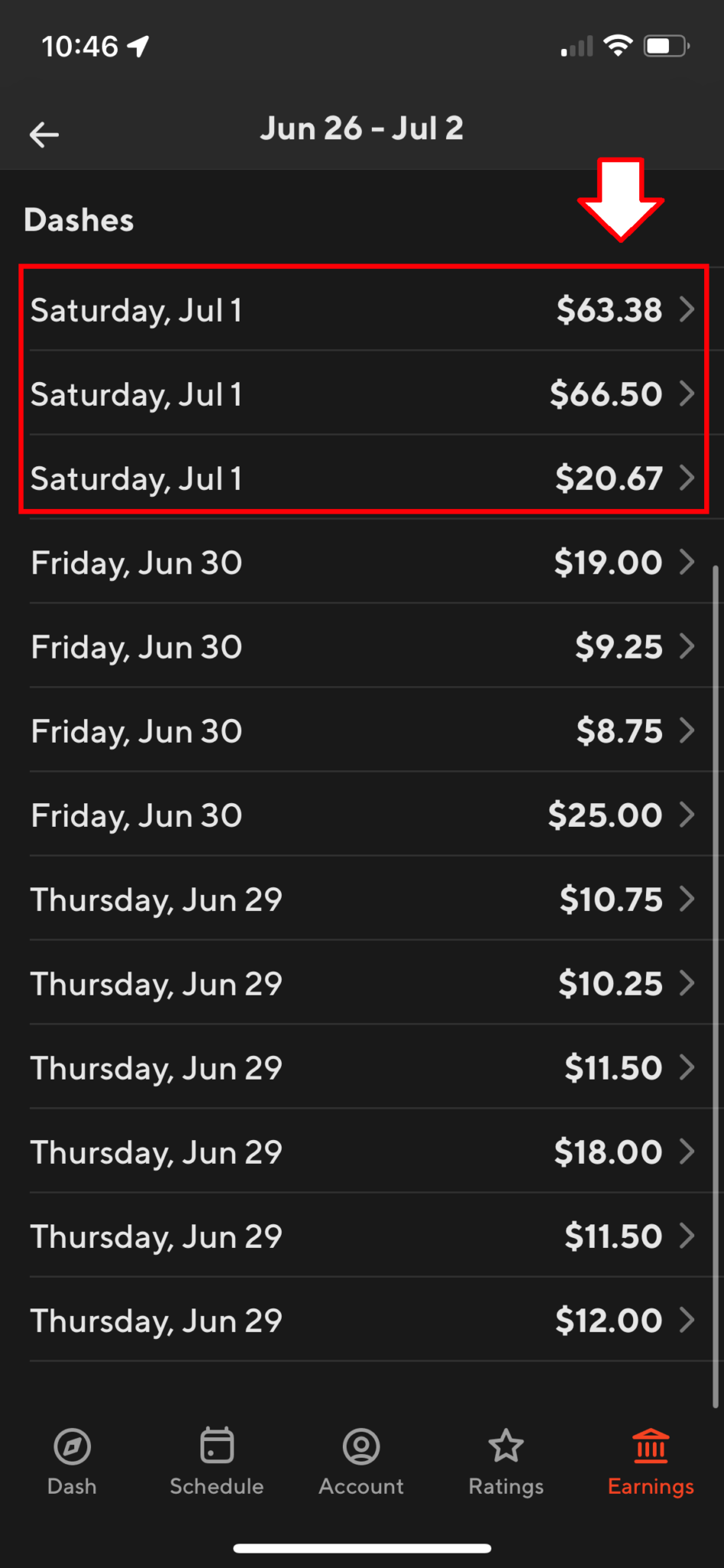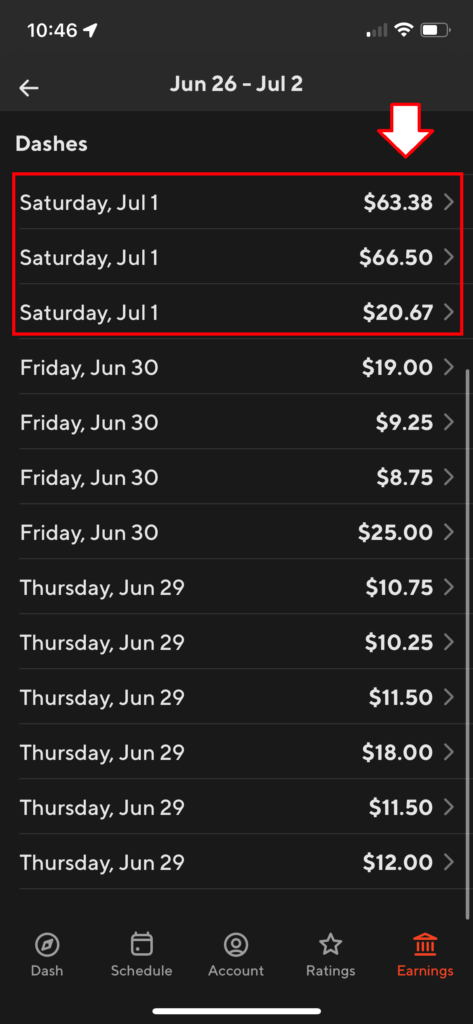 By signing up for DoorDash through this special link (which works in the United States, Canada, Australia, and even Japan), you'll typically receive an approval within 24 hours, skipping any interview process.

All you need to do is let them know if you'll be using a bike, scooter, or vehicle for deliveries. They'll do a quick background check; and if things move quickly, you could even start making money today!

I received approval the same day without any interview or questions asked, and had the option to start delivering food for money immediately!
4. Start Your Own Money Making Blog
Starting a blog is one of the easiest and cheapest ways to start an online business for teenagers and make money online. It costs less than a cup of latte a month to start your own blog!
I say this because I did it myself, but not as a teenager. My only regret is not starting my blog sooner when I was younger and in my teens.
To be honest, I didn't know that you could actually make money blogging or earn a full-time income blogging. I only found this out when I stumbled upon bloggers' income reports while I was searching online for ways to make extra money because I wanted to leave my boring daytime job.
As I looked more into blogging, I realized that you don't need to be a professional writer, have a PhD in Finance or have a huge following on social media to do well. What you need is a passion or interest in a certain topic and is able to solve readers' problems.
I love learning and reading about earning money, saving, investing and building wealth so I started a personal finance blog to help my readers manage their money better.
If you're into current fashion trends and your friends always go to you for fashion tips, then consider starting a fashion or lifestyle blog to inspire other teens on what outfits to wear for different occasions.
Food blogs are very popular for obvious reasons. Who doesn't love food? Starting a food blog might be a delicious idea if you love eating and trying new cuisines.
You can blog just about anything and from anywhere. This makes blogging one of the best work from home jobs for teens.
If you're excited about learning how to start your own blog so you can start making money online, sign up for my FREE 7-day e-mail course here.
I will show you exactly what I did, step-by-step, to become a full-time blogger and drive traffic to my small blog to earn $10,000+ per month.
Fun Ways for Teens to Make Money
Making money for teens shouldn't feel like a chore.
Sure, you can do the job, but if you're dreading something, you won't be motivated and will likely do a crappy job at it.
Try to monetize your hobbies and make money by doing the things you enjoy. Life will be much more interesting and satisfying that way than working to live.
5. Flipping Items
Teen entrepreneurs have been flipping items long before the Internet got popular to earn extra spending money. Nothing can stop a determined kid with ambitions to make money because they will come up with creative ways to achieve their goals no matter what.
When your parents were teens, eBay didn't exist, but they were able to sell their old toys that they outgrew and used video games to younger kids for cash.
Nowadays, you can flip items online for a profit easily. You can post your items on apps like Poshmark and letgo or online with eBay or Facebook Marketplace.
You don't even need to meet up with buyers in person. All you need to do is package the item and mail it to the purchaser.
If you have an interest in gadgets, you can buy slightly used phones online and sell it to someone else for higher prices.
Needless to say, you need to recognize the value of products and have a keen eye before you can make money flipping items. When you buy items not knowing how much they're worth, you run into the risk of selling the item at a loss.
Craigslist is another option if you want money fast because you can sell goods in person and get cash right away.
I flipped and sold my furniture to local buyers. When you sell things online, you don't get paid immediately. You have to wait until the items are delivered or shipped to the buyer before the money is deposited into your account.
6. Earn Extra Money on Fiverr
Fiverr is an online marketplace that offers a variety of jobs and services for teenagers and freelancers. Although the website is known for its $5 per gig, they updated its policies to allow sellers to set their own prices for their services.
Believe it or not, there are all kinds of people online and they're bidding for all sorts of gigs offered by teens. If you're 13 years old, you can earn extra income for doing fun gigs and get paid on Fiverr.
Got a flair for graffiti art and spend many hours in class drawing? You can create people's names or logos in graffiti style and charge them a fee for your time.
If you like impersonating cartoon characters, like Mickey Mouse, then you can get hired to read something with Mickey's voice. Young kids go crazy over Mickey so you can imagine how happy they'll be to hear Mickey say "Happy birthday!" to them.
Don't let your talent go to waste. Create a gig on Fiverr and sell it to online buyers today!
7. Sell Your Crafts for Cash
Are you an artistic teen that loves to make crafts in your free time? Why don't you take advantage of your creativity and transform those beautiful crafts into money?
Many adults are cashing in on their hobbies and are making extra income online selling handmade crafts on Etsy.
Whether you're gifted in crafting unique jewelry, skilled at painting, drawing lifelike artwork or knitting accessories, you can earn serious money by setting up your own Etsy shop.
There is virtually no barrier and very cheap for teenagers to create an Etsy shop themselves and start selling unique crafts to people.
Etsy allows you to set the price you want to sell your crafts for and you'll get paid via PayPal once your item is delivered to the buyer.
There are countless interested buyers online searching for unique art pieces to express their personality. Wouldn't you like to see someone appreciate your artwork than storing it away in your closet?
8. Get Paid to Listen to Music
Are you the kind of teens that has their headphones on all the tie and just can't live without music?
Did you have Post Malone's "Sunflower" song stuck in your head for a while and streamed the song over a million times?
Why did you like the song so much?
Was it the sick beats that kept you replaying the song? Maybe the lyrics were so catchy and easy to follow? Or was it because of the Spider-Man movie?
Answers and comments to these questions are valuable to aspiring musicians that are finding ways to improve their music. You can help ambitious artists with their music and earn money on the way. You're practically getting paid to be a listener.
With Slicethepie, teens can get paid to listen to music and review songs. Creating an account with slice the pie is quick and free. Once you have your account set up, you can begin listening to music and rating them.
You have to play the track for at least 90 seconds before you can leave your review. There are no right or wrong answers to your feedback because it's strictly based on your opinion. If you liked the song, write down what you liked about it. It's absolutely fine if you didn't like a track. Just be honest and provide constructive feedback.
Depending on the quality of your feedback and your star rating, you can earn 5 cents to 15 cents per review. You obviously won't get rich with slice the pie, but it's one of the fun ways to make money as a teen. You can earn some beer money and at the same time give new musicians a glimmer of hope.
9. Make Money on YouTube
When you come across a suggested mediocre YouTube video that has over millions of views, do you question how on earth did that video get that many views? You can make way better videos than that, right?
Then it's time for you to stop thinking and start doing. Get out of your comfort zone and try something new!
You spend HOURS on YouTube watching videos every single day so why don't you try to cash in on your ideas and make your own YouTube videos?
Ryan and Nastya are two successful kids making millions of dollars ($26 million and $18 million) on YouTube doing what they love doing – playing with toys and having fun.
Making money on YouTube is not easy and it takes a lot of dedication and time to make it big. But if you don't try, you'll never know whether it's possible.
Ways for Teens to Make Money with Side Hustles
Side hustles grew in popularity over the years because people of all ages need extra money on the side to buy things they need. The great thing about side hustles is that you get to set your own hours so it won't interfere with your busy school schedule.
Consider making money in your spare time with these ideas.
10. Earn Extra Cash from Parents
You hear parents say this all the time: "I would love to try (fill in the blank), but I can't because I can't find anyone to watch over my kid."
Look, parents are humans too and they need time to relax and recharge. You know, just taking an evening off to enjoy a simple date night without having to babysit their kids.
As an experienced teen with many years of babysitting your brothers and sisters, you can cash in this opportunity and make extra money by offering babysitting services to your parents' friends, relatives, and neighbors. You can expect to earn $15-$20 per hour for doing easy work. It's like getting paid to watch Netflix with kids!
If your circle of family and friends don't need babysitters, you can still babysit kids in your community with Care.com. It's a platform where they connect you with local parents in the community that require assistance with their daily lives.
11. Be a Pet Sitter
Is it natural for you to let out an "awww…" when you see a cute pet and can't stop yourself from petting them?
Pet sitting is a great side hustle for teens to make money for doing things they love – playing with animals. Pet owners are more than happy to pay teens to take care of their pets while they're busy at work or going out of the city for vacation.
You can think of pet sitting as AirBnB for pets.
Let your friends and neighbors know that you can provide their pets with the love and attention that they deserve while they're away. If you're great with pets and are reliable, you can generate a lot of business from people referring their family and friends to you.
Naturally, you'll charge more for your service for pets that require more attention (e.g. dogs) than ones that require feeding only (e.g. fishes).
12. Earn Money Walking Dogs
You like dogs but don't really want to do pet sitting? No problem – you can get paid to walk dogs in your spare time!
Good dog owners understand the significance of walking their dogs to keep them in shape and healthy. But sometimes, life gets in the way and pet owners are stuck at the office working late and don't get home until late in the evening making it difficult to walk their dogs.
When pet owners are busy, they can easily go to Rover to book dog walkers to take their dogs for a quick walk. There are many teens making money by being trusty dog walkers and are earning $15 to $20 per walk! What's not to love?
Also, you get to set your own schedule and can work as much or little as you want.
You're your own boss.
13. Make Money as a Teen Tutor
Parents are prepared to do anything to help their kids get better grades at school and they're not afraid to spend money if they have to. This is why it shouldn't surprise you that tutors can make up to $20 per hour teaching kids how to do simple algebra and form proper sentences.
Tutoring kids is not only one of the best paying jobs for teens, but it's also a great side hustle to have on your resume.
It goes without saying that you'll need to have great grades in the subject you want to tutor and be able to breakdown and explain complex concepts to others.
You can start by asking your parents if they have friends looking for tutors. An alternative is to check with your previous teachers to see if they know any parents looking to hire tutors to help their kids improve their grades. Who knows which students need tutoring services better than teachers?
Even if you don't want to tutor in person, there are several online tutoring jobs available too.
14. Teach English or Other Languages for Cash
America is more diverse than ever before. According to the United Nations, the U.S. has the highest number of international migrants – 49.8 million – living in the country.
Many new immigrants arrive in America barely knowing any English and have trouble carrying everyday conversations with locals. To overcome this challenge, newcomers sign up for classes to learn English and hire tutors to teach their kids the foundation of the language.
Teaching children English how to read, write and speak English is a popular way for teens to make money as more people are choosing the U.S. to start a new life.
It's a bonus if you're fluent in a second language, like Spanish or Chinese, because you can teach local kids those languages and get paid for it! We live in multicultural communities so knowing multiple languages will open more doors in the future.
Family and friends are always a good starting point to look for leads. After that, you may want to advertise your tutoring services on Craigslist or Care.com.
How to Make Money as a Teenager Without a Job
The best way for teens to make money or anyone for that matter is doing tasks that other people view as boring or don't have time to do. Adults earn higher wages from their daytime jobs than teens so they can afford to pay teenagers to help take care of simple, but time-consuming errands.
Here are some activities you can do for cash.
15. Wash Cars for Money
Driving around the city in a dirty car covered in dirt and mud is no different than wearing a white shirt with a bright ketchup stain on it. People like getting attention, but this is not the kind of attention you want.
Adults don't have time or forget to wash their cars because they're often running late for work and appointments. This is where you come in – with a bucket, a bottle of car wash soap, sponges, drying towel, and water – to make some hard cash. Washing cars is an easy way for teens to make money in the summer.
Walk around your neighborhood to find cars that look like they could use a wash and ask the owners politely if you can wash their cars for $15. People would much rather pay cash for teens to clean their cars than a random squeegee kid.
16. Make Money with Lawn Services
Adults hate cutting their grass because it's a complete waste of time and they have better things to do. Lawn care is an afterthought when homeowners are busy running errands and dealing with important matters. They would much prefer to pay someone to do the job than do it themselves.
Hiring professionals to mow the lawn and get rid of weeds is an option, but it's a very costly option. Teens can make money by offering to do the same services at a lower rate than what the professionals would charge the homeowners.
Homeowners get to save money on the labor and teens walk away with money in their pockets. It's a win-win situation for everyone.
17. Shovel Snow for Cash
This is for the lucky (or unlucky) teens that have the pleasure to experience the four seasons.
After a massive snowstorm – we're talking about the ones that go past your knees – no one wants to step outside to clear the snow. While everyone is inside their cozy homes dreading to shovel the snow, you can jump at the opportunity to make some big bucks.
Bundle up, grab your shovel and walk around the neighborhood to see which neighbors need help shoveling their driveways and sidewalks. Older folks are more likely to hire teens to shovel for them, as doctors don't recommend people over the age of 55 with heart problems to shovel, so it's a good idea to start with them first.
As a 14 year old teen, you can expect to earn $15 to $20 in cash to shovel a single car driveway and walkway. How much you charge for your service depends on how much snow you will need to shovel and how long it'll take you to complete the job.
18. Transcribing for Money
GoTranscript is an online site that pays people to transcribe audio files for their customers. The audio files are mainly in the form of phone calls, meetings, interviews, and podcasts.
What do you do as a transcriber?
It's a rather easy job for a fancy word. The role of a transcriptionist is to listen to audio files and type out what you hear. You'll need to have good listening and typing skills to perform well. The faster and more accurate you can type, the more money you can make as a transcriptionist.
Transcribing for money with GoTranscript can earn you up to $36 per hour of audio transcribed. Their top earners made $1,215 in monthly earnings and the average earnings are $150 per month.
Online transcription gigs are flexible and allow students to make money transcribing from home and set their own work schedules.
Lots of older teens are already using GoTranscript to make beer money in their spare time to buy things they really want. Don't you want to earn some extra cash to help you with your spending?
How Teens Can Make Money with Local Jobs
There are plenty of ways for teens to make money within their communities. You just need to have an open mind and give these ideas a chance.
Movie theaters, grocery stores, and restaurants are constantly hiring teens to help serve their customers. These traditional part-time jobs aren't glamorous, but it gets the job done – put money in your empty pockets.
Here are some local jobs you can apply to and start earning money.
19. Work as a Sales Associate
Retail stores are always hiring energetic and friendly teens that have positive attitudes to serve their daily customers. You don't have to be a sleazy or pushy person to excel as a Sales Associate. Many sales employees actually do very well by being genuine and helpful to shoppers.
A typical shopper may ask, "My favorite nephew's birthday is this weekend, what's a perfect gift for a 13 year old?"
You don't need to hard sell products to close the deal, you can solve the shoppers' problems by giving your suggestions on the latest kicks or gadgets that teens are saving for.
By working as a Sales Associate, you'll get paid $12 per hour and have flexible hours. Retail Managers understand that teens have school commitments so you can schedule your hours after school, on the weekends or during the holidays.
Honestly, being a Sales Associate is not as bad as you think. You can gain valuable sales and customer service experience by learning how to listen to your customers' needs and leverage these important skills for future positions when you're looking for full-time positions.
20. Make Money Stocking Items
Shoppers hate shopping at grocery stores that are messy and under-stocked. Imagine how cheesed your parents would be if they wanted to buy milk but the store didn't have any milk stocked?
If shoppers can't find an item on the shelves, they'll just walk out and go elsewhere to buy it. If this happens, again and again, the grocery store will surely go out of business sooner or later.
Businesses need to hire teens as stockers to keep their shelves full and presentable. If you're looking for easy jobs that don't require a lot of customer interaction, you could try becoming a stocker at your local grocery store or supermarket. There is graveyard (overnight) shifts where you won't see a single customer insight.
21. Get Paid to Push Carts
You see this everywhere, buggy or shopping carts abandoned on parking lots by shoppers that are too lazy to return the carts to the return stations. To make shoppers' lives easier, grocery stores and supermarkets hire cart pushers to gather stray shopping carts left on parking lots and place them at the store entrances for other shoppers.
For teens that enjoy independent work and physical activities, you can get paid to be a cart pusher.
You can push a few carts by hand, but companies often have shopping cart machines that allow employees to push 15-25 shopping carts at once with a remote without being Superman.
It's not a very fun job and requires you to be outdoors (rain or shine), but you'll get a nice workout and pocket some extra cash for spending.
22. Earn Money as a Cashier
Now, if you don't mind making small talk with customers and you're good at handling money, then being a cashier at your local supermarket is an alternative.
Some teens avoid applying to cashier jobs because they're afraid their math skills aren't up to par and might give out wrong change to customers. But with so many shoppers switching from cash to debit and credit payments, there's less pressure for cashiers to perform mental math in their heads.
A great perk about working at your local supermarket is getting store discounts. Depending on the company, you can get anywhere from 10% to 20% off your purchases.
There are plenty of other places hiring teens. Be on the lookout for "Now Hiring" signs posted on storefronts.
Final Thoughts on How to Make Money as a Teenager
A benefit of learning how to make money as a teenager while you're in school is that it shows your ability to manage and prioritize your responsibilities as a student and a teen. School and grades are important but don't overlook the experience and skills you can gain from online jobs and side hustles.
Working with other teens allows you to work on your teamwork, communication, and leadership skills so you can be better prepared for your future full-time jobs. These skillsets are common requirements that employers look for from their new hires so why not get ahead of the curve and build these skills while you're still young.
Related articles on how to make money:
If you're looking for a collection of creative ways to make money, don't forget to visit these pages:
Do you have unique ways to make money as a teen? Please feel free to share your best ways for teens to make money in the comments below!