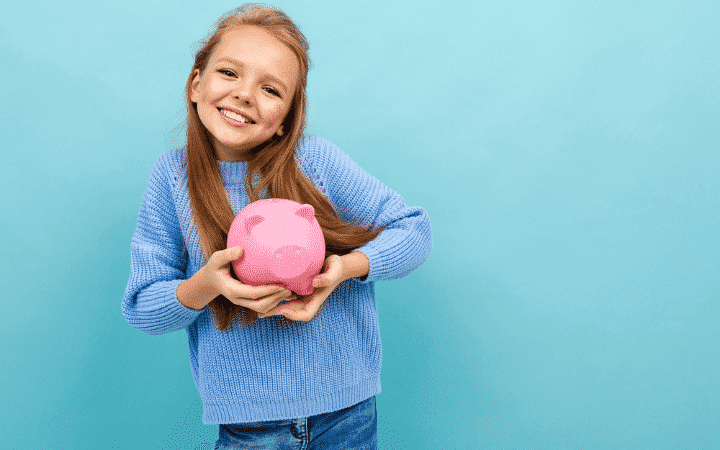 We will receive a commission if you make a purchase through our affiliate link at no extra cost to you. Please read our disclosure policy for more information.
The introduction of a cute piggy bank to a child teaches her to imagine.
Her tooth fairy money is great, but what other choices might she have later, with even more money? A piggy bank encourages her to look ahead, to see the benefit of keeping money aside for later and to understand the value of the things she wants and needs.
The following are piggy banks that girls may find especially charming. Consider one of these for your little one or invest in one for yourself. We also included several crafty DIY piggy banks so you can have a fun and frugal weekend with your little ones. After all, our blog is all about frugal living, working with a realistic budget, and saving money wisely, so it's no surprise we included a few DIY options for you to choose from.
Oh yeah, and did we mention that these piggy banks make an excellent cash money gift idea too?
There's no better way to teach great saving habits than by example, so let's dive into the best and cutest piggy banks for girls!
Cute Piggy Banks for Girls That'll Inspire Her Save Money
This list of twenty five adorable, cute, and girly piggy banks should inspire your little girl to get hyped up about stashing her coins away in a safe place!
If you're looking for more piggy bank ideas for kids, teens, and even grown ups (yes, ADULTS too), we've got them here for you. These piggy bank ideas will sure help you kickstart your savings plan:
1. Personalized Piggy Bank for Girls
Choose your letter here, give it a name and fill 'er up! This girls' money box is available shaped in the letter of your choice, made from beech wood and a removable acrylic front. Add a name or other text to the front as a gift to a child – or to yourself!
2. Cute Elephant Piggy Bank For Girls
A sweet addition to any girl's room, this pink elephant coin bank comes in sturdy ceramic, covered with white polka-dots. Topped with a money slot wide enough to accept coins or bills, this cute little girls' piggy bank can function as both a pretty accessory and a money-saving tool. We've also got more stunning and beautiful elephant piggy bank ideas here – you'll find the first one on the list absolutely breathtaking!
3. Large Unbreakable Piggy Bank for Girls
With its smiling face and outstretched paws, this kitten-shaped piggy bank money box practically demands to be hugged! Its generous size (a 700 to 900 – coin capacity) means your little one can store all the coins she wants. When finally full, the bank can be emptied via the plastic cap at the bottom.
4. Cute Hello Kitty Piggy Bank For Teenage and Little Girls
A gift solution for Hello Kitty fans of all ages including women adults! Your young saver will appreciate this special girls' money box almost as much as you do. Made of smooth, gleaming plastic, this brightly colored bank is lightweight but durable. If your girl is a fan of lucky cats like this one, then these cute Hello Kitty piggy banks from Amazon will inspire her to get serious about stashing her cute little coins away!
5. Unique Electronic Panda Piggy Bank For Girls
Who doesn't remember their first ATM? Give her a head-start in learning modern technology with this battery-operated piggy bank. It comes complete with keypad and deposit slot for bills. Your girl can save while getting some real-world practice with handling money.
Want more options for her? Consider a list of the most popular electronic piggy banks – you'll probably want to grab more than 1 since this makes a perfect educational piggy bank gift for a little child.
6. Cool and Clear Piggy Bank For Girls That Counts Your Money
She has saved a ton of coins, but how much are they worth? This cute little piggy bank that counts coins will do the counting for her. The coin slot will count the coin values as she puts them in the bank, and the total will be shown in a digital display on the lid.
7. Unique Ceramic Unicorn Piggy Bank For Little Girls
Beauty and function come together in this distinctive unicorn-style money box for girls. Your little one can make deposits through the discreet coin slot in the back. Her room will be instantly charmed by the presence of this mythical (and practical) creature.
If you haven't had enough of this mystic creature, then there's plenty of unicorn piggy banks and money boxes for you to choose from for that special little girl!
8. Ceramic Baby Piggy Bank For Girls
Among piggy banks for girls, this one is a classic: a glossy, ceramic pig-shaped bank that's pretty in pink. Decorated with flowers, ribbon and butterflies, this bank will make a lovely gift for your little one.
9. Disney Minnie Mouse Piggy Bank
Is there a more trustworthy money-keeper than Mickey's better half? This Minnie Mouse coin bank is up to the job – a ceramic rendering of the character dressed in a polka-dotted red outfit, and generously sized to accommodate both bills and coins.
10. Disney Hamm Toy Story Piggy Bank For Girls
Hamm, the wisecracking piggy bank from the movie "Toy Story," reprises his role right in your own home. The adorable character is faithfully recreated in sturdy pink plastic with an adjustable or detachable head.
11. Adorable Unbreakable Dinosaur Piggy Bank For Girls
Take it from "The Flintstones": dinosaurs can be very useful creatures. They can perform construction jobs, they make great pets, and now they can help you save money! Your little girl will enjoy this cheerful DIY dinosaur piggy bank. The green material is made from paper and glue, which is smooth to the touch, but tough enough to protect her savings. If that's not enough, there's also more dinosaur piggy bank ideas for your kids to count on!
12. Cute and Unique Solid Wood Piggy Bank For Girls
This little piggy is a young saver's dream: a solid wood money box with windows on each side. Your baby girl can add a ribbon to her pink, polka-dotted treasure while keeping an eye on the savings inside.
13. Magical Castle Piggy Bank For Girls
Every princess needs a castle. Why not provide this castle-shaped money box for your princess? White and lavender, shimmery pink and adorned with ribbons, this princess castle piggy bank can make saving a pleasure.
14. Princess Money Box Bank
Good saving habits deserve recognition – so here is a money box that's also a display case. The glass front shows a fairytale princess while the back of the box seems to show the inside of her castle. This princess piggy bank can sit on a tabletop or be hung with an included hook.
15. Cute Unbreakable Deer Money Coin Bank
This sweet little deer may be small, but she's full of treasures. Strong pink resin with a detachable head, this piggy bank will keep your girl's coins safe while easily blending in with her favorite toys.
16. DIY Unicorn Piggy Bank For Girls
If your little one like to add her own special touch to her surroundings, she will love this customizable unicorn bank, complete with foil transfer designs and colored glitter. Just add a healthy dose of her imagination to bring this one-of-a-kind piggy bank to life.
17. DIY Unicorn Piggy Bank Mason Jar for Girls
Mason jars aren't just for food storage. Unleash your creativity and repurpose them into this cute unicorn piggy mason jar bank for your little girl! Go wild and decorate it with paint, construction paper, sparkles and jewels. When it comes to saving money with piggy banks, coin boxes, and jars, the possibilities of being frugal and creative are endless.
18. DIY Decorate Your Own Cake Bank
For the budding artist, here is a money box that can also show off her talents. This kit includes a cake-shaped bank along with two small treasure holders – all resin, all white. She can decorate all three as she pleases with the included paints, brushes, foil stickers and glue.
19. Teach Kids About Saving Money Piggy Bank
Another frugal thing you can do with mason jars is print about these girly labels and showcase them as beautiful decorative pieces at home while teaching your kids how to give, spend, and save. It's a fun frugal activity you can enjoy over the weekend with your kids!
20. Give, Spend Save Piggy Coin Box for Girls
Here's another variation of the "Give, Spend, and Save" piggy bank.
Help her organize her savings with this unique cardboard money box. Complete with separate drawers for saving, spending and giving, this bank will encourage your young one to include charity in her financial planning.
21. Cutest Stitch Piggy Bank
If she loves Stitch, she'll really love this cute little girl piggy bank. Brightly colored blue and lavender, this plastic bank perfectly depicts her favorite Disney character and is roomy enough for both coins and bills. The pink version, Angel, is available here.
22. Cutest Spiderman Piggy Bank for Girls and Boys
If Spidey can't protect her savings, no one can. This ceramic piggy bank is painted in Spider-Man's image and topped with a bright red ribbon. Alphabet stickers are included so you can add her name to her gift.
23. DIY Piggy Bank Tissue Box for Her
Our blog is all about saving money, so we love hunting down for the best craft ideas, like this DIY piggy bank, to help readers save money!
This adorable tissue box piggy bank coin box is the perfect frugal craft to make with your little girl. It's simple to make and only requires an empty tissue or Kleenex box, disposable plate, some Crayola material, brushes, scissors, and a pencil.
24. DIY Wooden Coin Banks for Girls
Any girl would fall in love with these cute little wooden coin bank animals, so go and get your hands dirty by tackling this DIY piggy bank project this weekend! We also included this YouTube tutorial by The Created Home for you to learn how to craft your favorite animal bank.
25. DIY Piggy Bank Gift Boxes for Girls and Boys
This thrifty piggy bank money box craft project is not just for girls, but it's perfect for boys too! Not to mention, a teen or even an adult is never too old to make one of these cute lil' fellows.
This makes the perfect money gift idea if you're looking for a fun and creative way to give cash as a special occasion present. We also have a list of some money gift box ideas for you to try here if you're looking for some fun and exciting gift box ideas.
Wrap Up on Cute Girl Piggy Banks
We hope you enjoyed this cute list of piggy banks for girls (or any young child). Again, it doesn't matter how old or young you are, it's never too late to invest in a piggy bank to start saving some serious cash!
You can even gift them as a unique present for that special someone in your life! Regardless of which one you buy for that special person, each one of these girly piggy banks will make the perfect gift encouraging and motivating kids, teens, or young adults to save money.
Before you leave this blog, make sure to share this page with your friends – they will adore you for sharing these ideas with them! 🙂
Looking for more money related gift ideas, or general budget-friendly gifts?
If you're looking for a birthday, graduation, Valentine's, anniversary, or holiday gift that won't break the bank, we have a list of the best and most practical budget-friendly gift guides here for you!
We are a personal finance blog helping you to find the most optimal ways to budget, spend less, save money, and make extra money. For more personal finance and money tips, be sure to follow Finsavvy Panda here on Pinterest!