We will receive a commission if you make a purchase through our affiliate link at no extra cost to you. Please read our disclosure policy for more information.
When I was brainstorming for fun hobbies that can make money (because who doesn't want to earn while having fun?), I stumbled upon resin, a highly versatile material used in a wide variety of art projects, ranging from wall art to tables.
It wasn't my first time learning about resin. I've used resin before to create different things for my own home.
What I didn't realize was that the use of resin was one of the coolest business ideas for stay-at-home moms and savvy business owners out there looking to earn more profit while using their creativity skills.
Plus, if you've already seen resin crafts, you probably can tell how enticing it is to buy them for home decor or to use in everyday life.
You aren't alone, as the demand for resin molds is increasing, with more people discovering the gorgeous and diverse world of resin art. That's why it's high time to take advantage of the demand and create lovely crafts for your customers.
Whether you're looking for winter or spring crafts to sell, you can never go wrong with resin crafts, as long as you know what you're selling!
But wait, what are you planning to sell? I know how overwhelming it is to choose the best craft that will surely catch everyone's attention.
I've got you covered with cool resin craft ideas to try for yourself. Don't worry, these crafts are doable for people of all creativity levels, so anyone can start making and selling beautiful products.
PIN THIS: I'll be updating this post so make sure to pin this image here and save it to your Pinterest board. That way you'll be able to come back to this page for the best resin crafts to sell!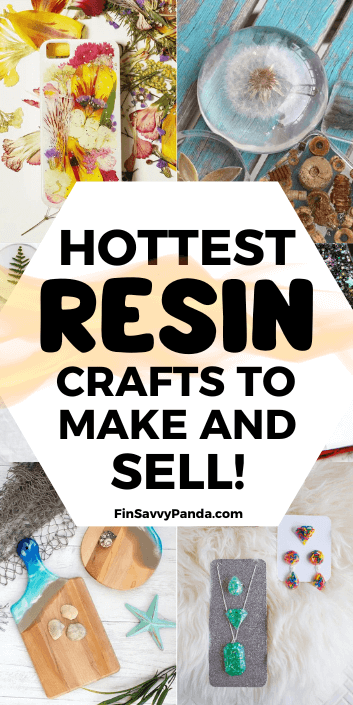 1. Cool Resin Jewelry
Who needs diamonds when these resin jewelry will give off a unique shine and charm to those who wear them?
That's why jewelry is one of the top epoxy resin crafts to sell!
Not only is it easy and fun to do, but there will always be a huge demand for it among the ladies who want to try a different style.
2. Aesthetic Resin Coasters with Designs
There will always be someone who needs a set of coasters to protect their tables from the dreaded wet rings from drinks!
But don't just offer any old coaster design.
Go for something unique by selling resin coasters with embedded designs. These are fine DIY resin crafts to sell that you can customize according to your customer's preferences.
3. Fun Customizable Resin Keychains
Keychains are the most profitable resin crafts to sell as they are useful and attractive, and make affordable gifts or giveaways!
That's why these resin keychains with custom designs are a perfect product offering. Let customers give their keychains a unique twist by adding customized short messages and colors.
4. Starry Night Resin Bookmarks
If your target market is book lovers, or if you're also selling books on the side, then you can make extra income with these resin crafts to make and sell.
That's right, resin is so versatile that you can make resin bookmarks with colorful patterns like these, showing the lovely night sky and stars.
5. Cute Personalized Resin Pet Tags
With everyone having their own furbaby nowadays, it makes sense to create personalized resin pet tags to place on their pet's collars!
Trust me when I say that everyone will love these cute pet tags, making this product one of the best ways to make an extra $500 a month.
6. Charming Resin Wall Decor
Everyone's always looking for products to improve their home's current design, and these resin art wall decor will be a good way to do that.
These beautiful works of art are definitely Etsy crafts that sell out quickly, especially if you have the option to do personalized designs.
7. Cool Geode-Style Resin Serving Trays
I can stare at this geode-style resin serving tray forever because of the many layers of colors and patterns it has! To offer it in your business will be one of the great side hustle ideas that make money, as this product will be enough to impress your guests.
8. Resin Planters for Green Thumbs
Plant lovers are going to love this special resin planter, as it gives off a cool, minimalist vibe that goes well in modern homes. Even those with black thumbs will appreciate these planters, which can be used as desk decorations.
Consider creating these bad boys in different colors, they might just become your next bestseller and unlock a new target market!
9. Charming Resin Photo Frames
If a picture paints a thousand words then you better treasure photos in a beautiful frame!
People will be proud to display their family photos with a lovely resin photo frame, especially when you create them in different designs. Take a look at this Lego-inspired style, suitable for placing photos of your kids or younger relatives.
10. Magnificent Ocean-Inspired Resin Serving Boards
I've always seen charcuterie boards as fancy, so why not amp up the grandeur when entertaining guests by serving your appetizers on ocean-inspired resin serving boards?
These won't just be a great hit among your customers but you'll enjoy creating them as well! Beach lovers are definitely going to want to get their hands on one of these.
11. Amazing Floral Resin Candle Holder
Do you sell candles and want to expand your product offerings? Or are you still brainstorming what you should make and sell for your new business?
You can't go wrong with anything candle-related, like these resin candle holders! After all, so many people are obsessed with scented candles and will want a place to put them in for aesthetic purposes.
12. Quirky Resin Paperweights
I know how paperweights can seem like a "boring" purchase, but you can be the one to change things up by offering resin paperweights in different designs!
Use buttons, corks, flowers, or other knick-knacks to make paperweights look good on any desk.
13. Cool Crystal-Like Resin Drawer Pulls
Who would've thought of giving their cabinets an upgrade? I'm sure many people are thinking of decorating their cabinets or drawers, and one way to do so is by changing the handles to something they like!
These resin drawer pulls and cabinet knobs can make any furniture look funkier and more in line with the owner's personality!
14. Elegant Floral Resin Phone Case
Now this is one of the most stunning phone cases I've ever seen, and it uses a material I never thought of using on a phone case: Real, dried flowers!
If you already have flowers ready to be pressed and dried, then you can start planning on creating these to sell. I can bet that they'll be a huge hit with their aesthetically pleasing look.
15. Alphabet Resin Fridge Magnets
Great for kids, parents, or even adults living on their own, these resin magnets make any fridge even more fun to design.
They can even be used to remind you of different errands or notes for the following morning, which is why I know you'll be getting a ton of customers thanks to these cuties.
16. Unique Resin Wine Bottle Stoppers
Whether your target audience is wine connoisseurs or not, these resin wine bottle stoppers are worth creating and selling!
After all, there will always be a bottle of wine in any home that needs to be covered and preserved to enjoy later.
17. Fancy Resin Bookends
Here's another treat for book lovers and avid home decorators! Give your books a good spot to rest by letting them lean over these gorgeous resin bookends.
You'll see a ton of people buying these classy bookends, which can be designed to look like wood, crystals, or whatever design your customers fancy!
18. Pretty Resin Hair Barrettes
This one's for the ladies out there, especially those who want to follow the cool Y2K fashion trend!
Barrettes are so in style right now and it's the perfect chance to offer a different version of them for your customers to stand out!
19. Fun Resin Cake Topper
Give people more ways to decorate their cakes with lovely resin cake toppers.
Similar to the alphabet fridge magnets, they are easy to do and allow people to create personalized messages! A huge plus is that these toppers are reusable, making them more appealing and salable.
20. Aesthetic Resin Ornaments
Whether or not Christmas is coming soon, people will always be purchasing ornaments to prepare for the festive season! Why not get ahead of the game and start creating resin ornaments in different designs?
You can also be open to creating customized designs, which can increase your sales and customer base!

Enjoyed this post? Don't forget to pin the image below! Also, don't forget to follow me on Pinterest over here! 🙂