We will receive a commission if you make a purchase through our affiliate link at no extra cost to you. Please read our disclosure policy for more information.
"Women, they have minds, and they have souls, as well as just hearts, and they've got ambition, and they've got talent, as well as just beauty. I'm so sick of people saying that love is just all a woman is fit for." Jo March, Little Women
Oh, how I love that movie. How I love to be a woman.
Historically, women have struggled to earn a higher income than men. In fact, research revealed a lower workforce participation of women than men regarding side hustles.
However, the digital space has changed how we think of services, labor, and goods. While it's true that there are more side hustle jobs for men, this doesn't mean that we are left behind.
Today's women have more access to opportunities and resources that did not exist decades ago. Good news, right? After all, there's nothing a man can do that we women can't.
Alright, ladies, I know why you're here, and I won't EVER let you down. You have stumbled on this blog because you're wondering how to make $200 a day or earn money quickly as a woman.
You've probably heard those success stories of women who turned their blog into a money-making machine to finally quit their boring job (yes, that's me!).
Now, you're wondering, "Can I do the same?" Well, guess what? You definitely can, girl! It's not easy, but definitely possible if you put your heart into it.
Whether you're a young woman who left her 9-5 grind, a single mom wanting to make ends meet, or a college student looking for ways to make extra cash, the internet is filled with opportunities for us ladies to take advantage of.
Here are the many ways to unlock your rich-girl-empowered era.
PIN THIS: I'll be updating this post so make sure to pin this image here and save it to your Pinterest board. That way you'll be able to come back to this page and learn how to make money fast as a woman!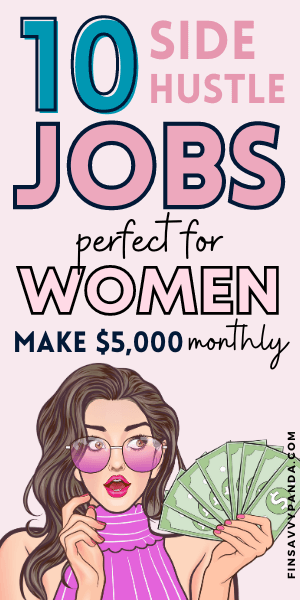 1. Sell Used Clothing
The best way to make money fast is by selling used clothes on classified sites like Facebook Marketplace, Craigslist, or Poshmark.
But do you know which social media platforms most ladies usually spend time on? It's Instagram, Twitter, and Facebook. They are not like Amazon or eBay, but these platforms are considered to be the best apps to sell clothes nowadays.
If your closet is full of clothes you don't wear anymore, it couldn't hurt to Marie Kondo-ing (declutter) your stuff and sell a few. You will not only earn money quickly, but you'll also free yourself from clutter.
Our closet tends to get cluttered quickly. It makes sense, though. In a world of digital influencing, we are constantly shown the latest trends and great pieces to be obsessed with.
Confession time: I've stashed away more online clothes than I'd like to admit. But here's the thing: long before the pandemic made thrifting a household word, I was already in the game, buying and selling pre-loved clothes. When everyone else caught the thrift bug during the pandemic, I took that as my cue and sold some of my older stuff. That was the easiest $300 I've ever made in one day.
You don't miss out on this trend so catch this wave now, while the great clothing declutter is underway.
Pro: The biggest advantage of selling clothes online is the quick and painless process. Take out your old clothes, take photos of them, and post them online. It's not that hard to sell them because online platforms help you reach a wider audience or potential buyers.
Con: Customers can't touch or try on clothes before buying them. Hence, customer dissatisfaction and buyer's remorse are also possible.
2. Start A Blog
I've probably said this many times, but let me say it again: start a blog now!
While the amount of money I earned (though you might be curious about how to earn your first $100 blogging) when I was starting was nothing to write about, I could feel it in my bones that my blog could be a worthwhile venture.
I didn't start this blog solely for money. I had a 9 to 5 banking job, and I only wrote for the sheer joy of writing and sharing my saving money tips with readers.
But really, when you put your heart and soul into something, everything will pay off. And boy, did it pay off!
Honestly, starting a blog isn't a quick route to wealth. However, it's a reliable path to sustained passive income over time. There are a lot of ways to earn money through blogging. From monetizing your site, diving into affiliate marketing and advertising, to landing brand partnerships when your blog gains momentum – the avenues are numerous.
As for the niche to blog about, you have various options. Do you like fashion, cooking, or anything health and wellness, etc.? Everything under the sun that can provide value to your audience can be blogged about.
Despite the number of existing blogs nowadays, the industry is very accommodating, especially to new female voices. Hence, knowing how to make money online from your blog can offer many opportunities.
Pro: Blogging allows you to express your creativity and pursue your passions while earning money on the side. You have the freedom to choose the topics that align with your interests.
Con: Blogging is a beautiful journey, but it isn't always a sprint. This isn't a gig for those wanting overnight riches; it's for the hardworking ladies ready to commit. The early days might be more about passion than profit, but hang in there. As time goes on, the financial rewards can be both satisfying and steady.
3. Freelance Writing
Do you have a knack for writing? If not, can you pick it up quickly? Kidding aside, being a freelance writer is one of the top side hustles for women.
According to the latest study of Glassdoor, a freelance writer in the US can make $60,000 a year. Well, of course, your salary or pay per hour may vary depending on your expertise, so if you haven't tried this venture yet, this is your sign.
Imagine a job that molds to your life, not the other way around. That's freelance writing for you. Whether you're hammering out pieces on lazy weekends or late nights after work, the choice is yours. And with a bit of luck in landing gigs, this can turn into a high-paying full-time position.
Looking for places to connect with clients? Platforms like Upwork, Fiverr, and Freelancer will be your BFF.
And don't get hung up on the degree thing. A deep love for language, writing prowess, and a meticulous eye are all you truly need.
Before entering the freelance writing world, here's a tip: go where your passion lies. When you get to write things close to your heart, not only is the journey enjoyable, but that joy often translates to A-grade content.
I might not have a traditional writing background, but my years of blogging have been the ultimate masterclass. A golden rule I swear by? Emphasize depth and quality. Dig deep into topics, let authenticity lead the way, and never skip the proofreading stage.
Pro: Earning money fast as a freelance writer is almost guaranteed. The real treat, however, is the variety it offers. Different topics, unique projects – every day is a new chapter in your learning story.
Con: Like other freelancing jobs, there's no job security in freelance writing. The inconsistency in earnings can be a tad challenging, particularly in not-so-sunny economic times.
4. Gig Economy Jobs
Looking for the best side jobs? The gig economy jobs will never disappoint you.
As per Statista, approximately 73.3 million people are part of the gig economy in the US. The statistics thus reveal the success of ridesharing and delivery apps like DoorDash, Uber, Lyft, Instacarts, etc.
If you're unfamiliar with the gig economy, this term refers to people doing freelancing work at the abovementioned gig apps.
Furthermore, experts note that those working in the gig economy tend to borrow money less frequently than those who aren't involved. This suggests that such side hustles pay reasonably well, making it a great one-day-a-week job.
For those interested in delivering food or providing transportation services, you can quickly earn money through side hustle apps, regardless of your gender.
While some might perceive these jobs as tailored more for men, you'd be surprised at the number of women who embrace them as side hustles.
In fact, I've personally tried becoming a "Dasher" and earned decent money in a day working with DoorDash. Everyone, irrespective of gender, is certainly welcomed in the gig economy.
What I appreciate most about the job is the flexibility it offers. You set your work schedule based on your availability and choose which customers to serve when it suits you.
Pro: Gig jobs are like instant noodles – fast and filling. Sign up, get the green light, and watch your account fatten. Super handy for those who
Con: Speedy earnings are great, but they come without the usual job frills. Health coverage, holiday pay, or pension plans? Nope. And don't forget, your own insurance is on you.
5. Selling Handmade Crafts
Women who enjoy crafting handmade goods can easily earn money online. So, if you think crafting is only for bored housewives, I'm here to burst that bubble – you couldn't be more wrong.
Selling handmade crafts is one of the best options for stay-at-home moms.
To get you inspired, Business Insider has featured a stay-at-home mom who made $23,000 selling crafts on Etsy. And nope, it didn't take her 6, 7, or 8 months to earn that much. It only took her 3 months!
This side hustle offers flexibility; no one will boss you around, and colleagues you need to get along with. Most of all, you can attend to your kids and other household chores in no time.
With the popularity of Etsy, and other eCommerce platforms these days, it's easy to make money today.
Can you turn yarn into a scarf? Or are you so passionate about Tiffany & Co. that you're inspired to create your own jewelry line? If so, it's time to turn your pastime into a profitable hobby.
To get started, figure out which things to sell to make money. My suggestion? Go for crafts with the highest demand yet low competition. Next, decide the price for each item based on the competition and set up your online store.
You can then sell your crafts on Etsy, Handmade at Amazon, Facebook Marketplace, or your social media platforms. There are a lot of opportunities for your crafting skills, and you need to put yourself out there and grasp them.
Pro: Fancy selling your crafts? Well, chances are you've already got the gear since it's your passion. And trust me, setting up shop online is more pennies than pounds compared to real-world storefronts.
Con: The online marketplace can be competitive. Do a bit of homework first. Figure out those hot crafts with fewer folks crafting them and where there's room to shine. That'll help you zip past the pack and straight into folks' carts.
6. Social Media Manager
As a woman, being a social manager could be your quick ticket to earning a solid income online. It is an ideal option for those who have skills in time management and organization.
Is editing visually appealing videos on TikTok or posting clever posts or reels on Instagram your thing? Then you could easily pick up work managing other people's accounts.
I don't consider myself any of those abovementioned, but if you've been a reader, you would have known I have grown my blog through Pinterest. So, I can say that I'm part of the creative community.
To become a Pinterest manager or a social media manager in general, you don't necessarily need a separate portfolio. Your own social media profiles can serve as a testament to your creativity.
I didn't have any background in Pinterest management either. I just started making my Pinterest templates on Canva for my boards and pins as a hobby.
Canva is every social manager's best friend. The platform offers a variety of templates ready for you to use. Everything is handy, from TikTok posts to Instagram reels to Pinterest templates. Just tweak the Canva template and make them your post.
Social media management needs creativity, as you must develop interesting stories for the business. You will also spend a lot of time creating content for the company.
Even so, gaining followers, coming up with awesome content, or making a post-viral is rewarding.
Pro: Most social media managers enjoy flexibility. They can work at their desired schedule and in the comfort of their home. This job's flexibility is appealing to those who value a work-life balance.
Con: Social media managers are often judged by their clients by metrics such as the number of likes, followers, and return on investment (ROI). There's always pressure to deliver tangible results.
7. Tutoring or Coaching
"Jack of all trades, master of none." While it might sound like a jab, why not embrace it? If you're a Swiss Army knife of skills, there's a paycheck waiting for you. You can be the 'Jane of all trades', cashing in from your comfy couch.
No need for the posh look or wheels; all you need is your computer, reliable internet, and your versatile brain. Your expertise can range from life coaching to coding or from mastering English to playing musical notes.
Always remember, there's someone out there struggling with a language or scratching their head over finding 'X' in Algebra. Why not monetize your expertise to help them?
Recently, I took live yoga sessions through Zoom, and I've enjoyed them so far. I think being a yoga or Pilates instructor online counts, too. Honestly, the list of lessons to teach is endless, and it's super easy to find clients these days.
Alright, study buddies, when you're not buried in your notes for the next exam, why not make some extra cash for that much-needed coffee or those pricey textbooks? Platforms like Chegg Tutors and WyzAnt are on the lookout for savvy individuals like you to fill online tutoring jobs.
And since we're all about that social media life, give a shoutout about your tutoring side gig on your stories, campus FB groups, or any college forum. Trust me, there's something awesome about tutoring from your favorite campus spot and picking when you work.
Pro: Quick money aside, the real joy is in the tiny victories – like when your student nails that tricky concept, all thanks to your guidance.
Con: If you're the sort who struggles to find the 'unmute' button, there could be a couple of techy-teething issues. And heaven forbid if the Wi-Fi starts acting up or your device decides to take a nap.
8. Traditional 9-5 jobs with Quick Entry
Don't ever believe anyone who says you need a bachelor's degree to find a traditional 9-5 job that pays well.
In fact, many companies hire employees based on skills and experience in lieu of educational qualifications.
Here's a little secret from the job world: Sometimes, it's not the miles on your professional odometer but the sparkle in your eye. You can find both customer service and non-customer service jobs without prior experience.
If you're an introvert like me, you would probably enjoy working as a transcriptionist, data entry clerk, and whatnot.
On the one hand, if you like socializing with people, you also have a variety of options. You can work at retail stores, take administrative positions, and other hospitality jobs.
Let me break it down for you: when every dollar counts, these jobs can be your financial lifeline.
What's the catch? Well, there isn't one! They tend to have a straight-to-the-point hiring process. That means less time stressing in post-interview limbo and more time making money.
Pro: Ever felt the thrill of trying something new? That's what quick-entry jobs can offer. Especially for women, they're like the first few pages of an exciting career novel.
Con: The age-old 9 to 5 offers the cozy blanket of regular pay and predictability. The lack of flexibility can challenge your goal of making money fast or finding the best second job that suits your schedule.
Tips for Quick Money-Making Success
With the rise of technology, many work opportunities, both online and offline, await everyone. No gender limitations. That's great, but leveraging these opportunities is not a walk in the park.
Get into the right mindset, ladies! Here are tips to help you with your fast money-making venture as a woman.
Focus on what you're passionate about
Think about the last time you got so engrossed in a hobby that you lost track of time. That's what passion can do! It blurs the lines between 'work' and 'fun,' boosting your drive and efficiency. And, naturally, that's a direct path to earning well.
Start with minimal investments
Jobs that promise quick money have high competition. That's right, girl. You're not the only one looking to cash in quickly. To minimize risk, opt for roles that require little to no initial investment.
Consistency is key
Consistency paves the way for success, and with success comes greater financial rewards. Even in today's world, where gender bias can sadly still throw a shadow, the best way to shine a light is to keep pushing forward. Your dedication and hard work will speak volumes.
FAQs
How Can I Make Easy Money ASAP?
Making easy money is not as easy as it sounds. But the side hustles available for women are endless, and opportunities are ripe for the taking. However, there are many things to consider before making easy money ASAP.
Before getting started, though, do a bit of soul-searching. Are you the type to rock a runway, whip up a mean dish, love road trips, or have a way with little ones?
Real jobs aside, for me, my personal favorite is decluttering my space and selling things I've outgrown. Zero apps, zero paperwork, just me, some cleaning, and a dash of social media.
And if you're aiming for a consistent cash flow, you might consider freelancing – be it writing stories, mentoring, driving about, or dropping off meals.
How Can I Start Making Money Daily?
So, you want to see those coins coming in daily? You've got to hustle and hustle hard.
Money-making isn't all rainbows and butterflies, but ladies, you've got the fire and resilience – bring on the challenge!
Capitalize on your assets and skills, and tap into the job world, both online and in your neighborhood. Whether it's freelancing from your couch, grabbing local gigs, or being the social media whiz for the next viral sensation – there's a spot for you out there!
Planning to juggle multiple gigs? Props to you! But remember: balance is everything. And self-care? It's non-negotiable. Charge ahead, warrior! #LadyBossVibes
Enjoyed this post? Don't forget to pin the image below! Also, don't forget to follow me on Pinterest over here! 🙂