We will receive a commission if you make a purchase through our affiliate link at no extra cost to you. Please read our disclosure policy for more information.
Those who know me know that I LOVE to create. There's something about learning to do new crafts and seeing them come to life that makes me feel so happy.
What makes me even happier is seeing my crafts displayed around my home. Not only does it give the house a homey feel, but I feel proud telling folks that, "Hey, I made this!" After all, you can't find handmade crafts just anywhere!
After hearing so many people marvel at my creations and ask if I could make similar crafts for them, I realized that there could be an actual market for this. Plus, what I'm doing are fun hobbies that can make money.
What's even better is that the crafts you can make are stuff from Dollar Tree, so you won't need to shell out a huge capital!
You can start with spring crafts to sell and the results will likely be amazing, with a ton of people loving personalized products they can display in their homes and offices.
Now, I'm not going to gatekeep the crafts that will surely sell, which is why I've got the ultimate list to help you out. I know how difficult it can be to figure out what type of craft you should sell since it needs to be profitable, easy to do, and not use extremely pricey material!
Whether you're searching for DIY Dollar Tree Christmas crafts or other seasonal creations to sell, I've got you covered with cool ideas you've got to try.
PIN THIS: I'll be updating this post so make sure to pin this image here and save it to your Pinterest board. That way you'll be able to come back to this page for the best Dollar Store crafts to sell!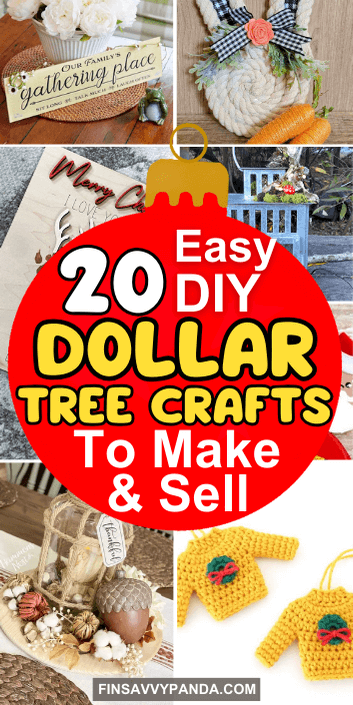 1. Lovely Hand-Painted Mason Jars
There are so many designs for mason jars to make and sell, with my personal favorite being anything related to Valentine's Day!
Y'all don't need to get bitten by the love bug to adore these jars, which you can display any day of the year to showcase how sweet and welcoming your home is.
2. Cool Resin Charcuterie Board
If you're looking for the hottest resin crafts to make and sell, these cutting boards are the real deal!
While you won't see me chopping meats and veg on these cool cutting boards, these will surely bring up the aesthetics of your kitchen.
Plus, people can use these as a charcuterie board, a surefire way to impress guests at their next dinner party.
3. Unique Pinecone Christmas Tree
Oh, pinecones, the ultimate ode to autumn and winter. There's something about them that screams Christmas, may it be from the look or smell.
Everyone's going to be looking for ways to decorate their home with pinecones this holiday season, so why not create a unique tree out of them?
Christmas trees are one of the awesome DIY pinecone crafts to sell because you won't find 'em anywhere and they're made with love!
4, Gorgeous Decorative Christmas Wreaths
Wreaths are profitable Christmas crafts to make and sell because, well, who doesn't display them on doors?
Everyone will be out on the search for decorative wreaths soon, and this bright-colored design will surely bring out the yuletide spirit among homeowners and their guests!
5. Aesthetic Upcycled Wine Bottle Candle Holders
There's something comfy about lighting a candle as the weather gets cooler. Sure, they might not warm up the entire house, but the flame brings a cozy vibe!
Amp up the gorgeous appearance of candles by creating upcycled wine bottle candle holders.
These Dollar Tree crafts to sell for profit will only need minimal materials and, of course, wine bottles you may not be using anymore!
6. Homey Personalized Wooden Signs
If you're thinking of wooden Christmas crafts to sell for extra money, anything personalized is the way to go!
That's why I'm all for personalized wooden signs like these. Many customers will be placing customized orders with their names or special messages, so get ready when you post your product to sell!
7. Memorable Fabric-Covered Notebooks
Are you one of the many people who love to journal? Or maybe someone who loves to hoard notebooks and promise to use them, only to have them sitting pretty on their desk?
I'm so guilty of both! Either way, that's what makes fabric-covered notebooks easy DIY Dollar Tree crafts to sell. Everyone will always need a good notebook, so don't be surprised when you're sold out.
8. Adorable Handmade Greeting Cards
Say goodbye to generic, store-bought greeting cards, and say hello to adorable, personalized greeting cards!
You don't need to be Picasso to learn how to paint lovely greeting cards. All you need is paint and a little imagination to get the ball rolling. It's one of the easy and profitable side hustles from home anyone can start with immediately.
9. Cute Personalized Beaded Bracelets
Did you know that making and selling beaded jewelry is one of the ways to make an extra $500 a month?
It sounds too good to be true, but you'll be surprised by the many people who want to get charming-looking bracelets they can personalize!
10. Minimalistic Mini Succulent Planters
Plant mommas and papas, this one's for you! Spread your love for plants with these mini succulent planters.
With the holidays coming up, these are surprising Dollar Tree Christmas crafts to sell since everyone will be ordering these as gifts for their friends with green thumbs!
Plus, they are versatile planters that work well for any home, from rustic charm to minimalist designs.
11. Pretty Tassel Keychains
These are stuff you'll see people sell on Etsy successfully, so get ahead of the competition and make these tassel keychains now!
These keychains aren't only pretty, but they do the job of keeping your keys easy to find because I know we all have a problem keeping our keys in check (hopefully it isn't just me)!
12. Easter Bunny Decorative Coasters
The Easter Bunny coming in a bit early?
Nah, because now is the best time to start prepping for these Dollar Store crafts to sell!
These decorative bunny coasters will be a huge hit since everyone's looking for cool Easter decor for their big family gatherings and brunches.
13. Customized Hand-Stamped Metal Jewelry
Hand-stamped metal jewelry makes profitable Dollar Store crafts to make and sell since you won't need to use too many materials and the demand for it will always be high!
Everyone will be after personalized jewelry to gift to themselves or their loved ones. These memorable jewelry pieces can even trump the expensive jewels because of the message they bring!
14. Cafe-Worthy Wooden Pallet Coasters
These wooden pallet coasters are fit for a hip cafe, and now people can buy them from you!
While they look so cool and intimidating to create, they are easy crafts to make and sell using Dollar Store supplies. Expect those orders to be flying in, and maybe even get bulk orders from cafes who like the rustic wooden aura!
15. Unique Painted Plant Pots
More products for plant lovers out there! Again, there's no need to be a professional painter when selling these painted plant pots.
In fact, people will appreciate the little imperfections of your craft because it's what makes their products unique and stand out among the usual mass-made stuff. Your customers will be proud to display your pots on their windowsill or around their houses with their favorite plants!
16. Charming Upcycled Glass Jar Lanterns
Using upcycled materials to create attractive crafts is a great way to lessen your capital while saving the Earth.
Lessen your wastage with these upcycled glass jar lanterns, turning your old jard into something beautiful. I would definitely get one of these to place as my table centerpiece!
17. Specially-Made Tote Bags
No matter the season, customized tote bags will always be in. Everyone's always searching for the cutest all-around bags they can use for anything, whether they're going grocery shopping or on a beach trip!
Open your store with customized tote bags and let people decide on the perfect design to match their style. You'll soon need extra help getting all your orders done!
18. Funny Ugly Christmas Sweater Ornaments
No holiday is complete without the presence of the ugly Christmas sweater!
Give families a laugh as they see these cool-looking sweaters up on their Christmas trees. These are so easy to crochet, even those who don't know how to crochet yet can learn how to with this tutorial!
19. The Grinch Gnome Christmas Decor
Oh my, I've never seen the Grinch look so… cute and huggable!
Now I know what it would look like if the Grinch and a Christmas gnome had a child! The kiddos are going to love this fluffy creature, making it an awesome product to gift or use as decor!
20. Rudolf the Red-Nosed Reindeer Beanie
Aw man, I think I know my next Christmas project now because I can definitely see myself and my family donning these crocheted reindeer beanies!
You can get the yarn you need in the Dollar Store and with a bit of time and crocheting skills, your customers will gladly get to wear Rudolf on their heads, ready to lead the way wherever they may want to go!
Enjoyed this post? Don't forget to pin the image below! Also, don't forget to follow me on Pinterest over here! 🙂