We will receive a commission if you make a purchase through our affiliate link at no extra cost to you. Please read our disclosure policy for more information.
Currently, I'm obsessed with rustic home designs. The natural style feels so cozy, especially when displaying handmade crafts all around the house. And you know what the rustic vibe is best for? Christmas!
You can't tell me that rustic homes don't feel homey, from the warm colors to natural wood textiles. What better way to bring out the festive season than by bringing out your personality in wooden furniture and crafts?
There are so many other folks who feel the same way, which is why everyone's scrambling for wooden Christmas crafts to either display in their homes or to gift to loved ones.
That's why I decided to start flipping furniture for extra money. I was flipping wooden furniture as a fun side hustle, earning up to $1,000 a month! It just goes to show how huge the market is for wooden furniture and handcrafts.
So if you're looking to make extra money for Christmas, then wooden crafts for the holiday is the way to go!
Not only will you be able to earn more money for gift shopping or holiday vacays, but you can make people extra happy with your creations while honing your art skills! Win-win situation, am I right?
The only question is: What are the different types of Christmas crafts to make and sell?
PIN (OR BOOKMARK) THIS PAGE: I'll be updating this post so make sure to pin this image and save it to your Pinterest board. That way you'll be able to come back to this page to learn the best DIY handmade wooden Christmas crafts that sell like crazy!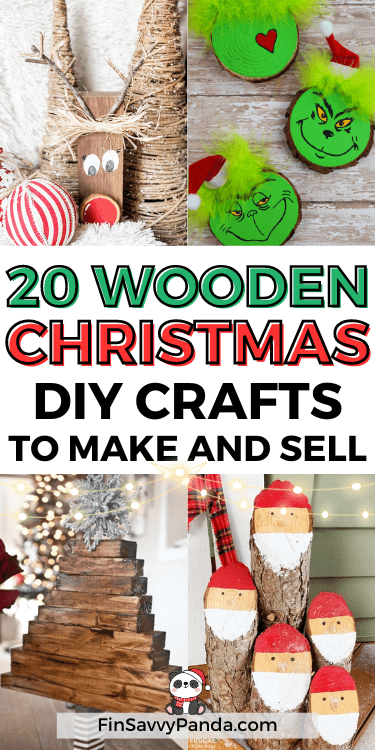 Wooden Christmas Crafts To Make and Sell
I know how overwhelming it gets trying to choose one or two things you can showcase as products. Everything looks so good!
Don't worry, even I get confused over what Christmas crafts I'll be rolling out to sell or gift to my loved ones.
Because of that, I created this list to narrow down your options, with crafts that aren't only beautiful but will gain a lot of buyers!
From DIY Dollar Store Christmas crafts to more elaborate creations to make a profit from, check out these fun Christmas crafts.
1. Appealing Wooden Christmas Tree Stand
When setting up your Christmas tree, make things even prettier with a wooden Christmas tree stand!
Everyone's on the lookout for a sturdy stand not only for aesthetic's sake but to also keep the tree from falling.
That's why stands are one of the best wooden Christmas crafts to make and sell. Since they're easy to make, these will surely make a profit.
2. Handcrafted Wooden Advent Calendar
The Christmas countdown is beginning soon, so a handcrafted wooden advent calendar is one of the best DIY Christmas crafts to sell!
All you need are trusty wooden planks and some creativity skills, then you're good to go.
Look at how simple this calendar is to make, yet it looks like the perfect addition to any room this holiday season.
3. Lovely Clothespin Nativity Scene
The nativity scene is one of the most iconic moments that signify Christmas. After all, this was the night Christ was born!
If you're looking for Christmas crafts for adults to make and sell, then this affordable and hassle-free project is a great idea. All you need are clothespins, scrap fabrics, and a wooden box!
4. Cute Santa Log Crafts
We always think of logs used for the fireplace to keep us warm and cozy, but what about using them for the sake of art?
That's right, you can make a Santa log craft to proudly display on your front porch or backyard!
These handmade wooden Christmas crafts to make and sell are simple to craft and will surely be a hit among neighbors and your community.
5. Fun and Festive Wooden Wreath
During Christmas, no front door is complete without a wreath!
You need to have a festive wooden wreath that will scream "Welcome and happy holidays to all my guests."
This quaint wooden wreath comes in a unique design, so you're sure it will stand out and gain quite an audience!
6. Funny Wooden Grinch Ornaments
People are always looking for cool ornaments to decorate their Christmas trees with. Heck, my browser history is filled with handcraft ornament ideas!
These cool wooden Grinch ornaments caught my eye because they strike the perfect balance between naughty and nice.
The Grinch will make sure your kiddos are extra sweet so their gifts don't get taken away!
7. Easy DIY Decorative Wooden Candle Holder
You know what else is such a huge hit lately? Scented candles.
Take advantage of the demand and create a home for the candles with a decorative wooden candle holder!
These are easy Christmas crafts to make and sell for profit because people are obsessed with candles (like me) will want a decorative holder in line for the holidays.
8. Lovely Wooden Christmas Stockings
We're so used to having huge Christmas stockings to stuff 'lil goodies and gifts in, but have you ever heard of a wooden Christmas stocking?
It puts the rustic chic vibe into any home! Introduce this interesting Christmas craft, which matches any silver-and-white motif.
9. Charming Wooden Reindeer Christmas Decor
Santa Claus can't come into town without his trusty reindeer! This simple yet gorgeous Christmas decor is a fun addition to any home, especially when you're after a more natural style.
Making these wooden reindeer crafts to sell is easy, you won't need to be Picasso to make a work of art like this!
10. Minimalist Wooden Christmas Ornaments
If you're planning to sell a wooden Christmas ornament to loved ones and your community, then these are striking pieces that don't require any painting!
Even without the paint, you can already tell how festive these ornaments are just by shape alone. They are perfect for minimalists who want to add more natural elements to their trees.
11. Snoopy, Charlie Brown, Peanuts Family Dog House
Let's not forget our loving and faithful doggos this Christmas season! Like me, people are out to spoil their pets this Christmas, so why not create a doghouse inspired by the Snoopy, Charlie Brown, and Peanuts family?
It may take a bit more work to make but trust me, the sales will go up!
12. DIY Mickey Mouse Grapevine Wreath
The magical elements of Disney make the holidays all the more magical.
It brings out the inner child in people of all ages, which is why you'll never run out of customers when offering this Mickey Mouse wreath. The kids are going to love it as well!
13. Amusing Wooden Jack Skellington Ornaments
Combine Halloween and Christmas with these Jack Skellington ornaments.
Don't worry, you won't have a nightmare before Christmas selling these, but you'll bring dreams to life as you earn enough to buy what's on your wish list.
14. Decorative Christmas Tree Stand
You've got to have a Christmas tree when celebrating the holidays!
Whether you already have a Christmas tree set up or don't have the space, people are going to love this handcrafted shelf! It can act as a decorative tree and storage for plants and books.
15. Charming Snowflake Holiday Coasters
Can't wait for winter to come? You aren't alone!
If the snow hasn't arrived yet, bring some of it to the community with these beautiful holiday coasters, featuring pretty snowflakes. Everyone's going to want coasters to protect their tables from eggnog or hot choco!
16. Simple Christmas-Themed Wooden Bench
If you're quite the handyman, you can make money with woodworking by designing elaborate furniture that's functional and attractive.
This Christmas-themed wooden bench is the best addition to entrances, whether it'll be used as a comfy spot for people to sit on or for placing more holiday decor on.
17. Colorful Christmas Wooden Garland
Add more color to everyone's home by creating and selling this vibrant wooden garland.
Not only are they attractive Christmas decor, but they can also be used after the holidays. Talk about a multi-purpose handcrafted product.
18. Wooden Santa Claus Ornaments
You better watch out and you better not cry, because Santa Claus is already here thanks to these wooden ornaments, checking to see if the kids have been naughty or nice!
With unique creativity skills and passion in each handcraft, not one ornament will be the same. All your customers will receive a unique ornament to cherish!
19. Rustic Tabletop Christmas Tree
People can never have too many Christmas trees in their home or place of business! Even restaurants will want to purchase handcrafted tabletop Christmas to decorate their tables.
This product will give off a homey and cozy vibe, which is what the holidays are all about!
20. Attractive Wooden Christmas Sign
Here's another way to welcome guests into your home this holiday season!
These wooden Christmas signs take almost no time to make, and with the right slogans and creative skills, you can sell a lot of these! I recommend being open to custom orders so buyers will have their special message to share.
Enjoyed this post? Don't forget to share it and follow me on Pinterest! 🙂