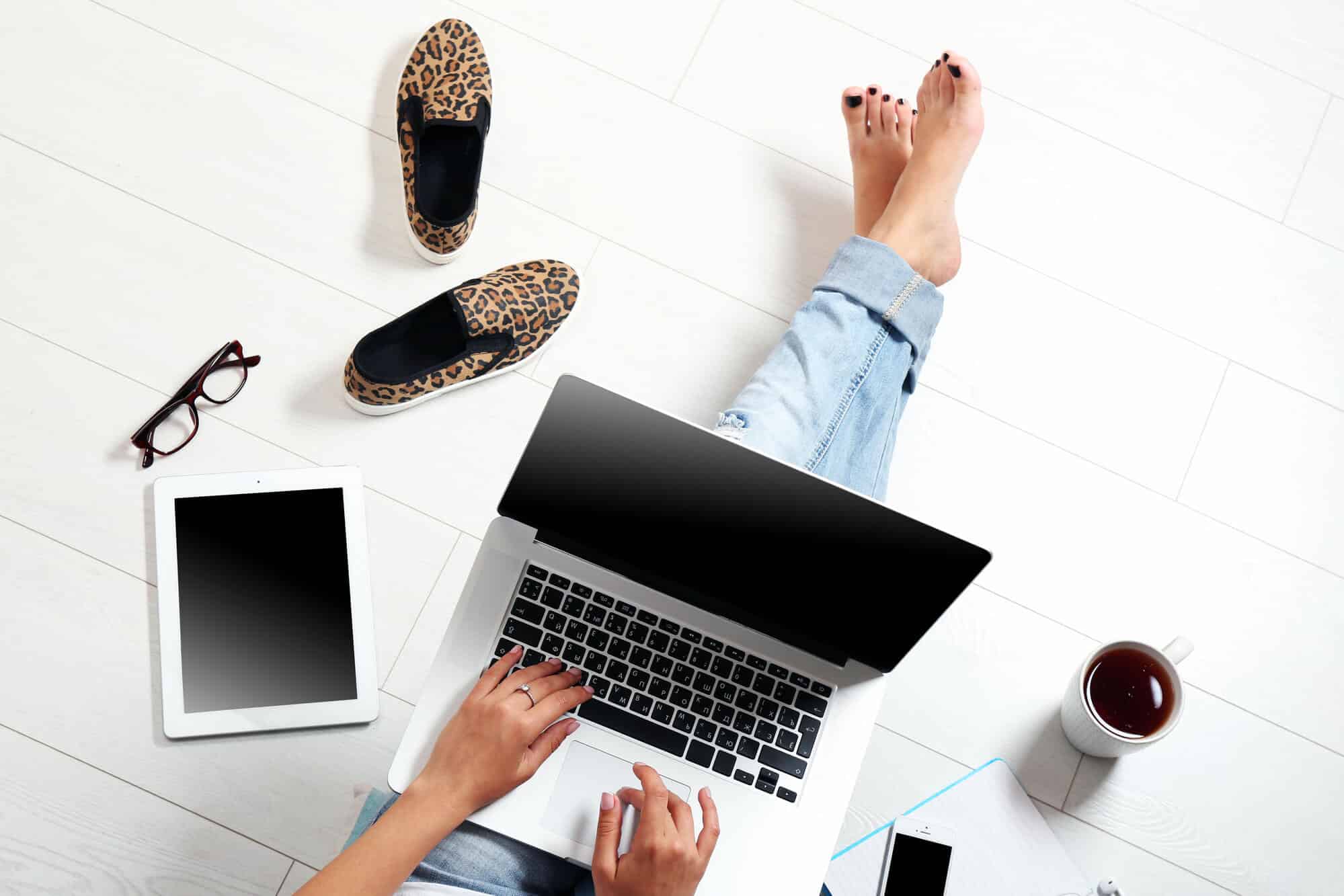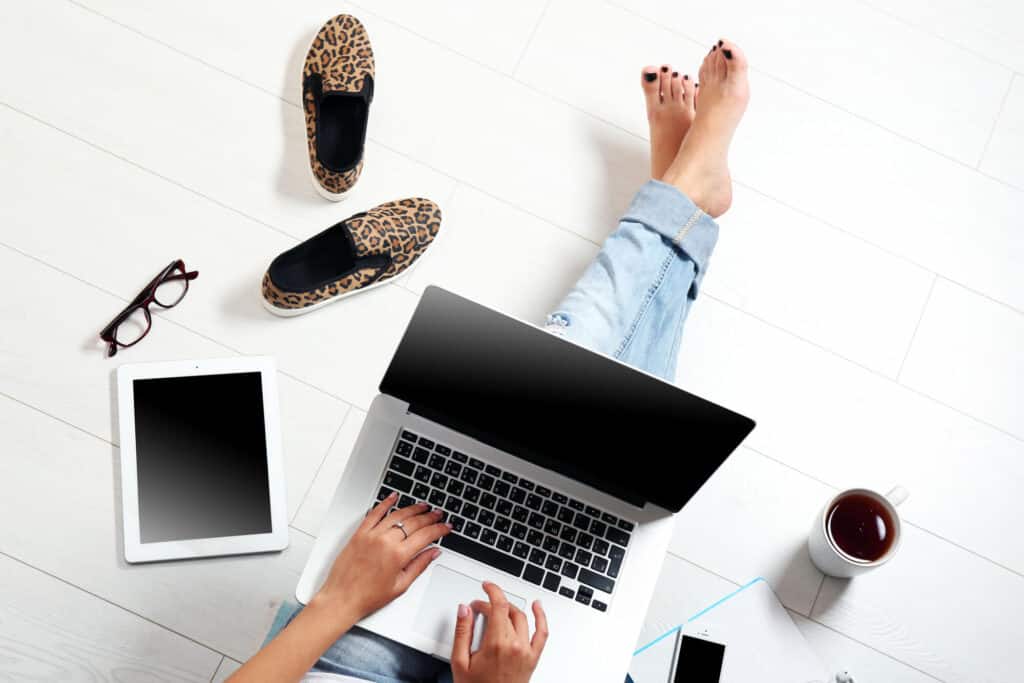 We will receive a commission if you make a purchase through our affiliate link at no extra cost to you. Please read our disclosure policy for more information.
Hello everyone!
Today, I am really excited to share my honest review of Michelle's affiliate marketing course, Making Sense of Affiliate Marketing.
There are many pros and cons that I can't wait to tell you about before you throw in your hard-earned money and make your investment worthwhile.
Now, if you want my quick opinion on whether or not the course is worth it, I will say yes, it is worth the money! I really owe it to this course because it has helped me earn my very first $1,000 in monthly affiliate income as a new blogger before growing it to over $10,000 per month. I've even had months where I earned as high as $20,000 and beyond, which is insane and unbelievable!
You can also check out one of my blogging income reports to see how I make money online with my blogs.
For those of you who don't know, Michelle blogs at Making Sense of Cents and consistently makes over $100,000 every month from her blog (over $50,000 comes from affiliate marketing). In June, she made $57,228 alone from affiliate marketing and she will be here sharing some of her best tips.
Throughout this review, you will learn how powerful affiliate marketing is, and how you can leverage it to boost your blog income.
This post is perfect for beginners who want to learn how to make money with affiliate marketing.
It is also perfect for bloggers who haven't had much success with affiliate marketing.
What is Affiliate Marketing?
For those who don't know what affiliate marketing is; it is simply earning an income when someone buys a product or service you recommend through your affiliate link.
To give you an example, one of my favorite personal finance books that I recommend throughout my blog is The Millionaire Next Door (this is my affiliate link) which you can buy from Amazon. If you click on my affiliate link and make a purchase, I would receive a small commission at no additional cost to you.
This is an illustration of one of my previous Amazon affiliate earnings for the month — $841.87: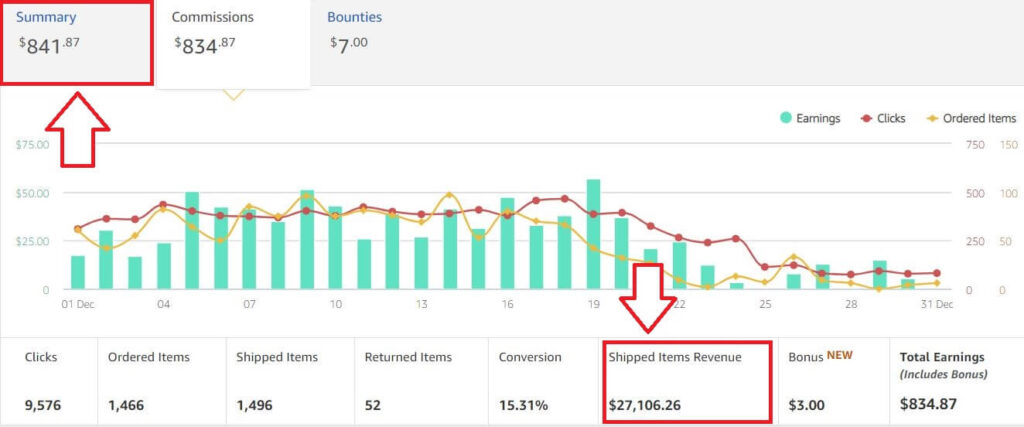 I must admit, Amazon Associates is not my main earner, and it's not one of my favorite ways to monetize with affiliate links. As you can see, they pay you peanuts compared to other affiliate programs. However, these small commissions add up and can feel quite passive without you having to lift a single finger!
That was just an example for illustration purposes and you need to know that affiliate marketing isn't about placing random affiliate links into your blog posts.
I've also earned a healthy amount with other affiliate programs outside of the Amazon program like this one particular one here:

As you can see, there's a winning strategy that Michelle talks about in her affiliate marketing course.
Making Sense of Affiliate Marketing Review Updated in 2023
I also had the pleasure of interviewing Michelle. You can check it out here and learn more about Michelle Schroeder-Gardner in my honest review of Making Sense of Cents. The review includes her interview and her thoughts on affiliate marketing.
I personally took this course myself when I first started my blog several years ago and it definitely changed my life since then! Of all the beginner and intermediate courses I've taken, I can't recommend her course enough.
I haven't met Michelle in person, but we've communicated a lot of times through e-mail. I do have to say that Michelle is an amazing person. She has been very helpful and is always willing to answer any questions you have as long as you are genuine.
Again, I will give you my honest thoughts throughout this blog post including what could have been included to make it better. But overall, I must say that this course is packed with information and it's super easy to follow through!
I highly recommend this course to anyone who is looking to start making money with affiliate marketing. It's a great investment and you won't regret it!

You can click here to learn more about Making Sense of Affiliate Marketing.
What is Making Sense of Affiliate Marketing course?
Michelle created Making Sense of Affiliate Marketing back in 2016 (it is updated regularly too), and it has been popular ever since.
She has helped over 8,000 bloggers, including myself as one of her former students, learn how to make affiliate income on their blogs. Michelle created her course because she was constantly being asked what she was doing to earn an affiliate income, and she decided that an e-course would be the best way to help many bloggers all at once.
Up until 2022, Michelle has earned over $5,000,000 from her blog since she started, so she definitely has had a few strategies that have worked quite well over the years!
My Real Results After Investing in Michelle's Making Sense of Affiliate Marketing Course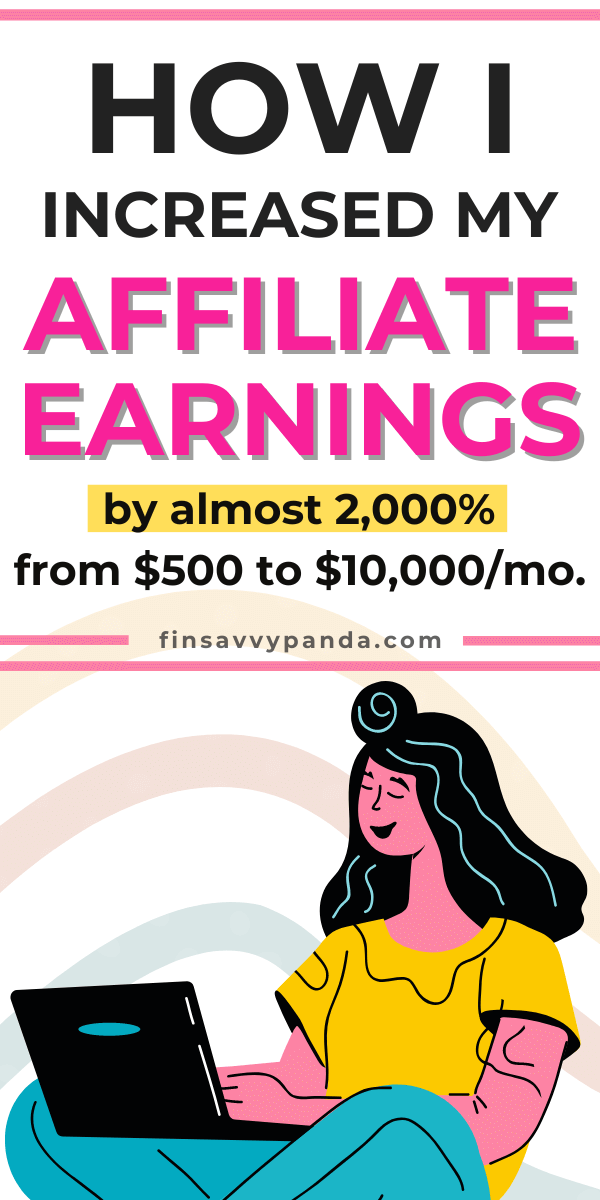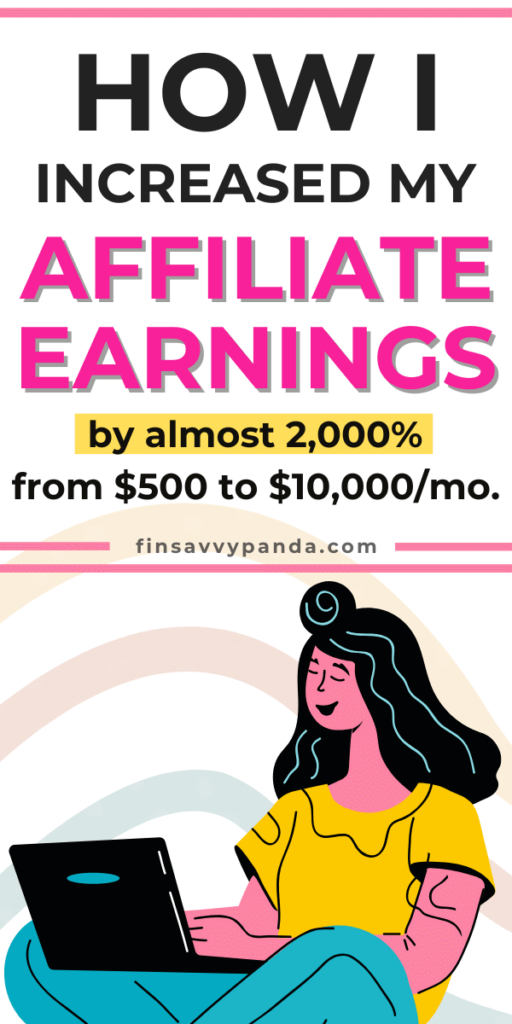 Be sure to click here and pin this image to your "Affiliate Marketing" Pinterest board so you can refer back to this page for future reference!
For those of you who follow my blog, you will know that I've been experimenting with Michelle's affiliate marketing strategies in her e-course.
I mentioned so many times in my blog income reports that I was initially skeptical of purchasing her course because I was scared and didn't know what to expect. But I finally took the plunge and after implementing her strategies, I saw a huge difference in my blog income!
Before I was earning a BIG FAT $0 from affiliate marketing.
Then, when I signed up for Michelle's Making Sense of Affiliate Marketing course, I was consistently making $400-$500 each month using affiliate marketing.
In August, my affiliate income jumped to over $1,500.
And in the next month, September, it increased to over $2,000! You can read my raw and honest blog income report series through my blogging archive for proof.
My August blog income report is where I saw a 300% increase in total blog earnings due to 1) blog traffic increase and 2) MOSTLY the strategies implemented from Michelle's affiliate marketing course.
Check it out to see how I increased my affiliate income substantially from $510.80 to $1,942.95 in just ONE month as a brand new blogger – that's a 280% increase in my affiliate earnings within a month!
UPDATE: After my 17th month of starting my blog, I am now consistently making well over $10,000 per month with some months earning beyond $20,000, and over 70% of that income comes from affiliate marketing!

I've documented my affiliate marketing journey in my past blog income reports listed below.
This wouldn't have happened if I didn't take the leap in starting my blog from scratch and learning the foundations of affiliate marketing from Michelle's e-course.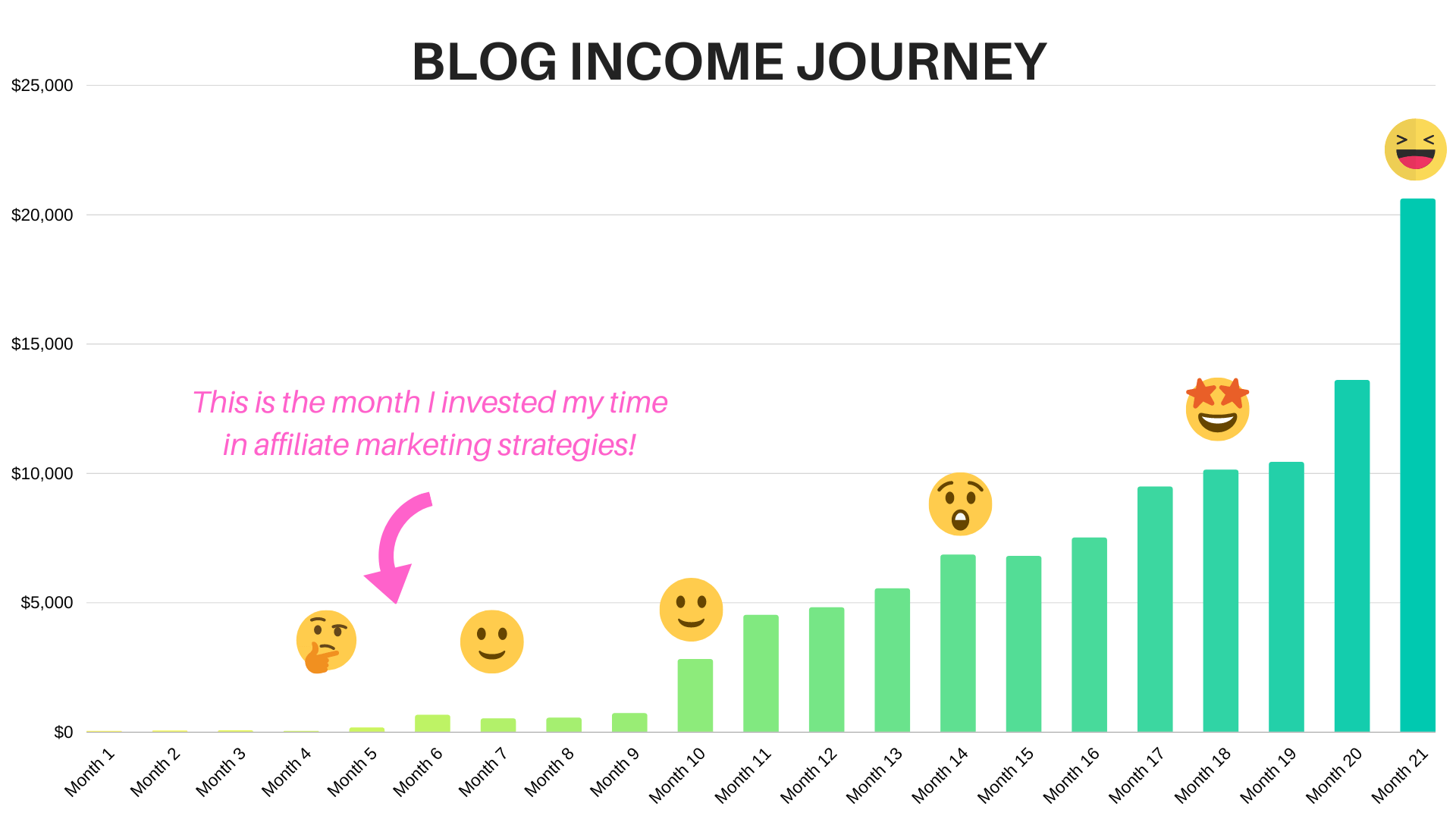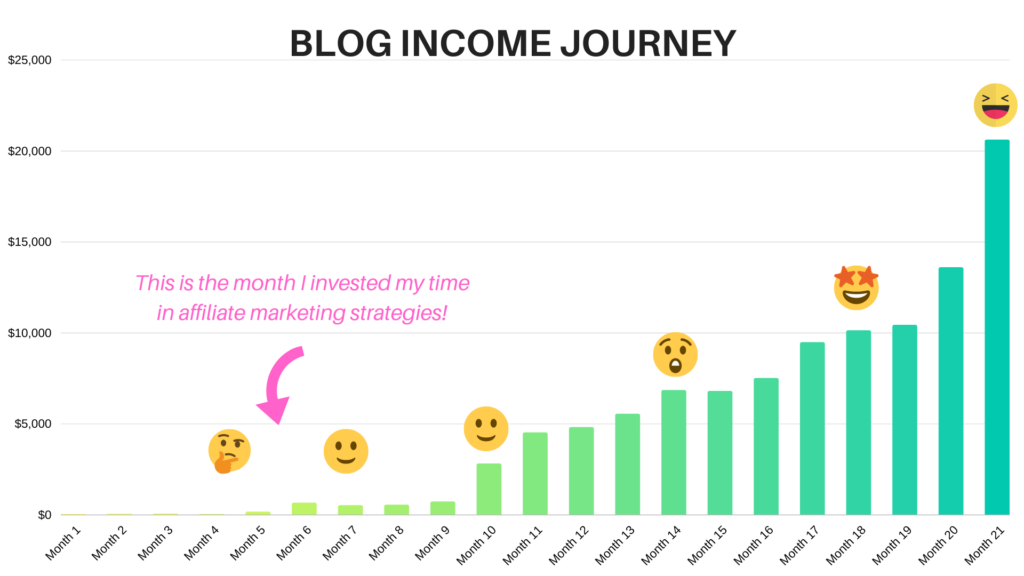 My Blogging Journey and Income Reports:
What's inside the Making Sense of Affiliate Marketing e-course?
In Making Sense of Affiliate Marketing, there are 6 modules, over 30 lessons, over 20 worksheets, bonuses, an extremely helpful exclusive Facebook group, and so much more. That includes the following
What affiliate marketing is and how it works
Why affiliate marketing is great
The exact steps I've taken to earn over $300,000 from a single blog post
How to pick the right affiliate products to promote
How to increase conversions
How to build trust and not lose followers
Required disclosures that you need to know about
The one major tool you need for affiliate marketing
Different strategies to use to promote your affiliate products
How to use Pinterest to succeed at affiliate marketing (yes, this includes the newest Pinterest affiliate rules)
Who is Making Sense of Affiliate Marketing For?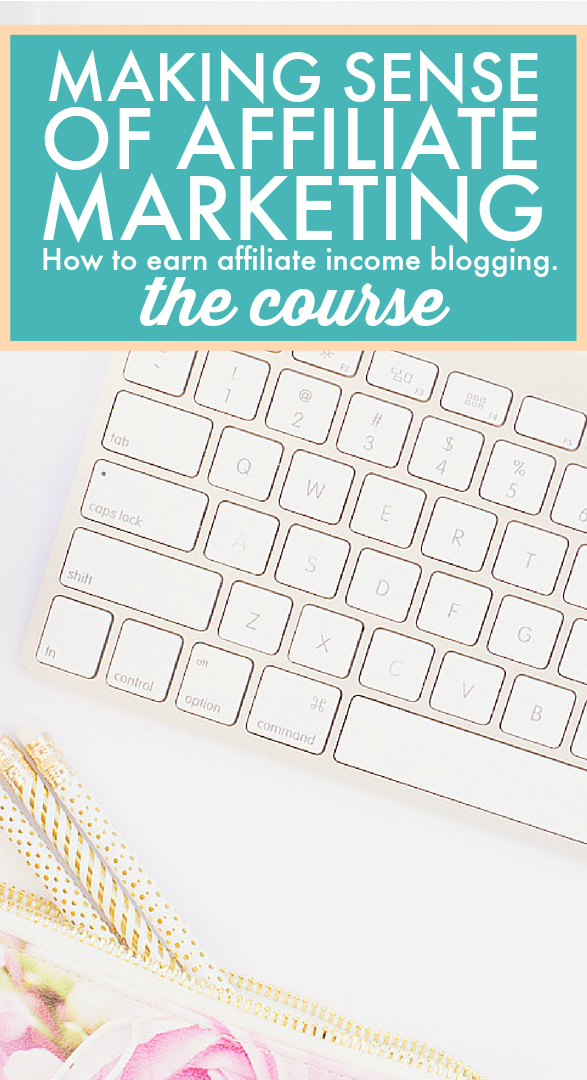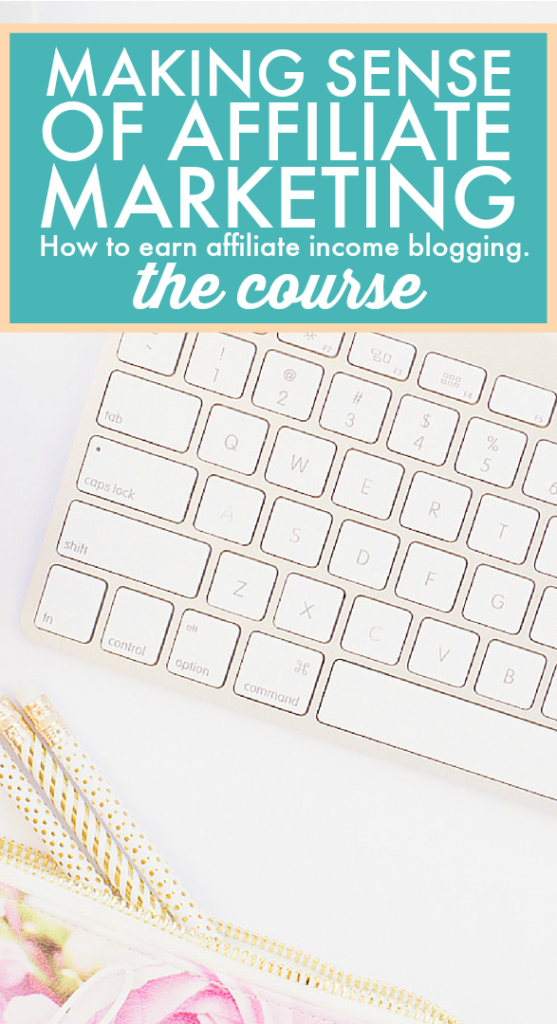 Michelle has been the go-to expert for many bloggers when it comes to affiliate marketing, and she goes through everything that new and intermediate bloggers need to know about making money through affiliate marketing on their blogs. Here's who the course is right for:
1. Beginner and intermediate bloggers
One thing that I personally love is that Michelle knows how to speak to beginners. And trust me, if you haven't earned much with affiliate marketing, then you'll want someone to "dumb" it down for you.
When you are walking into the room feeling cold, you want someone to give you a nice warm blanket.
That's exactly what Michelle does in this course – she provides a cozy, warm blanket for newbies making them feel comfortable with their personal progress so they don't lose their motivation or focus.
2. Those looking for plain and simple language
The language that Michelle uses is simple and easy to understand, yet very effective.
This is something that many "experts" and "authoritative gurus" lack to deliver when they communicate with their students. They simply forget that beginners are not at their level, so they will unknowingly throw unfamiliar jargon at your face and give you all sorts of things to do that will make you feel far away from reaching your next goal.
Many so-called gurus would even naturally skip the perquisites assuming you already know the basics because, in their heads, they think it's common sense (when it really isn't).
This is not the case with Michelle. She goes through each and every single step so that you understand it and can take action on it.
For example, there are required legal disclosures that beginners need to know about when they do affiliate reviews or mention an affiliate link. Michelle goes straight to the point (cutting out all the BS and complex theories) on what you need to do and how to disclose your affiliate links without using "sophisticated" language. The last thing you'd want to freak out about is improperly disclosing your affiliate links.
3. Those looking for all the information organized nicely in one guide
The way she explains things is also very down to earth, so you feel like she's your friend who's just sharing her knowledge with you instead of some guru trying to complicate the process by "teaching" and showing off the advanced things they know, which usually makes it hard for students to grasp.
Think about it. If you're in Kindergarten learning how to count from 1 to 10, the last thing you want is your teacher throwing a multiplication timetable at you, or introducing Grade 12 calculus, and telling you to get started.
That would just confuse you, right?
This is what a lot of "gurus" do – they show off their knowledge instead of breaking the basics down for students, which makes it really hard for beginners to understand what's going on. Michelle avoids this entirely, and that's one of the reasons why her course is suited for you if you're not making any money with affiliate marketing yet.
4. Independent learners who are looking for a self-paced program
What I really like is the fact that her course is self-paced which is great because you can go through it as quickly or slowly as you need to.
You can give yourself mini goals by setting aside 60 minutes each day to go through a module. There are 6 modules with various chapters and sections, so it could take you up to 1 week to finish the course if you are pacing yourself.
What I also appreciate is that when you read each section, you'll realize that she's real and transparent with her strategies. This is something you don't see a lot of in the blogging industry. She has nothing to hide from beginners or intermediate bloggers and wants to help you succeed as much as possible!
5. Group support, feedback, and questions
Yes, this course is perfect for independent learners, but it also comes with an exclusive Facebook group.
The Facebook Group is a support community and it's where you can get feedback, ask questions, and interact with other students in the course.
It's a great way to network and connect with others who are on the same journey as you! I am not much of a vocal or outgoing person in groups, but I've benefited a lot just by reading other people's questions and seeing how Michelle responds to them.
6. Those who acknowledge that you need to put in the effort
One thing that I want to point out is that this course is not a "get-rich-quick" scheme by any means.
It will take work on your part to see results. But if you're willing to put in the work and follow her instructions, then you will see results.
Who is Making Sense of Affiliate Marketing Not For?
There are many different types of affiliate marketing courses out there, and not all of them are created equal.
If you're expecting to make a full-time income from this course alone without putting in the work, then this is not the course for you.
This course is also not for those who are looking for a "push button" solution or a get-rich-quick scheme. If that's what you're looking for, then you will be disappointed because this course is not about that.
This isn't for people who come up with excuses or those who are looking for someone to hold their hand throughout the entire process.
I will tell you honestly right now that you will have to take initiative, put in the effort, and implement all her strategies to see results. But in order to see results from implementing her affiliate marketing strategies, I highly recommend learning how to attract a high-quality audience by getting traffic to your blog first.
PRO TIP: One BIG mistake I see many bloggers make is implementing affiliate marketing strategies onto their blogs and they would endlessly ask why they aren't making any money yet.

When 99% of those bloggers send me their websites for me to audit, I can see that the problem is they barely have any traffic or pageviews! This may sound like common sense, but you really need to ask yourself honestly whether you're getting any traffic to your blog.

You NEED to have some sort of traffic (e.g. at least 5,000 per month) before you can strategize and earn an income with affilaite marketing.

For beginners, I encourage you to learn how to get traffic from both Pinterest and Google before monetizing your blog!
So, if you have zero or very low traffic, then you may want to consider investing in a Pinterest traffic course like this one here before you really jump into the affiliate marketing game.
Aside from having no traffic, this also isn't for those of you who are already earning a full-time income with affiliate marketing.
If you're banking in over $10,000 alone from affiliate marketing and you're looking to level up, then you are not the audience for this course. But of course, you're still free to invest in the course to get access to Michelle's exclusive Facebook group, which is a great networking opportunity.
This course is for those who aren't earning a full-time income with affiliate marketing yet and are willing to put in the effort to learn and take action. If you're not willing to do that, then don't waste your money.
My Personal Experience with Making Sense of Affiliate Marketing
I wrote the majority of this blog post during the time when I was new to blogging, so it reflects my progress and journey from my beginnings…
If you want to learn more about how to make affiliate marketing work for you, then you should enroll in Making Sense of Affiliate Marketing. It is one of the best investments I made for my blog when I was a beginner.
One of my favorite parts of the course was the module where she gives you her secrets and the exact steps she took to earn over $300,000 from ONE single blog post!
This is probably one of the modules I'll never forget because it changed my affiliate income immediately when I implemented her tip – you can check out my August 2018 blog income for that example.
I managed to increase my affiliate income by 800% with just a quick minor change! I went from earning peanuts to $952 with just ONE affiliate network in a month!
A lot has changed for me since my beginning years of learning and implementing affiliate marketing strategies onto my blog. This was pretty much my turning point and I'm so grateful that I made the decision to join Michelle's course.
Since then, I have generated a full-time income from my blog earning as high as $20,000 USD per month alone in affiliate income. If you're on the fence about whether or not this course is for you, then let me give you a piece of advice: Just do it.
I was actually willing to make a bet and be ready to lose $197.
I walked in acknowledging that this may not work out for me and that I could have wasted $197. I was okay with that because from my personal experience, that are no guarantees in life. You have to take that small chance and put in the effort.
To my surprise, I was rewarded greatly for it.
In fact, I gained so much more from the course, and I know you will too if you walk in with the "I am ready to do this" mindset.
If you're not happy with the course, then Michelle offers a 30-day money-back guarantee so you have nothing to lose! Though honestly, even if it didn't work out for me, I would NOT ask for my money back – that's just my etiquette.
UPDATE: I'm also going to add a quick section of my brutally honest feedback about Making Sense of Affiliate Marketing to help you make a decision on whether you want to buy it or not. It will include my non-biased opinions, so they will be the raw and honest truth on how I really feel about Michelle's course.
Pros of Making Sense of Affiliate Marketing Course
Michelle speaks very conversationally throughout the course, so you'll find it very easy to understand. This isn't even an exaggeration as I haven't come across anyone who speaks or teaches the way Michelle does! I'm still so speechless about the way she writes and presents herself!
I don't think there's any other affiliate marketing course out there that makes it as straightforward as Michelle's.
You'll likely see results if you're a beginner who has followed through and implemented her teachings.
It feels like she's literally "hand-holding" you throughout.
Her steps are very actionable.
She doesn't hide anything from you like what most bloggers do base on what I see and experience.
There's no fluff or BS in this guide.
Michelle goes straight to the point on exactly what to do that will help you get from point A to B, from B to C, and so on.
If you already have some traffic on your blog, you'll likely see immediate results in the next 24 hours (like how I immediately earned over $100 in a just few days when I was still a beginner).
Her affiliate marketing strategies apply to any niche including food, beauty, travel, self-development, parenting, business, finance, and more.
She gives you a list of all the best affiliate programs that are actually worth your time, which are also broken down by niche.
Michelle covers a section on how to avoid getting rejected from affiliate programs, which is highly valuable.
One of the most worthy sections to go over is the part where she talks about getting a commission increase from an affiliate program (this was a game-changer for me).
You can finish going through her course in 1 to 2 days, but it will take a few to several months to implement.
She provides an exclusive Facebook Group as a bonus where you can ask questions and get all the help you want from other intermediate and seasoned bloggers 24/7.
Michelle offers help and personal feedback once every second Sunday in her Facebook Group, so you'll get the support you need exclusively from her.
Cons of Making Sense of Affiliate Marketing Course
Her writing style may come off as "too casual" and "too down to earth" for technical people who are looking for information like an "academia" research paper. But honestly, her "casual" tone is what makes it so easy to understand for anyone!
Because she's so "chilled" and "casual" with the way she writes and teaches, you may treat her golden nuggets as nothing valuable when in fact there is a GOLD MINE in here! You just have to read, re-read, absorb, and take every little word she says in the course seriously no matter what!
Doesn't cover advanced affiliate marketing strategies that involve analytical tracking according to some students who took it. But in my opinion, that's usually for those looking to earn more than $10,000 or even $20,000 per month, so it's not relevant here.
There are no facts, analytical lessons, or mentions of any external sources for additional reading. The absence of this information didn't bother me at all and I was still able to see amazing affiliate results without it. But I know there are analytical bloggers who like reading more information about the facts and numbers.
The course is mainly in writing format (like an e-book) without a lot of visuals or videos – no videos weren't a deal breaker for me, but I know some people who like videos.
Michelle gives a lot of personal examples and screenshots of what she does exactly with her blog to earn over $50,000 per month (that's actually a pro), BUT if the student lacks critical thinking skills or common sense, then they may find it a little challenging to apply those teachings to a different niche.
In other words, Michelle doesn't use blogs outside of personal finance or business as real-life examples (since she doesn't personally blog about other niches), so the student may need to have common sense and a certain level of critical thinking to apply Michelle's personal examples.
Just an FYI: I also blog about things outside of personal finance and business. Despite that, I'm still able to earn a great and consistent affiliate income after implementing Michelle's taught strategies, so I am confident you'll see results despite being in a different niche.
How much does making sense of affiliate marketing cost?
The value of Making Sense of Affiliate Marketing course far exceeds $197, and this is the most affordable price it will ever be offered at.
FAQs About Making Money with Affiliate Marketing
Since starting this blog, lots of students have asked me about how to start their own blogs and make money with affiliate marketing. I've also gotten questions about how to use affiliate marketing on Pinterest. To save time on replying to individual emails, I've put these questions in this FAQs section on affiliate marketing. This way, I can help even more people.
1. Is affiliate marketing even worth it for beginners?
Yes, it's totally worth it.
If you're just starting out, give affiliate marketing a try. It isn't risky, it won't cost you much, and you can make it grow over time. There's no cap on how much money you can make from it. With hard work, a solid plan, and patience, you could even bring in a six-figure income.
Keep in mind, you will likely start small but as your traffic grows, you may see your affiliate income stream grow as well.
I started by earning from display ads with Google AdSense and Mediavine, then I added affiliate marketing. In less than two years, I was making six figures a year from affiliate marketing.
2. Can you really make money doing affiliate marketing?
Yes, you can indeed earn money through affiliate marketing. In this example, you can see how I make $500 a day online solely from affiliate marketing, which is directly deposited into my bank account.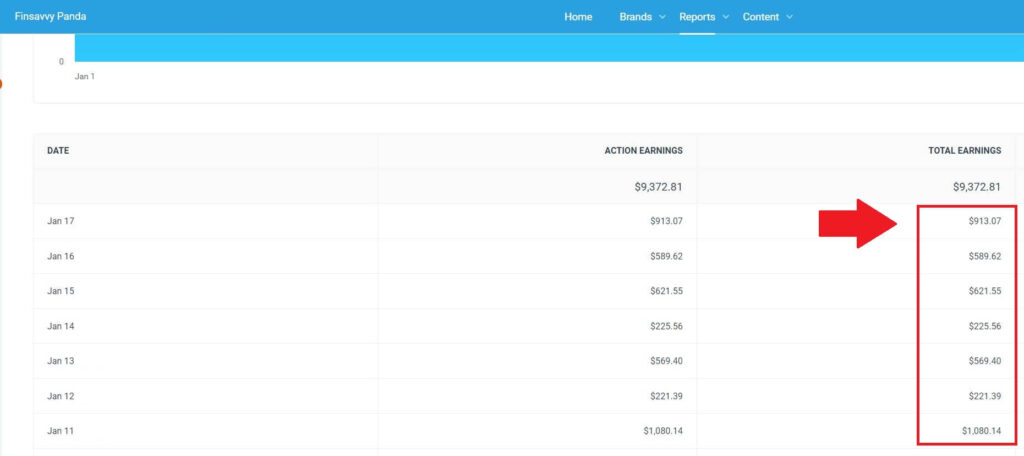 You can also see other screenshots here that show my other affiliate earnings via PayPal: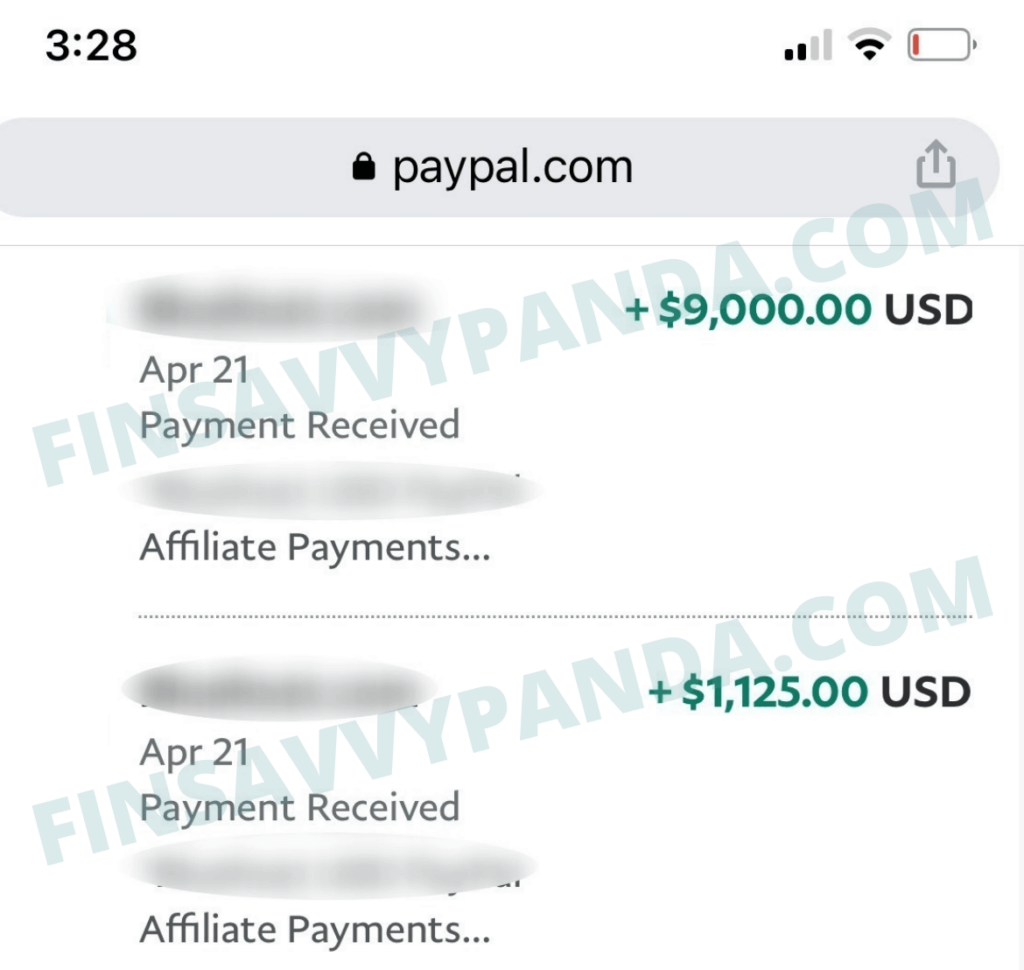 3. Is it hard to make money as an affiliate?
Yes, as a beginner blogger, navigating through affiliate marketing felt like an uphill battle. But this is a common experience for anyone who is new and still learning.
When I made my first $100 through Google AdSense, earning money online was challenging, mainly because I had no idea what I was doing. However, investing in a beginner's course in affiliate marketing was a game-changer. I went from earning nothing to making my first $100 and then $500 through affiliate marketing. That's when my website traffic started to increase, allowing me to strategically create content to generate income through both display ads via Mediavine and affiliate marketing.
After I started earning over $1,000 per month through affiliate marketing as a beginner, things began to feel a little less daunting. As I scaled my efforts, I was able to boost my affiliate earnings to $10,000+ each month.
4. How much can a beginner affiliate make?
Glassdoor reports that the yearly average income for an affiliate marketer is around $76,498. This can fluctuate between $68K and $176K when considering extra compensation avenues such as cash bonuses, commissions, tips, or profit sharing.
That said, these figures relate to salaried employees. So, what does the income picture look like for freelancers or business owners who engage in their own affiliate marketing? Insights from a survey conducted by Influencer Marketing Hub showed that over half of all affiliate marketers earn $10K or less annually, and just about one-third earn more than $10K per year.
Those figures aren't promising. They're definitely not enough to make a living in most places. However, I think this is mostly because most of the people surveyed don't do affiliate marketing as their full-time job. On top of that, many people who have full-time demanding jobs may find it hard to dedicate time, effort, and consistency to this avenue.
From my own experience in the affiliate marketing field and my conversations with fellow bloggers, content creators, and my own affiliate managers, I've observed that most affiliate marketers likely earn under $100K per year. It could be anywhere between $25K and $60K, which is fantastic for supplemental income! It's also worth noting that those who earn less from affiliate marketing could be making more from other online revenue streams, such as display ads, selling their own products, sponsored posts, etc.
But remember, this is based on my personal experience, so take it with a pinch of salt.
5. How can I get started with affiliate marketing?
To start with affiliate marketing, first, identify your niche—what interests you and what you can create content about. I have a post that walks you through how to choose a profitable niche.
Next, build a platform, like a blog or YouTube channel (though I prefer blogging due to my introverted nature), where you can share content.
Consider joining relevant affiliate programs (like Amazon, CJ Affiliate, etc.) that offer products related to your niche. Once accepted, you'll receive affiliate links for their products. However, one critical factor to be mindful of is applying without sufficient traffic. I would not recommend this, as these programs may remove you if your traffic is inadequate, wasting both your time and theirs. Therefore, make sure you have a significant amount of traffic before applying to any affiliate programs.
What you'll want to do is create quality content about these products and embed your affiliate links. Promote your blog and content on social media like Pinterest to reach more people.
6. How can I make money with affiliate marketing on Pinterest?
To make money with affiliate marketing on Pinterest, first, set up a Pinterest business account. Then, post nice pictures related to your affiliate products and put your affiliate links in the pins or their descriptions. When people click your pins and buy something, you get paid.
To make more money, try to get more Pinterest followers and post regularly – you can learn how to use Pinterest to make money online. Make sure you follow Pinterest's rules about telling people when you use affiliate links. To do well, you need a good plan and need to put in time and effort.
I also want to mention that instead of placing affiliate links directly on the pins, I recommend linking the pins to blog posts that contain your affiliate links. From my experience, people are more likely to buy from affiliate links within a blog post than directly from a pin. So, drive traffic to your blog using Pinterest. Get more followers and post regularly to increase your reach.
A Wrap-Up of Making Sense of Affiliate Marketing Course Review
Weighing the pros and cons, I can honestly say that Michelle's course is worth the price tag and investment for beginner and intermediate bloggers.
If the course actually included the things I mentioned were missing under my cons review (e.g. analytics, facts, numbers, and additional examples of every single niche), then the course would be priced much higher.
I would say probably between $500 to $700 if you're looking for advanced strategies and some insider secrets (which I doubt anyone would reveal even for a high price)! I have yet to see a course like that exist with all of that information!
And if I had to be honest, I was a little surprised that Michelle was willing to share certain screenshots of her affiliate earnings, which I ALWAYS see the top bloggers trying to hide or beat around the bush about even in higher-price courses. She was very generous in doing that and it's unfortunate that many people don't acknowledge or appreciate that gesture!
Those particular screenshots gave away valuable information when you closely observe the charts, numbers, trends, etc. If anything, this is a small part that I believe many people overlook or don't pay much attention to without realizing it.
At an affordable price of $197 that comes with an exclusive Facebook group that's supported by a pro-blogger who earned over $5,000,000, you honestly can't really complain about that!
I know I'm a happy camper and got my money's worth – well above and beyond what I paid for it!
Did you find my review on Making Sense of Affiliate Marketing helpful today?
I highly recommend this course to anyone who is interested in learning how to make affiliate marketing work for them or a beginner who wants to take their blog to the next level!
I hope my experience has helped you in some way and if you have any questions, please don't hesitate to leave a comment below or contact me directly! I would be happy to chat with you more about this awesome course. 🙂
Are you a beginner who wants to start a money-making blog?
I have an exclusive FREE 7-day email course to teach total beginners like you how to start your blog from scratch. I show you the EXACT steps I took to start a blog all the way to building traffic and earning a full-time income with NO tech and NO writing experience. My e-mail course has helped thousands of people start a profitable blog and I would love to help you too. Sign up below to learn how!
Enjoyed this post? Don't forget to share it and follow me on Pinterest! 🙂