This post may contain affiliate links. Please read our disclosure policy for more information.
November 2018 Blog Income Report
Welcome to my November 2018 Blog Income Report!
November 2018 marks my official 1-year Blogiversary!
I had actually signed up for this blog near the end of July 2017 but didn't do much to it. I wrote some posts (just like a diary) but ended up deleting most of them because I never had the courage to come out of my shell. So, I stopped thinking about this blog for a few months and was prepared for it to shut down on its own one day.
Say goodbye to the possibility of making money with a blog…
Out of the blue in October 2017, I decided to give it another shot! I didn't want this blog to go to waste without trying at least.
So, I wrote a few posts here and there, BUT AGAIN, I was afraid of going public and what people would think of me. With so much fear holding me back, I didn't know what to do with this blog. Should I just let it go? I was so lost. My mind was almost set at giving up again… 🙁
In November 2017, I decided to really give it a go! This time, I was serious about making a commitment! I said… screw what other people think! I wrote some real content, signed up for a Pinterest account, connected with a few like-minded bloggers, and learned A TON about blogging along the way! Finsavvy Panda was born! 🙂
When I first created my Pinterest account in November 2017…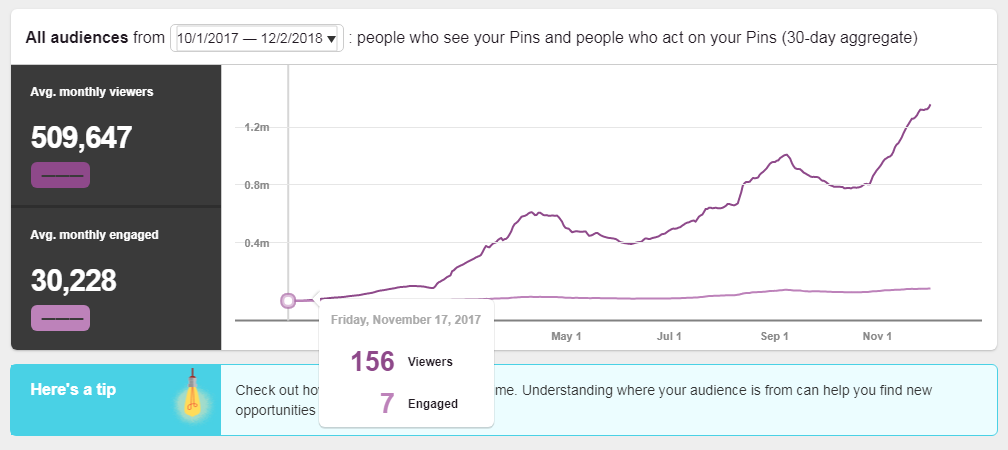 SO, after hearing my story, I want to start off by saying the same thing I said a few months ago:
For those of you who are nervous about starting a blog, or you started a blog but you're making less than $100, please don't feel discouraged. I was in the exact same position as you not very long ago! Just keep at it and focus on learning because you won't know when you'll start seeing results. The secret to seeing results is not giving up! Please head over to my July 2018 blog income report where I made $703.57. I will tell you that I was making ~$0 and struggling for many months in my blogging journey!
🌟 For beginners who are totally lost and have no idea how blogs make money, you can head over to my full guide that teaches you how to make an extra $1,000+ per month blogging. This is one of my top recommendations if you would like a fun side hustle that can make extra money on top of your full-time job!
I want this blog income report to be as real and authentic as possible. I've put in a lot of hours into this blog and most of those hours are spent tweaking older posts to see what affiliate marketing strategy works. That also includes making new pins for Pinterest so that I can promote them. As you can see, I DON'T spend most of my time writing new blog posts…
I also want to point out that both my daily traffic and earnings have been quite volatile so I can't predict what will happen next (that's why it's important to diversify both your traffic and income sources).
For example, I had a lot of last-minute affiliate earnings that came in during the Black Friday, which caused my blog income to increase by roughly ~$500+ out of the ordinary. This blogging journey continues to be a crazy roller coaster ride and I want you to be aware of that!
I'm constantly asking myself whether I can even make $2,000 to 3,000 in the next month. My fiancé tells me that he'll be happy for me regardless of what happens (he doesn't want me to feel any pressure)! Plus, he's REALLY surprised that this blog has been making over $4,000 per month since September! He even gives me the confused "W.T.F… are you effing serious" look when he sees money coming into my bank account from Mediavine and affiliate programs!
I'm not trying to self-handicap myself, but I am just telling the truth and how I really feel… I honestly HONESTLY don't know where or how far this blog will go, but I'll continue to put in my best efforts in the months ahead! This is my way to tell you guys to not give up regardless of where you are in your blogging journey!
Just like you, I saw ALMOST NO results at the beginning for many months!
Well, just keep swimming, Dory…
I've been thinking whether or not I should put these income reports on a hold because 1) I am afraid of coming off as bragging or lying (or even both) and 2) it takes me a while to prepare them.
On top of that, I'm actually starting to feel that my income reports are coming off as another "How I made blah blah blah blogging…" because my numbers don't look very realistic for beginners or those who have been struggling to make their first $100 to $1,000 after many months.
I really want to help beginners and those who just aren't seeing any results with their blogs. With that said, I may stop my blog income reports and come up with more helpful posts that will guide you in making your first $100 or $1,000 blogging.
If you're new and have been wanting to start a profitable blog but just not sure where to start, you can sign up for my FREE 7-day e-mail blog course here!
I want to show others that IT IS POSSIBLE to build a blog and earn extra money on top of their full-time jobs. This includes helping stay-at-home parents who are seeking work from home jobs!
Just like you, I was REALLY skeptical about the idea of working from home and making money online over a year ago. But after seeing other bloggers' income reports and testing it myself, I realized that it is possible!
Don't forget to pin this to Pinterest for later!
This post may contain affiliate links. Please read our disclosure for more information.
Start your blog for cheap today!
You too can start a money-making blog today with the same hosting company that I use.
🌟 SPECIAL PRICING: I am so happy to announce that I was able to negotiate a new price for my readers. For a limited time, you can start your blog for only $2.95/month when you use my special link here. That's over 60% off regular pricing! Plus, get a FREE domain name ($15 value) when you sign up through my link. 

Take advantage of this exclusive discount while it lasts!
If you would like to learn more, please head over to my easy step-by-step tutorial for beginners here.
I want to say thank you SO much to those who support me through my affiliate links. Although most of my income doesn't come from blogging-related content, it still helps keep this blog running! So really, THANK YOU! 😊
Are you a beginner who wants to start a blog? Join my FREE 7-day course on how to start your blog the right way! 🙂
I also want to announce that I spent time last month working on a special project just for you. I created a new e-mail course that teaches beginners how to start a profitable blog!
I am really excited to share this with those who have been looking to start their blogs. If you want guidance and more info, feel free to sign up below! 🙂
Related posts:
February 2019 Blog Income Report: $7,498.94
January 2019 Blog Income Report: $6,790.93
December 2018 Blog Income Report: $6,840.01
October 2018 Blog Income Report: $4,798.01
September 2018 Blog Income Report: $4,509.50
August 2018 Blog Income Report: $2,797.64
July 2018 Blog Income Report: $703.57 (Perfect read for bloggers who are struggling)
Free Tutorial: How To Start a Profitable Blog Today
Now, before we dive into my blog income and traffic results, let's talk about what happened in November along with the things I learned which may be extremely helpful to you as well…
My Affiliate Marketing Results:
If you've been following my blog income reports, you'll know that I always bring up Michelle's e-course, Making Sense of Affiliate Marketing. It's been a total game changer for this blog — without it, I don't think I would've been able to grow my income to this level.
Believe it or not, I still haven't implemented all of her strategies because there is a lot to do and it will take some time. You can actually skim through her course within a day, but to ACTUALLY follow and implement ALL of her strategies WILL TAKE SOME TIME!
From the course itself, I have learned A LOT from Michelle's tips and tricks — this girl who consistently brings in over $60,000 per month (just from affiliate marketing) seriously knows her stuff! If you would like to learn more about Michelle, I did an Interview post with her here.
My blog income results (both from affiliate marketing and advertising display) after implementing Michelle's strategies: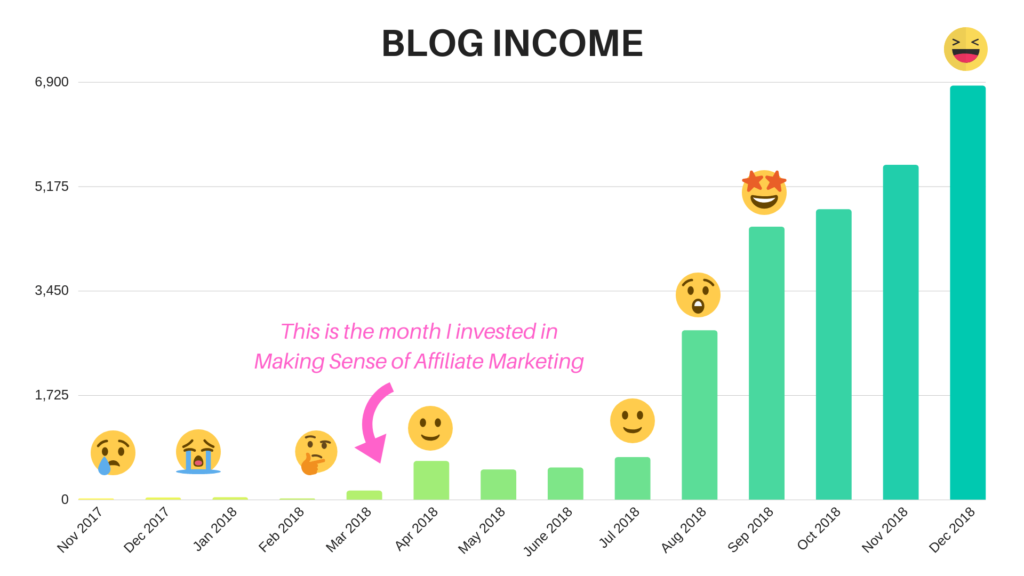 Related post: How I Made $6,840.01 Blogging in December 2018 (My Highest Affiliate Earnings To Date)!
Michelle's Private Facebook Group (FREE Bonus):
Also, I FINALLY joined her Private Facebook Group that's exclusive to Making Sense of Affiliate Marketing students. I know, it's been over 7 months… like seriously, where have I been? I guess I'm not really a Facebook type of person LOL! But surprisingly, I still managed to learn A LOT just by reading the feeds within her Private Facebook Group!
For example, Michelle has days where she would ask people to post their blogs so that others can give constructive feedback. Of course, you would have to critique others as well if you choose to post your blog in the group. Even when I'm not participating (I am quite shy), I'm still able to learn A LOT from reading other people's feedback.
There was a time I read one person critiquing someone else's blog where they said the person's blog or banner looked "VERY AMATEURISH" along with a quick paragraph of actionable tips. This really got me thinking about my own blog and I thought… "YIKES! Does my blog look AMATEURISH?? I should probably change my theme and design soon!"
YES, those words may sound harsh but we need some tough love if we want to improve our blogs!
With that said, Michelle's Private Facebook Group is a great resource to get tips on how you can improve your blog! It's not one of those "I'm going to be nice so I'm just going to say you have a great post and a great blog." This is REAL constructive feedback to help you step up your game! And yes, this group is really active so people in there are VERY likely to answer you (including some very established bloggers)!
Again, I don't spend a lot of time on Facebook, but I usually scroll through the comments in Michelle's group during my downtime. This helps me gain access to valuable blogging and affiliate marketing tips without wasting time on social media!
Overall, I really do think Michelle's Private Facebook Group is an excellent bonus! And YES, it is FREE to join (plus comes with other high-quality bonuses) when you purchase the Making Sense of Affiliate Marketing e-course.
Related post: How To Implement Winning Affiliate Marketing Strategies That Will Increase Your Conversions
Google SEO and Pinterest:
I mentioned in my last income report that I've been taking Mike's Stupid Simple SEO course.
I won't lie.
I actually had a lot of distractions last month. This includes updating and making pins for my holiday posts, so I didn't focus on Google SEO as much as I thought I would. I couldn't help myself but I was freaking out about the upcoming holidays!
On top of that, I spent a lot of time creating my FREE 7-day e-mail blog course for beginners.
Fortunately, I was still able to squeeze in some time to optimize a few of my blog posts for Google SEO near the last two weeks of November. One thing I REALLY regret is not paying attention to Google SEO when I first started blogging, but obviously, everything seems crystal clear in hindsight. When you really put yourself in the shoes of someone who is a true beginner, it's not easy to realize these mistakes especially when there's so much for new bloggers to take in.
I was aware that I should focus on Google but I didn't. Not because I didn't want to, but because it was hard for me to focus on too many things at once.
For example, I spent most of my time learning how to use Pinterest when I was new to blogging, which was definitely worth every second of my time! Seriously, Pinterest is a lot easier to get traffic from than Google when your blog is brand new! I was able to increase my blog traffic from ~18,000 to now over 90,000 monthly page views just by following EXACTLY everything in THIS affordable Pinterest e-book here!
I really wish this e-book was available when I first started my blog, but it wasn't yet at that time.
It's the only Pinterest resource I recommend to 1) beginners and 2) those who aren't seeing ANY results. This e-book is also perfect if you're looking for value without breaking the bank!
Up until today, I still continue to implement Ana's strategies from her e-book! She makes it very easy for you to follow because at the end of each chapter, she provides a checklist for you to complete. This ensures that you follow EXACTLY everything she outlines in her book without missing any details! You can check out the EXACT outline of what she teaches you here.
Again, I have to owe it to this book — it's one of the reasons why I'm able to make over $1,300 USD every month from ads alone!
❤ Ana was nice to provide me a coupon code for my readers. For a limited time, you can use the code, TSA5OFF, towards her e-book and get $5 off when you purchase her e-book here! The price is honestly very affordable and you get a TON of value from Ana's resource!

On top of that, you get over $50 worth of FREE bonuses!
My results after implementing Ana's Pinterest strategies:

Now that it looks like I'm getting steady traffic from Pinterest (KNOCKING ON WOOD), I'll be focusing most of my efforts on Google!
I also mentioned in my last blog income report that after going through one of Mike's modules from Stupid Simple SEO, I was able to rank from page 8 to page 3 for this particular post. Now, I'm seeing that I'm ranking on page 1 for lower competition keywords. I'm not sure how long it will last, but hopefully, I'll be able to hold my spot! I am actually starting to see some organic traffic coming from that post! 🙈
My blog traffic report:
It looks like my traffic increased to 97,443 page views (75,541 sessions) for the month, which I didn't realize until I logged on to check (see screenshot below)!
| | | | |
| --- | --- | --- | --- |
| | Sessions | Page views | % Change |
| February | 6,643 | 9,333 | |
| March | 20,370 | 26,685 | 185.92% |
| April | 18,956 | 24,573 | -7.91% |
| May | 11,133 | 14,811 | -39.73% |
| June | 13,325 | 17,307 | 16.85% |
| July | 34,426 | 43,226 | 149.76% |
| August | 71,415 | 88,536 | 104.82% |
| September | 65,884 | 84,225 | -4.87% |
| October | 69,013 | 90,225 | 7.12% |
| November | 75,541 | 97,443 | 8.00% |
Checking less of my Google Analytics!
Once you become more focused in other areas of your blog that generate a higher return on investment (ROI), you won't have time to constantly check your traffic.
I admit that when I first started blogging, I was constantly looking at my Google Analytics. I knew that I shouldn't be, but I couldn't help it! TRUST ME, I KNOW HOW IT FEELS! It's like having OCD and you just can't stop no matter how hard you try!
But now that I am focused on creating evergreen content, pins, courses, printables, optimizing my older posts for Google SEO, etc., I couldn't be bothered with checking my traffic as often. Doing this has definitely helped me a lot with focusing on things that actually matter. On top of that, I'm able to give myself some peace… finally…
(Okay, I still check once a day, or once every two days… better than 10 times a day??)
After blogging for over a year, I learned that traffic doesn't mean anything if you're not able to convert your readers. This is not to say that high page views don't matter. They do!
My next step is to learn how to convert my readers better!
Important lesson: My mindset has shifted to thinking in terms of "revenue per page view" rather than just "page views" itself! This is definitely something that I'm trying to improve on going forward.

Okay, I know you've been waiting to check these numbers out. So, let's take a look at my blog income for November 2018.
November 2018 Blog Income
In November 2018, I earned $5,532.13. Please note that this is in Canadian dollars before any expenses or fees. Payouts are before any expenses and occur 30-60 days.
Affiliate income – $3,304.33
Money-saving resources (Checkout 51, Ebates, $5 Meal Plan, survey companies, etc.) – $2,153
Amazon – $52.31
Blue Host – $510 USD ($652.80 CAD)
Making Sense of Affiliate Marketing – $229.60 USD ($293.89 CAD)
Tailwind – $15 USD (19.20 CAD)
The She Approach – $133.13
Here are a few screenshots for proof…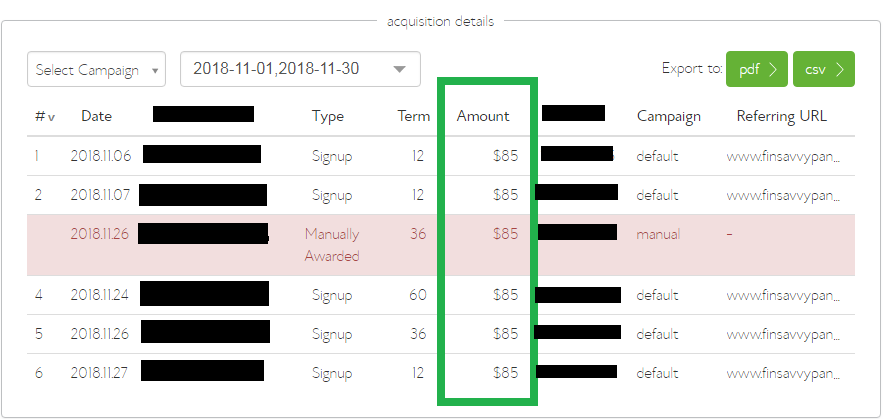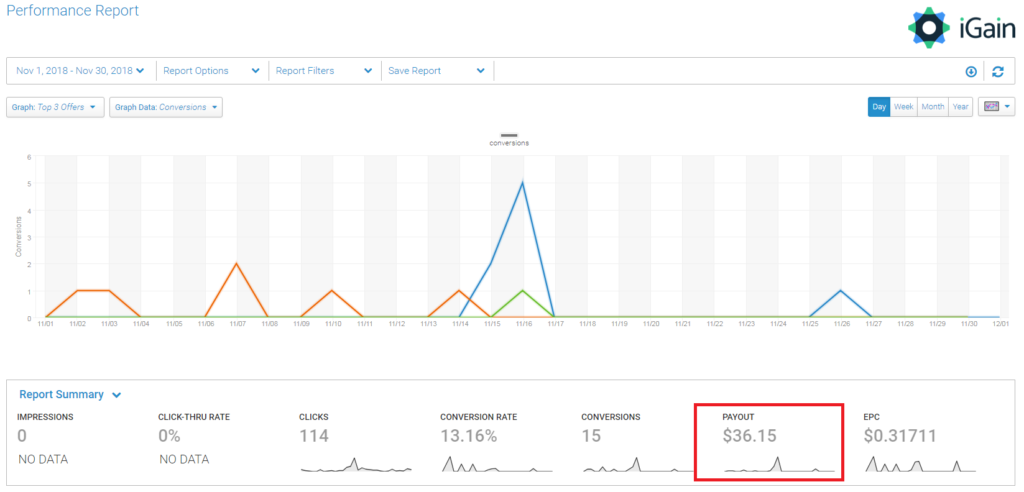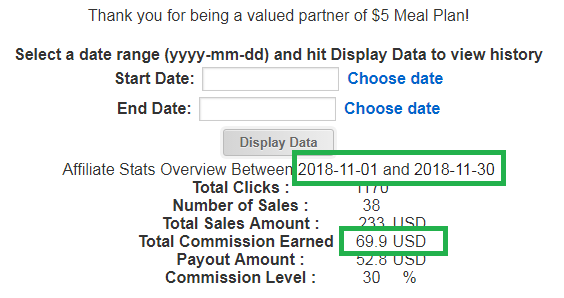 Total display advertising – $2,227.80
Mediavine – $1,740.47 USD (~$2,227.80 CAD)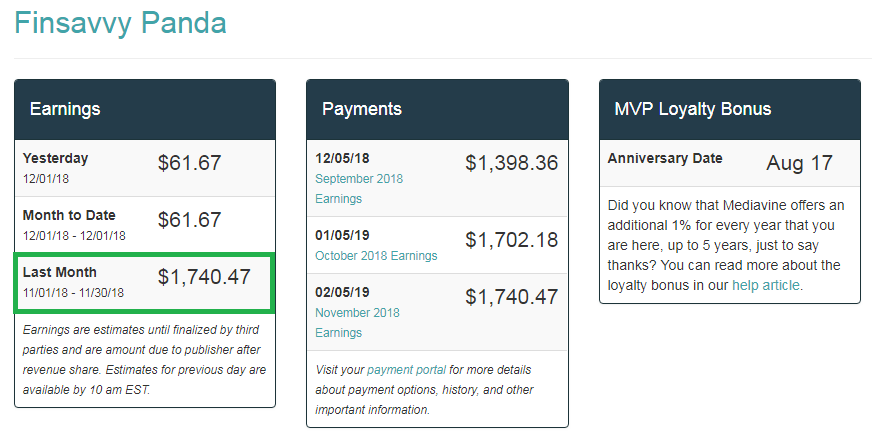 Total blog income = $5,532.13
Blog Expenses:
I think it's important to invest money back into your blog if you're serious about making money from it.
With that said, I decided to purchase a set of stock photos for my Pins last month. Up until now, I've been using free stock photos, which is totally fine, but I wanted to see what impact paid stock photos will have on my blog.
My bloggy friend, Sara, from Gathering Dreams notified me about a special deal that App Sumo was having for stock photos. They were running a sale where you could grab 100 stock photos for $49 USD (~$66 CAD). I hear that a lot of bloggers stock up when this deal is on, so I decided to give it a try! Again, I want to say thank you to Sara for letting me know. Also, I want to give a special shoutout to her because her blog turned 1 year old on Nov as well! 🙂
Oh BTW, if you're wondering… I'm still on my free trial with ConvertKit, so $0 expense for now. 🙂
I was able to get a FREE 2-month trial because it came as a bonus when I purchased the Genius Bloggers' Toolkit last month.
You can read my last month's blog income report for a review of the toolkit — I really do believe it will bring new and intermediate bloggers a TON of value at a really great price (definitely not exaggerating)!
Blog income after expenses = $5,466.13
Thank you for reading this far. I really hope you learned something new today!
Before you bounce, I would like to leave you with some freebies that can help beginners grow their blogs. They are the awesome stuff that I used when I first started as well!
Dig in! 🙂
Free Blogging Resources to Boost Your Blog Income
1. As you already know, I love Ana's tips and she gives AMAZING quality content all the time. She never fails to impress. If you're tight on cash, she is offering some FREE resources here.
2. Lena is offering her FREE Blog Bonus Traffic Guide e-book here. There are many different ways to increase your page views beyond Pinterest and that's why I am going through Lena's course to learn how she increased her page views from 17,000 to over 400,000 in 10 months.
3. You can enroll in Mike's FREE 5-day SEO Bootcamp. You will see that his webpage mentions his paid course, which is currently closed, but you can still gain FREE access to his 5-day SEO Bootcamp at no charge!
I mentioned that learning SEO is my next step and so far, Mike is my favorite go-to person for tips. It's literally stupid simple for beginners who don't know anything about SEO! No fluff and no BS! If you've been relying 100% on Pinterest or any other social media for your traffic, then this freebie to boosting your long-term traffic with Google is perfect for you! Again, I want to say thanks to Alexis from Fitnancials for guiding me to Mike!
4. Join the Amazon Affiliate program – You can promote any product you like from Amazon for FREE. But, of course, promote only the products that will help your audience in your targeted niche.
5. Join these free affiliate networks to increase your blog income – Once you get accepted, you can apply for different companies that you want to work with and promote them on your blog.
– Awin
– ShareASale
– MaxBounty
– FlexOffers
To learn how to optimize your affiliate marketing strategies, learn from Michelle who earns over $50,000 every month alone from affiliate marketing. Her flagship course, Making Sense of Affiliate Marketing is a sure-fire way to boost your blog income! Though her course isn't free, it's one of the best investments you'll ever make on your blog!
6. Tailwind – This Pinterest scheduler app has changed my life! I don't pin manually as much anymore and it has saved me SO MUCH time! However, when I do manually pin, I make sure that I'm following Carly's secret manual pinning strategy. I've only been using Tailwind for many months and I see a huge improvement with my traffic! The app has some limitations and it's not perfect, but it sure saves a ton of time because you can schedule your pins to pin throughout the day! Plus, it's the only pinning scheduler available that most bloggers use. You can get a FREE one month trial plus a $15 credit with Tailwind by using my link here.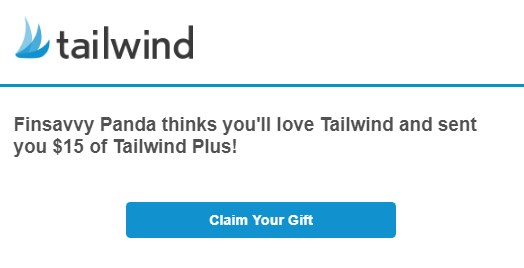 I don't want to overwhelm you with too many blogging resources because I believe in quality over quantity. I've been blocking a lot of noise and just focusing on a few resources for help. As a result, all of this has helped me generate some blog income outside of my full-time job. It hasn't been easy and it won't be easy, but I believe you can do it when you stay focused on YOUR own goals. Again, don't compare your beginning to someone else's middle. Instead, be inspired and learn from them.
Over to you — How has your blogging journey been? Do you share your blog income report? If you're looking into starting a blog, don't forget to sign up for my FREE 7-day course below where I provide you with epic and valuable information! 🙂
Other Blog Income Reports:
– December 2018 Blog Income Report: $6,840.01
– October 2018 Blog Income Report: $4,798.01
– September 2018 Blog Income Report: $4,509
– July 2018 Blog Income Report: $703.57
– How To Make Money On Pinterest For Beginners
– Expert Tips From a Million-Dollar Blog: How To Implement a Winning Strategy For Affiliate Marketing
Enjoyed this post? Don't forget to share it and follow me on Pinterest! 🙂