We will receive a commission if you make a purchase through our affiliate link at no extra cost to you. Please read our disclosure policy for more information.
Are you always feeling broke with no money, no matter where you are in life?
Do you feel like a failure when it comes to managing your money or achieving your desired life goals?
Well, I hope you don't because I'm here to tell you that you can achieve whatever you want. You just gotta believe in yourself.
Related content:
Despite how broke my fiancé and I were seven years ago (we still consider ourselves broke), we were determined to get out of the vicious cycle of living paycheque to paycheque. With that said, we got serious about our finances and started building wealth, which unexpectedly helped us get out of debt and build wealth over the years.
Throughout our financial journey, we were always inspired by Warren Buffett and his financial wisdom. We can say with 110% confidence that his wisdom has made a positive impact on our lives today. If you follow his advice and start putting them into action, you will find your way out of a financial rut. Believe me, I have extremely high confidence in you!
So, over the weekend, I re-watched his documentary, Becoming Warren Buffett, by HBO to continue motivating myself for 2018. The documentary talks about his general life, how he became successful, and other things that don't involve money.
But in today's post, we are going to focus on some wealth and money tips from this humble billionaire.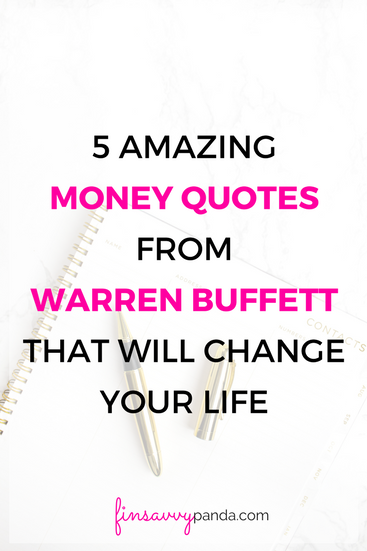 These tips (or quotes) from Warren Buffett will improve your financial health and life. Some are from HBO's documentary and some are from the Internet. I thought it would be nice to put together some inspirational tips that will help you jump-start your financial goals.
As you read on, always remember that passion, patience, and perseverance are keys to your success!
Anyway, enough with my rambling. Let's take a look at these five money tips from the multi-billionaire, Warren Buffett, shall we?
1) "Someone's sitting in the shade today because someone planted a tree a long time ago"
We all know that success doesn't come with the wave of a magic wand. It takes OH-SO-MANY years of learning (investing in yourself and learning from others), experiences, failures (yes, a lot of failures), and building a network, to see results. It takes time to build the foundation for success and this simply doesn't happen overnight.
The same concept applies to building wealth. That person sitting in the shade today started his learning journey a long time ago. Not only did he started saving and investing for his future, he also educated himself on topics that would improve his situation. He also surrounded himself with others better than him, so he could learn from them. Of course, his journey had twists and turns. But overall, to be where he's at today (i.e. financial independence), he planted his seed a long time ago.
If you haven't started, don't fret! There's always time regardless of how old you are. The most important part is getting started. So, start now!
"It takes 20 years to make an overnight success." – Eddie Cantor
2) "If you don't find a way to make money while you sleep, you will work until you die."
This is one of my favorite quotes by him that got me thinking about what I want out of life. Read here for more inspiration and meaning behind this quote.
To keep it short, it basically means you'll never be financially independent to pursue your passions if you need to work for money. And don't even think of relying on a company pension and/or government aid. The only person you can rely on is yourself.
Most of the time, we work and do things we don't like for the sake of making money.
Don't you want to stop working for money, and do things that bring passion, meaning, and fulfillment to your life? I know, it's easier said than done. But you need to change your mindset about money and plant your tree today.
"You reach the point where you don't work for money." – Walt Disney
Related post: 13 Passive Income Ideas That Will Allow You To Quit Your Job
3) "If you buy things you don't need, soon you will have to sell things you need."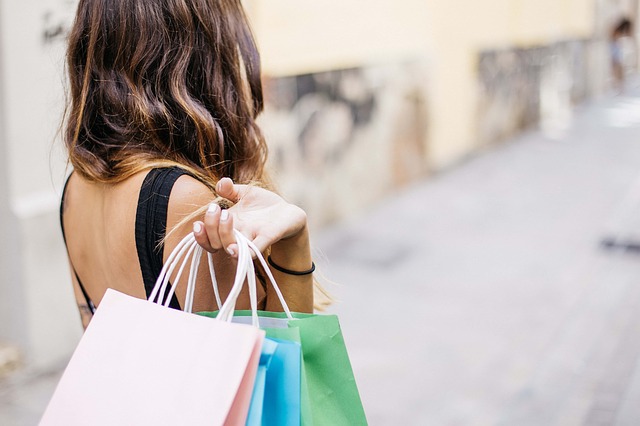 How many of you folks are caught buying and accumulating a lot of stuff that you don't need?
"Buy one get one free!" – free?? who doesn't like free? (although that's really just 50% off each item, so no… nothin' was for free, guys!)
"Original price for this Michael Kors handbag is $500. Save 60% off!" – Sweet, it's only $200 now (before taxes)!!! It may be a great deal, but the problem is you don't even use it.
It's no wonder why many people get themselves into consumer debt. If this spirals out of control, and you lose your job, you may end up scrambling for money at the last minute. As a result, you may be forced to sell your car(s), investments, and/or even your home!
If you're forced to sell your investments, you're essentially forced to sell your future or financial freedom. In other words, your excessive spending and credit card debt is not only robbing your money today, it's also robbing your future away.
Scary, huh?
So, it's important to ask yourself whether you really need that item before tapping your credit card or hitting that "checkout" button online.
To help you stay focused, I created this freebie inspirational print out so that you can frame it and hang it on your wall. It also makes a pretty home decor item without spending a $hit load at HomeSense! 😉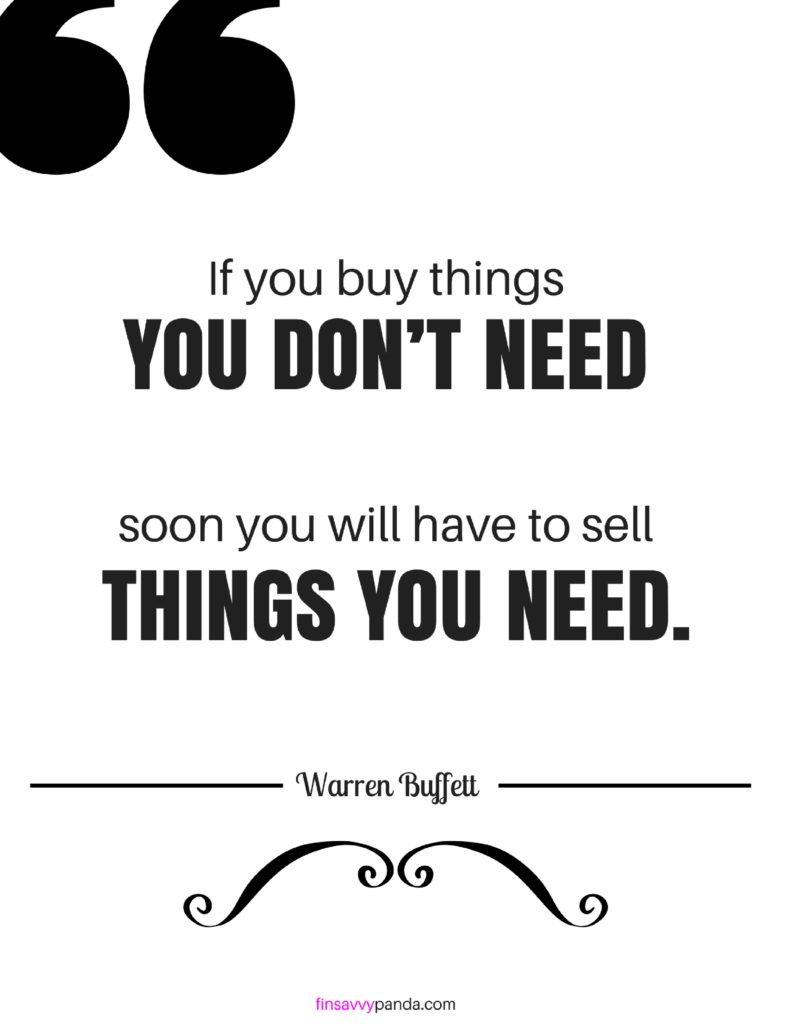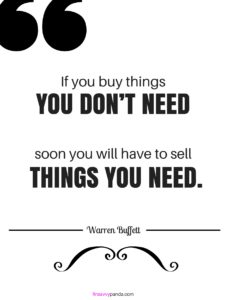 Related: Lessons I Learned From a No Spend Challenge
4) "I always knew I was going to be rich. I don't think I ever doubted it for a minute."
This is what Warren Buffett always told himself and y'all may think it's crazy. But guess what? It's usually the crazy people with rich mindsets that get what they want!
These "crazy" people truly believe in their dreams and aspirations. They take risks and challenge themselves every single day. They believe the impossible is possible. Simply put, they do things that are the opposite of everyone else.
In their minds, they are more than capable and they ignore what others think of them. Even after many (and I mean MANY) failures and becoming the BIGGEST laughingstock, they remain strong and keep persisting until they get it.
Believe it or not, your mind and how you think are critical to your success!
"Your only limit is you." – Anonymous
Do you want to dive into the minds of rich people?
Here are two fantastic books I highly recommend if you want to increase your chances of becoming rich:
1) How Rich People Think
by Steve Siebold.
2) Rich Dad Poor Dad: What the Rich Teach Their Kids About Money That the Poor and Middle Class Do Not!
by Robert Kiyosaki.
I've read both books and they've completely changed my mindset about money. To be honest, I regret not reading them sooner. And when I say "changed my mindset about money," it goes beyond the simple personal finance advice of living below your means. That is, you will need to start thinking outside the box to learn how to make money work for you instead of you working hard for money. As Robert Kiyosaki would say along the lines: "Think of each $1 that you invest in your asset column as an employee gained. They now work for you 24 hours a day, seven days a week. Keep building your employees." I wrote an honest review of Rich Dad Poor Dad, so learn more about the book here.
Click the books to shop. Start changing your mindset about money so that you can reach financial freedom sooner:
Related content: 10 Ways to Develop a Rich Mindset for 2018! — #10 is seriously Mind-Blowing!
5) "When bills come due, only cash is legal tender. Don't leave home without it."
Generally speaking, cash is an undervalued asset.
And no, I'm not here to tell you that cash should be held in a savings account that earns you close to nothing. I'm actually quite the opposite.
For the past several years, I had an addiction of investing everything into the markets because I wanted my money to start working for me as soon as possible. Although it's great to invest, we should still hold a sizable amount of cash.
You never know when it will come in handy, or when you'll need it.
Warren Buffett says:
"Cash, though, is to a business as oxygen is to an individual: never thought about when it is present, the only thing in mind when it is absent."
In his letter from Berkshire Hathaway, it says:
American business provided a case study of that in 2008. In September of that year, many long-prosperous companies suddenly wondered whether their checks would bounce in the days ahead. Overnight, their financial oxygen disappeared.
At Berkshire, our "breathing" went uninterrupted. Indeed, in a three-week period spanning late September and early October, we supplied $15.6 billion of fresh money to American businesses.
We could do that because we always maintain at least $20 billion – and usually far more – in cash equivalents. And by that we mean U.S. Treasury bills, not other substitutes for cash that are claimed to deliver liquidity and actually do so, except when it is truly needed.
When bills come due, only cash is legal tender. Don't leave home without it.
You can download here for the full letter from Berkshire Hathaway.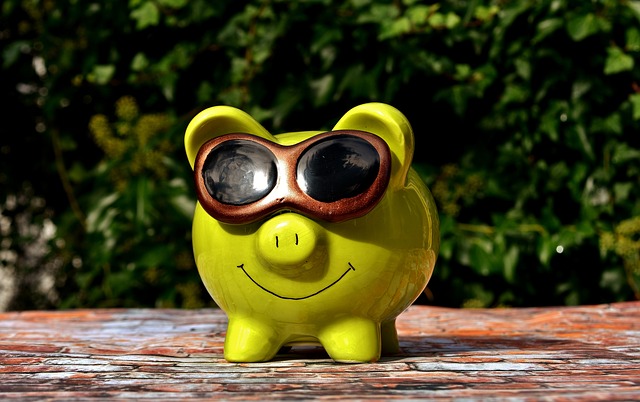 As you can see, it's important to give yourself a cushion in case of an emergency. You don't want to go into panic mode when you lose your job. And you certainly don't want to be forced to sell your investments (at a loss) either. From an individual perspective, it means building a sizable emergency fund before something hits you. That's why you plan ahead, right?
Don't have one? Don't you worry, my friend! Read here for 10 clever ways to build your emergency fund today. Seriously, you cannot afford to live without one! No pun intended here.
Once you build your fund, you'll have enough oxygen to breathe when a crisis hits.
Summary
There you have it – five amazing money quotes/tips from Warren Buffett!
Here's a recap of them:
"Someone's sitting in the shade today because someone planted a tree a long time ago"
"If you don't find a way to make money while you sleep, you will work until you die."
"If you buy things you don't need, soon you will have to sell things you need."
"I always knew I was going to be rich. I don't think I ever doubted it for a minute."
"When bills come due, only cash is legal tender. Don't leave home without it."
Over to you
What are your money tips for this year?
Did you enjoy this post? If so, don't forget to share it on Pinterest! 🙂