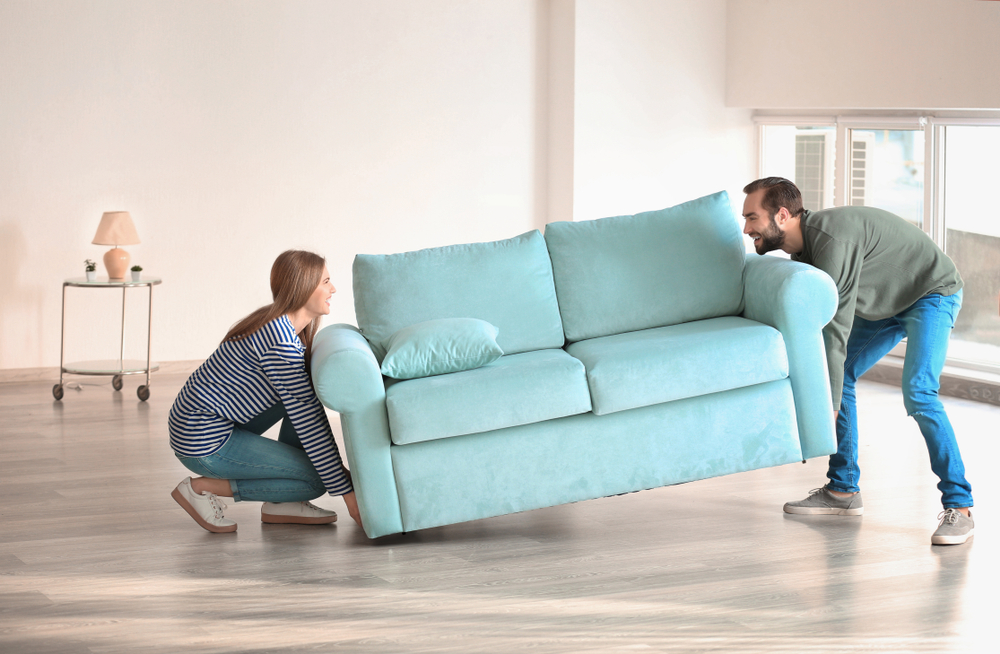 We will receive a commission if you make a purchase through our affiliate link at no extra cost to you. Please read our disclosure policy for more information.
When you have an entire apartment to fill with furniture and not much jingle in your pocket, it might take a bit of extra work to hit the decorating jackpot. Being budget-conscious doesn't mean you have to live uncomfortably though.
Even if you don't have much money, you can deck out your new apartment in style. After all, style is more about creativity and artistic ability than anything else.
Check out the tips below to furnish your new apartment with flair and on a budget.
Tip 1: Dedicate a chunk of your budget to new furniture
Avoid bringing a disaster into your home by reserving a portion of your budget for a new mattress. Bedbugs and other pests are much more likely to inhabit used mattresses where they can hide in the fabric. Getting a piece of furniture for free isn't worth it if it transports an expensive pest control disaster directly into your new place.
For brand new furniture at a discount, there's no better place than IKEA. Grab a rolling cart and an Allen wrench to assemble new bedframes for as low as $100, or a three-drawer chest for only $99. But that's not all there is to offer at the enormous blue and yellow store. IKEA has affordable furniture and décor and you can also find curtains, silverware, plates, and a desk lamp in this one-stop-shop.
You can also bargain shop for inexpensive furnishings through companies like Wayfair, Target, or dormco.
Wayfair offers a wide range of styles for every room, Target pairs with designers to create stylish, budget-friendly furniture, and dormco has everything you need to live comfortably.
Tip 2: Check with your friends and family
No new renter should reject a hand-me-down offer from friends and family so don't feel awkward about asking.
In addition to the obvious environmental impact of reusing resources, you'd be surprised how many people prefer to pass items on to people they know.
Seeing that a treasured item with sentimental memories is in use by someone close helps people feel better about letting go. Often people are ready to let go of things but haven't gotten around to the hassle of getting rid of it, so you might be doing them a favor.
Tip 3: Surf the neighborhood for garage sales
Large neighborhoods usually have coordinated, widespread garage sales, sometimes twice a year.
Don't drive around hoping to score a good deal. Instead, find garage sale listings on the Nextdoor app and get there early.
Also, check out the app the week before because many residents will list their items for sale before putting them out for the sale.
For a chance at high-end furnishings and discounted housewares, look for estate sales listings. People use estate sale agencies to sell a majority of their belongings because they're downsizing or moving. Like a garage sale, they're open to the public, but attendees are invited into the home to purchase anything priced for sale.
Tip 4: Decorate with free houseplants
You don't need to spend any money to fill your home with beautiful houseplants. Save money and join a local houseplant group or a local Buy Nothing group on Facebook. These groups always have people giving away free cuttings and full-potted plants.
You can also get free houseplants by going to a plant swap event. This is where people bring plants that no longer bring them joy and trade them for new plants. There's always a "free table" where people want to get rid of plants and plant accessories. Find plant swaps in your area by typing in: "plant swap + your city" on Google or Facebook.
Tip 5: Grab a few thrift store specials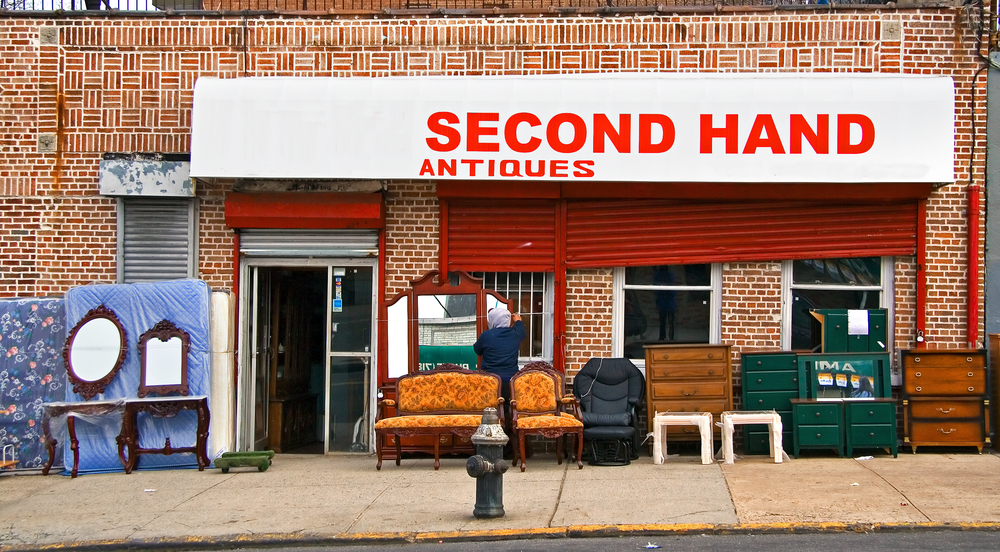 It doesn't matter if you call it used, vintage, or antique, there are tons of good bargains in thrift stores.
The great thing about shopping thrift stores is that many support charitable missions, so you can decorate your new apartment and make a positive impact on your community at the same time.
Also, look for local secondhand stores like Habitat for Humanity ReStores which re-sell donated items and use the profits to help fund new homes for those in need. One of the best times to visit local stores is after universities let out in May. As school ends each year, college students discard or donate unwanted items to local charities as they move out of their school-year residences.
Tip 6: Use multi-functional furniture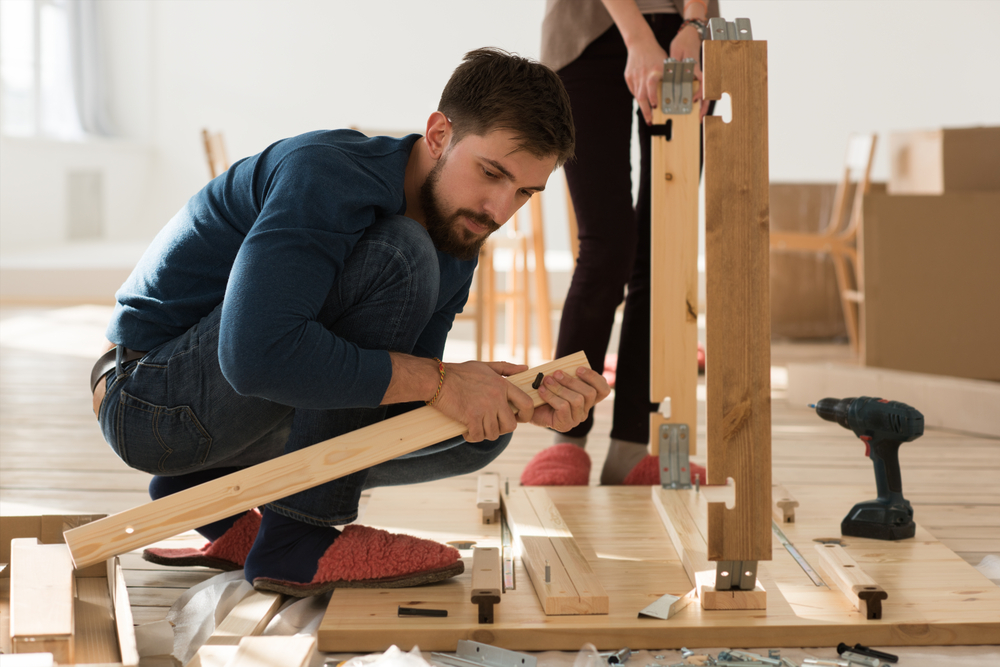 As you shop, focus on furniture that serves multiple purposes. For example, reach-through bookcases with open shelving can provide storage and serve as a room divider at the same time.
Investing in a few key pieces of flexible furniture with storage potential will cost you less because you won't need as much.
The futon is an inexpensive staple for a reason – convertible seating that transforms into a guest sleeping space gets you a more bang for your buck.
Likewise, students don't need a full dining set. Instead, opt for barstools or other flexible seating that gives you the option to change the primary purpose of a room quickly.
Decorate with functional accessories to limit your art budget for a stylish, attractive apartment. For example, hang serving bowls or antique measuring cups in an artistic display between uses.
Tip 7: Hit up these websites for a good deal
The internet has made furniture shopping more efficient for new and used items.
Craigslist, Facebook Marketplace, and eBay are great resources for free and discounted items nearby.
You'll find listings for local garage sales and estate sales as well as bargains on furniture. When pursuing these avenues, beware of potential scammers and always meet in neutral locations to exchange goods.
If you are furnishing a new apartment in Cincinnati, make sure you visit Everything but The House, an online auction site with local pick up where every piece begins at one dollar.
Tip 8: Augment your décor with free finds
Even if you've managed to stay under budget in your shopping expeditions, you can't afford to turn down free stuff. OfferUp, LetGo, and Freecycle are online communities focused on reducing waste and sharing resources to save the planet.
These websites have all kinds of free stuff or allow you to give away items that you don't need or want anymore. It's a great way to reuse something that might have ended up in a landfill otherwise.
Tip 9: Rummage through the outlet stores
If you're looking for name-brand furniture at a big discount, don't overlook the outlets. You can find huge bargains on furniture in clearance centers such as Big Lots, Rooms to Go Outlet, or the Pottery Barn Outlet.
These stores carry bed frames, couches, dining sets, and more. Items with scratches and dents are deeply discounted and you'll also find overstocked items that didn't sell in the traditional store.
Tip 10: Consider renting furniture
It's not always necessary to purchase furniture when you move into a new apartment.
If you're moving for a short-term assignment or into temporary housing for a few years in college, consider renting large furniture rather than transporting it.
Although rental furniture might not be less expensive in the traditional sense, avoiding expensive moving fees can help your bottom line. It also allows those on a budget to space out payments instead of footing the bill all at once.
Tip 11: Apply some creativity and elbow grease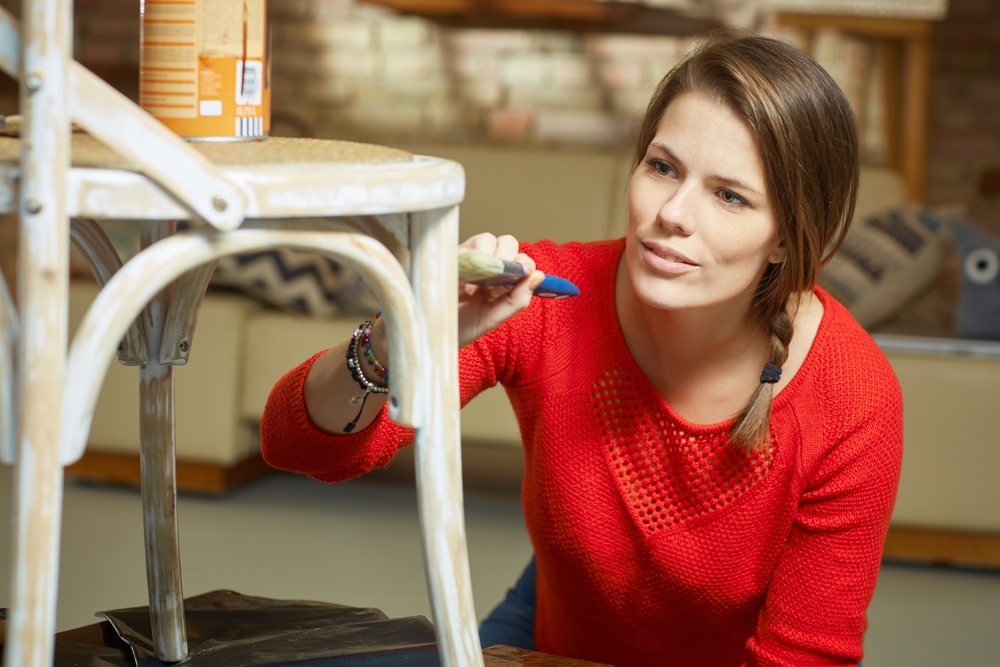 Although you can score designer furniture for a bargain, the goal of shopping on a budget is to find something comfortable and clean.
Strip old upholstery off-site before bringing it on the premises to avoid bringing pests home and invest some elbow grease in painting and fixing up old wooden furniture.
Great style has nothing to do with cost. Many creative minds see potential in repurposing industrial or found objects, so don't overlook retired vehicles as junk.
Makers use wheels as clocks, car trunks as coffee tables, and large springs as lampstands.
Oil barrels and speed limit signs make fantastic and valuable industrial-chic chairs.
Find inspiration from the ideas of others and you'll start seeing practical household objects in discarded items.
The big takeaway
Furnishing on a budget doesn't mean you have to live with milk crates and banged up furniture.
It might take you a bit of creativity and many coats of paint to furnish your new home, but each unexpected find or upcycled project will bring you the satisfaction of knowing you've breathed life into an old, discarded piece.
Filling a new apartment with furnishings from scratch isn't easy on a budget.
Start by prioritizing new items, then fill in the rest of the place with functional, flexible furniture from discount sources. Add in a splash of creativity and your new home will reflect your personal style without breaking the bank.