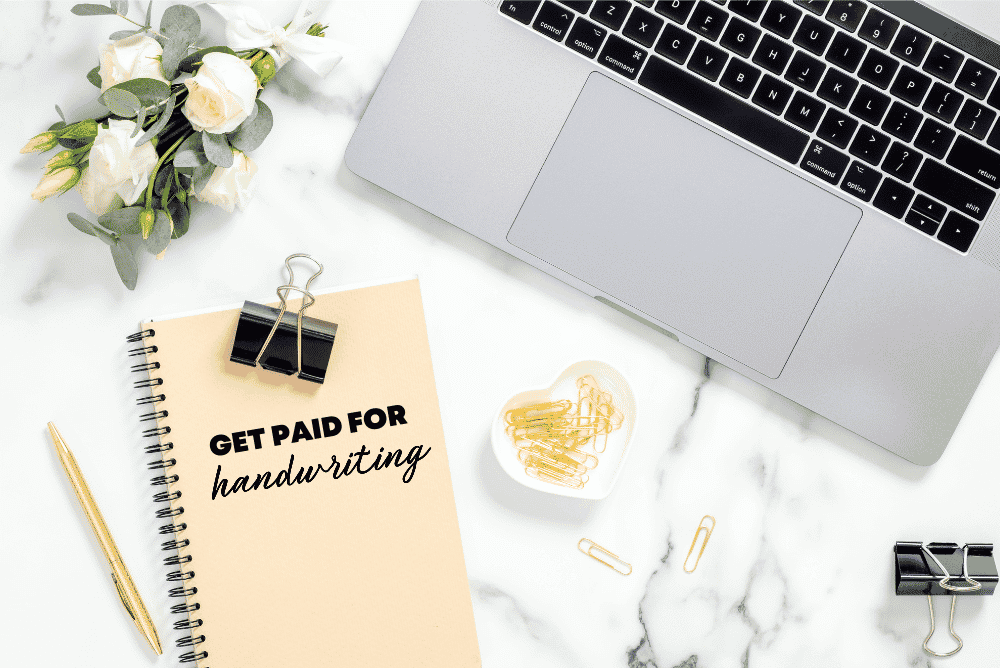 We will receive a commission if you make a purchase through our affiliate link at no extra cost to you. Please read our disclosure policy for more information.
Everyone has something special about them and for some, that thing is their handwriting. Your handwriting is unique and can be used to make money in a variety of ways.
Writing is a lost art that is slowly being replaced by technology. But there are still many people and businesses that rely on handwritten letters, notes, and other documents. This is where you can come in and earn extra money with your hobby!
And not to mention, a creative way to earn money by handwriting and showcasing your skills.
If you're wondering how much you can make with a handwriting job, you're in for a pleasant surprise. According to 2023 data from ZipRecruiter, you could anticipate an hourly rate ranging from $12.98 to an impressive $33.65. In annual terms, that translates to a salary bracket of $25,960 up to a robust $67,300.
When converted into working days, you could be making $100 to $200 per day or even as high as $300 per day.
You can make more money from handwriting jobs during holiday times. That's when more people want personal, handwritten notes and Christmas crafts as gifts. What a perfect way to make money for Christmas!
As you can see, your skill with a pen could indeed become a lucrative proposition!
What is a handwriting job?
In my experience, your penmanship can land you a creative and distinctive job. A handwriting job is a niche market in the creative industry where you can monetize your elegant scripts.
We're in the digital age, so hearing that you can set up a handwriting business can seem rare or impossible, but it's not! There are handwriting professionals everywhere. There are calligraphers, font designers, and even those who are hired to write letters and fill out forms.
You might not know this, but many businesses need people with good handwriting to make their special invitations, letters, and personal notes. Most of the time, businesses do this to add a personal touch to their brand materials. Imagine that? You can get paid to write letters!
Handwriting jobs are quite rare, and each one is unique. What you'll be doing really depends on your clients and their goals. But we really can't deny that it's a dream to earn money with something as natural as our handwriting. So, get that pen ready and practice your beautiful scripts!
Can you get paid for having good handwriting?
Yes, you can really earn money with your writing. Honestly, you can get paid for any skill you have, and having beautiful handwriting is definitely one of those skills.
It requires a lot of practice and creativity, much like video editing or graphic design. Although the opportunities for paid handwriting jobs may not be as many as other creative skills, you can still find a market for this unique talent.
Here are the best ways you can get paid for handwriting.
1. Sell your handwriting to companies for logos and branding
Branding is critical for companies to separate themselves from their competitors, and your handwriting can be the perfect addition to give a company that extra boost. Many businesses are happy to pay top dollar for someone with great handwriting to create their logos, brand names, and slogans.
You can reach out to local businesses in your area as well as companies that are looking to rebrand. This could be a one-time gig or an ongoing position, depending on the company's needs.
2. Offer your handwriting as a service
What's a better way to show off your handwriting skills than by offering them as a service? You can create customized stationery, invitations, thank you cards, and more for individuals and businesses. With more people working from home, there has been an uptick in the demand for personalized stationery. This is perfect if you're looking for handwriting jobs from home.
For companies, emails are impersonal and often get lost in customers' inboxes, so businesses are looking for handwritten notes to send to their clients. You can set up a system where businesses can send you their documents to be handwritten and then mailed out. Yes, it's possible to be writing letters for money!
Getting paid to write cards and letters is a great way to make some extra money on the side. You can set your own rates and decide how much work you want to take on. This is a perfect gig for those who want to earn money handwriting from home, be their own boss, and set their own hours.
3. Write articles or blog posts about handwriting
Another way to make money with your handwriting from home is to teach others how to do it online.
I mean, if you're passionate about handwriting, why not share your knowledge with others? You can write articles or blog posts about the different aspects and techniques of handwriting. This is a fantastic way to build up your portfolio and attract potential clients.
You can submit articles to online publications or start your own blog. But with your own blog, you have full control over the content and can monetize it however you want. You can set up a shop to sell your own products or services, or you can join affiliate programs to earn commissions on product sales.
I started this blog and now it's earning a full-time income! It has allowed me to quit my job to work on something I'm truly passionate about.
If you're interested in learning more about blogging, check out my FREE 7-Day e-mail course where I teach beginners how to start profitable blogs.
4. Sell your handwriting as a font
Times New Roman and Arial are so overdone. If you have beautiful handwriting, why not turn it into a font and sell it online? There are many sites MyFonts and Creative Market that allow you to upload your own fonts for others to download.
It's important to note that you'll need to create different styles of your handwriting to be used as a font. This includes the regular, bold, italics, and other variations. But once you have a few styles created, it's relatively easy to upload and sell them as a bundle.
Wouldn't it be awesome to see your handwriting used by someone else? This is a great way to make some extra cash and have your work seen by people all over the world. It's also a great way to make some passive income while you sleep!
5. Teach others how to improve their handwriting or calligraphy skills
There are many people who want to improve their handwriting but don't know where to start. As a handwriting expert, you can help them learn the proper techniques of cursive or calligraphy. This is a simple method to get paid for your handwriting and it's extremely rewarding to see the progress students make after learning from you.
You can offer your services as a handwriting coach or tutor online or in person. This could be a one-time session or an ongoing weekly or monthly service.
Another option is to create worksheets and practice sheets that people can use to improve their handwriting on their own. You can sell these products on your own website.
6. Create and sell journals with your handwriting
This fun and unique way to make money with your handwriting involves creating journals with your own handwriting on the cover and inside. You can either write out inspirational quotes or sayings, or you can write out the entire journal by hand.
While these make great gifts for friends, family, and even co-workers, you can also sell them on Etsy or at local craft fairs for cash. It's a surprisingly good way to earn money, especially for women who are looking for quick cash.
Not many people can say they've written an entire journal by hand, but you can!
7. Make hand-painted signs for businesses
Certain businesses prefer to have their signs hand-painted rather than using digital signs. The feel of handwritten signage and menus can make a business seem more personal and approachable. As a result, you can charge a premium for your services.
This is the perfect opportunity for anyone who loves painting and has great handwriting – it's important to note that you don't need to be a professional artist to create these signs. Many businesses are open to rustic and amateur designs.
You can create signs for local businesses such as cafes, bakeries, and ice cream shops. Or better yet, you can start your own sign-making business!
8. Be a human pen pal
Remember when people used to write letters to their friends and family? Well, there are still people out there who love getting handwritten letters in the mail.
The key to being a successful human pen pal is to find someone who shares your interests. This way, you'll have plenty to write about in your letters.
You can offer your service on Fiverr or list it on Craigslist to be a human pen pal and get paid to handwrite letters to people. This is an easy job for introverts or anyone who loves writing.
9. Provide calligraphy services for weddings
Weddings are a lucrative business, and couples are always looking for ways to make their big day even more special. Money is no object when it comes to wedding planning, so if you have amazing calligraphy skills, you can make a killing by offering your services.
Popular items to include calligraphy are wedding invitations, welcome signs, guestbook signs, and thank you cards. You can also offer your services for other events like birthdays, anniversaries, and baby showers.
This one is a great home-based business idea because you can simply create what's needed of you and deliver it to your client. There's no need to leave the house to fulfill your task since you can do all the advertising online.
But if you prefer to get out there, you can reach out to local wedding planners, too.
10. Create artwork with your handwriting
If you're more of an artist, you can use your handwriting to create unique pieces of art. This could be anything from a word collage to a portrait made entirely of words. There's no limit to what you can create!
Home stagers and decorators are always looking for new and unique artwork to spruce up their client's homes. You can reach out to them and offer your services, or you can sell your artwork at local art shows and galleries.
FAQs About Handwriting Jobs
1. Can I make money from my handwriting?
Of course! You can earn from your handwriting.
If you know you have the talent, don't waste it. Sure, the market is not as big as other creative skills, but there are still many opportunities. The key is finding one that you know you'll enjoy. You can get paid to handwrite letters, do calligraphy, or even teach others how to write better. If you're up for it, you can start your business.
And even if you're not that good now, all you have to do is practice consistently until you improve and become great at it!
2. Can I get paid for my handwriting?
Yes, you can get paid for your handwriting, especially if it's unique or appealing to the eye.
And if you're wondering how to make money from handwriting, there are many options.
Most will offer calligraphy services for businesses and special events like weddings and birthdays. This is very common since personalization is important to many businesses nowadays. If you don't want to be in a saturated market already, you can instead create custom products like greeting cards and journals.
It might be surprising, but some clients even hire people to write handwritten notes.
No worries if you don't feel like creating anything with your handwriting, though. You can teach workshops or classes to help others improve their handwriting.
So, despite being in the digital world where we think everything can be done by computers, there's still a market for beautiful and distinctive penmanship in various industries. It's definitely possible to earn through this skill.
3. Is there any career for handwriting?
If you can get paid to earn through handwriting, then yes, there's definitely a career in this industry.
Many might argue that there's no career path focused on handwriting because we're in the digital world, but that's not the case. Even as we progress with technology, calligraphers, font designers, and the like are still sought after.
Businesses are also aiming to be more personalized and distinctive because of the growing demand from customers to have a customized experience. With that, there's a growing need for professionals skilled in elegant and beautiful penmanship.
And your career path in handwriting doesn't have to be solely about creating. There are handwriting analysts and handwriting teachers who have made a career out of handwriting but don't necessarily create with them.
So whatever it may be that you specifically like about handwriting, there's a career out there for you. Others might be very specialized, but they are still careers!
Selling your handwriting tips:
Start by creating a portfolio of your work to show potential buyers (you can host your portfolio on your blog/website). This will give your clients an idea of your style and your level of skill.
When you're starting out, it's a good idea to offer your services for free or at a discounted rate. This will help you build up a clientele and get some good reviews.
Be sure to promote your services! Use social media, word-of-mouth, and any other marketing strategies you can think of.
Offer discounts for bulk orders or repeat customers. This will help you attract more business.
Always deliver high-quality work that meets your customer's expectations – never cheap out on your supplies. This is the best way to ensure repeat business.
With a little hard work and some creativity, you can make a great living from your handwriting! There are endless opportunities for those with a steady hand and an eye for detail. So, what are you waiting for? Start monetizing your handwriting today!