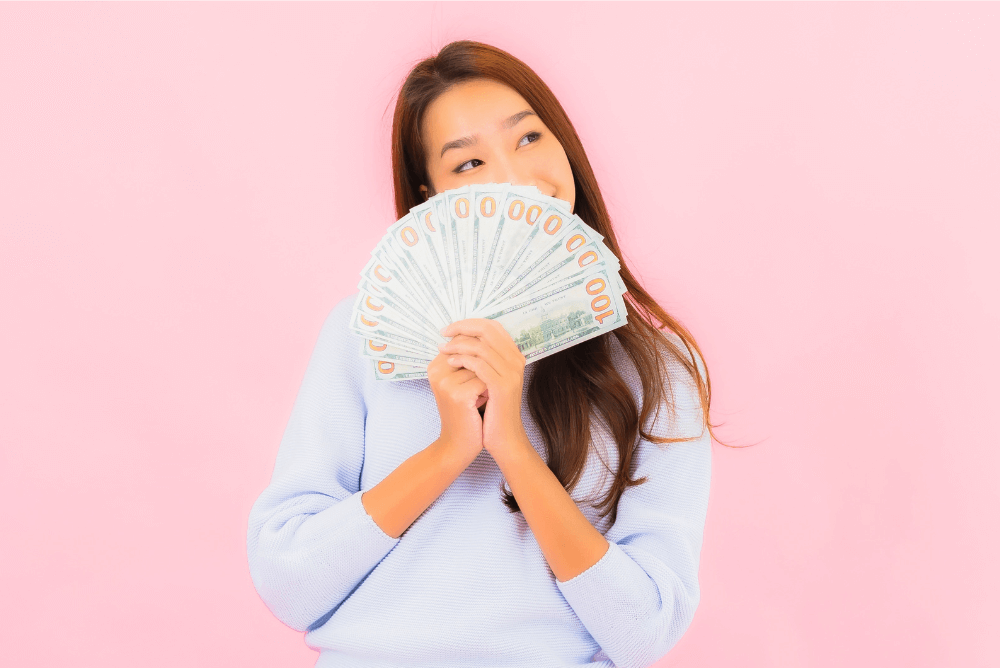 We will receive a commission if you make a purchase through our affiliate link at no extra cost to you. Please read our disclosure policy for more information.
You can still make $700 fast while keeping your day job. If you have credit card debts or bills that are stacking up, side hustles like selling used clothing, teaching English online, and part-time jobs can help you pay those things off faster.
In this day and age, money has never been more accessible. The opportunities to make money are endless thanks to the internet. It can connect you to a bigger audience in just a matter of seconds.
This blog is an example of how the online space has evolved over the years. My lovely readers live in different parts of the world like L.A., London, Seoul, Paris, and the Philippines!
My side hustles date back to the days when I worked at my 9-to-5 job. I hated my office job and couldn't stand sitting in meaningless meetings for hours. My life was withering away in the office cubicles and no one could save me – except for myself. That's when I made the decision to take charge of my life and find creative ways to make extra money after work.
I sold a bunch of things on Facebook, flipped furniture as a hobby, and even bought a rental property. I was able to easily make $700 a week just by expanding and diversifying my sources of income.
One side hustle that I particularly love is using Pinterest – you can even check out this detailed post on how I use Pinterest to make money online. I went from earning my first $700 all the way to earning six figures per year!
PIN THIS: I'll be updating this post so make sure to pin this image here and save it to your Pinterest board. That way you'll be able to come back to this page and learn how to make $700 fast when you need cash now.
12 Best Ways To Make $700 Fast
When you can make $700 per week, you'd soon realize that earning $1,000 is within arms reach. That's how I started and it changed my entire outlook on making money.
I realized the importance of achieving smaller things first since it brings you closer to the bigger goals. These small achievements serve as stepping stones to teach you the skills and knowledge needed to reach your ultimate goal of financial freedom.
So without further ado, here are 12 legitimate ways to make $700!
1. Earn Extra Money With Online Surveys
As a beginner, my very first baby step to earning extra money was taking paid surveys because it was easy and effortless. Back when I was in the university, I answered surveys while taking the bus to school. I wanted to make the most of my free time because I was broke and had a mountain of student loans.
Did the answering surveys help me pay off the debt? Not really, but it did help in covering my coffee expenses while studying for exams! Don't expect a big payday when doing this. It won't make you rich but it will definitely help in giving you some extra spending money.
I love taking surveys when I have downtime and have nothing better to do. Over the years, the money and freebies I've received are already in the thousands. Mind you, I've been doing paid surveys since 2009!
If you want a trust-worthly place to start, my personal recommendation is always Swagbucks. I've received countless free Starbucks coffee from them. What do I do? I answer surveys, watch videos, and shop online. Pretty simple, right?
Other popular legitimate paid survey companies include Survey Junkie, MyPoints, and InboxDollars.
2. Start A Profitable Blog
Working corporate had many perks – monthly salary, year-end bonus, and health benefits.
Other than month-ends, I didn't need to work late or on the weekends. My coworkers were easy to get along with and I felt content. I would say it was a relatively low-stress job that paid well.
However, even with all of that, I still wasn't happy. Something was missing.
I was grateful for all of those things but I just knew deep inside that there was something more outside of the four walls of that office.
Back in school, I knew I wanted to work for myself. To be my own boss. And have an impact on other people's lives. But I didn't know where to start or what to start for that matter.
I've always read that blogging was a profitable way to make money online. However, I didn't have the slightest idea of what it was.
So I took the initiative to learn more about it. It turns out, you could make money by writing online and sharing your personal experience.
That idea was so new to me. I was so excited and inspired to start my very own blog.
I could feel a twinkle of hope in me that this might be it! I spent many hours after work doing research and learning about blogging. I was so determined to make it succeed!
In 2018, I created my first blog while still working at my day job. My mentality was if I can make money off blogging then I'll see how much more I can make. If not, then no worries – at least I've gained another skill.
Luckily, I started writing immediately about a topic I loved, which was Personal Finance. I considered myself "lucky" because I could have dabbled in other niches and that would have taken me more time to make my first dollar.
Within 18 months of publishing valuable content, I started to see my blog metrics going up. I was starting to have website visitors and a bit of engagement. This was the moment I knew I was on to something.
After a year and some months of continuous writing, while balancing my responsibilities with my day job, I was earning around $5,000 per month in my first year of learning how to build a blog! And today, I could earn anywhere between $500 to $1,000 per day.
Here is proof of one of my earnings from an affiliate network, which doesn't include my other sources of blog income.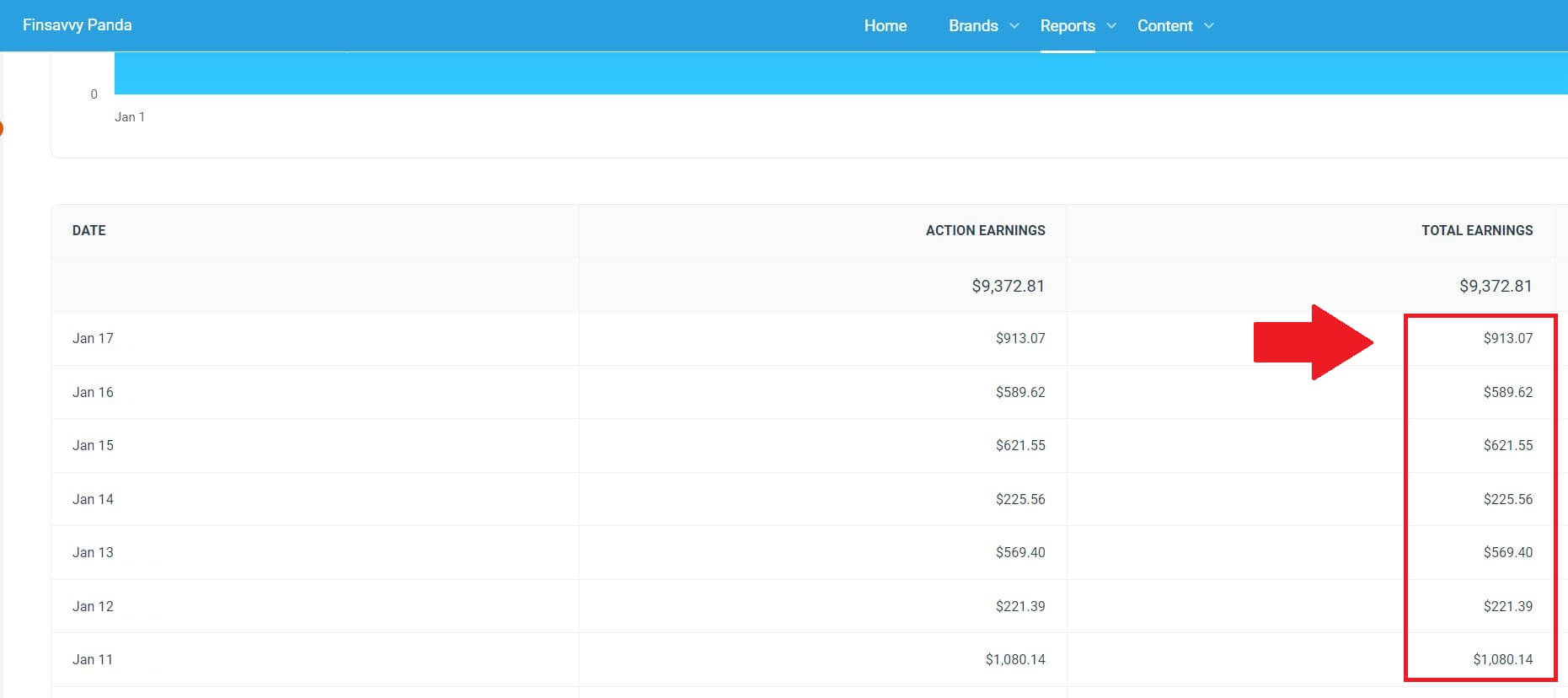 I honestly never thought I could earn that much by writing let alone writing about something I love!
Was the journey easy? Far from it.
There were certainly challenges along the way. I had to learn the ropes of blogging and building an audience. Monetizing my blog through ads and affiliate marketing was foreign to me but I spent time learning about those things.
Thankfully, all my efforts and persistence paid off. This blog earns north of $150,000 per year in net income. I even reached as high as $216,000 last year! And I no longer have to balance writing with my day job. I'm proud to say I'm now a full-time blogger!
You too can walk down the same path as me. You don't need to have any experience blogging (neither did I). What you will need is to be consistent and open-minded to learning new things.
Here are some popular and profitable blog niches for you to think about:
Travel
Food
Lifestyle
Fashion
Beauty
Sports
Business
Personal Finance
Health and Fitness
The best niche for you is something that's in line with your interest. You could have a working knowledge of it or just want to learn more about the topic. Either way works!
LEARN HOW TO START A PROFITABLE BLOG: For starters, get a glimpse of how to create a blog from scratch and how you can make money along the way.
3. Become A Freelance Writer
Freelance writers get paid by transferring their thoughts to words. It's what makes being a freelance writer one of the best jobs to do online because of the opportunities in this industry. Some are even making six figures in this industry and you can learn how you can make money as a freelance writer too!
First, you can be a blog writer. You can create blog posts for businesses and personal brands. Your writing will be used as marketing content for their audience.
Another job can be email writer. You won't write professional emails here but you'll be creating email newsletter content for the subscribers of your client.
Freelance writers can also be scriptwriters too. The scripts here are for YouTube videos or online courses. These scripts are the most engaging type of written content.
Other writing jobs include:
Ghostwriting
Book writing
Course writing
Technical writing
Freelance writers are paid based on the word count or per article. Rates will vary by niche and project, but for starters, you can earn around $0.06 – $0.12 per word. More experienced writers can comfortably earn around $0.20 per word or more.
For new writers to earn $700 weekly, you'll need to complete 5,833 to 11,666 words in 7 days. That's 1-2 articles per day depending on the word count which isn't too bad.
Practice writing and make sure your writing is engaging. Spend time researching the industry you're interested in and the type of content that's being published.
You can browse and apply for freelance writing gigs on job boards like Upwork, Freelancer, and ProBlogger. You can also reach out to bloggers in your niche that needs help with content writing.
4. Become A Virtual Assistant
Assistants are not only for big and traditional corporations anymore. As businesses take their presence online, they've realized the need for hiring virtual assistants to handle other aspects of the business.
The duties of a VA typically are around administrative work. You'll be scheduling meetings, managing emails, and making follow-up calls. On top of those tasks, you could be asked to create sales invoices and data entry.
Many employers use different software to manage their tasks so you'll need to be comfortable learning new software on the job. For example, managing meetings could be done on Fellow, while Gmail or Mailerlite is for email management purposes.
It's okay if you don't have any working knowledge of these tools, as long as you're willing to learn. Employers are usually open to training their virtual assistants. They care more about your attitude and your attention to detail.
You can work part-time, full-time, or even freelance your services. Fresh virtual assistants typically make around $16 to $20 per hour from service-based platforms like Fiverr and Upwork. If you want to make $700 in a week, that's 35-43 hours of work depending on your rate.
5. Make Money On Pinterest
Social media isn't only about posting your lovely puppy pictures and reconnecting with people you haven't seen in ages. You can actually make money out of it too! I'm not joking, I'm living proof!
On a good day, I can earn over $700 a day just from Pinterest alone! Sounds unbelievable? That's because it is!
READ MORE ABOUT MY PERSONAL STORY: How I Make Money on Pinterest and Earn A Net Six-Figure Annual Income
But what's the secret sauce to earning money on Pinterest? It all boils down to having the right strategy. With the right techniques, you can quickly increase your impressions, and clicks and ultimately make money out of it!
Why did I choose Pinterest over other social media platforms? It's because I personally use it to look for inspiration for my DIY crafts and home renovation projects.
Once I learned that people were using Pinterest to drive traffic to their websites to earn money, I was hooked.
For example, if you're looking for a chicken recipe on Pinterest and you click on a delicious BBQ chicken recipe, you'll be directed to a website and that's when the magic happens. The website owner that created that amazing chicken recipe could potentially earn profits from ads, sponsored posts, or affiliate links. Pretty awesome, right?
Now, there are generally 3 ways to earn money on social media:
Become an influencer: These are people with online personal brands that create content and collaborate with brands. They get paid to promote products and services.
Sell your own products: Once you've built an audience through blogging or video content, you can sell your courses, eBooks, or other physical products.
Sell a service: An example of this is if you're known to be a fitness influencer, you can sell one-on-one fitness coaching to your audience.
My advice is to focus on one platform and do everything you can to be good at it. After that, you can move on to other social media platforms to increase your reach.
For example, if you're a business coach, you can use Instagram to create Reels and short-form content to show your expertise. And then leverage YouTube to create longer-form content where you can talk deeper about the topic.
6. Make Money With Delivery Apps
One of the easiest side hustles available to anyone would be making money through deliveries. It's time flexible and in demand in most cities! Earning $700 in less than a week is achievable but you need to put in the hours and hustle hard to buy that really nice jacket you want.
The typical items you can deliver would be food and groceries. But it's not limited to those products. Delivery apps like Saucey specialize in delivering drinks, while GoShare caters to furniture and appliance deliveries. If you don't want to carry heavy loads and risk injuring yourself, you can focus on food and grocery delivery apps.
The opportunities in this space are abundant. There's no shortage of jobs especially when you work for a company like DoorDash or Uber Eats that caters to almost any city in the U.S.
College students can do this part-time in the evening after classes and people with 9-5 jobs can do this during the weekend. That's the beauty of delivery jobs is that you can go online anytime you want and jobs would be available most of the time.
It's also great for people who like to work alone. These jobs don't require you to talk to anyone. Your job is to focus on delivering items quickly and safely.
If you're interested, here are delivery apps that you should look into:
GrubHub
DoorDash
Saucey
Uber Eats
Amazon Flex
How I made $700 fast using DoorDash
I kept hearing about DoorDash, so I decided to try it out myself to see how much money one could make in a day using the service.
Speaking of which, you can also find out how I use DoorDash, in addition to answering the question: 'How much money can you make in a day on DoorDash?'
To my surprise, I quickly made $700 as a side hustle. Of course, you won't get rich by using delivery apps like DoorDash, but it's an excellent gig for earning quick cash during your spare time.
Below is a screenshot showing my earnings with DoorDash after delivering food for 11 days – slightly over $1,000, which isn't too shabby for a job that doesn't require any sort of skill or experience.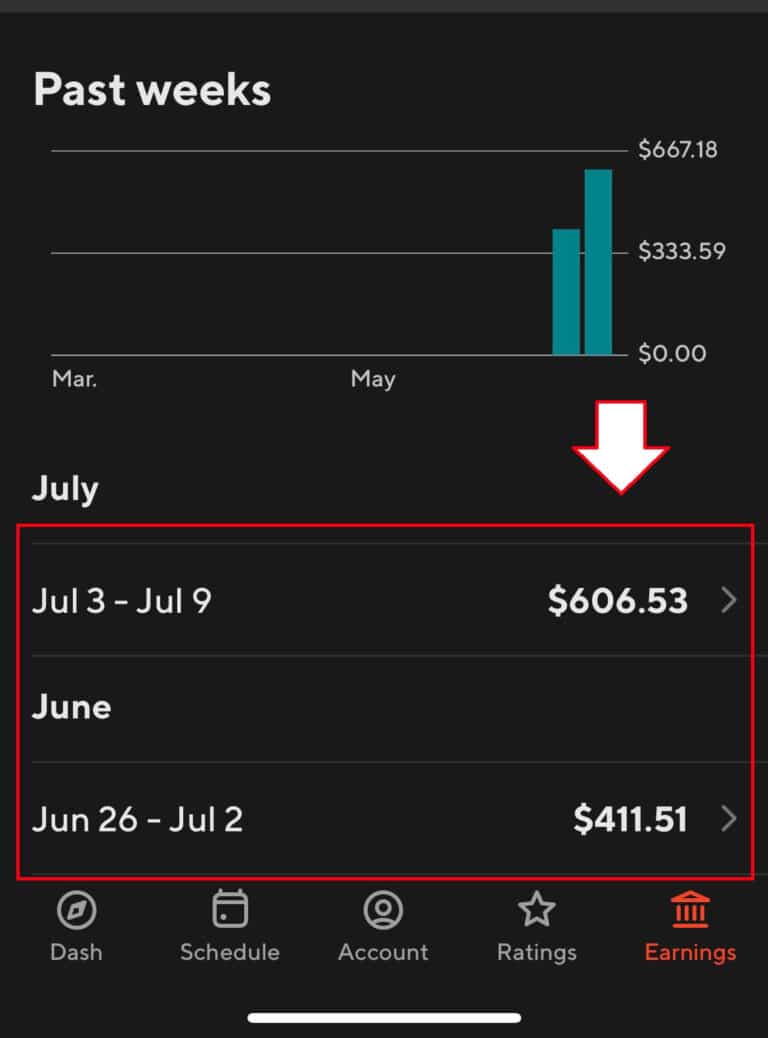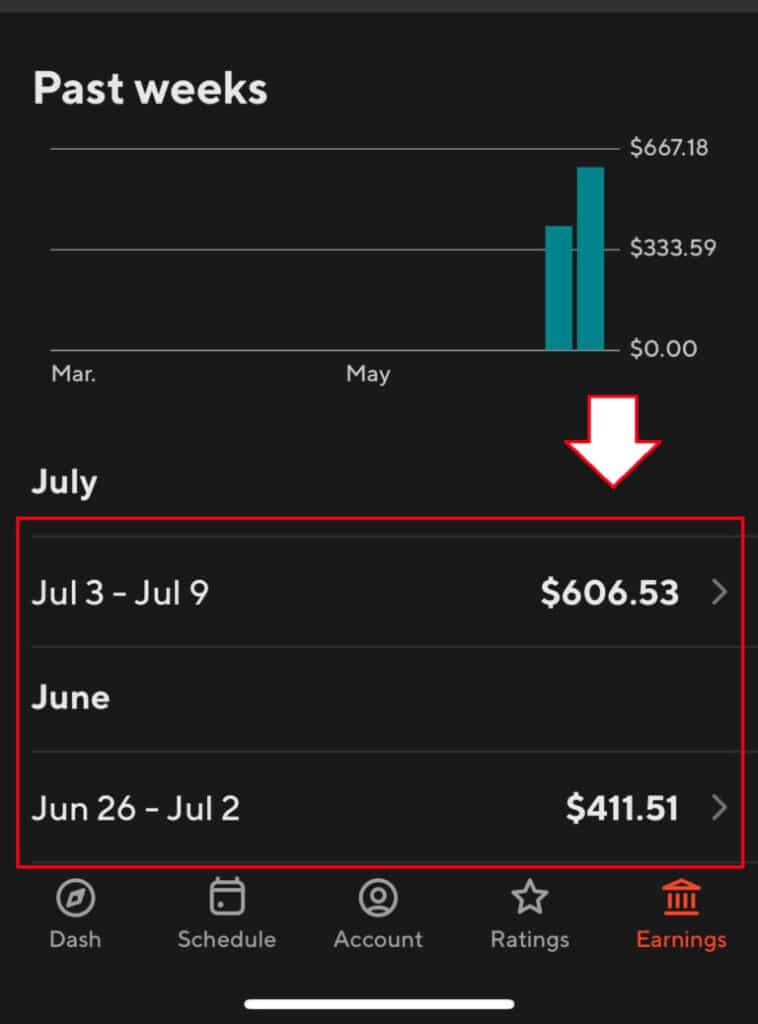 7. Sell Used Clothing
If an unexpected bill needs to be paid or you're thinking "I need $700 now!", this is the best option you have without getting into debt.
One man's trash is another man's treasure. Maybe not trash but there's money to be found in your used clothes. Selling lightly worn clothes through apps like Poshmark online is a popular way to make $700 in a day when you have expensive taste in clothing.
It doesn't require you to go through the lengthy hiring process or set up an online shop. All you have to do is take nice photos of your clothes, post them on different fashion apps, and wait for someone to message you.
If you're worried that no one will buy them, don't be. The second-hand market is booming and you should take part in it!
There are many user-friendly platforms that can help you turn your closet into an ATM – making it easy for you to dispose of your old belongings. Just remember that with every sale you make, the platform will take a certain percentage cut.
Tradesy is an online peer-to-peer website for buying and selling women's fashion. You can find various products like designer bags, belts, watches, and clothing. Another platform is ThredUp. It's an online thrift store where you can buy and sell second-hand items.
If you want the sale to be 100% yours, try Facebook Marketplace and personally post these items on your socials. It's what I did when I decided to sell some of my designer shoes.
8. Flipping Items
Buying and reselling items or sometimes called retail arbitrage turns money making into a game. Being able to find a gem and resell it for three to four figures, could make you good for the month!
I personally have tried and made money doing this activity. As a beginner with no experience, I was able to make an average of $500 per month (sometimes as high as $1,000 to $2,000 a month) flipping furniture after work. I had a blast making old items look new again because I got to practice my creative and design skills.
My old banking job was boring and I stared at Excel spreadsheets and analyzed market data numbers every day. Going out to hunt for items was liberating after being chained to my desk all day long.
If you're interested, you could dip your toes in this industry too. Check out my experience refurbishing furniture and reselling them online to see how if this is something you want to try.
But don't be stuck just selling furniture items, you can venture out to different items such as gaming consoles, smartphones, and sneakers. There are flippers out there that make five-figure returns.
Although I had fun doing it, my true calling was blogging. I found out that I could make more money blogging than selling items online so I stopped flipping furniture.
9. Find A Part-Time Job Online
Everyone could use a little boost to their income and one sure way to achieve that is by taking up a part-time job online.
I emphasize online because these jobs are usually remote and it pays well. This allows you to work anywhere while earning an office-like salary – making you work smarter, not harder.
This is the perfect scenario if your daytime job is working at an office. Say goodbye to office uniforms and forced small chitchats with Trevor from the Finance department. You can do even do things that aren't permitted in your office.
You get to eat while you work, crank up the music, take breaks whenever you like, and be focused without anyone coming up to you.
It's why remote work is fun! But remember, you still need to be on time with your deadlines and daily responsibilities.
To give you an idea, here are the best part-time online jobs that you can do from home:
Email Marketer
Web Designer
Ad Specialist
Graphic Designer
Data Entry Worker
Proofreader
Social Media Manager
10. Build A Personal Brand
If you want a digital presence, starting a personal brand is more important than ever. Aside from having a platform where you can share your experience with an audience, a personal brand can open up a lot of money-making opportunities!
What is a personal brand?
It's your voice, presence, experience, and values you present in the public. It is the process of making an identity for yourself or your business.
But having a personal brand doesn't mean you can monetize it immediately. You need to grow and find an audience that resonates with your message.
In order to grow your personal brand, you need to keep telling your story. What I learned from my experience is that you don't need to be perfect. We're humans and we make mistakes but that's what makes us unique. Share your first-hand experiences, lessons learned, and the highs and lows. Readers love genuine stories – not just an overly-polished version of your experiences.
Your authenticity and genuineness are essential elements that make your brand relatable to people. A personal brand is not just about sharing your personal experience, it's also about connecting and cultivating relationships with your audience.
This is how I grew my brand, Finsavvy Panda. I was transparent about myself right from the start. I spoke about the amount of student debt is was in and how I dreaded my work. I even shared my blog income reports and progress with my readers.
And with enough dedication and consistency, I grew a following and was able to monetize my blog. It wasn't a quick shot to the top, I don't even think I've reached the top yet. But the progress I've made hopefully inspires you to start your own personal brand.
11. Start A Service-Based Business
You might ask, why a service-based and not product-based? Well, service-based businesses usually require little to no capital upfront, especially when it's done online.
It's what I love about these kinds of businesses – creating something from little investments to having a steady stream of passive income!
To those who are not familiar, service-based businesses offer a service to other people. This can be other businesses or consumers. Examples of this could be a marketing agency, a bookkeeping service, website design, business growth coaching, and many more. Almost anyone with enough expertise can break into this field so think about what you're good at.
For example, if you're a top salesman in your company, you can start a coaching service that teaches aspiring salespeople the art of selling. Show beginners how to make sales without being too pushy. Use your previous deals and achievements as social proof.
Another example would be being an online dietician. People who want to be healthy need guidance in their nutrition. You can charge a premium price for creating customized diet plans for clients that are battling obesity or just need to manage their weight and strive for better health. You can also provide meal-prepping services, which help busy people with their diet needs.
12. Rent Out Your Home
Before I got into real estate investing, I was intrigued by how people could make money with their homes by house hacking.
All it means is that you rent out part of your house to tenants who can help pay for your mortgage, utilities, and property taxes.
When my husband and I were house-hunting, we were only interested in viewing houses that had two separate units or were large enough to be divided into two units.
You can live in one part of the house and rent out the other to collect way more than $700 monthly in rental income. You accumulate equity, reduce your monthly mortgage payments, and will have leftover cash flow for other investments!
Don't have a separate unit in your house? Don't worry, a single room can be rented out on Airbnb too! Some vacationers don't need a full house when they're only staying for a night or two in the city.
Here's the crazy thing about renting, it goes beyond properties. You could also rent out your car, bike, camera gear, or gown! Be creative and think of how a certain item would be beneficial for a person if they have it or don't want to own it outright.
FAQs
How Can I Make $700 In A Month?
If you're aiming to earn this number in a month's time, I suggest you find a part-time job online, be a freelance writer, or work as a virtual assistant.
The average monthly salary in those fields goes well above the $700 mark. It can even lead you to do it full-time since the pay is decent in these fields.
Websites like UpWork, LinkedIn, and Fiver are excellent places to start looking for these jobs. They are trusted and legitimate platforms for people looking for easy side gigs.
How Can I Make $700 A Week?
So if you're searching for how to make 700 dollars fast, one option would be flipping clothes. It won't be as consistent but it is possible to earn that figure in a week's time.
Another choice would be Uber Eats. It's flexible and you can get paid around $12 to $29 per hour. And if you work during peak hours, you could be making money on the higher end of the spectrum.
Lastly, walking dogs is a great choice with no experience needed. Just knowing how to deal with pets is the best skill to leverage. Dog walking can even make you more than $700 when you turn it into a recurring service-based business.
Enjoyed this post? Don't forget to pin the image below! Also, don't forget to follow me on Pinterest over here! 🙂