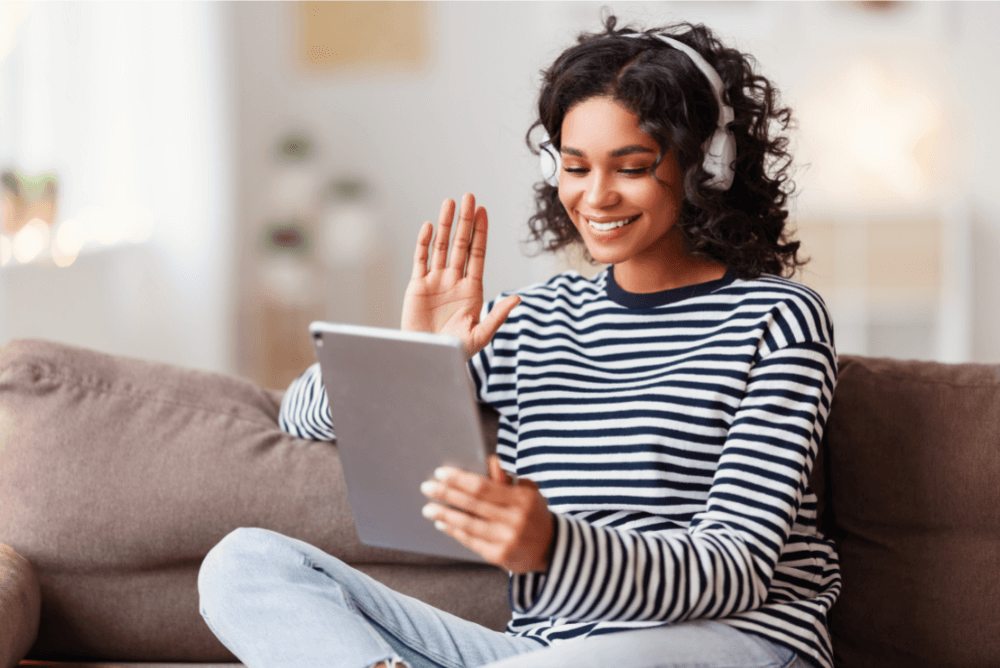 We will receive a commission if you make a purchase through our affiliate link at no extra cost to you. Please read our disclosure policy for more information.
You've been friends with several people in your life. Whether that number is less than three or you have a bigger group of friends, you have kept yourself together with your friends' help-and vice versa.
Nurturing friendships is a fulfilling experience from which you and your friends can benefit. It brings numerous social, emotional, and health benefits. These include boosting your happiness, encouraging personal development, and influencing you to make healthier decisions.
If people naturally gravitate towards you, chances are you're an awesome friend in real life (just ask your friends for confirmation). Your friendly nature and charisma can lead you to an earning opportunity: you can get paid to be an online friend!
(And no, you're not milking a hapless individual with a paid online friend setup.)
Exploring the different ways to make money online along with some friendships may be new to you, but it's a legitimate service for people's needs. Some people seek the warmth and assurance of friendship they don't mind spending money on to get quality time, advice, and (online) companionship. Some prefer the anonymity of virtual friendship to get unbiased opinions on things.
Others want someone to listen to their day-to-day experiences, especially if old friends are far away. These people are more than willing to spend money to help with their friendship needs, and are usually eager to make connections as real friends would!
In this blog post, we will share how you can get paid to be an online friend, plus how you'll be helping people who cannot make real-life relationships.
We also included platforms where you can start offering your service as a virtual friend and how to keep yourself (and your friend) safe in the online world. Read on below!
PIN THIS: I'll be updating this post so make sure to pin this image here and save it to your Pinterest board. That way you can easily come back here to learn how you can earn money by being an online friend!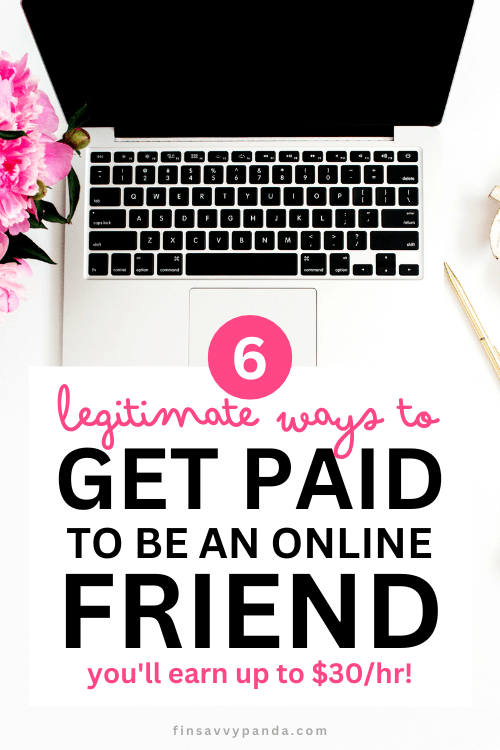 What is a virtual friend?
Simply defined, a virtual friend is someone you have met on the Internet, likely through various social media platforms. Virtual friends can be of any gender, age, or ethnicity.
You may have a similar background or a totally different one with your virtual friends. It doesn't matter, as long as you get along and respect each other. But when did virtual friendships start?
Virtual "friends" likely started with Friendster in 2002, and other platforms followed suit. The messaging feature on Friendster and other similar websites like Myspace enabled people to interact virtually by liking pictures and status updates. Add Yahoo Chat/ Yahoo Messenger to that, and people found ways to talk and chat with people despite massive distances dividing them.
Soon, other platforms such as Twitter, Facebook, and Instagram became a place to meet new online friends, like you're doing today.
Why do people pay for online friends?
People pay for online friends for several reasons.
You might prefer to have an online friend because you are shy and prefer being anonymous. This situation is especially true for introverts, who may not be comfortable keeping eye contact or having a physical presence of a person nearby.
Some people pay like-minded people to engage in similar hobbies, like online gaming. You'll get to team up with this kind of virtual friend, conquer missions and win items. Sometimes, they want companions for virtual events, kind of an online plus one. Either way, it's a win!
You can also become a virtual friend for people who need more confidence in their relationships, like approaching someone they like. You will be more like a wingman/wing woman for them. Or, if you have the experience, you could become their virtual friend/dating coach!
Others pay to have "accountability buddies," more like someone who reminds them to get things done (like finishing a project, doing some exercise, etc.). This kind of virtual friendship is closer to what virtual personal assistants do but on a much more friendly level. You have to hold your virtual friend accountable, motivate them when they're being lazy, and in turn, you'll make money online!
How much money can you make as a virtual friend?
You can earn anything from $15 to $30 an hour as a paid virtual friend by having friendly conversations with lonely people. This is an easy task for extroverts who enjoy talking to others. Are you a little bit shy? You can still earn without showing your face or talking or you can try other jobs for introverts.
You can earn even more if you have specialized knowledge (like a therapist or a counselor) for up to $50 per hour. But if you don't have these skills or degrees, you can still be a paid friend online, given that you have empathy and patience for your friends.
Though being a virtual friend isn't a substitute for more stable jobs, it's a good way to earn $100 in a day doing something you're good at. If you're lonely yourself, this opportunity hits two birds with one stone-plus the money.
However, you need to be more patient and tactful as a virtual friend, unless they specifically ask for advice that isn't sugar-coated!
Legit Ways to become a Paid Online Friend
1. Rent a Friend
You can get hired by Rent a Friend to do "Virtual Friend Services" via Facetime, Zoom, and other platforms. You can also get paid for texting and doing phone calls with them. Or, if your "friend" is more traditional, you can also communicate via email (or snail mail!).
Rent a Friend offers you friends from all over the world to do all sorts of activities in real life, too. This makes Rent a Friend particularly handy when traveling in a new country or needing someone to accompany you to a particular event.
It's also easy to join Rent a Friend. You simply fill in their application form and for an hour or two for membership confirmation. As of writing, they state that they'll be accepting new Friend Applications soon, and you need to add your email for them to contact you once the Application Form is open.
As soon as your profile is set up, Members (Rent a Friend customers) can contact you through the website. You can choose which Members to respond to, and after you have selected someone, you and the Member can start making plans to meet up virtually or in person.
Joining Rent a Friend is a good way to start if you want to become an online friend for hire. They don't get a cut of your earnings, it all goes solely to you.
Pros:
It's not a dating site, so if you're looking for purely platonic clients, you'll feel safe as a friend for rent here.
You can register as a friend for rent anywhere in the world.
You set your own rates and working hours.
The platform collects your fees and deposits them straight to your bank account.
Cons:
The volume of friend renters varies with location, so it's not recommended as a full-time job (though Rent a Friend gives a sample calculation if you were to do it full-time).
They don't have a mobile-friendly site (which is a disadvantage since most friend-seekers are on their phones!).
2. Rent a Local Friend
Rent a Local friend is another platform similar above. They offer Remote Concierge, where you, as a "friend," can provide tours and tips by chat or video call.
You can also take advantage of being a local in a particular place by going out with them to places as a Local Friend. With this service, you can earn extra money by making a personal itinerary with the person hiring you as a friend.
The usual spots are restaurants, parks, and other places for recreation-anything wholesome that your friend fancies. You can also suggest other fun places to visit in your itinerary!
The third service you can provide on this platform is the Virtual Friend service. With this service, you can give talks and classes to people wanting to know more about your locality.
Pros:
Available in major cities worldwide for Local Friend services.
You can access friend services (remote concierge, local friend, and virtual friend) as a Member.
Gives you a crowdfunded personal web address to build up your friend profile where you can upload your posts, photos, and videos.
Cons:
Local friends need to pay a contribution fee to get verified on the site (not a deal-breaker, since these fees keep the site up and running).
3. Rent a Cyber Friend
Connections are valuable for Rent a Cyber Friend-and a valuable connection is what you will offer once you register as a Cyberfriend with them. This platform provides friend services on a per-minute basis for calls.
Rent a Cyberfriend provides video call services for people seeking friends online. It's a purely virtual service (no meetups!), and Cyberfriends can work anywhere as long as they have a camera and a good internet connection.
Applying as a Cyberfriend is easy-you register on their site, click on the activation email they sent to your registered email address, complete your profile with your photo and interests and set your rate.
Earnings go straight to your bank account with a 20% platform fee. If you like talking to people on camera, this platform is a great way to get paid as an online friend.
Pros:
An excellent way for confident people to get paid to make friends online.
You can set your own rates.
Calls are charged per minute.
Cons:
They don't have non-voice chat services-not good for introverted people.
4. FriendPC
There are many options to offer when you join Friend PC. On their site, you can choose to be either of the following: a virtual friend through text, chat, or even a call; a companion for real-time events; or a virtual gamer to win challenges with your friend or compete with them.
You can also choose to be a virtual girlfriend/boyfriend here in FriendPC. Whether you want to help someone make their ex jealous, pose as someone's significant other to help them in different ways, or pursue a more intimate relationship with paid hours, FriendPC lets you do that.
Are you good at motivating people? Want to help someone achieve their goals? You can opt to help a member make plans a reality by registering on this platform. Meanwhile, you could also use your tour guide skills and go around with your friend in the city, all in FriendPC.
Pros:
You can set your rates and availability.
You can choose to offer online or offline services.
Cons:
Payments for completed services won't be available until after two days.
5. Start a Blog and Make Money Online along with Some Friends
If you're wondering how to become a blogger and make money, I stand as living proof that it's not just a dream, but a reality. Along the way, I've also made some amazing friends online!
I'm earning over six figures annually from my blog, and along the ride, I've encountered other bloggers online who share similar values as me and who are actually very different from my real-life friends.
My blogging journey began with simply sharing my insights and life experiences about how I save money, make money online, and manage my personal finances. As people read my blog posts, casual chats soon turned into meaningful connections, ultimately leading to genuine friendships.
A great thing about starting a blog is you can choose any profitable niche that sparks your interest. Whether you're into beauty, fashion, gaming, healthy living, exercising, or parenting, anyone can start a blog and make some online friends who share the same interests as you.
So, when you start blogging, you're not just making money. You're also creating a cool community and meeting people who get what you're saying. It's like hitting two birds with one stone – super rewarding!
In fact, since many people have asked me how they can do this, I created a simple tutorial on how to start a profitable blog for beginners.
Pros:
Blogging can turn a pretty profit – I'm making six figures, so it's definitely a solid money-making venture.
You get to build your own community, creating a space filled with people who share your interests.
It's not just about making money, it's also about making friends. I've met other bloggers who share my interests through blogging.
Cons:
Starting a blog can take a lot of time and effort, especially when you're just getting things off the ground.
Income from blogging isn't always steady – it can take a while to start making good money.
6. Fiverr
Fiverr has been a hub for all kinds of virtual services like making money with your handwriting, posting ads for money, and yes, you can set up online friend services here starting at $5. With Fiverr, you can offer all sorts of online friend services. You can play a role for a person, offer them life coaching, or talk to lonely people about all topics you're comfortable with.
The great thing about Fiverr is you can customize your service depending on how you want to market yourself. Want to put your guidance counselor skills to use? You can do it here. Want to offer advice from a parents' point of view? Sure. Perhaps you want to become a game buddy? Or offer no-holds-barred, real-world advice? Want to get paid to chat about pets? Do it here. Fiverr is the way to go.
Pros:
Customizable gigs (you can be as general or as specified in your online friend offerings.
You can set up your own rates as long as it starts at $5.
Cons:
Fiverr is getting saturated with these online friend gigs. You must make a unique profile and maintain good ratings to stand out!
Calls have to be done outside of Fiverr as they only allow messages.
7. Paid Online Friend Offerings through Social Media (Facebook, Instagram, Reddit)
You spend a lot of time browsing through social media apps every day. Why not offer yourself to be an online friend and get paid on social media?
Facebook, Instagram, and Twitter are easy to navigate. Their messaging features are known to many, so you won't have to learn another service for video calls and chats.
Reddit allows you to have accounts that won't reveal much about you (aside from what you allow).
Discord and Telegram are also popular services where you can market yourself as an online friend.
The last three services offer better anonymity than the first three mentioned. However, with you being anonymous (as well as your customer) and online friend services not necessarily included in the platform, you might find that you have to fend for yourself when something happens.
For example, if a customer is rude, you can't complain and still get your money. Unlike a real online friend service, which requires clients to deposit a certain amount first to gain access to a friend, there's little you can do if a customer refuses to pay you.
You can also set customized online services on these platforms, but even if they are easy to use, they come with some restrictions. We listed the pros and cons of marketing your services through social media below:
Pros:
Most messaging services in social media apps are free, so you won't need to shell out money to start! All you need is a smartphone and an internet connection.
A lot of these platforms are desktop and mobile-friendly
The platform doesn't make a cut from your pay.
Cons:
You have to manually set up a payment system in which you have to give away your details (like bank account numbers, names, etc.)
If you're using your personal profile information, hackers and scammers may find it easy to steal your identity.
You have zero to low protection against non-paying customers.
8. Get Paid to Play Video Games and Make Friends
Playing video games isn't just a pastime anymore – it's a way to make money and friends, too.
Yeah, crazy to imagine how you can money playing video games, right?
But they exist and it's real. Platforms like Twitch and ProGuides let you share your gaming skills and get paid for it. You can even team up with fellow gamers, forming friendships along the way.
Essentially, you're earning money doing something you love, while building a community of like-minded pals. It's a win-win: conquering game worlds and real-world finances, all while adding new friends to your party!
Pros:
You're getting paid to play games, literally turning a fun hobby into a source of cash.
You'll meet fellow gamers from all around the world, growing your network of friends with shared interests.
Playing games regularly can boost your strategic thinking and fast reflexes, skills that can be useful outside gaming too.
Cons:
You might end up glued to your screen for longer than you'd like, which isn't great for your eyes or sleep.
Sometimes, online gaming can mean dealing with bullies and trolls, which can be stressful.
The money from gaming can fluctuate, making budgeting a bit of a challenge.
Staying Safe as an Online Friend
Do your research before deciding on a virtual friend. Whether you're the person who pays for the friend or the person who gets hired as a virtual companion, try to see first if this person suits your needs and or preferences. Some online friend services offer a basic profile of their friends for rent and customers, so this should be enough for you to decide.
Be wary of sharing personal information. Same with sharing whatever personal information your virtual friend has chosen to share with you. Don't give out your real name, contact number, or address. This information can be used to create a fake identity for use in scams.
Share pictures and videos wisely. As you get more comfortable with your paying virtual friend, it might come to a time when they will ask you to share images and videos.
If you decide to share these, avoid sending ones that give them a clue to your location or anything that reveals a lot about your personal life.
Decided to meet up in person? Think often before agreeing, and watch out for red flags before meeting up(verbal aggressiveness, lying, etc.). Only meet up in places that give you enough privacy but do not endanger both of you if something comes up during your meeting.
Don't get too invested in your emotions. Becoming real-life friends with someone who paid you to talk and interact with them online is not wrong. It's good to remember that you're doing a job in the first place. Don't impose on their lives or get too involved with their decisions. You're here to make money online, not meddle with their relationships.
Enjoyed this post? Don't forget to pin it! Also, don't forget to follow me on Pinterest over here! 🙂