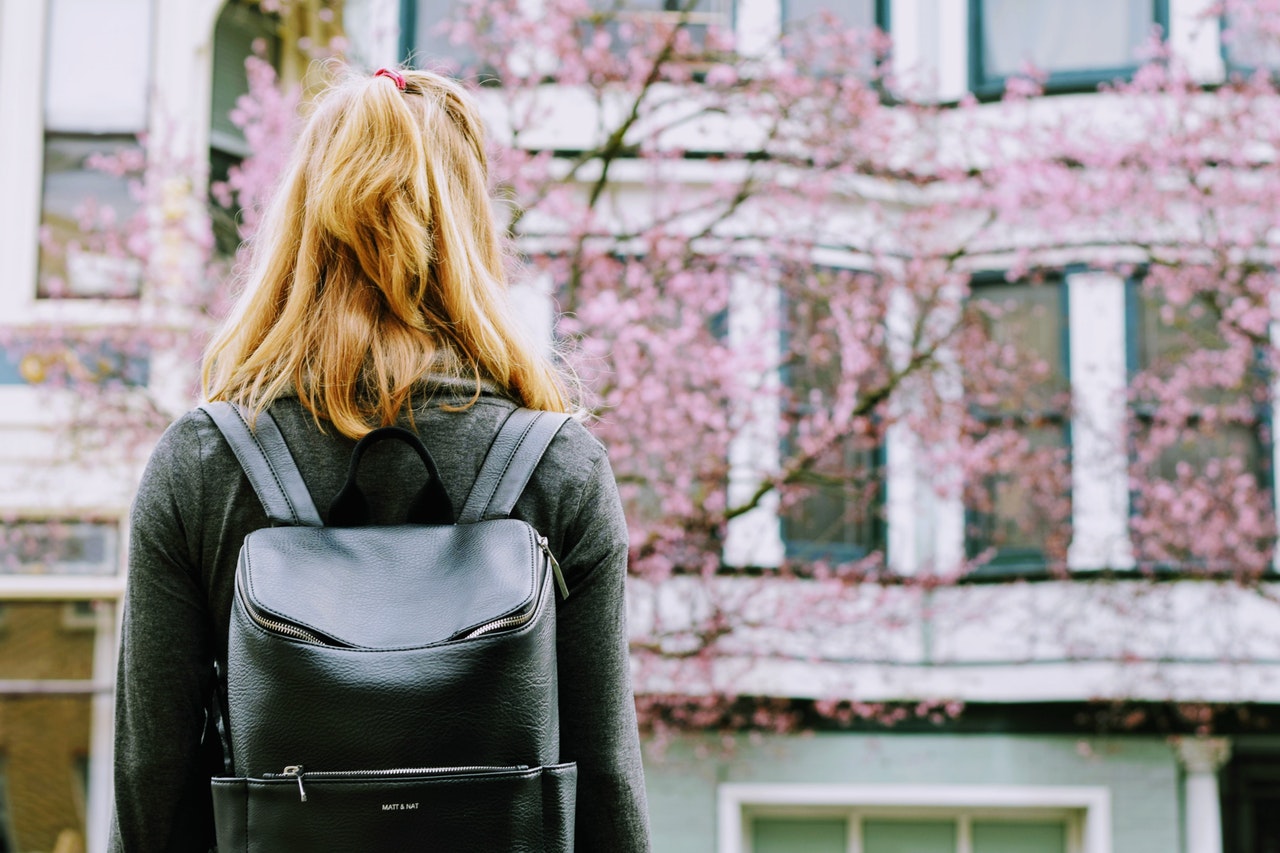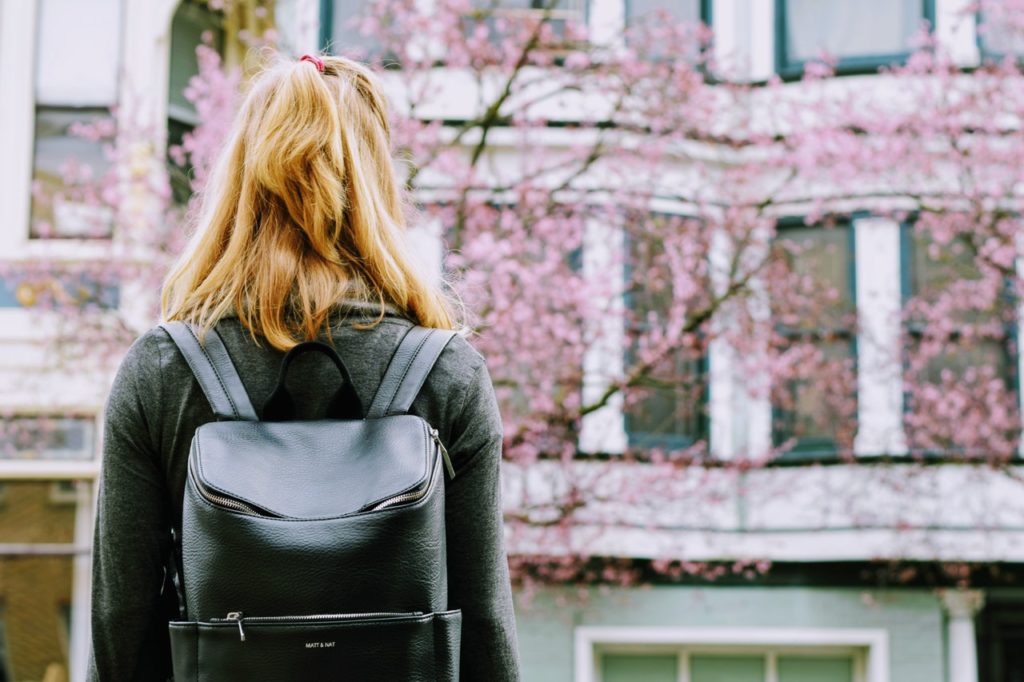 We will receive a commission if you make a purchase through our affiliate link at no extra cost to you. Please read our disclosure policy for more information.
Being a student is hard, but saving money in college or university as a student is even harder!
Trust me, I've been there and done that.
You're on this page because you're probably wondering how to save money as a college student.
That's why I'm going to give you my very best money-saving tips for college students!
Manage your money well while you're in school and you won't graduate with a debt hangover.
Here are the best tips to save money in college for you to avoid being a broke student!
Don't forget to bookmark this page or pin this image for later!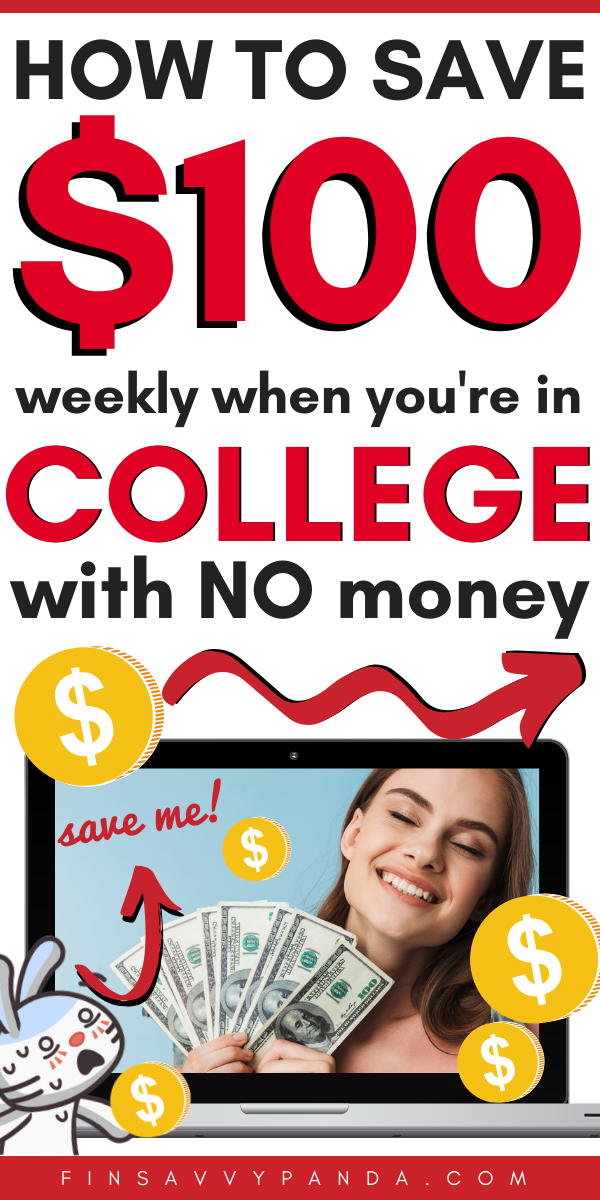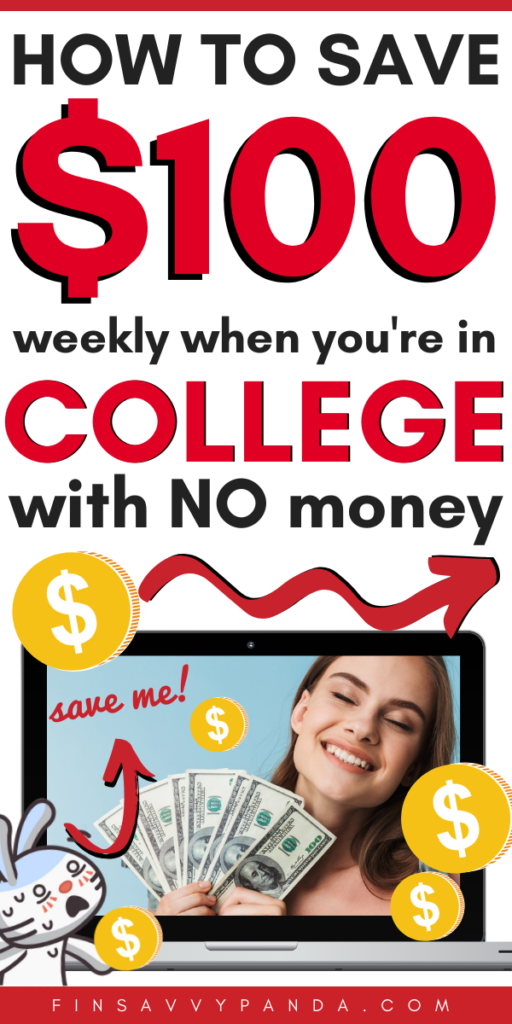 1. Don't miss out on free money in college
There are so many ways to save money in college, but one of my favorite saving hacks is finding free resources.
According to College Board, the average tuition cost for a 4-year undergraduate program at public colleges is now $10,230 in 2018/19.
I don't know about you, but I definitely don't have that kind of money under my sofa.
If your dad is not Bill Gates or Elon Musk, you must do the following:
Always apply for scholarships, grants, and bursary, period.
This is money you don't have to pay back if you're eligible.
I've received over $10,000 in free money from my school! That's a lot of money for students!
Visit the financial aid section of your school's website and check out which applications you can apply to. Also, don't procrastinate and apply early so you don't miss the deadline.
💡 PRO TIP: Don't forget to check out grants offered by the federal and state government.
2. Buy and sell used textbooks
One of the easy ways to save money in college and University is to buy and sell used textbooks.
Unless you're a germaphobic, buying used textbooks is an easy way to save money for students.
What are you going to do with the textbook after the final exam is over?
It's tempting to burn it to ashes and send it back to where it belongs, but there's a better idea!
You can sell the textbook to another student for cash!
As long as you don't toss the textbook to your dog, you might be able to sell it for the same price you bought it at or even higher! To sweeten the deal, you can throw in your lecture notes as a bonus.
You can buy or sell used textbooks from:
Amazon (you can actually exchange your old textbooks using Amazon's Trade-In Program to get free gift cards online from Amazon)!
Decluttr
Facebook market and groups
eBay
BookScouter
Campus bookstore
3. Save money in college using Swagbucks
I'm not here to tell you to cut coffee or energy drink out of your life to save money in college.
I personally needed my daily dose of Starbucks (or should I say Red Bulls) to survive those boring lectures, but I discovered a brilliant hack to offset that cost!
How?
Simple.
By learning how to make money using Swagbucks!
Swagbucks is a FREE rewards program that pays you cash (via PayPal) and gift cards (Amazon, Starbucks, Walmart, etc.) for doing the regular day-to-day things you're already doing online.
That includes surfing the web, watching videos, and completing short surveys!
I've redeemed many free gift cards by using these Swagbucks hacks that work!
To get the best bang for my Swagbucks, I only cash out when they have promotions on their gift cards (25% off).
Swagbucks has paid out over $321,087,343 to date to their members!
👉 You can get a FREE $5 bonus from Swagbucks here just by signing up. It takes less than 10 seconds to sign up!

⭐️ Important: To claim your FREE $5 bonus, don't forget to verify the email from Swagbucks in your inbox!
4. Make extra money in college
Another great free resource that I like to use to save or make extra money is Survey Junkie.
Similar to Swagbucks, they reward you with cash or gift cards for completing brief surveys online.
To kill time on the bus, I answer short surveys to earn a little extra cash as a college student for my fun spending.
Aside from that, you can also make money online with the best survey sites that pay you up to $50 in PayPal cash per survey!
Other survey companies I recommend as a way to make extra money for students include American Consumer Opinion, MyPoints, and InboxDollars. Again, membership is 100% free. By signing up for many survey sites, you'll get to take more surveys for more extra money.
Want more ideas on how you can earn extra money as a student?
Making extra money can definitely help you save money in college.
If you're a high school student between the ages of 14 to 19, then you can work from home with these online jobs for teens. Most of these jobs are actually eligible for people in college too (18 to 21 years old). If you're over 18, you can check out these easy and creative ways to make money in college.
💡 PRO TIP: One of the best ways to save money is to make more money! Seriously, saving money is great, but there's a limit to how much you can save. But there is NO LIMIT to how much money you can make!

One of my top recommendations to making extra money is to start a blog (check out how cheap it is to get started)! My blog currently earns over $10,000 per month!

You can learn how to make money blogging for beginners here!
5. Money saving plan for students
In today's digital world, keeping tabs on your spending in college is easier than ever.
Not knowing how much money you're spending is the same as not monitoring your daily calories when trying to lose weight.
Creating a budget will help you manage your money and improve your financial health.
For your budget to work, you need to be realistic and honest with yourself.
Learn how to create a budget plan and track your income and expenses on a spreadsheet.
| | |
| --- | --- |
| INCOME | EXPENSE |
| Scholarships, bursaries and grants | Tuition |
| Student loans | Textbooks & supplies |
| Part-time job | Rent |
| Side hustles | Food |
| | Transportation |
| | Cell phone |
| | |
🌟 You can also grab my FREE budget printable here that will help you save money! It's something I wish I had created for myself when I was a student!
This will allow you to see how much money you have available to spend and where your money is going (this part is SO important). You'll be surprised how much you're spending at your favorite fast food joints!
In addition to my FREE budget printable, here are some popular personal finance apps that will help you get your finances in order.
Mint (FREE): Easy to use and has a hands-off approach to budgeting.
YNAB ("You Need a Budget" – $6.99/month; 1-year FREE for students): More effective way for you to manage and save money.
Acorns ($1/month; FREE for students): Invests your spare change automatically.
6. Save money on food in college
Learn how to save money on food in college if you want to get ahead financially.
I gotta admit ordering pizza and wings is quick and easy and they taste amazing!
However, they are not the best for your health or wallet.
I know, I know… cooking is not easy and takes time.
But learning how to cook will save you a lot of money on food.
For those of us that are not blessed with cooking skills, you will never have to rely on ramen or Kraft Mac & Cheese to survive!
Our prayers have been answered with this Instant Pot! These Instant Pots are the rave today and they're selling like hotcakes!
This handy neat appliance is a smart multi-cooker that serves as a:
slow cooker
pressure cooker
steamer
rice/porridge cooker
yogurt maker
sauté/browning pan
warming pot
With that said, the Instant Pot could help you save money in college. It's very easy to use, convenient, and cooks delicious healthy meals!
7. Be smart when shopping for food
Never shop on an empty stomach.
Our eyes are bigger than our stomachs after writing a marathon of exams.
Studies have shown that hunger makes us more likely to buy things, food and non-food items! Think twice before buying anything when you're hungry.
Now, you may be wondering how to save money each month.
To save money on groceries and eat healthy, we stick to our shopping list to prevent impulse purchases.
8. Saving deals for college students
You may think student life in college is hard, but there are some perks for being a student.
Other than sleeping in on weekdays, college students get money saving deals that are exclusive… well, for students!
Many retailers and restaurants offer students at least 10% discounts on their merchandise and services.
Here are a few of my favorites!
You can sign up for a FREE UNiDAYS account to get your promo codes to use when checking out.
The best part is that you can use the promo codes on sale items!
I stacked up my savings on my laptop by using UNiDAYS promo code (10% off) and Rakuten (10% off) together! That's an additional 20% off the sale price!
👉 You can check out this legit Rakuten review and tutorial and learn how to save money in college by using it.

Plus get a FREE $10 when you sign up with the special link in the tutorial! You're going to LOVE Rakuten and the student deals they offer! ❤️
If you love shopping at Amazon, you will want to sign up for Prime Student and get a free 6-month trial.
Why should you try it? It won't cost you a cent if you cancel the service before the 6 months mark. With Prime Student, you will get:
FREE Two-Day Shipping.
Access to thousands of movies and TV shows.
Unlimited access to over a thousand books, magazines, comics, and audible narration.
Unlimited photo storage.
College deals and exclusive promotions.
30-minute early access to select Amazon Lightning Deals.
💡 PRO TIP: Some companies don't openly advertise student discounts. Don't be shy to ask if they offer student discounts.
9. Avoid paying the minimum balance on credit card
When I got my first credit card, it felt like I gained adult powers! But remember, with great power comes great responsibility.
If you use your credit card for good (i.e. build credit), it will reward you with better borrowing rates in the future when you apply for mortgages and loans.
However, if you're not careful in using your credit card and rack up debt that you can't repay, it will haunt you for a long time. Trust takes time to build.
You're probably thinking that as long as you pay the minimum payment, you're safe and you won't need to pay interest on the remaining credit card balance…
WRONG!
By paying the minimum payment, credit companies won't charge you late fees, but they will charge you interest on the remaining balance.
According to CreditCard.com, as of January 2019, the average APR is at a record high of 17.52%!
Making minimum payments will take you many years to pay off that debt and will end up costing you a lot of money.
That hot deal that you recently got and have been bragging to your friends about is not so hot when you factor in the interest costs!
10. Frugal and saving hacks for college students
Saving money in college for students doesn't mean you have to stop shopping and use your family's hand-me downs.
Heck no!
You just need to learn what frugal and simple living for college students really means and shop smart at the same time!
There are SO many money saving resources all over the web that can save you thousands of dollars.
To name a few, here are my favorite ways to save money when shopping online.
Online coupons for students
Before you pay for your online shopping cart, make sure to check RetailMeNot. They might have student coupons and promo codes for you to use on your purchase.
Sign up for newsletters
Stores love to have you on their mailing lists so they can send you promotions. To entice you to sign up, they offer discounts (e.g. 10%) or free shipping on your purchase.
Once you're done with your purchase, you can always unsubscribe from their mailing list to keep your mailbox clean.
Time your shopping
Retailers often have promotions later in the week. The best time to shop is from Wednesdays to Fridays. If your purchase is not urgent, wait until the holidays to save some big bucks.
Most retailers have special promotions around holidays, such as Valentine's Day.
Clear your cookies
No, I'm not talking about clearing out your cookie jar…
When you are browsing online, cookies track your browsing activity. By using cookies, travel websites can jack up airfares if you keep searching for a certain flight.
Before shopping, clear your browser cookies and use incognito mode to save money!
Abandon your shopping cart
Retailers track your shopping behavior so they know when you're very close to making that online purchase. If you leave the site before finishing the transaction, retailers may offer you a discount to close the deal. Not all retailers use this strategy so don't expect every retailer to beg you to come back.
Shop around
Have you been cheated when you buy something and then see the same item at another store but with a LOWER price?
Next time you shop, use these price comparison tools to see which stores offer the best prices to save money and future heartbreaks.
11. Frugal activities for college students
There are simple things in life that are enjoyable and don't cost a lot of money. You don't have to break-up with your best friends and adopt a hermit lifestyle to save money.
Choose activities that are budget-friendly and spend some quality time with your family and friends. Put on your thinking hats and be creative! Here are some ideas to get you started.
Ditch Wi-Fi and connect with nature
It's good to get in touch with nature and refresh your soul. With today's technology, we're constantly bombarded with notifications and checking out phones. No wonder why we've all experienced phantom vibrations from our phones! Take some time offline and recharge your mind
Don't like walking?
That's fine. How about taking a bike ride down a nice scenic trail? Get off the couch, put on your gears, and get some exercise to improve your physical and mental well-being.
Biking is not your thing?
Put some sunscreen on and bake in the sun!
Soak up the sun and enjoy the sea breeze…
Discover your own city
When you visit a new city, do you make sure you hit the hottest and latest spots and restaurants? Instead of flying across the globe to try new things and food. Use some of the savings from the plane ticket to explore your very own city. Don't take your city for granted.
You can visit your city's tourism website to find free things to do around the city.
Save money in college but don't forget to embrace student life!
Life is unpredictable.
Saving money in college and planning ahead is very important, but don't get hung up on the detail.
Life is not a movie with a perfect ending. Not all things will go accordingly to plan so be flexible and adapt to changes.
Life is short so don't forget to live!
Go ahead. Live a little and treat yourself to something you enjoy!
Over to you now — how do you save money as a college student? Do you have any money saving tips for students?
Enjoyed this post? Don't forget to bookmark this and share it! 🙂