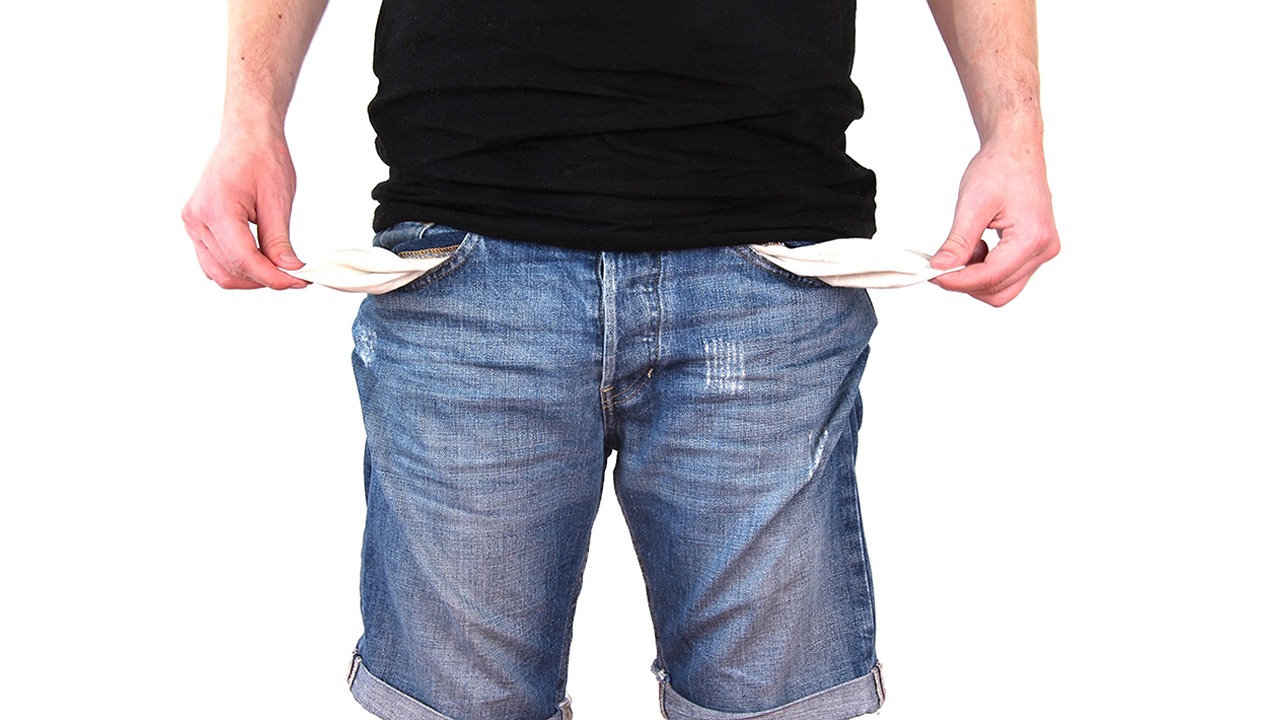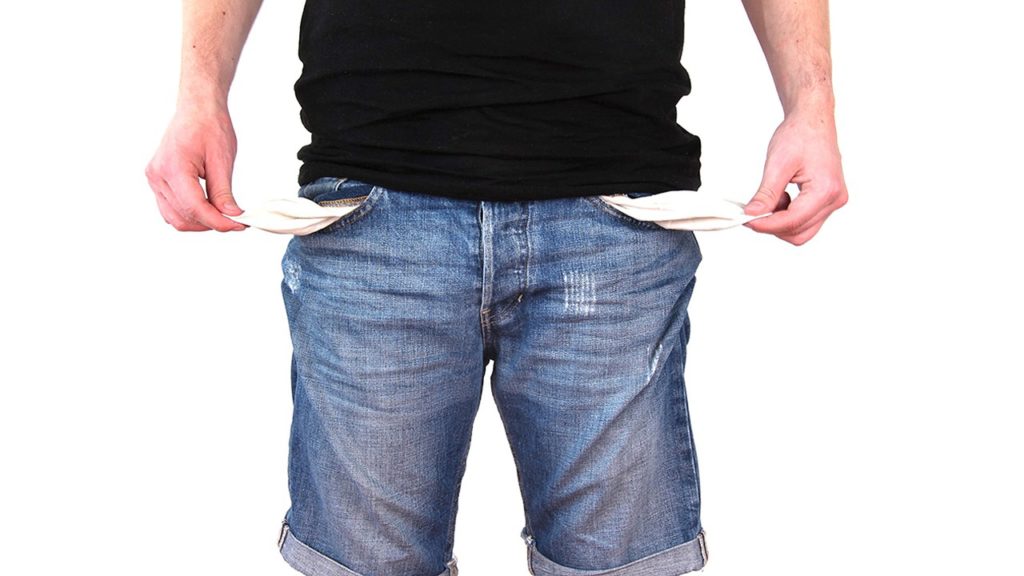 We will receive a commission if you make a purchase through our affiliate link at no extra cost to you. Please read our disclosure policy for more information.
Ever since I was a little girl, I always heard my dad ask the same question over and OVER again…
Like, literally non-stop!
Why am I poor?
Until this day, he STILL asks the same question!
FML!
If I got paid a dollar for each time he asked this question, I probably would've become a multi-millionaire by now.
His helpless voice along with his negative energy pretty much scarred me for life. I always remember him saying:
"Our family is not meant to live a rich (or comfortable) life. We're always going to be poor AF no matter how hard we try. Unlike other people, I'm just a very unlucky man. That's life… too bad, we just have to live with it."
It got to the point where his perspective about life and money made me become such a negative person for more than 25 years!
My dad made the little girl in me wonder… am I going to be broke forever? I'm probably going to be poor and depressed for the rest of my life!
After I was done school, I knew that I didn't want to be a reflection of my dad.
Despite being poor, I still managed to develop a positive mindset and save money while living on a low income. This includes being able to find $10,000+ in FREE money from many hidden resources.
That's just how I dealt with a poor daddy who made me feel hopeless most of the time (though I know he didn't mean to). 🙂
Anyway, that was my little personal story.
I know you're tired of struggling financially, so today, are inviting Nelly from Debtconsolidationcare.com. She is going to explain why you are poor and how to stop being broke!
I hope her tips inspire and motivate you to take control of your finances!
PIN (OR BOOKMARK) THIS PAGE: I'll be updating this post so make sure to pin this image and save it to your Pinterest board. That way you'll be able to come back to this page. so you can go from being poor to becoming a financial expert with your money!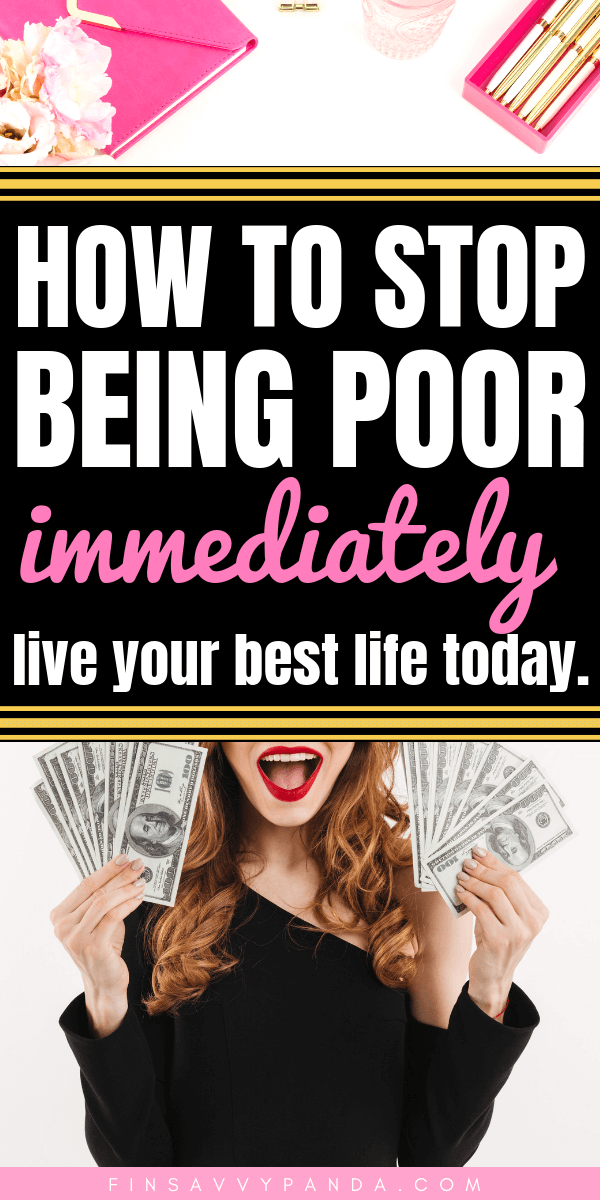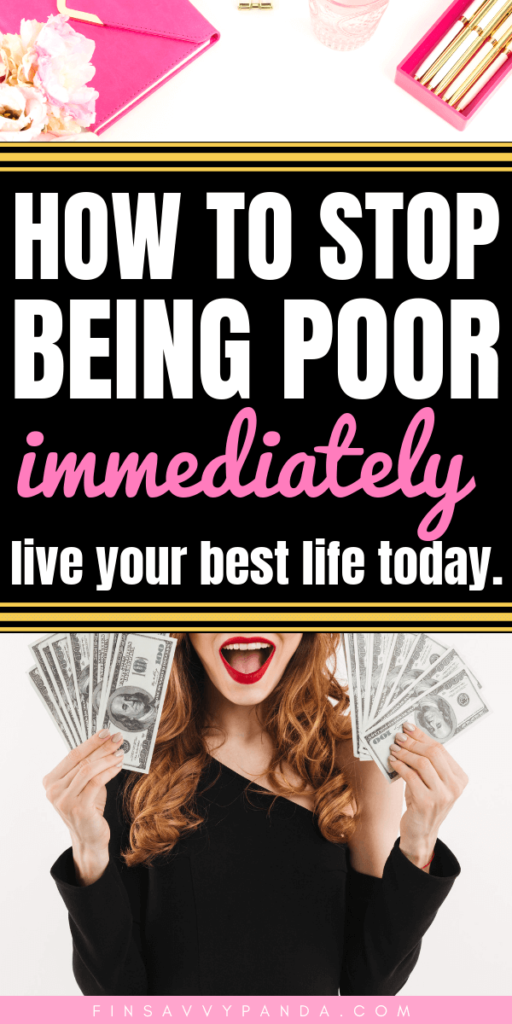 Why am I always broke?
Being broke is a temporary situation. Being poor is a state of mind.
Are you tired of being broke and depressed?
You may always find yourself asking, "Why am I always broke at the end of the month?"
If you're tired of struggling financially, it is the time to stop worrying and get going. You won't achieve anything by worrying. So, stop being depressed, accept where you stand financially, and find a way out.
But, before you know how to stop being broke, you need to analyze why you are broke.
Did you not manage your finances properly?
Was irresponsible use of credit cards the main reason?
Did you experience any medical debt?
Were you laid off at some point in time?
Here are some more reasons that may lead you to debt:
1. You don't pay heed to your money problems
It is quite natural to experience money problems at some point in life. But, you may not be tackling those problems head-on. You may not be successful but taking the step is important.
2. You always worry about others' opinion
Are you always worried about what others think about you? Yes?
Tell me one thing, how many of your friends and relatives came to your help when you were experiencing financial difficulty? Probably one or two of them, right?
But, you might have swiped your credit cards to match your friends' lifestyle.
3. You don't utilize your leisure time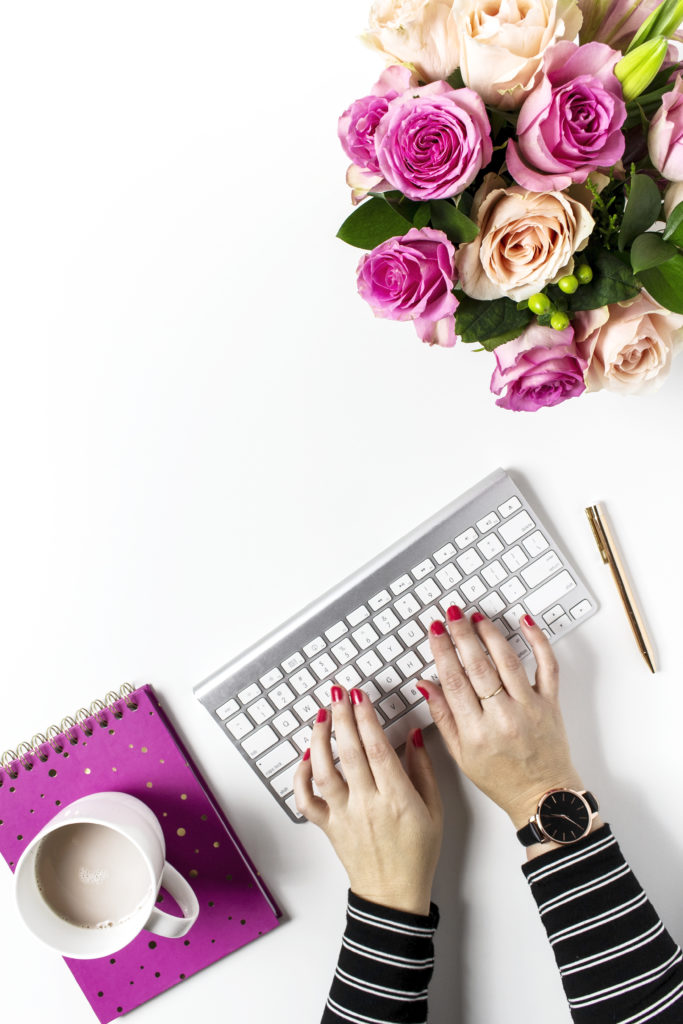 Nowadays, most of us spend a lot of time surfing the web mindlessly. I am not saying that you shouldn't relax; it is also necessary. But, you can utilize some of your leisure time to earn significant dollars by starting these side hustles.
Side hustle ideas include starting a profitable blog, freelance writing, walking dogs, flipping furniture, babysitting delivering food through the best delivery apps, and many more!
As you can see, this world is filled with thousands of ways to earn extra money. You just need to find the one that you enjoy doing so that it doesn't feel like work.
Related post: Make Extra Money – How I Made Over $1,000,000 With These Side Hustles
4. You don't pay heed to the interest rates
Making minimum payments on your credit cards might seem ok for you. You are not defaulting on your cards and the credit card companies also don't bother you since you're continuing with making the payments.
But, have you noticed that interest is getting charged on your outstanding balances, which in turn, is increasing your outstanding balance even more, probably every month?
5. You don't care about your relatively expensive habits
You may think that smoking a cigar is just a matter of spending a few bucks. But, just calculate how much you spend on it annually. It is a significant amount; isn't it?
Likewise, have you ever calculated how much you spend per month on your gym fees and monthly subscriptions which you can do without?
All these things cumulatively increase your expenses and put pressure on you to manage your finances.
So, at first, think and analyze what led you to debt. It may be a combination of factors instead of only one.
However, even if it's not in your hands, you're responsible, to some extent, for your debt problems.
For example, you might have been laid off, for which you incurred debt. This may not be your fault and it might be a company policy. But, you could overcome this situation if you would have an emergency fund.
So, at first, admit and be responsible for your financial situation. Be honest with yourself and your financial life.
Then, stop worrying and take necessary steps to improve your financial condition.
Analyze where you stand financially
How will you plan to improve your financial situation if you're not sure about your present position? Yes, so, you need to have knowledge about your exact financial scenario.
It will include the amount of debt you have, your net worth, etc.
So, sit down with your bank statements, credit card details, etc. and find out where you stand financially.
6. You don't plan a budget which you'll be able to follow
To make the first move to improve your financial situation, you need to plan a suitable budget for beginners.
To do so, first of all, forget about your present situation, set your goals, and write down your values. Here are resources that will help you start a budget even when you're drowning in debt:
How will you define your financial goals?
To do so, think of what you want to accomplish in the next 3 months, next 6 months, and after a year. You can also list your long-term goals like what you want to financially achieve after, say about, 5 years.
Prioritize your expenses
Now, list the values that matter to you the most. Make room for expenses, which matter to you the most.
Write down your sources of income
The next step in planning a budget is to make a note of your income. You might be doing freelance jobs or part-time jobs or have a full-time job with not satisfactory income. Whatever be it, list your income from all sources and calculate an average monthly income.
Write down all your expenses
Now, determine your fixed and variable expenses in a month. While doing so, don't forget to include your quarterly or annual expenses. It is better to add these expenses to your monthly budget.
Create a realistic budget and save money
Make saving a necessary thing. You should try to save a fixed amount every month. It is not a right approach to continue spending and saving what's left behind. On the contrary, it should be just the opposite.
Do not save what is left after spending; instead, spend what is left after saving — Warren Buffett
7. You don't make the effort to save money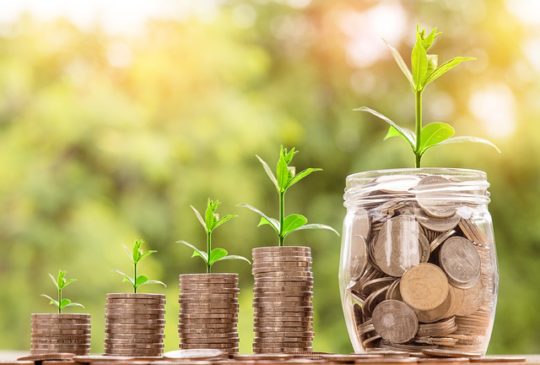 Everyone will give you this advice – find the best ways to save as much money as possible.
It may seem impossible especially when you're trying to save money on a low income, but know it can be done!
You also know that you need to reduce your expenses to save more. But often people overlook certain things that can help save more.
Have you thought about whether or not you can reduce your phone bill? What about your insurance coverage?
Just give a call to these utility services, that you are using, and let them know that you're getting a better deal from other service providers, and negotiate on the price you're paying.
If you are a loyal customer, then there are chances that they'll offer you a better rate.
You are in a win-win situation. If you don't get a better deal from your existing service provider, you can always look for better deals anywhere else. They may offer you a good rate as a new customer.
Along with it, scan where you're wasting your hard-earned money. Could it be that you're overspending on your weekly groceries and not realizing it?
One best way to do it is to list your expenses for each and every dollar you spend. Then, at the end of the month, tally it with your budget plan. It will also help you plan a suitable budget and make modifications to it if required.
Even then, if you can't resist your shopping temptation, because you can't stop it altogether overnight, shop at stores that offer you cash back. There are many saving money apps with free cash-back offers when you purchase through them.
To help you kickstart your savings journey, here are more resources on ways to save more:
8. You're not frugal or resourceful
Some people struggle with money because they aren't careful with their spending or clever with what they have.
Being careful means thinking before you buy and not wasting money on stuff you don't really need. Being clever means using what you already have in smart ways and not always buying new. For example, fixing a torn shirt instead of tossing it. Or using an old jar as a vase.
Without being careful and clever, it's easy to spend more than you have and get into debt. It's like letting water leak from a bucket. If you want to have more money, think about how you can be more careful and use things in smart ways.
You can find more clever ideas on frugal living here.
9. You aren't taking advantage of free stuff
One often overlooked reason for feeling strapped for cash is not taking advantage of the myriad of free resources available.
Today, more than ever, you can find free stuff online, from educational courses to software tools, which can equip you with valuable skills or save you money on necessary items.
There are even legitimate ways to get free money; from signing up for cashback offers to government programs and rebates, many platforms reward you for your time or loyalty.
Ignoring these opportunities is akin to leaving money on the table. So, I encourage you to be proactive and hunt for as many free resources as possible – it could help provide an unexpected financial boost in your journey!
"I am poor but my friends are rich"
Do you catch yourself saying this all the time?
Well, don't compare yourself with your peer group!
Tell me one thing, will you do yourself any favor if you try to match your lifestyle with others? You are now broke, but once your financial situation improves, make a conscious attempt not to do this.
You will not be happy by succumbing to the pressure of your peer group. I have seen that people, who want to overspend, motivate others to overspend too. So, if you agree to this, your financial situation will never improve.
Choose a lifestyle that you want to have instead of matching yours with others. You may want to assess your financial situation and see why you're living paycheck to paycheck and how to stop.
Have multiple savings accounts instead of one
Often we hear about multiple savings strategies to repay debt, saving for an emergency fund, saving for a vacation, and so on.
How about having multiple savings accounts? Won't it make your work easy to save a significant amount every month?
I think it can help you.
What you need to do is, create checking accounts, savings accounts, and PayPal accounts. After you get your paycheck, divide the amount amongst your different accounts on the basis of your budget plan.
Make sure you use one account for that purpose only. Do not ever use it for other purposes.
Doing so, you won't overspend since your account won't allow it.
Increase your income
To repay your debts and improve your financial condition, you need to increase your income. Try these ideas that will help you earn 200 dollars a day or even 500 dollars a day. Push your limit and see how far you can go!
It may also be that you're trying to save as much as you can, leading a frugal lifestyle, but it helps whatever dollar you can add to your existing income.
There are a few ways to do it. One of the best ways is to move to a cheaper place than where you're living. From my personal experience, I can tell you that, you can get an apartment of your choice, at a much lower rent.
Another good opportunity to raise your income is to participate in these highest paying online surveys. It will be quite interesting too!
You can also search the web for various ways to earn extra income.
Choose a good option to resolve debt problems
When you are broke, most likely you'll have quite a good amount of debt to pay off. You might have swiped your credit cards or taken out loans to manage your financial condition. It might also happen that you didn't manage your credit cards responsibly.
So, now you'll have to find some ways to resolve your debt problems.
First of all, stop accruing more debt. Shift from credit card purchase to cash purchase. That means, forget about your credit cards for the time being and buy your necessities with whatever cash you have.
If you have an income, try to save a certain amount from it which you'll use to repay outstanding debts.
But, to repay debts, you need to have a brief knowledge about the debt relief options and know which one may be suitable for your financial condition.
Here's a brief idea:
Debt snowball – You make more than the minimum payment on the lowest balance debt along with making the minimum payments on other unsecured debts.
Debt avalanche – You make more than the minimum payment on the debt with the highest interest rate along with making minimum payments on the other debts.
Debt consolidation – If you have multiple debts to pay but you can pay them in full, then you can consolidate and repay your debts.
Debt settlement – If you're not able to repay your bills in full, you can negotiate with your creditors to reduce the payoff amount so that you can pay that and get rid of your debts.
So, analyze your situation and choose the best way to resolve the debt.
However, if you don't have a decent job and no part-time job and lots of debt, then filing bankruptcy may be the only option available to you.
By filing bankruptcy, you can get a discharge from your credit card bills, personal loans, and so on.
Build an emergency fund for the future
You may think what I am talking about when you're already struggling to repay debts and improving your financial situation.
But, it is necessary.
As I mentioned in the beginning, even if you're laid off, if you have a good emergency fund, you can tackle your finances for a few months.
Usually, financial experts say that you need to have an amount in your emergency fund which is equivalent to about 6 months of your expenditure.
Some additional tips to save money and improve your financial condition:
Think consciously and spend only on necessary things
Stop or at least reduce your eating outs as much as possible
Prepare food at home and carry it to your workplace
Do not visit friends at shopping malls where you'll be enticed to shop
Carefully analyze your bank statements and bills every month
Select a date on which you will make all your bill payments
Watch television shows online instead of paying for cable connections
Think you have less money than what you actually have
Do not lie to your partner about your financial condition
Before spending on anything, ask yourself whether or not you can save that amount
I will conclude by saying that if you're broke, you also need to change your mindset. You can always do something to improve your financial situation. You need to make smart decisions as far as money is concerned.
Finally, you have to figure out yourself how you can improve your financial status rather than feeling broke and stressed.
So, make a promise, set a plan and get going! All the best!
Don't miss out on FREE money!
If you follow my blog, you will know that I'm all about saving money and making money. Below are some of my favorite sites and resources that may help you! The best part is that they're all FREE to join and use!
Swagbucks allows you to earn cash and FREE gift cards (my favorite ones are Amazon and Starbucks) just by surfing the web, watching some funny cat videos, shopping, playing games, doing simple surveys, and doing other online activities. My fiance and I have redeemed many $50 to $100 Starbucks gift cards which helped us save money by making our spending a little more affordable! Swagbucks has helped their members save $316,412,584 to date!
👉 Sign up to receive your FREE $5 bonus from Swagbucks here and start putting cash back into your wallet!

⭐️ Important: To claim your FREE $5 bonus, don't forget to verify the email from Swagbucks in your inbox!
Related post: Swagbucks Review: How I Use Swagbucks To Earn Free Money and Gift Cards
Rakuten: You get FREE cash just for shopping at over 2,000 of your favorite stores. This includes Walmart, Macy's, Apple, Kohl's, Target, eBay, and so many more! I use Rakuten to save over a few hundred dollars per year just for shopping for the things I normally buy.
🌟 Sign up here for your $10 welcome bonus after making your first $25 purchase through Rakuten.

If you live in Canada, use this link to sign up for your $5 bonus.
Related post: To learn more, read my full review and tutorial on how to use Rakuten here. You will fall in LOVE with Rakuten!
Survey Junkie: I personally use this free resource to earn extra cash by answering simple surveys online. This may help you save money or pay for some of your groceries for the month because you can redeem cash or FREE gift cards (your choice). They are rated 8.7/10 which is one of the highest on TrustPilot reviews.
🌟 You can sign up for Survey Junkie for FREE here.
Enjoyed this post? Don't forget to share it and follow me on Pinterest! 🙂