We will receive a commission if you make a purchase through our affiliate link at no extra cost to you. Please read our disclosure policy for more information.
For the longest time, I never really knew what the term "free money" meant.
In the past, I never really put a lot of effort into searching for ways to get free money because I was focused on finding ways to save money and live better with these money saving hacks. On top of that, I was so caught up with exploring my favorite and fun profitable hobbies that can make money on the side.
Plus, the idea of getting free money sounds too good to be true, right?
Well, I'm here to tell you that it's not — it's all about being resourceful and finding legitimate ways to earn free money that could help you financially.
Despite improvements in inflation rates, every single dollar continues to hold immense value in today's world.
Just keep in mind that while some of these are more passive ways to earn, there will be some methods that require a bit of effort from your end. However, they are definitely not mission impossible!
For example, free and legitimate resources like Survey Junkie will pay you up to $45 per survey just for offering your opinion about a product or service! You can start earning free money online immediately once you sign up.
I never really thought much about these free money resources, but the numbers really do add up!
You could get $2,000, $5,000, or even as high as $10,000 in what they call it "free money" when you combine and take advantage of free resources out there!
With that said, there is such thing as "earning free money" and it's something you can't afford to miss out on (no pun intended, haha)!
My passion is to help you find creative ways to get free money, so I'll always be updating this post. Be sure to save this image to your "money" Pinterest board here, so you can refer back to the latest free money hacks!
How To Get Free Money
So, here's our quick story…
We were able to find creative ways to make extra money on the side, manage our money effectively and learn how to properly build wealth over the years, but were oblivious to the fact that we were actually taking advantage of what people call "free money" or "free stuff".
Looking back, I have to say that taking advantage of these hidden money tools and resources contributed to the growth of our savings and net worth.
Some of these resources had big impacts on our savings whereas others were small. In either case, no matter how big or small, they all add up in the end with an overall net positive effect.
With that said, I'm going to name all the places you can take advantage of so you can learn how to get free money relatively fast!
Most of these resources are what we personally use and it has worked well for us over the years!
Before moving on to the big wins which will take more time, let's start off with the quick and small wins!
These first few points I list won't instantly turn you into a millionaire overnight, but they are fun and easy ways to get or earn money for free and fast.
Get money in your bank account now using the methods below! 💰💰💰
I need money now for free and fast!
I know that many thoughts like these are going through your head right now:
"I need money right now for free and fast" or "Help, I need money desperately"!
Before we move on, I want to quickly mention that these are NOT get-rich-quick schemes. They are resources and tools to help you save or earn the most money as possible without paying or putting down any form of investment.
Today, I'm going to show you how to earn free money on PayPal along with free gift cards and other freebies.
Who wouldn't enjoy these quick and small wins, right?
How I get free money mailed to me
How this works is I claim free PayPal money (or free gift cards) through the legitimate websites I list below like Branded Surveys or Swagbucks.
Sometimes I even choose the option to get my free money mailed to me.
How you want to redeem your cash money, gift cards, and rewards is up to you! 🙂
I recommend signing up for all of the free resources below if you are interested in banking some free money.
The more you sign up for, the more free money you may be able to receive in your bank account.
These are all quick and easy to sign up for, plus it doesn't cost you any money to use these resources, so why not?
1. Get a free $100 bonus for refinancing your student loans
More than 50% of students leave school with student debt, according to a Forbes article.
Student loans can be a huge burden, but you may be able to lighten the load (and put some extra cash in your pocket) by refinancing your loans at a lower interest rate. There are a few online companies that offer this service, and you can typically get a $100 bonus for refinancing through them. Credible and SoFi are two popular options that are currently offering bonuses.
2. Pay down your mortgage payment
With interest rates on the rise, now is a good time to pay down your mortgage principal if you can swing it. Every extra dollar you can put towards your mortgage is effectively like earning a risk-free return equal to your mortgage rate.
So, if you have a $200,000 mortgage at 5%, paying an extra $100 per month towards your mortgage principal is like earning a guaranteed 5% return on your money – not too shabby!
3. Sign up for Branded Surveys now to earn free money!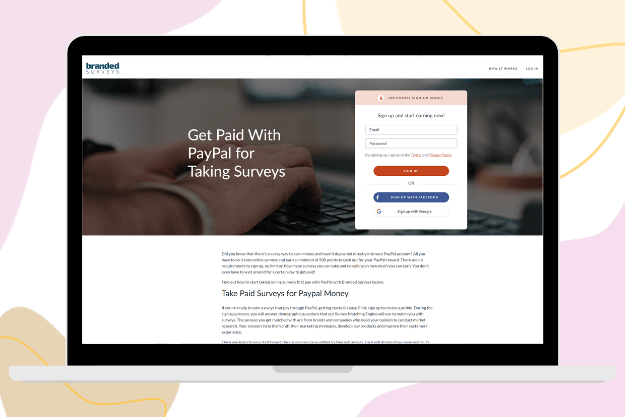 We all cherish the small victories in life, like enjoying a delectable piece of cake or the ice cream in front of us. I don't know about you, but I relish these little indulgences, and that's exactly what Branded Surveys offers!
You can sign up for Branded Surveys here – it's absolutely free to join and you can start earning money immediately right now!
I'm SO excited to inform you that you can earn and redeem free money simply by answering a few straightforward survey questions online!
These surveys cover various topics, including your favorite places to shop for food, household items, and even the products you enjoy using. Yes, you get paid just for sharing your opinions – pretty sweet, isn't it?
I personally enjoy earning my free $25 to $100 PayPal cash just by completing surveys online! It's precisely what I do in my spare time!
While it won't make you rich, as I mentioned, it's a delightful way to treat yourself when a tempting dessert (like $25 or $50 in PayPal cash) is right in front of you!
In fact, when you use this special page to sign up for Branded Surveys today, you'll instantly be credited a weclome bonus of 100 points! It's a limited-time offer and I don't want to see you miss out!

Important note: Remember to verfiy the email from Branded surveys in your inbox to secure your welcome bonus!
Now, just imagine treating yourself to a nice little bonus with this PayPal cash when you choose your payout option!
4. Get free money now with Survey Junkie!
Like I mentioned earlier, Survey Junkie is another free resource I use to earn extra cash by answering surveys online. Trust me, the questions are provided in an easy-to-read multiple-choice format, so it's extremely simple and quick to answer!
Just like what I do, you can redeem cash via PayPal after answering the easiest survey questions.
This could help you pay for some of your expenses such as food, groceries, household items, and more. They are rated 4.5/5 which is one of the highest on TrustPilot reviews.
5. Use Swagbucks to earn free money (get free $5 now)
I know I mention a lot of times on my blog that I enjoy earning free gift cards online during my spare time. This helps me reduce spending at my favorite shops. But if you're not a fan of gift cards, you can always choose to redeem money on Paypal for cash. In the end, it's up to you, plus it's free to use! 🙂
It's one of the most popular rewards and survey sites in the world. I've been using them since 2009 and that's how I redeem my choice of free cash or gift cards to my favorite shops like Amazon, Sephora, Starbucks, Walmart, and more. My husband and I combined have earned almost $10,000 in cash rewards since becoming members!
This helps me earn free money so that I can splurge on my favorite things in life without having to pay. For example, I like redeeming them for free Starbucks drinks and gift cards! I seriously couldn't say no to one of my favorite fraps like the Chocolate Java Chip!
Swagbucks is one of my favorite resources that I enjoy using to earn or get free money online. I highly recommend giving them a try too.
Swagbucks is 100% legitimate and has paid out its members over $918,443,963 to date!
👉💵 You can grab your FREE $5 cash bonus from Swagbucks here through the special link.


⭐️ Important: Remember to verify the email from Swagbucks in your inbox!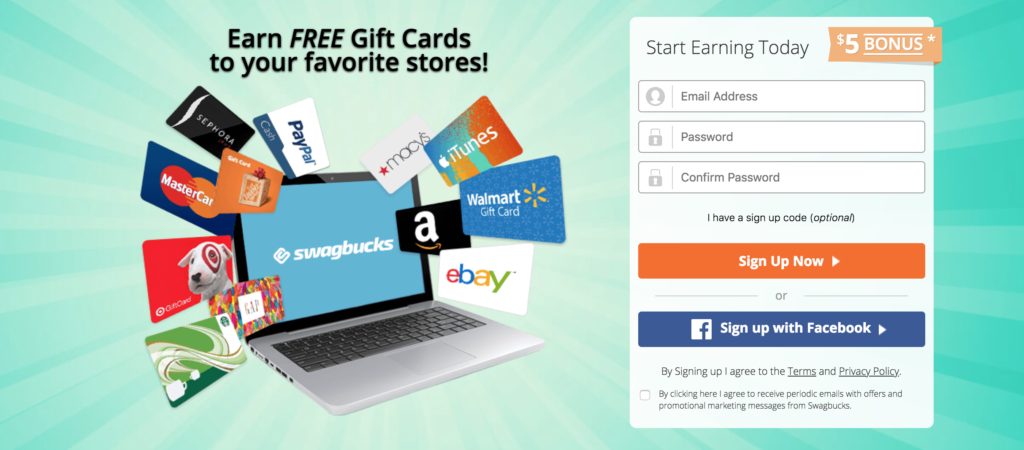 6. Earn free $5 with InboxDollars
Yes, you can earn free money, cash, and gift cards by taking surveys with InboxDollars.
It's not a get-rich-quick scheme, but if you're looking for free money hacks or ways to earn extra cash online, it's a great way to do it. InboxDollars is a free online rewards club that gives you paid surveys and more ways to earn cash. It's similar to other survey sites like Swagbucks and Survey Junkie, but with InboxDollars you can earn money for doing things you already do online, like reading emails, playing games, shopping, and taking surveys.
When you sign up for InboxDollars, you'll get a free $5 bonus here just for joining. InboxDollars is free to join and you can cash out your earnings when you reach $30.
7. Earn extra cash and free money with more survey sites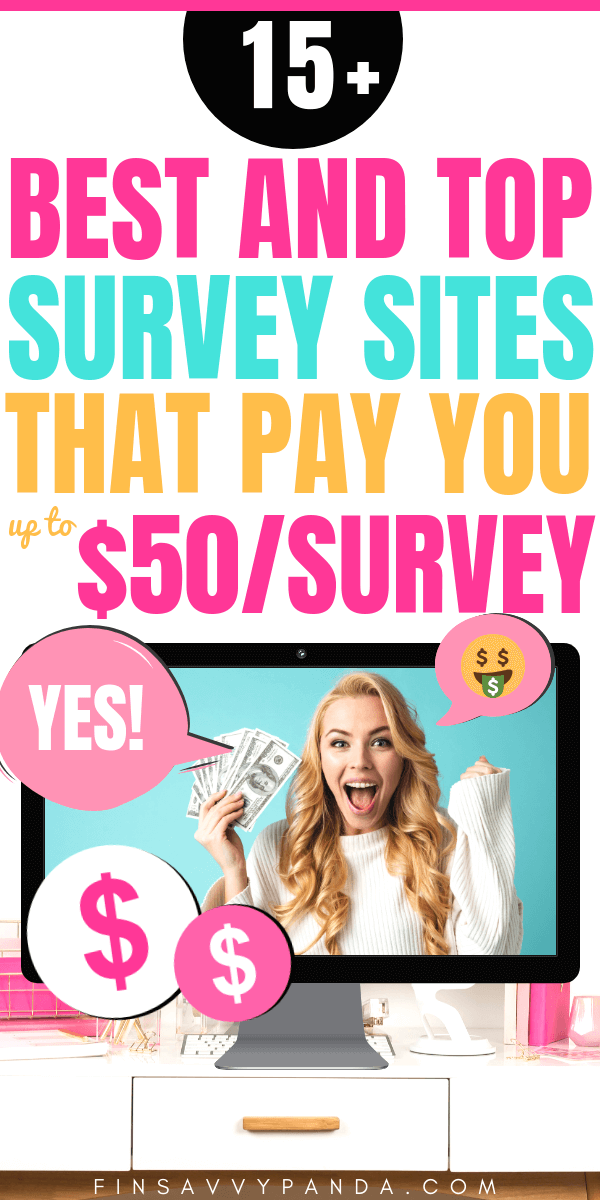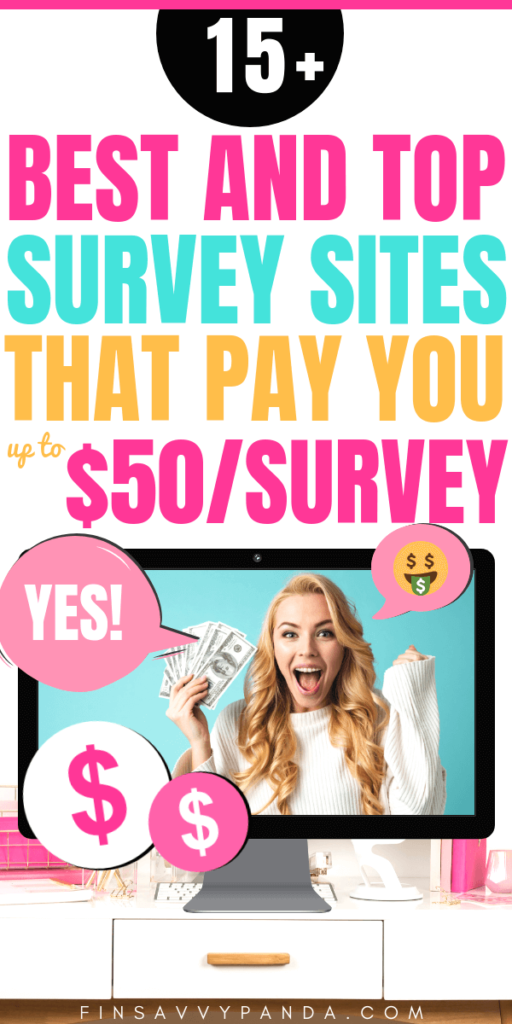 You can earn absolutely free money with some of the best online survey sites!
Other survey websites I recommend include American Consumer Opinion and MyPoints. By signing up for many survey sites, you'll get to take more surveys for more money — it's an easy way to earn a little bit of extra money online today.
Want to learn more about sites like these that pay you PayPal cash? Be sure to check out these best survey sites to join for free and earn up to $50 per survey.

If you live in Canada, you may also want to check out: The Best Free Survey Sites in Canada For PayPal Money.
8. Get cash back from your normal grocery shopping
One of the best and most legit ways to get free money is by taking advantage of grocery store loyalty programs. Many stores offer cash back rewards for shoppers who use their store card or app when making purchases. While the amount you can earn back will vary depending on the store and your purchase total, it's still free money that you can put towards your next grocery bill or splurge on something else.
Another way to earn cash back is through apps like Checkout 51. Every Thursday, the app updates the list with over 100 new offers! You're probably going to see a few items that you're already planning to buy.
Finding free ways to save money each week on your groceries couldn't be made easier. This includes your normal groceries (vegetables, cheese, dry foods, dairy products, candies, etc.) and household items such as laundry detergent, soap, napkins, air refreshers, diapers, and more! I'm a satisfied user because it feels like I'm getting FREE money back into my account. 🙂
9. Sign up for Rakuten and get paid to shop
Earn lots of cash back when you sign up with Rakuten today.
Yes, you can actually get paid to shop (almost anywhere online) and it's absolutely free money back in your pockets without putting in any work!
I'm not kidding you!
It's like getting FREE CASH just for shopping at over 2,000 of your favorite stores when you join Rakuten (formerly Ebates). This includes Amazon, Apple, Walmart, Gap, Old Navy, Sephora, Macy's, Kohl's, Target, eBay, and more! I've been using Rakuten since 2010 and I get back hundreds of dollars just for shopping for the things I normally buy. NO. EFFORT. INVOLVED!
How I use Rakuten to accumulate cash back in my account:
Here's a quick example screenshot below of what I got back from a couple of my past purchases — $116.90 in free money!
And in case you didn't know, you can stack Rakuten free money rewards with store promos, other cashback apps, and discounts! That allows you to keep more money in your pockets!
You can read my full review and tutorial on how to use Rakuten to earn free money today when you shop. You won't be disappointed with Rakuten!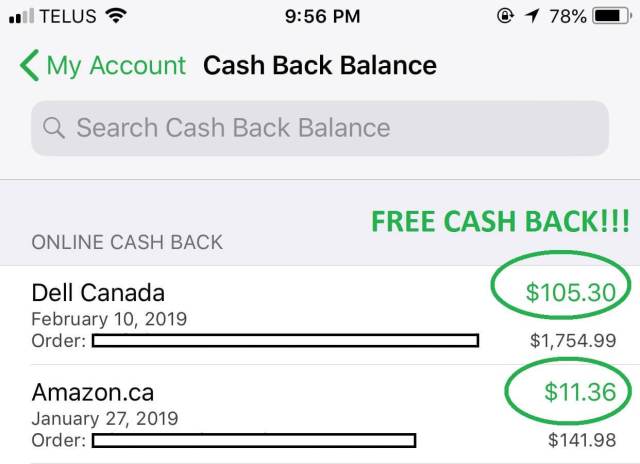 UPDATE: Take a quick look at my newer screenshot below!
Rakuten actually had a special on Feb 14 (four days after my original order) where I was able to get 14% cash back on almost every online purchase. Since the item didn't ship yet, I made a quick refund and repurchased the item again.
And look at how much I got back in free money — an additional $140.40 in free money! So, instead of getting $105.30, I got back $245.70 for one of my online transactions! The Rakuten cashback rewards seriously rocks!!!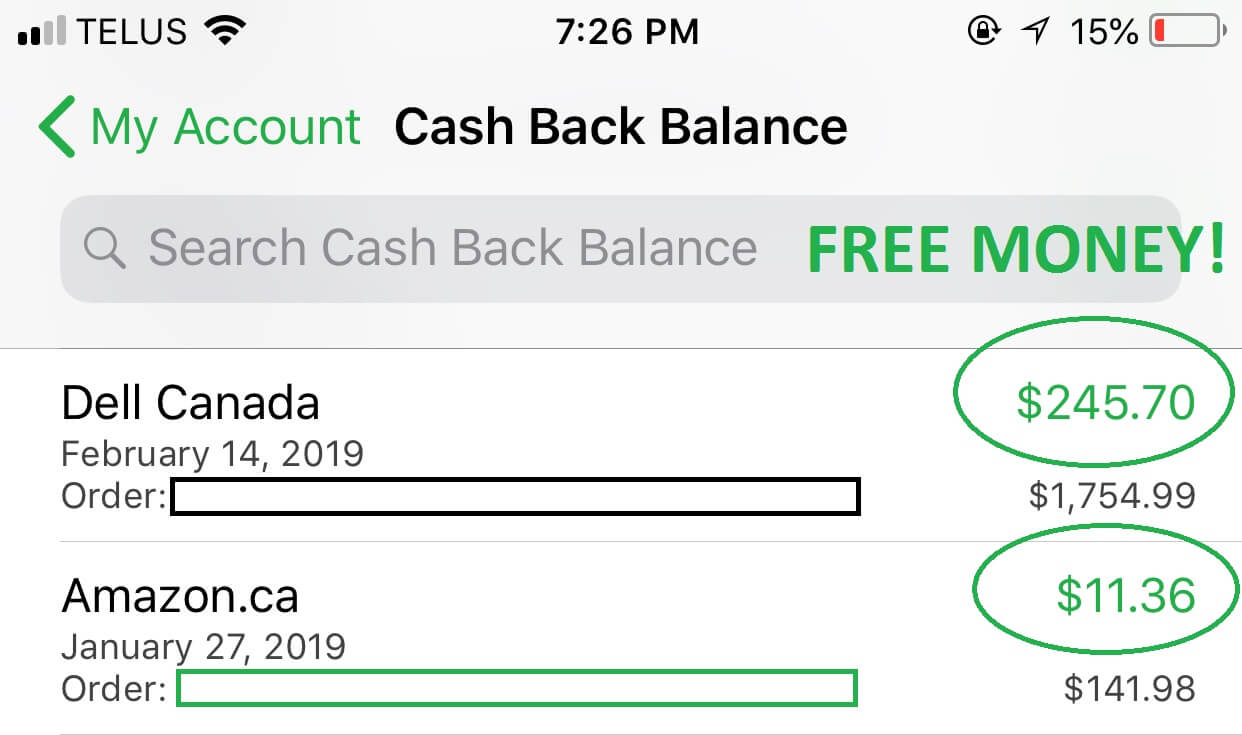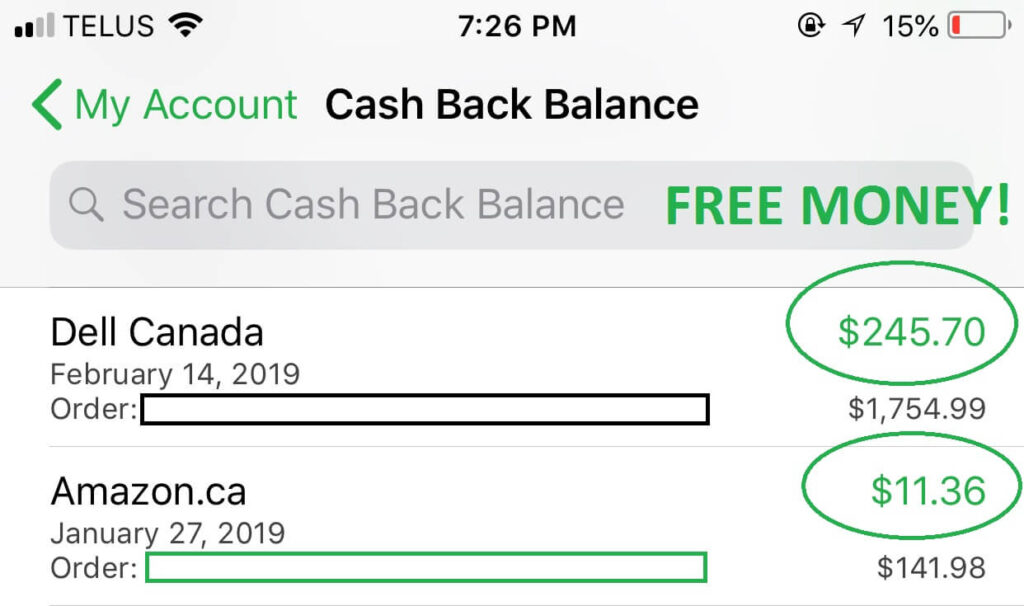 10. Get free money right now by reading e-mails
With MyPoints, you can earn free gift cards or free PayPal cash just by watching videos, taking surveys, shopping online, reading e-mails, and more. I like to use this free resource to redeem an occasional gift card or free money towards any of my extra spending.
MyPoints has paid out its members $236,000,000!
🌟 Sign up for MyPoints here for FREE and get a $5 bonus immediately when you take 5 surveys! 💵

⭐️ Important: Don't forget to verify the email from MyPoints in your inbox so that you can redeem your bonus!
11. Use free money saving apps
Free money saving and cash back apps like these ones here could help you save and earn free money online.
For example, Trim is a money and budgeting assistant that may be able to help you save money by negotiating some of your monthly bills for you (e.g. cable, Internet, cell, bank fees, subscriptions, etc.). That means you don't have to do any work for this free assistant to help you find ways to put money back into your pockets!
This app can also help you cancel subscriptions that you don't use. On top of that, he can auto-fight fees with your bank and help you keep track of your spending too! Trim is safe to use and has helped its users save over $8,000,000!
12. Use Drop and say hello to free money!
I frequently use the Drop app to rack up cash rewards on my everyday purchases.
The app is free to use and requires absolutely NO effort to collect points at the places you regularly shop at.
The one thing I really love about Drop is their points can be combined with other rewards, promos, cash back programs, and coupons! So yes, you can stack up your Drop points with the Rakuten free money back app and other credit card rewards!
To learn more, read my honest review and tutorial on how Drop works. If you like the idea of passive money, then I'm sure you're going to enjoy this app as much as I do!
How I use Drop to get started with earning free points:
Now, if you want to start earning free gift cards with Drop, all you have to do is the following.
Link your debit and/or credit cards (this is how you passively earn points) — rest assured that Drop uses industry-leading security to ensure that your data is always safe. Your bank login credentials are

never stored

on Drop's servers.
Choose the top 5 places you shop at. If you live in the U.S., you have more options which include Amazon, Target, Starbucks, Uber, Dunkin' Donuts, and more!
I live in Canada, so I personally chose Starbucks, Chipotle, Walmart, Shoppers, and McDonald's as my top 5. If you were wondering, they also have Tim Horton's!
Redeem your Drop points for free gift cards!
🌟 For a limited time, get your FREE $5 bonus immediately after linking your first card. No purchase is necessary!
13. Government incentives for energy-saving resources
Depending on where you live, the government offers many incentives and rewards (FREE money back) just for going green.
Not only are you saving money on your home's energy, but you're getting reimbursed as well!
For example, my fiance and I installed a Nest thermostat for free after applying to one of our government programs. So, you may want to check your country and state/province to see whether you're qualified for any of these incentives.
14. Get free money from scholarships and bursaries
POTENTIAL SAVINGS: $1,000 TO $5,000
If you follow me and my blog, you'll know that I've mentioned a few times that I grew up in a not-so-well-off family, so you can read my blog post on how to budget and save money fast on a low income.
Before applying for University many years ago, I dug my head into many different sources to see where I could get financial aid from the school and government.
And thank goodness I applied for scholarships and bursaries because, without it, I would've carried an additional $10,000+ in student debt (and let's not forget the interest payments as well)!
Having that said, I highly recommend you to check whether you're eligible to apply for scholarships and bursaries. According to this source, $2.9 billion in federal grant money went unclaimed!
Plus, there's nothing to lose by filling out an application form.
15. Tax credit and deductions (a huge winner)
POTENTIAL SAVINGS: UP TO $12,000 (VARIES BY YOUR INCOME)
If you're a recent grad, you have a hidden stash of cash!
I know, tuition sucks and it's not easy to pay off your student loans. However, you can use your tuition to offset your annual income and lower your tax bill.
When my fiance and I graduated from University, we used our education deductions to save $30,000 (combined) in income taxes!
On top of tuition deductions, there are many more tax credits and deductions provided by IRS, which you can read more about here.
This is stuff you seriously don't want to miss out on because the wins are big!
16. Improve your credit score and save thousands!
POTENTIAL SAVINGS: UP TO $1,000 PER YEAR (VARIES ON CREDIT SCORE AND IF YOU CARRY A MORTGAGE)
Here's another HUGE winner!
You can actually save thousands of dollars just by having an excellent credit score. That's why it's important to make an effort to improve your credit score. The higher your score, the less interest you pay!
To build up our credit score, my fiance and I made sure we paid back all of our credit card balances IN FULL each month.
We also made sure that we paid all of our other bills on time (e.g. Internet, cell phone, insurance, student loans, etc.). As long as you are not overspending with your credit cards and paying your bills on time, you will be fine! It's crucial to know where you stand so that you can improve your score and save thousands of dollars in the long-run.
Related post: 50 Best Ways To Save Money Every Day (Without Depriving Yourself)!
17. Get free money from your company
TOTAL PERKS: UP TO $15,000 PER YEAR (VARIES BY COMPANY)
Be aware of the free money and incentives your company offers!
There are a lot of people who miss out on free money by not taking advantage of their company benefits.
It's pretty easy to miss because many people don't really think about them. They just don't realize how much money they can save and earn over the years just by paying attention to them.
You may want to review your offer letter or directly contact your company's HR to see what you're leaving on the table!
18. Don't miss out on your employee ownership program (EOP)
POTENTIAL SAVINGS: UP TO $2,000 PER YEAR (VARIES BY COMPANY)
If your company matches a percentage of your contributions in the company stock, why not take advantage of free money to accumulate wealth?
For example, my company matches 50% of my investment in our company's stock.
I know a lot of my coworkers who get overly excited about free food and coupons, but they let their stock ownership plan slide! From a rational perspective, it just doesn't make any sense because they're essentially ditching free money which exceeds the value of free food and coupons!
Word of caution: it's not a good idea to invest all or most of your money in your company's stock. Avoid putting all your eggs into one basket by finding ways to diversify your investments!
I personally sold more than half of my company shares and re-invested them in other ETF index funds for better diversification.
19. 401K Company Match (Pension Matching Plan)
POTENTIAL SAVINGS: UP TO $2,000 PER YEAR (VARIES BY COMPANY)
Similar to EOP, many companies will match your contributions, typically 3% of your salary, towards your retirement program (401K in the U.S., RRSP in Canada). Again, why not take advantage of this free money to build up your net worth faster?
I know so many people who opt out because they feel that their paychecks are getting deducted, but this is the easiest way to invest without feeling the pinch! For example, if the company matches 100% of your contributions, you're pretty much getting a guaranteed 100% return on your investment, PLUS any gains from the fund it's invested in.
You can't beat this return elsewhere!!
So, for every $200 you invest (or contribute), your company gives you $200 for free! That's a total of $400 in your account invested in the markets!
In the end, it is YOUR money! But be sure you know your vesting period.
20. Take advantage of your wellness and health benefit program
POTENTIAL SAVINGS: UP TO $1,000 PER YEAR (VARIES BY COMPANY)
If your company offers to compensate you for sports equipment such as workout clothes, running shoes, roller-blades, fitbits, bikes, treadmills, gym memberships, etc. you should take advantage of this.
You'd be surprised how much money you save especially when you're buying quality products. I saved money by purchasing my favorite Nike shorts which I can use for exercising.
Not to mention, if you're casually dressed on the weekends, you won't have to spend a lot of money on your clothes either. With that said, it's worth taking a look to see whether your company offers this.
21. Save money (and earn free money) by taking advantage of your medical benefits
POTENTIAL SAVINGS: UP TO $500 PER YEAR (VARIES BY COMPANY)
This includes prescriptions, drugs, dental services, eye exams, eye-glasses, contact lenses, sunglasses, sunscreen, massages, etc.
Again, all of these add up and many people don't pay attention to them and let their benefits expire.
I actually let some of those benefits and perks slide during my first couple of years at work because I didn't put much thought into them.
D'OH!
Don't make that same mistake! Now that I think back, losing out on thousands of dollars hurts… A LOT!
22. Take advantage of free education
POTENTIAL SAVINGS: UP TO $10,000 PER YEAR (VARIES BY COMPANY)
If you're interested in pursuing higher education, some companies will pay for your education and any additional courses to develop your skills for your work. They even offer leadership courses that are great for those who want to advance in their careers.
I personally got compensated for taking advantage of these programs such as the Chartered Financial Analyst (CFA) program and other financial industry education, which helped me advance in my career before I recently decided to quit my job for this blog.
That's more than a few thousand dollars saved when you take advantage of these perks! Plus, the potential to increase your salary! 🙂
23. Search for birthday freebies
Is your birthday coming soon?
Did you know that you can redeem these birthday freebies here? It's up to $150 value for FREE, so you probably don't want to miss out!
This includes companies that give out free samples.
What an awesome way to save money on your special day! 🙂
Download my FREE portable PDF here for the best places to get free stuff on your birthday! I think you'll really enjoy this freebie! 😉
24. Use credit cards to your advantage
POTENTIAL SAVINGS: UP TO $800 PER YEAR (VARIES BY CREDIT CARD AND YOUR OVERALL SPENDING)
Another great way to get free money is by signing up for a rewards credit card – it's one of my favorite ways to earn extra money with no effort!
There are many cards that offer cash back or points for every dollar you spend. You can often earn even more rewards by using the card for specific purchases, such as gas or groceries. Just be sure to pay off your debt balance in full each month to avoid interest charges. When you're responsible with credit cards, then you may as well take advantage of credit cards that offer rewards, cash back, and other perks!
If you're looking for a more passive way to earn free money, consider taking advantage of sign-up bonuses from bank accounts and credit cards. Many banks and credit card companies offer cash bonuses when you open a new account and meet certain spending requirements. While you will need to be careful not to spend more than you can afford, these bonuses can give your budget a boost.
25. Get free money via retailer loyalty programs and rewards
Despite looking for quick ways to make an extra $100 fast and socking my savings away into an investment account to slowly watch my money grow, I still enjoy reaping the benefits of FREE STUFF with loyalty programs.
Until today, I still use the following rewards to claim free money or free stuff:
Starbucks Rewards: I have to confess that I kinda have a Starbucks addiction. Each time I go there to work on this blog, I love to order their specialty drinks. Since I'm already going to spend my money there, I take advantage of the Starbucks Rewards to save money. To reduce my spending further, I also like to use Swagbucks to redeem their gift cards for FREE. These are all FREE to sign up for, plus you get a free drink on your birthday. 😉 You can also check out the Starbucks hacks I use to get free coffee and drinks.
Rakuten: Whether I'm shopping at Walmart, Best Buy, Lowe's, or Amazon, I always remember to use Rakuten to get FREE cash back. I honestly can't stop talking about them because it's one of the best ways to get FREE money back on all your purchases. You may as well since it's on the way! Plus, you can use them ON TOP of discounts and store promotions!
26. Get money now by finding ways to make extra money
Finding treasures in the attic or earning a little extra cash from a side hustle that you enjoy can put free (or at least effortless) money in your pocket now.
If you have unwanted items around the house, consider selling them online or at a garage sale. You can also quickly earn extra cash by taking on odd jobs for friends and neighbors. Finally, think about ways to make money from your hobbies or talents. For example, you might be able to sell handmade jewelry or baked goods.
I have a huge passion for helping people find creative and unique ways to earn extra money, so I put together these other articles that will help you find more ways to make extra money. Some are free and require zero investment while others require more effort or a small investment:
27. Refer friends and earn
One often overlooked, yet intriguing way to secure free money is through referral programs, which is a form of affiliate marketing. Many banks and credit card companies offer rewards for bringing in new customers. I stumbled upon the value of these programs during a casual conversation with a friend who was on the hunt for a credit card with no annual fees and a decent cashback system. Having used credit cards with similar benefits, I suggested a few options. As luck would have it, my friend signed up for one of them, and I received $50 as a referral reward.
Let's consider the Chase Freedom credit card, for example. This card offers zero annual fees, provides a decent cashback program, and to my pleasant surprise, features a fantastic referral program as well. By referring a friend to Chase Freedom, you can earn $50 for each successful referral, with the potential to earn up to $500 every year.
So, imagine you refer a friend, and they decide to apply for the Chase Freedom card. After spending at least $500 within the first three months, they not only receive a generous $200 sign-up bonus but you are also rewarded with $50 for introducing them to the product. This situation becomes a win-win for all parties: your friend gets the card they desired with an additional bonus, the bank gets a new customer, and you earn free cash simply by recommending a product you trust and use.
This personal experience highlighted the numerous benefits of referral programs. They present an excellent opportunity to earn extra cash while helping friends in accessing excellent products. It's essentially free money for everyone involved. Therefore, the next time you come across a product or service that you genuinely appreciate, don't hesitate to share your recommendation.
Conclusion about legitimate ways to earn free money today
From free survey sites and cashback apps to credit card sign-up bonuses, there are many legitimate ways to get free money. While some methods may require a little effort, they can all help you save or earn extra cash.
No matter how you choose to get free money, be sure to do your research and only use reputable sources. There are many scams out there that promise free money but will only end up costing you time and money. With a little effort, you can easily find legitimate ways to get free cash that will help you stretch your budget.
Over to you — it's time for you to get free money now! Did you find this post helpful? What are your favorite ways to find free money?
Enjoyed this post? Save this pin image to your favorite board here and follow me on Pinterest!