This post may contain affiliate links. Please read our disclosure policy for more information.
How To Stop Living Paycheck To Paycheck
How would you feel knowing that there's a cushion of $1,000, $2,000, or even $5,000 in your bank account? Wouldn't it feel nice to break out of that vicious cycle of living paycheck to paycheck?
It's possible and I'm here to tell you that you can!
According to this CNBC article, 78% of Americans are living paycheck to paycheck and 71% say they are in debt. It seems that no matter how much you make, most people will struggle to get by these days.
I'll be honest that breaking out of this vicious cycle of living paycheck to paycheck won't happen overnight, but with the right mindset and financial strategy, you'll be there in no time!
Without further ado, here's how you can break out of that cycle of living paycheck to paycheck once and for all!
Related posts that will help you stop living paycheck to paycheck:
– How To Save Money On a Low Income (or One Income) While Living Paycheck to Paycheck
– 7 Reasons Why You Are Living Paycheck To Paycheck (And How To Fix It Now)
– 9 Guaranteed Ways To Get Out of Debt Fast!
– How We Went From Almost $100,000 Debt To Over $750,000 in Savings Within 7 Years
– 11 Things You Don't Know You're Wasting Money On — #4 Will Shock You!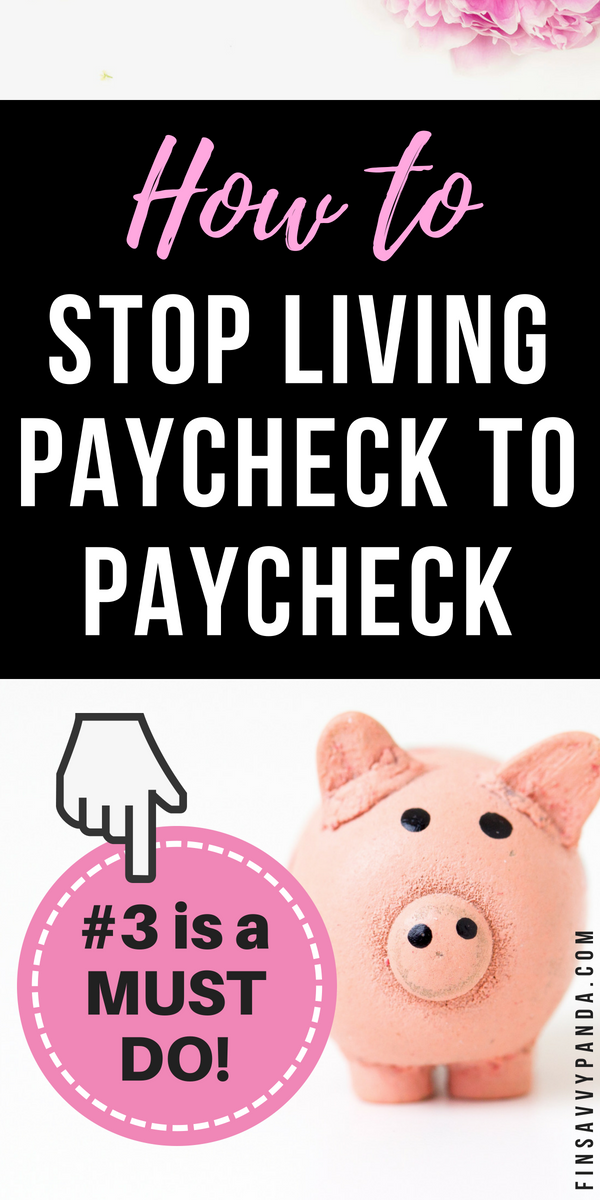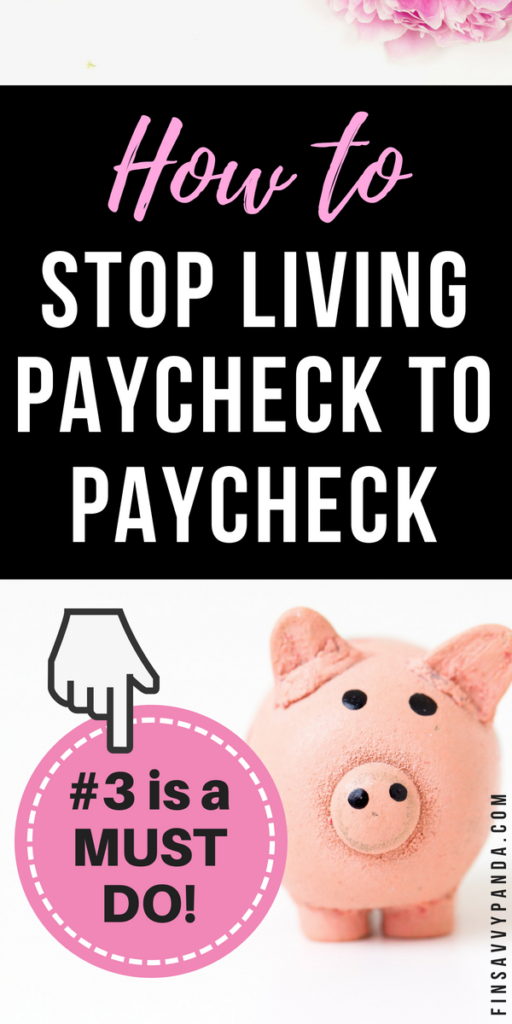 This post may contain affiliate links. Please read our disclosure for more information.
1. Ask yourself the "Why?"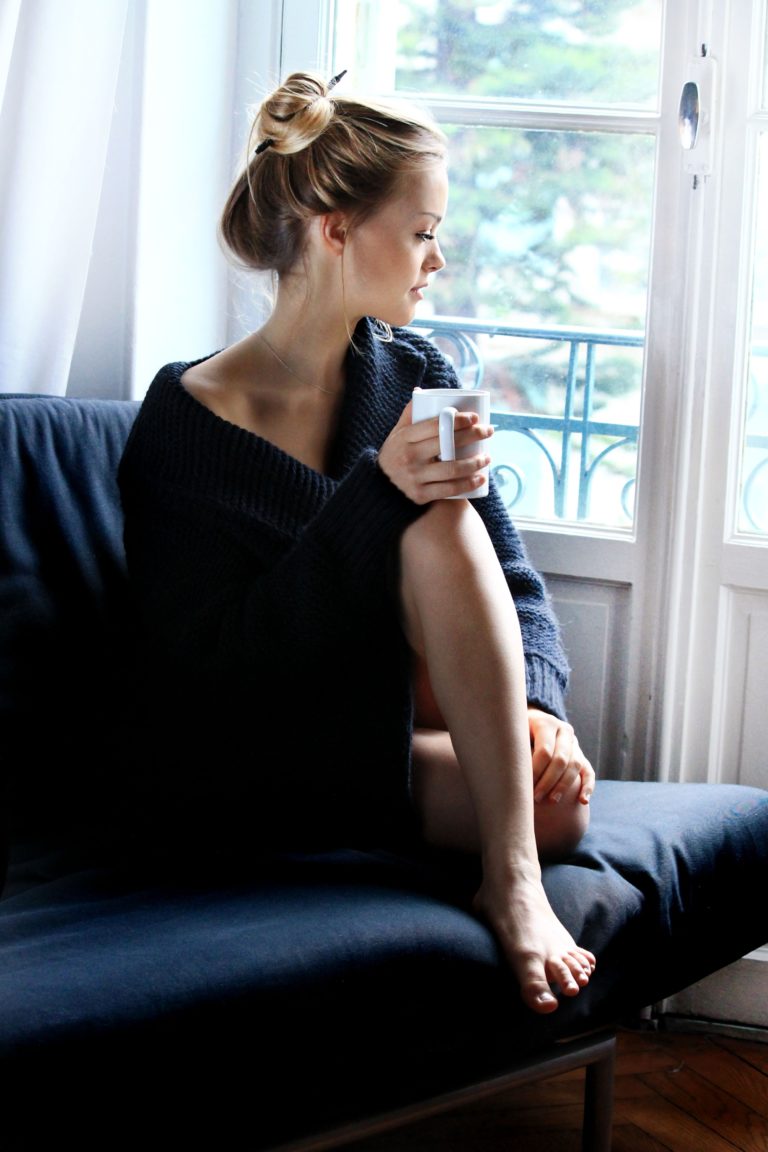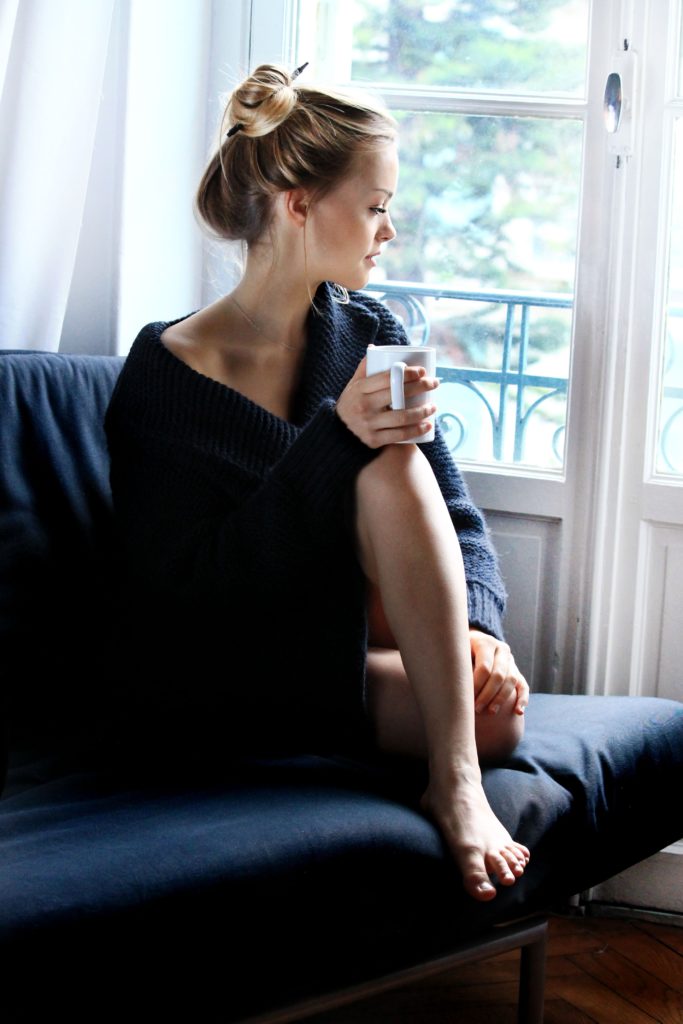 The first and most important questions you need to ask yourself are: Why do I want to save money? What am I saving for? Why is this important to me?
For example, you might have the goal of making sure your family doesn't get hit by any unexpected emergencies. Perhaps you want to reach financial freedom so that you don't have to ever worry about losing your job. Or maybe you would like to have extra money so that you can afford to splurge on things you enjoy. Whatever the case may be, you need a clear goal and vision in mind. Believe me, by answering these simple questions, you're on your way to escaping the vicious cycle of living paycheck to paycheck.
Before when I wasn't able to save a lot of money, I asked myself those questions and wrote down my weekly and monthly goals. For example, I wanted to save at least $30,000 so that I wouldn't have to worry if I was jobless for an entire year. To achieve that, I made sure that I packed lunch every Monday through Thursday and allowed myself to spend $12 to $15 on Friday. I also started a side hustle flipping furniture for extra cash to go towards my savings.
Once you know your "why," it will be easier to take action and achieve your financial goals.
Download my free Financial Vision printable that will help you stay on track. 🙂
Related post on how to earn extra money refurbishing furniture outside of your full-time job:
– How To Earn $500+ Every Month Flipping Old Furniture (Even When You're Not Handy)
2. Earn fast cash of $100 this month.
Throughout my blog, you'll hear me talk a lot about many ways to make extra money so that you can earn more, save more and live more. Just because you're living paycheck to paycheck, doesn't mean that you don't deserve to live a good life. You NEED to find ways to increase your income if you want to save money while maintaining your desired lifestyle!
Some ideas include starting a money-making blog (click here for proof), selling your unused stuff online, learning how to make money on Pinterest, taking online surveys, and many more!
Related post: How I Made Over $2,000 on Pinterest Last Month (To Pay For The Bills).
Why take online surveys? What's in it for you?
All top companies want to understand their consumers so that they can create the perfect products and services for you. For them to do that, they need to understand YOU and what YOU want. That's why they are willing to pay you in CASH or FREE gift cards in exchange for your inputs. It's one of the easiest and quickest ways to make extra money online with no experience required.
I'll be honest though. You won't become the next Bill Gates by taking surveys, but it is a great way to make extra money for the month to help cover some bills when you're living paycheck to paycheck!
How much money can you make from survey sites?
Anywhere from $50 to $200 (or more) per month depending on your eligibility and the number of surveys you complete.
These two sites are my top picks. They are 100% legitimate and non-spammy so I highly recommend signing up for them. It's 100% FREE and easy to use. They only require your e-mail address so it literally takes less than 5 seconds to start earning!
Here are my two favorite survey sites that I personally use and love!
1. Swagbucks is one of the most popular survey sites in this world! Everyone (including me) loves them because you get paid in cash or free gift cards just by answering easy surveys, surfing the web, playing games, and watching videos online. Swagbucks is 100% legitimate and has paid out their members $288,312,447 to date!
You can get your FREE $5 bonus just for signing up here.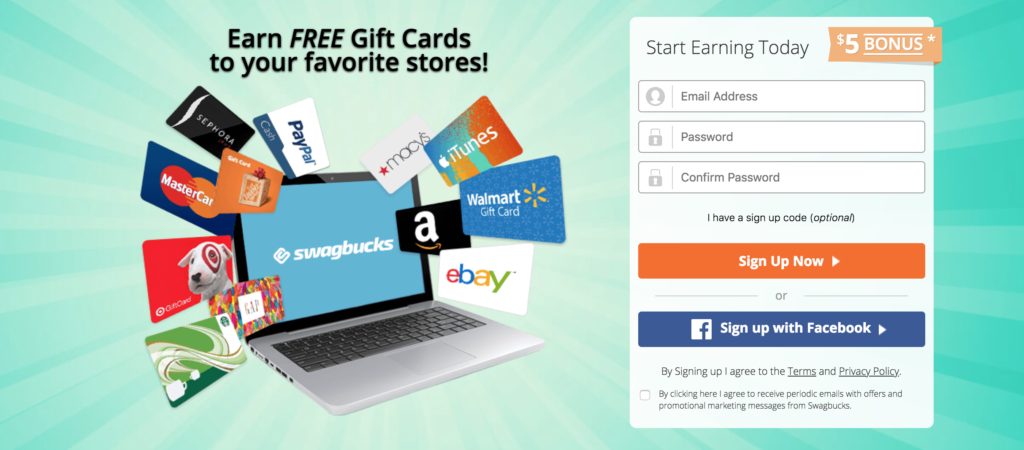 2. Survey Junkie is rated 8.7/10, one of the highest on TrustPilot reviews. I love them the most for their pretty-looking and easy-to-navigate interface. Over 5,000,000 users (including myself) have a great experience with them and I know you will too.
You can sign up for Survey Junkie here.
⭐️ ⭐️ ⭐️ ⭐️ Make money with these other survey sites – Other survey companies I recommend as a way to make extra money include Swagbucks, American Consumer Opinion, MyPoints, and Pinecone Research.

Again, membership is 100% free. By signing up for many survey sites, you'll get to take more surveys for more extra money and free gift cards!
Related post: How To Get FREE Gift Cards and CASH Rewards Online (Amazon, Walmart, Starbucks, Visa, and more!)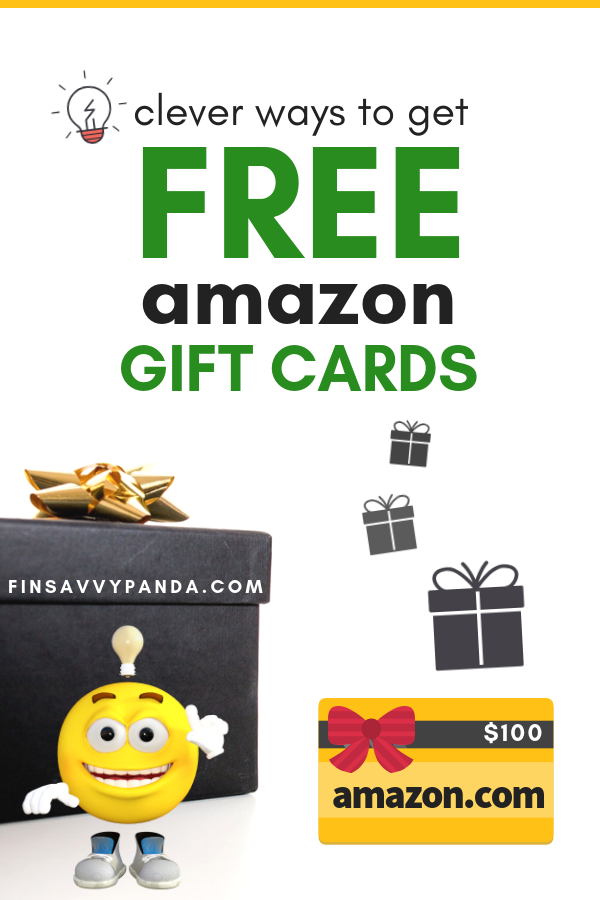 3. Save money by reducing your expenses.
According to GOBankingRates, if you reside in cities like Dallas or Omaha, you can bank more of your income due to the high-paying jobs and low cost of living. However, if you reside in expensive cities like New York or San Fransico with living expenses on the rise, it will be tougher to stop living paycheck to paycheck.
Though this may be a challenge, it's not impossible to overcome when you have a few money-saving apps that can assist you!
Trim:
Trim is a virtual personal finance assistant. She will keep track of your finances and help you save money. For example, Trim will negotiate your cell phone, Internet, and cable bills. It will even cancel the ones that you don't need! That's a potential savings of $20 to $100 per month! Trim has saved their users over $1,000,000 in the last month. Sign up for Trim for free here!
OhmConnect:
What if I told you that you can passively earn money by conserving energy at home? Yes, that's right! OhmConnect will PAY you to save energy. That means you'll have more incentive to lower your electricity bills and save even more money!  All you have to do is sign up with OhmConnect for FREE (plus get a $20 bonus) and they'll send you notifications about your home usage.
How OhmConnect works is they will reward you with points; 1,000 points is equivalent to $10. You can cash out your points through PayPal or use them to buy gift cards used for the OhmConnect store. As a bonus, you also get $20 for every friend you refer!
Here are other amazing saving money tips that will help you reduce your living expenses:
The $5 Meal Plan: Food is one of our biggest living expenses after rent/mortgage and it's no wonder why most of us can't stop living paycheck to paycheck. If you can manage to save money from dining out often, this will reduce your expenses by more than half. This weekly meal plan service aims to make your life easy by saving you time and money. For only $5 a month, you will receive a delicious meal plan that costs less than $2 per meal. They also offer a free 14-day trial absolutely risk-free. If you decide that this isn't for you, simply cancel it with no questions asked.
Checkout 51: this money saving app gives you cash back for your grocery shopping! You get cash back by purchasing items on their list and uploading your receipt through the app. Don't worry, it's very easy to snap the picture and send. Once you submit your receipt, they will approve it within a few days and credit the cash into your Checkout 51 account. Yes, it's really that simple. Sign up for Checkout 51 here and start saving money on your groceries!
Caddle: This is a rewards and surveys program that is only exclusive to Canada. It's similar to Checkout 51 that you get cash back on groceries and household supplies. Unlike Checkout 51, Caddle gives you cash back for shopping and eating at restaurants. On top of that, you make money by answering very short surveys, watching videos, writing reviews, and engaging with brands on social media. Sign up for Caddle here for FREE and start saving and earning extra money!
4. Create a fail-proof budget and track your expenses.
I know this isn't something you like to hear but it works wonders! Seriously!
I admit that my fiance and I are not in love with budgets. But on top of escaping the vicious cycle of living paycheck to paycheck, it's what helped us amass our savings to over $700,000 within seven years!
If you've been following my blog, you'll know that we were inspired by Gail Vaz-Oxlade's money makeover shows and that's how we learned about her clever budget strategy.
Having that said, we followed her savings strategy and it worked wonders for us! To help you master your savings, we created our version of her fail-proof budget plan so that you can stop living paycheck to paycheck. Yes, it's 100% free!
In this budget kit, we included a monthly budget tool that keeps track of all your income sources plus expenses. With income in the picture, it's easy to see how much you can allocate to both your fixed and variable expenses. This will also tell you exactly where your money is going and exactly how much you are spending.
Aside from the budget tool, we also made these pretty weekly printables that will keep your budget and savings on track. These free printables were made to give you instant results to boost your confidence in your financial journey.
This budget kit is only exclusive to my subscribers, so grab your FREE copy here!
For more details about this budget kit, visit my post, The Free Budget Kit You Need To Conquer Your Finances.
5. Sell your stuff online.
This is one of the fastest ways to build your $1,000 savings so that you can stop living paycheck to paycheck. My fiance and I were able to build up our emergency fund quick by selling almost $4,000 worth of stuff within a few months! This does NOT include my furniture side hustle! I was earning extra on top of that too!
Need to get rid of your CDs, DVDs, games, and books? Sell them on Decluttr and start making money fast!
Got a spare iPhone, tablet, or old electronics that you don't use anymore? Sell them on Gazelle. To date, Gazelle has paid out over $200 million to their customers and they have a 9.5/10 score on ResellerRatings! You also receive a $10 bonus for every friend you refer. So, if you can refer 10 friends, that's already $100 in your emergency fund. 🙂
Another free selling platform I love is Letgo. It takes less than five minutes to snap a picture of your item to upload onto the app for sale.
6. More valuable resources to help you stop living paycheck to paycheck:
Here are more tips on how to save money so that you can quickly get out of that vicious cycle of living paycheck to paycheck:
– 50+ Genius Ways To Save Money Every Month
– 10 Clever Ways To Build Your Emergency Fund Fast
– 11 Things I Stopped Buying To Save Over $10,100 — #4 Will Scare You!
– Free Resources That Will Help You Save Thousands of Dollars (All in One Place)
However, sometimes you may feel that you've cut so much that there's no more wiggle room. It gets to the point where it feels like a burnout because you still want to enjoy life. I totally get it!
That's when you seriously need to start finding other ways to increase your income and there's no other way around it. I know that the personal finance community loves to harp about "It's not how much you make. It's how much you save." Yes, that is true, but if you have a relatively lower income (or perhaps you don't have a low income but you want to improve your lifestyle), then you NEED to find ways to increase your earnings.
Here are tips on how to make extra money so that you can stop living paycheck to paycheck and improve your lifestyle:
– Mind-Blowing Ways To Make Money on Pinterest (That You Would Have Never Imagined)!
– 13 Passive Income Ideas That Will Allow You To Reach Financial Freedom
– How To Make Over $1,000 Every Month Online (No Experience Required)
– Read Here To Learn How One Blogger Makes Over $100,000 Every Month From Her Blog (YES, EVERY MONTH!)
Don't miss out on these valuable freebies!
Below are my top recommendations for saving money, making money, building wealth, achieving financial independence, and more! They are all FREE to join and use!
MyPoints: You can earn FREE gift cards to your favorite stores or cash (your choice) just by watching videos, taking surveys, reading e-mails and more. MyPoints has paid out their members $236,000,000!
🌟 Sign up for MyPoints here for FREE and get a $5 bonus! 💵
Check out this post: The Best Places to Get FREE Gift Cards and Cash
Trim: is an awesome free personal finance assistant bot. He can help you negotiate your cable, Internet, and cell phone bills. He will even cut the ones you don't need. Pretty sweet, huh? Overall, Trim has helped their users save over $1,000,000 last month.
🌟 Sign up here for FREE today and start putting cash back into your pocket!
Swagbucks: allows you to earn cash and FREE gift cards by surfing the web, watching videos, playing games, and completing easy surveys. Check out the gift cards they offer here. My fiance and I have redeemed many $50 to $100 Starbucks gift cards which helped us save a lot of money!
Paribus: This free app helps get your money back when an item you purchased goes on sale (there's no effort on your end). When Paribus finds a price drop in your e-mail inbox, and you're eligible for a price adjustment, it will notify you and the retailer. Yes, Paribus will do all the work and YOU will keep 100% of the savings! Paribus has helped users saved over $24,000,000 to date!
🌟 Let Paribus do the heavy lifting for you by signing up here for FREE!
Over to you — What saving money tips do you have to stop living paycheck to paycheck?
Enjoyed this post? Don't forget to share it and follow me on Pinterest! 🙂